Preview: Thumbprint Cookies with Icing are a traditional rolled cookie, coated with pecans and filled with colored frosting. My husband's favorite!
These festive thumbprint cookies are my family's favorite holiday cookie. I bet your family would agree that these shortbread-type cookies are the best. Because they are a bit labor-intensive, we usually save them for Christmas Day.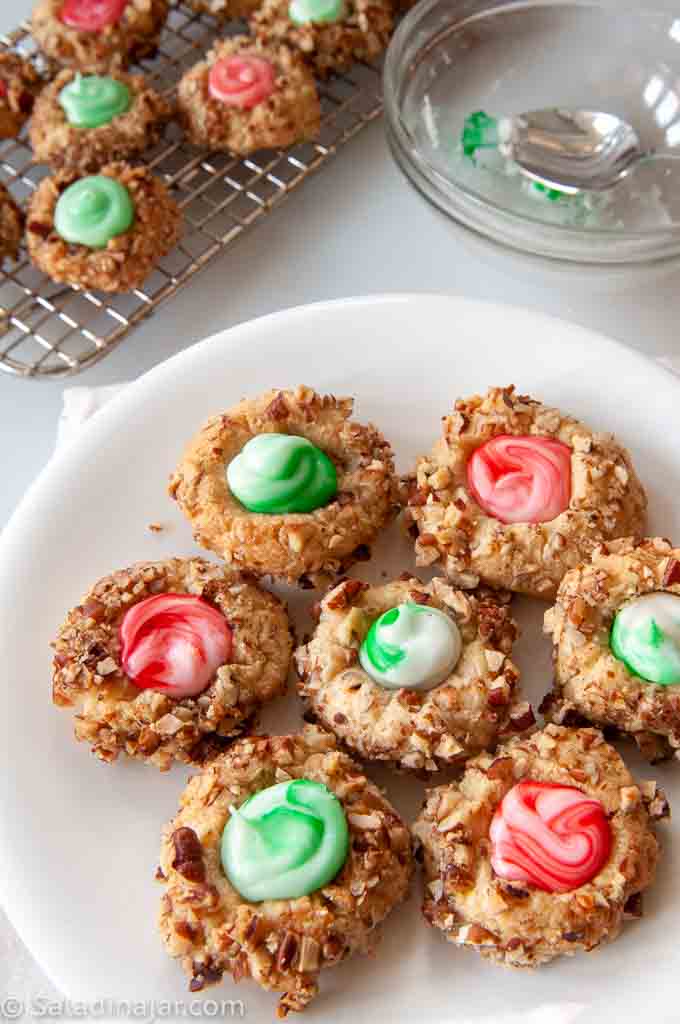 When I started this blog ten years ago, my husband of 43 years asked when I was going to post the recipe for thumbprint cookies. He kept asking again and again. I think he was just wanting to eat some.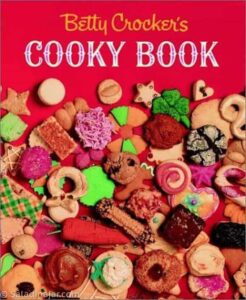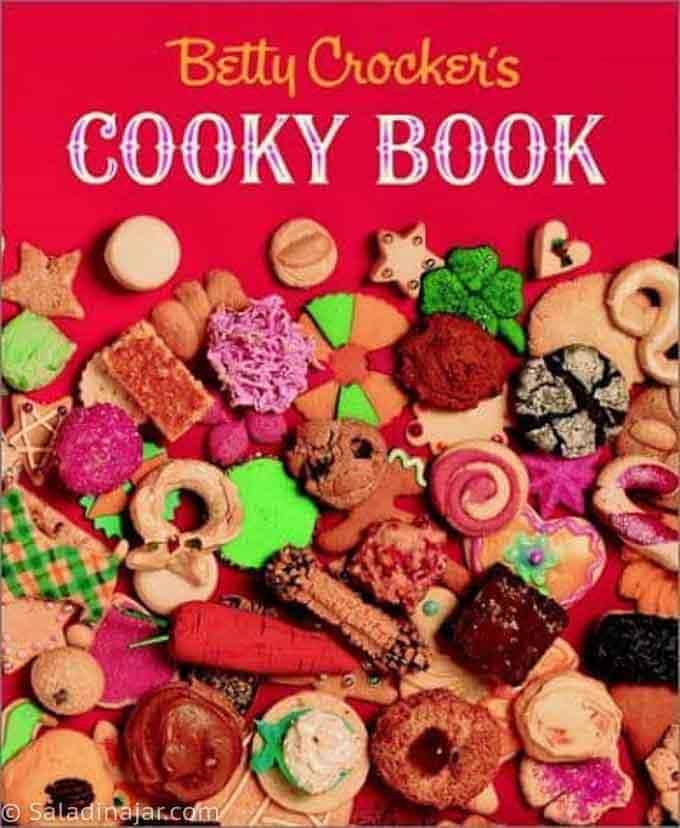 Finally…
The original recipe is simple–straight out of the Betty Crocker Cooky Book, copyright 1963. This book was obviously my mom's. I was too young to be cooking anything this fancy in 1963. Wasn't I???
Frequently asked questions:
1. How many cookies does this recipe yield?
That depends. If you like larger cookies (a tablespoon or more of dough), you won't even get 2 dozen.
I think most people prefer smaller cookies when they're looking at a cookie tray as is usually the case on Christmas. Using a 2-teaspoon spring-loaded cookie scoop will give you exactly 28 bite-sized cookies.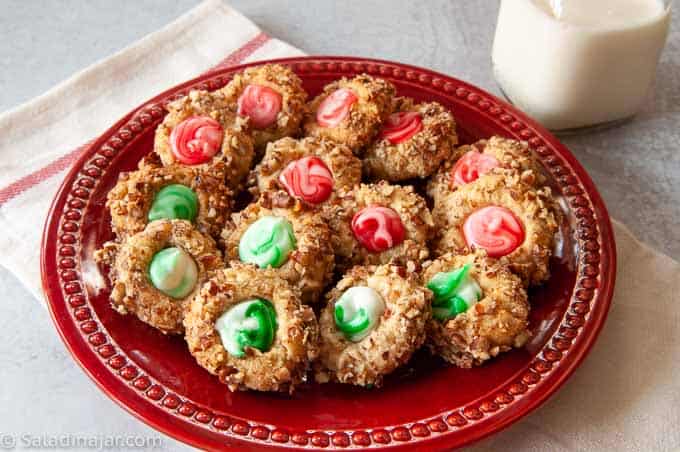 Another reason to make these cookies smaller is that they can be a little crumbly. One bite is much neater to eat.
Need lots of cookies? Double the recipe. I've done it many times.
2. What can I substitute for the frosting?
A teaspoon of jelly (placed in the indentation before baking)
Chocolate frosting
If you have a different idea, please leave it in the comments.
3. What can I substitute for the pecans?
If you have someone with a nut allergy in the family, try rolling the cookies in sugar. It will be a completely different cookie but still delicious.
4. Can I freeze these cookies?
Yes. Wrap well (double-wrap) and keep in the freezer for up to three months. They will stay fresh on the counter in a sealed container for three to four days.
5. How do you keep thumbprint cookies from cracking?
Use a small cork instead of your finger for the neatest indentation.
Make your indentation before baking the cookies.
Press your finger or cork into the cookie gently so as not to crack the dough. If it cracks, push it back together.
Don't chill the dough or allow it to dry out before you make the balls.
Measure your flour carefully. Too much flour will make the dough dry.
Cook's Secret:
Don't worry too much if you get some cracks or drip icing over the side. The pecans camouflage the cracks much better than sugar does when making traditional thumbprints. Also, perfect cookies look like they came from the store. Imperfect homemade Christmas cookies = love!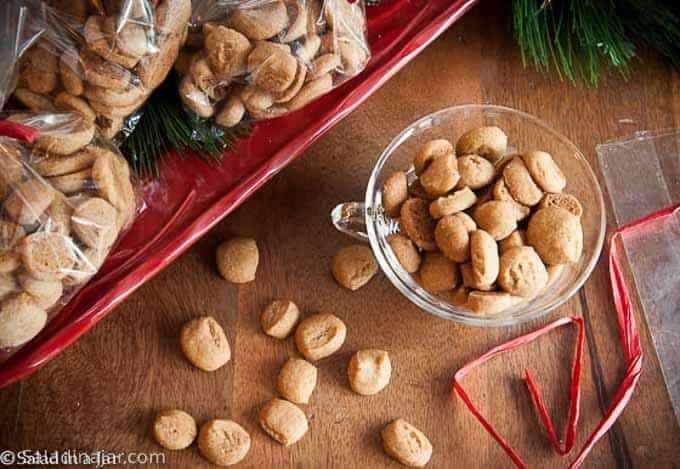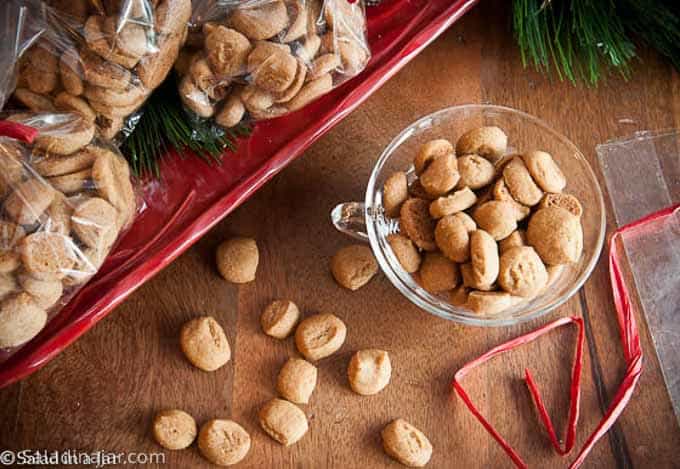 How to form Thumbprint Cookies with Icing :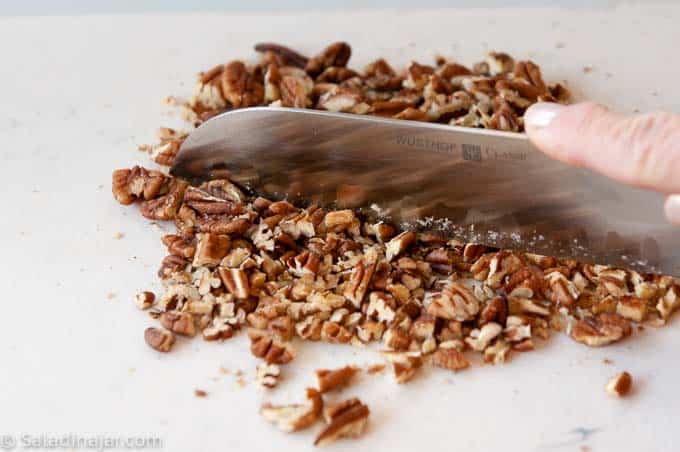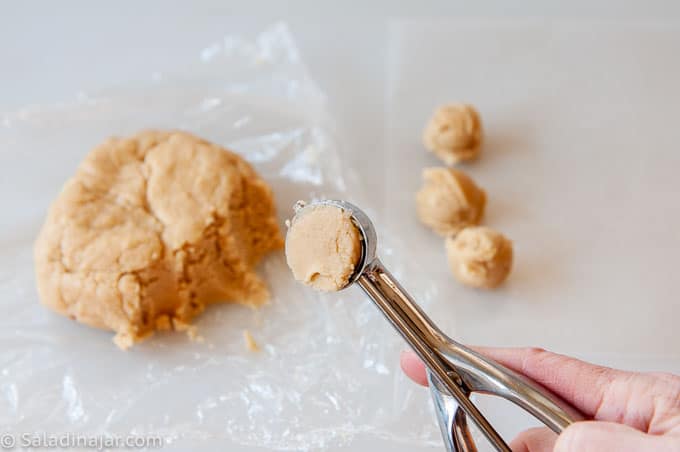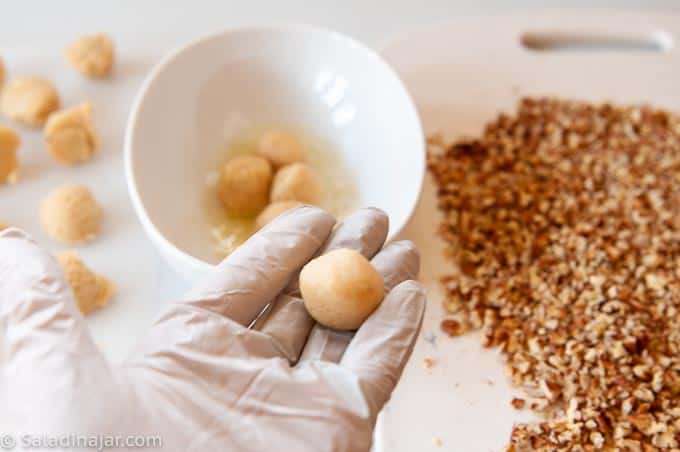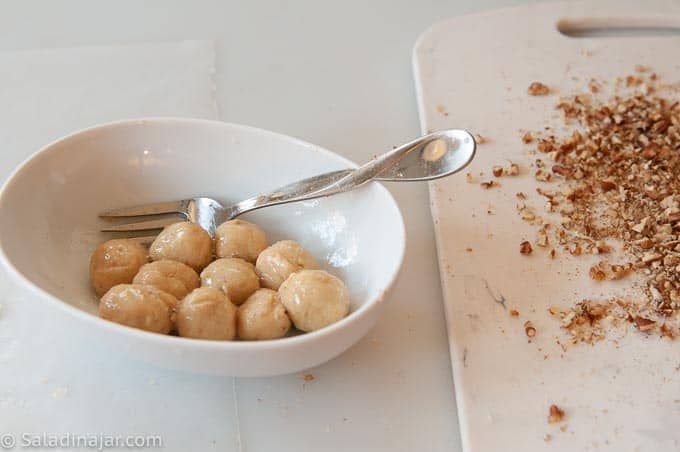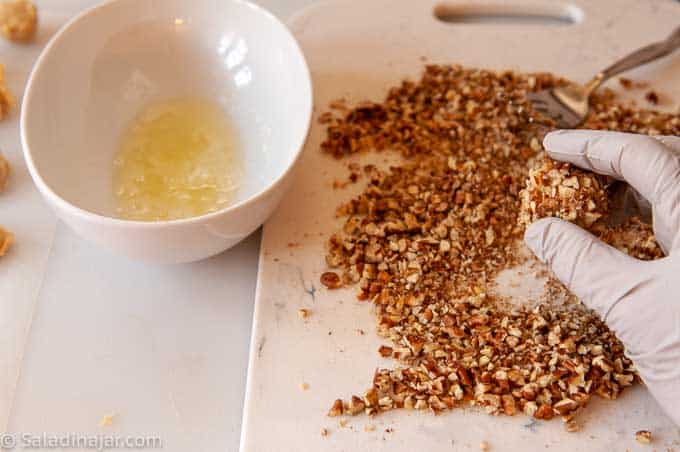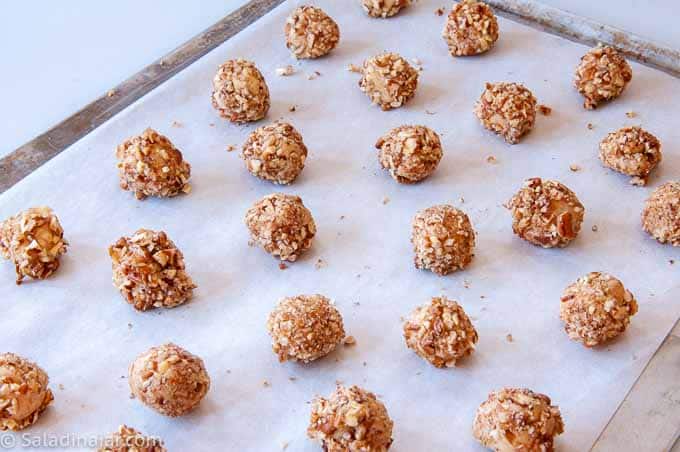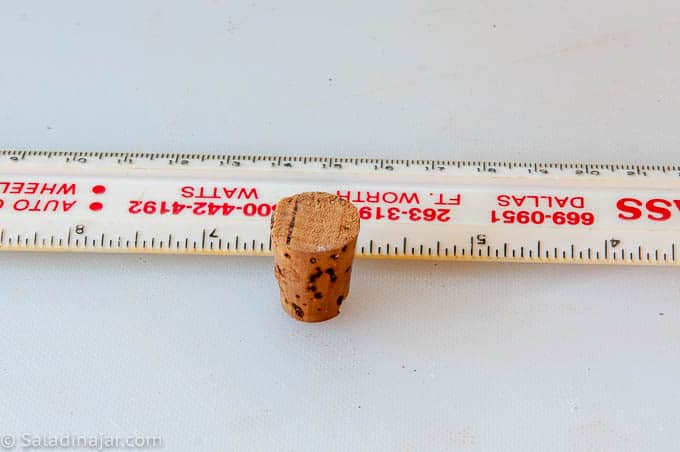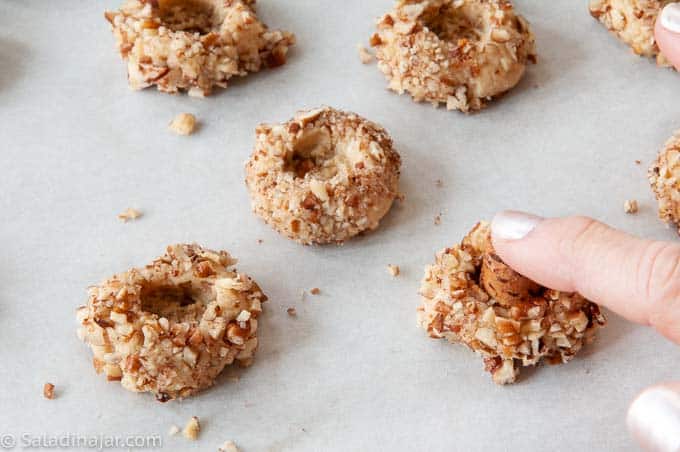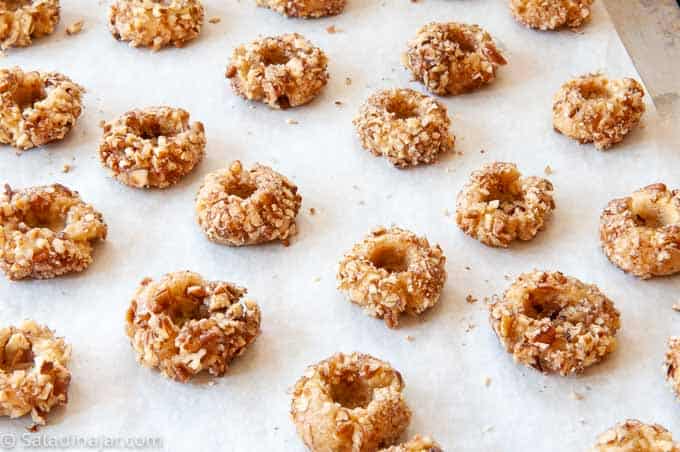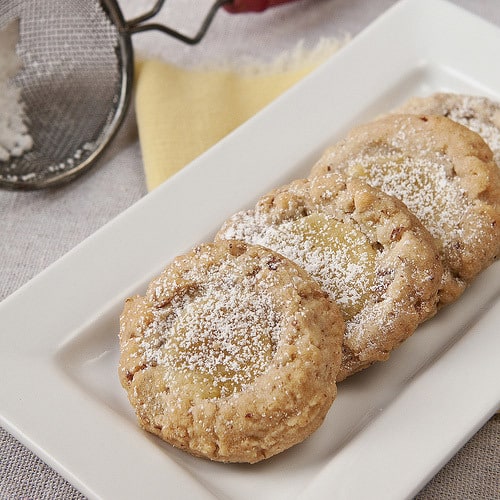 How to make marbleized icing:
Instead of using a solid color icing, drop the tiniest amount of liquid food coloring into a bowl of icing. (Don't miss the video to see this in action.)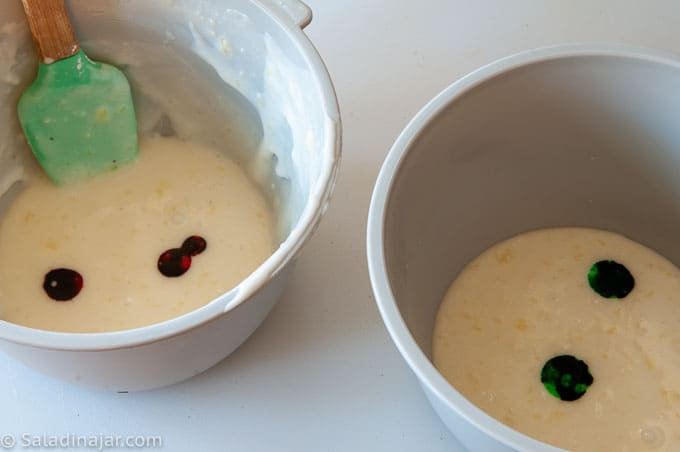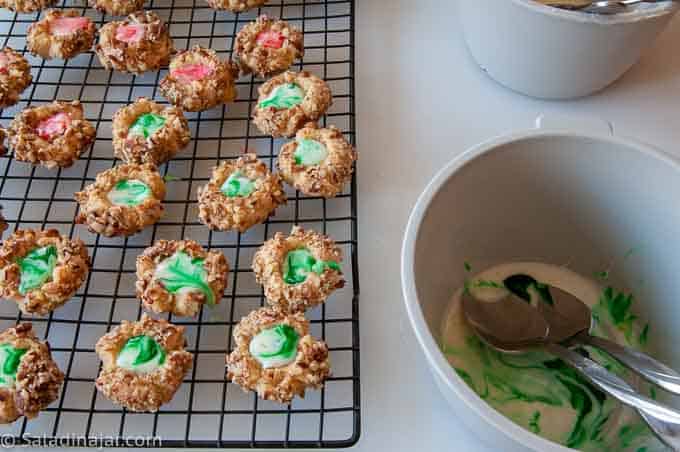 Without stirring, carefully use a spoon to pick up a little of the color. Try to get mostly white icing. Then use a second spoon to push the icing on to the cookie.
This process will slightly mix and swirl the color. It doesn't take much extra effort.
Alternative Method for the Frosting: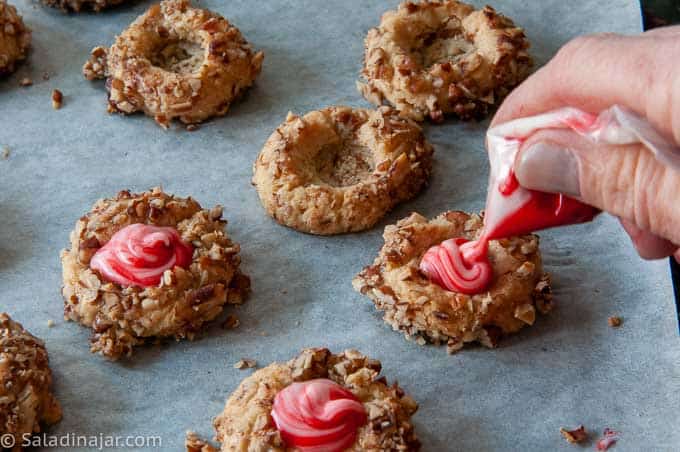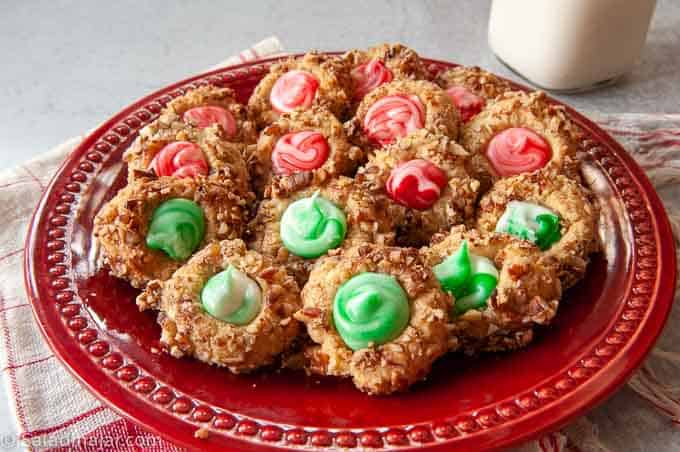 If you enjoyed this recipe, it would help others and me if you gave it a five-star rating inside the recipe card below. 🤩 No comment required. Thank you.

Hope to see you again soon!
Paula
p.s. Questions or suggestions? Please email me: Paula at saladinajar.com.