Preview: Cinnamon Jumbles (aka Jubilee Jumbles) with Browned Butter icing is a modern rendition of an old-fashioned soft cinnamon cookie. You'll love the frosting.
What if you could walk into your grandmother's house right now and go to her cookie jar? What would you hope to find?
I would be looking for these Cinnamon Jumbles. Grandma made them frequently. Oh, how I wish I could walk into my Grandma's kitchen right now and grab a couple.
These cookies taste similar to hers, but they don't look like hers did.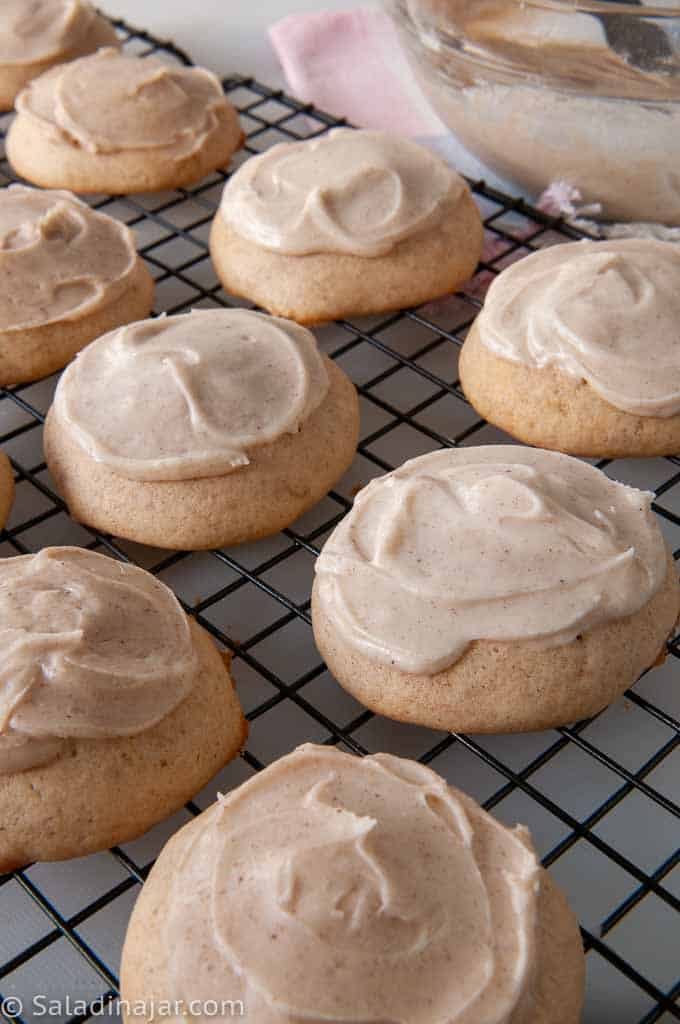 She dropped big blobs of dough on the cookie sheet. The lumps tended to grow together as they baked. So she cut them into squares. They were rather ugly–but still delicious.
Grandma wrote her recipe in the back of one of her cookbooks. It looks like she called them "Jubilee Jumbles." I found a similar recipe in a Betty Crocker Cookie Book entitled "Cinnamon Jumbles."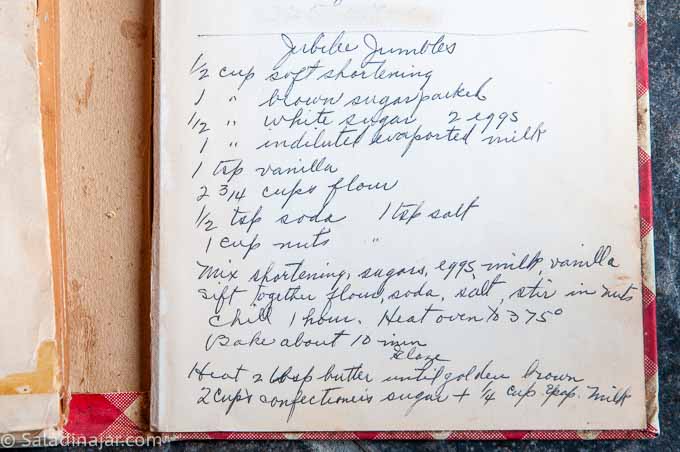 I have updated this recipe with substitutions for shortening and evaporated milk. They taste even better, in my opinion.
Try them for yourself. Frosted Cinnamon Jumbles go down r-e-a-l easy.
Why these cookies are different from Snickerdoodles
Cinnamon is the star ingredient in both Snickerdoodles and Cinnamon Jumbles. However, the differences are significant.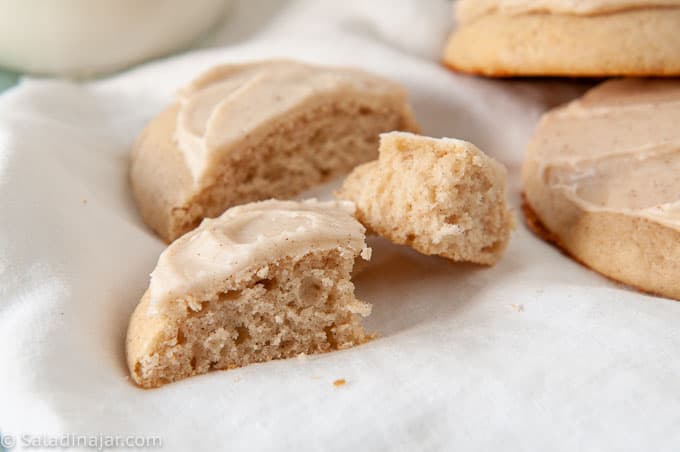 Snickerdoodles are chewy and crispy, especially when warm. They tend to flatten out as they cool. Cinnamon Jumbles are cake-like, soft, tender, and hold their shape like a little teacake.
My Cinnamon Jumbles always have icing, in this case, Browned Butter Icing. Not everybody ices these cookies, but I highly recommend it. The frosting dresses them up and makes them a bit sweeter.
Traditional Snickerdoodles don't have icing. They don't need it since you roll them in a cinnamon-sugar mixture before baking.
---
Ingredients and Substitutions
FLOUR: Substitute bleached all-purpose flour for unbleached flour in a one-to-one ratio.
BUTTER: The original recipe in Betty Crocker Cooky Book called for hydrogenated shortening, as in Crisco. Since many people don't want to use it, real butter works just as well and even tastes better. I don't recommend using butter substitutes.
BUTTERMILK: If you don't have buttermilk on hand, try one of these substitutions.

Use plain unflavored yogurt (2% or whole milk). Add milk until it is the consistency of buttermilk and measure as you would buttermilk.

A well-known substitution for buttermilk is one tablespoon of white vinegar or lemon juice added to enough milk to measure 1 cup. Stir and let it stand for a few minutes before adding to the recipe.
Have some sour cream in your fridge? You have everything you need to make a buttermilk substitute! You can swap out buttermilk for a mixture of equal parts sour cream and water, whisked together until smooth. —Foodess.com
SUGAR: My preference is 100% granulated white sugar. As you can see in Grandma's recipe, she used part brown sugar and part white sugar. Using brown sugar will make a darker-colored cookie and increase the moisture.
---
Variations:
Valentine's Day Cookies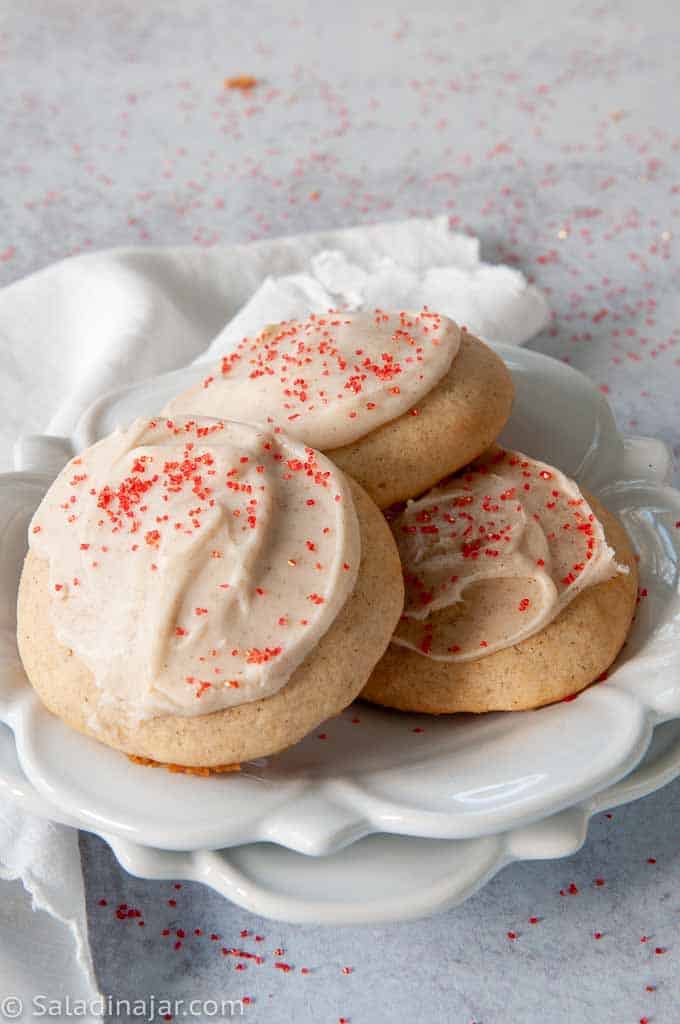 Sprinkle the wet icing with colored sugar: Red or pink for Valentine's Day or Christmas, green for St. Patrick's, orange and black for Halloween.
Another way to add variety is using different flavors, such as chocolate or plain white powdered sugar icing. Try adding food coloring to white icing to match your party theme.
Eggnog Cookies:
Substitute eggnog for the yogurt or buttermilk. Instead of baking soda, use one teaspoon of baking powder. When making the icing, use eggnog in place of the cream. In addition to the cinnamon already specified in the recipe, add 1/8-1/4 teaspoon of ground nutmeg.
Other variations:
Variations abound on the internet. Take a look: Applesauce Jumbles, Coconut, Butterscotch, Orange Cream, and Chocolate Cream Jumbles. Some people add chocolate chips, dried fruit, or nuts.
---
How to make Cinnamon Jumbles: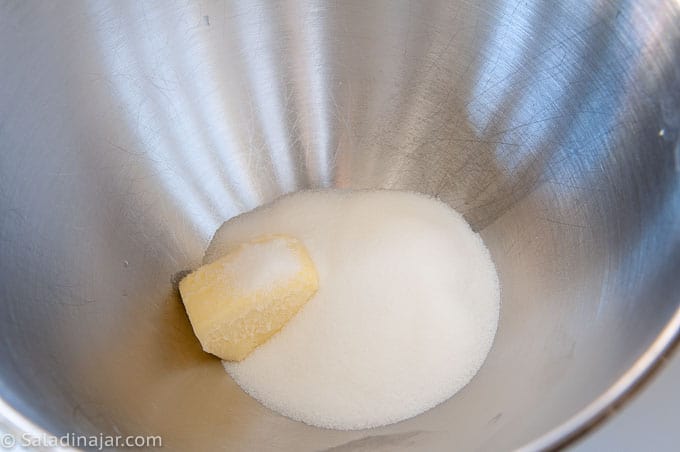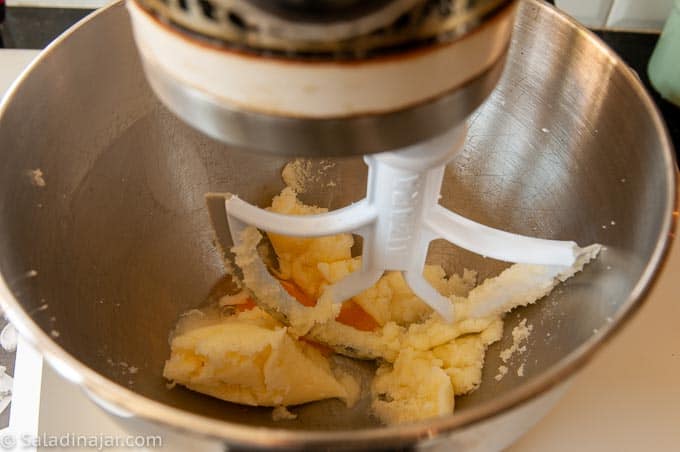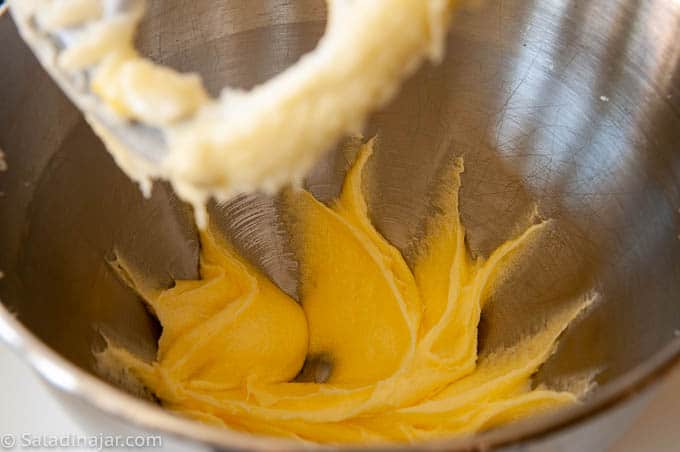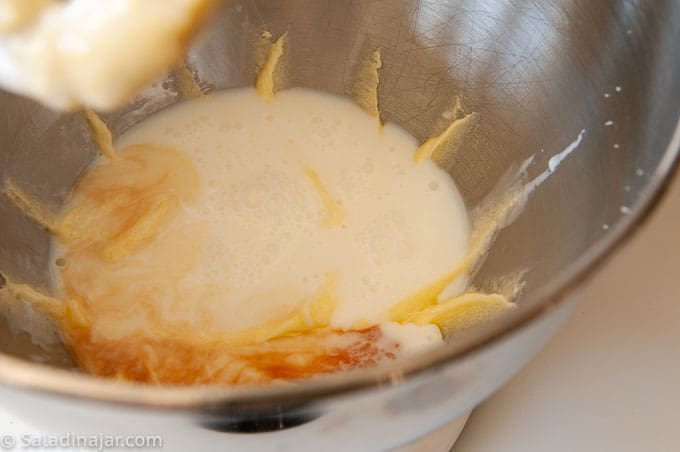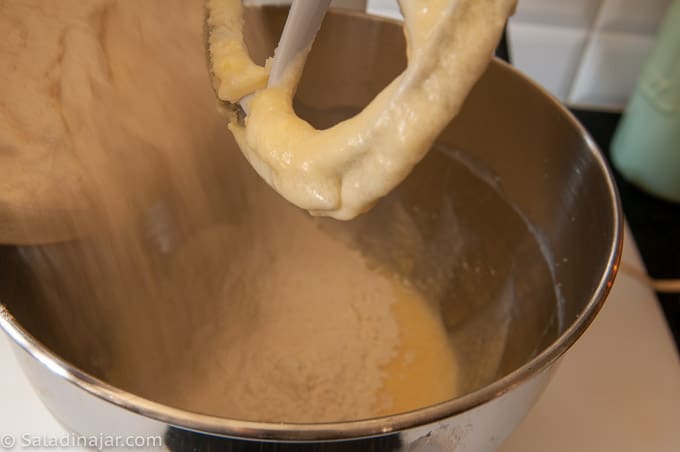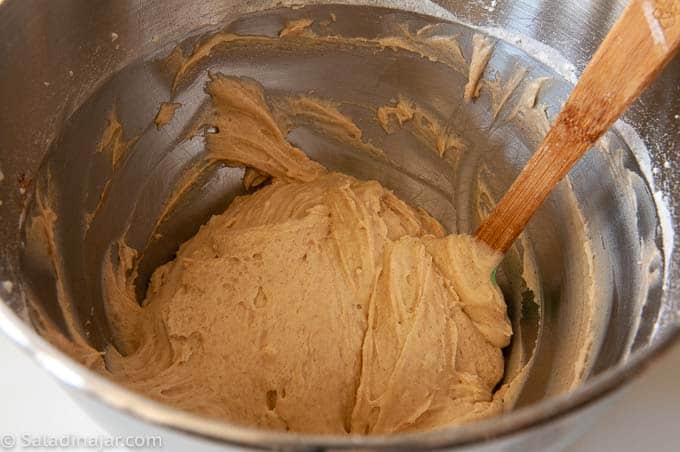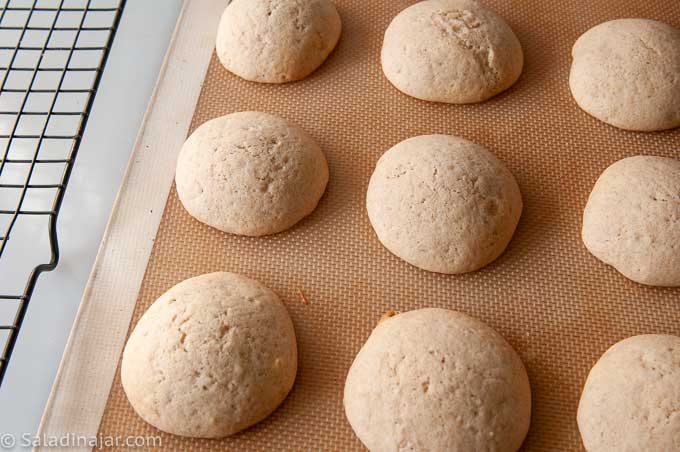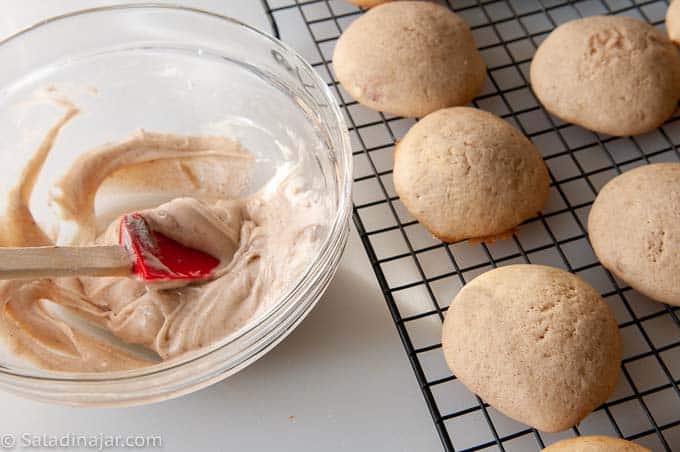 ---
How to make Brown Butter Icing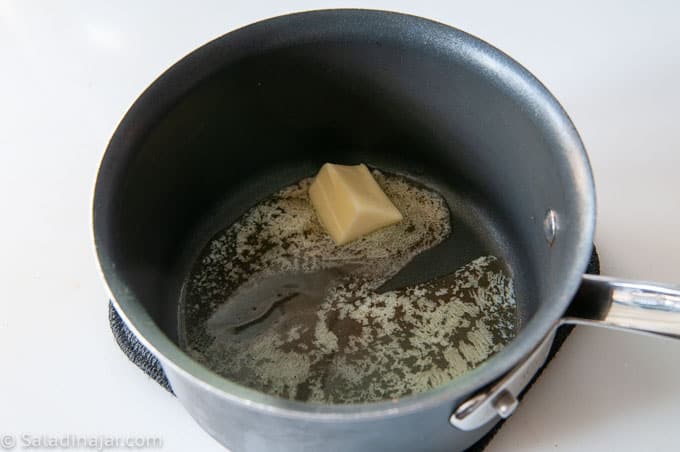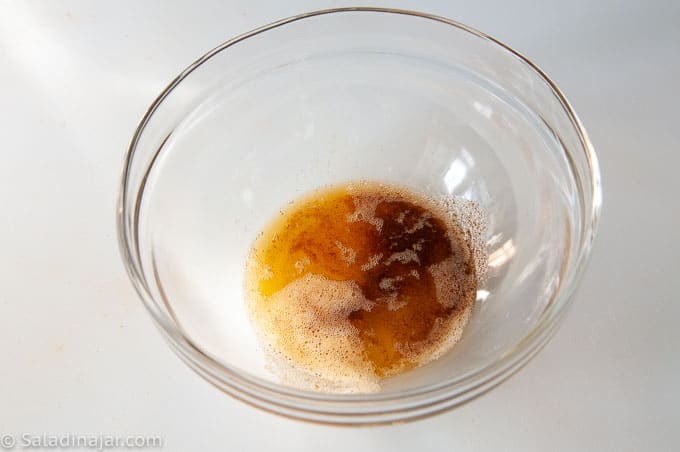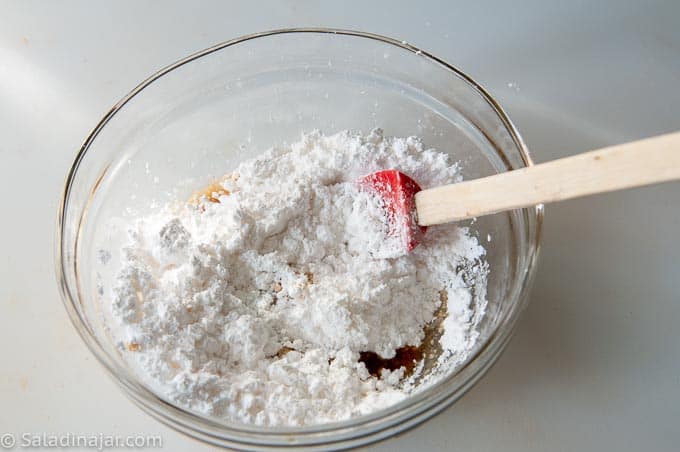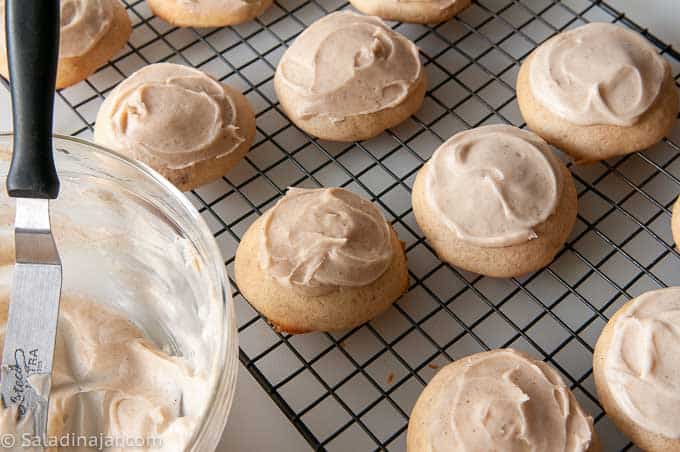 Tell me. Did your grandmother make these cookies? Have you ever tried them? Then, please tell me what you think in the comments below.
---
More recipes for frosted cookie lovers
---
Pin this post for later!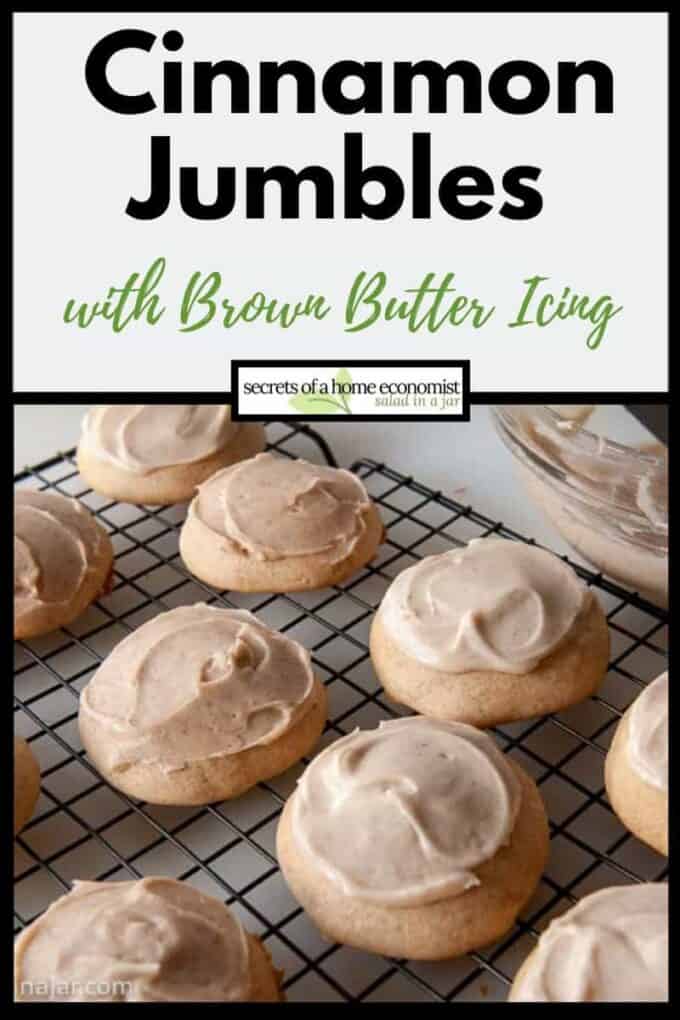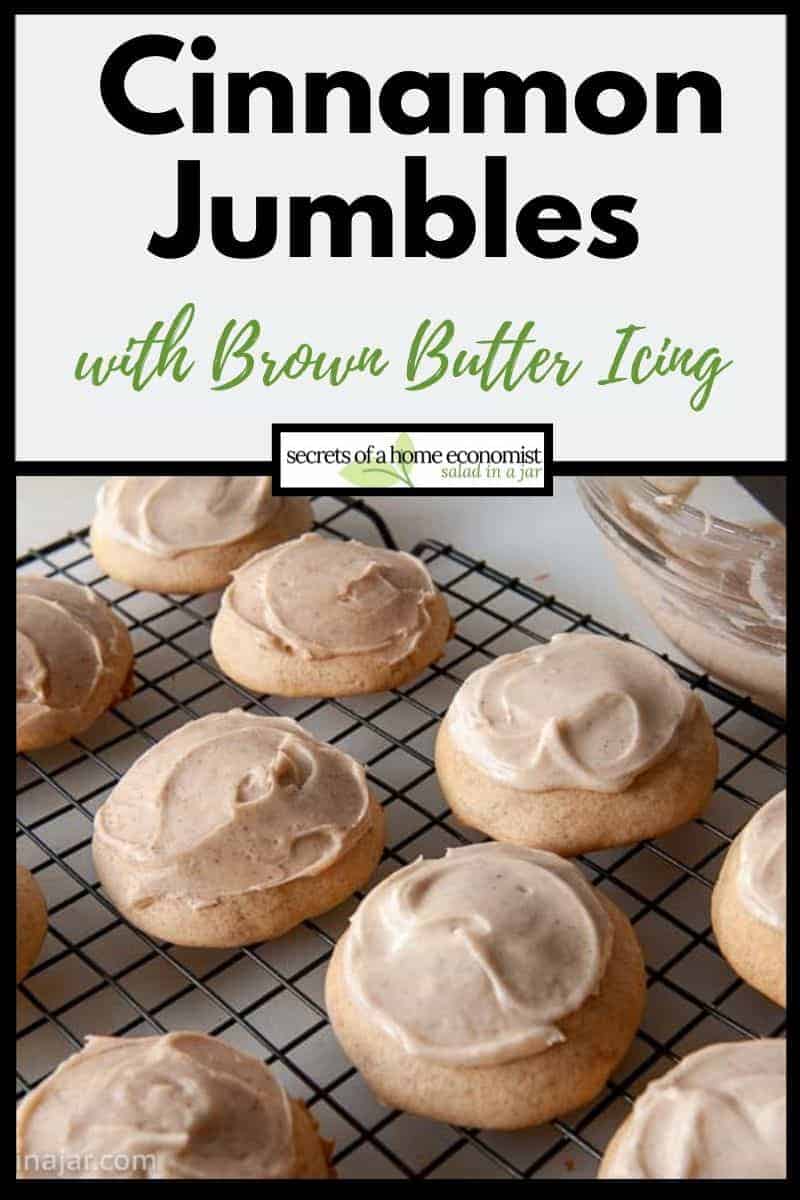 ---
Did you enjoy this recipe? If so, you can help others and me by leaving a 5-star 🤩 rating in the recipe below. No comment is required.
Hope to see you again soon!
Paula
p.s. If you have any questions or suggestions, you can email me privately: paula at saladinajar.com.
---