This Glazed Fudge Birthday Cake is a one-layer chocolate cake mixed in a food processor. The chocolate glaze is rich but not too sweet. It is our favorite birthday cake.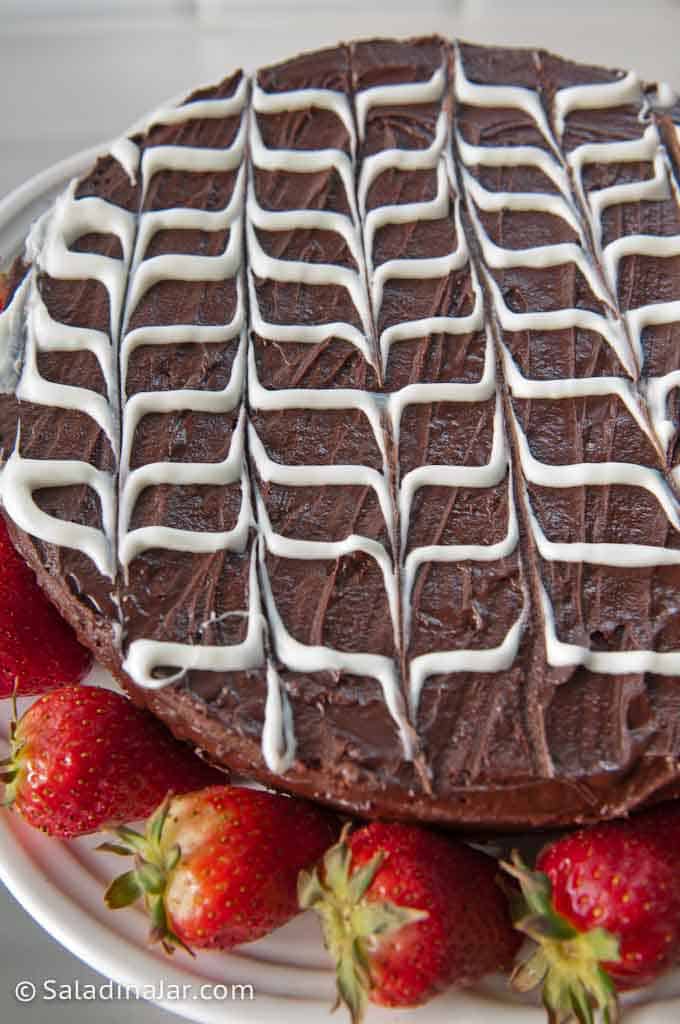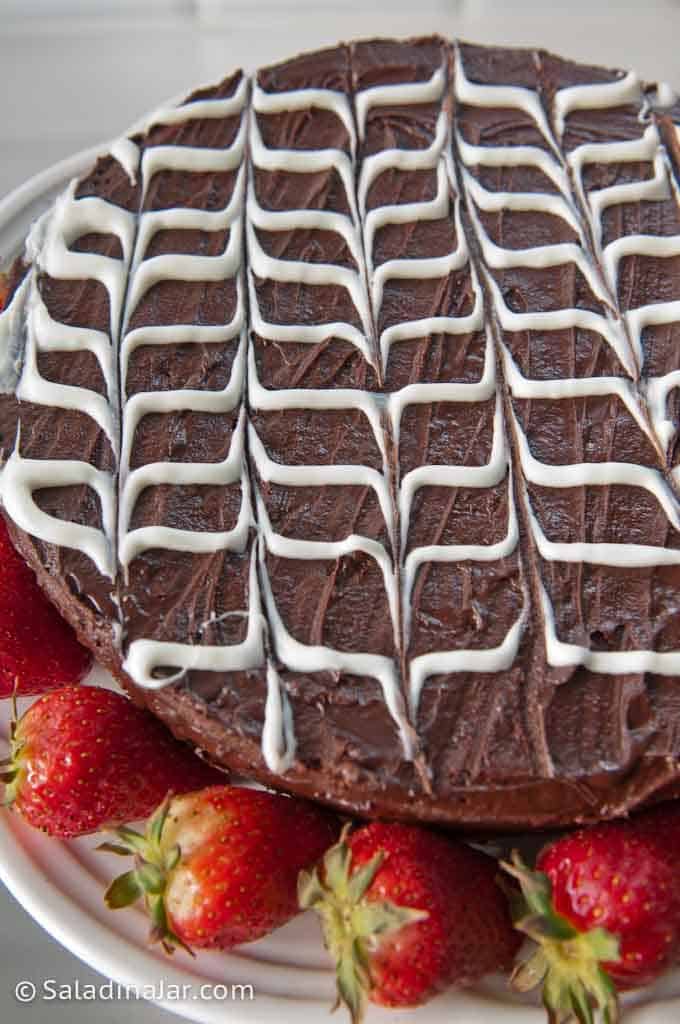 What makes a chocolate cake superior?
Your requirements may differ from mine. I like a super moist cake with a fairly tight crumb. The texture should not be too heavy or too airy. Furthermore, the chocolate flavor must be intense.
What about the frosting, or glaze in this case? Not too thick or too sugary and smo-o-o-o-oth on the tongue.
If you agree…BINGO!
Keep reading…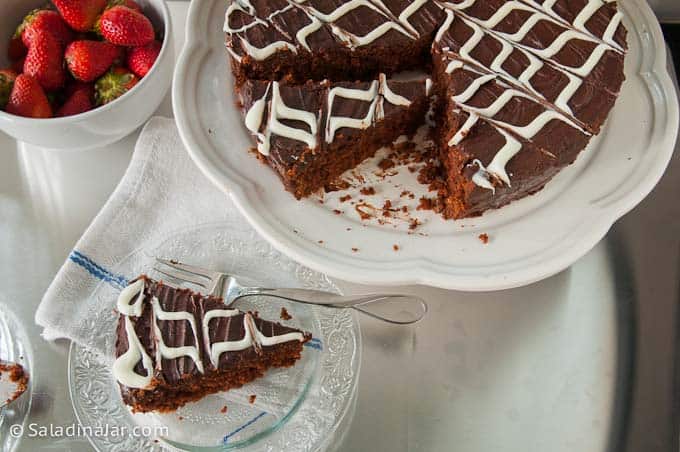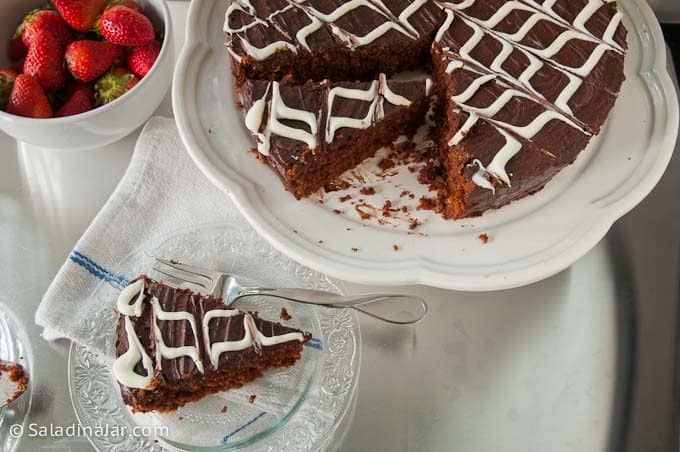 But sometimes, it's about more than the recipe itself.
I made this cake for my husband's birthday last Sunday. It's a tradition in our family. It turned out to be a bittersweet celebration because his mother died the day before.
While frantically going through photo albums before my mother-in-law's funeral, I found the picture below. It was taken at my oldest son's birthday party. (I counted the candles.)
I'm just telling you this because I've been making it for a long time. It is SO DELICIOUS!!!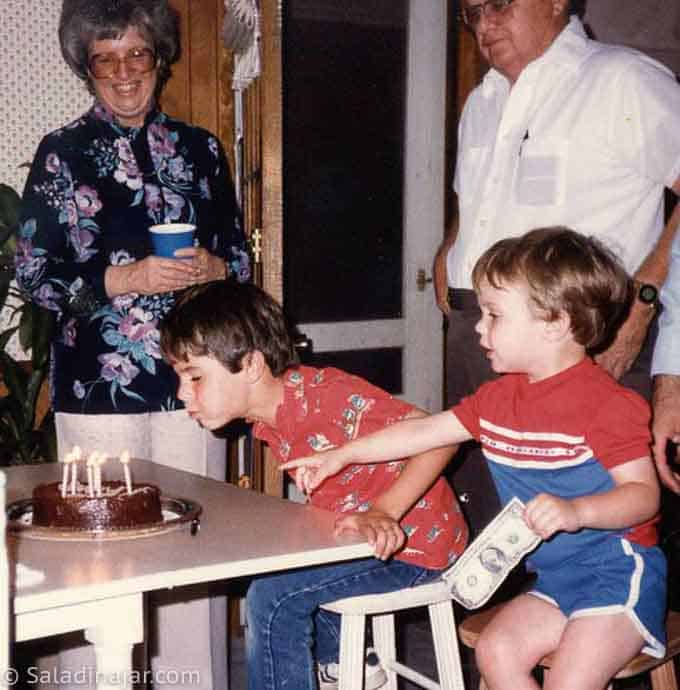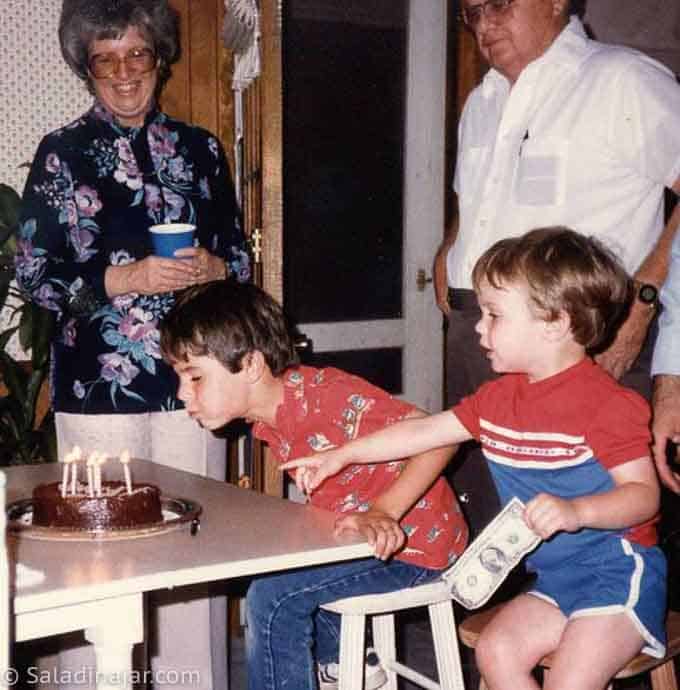 Tips for success with Glazed Fudge Birthday Cake: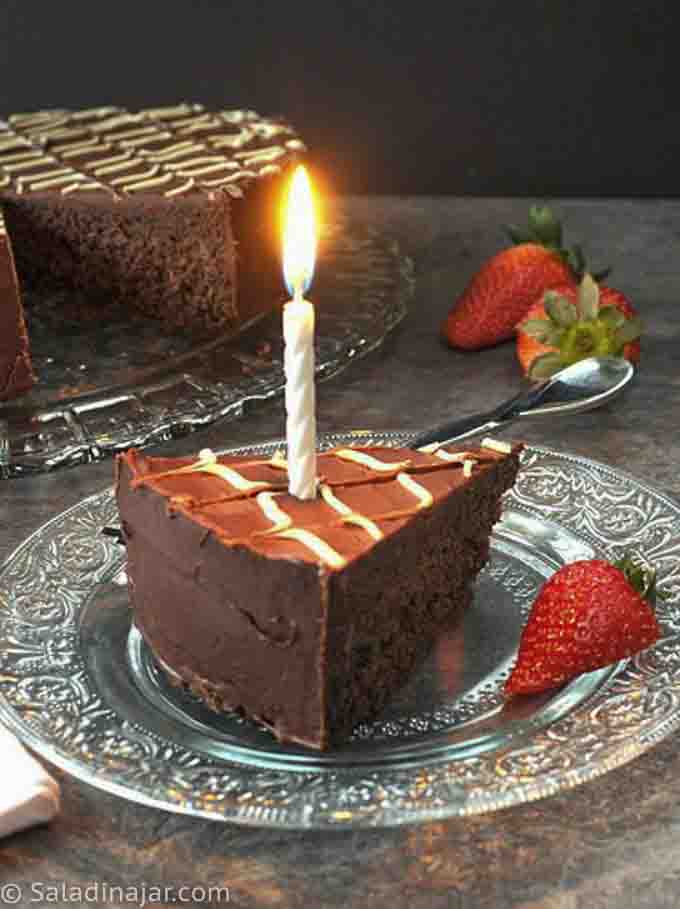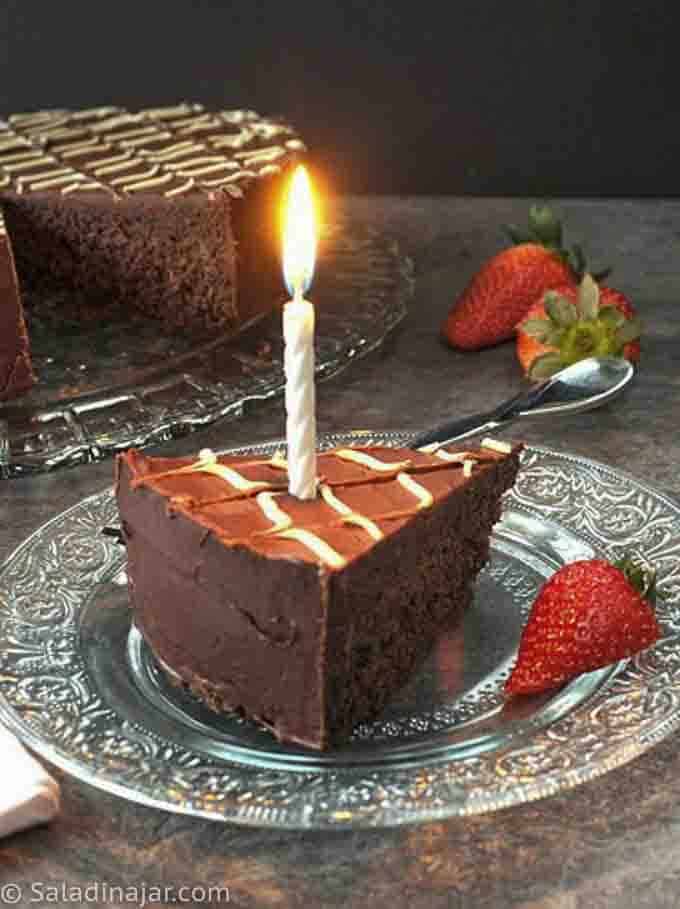 #1
It's made in a food processor.
I acquired the recipe while assisting with a cooking school taught by Abby Mandel. At the time, she had just published a new cookbook called Cuisinart Classroom.
This is the only cake recipe I have that is made in a food processor. While I'm sure this cake could be made with a regular mixer, I have never tried it myself. The author originally touted the food processor as a way to make a chocolate cake without melting the chocolate, supposedly quicker and more flavorful.
Maybe Ms. Mandel is right. I'm not sure. Nevertheless, the cake tastes fabulous. Can't argue with fudge-y, moist, and tender.
#2
You must use a 9-inch springform pan.
Anything smaller and you risk an overflow of cake batter in your oven. On the other hand, you could use an 8-inch pan plus a few cupcakes if you like.
You don't have to use a springform pan. However, the cake is much easier to remove when you do. Be sure to line the bottom as outlined in the recipe.
Posts Related to "A Glazed Fudge Birthday Cake"
If you make this recipe and enjoy it, consider helping other readers and me by returning to this post. Leave a rating on the recipe card itself underneath the picture. Although always appreciated, comments aren't required. Thank you for visiting! Paula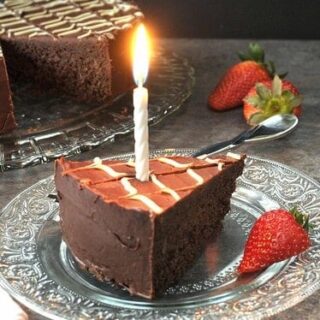 Glazed Fudge Birthday Cake
Total Time:
1 hour
15 minutes
This Glazed Fudge Birthday Cake is a one-layer chocolate cake mixed in a food processor. The glaze is rich but not too sweet.
Ingredients
3/4 cup plus 2 tablespoons cake flour (3 1/2 ounces)
1 teaspoon baking powder
1/2 teaspoon baking soda
1/2 teaspoon salt
2 ounces unsweetened chocolate, broken into pieces
1 1/4 cup sugar (8 3/4 ounces), divided
1/3 cup boiling water
2 large eggs
1 tablespoon cocoa
3/4 cup butter (6 ounces), room temperature, cut into 6 pieces
1 tablespoon dark rum (or 1/2 teaspoon rum extract)
1/2 cup sour cream
Glaze
2 tablespoons unsalted butter
2 tablespoons water
3 ounces milk chocolate, broken into pieces
1/4 cup powdered sugar (1 ounce)
2 teaspoons dark rum or vanilla extract
Instructions
Butter a 9-inch springform pan. Cut a circle of parchment paper or wax paper to fit the bottom of the pan and place inside. Preheat oven to 325 degrees.
Place flour, baking powder, baking soda and salt in work bowl of food processor and process 5 seconds to blend and set aside.
Place the chocolate and 1/4 cup sugar in work bowl and process 1 minute or until chocolate is finely minced. With machine running, pour hot water through the feed tube and process until the chocolate is melted.
Add the eggs and cocoa and process 1 minute.
Add remaining sugar (1 cup) and process 1 minute, stopping once to scrape down the inside of the bowl.
Add the butter and process 1 minute more. Add rum and sour cream and process 5 seconds.
Add the dry ingredients and combine by turning the machine on and off 3 or 4 times until the flour just disappears. Do not over process.
Pour the batter into prepared pan and spread evenly with a spatula. Bake for 50 to 55 minutes or until a toothpick inserted into the cake comes out clean. Allow the cake to cool completely before removing from the pan.
Glaze
Put the chocolate and powdered sugar in the work bowl and pulse food processor on and off 3 times to chop the chocolate, then process continuously until it is finely minced.
Boil water and butter together. With the machine running, pour the hot water and butter through the feed tube and process until the chocolate is melted. Add the flavoring and process for 5 more seconds.
Refrigerate the glaze until it begins to thicken then spread over the surface and sides of the cake.
Notes
To Decorate: Melt 1 1/2 ounce white chocolate in a small zippered plastic bag. Make a tiny snip across one corner of the bag. Draw parallel strips across the cake. Using a thin knife, draw lines perpendicular and parallel across white chocolate lines to make a chevron design.
Recommended Products
As an Amazon Associate, I earn from qualifying purchases. But don't worry. This doesn't change the price you pay.
Nutrition Information:
Yield:

10
Serving Size:

1
Amount Per Serving:
Calories:

383
Total Fat:

25g
Saturated Fat:

15g
Trans Fat:

1g
Unsaturated Fat:

8g
Cholesterol:

89mg
Sodium:

354mg
Carbohydrates:

37g
Fiber:

1g
Sugar:

33g
Protein:

3g