Preview: This Ground Pork and Green Chile Stew with tomatoes is a quick-to-fix pot of spicy comfort for a cool damp day. Serve with flour tortillas.
A partially-frozen bag of roasted green chiles arrived at my doorstep one Christmas. My sister sent them from Colorado. She also included a recipe for "Christmas Chile."
Keep reading to find out how this delicious soup got such a festive name…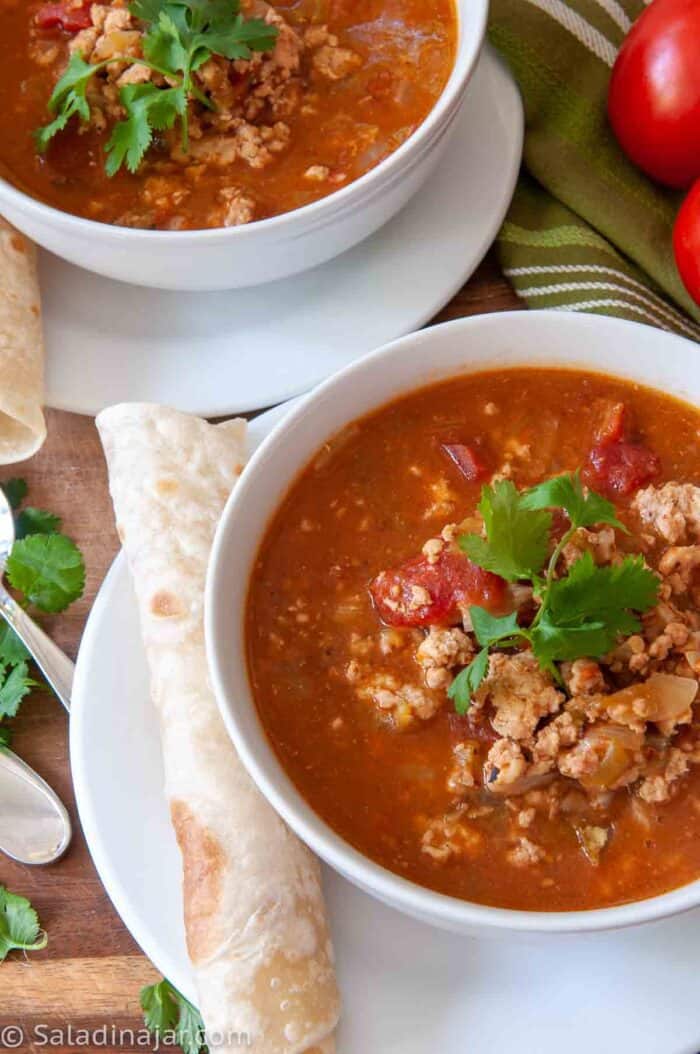 What is Christmas Chile?
Why the name Christmas Chile? Is it like "Funeral Potato Salad" or "Fourth of July Cake?" It turns out the chile derives its name from the red and green colors. Most certainly it IS NOT limited to the holiday season. It tastes especially good served with flour tortillas on a blustery day.
Ingredients and substitutions:
Ground Pork:
Substitute ground turkey or ground beef if you like.
Sometimes ground pork can be difficult to find in the grocery store. It's not hard and sometimes even cheaper to grind your own meat.
How to make your own ground pork:
Buy pork loin in bulk and freeze it in 1-pound portions. Partially thaw a 1-lb. package. Use a food processor or a food-grinder attachment for a stand mixer to grind up the pork. Don't trim any of the fat off. It adds flavor.
Cut the pork into 1-1/2-inch cubes. Add them to your food processor. Be careful not to load the meat above the level of the top blade. Pulse repeatedly to chop.
Don't miss the video attached to this post. I show you exactly how I grind the pork.
Green Chiles:
Chopped and canned green chiles are the most convenient choice.
Smoked hatch chiles, as seen below, are special when you can get them.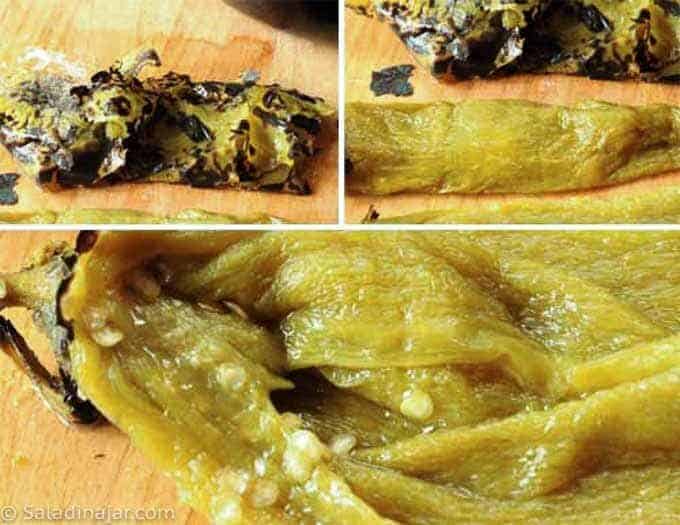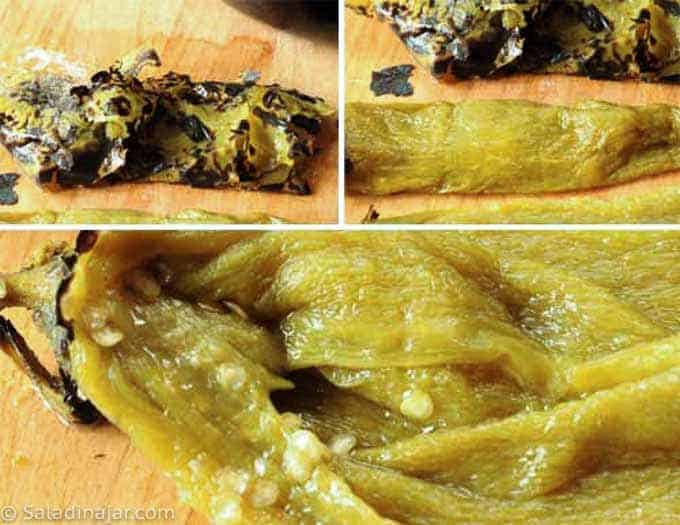 Although they don't make a good first impression visually (especially after being frozen), fresh roasted green chiles are more flavorful compared to the canned ones.
Tomatoes:
No reason to use fresh tomatoes because you're going to cook them anyway. Diced tomatoes, as well as fire-roasted tomatoes, are good.
Some people prefer to buy whole tomatoes and crush them by hand. Go ahead. I'll watch.
What to serve with Green Chile Stew:
This stew is good with fresh flour tortillas. They are tasty dipped into the juices of the stew. Corn tortillas are another option.
Can I make this ahead of time?
Yes. This recipe tastes better the next day after the flavors have time to hang out and get used to each other.
This stew freezes well.
Variation
Green Chile Stew with Green Beans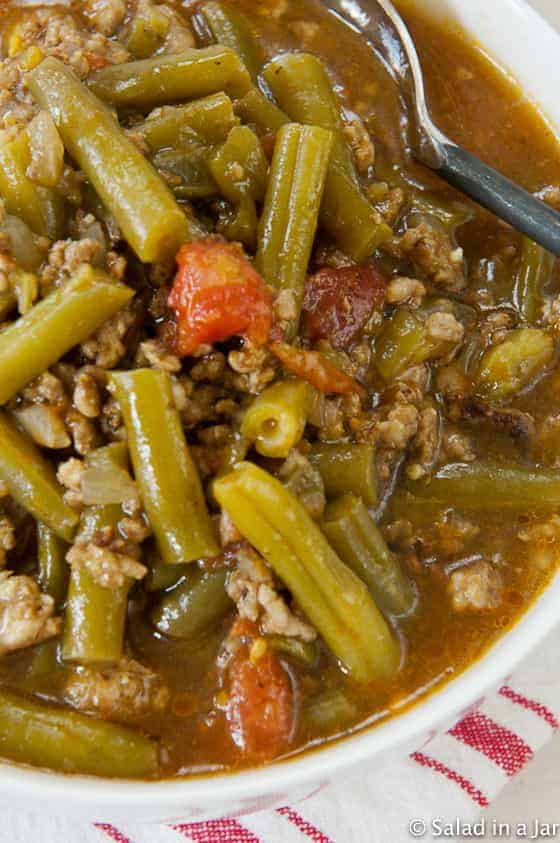 I had some Green Chile Stew left over a few months ago and some leftover green beans from a different meal. In a moment of veggie craving, I combined them. Voila! –a new favorite comfort food.
Use fresh green beans and add them at the same time as the tomatoes. Or use canned green beans. Add canned beans 5 minutes before serving.
---
If you like Southwestern Food…
If you enjoyed this recipe, it would help others and me if you gave it a five-star rating inside the recipe card below. 🤩 No comment required. Thank you.

Hope to see you again soon!
Paula
p.s. Questions or suggestions? Please email me: Paula at saladinajar.com.