Preview: Find out how to make homemade mayonnaise last longer by adding a small amount of yogurt whey to extend the window of freshness from a week to a month.
You may have a new reason to save the whey you get from draining yogurt. Keep reading to find out how this magical ingredient will help you make homemade fermented mayonnaise that can extend the shelf-life (in your fridge) for up to a month.
Don't worry. Adding a small amount of whey won't affect the taste of your mayo.
Does making mayonnaise seem crazy?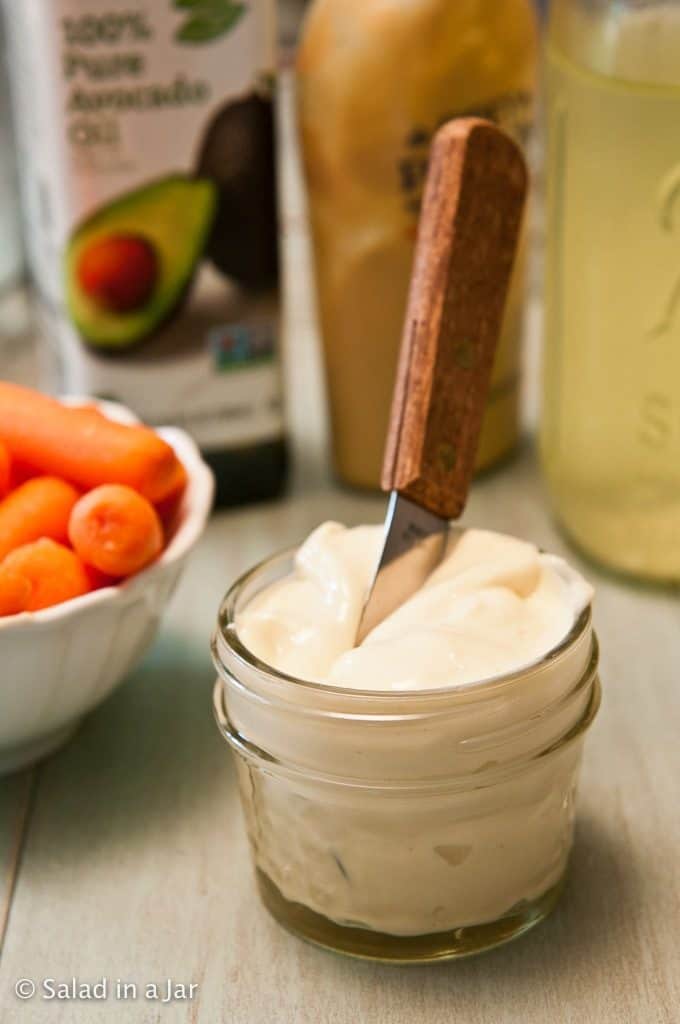 In reality, I don't do it all that often myself. But once in a while, it's a magical and gratifying experience.
Why make mayonnaise at home?
#1
The convenience factor
In the event you run out of your usual mayonnaise, the option to make it yourself could save you a last-minute trip to the grocery store. All of the ingredients are likely already in your kitchen.
#2
Customizable
Not only will you get mayonnaise with an incredibly smooth and velvety texture, but you can customize it for your taste or a specific recipe. Add herbs, garlic, and lemon, among other things.
---
How long does homemade mayonnaise stay fresh?
If you've never made mayonnaise before, you may not know that ordinarily, homemade mayonnaise recipes are supposedly only good for a week in the fridge. Of course, commercially-made mayonnaise has preservatives added so it keeps much longer.
So why make it myself? I don't know about you, but our mayonnaise usage can be sporadic. I'm afraid I wouldn't be able to use an entire recipe in a week.
How whey extends the freshness of mayo:
As it turns out, adding whey (that yellowish liquid you see collected on top when you first open a container of yogurt) to homemade mayo seems to extend the freshness window up to a month. It's called lacto-fermented mayonnaise or fermented mayonnaise for s
If you make Greek yogurt at home, save a little bit of the whey you strained from your yogurt.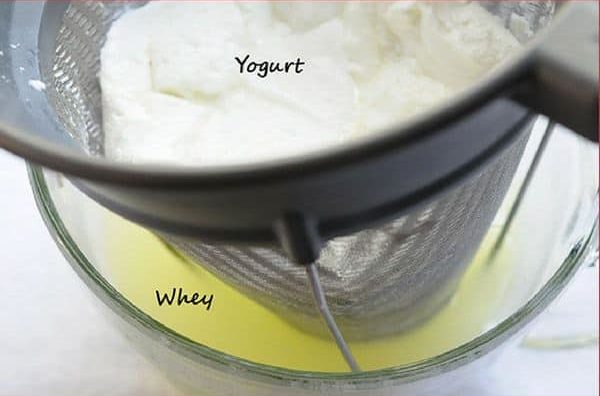 Not into homemade yogurt? No worries! Pour off the liquid you see on top of commercial yogurt when you first open it. You only need a tablespoon. Of course, the yogurt should be unflavored.
---
Tips for making homemade mayo:
Most recipes call for using a blender to mix up mayonnaise, but a food processor will also work. And guess what? A whisk and a bowl will do the job if you are in the mood for a little exercise.
In reality, what's most important about making mayonnaise is that your eggs be at room temperature before you start. A bowl of warm water out of the faucet will warm your unshelled eggs in just a few minutes if you haven't planned ahead.
How to make homemade mayonnaise with whey that makes it stay fresh longer: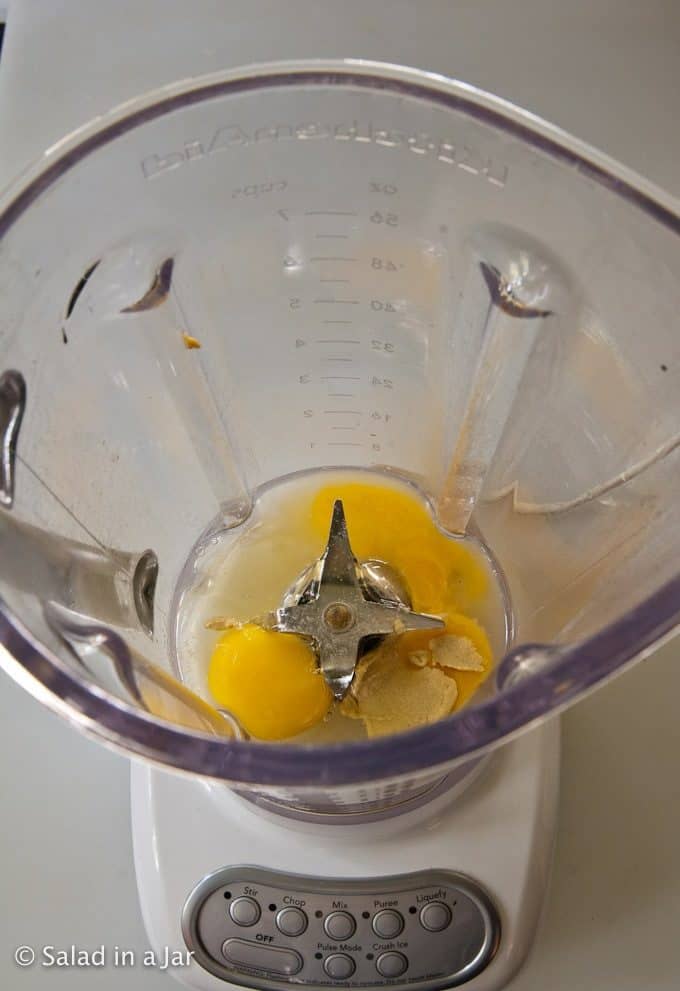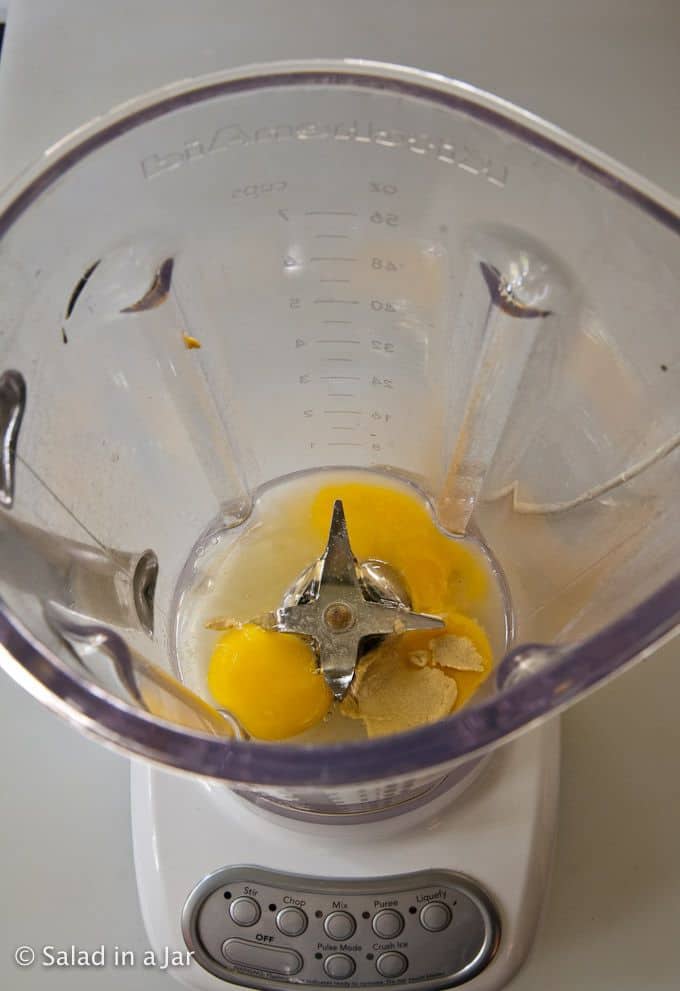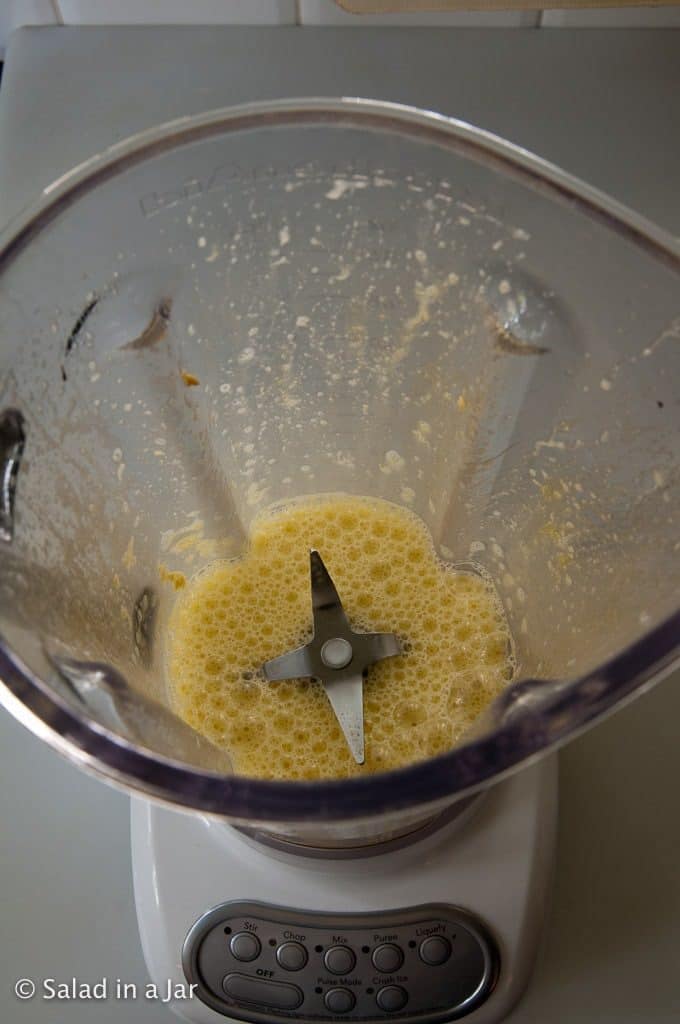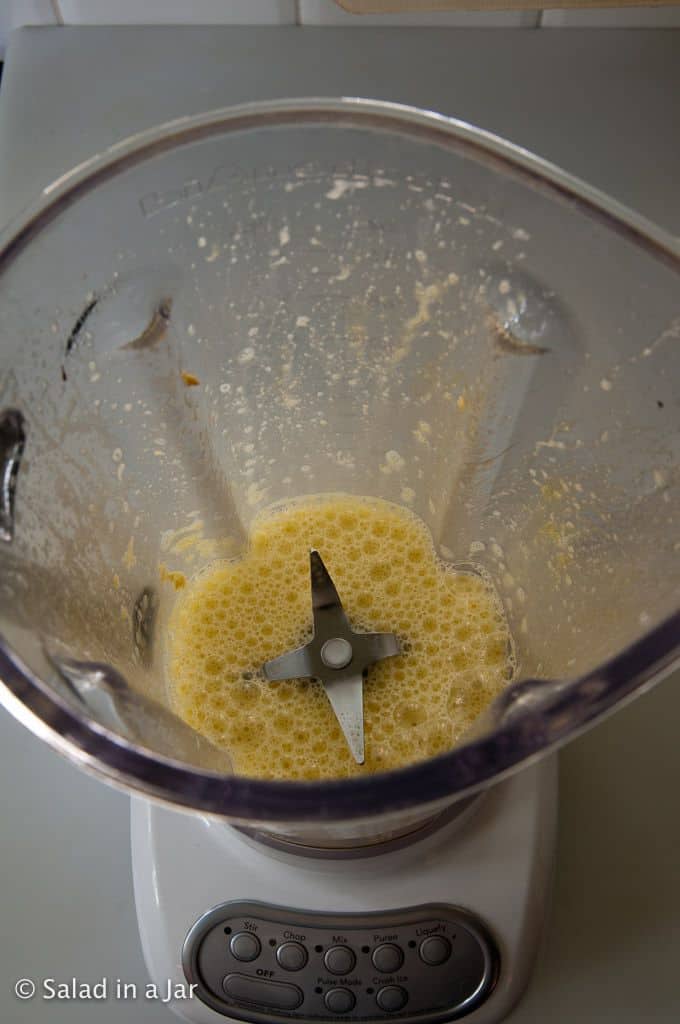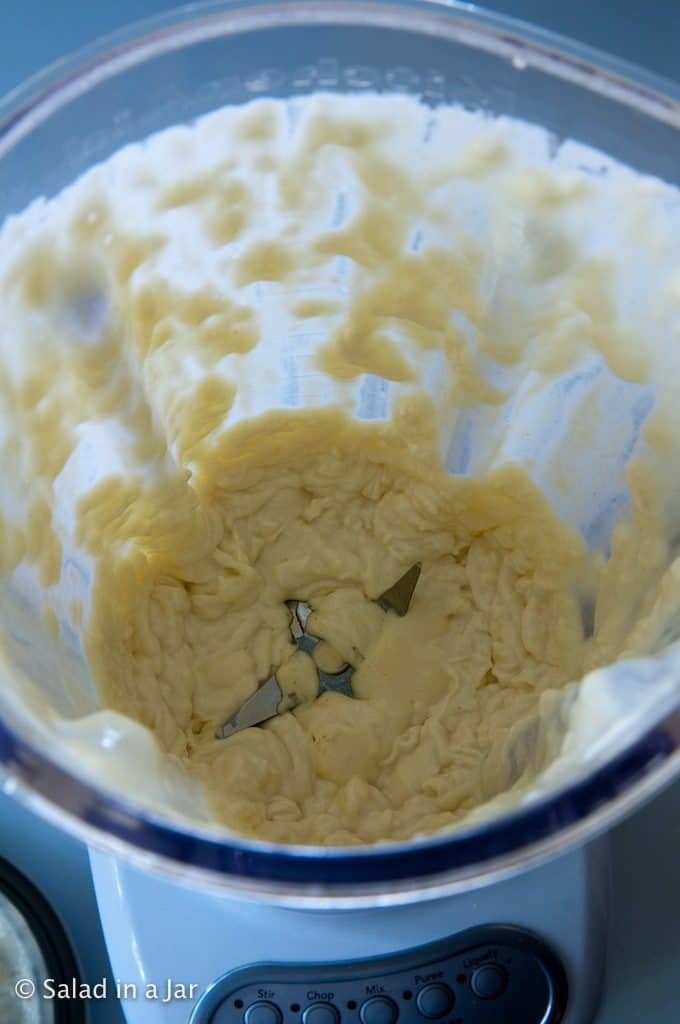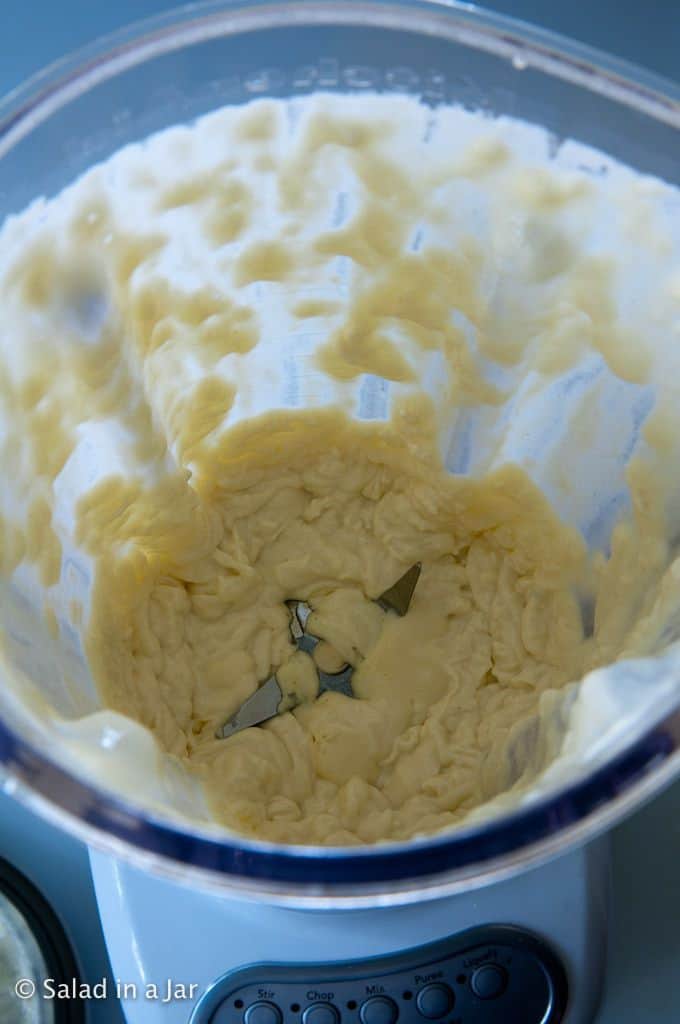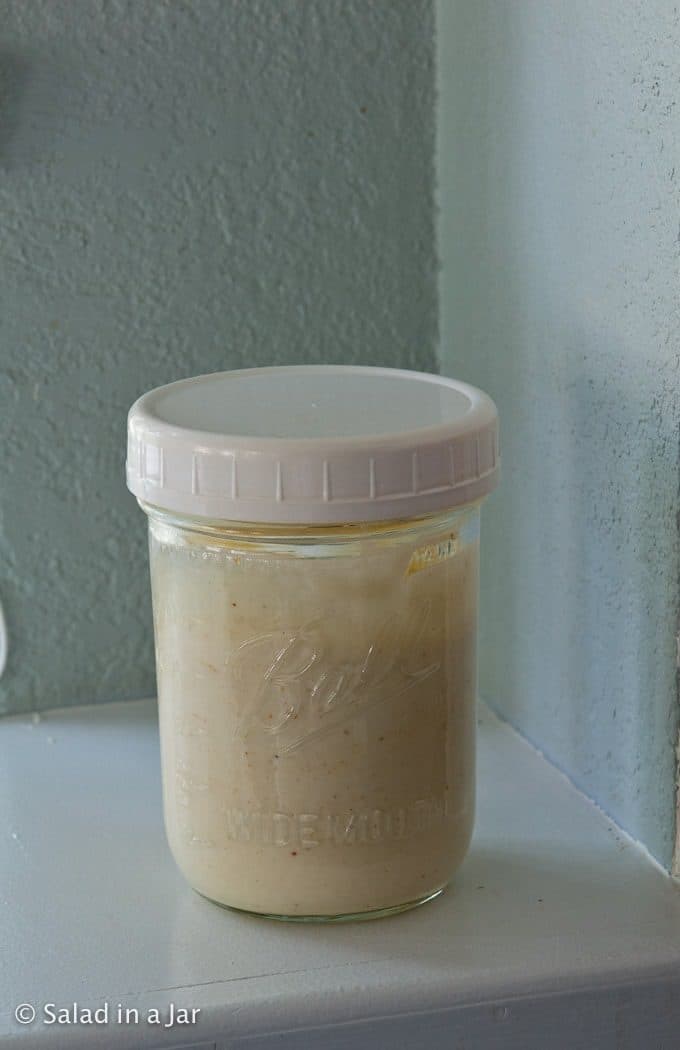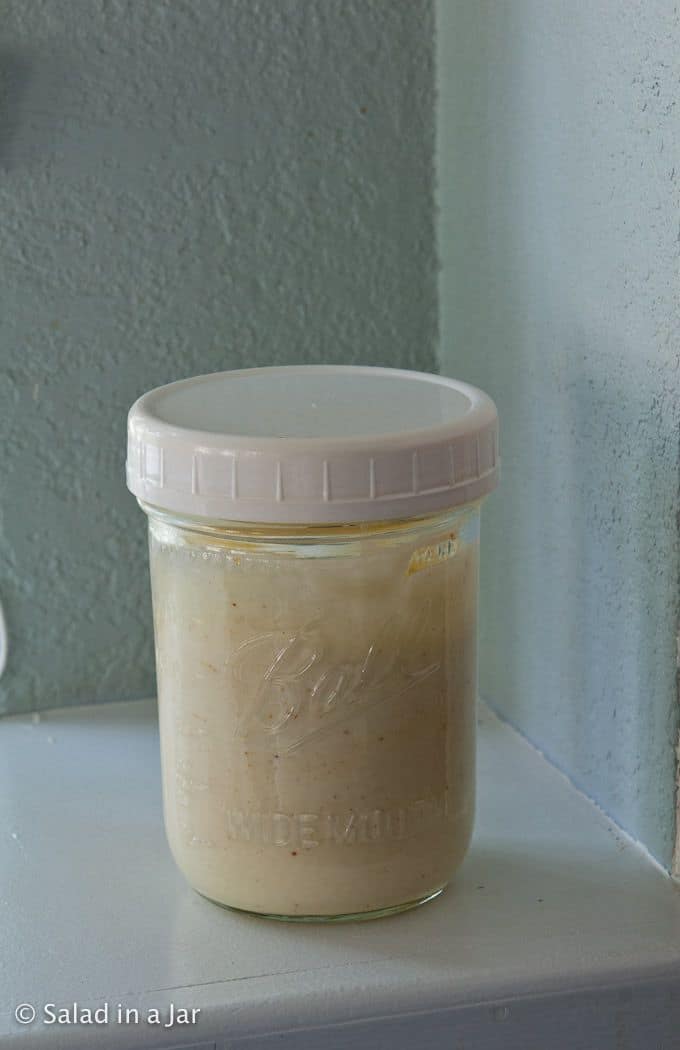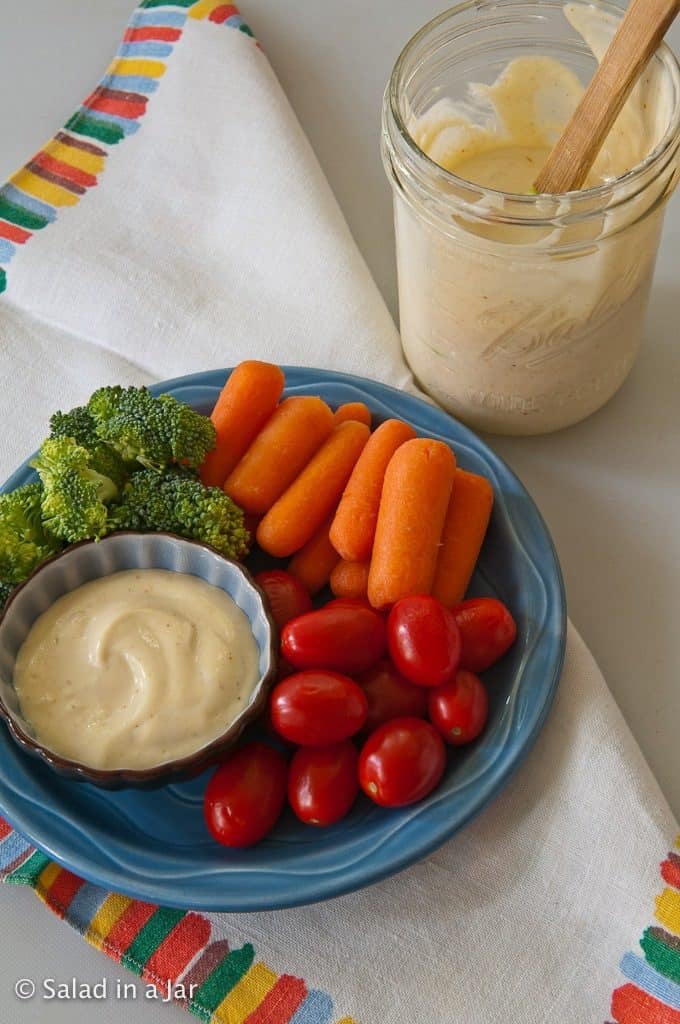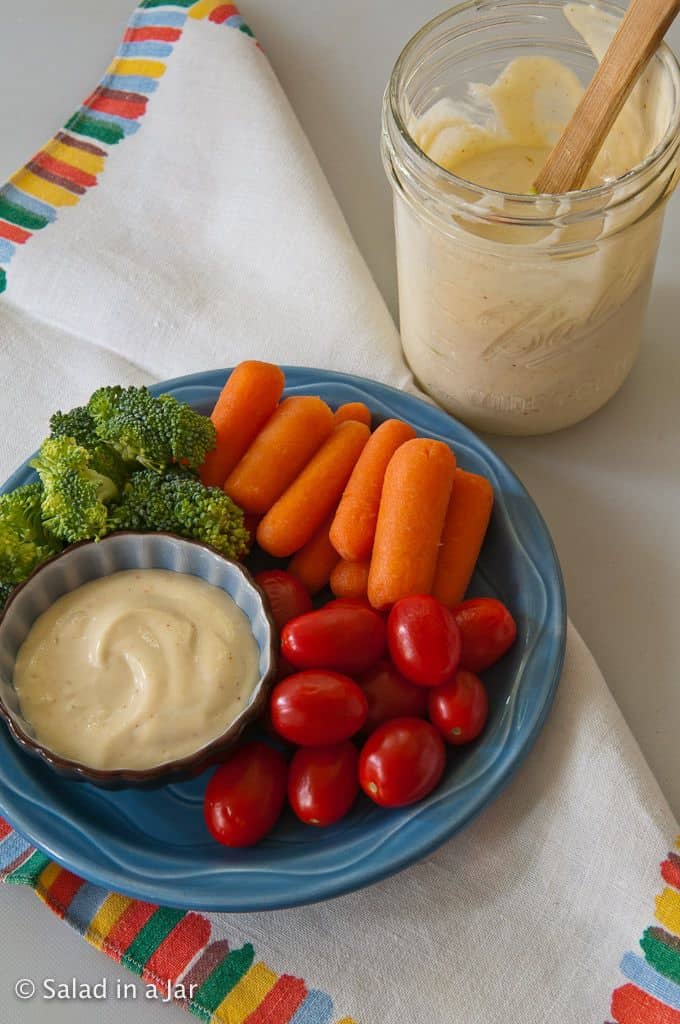 ---
---
---
Did you enjoy this recipe? If so, you can help others and me by leaving a 5-star 🤩 rating in the comment section below. No comment is required.
p.s. If you have any questions or suggestions, you can email me privately: Paula at saladinajar.com.
Hope to see you again soon!
Paula
---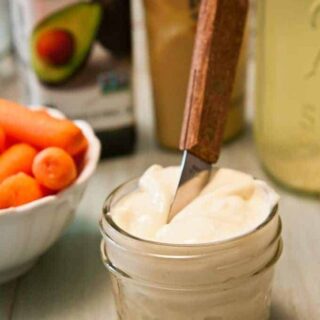 Homemade Mayonnaise that Lasts Longer
This standard mayonnaise recipe has 1 tablespoon of whey added. Instead of a week in the refrigerator, your homemade mayonnaise will keep for a month.
Ingredients
1

egg

-

room temperature

1

egg yolk

-

room temperature

2

teaspoons

apple cider or white vinegar

1

teaspoon

Dijon mustard

1

tablespoon

whey

-

drained from plain yogurt

Pinch

of sea salt

1

cup

avocado oil

Dash of cayenne

-

red pepper
Instructions
Combine first five ingredients in a

food processor

bowl, a blender, or a medium mixing bowl. Blend well.

Drip or barely trickle 1 cup of avocado oil into egg mixture with machine on or while you whisk vigorously by hand.

Add a dash of cayenne.

Pour finished mayonnaise into a glass jar and cover. Allow to sit on the kitchen cabinet at room temperature for 8 hours, then refrigerate.
Notes
This mayonnaise will stay fresh for about a month when refrigerated.
One of the reasons I like to make my own mayonnaise is so I can use one of my favorite foods, avocado oil. You can substitute vegetable oil or grapeseed oil. I don't personally care for olive oil in my mayonnaise because of the strong flavor.
Nutrition
Serving:
1
tablespoon
Calories:
105
kcal
Carbohydrates:
1
g
Protein:
1
g
Fat:
11
g
Saturated Fat:
1
g
Polyunsaturated Fat:
2
g
Monounsaturated Fat:
8
g
Trans Fat:
1
g
Cholesterol:
19
mg
Sodium:
7
mg
Potassium:
7
mg
Fiber:
1
g
Sugar:
1
g
Vitamin A:
27
IU
Vitamin C:
1
mg
Calcium:
5
mg
Iron:
1
mg