Preview: Learn how to make an easy Flaky Pie Crust with Shortening and part butter. The result? A perfect combination of buttery flavor with the flakiness and stability provided by the shortening.
As a county extension agent in the '70s, the local TV station asked me to do a short cooking demonstration. Why I picked the subject of pie crusts is a mystery now. Little did I know how many pie crusts it would take to get my technique down.
Nevertheless, crust-making has turned out to be a reasonably valuable life skill. Never mind that most people these days are pleased with a pie crust from the supermarket.
At this point in my life, I've tried what seems like hundreds of variations. But, in the end, I come back to this recipe when I want to make sure my pie crust turns out beautiful and flaky. I think you'll have the same experience.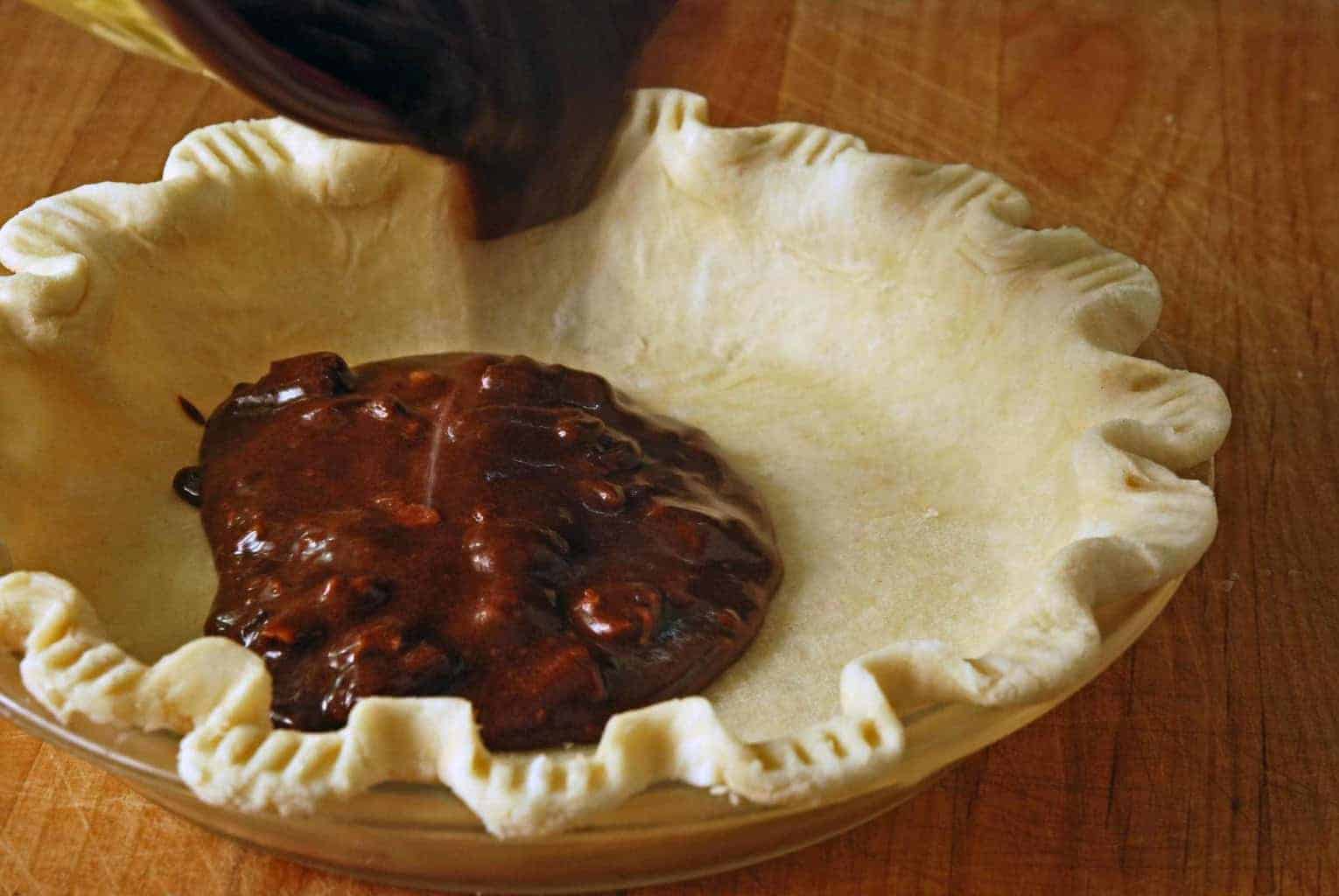 Why not all-butter?
In my experience, most all-butter recipes tend to shrink once baked. Shrinkage is especially catastrophic when you are baking a pie shell without a filling. On the other hand, shortening helps your pie to maintain its shape.
I know what you're thinking and Yes! Dried beans, pie weights, chains, and twisted parchment paper snakes–tried them all.
You can use a food processor to mix the dough, which I often do it. However, the pictures that follow show doing it the old-fashioned way. By hand. Guess it depends on whether you want to wash all the parts of a food processor or use some elbow grease with a fork or pastry blender.
How to mix pie crust by hand: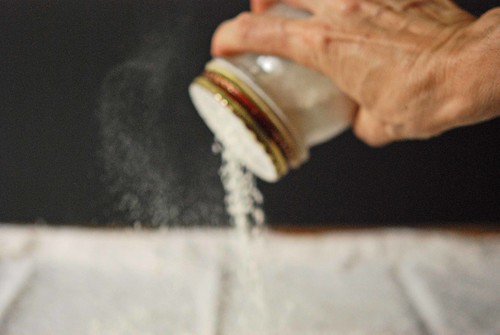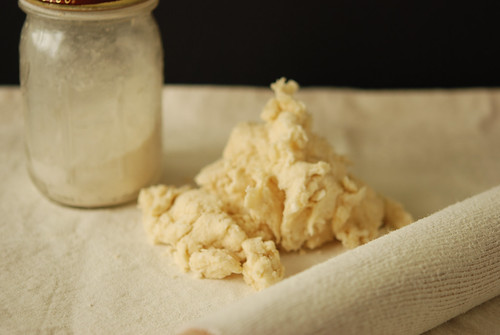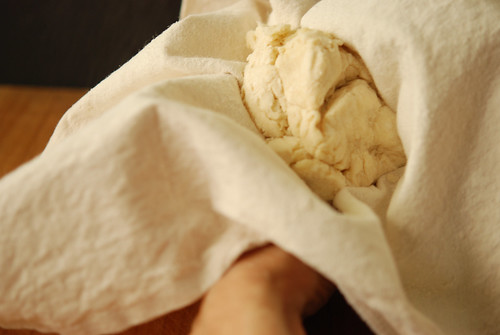 How to roll out a pie crust with a pastry cloth and rolling pin cover: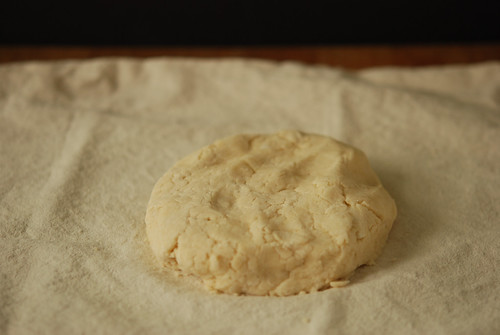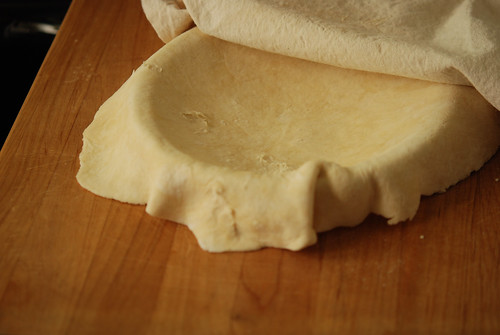 How to finish the edge of your pie crust: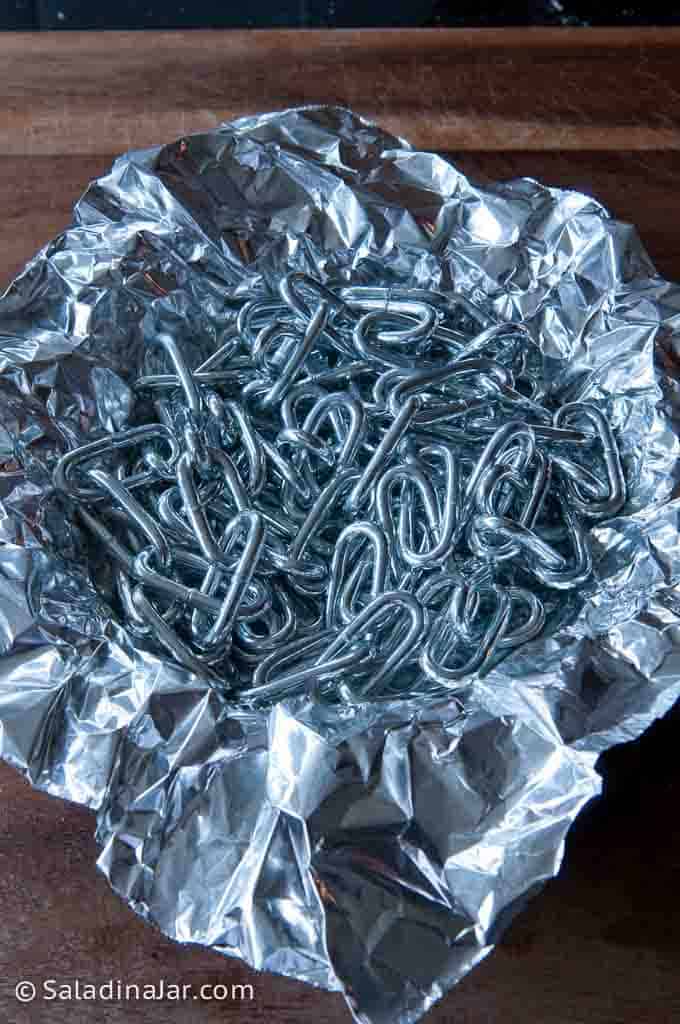 When I need to bake the crust before adding the filling, I use stainless steel chainlink—no more dried beans or pie weights that tend to spill everywhere. Even better, the chain is heavy.
Buy chains like the one pictured by the foot at hardware stores or online.
Line your raw pie crust with non-stick aluminum foil or parchment paper. Use your hands to force the foil to conform to the crust. Finally, drop your chain inside of the pie crust before you put it in the oven.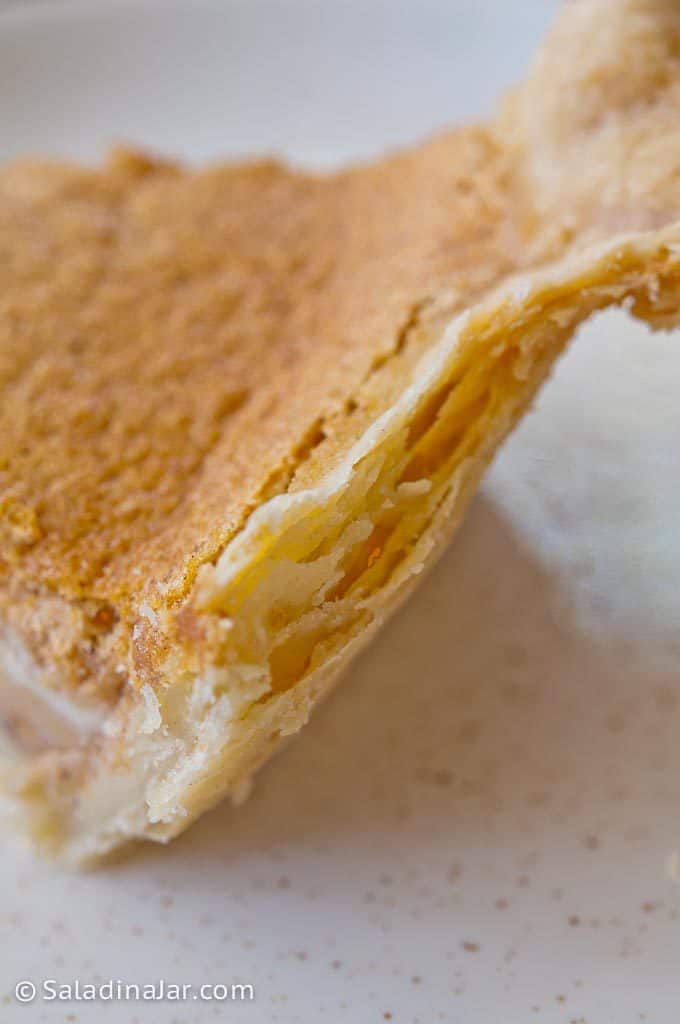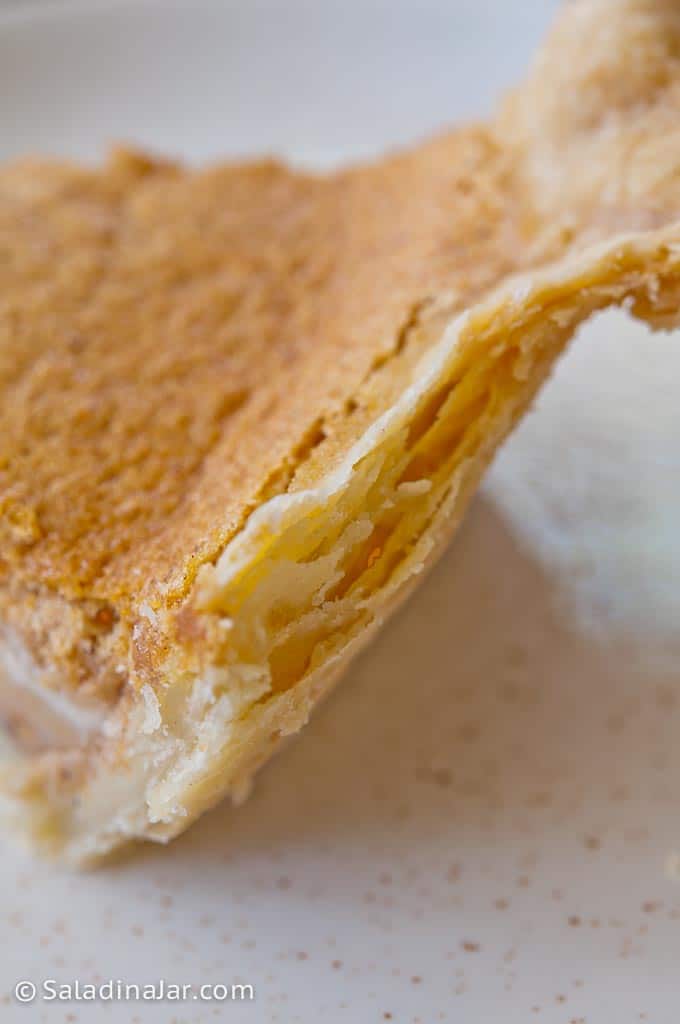 Pie Crust Tips…
Don't roll your dough too thin. It can easily tear and stretch.
Don't roll your dough too thick. It will be hard to cut in the pan and messes up the proportions of dough to filling.
Don't let the crust get too brown or it will give the flavor a bitter vibe. Go for golden brown–not toasty brown.
No matter what crust recipe you use, always spray your pie pan with something like Baker's Joy to keep the crust from sticking.
---
More Recipes Related to Pie Crust
---
Did you enjoy this recipe? If so, you can help others and me by leaving a 5-star 🤩 rating in the comment section below. No comment is required.
p.s. If you have any questions or suggestions, you can email me privately: Paula at saladinajar.com.
Hope to see you again soon!
Paula
---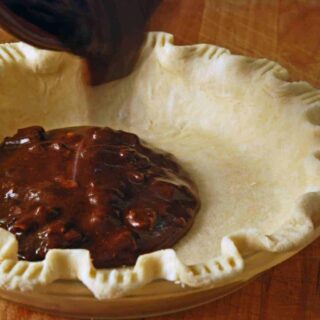 Easy Flaky Pie Crust with Shortening Recipe
Using both butter and shortening as the fat in a pie crust recipe combines the flavor of butter with the flakiness and stability of shortening for an outstanding pie crust.
Ingredients
2 ¾

cups

unbleached all-purpose flour

½

teaspoon

table or sea salt

1

teaspoon

granulated sugar

½

cup

butter

-

cold

½

cup

shortening

-

(ice cold) can substitute lard

7-9

tablespoons

ice water
Instructions
Mixing the dough:
Use a fork, pastry cutter, or food processor to cut butter and shortening into flour mixed with salt and sugar.

Flour/fat mixture should be very coarse with some pieces looking like small peas and other pieces resembling thick-cut oatmeal

Sprinkle ice cold water over flour mixture and start to compress into a ball. Only use as much water as necessary to make a shaggy ball.

Sprinkle flour over a pastry cloth or tea towel and work in with your fingers. I also use a special sock on my rolling pin that comes with the pastry cloth. Work the flour into it also.

Dump the crumbly dough onto the floured cloth.

Put your hands underneath the cloth and use the cloth to press the dough together.

If the dough will not come together, sprinkle a few drops of water over the dough until it does. If the dough is too sticky at this point, put more flour on the cloth–not the dough.

Divide the dough into 2 discs. Place in refrigerator for at least 15 minutes or until ready to roll.
Rolling out the dough:
Remove dough from refrigerator and allow to warm slightly.

Use a rolling pin to roll out 1 disc of dough, making strokes starting at the center and going outward at different angles in opposite directions like you are going around a clock. Strive to keep your circle symmetric.

Spray pie pan with flour/oil aerosol like Baker's Joy.

When you are satisfied your crust is large enough and thin enough, place an empty pie plate upside down on top of the dough.
Placing pie crust into pie pan:
Carefully, scoot your hand underneath the pastry cloth and flip the pie crust upside down. The pastry cloth will end up on top.

Peel the towel off of the crust. If crust sticks to the towel, use a knife to carefully free the dough from the cloth.

Trim crust with cooking scissors or a knife leaving about 1/3-1/2 inch overhang.

Fold overhanging dough up under the edge to make it even with the side of the pie plate.

Make a decorative border.

Place finished piecrust in the freezer for at least 30 minutes. Repeat steps 10-18 with the remaining pie crust disc.
Baking pie crust without a filling: (blind-baking crust)
Cover the inside of the frozen pie shell with nonstick aluminum foil or parchment paper. Fill covered pie shell with pie weights or a heavy chain link like you can buy by the foot at a hardware store. (see the picture in post)

Bake in a preheated oven at 375 degrees F for 25-30 minutes. Remove parchment paper or foil but don't throw it away. It's reusable.

Use a knife or toothpick to carefully puncture any bubbles (making the smallest incision possible) to let the hot air out and gently press the dough back down against the dish. If your pie crust shrinks down into the pan, more than likely you stretched it while rolling out or you neglected to freeze the crust ahead of time.

Put crust back into the oven and bake 5-10 minutes until golden brown and crispy. Watch carefully that it doesn't brown too much lest your crust taste slightly bitter/burnt.
Nutrition
Serving:
16
slice
Calories:
187
kcal
Carbohydrates:
17
g
Protein:
2
g
Fat:
12
g
Saturated Fat:
5
g
Polyunsaturated Fat:
2
g
Monounsaturated Fat:
4
g
Trans Fat:
1
g
Cholesterol:
15
mg
Sodium:
124
mg
Potassium:
25
mg
Fiber:
1
g
Sugar:
1
g
Vitamin A:
178
IU
Calcium:
5
mg
Iron:
1
mg
Essentials
French Wooden Rolling Pin 18" x 1.55" for Baking Pizza Pastry Dough, Pie Crust & Cookie – Kitchen Cuisine Utensil Smooth Tools Gift Ideas for Professional Bakers, Restaurants, Grandmas – MR. WOODWARE