Pecan Layer Cake with Raspberry Filling is a white cake studded with pecans, layered with raspberry filling, then iced with white buttercream frosting.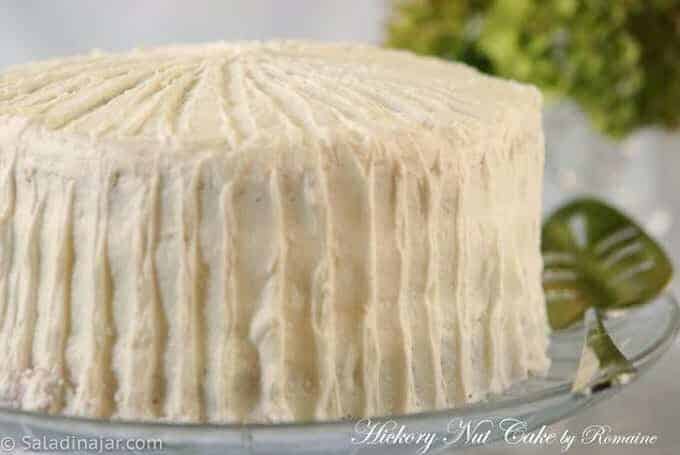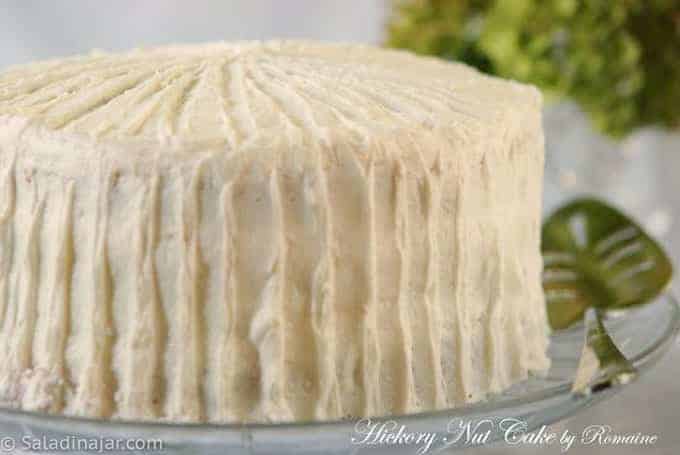 Ignore the title on the picture. This is my Aunt Marg's recipe but pecans were substituted for hickory nuts.
Happy Birthday to my Aunt Marg! She is the reason for this post since she is one of the best cooks in the Herd family.
This delicate and tender white cake is a family legend. My aunt entered the recipe into a contest–and WON! According to the family legend, she got first place, but it may have been second.
I think the prize was a new washer and dryer. Aunt Marg, if this is wrong, please correct me.
"This recipe was Aunt Nora's and it is a good white cake if you don't have hickory nuts. I have also used pecans and it is almost as good. Most people won't know the difference. A friend who lives in Lancaster, PA sends me hickory nuts for my birthday. I use the basement vise to crack them. A hammer is nearly impossible. Apparently, the Amish have not chopped down their hickory nut trees like the Indiana people."

Written by my aunt on a copy of the recipe given to my sister.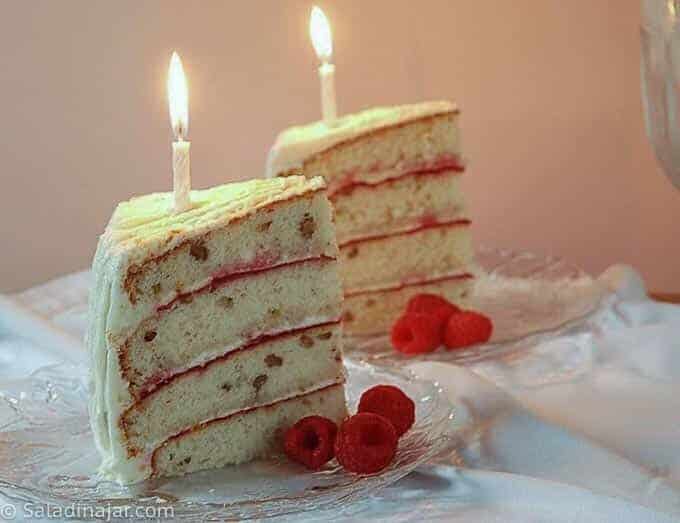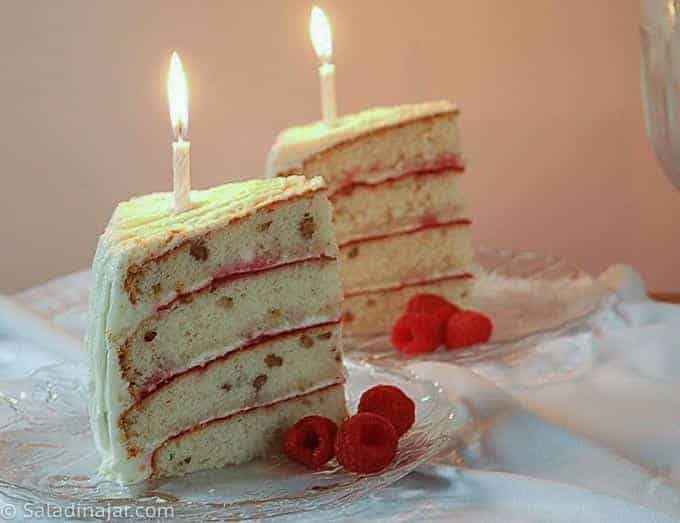 As my aunt mentioned, this is an excellent white cake. Since I'm in Texas, I use pecans. Hazelnuts would be a nice substitution for the hickory nuts.
One more thing. The raspberry filling is my addition. It's not necessary, but my family loves it.
How to assemble Pecan Layer Cake with Raspberry Filling: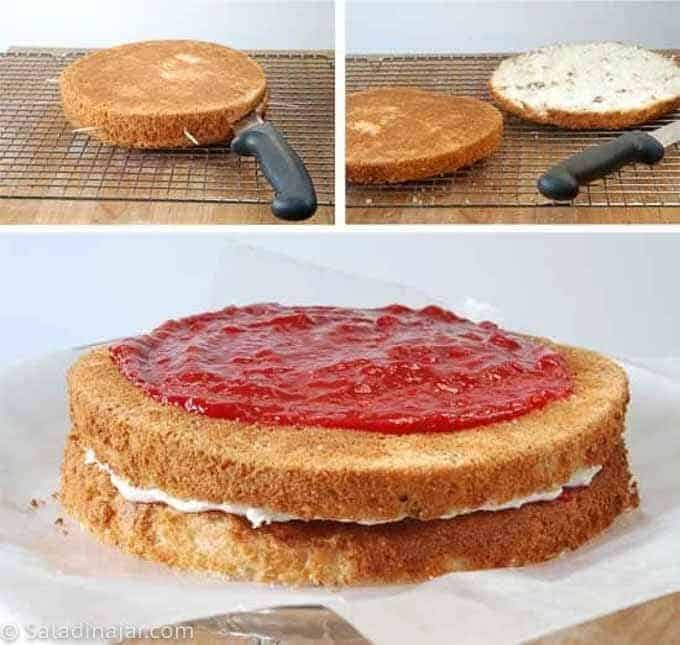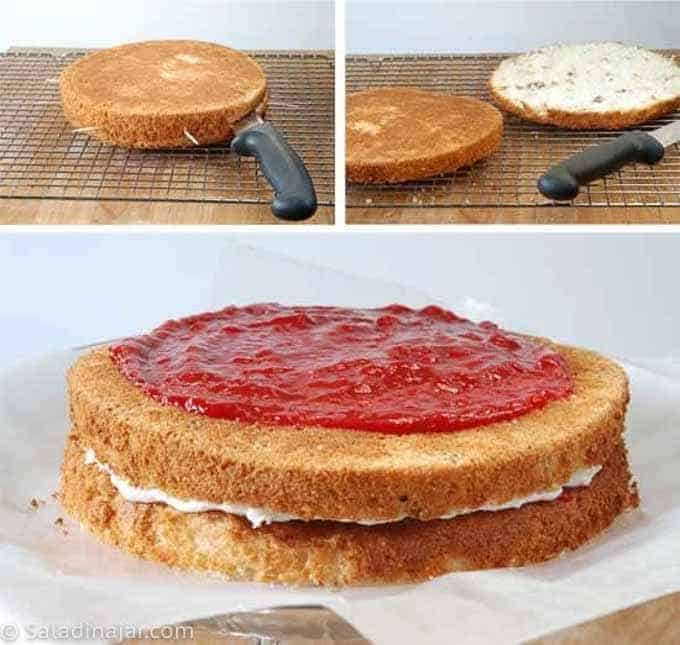 Yield: 1 layer cake
Pecan Layer Cake with Raspberry Filling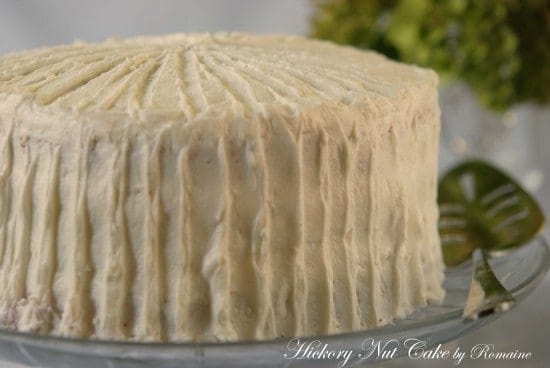 White pecan cake layered with raspberry filling--iced with white buttercream frosting
Total Time
1 hour
30 minutes
Ingredients
3/4 cup margarine (I use butter)
2 cups sugar
3/4 teaspoon salt
3 cups sifted cake flour
3 teaspoons baking powder
1/2 cup milk
1/2 cup water
1 teaspoon vanilla
1/2 to 3/4 cup chopped nuts
6 beaten egg whites
2 cups fresh raspberries
2 tablespoons sugar
2 teaspoons cornstarch
2 cups powdered sugar
1/3 cup softened butter
1 teaspoon vanilla
Whipping cream
Instructions
Preheat oven to 350 degrees.
Beat egg whites in separate bowl and set aside. Cream shortening and sugar together until light and fluffy.
Sift flour, salt, and baking powder together. Combine milk, water, and vanilla. Add dry and liquid ingredients alternately to creamed mixture, beginning and ending with flour mixture.
Stir in nuts. Fold in egg whites. Pour into 2 9-inch pans. (I used 8-inch pans and split the layers with a serrated knife.) Bake in preheated oven for 20-25 minutes.
Frost with a traditional butter cream icing.
Raspberry Filling
Place raspberries in pyrex type batter bowl and microwave 2 minutes on HIGH. Pour into a blender or food processor and puree. Strain out the seeds (or leave them in if you prefer some additional fiber.)
Combine raspberries,sugar and cornstarch in batter bowl and return to microwave. Cook on HIGH till thickened, approximately 2-3 minutes. Allow to cool.
Split layers if you used 8-inch cake pans. Spread filling on top side of one layer and buttercream icing on bottom of next layer. See picture. Do not push raspberry filling all the way to the edge as it will spread on its own. Spread too thickly or too close to the edge, the icing will end up oozing into your white frosting. Pink frosting is not gross but probably not what you want.
Buttercream Icing
Cream powdered sugar and butter. Stir in vanilla and 1 tablespoon of cream. Gradually add remaining cream until frosting is smooth and spreadable. I had to double the recipe to cover the cake.
Recommended Products
As an Amazon Associate, I earn from qualifying purchases. But don't worry. This doesn't change the price you pay.
Nutrition Information:
Yield:
20
Serving Size:
1
Amount Per Serving:
Calories:

340
Total Fat:

14g
Saturated Fat:

4g
Trans Fat:

1g
Unsaturated Fat:

9g
Cholesterol:

10mg
Sodium:

212mg
Carbohydrates:

52g
Fiber:

2g
Sugar:

33g
Protein:

4g
Related Posts: