Hickory Nut Cake With Raspberry Filling: A Contest Winner
Sneak Preview: This Hickory Nut Cake With Raspberry Filling is a feather-weight white cake studded with hickory nuts (or pecans) and layered with raspberry filling, then iced with white buttercream frosting.
As an Amazon Associate, I earn from qualifying purchases.
This delicate white cake is famous! My aunt Marg entered the recipe into a contest—and WON! According to the family legend, she placed first, but it could have been second.
The prize? A new washer and dryer.
I would love to enter this cake into a contest. Unfortunately, I don't know of one. What I really care about, is making a delicious cake that's good enough to share with my family and friends.
Recipe inspiration:
The following was written by my aunt on a copy of the recipe given to my sister.
"This recipe was Aunt Nora's, and it is a good white cake if you don't have hickory nuts. I have also used pecans. It is almost as good. Most people won't know the difference. A friend who lives in Lancaster, PA sends me hickory nuts for my birthday. I use the basement vise to crack them. A hammer is nearly impossible. Apparently, the Amish have not chopped down their hickory nut trees like the Indiana people."

Aunt Marg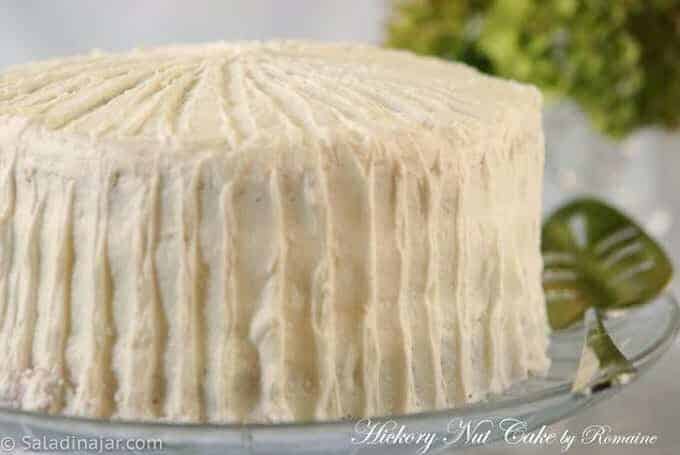 Related Post: Aunt Marg's French Silk Chocolate Pie

As my aunt mentioned, this is an excellent white cake. When I can't get hickory nuts, I use pecans. Hazelnuts would also be a nice substitution for hickory nuts.
One more thing. The raspberry filling is my addition. It's not necessary, but my family loves it.
---
Ingredients and substitutions:
BUTTER: The recipe called for margarine originally, but I always use butter.

SUGAR: Use granulated sugar.

SALT: Use table or sea salt. If using Kosher salt, add ¼-½ teaspoon extra.

CAKE FLOUR: If you don't have cake flour, this is my suggestion from Sally's Baking Addiction. Measure 1 cup of flour. Remove two tablespoons and substitute cornstarch for the flour. Sift them together at least twice.

MILK: Whole milk is best, but any dairy milk will work. I haven't tested this with non-dairy milk.

NUTS: Hickory nuts are not readily available where I live, so I use pecans. Hazelnuts are also an option.

EGG WHITES: Using only egg whites makes a beautiful white cake. Here are some ideas for the egg yolks: Fresh Fruit Mini-Tarts with Vanilla Pastry Cream, Microwave Banana Pudding, and Angel Food Cake with Whipped Cream and Chocolate Ganache.

RASPBERRIES: I recommend you stick with fresh raspberries as frozen berries will add more liquid and require more thickener.
---
How to assemble Hickory Nut Cake with Raspberry Filling: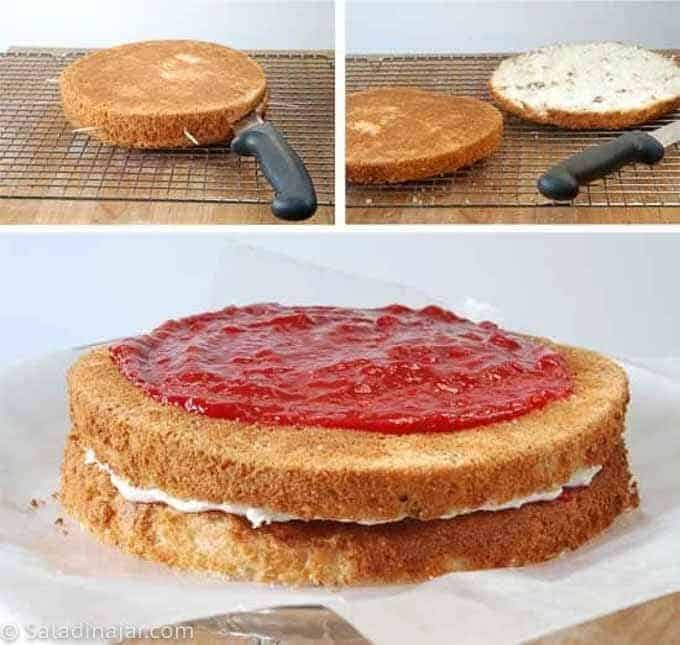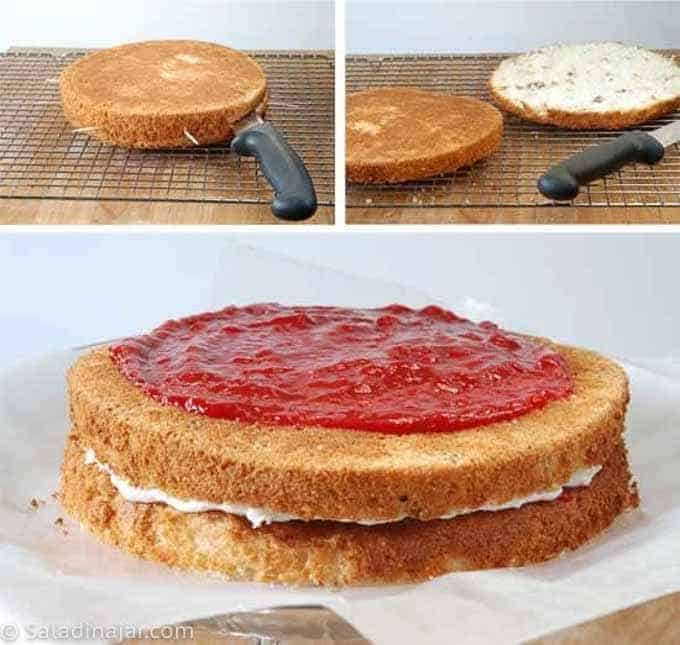 Related Post: Chocolate-Almond Mini Torte
---
FAQ about Hickory Nut Cake:
Are hickory nuts and pecans the same thing?
Pecans are a type of hickory nut. So, substituting pecans for hickory nuts is a good idea if you don't have hickory nuts.
Does this cake need to be refrigerated?
I recommend it. The cake will be much easier to slice after it is chilled.
Can I use raspberry jelly as the filling?
Yes. Warm it in the microwave to make it easier to spread. Add a touch of water, if necessary, to make it spreadable.
---
Parting Thoughts: Do you have access to hickory nuts? Or will you be using pecans or something else instead? I would love to hear from you: Paula at saladinajar.com
---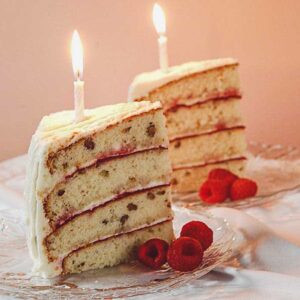 Hickory Nut Cake Recipe with Raspberry Filling
This contest-winning white cake is layered with raspberry filling and iced with white buttercream frosting. We like to add hickory nuts or pecans.
Ingredients
¾

cup

margarine

-

I use unsalted butter

2

cups

granulated sugar

¾

teaspoon

salt

3

cups

sifted cake flour

3

teaspoons

baking powder

½

cup

milk

½

cup

water

1

teaspoon

vanilla

½ to ¾

cup

chopped hickory nuts

-

or pecans or hazelnuts

6

beaten egg whites
Raspberry Filling:
2

cups

fresh raspberries

2

tablespoons

sugar

2

teaspoons

cornstarch
Buttercream Icing:
2

cups

confectioners' sugar

⅓

cup

softened butter

1

teaspoon

vanilla

1

tablespoon

Whipping cream
Instructions
Preheat oven to 350˚F.

Beat egg whites in a medium bowl and set aside. Cream the butter and sugar together in a large bowl. Use your stand mixer (or a portable mixer) and beat until light and fluffy.

Sift the flour, salt, and baking powder together (I do this over a paper plate or a piece of wax paper.) Combine milk, water, and vanilla in a large measuring cup. Add dry and liquid ingredients alternately to creamed mixture, beginning and ending with flour mixture.

Stir in the chopped nuts. Fold in egg whites. Pour into 2 parchment or wax-paper lined 9-inch pans. (I used 8-inch pans and split the layers with a serrated knife.) Bake in preheated oven for 20-25 minutes.
Raspberry Filling
Place raspberries in a Pyrex glass batter bowl and microwave 2 minutes on HIGH. Pour into a blender or food processor and puree. Strain out the seeds with a fine-mesh strainer (or leave them in if you want additional fiber.)

Combine raspberries, sugar, and cornstarch in the batter bowl and return to the microwave. Cook on HIGH till thickened, approximately 2-3 minutes. Allow it to cool.
Buttercream Icing
Cream powdered sugar and butter in a large mixing bowl. Stir in vanilla and 1 tablespoon of cream. Gradually add remaining cream until frosting is smooth and spreadable. I had to double the recipe to cover the cake.

Split the layers in half horizontally if you used 8-inch cake pans. Spread filling on the top side of one layer and buttercream icing on the bottom of the next layer. See the picture. Do not push raspberry filling all the way to the edge as it will spread on its own. If you spread the filling too thickly or too close to the edge, the icing will end up oozing into your white frosting. Pink frosting is not gross but probably not what you want.
Nutrition
Serving:
1
slice
|
Calories:
402
kcal
|
Carbohydrates:
62
g
|
Protein:
5
g
|
Fat:
16
g
|
Saturated Fat:
5
g
|
Polyunsaturated Fat:
3
g
|
Monounsaturated Fat:
7
g
|
Trans Fat:
1
g
|
Cholesterol:
12
mg
|
Sodium:
343
mg
|
Potassium:
97
mg
|
Fiber:
2
g
|
Sugar:
43
g
|
Vitamin A:
527
IU
|
Vitamin C:
4
mg
|
Calcium:
69
mg
|
Iron:
1
mg