Preview: Learn how to make Microwave Banana Pudding from scratch that tastes better than instant pudding and is almost as fast. No scorching, no double boiler, and no standing over a hot stove.
Make your microwave more than just a leftover warmer-upper. Instead, use it to make a great dessert-like this classic banana pudding. It will taste fabulously sweet and creamy without you breaking a sweat–literally!
The day I discovered I could make tasty vanilla pudding in my microwave changed my attitude about banana pudding—no more instant pudding mix or using Mom's old-fashioned pudding custard recipe made on the stove.
A blender or food processor is a quick way to mix up this scratch pudding recipe. Then pour it into a microwave-safe Pyrex mixing bowl.
Cook your pudding in the microwave. Layer with vanilla wafers and bananas. Top with fresh whipped cream.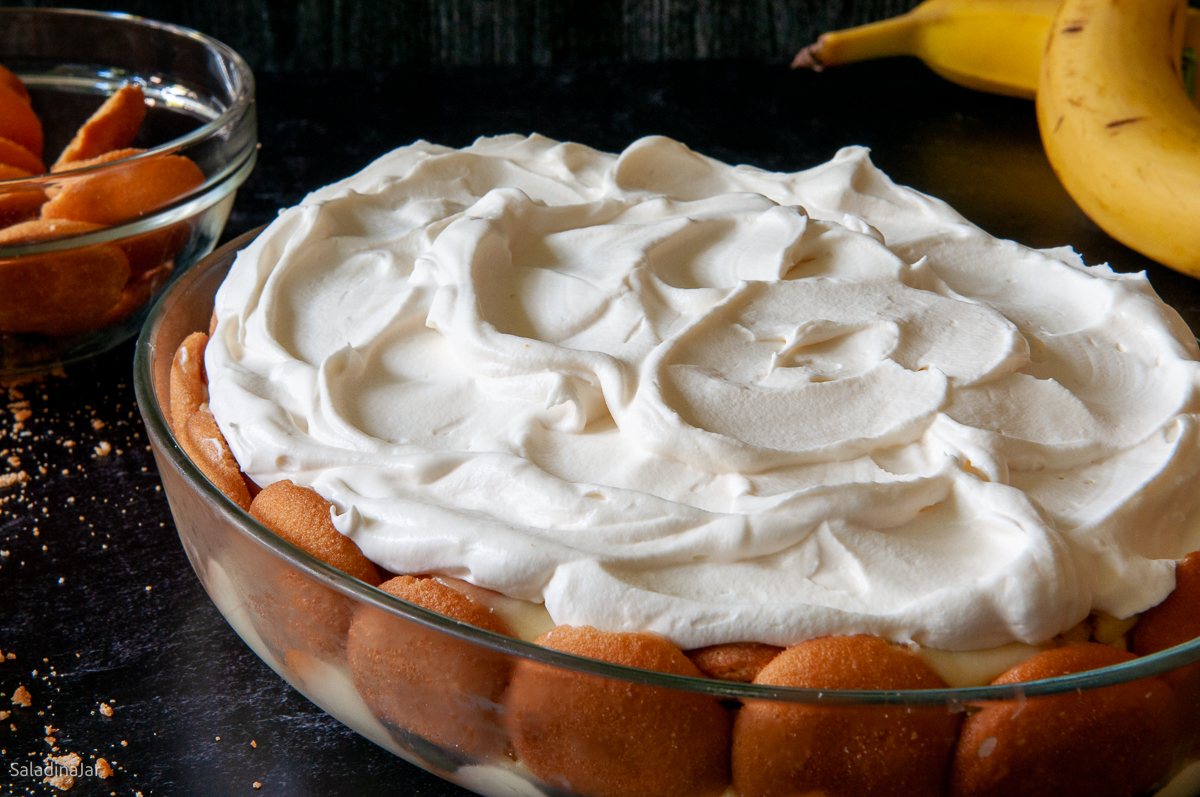 ---
Why you'll love this simple banana pudding recipe:
#1
Mix all the vanilla pudding ingredients in a flash with a blender or food processor.
No worries about lumps. The custard mixture will go into the microwave silky smooth. The cooked pudding should come out smooth, assuming you don't forget to whisk it occasionally. Tempering the egg yolks is unnecessary.
#2
This recipe is so uncomplicated, you can memorize it.
For me, this is a huge plus when I don't feel like cooking.
#3
Clean up is easy.
You no longer need to worry about scorching and then having to scrub the pan. The blender and pyrex bowl you use in the microwave will clean up easily. I throw mine in the dishwasher.
#4
The microwave reduces cooking time.
My microwave is SLOW, but 7 minutes is all the time required to thicken the pudding. If your oven is relatively new and/or more powerful, the time may be less. Pay attention the first time or two you make the pudding to determine the proper cooking time.
---
Ingredients and substitutions:
SUGAR: Use white granulated sugar. This recipe has not been tested for any substitutions of this ingredient.

EGG YOLKS: The egg yolks all come from large eggs. (50 grams per whole egg.)

FLOUR: The recipe is formulated for all-purpose flour. Bleached or unbleached doesn't matter.

MILK: Any type of dairy milk from fat-free to whole milk will work. Of course, the higher the fat content, the richer the final product. I'm guessing non-dairy milk such as almond or cashew milk would work, but I haven't tested it.

SALT: You don't need much, but a little bit enhances the sweetness. I use sea salt but table salt or Kosher is also good.

VANILLA EXTRACT: This flavoring adds so much character to banana pudding. Try not to leave it out. If you have it, vanilla bean paste with the obvious black specks will take this recipe up a notch.

BUTTER: Butter smooths out the texture, firms the pudding as it chills, and adds flavor. Substitute margarine if you prefer.

BANANAS: The bananas you choose for this recipe should not be over or underripe. Use the "Goldilocks Rule." Look for "just right" in the store, or buy underripe bananas and wait until they are perfect.

VANILLA WAFERS: We prefer "Nilla" wafers. Be sure they are fresher than fresh. I always have a few leftover cookies for the grandkids.

WHIPPING CREAM: Use heavy or whipping cream. Substitutes include non-dairy whipped topping or canned whipped cream. Some people prefer meringue on top of their banana pudding. We never do it that way.

---
Shortbread Variation:
Store-bought vanilla wafers are my go-to cookie for this dessert. But sometimes, I like to make my shortbread crumbles for a dessert that tastes like banana cream pie in a bowl. Oh, my! It's wicked good!!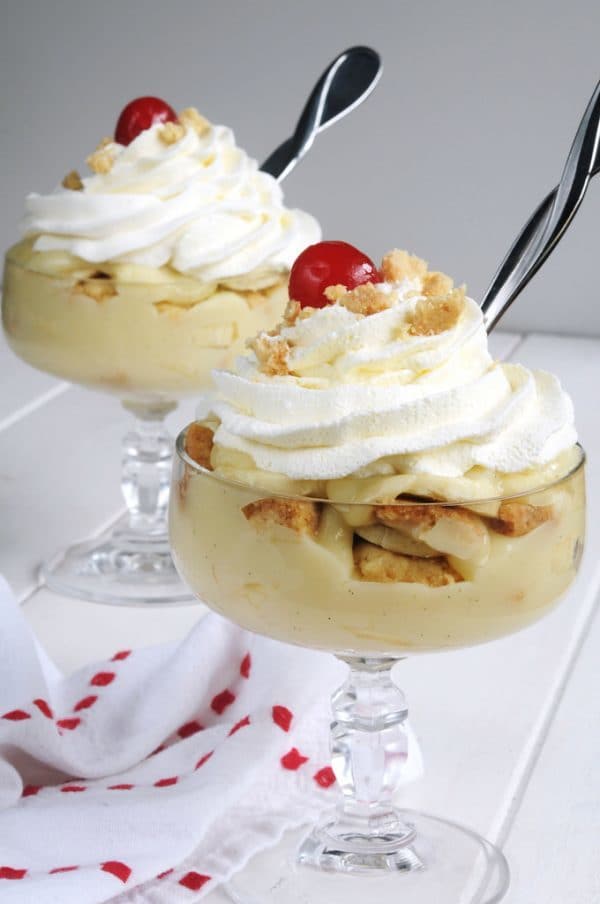 ---
FAQ
Can I make banana pudding ahead of time?
Eat this pudding the same day you make it. Making it the night before is the next best option. However, it needs at least 2-3 hours to chill, so you must make it a little bit ahead of time. Once served, the remaining bananas will turn brown and quickly soften when exposed to oxygen.
Can I make this pudding on top of the stove?
Yes. The recipe will be the same, but the method is more complicated and time-consuming. You would be better off finding a stove-top recipe like this one copied from the back of the box of Nilla wafers.
What can I use if I don't have a blender or food processor to mix the pudding ingredients?
Whisk the ingredients together as well as you can. Cook this mixture in the microwave as instructed. Whisk every 45 seconds once the mixture starts to thicken. If you have any lumps, pour it through a strainer immediately.
On the bright side, lumps get lost in the banana pudding because of everything else going on. Don't sweat it.
---
How to make banana pudding in a microwave:
---
More cream pie recipes you can make in the microwave:
---
If you enjoyed this recipe, it would help others and me if you gave it a five-star rating inside the recipe card below. 🤩 No comment required. Thank you.

Hope to see you again soon!
Paula
p.s. Questions or suggestions? Please email me: Paula at saladinajar.com.