Scratch Angel Food Cake with Ganache: A Glorious Experience
Sneak Preview: This glorious scratch Angel Food Cake is topped with whipped cream and drizzled with Chocolate Ganache. The flavor experience will remind you of a chocolate-dipped cone from the DQ.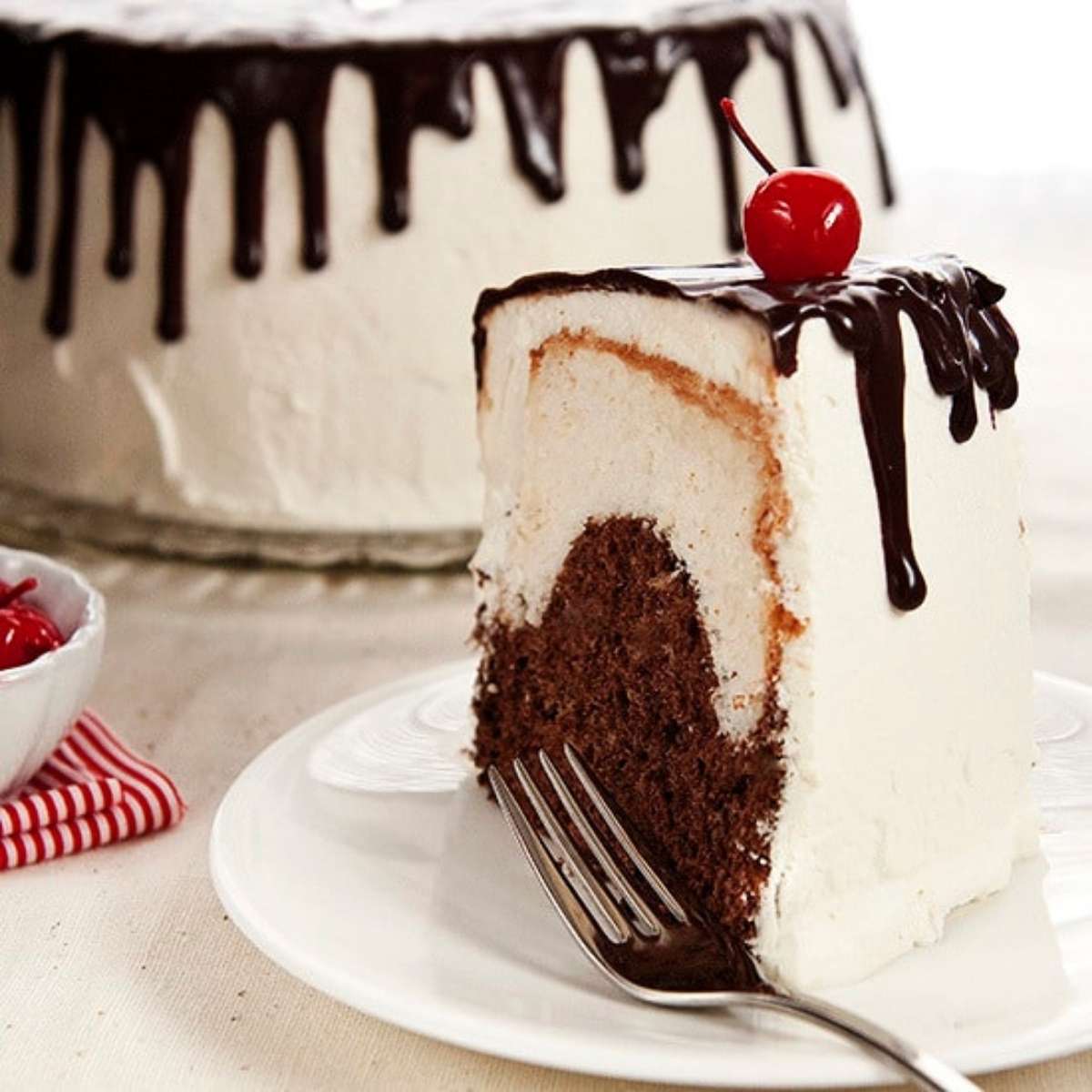 As an Amazon Associate, I earn from qualifying purchases.
Except for a few attempts to win a blue ribbon in 4-H, I've always made angel food cakes from a cake mix. While it seems good enough most of the time, homemade angel food cake tastes better (especially the batter).
Besides, I'm tired of throwing away egg whites after harvesting the egg yolks. So I resolved to learn how to bake a light and fluffy cake that rises so high it peeks over the side of the pan. Follow me, and let's do it.
Hey, come back here. If I can do it, you can too.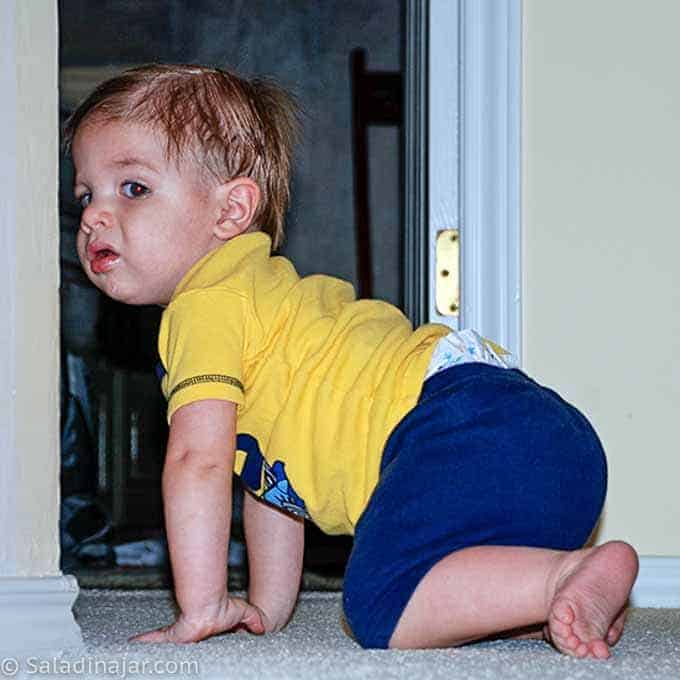 Yes, you can bake an angel food cake from scratch. I'm not saying it's easy, but it's also not that hard. However, if you want to make this recipe for a birthday party or special occasion, I highly recommend you do a practice run.
Angel food cake can be a little tricky, so experience helps. After watching the video on this basic angel food cake post by Sam of Sugar Spun Run, I began making wonderful angel food cakes. I highly recommend you take a look at her explanation.
If, at first, your cake doesn't turn out perfect, check out this recipe for salvaging a low-rise angel food cake.
If you prefer an easier recipe that still makes a dramatic-looking cake, use an angel food cake mix and leave out the chocolate layer inside the cake. Or check out my Chocolate Almond Torte with Chocolate Ganache; it doesn't require so many eggs but still uses the same delicious chocolate ganache.
---
The basic recipe for this angel food cake comes from Betty Crocker. I combined it with an interesting idea I saw on Confections of a Foodie Bride (she's a fellow Texan who seems to like Mexican food as much as I do). In the same way, Foodie Bride did, I folded powdered cocoa into part of the batter and carefully poured it over the vanilla batter to make an irregular but pretty pattern.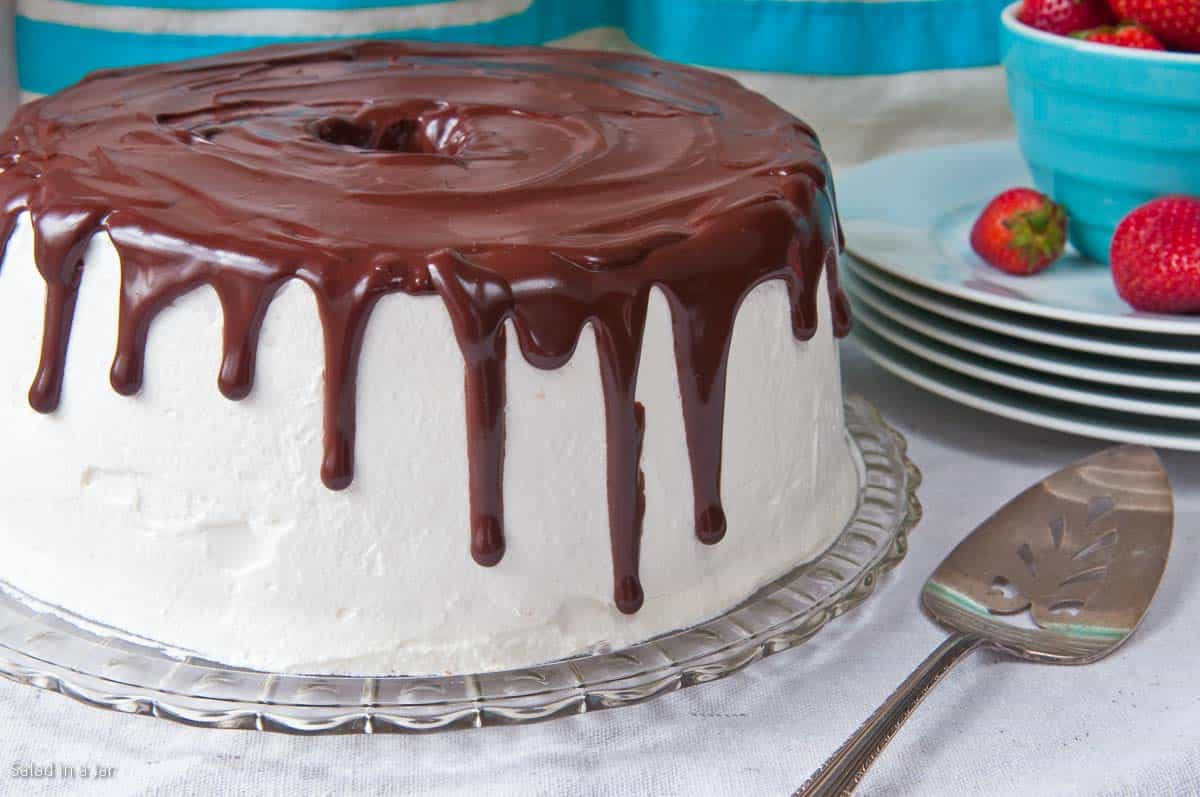 Here's where it gets good:
Frost this cake with whipped cream icing, then drizzle with chocolate ganache (the same as the filling in these tartlets. While drizzling feels dangerous at first, imperfect drizzling adds charm, thankfully. So don't sweat it.
Try this for Valentine's or Easter or any time you want a grand finale to a meal.
---
"I would love to make this cake (it was especially delicious when we had it at your house)."

Beth P
---
---
Ingredients and substitutions: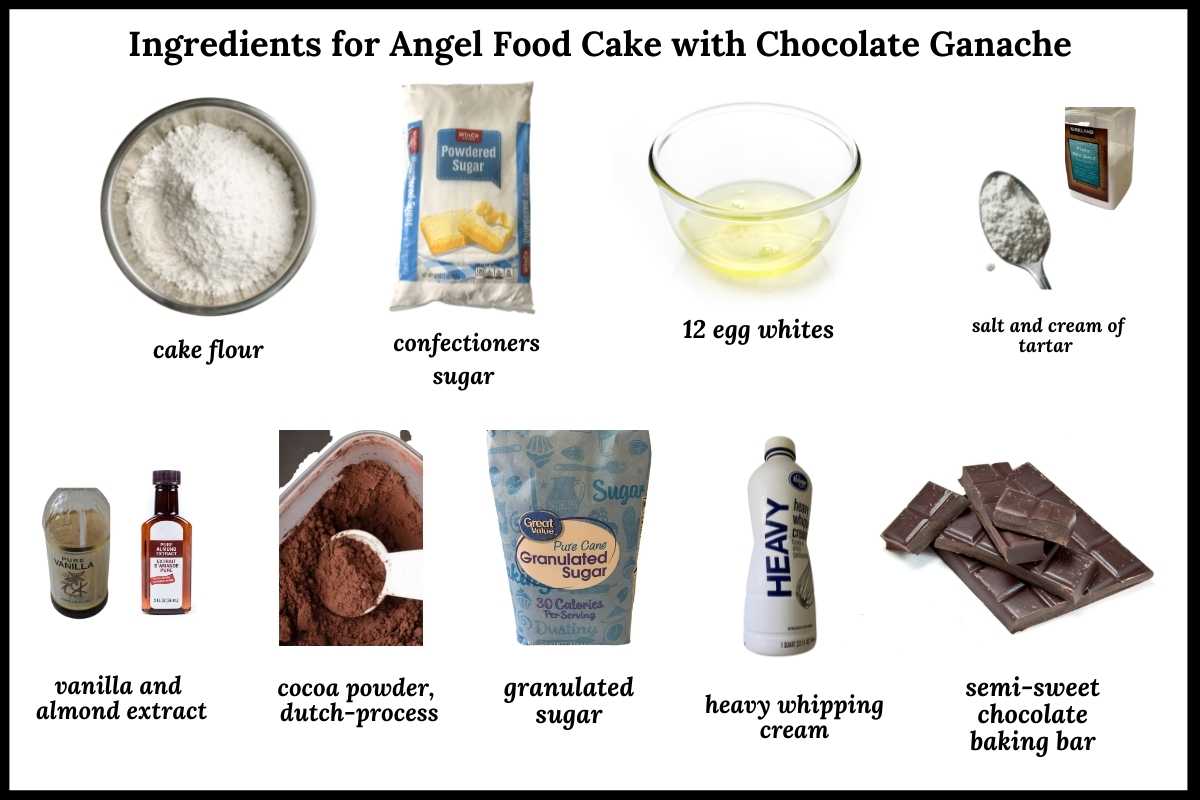 CAKE FLOUR: Cake flour contains less protein than all-purpose flour. If you must substitute, use 1 cup of all-purpose flour minus 2 tablespoons. Some people recommend replacing the two tablespoons of all-purpose flour with two tablespoons of cornstarch. I have not tried that myself.

POWDERED SUGAR OR CONFECTIONERS SUGAR: Powdered sugar dissolves easier when folded into whipped egg whites. I used to use superfine sugar but prefer powdered sugar because I always have it on hand.

SUGAR: Use granulated white sugar when whipping the egg whites. Superfine sugar is also acceptable, but not brown sugar or sugar substitutes.

EGG WHITES: Egg whites whip higher if the eggs come to room temperature before starting.

Any speck of egg yolk will keep the egg whites from whipping. If you inadvertently drop some egg yolk into your egg white mixture, try scooping it out with part of the shell. It works much better than a spoon.

CREAM OF TARTER: Cream of tartar helps to stabilize your egg whites. Don't leave it out.

SALT: Use table salt or sea salt. Add a pinch more if using Kosher salt.

ALMOND EXTRACT: This extract gives angel food cake its classic flavor.

POWDERED COCOA: Use dark chocolate or dutch-processed cocoa for maximum chocolate color and flavor. Regular cocoa powder can be substituted, but the color contrast with the white batter will be less. You can leave the chocolate out altogether for a simpler cake.
---
Layering the cake batter: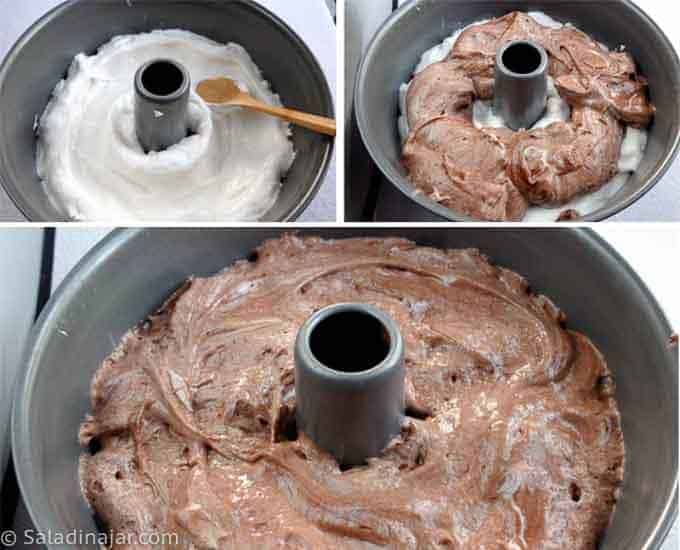 After folding in the granulated sugar and cake flour mixture (do this with a light hand–you don't want to develop the gluten), place about two-thirds of the batter into the bottom of the angel food cake. Fold the sifted cocoa into the remaining third of the cake batter.
You can use a spoon to draw a trough in the vanilla batter. Carefully spoon the chocolate batter into the trough. Try to level out the batter without mixing the chocolate and vanilla flavors. (If you enjoy the combination of chocolate and vanilla flavors, check out this Zebra Pie–it's great fun.)
---
How to master the chocolate ganache "drizzle" technique: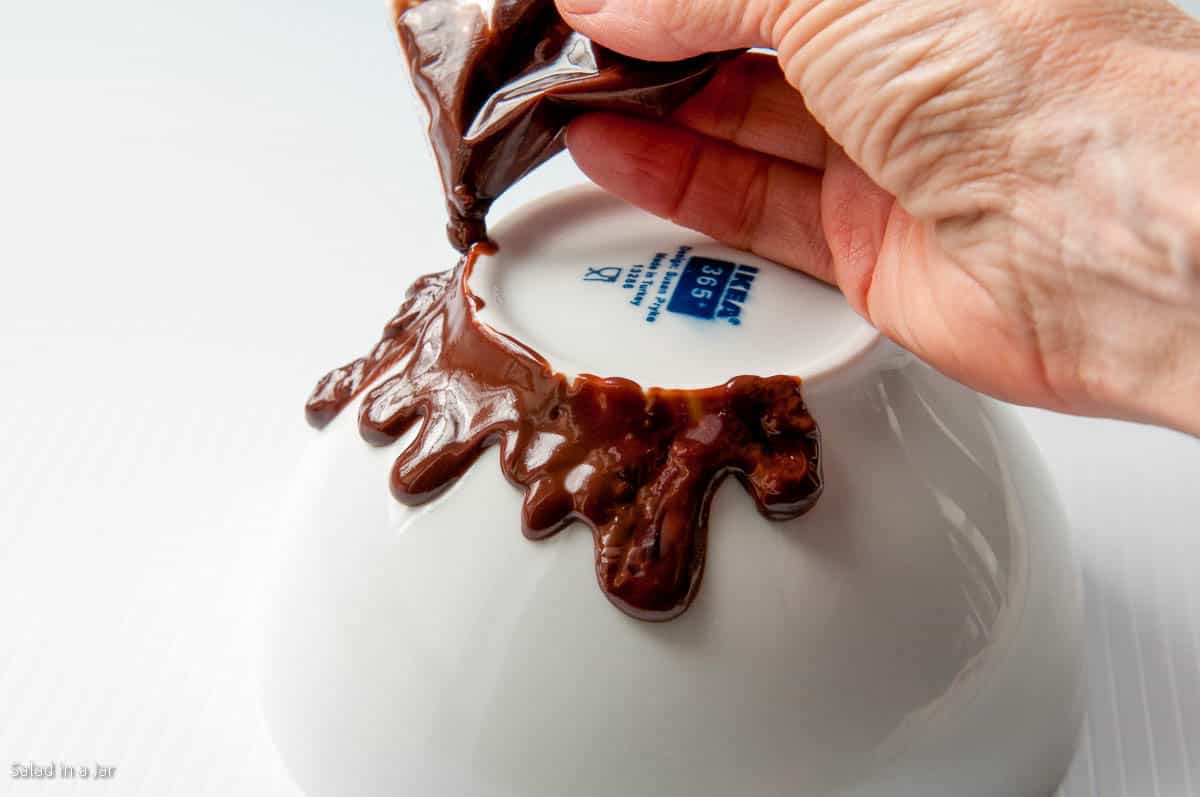 Turn a soup bowl upside down and practice. It's also a good way to check the consistency of the chocolate ganache to ensure it is not too runny or thick.
---
Frequently Asked Questions about Angel Food Cake with Chocolate Ganache
Can I freeze this angel food cake?
This cake can be frozen before frosting but is not recommended after it is frosted with whipped cream and the ganache. Wrap an unfrosted cake in double layers for the best results.
Can I leave out the chocolate in the middle of the cake?
Yes. This cake will still be delicious without it. You can also leave off the chocolate ganache. Then it will be a delicious vanilla angel food cake. Try this Browned Butter Icing as a thin glaze if you don't want to use whipping cream.
Can I make this cake without a stand mixer?
Yes. My grandma made many wonderful angel food cakes from scratch with an old-fashioned electric mixer. You can use a good portable mixer. Use the whisk attachment if you have one. However, dissolving the granulated sugar into the whites will take longer.
If I don't have an angel food cake pan, can I use a different pan for baking my angel food cake?
Angel food cake rises better in a 10-inch tube pan than in a loaf or round cake pan. An angel food cake pan with a removable bottom is even better. I prefer not to use a non-stick pan. The grippy surface of an aluminum pan helps the cake to rise. However, wash your aluminum pan by hand for the best results.

On the same topic, I don't recommend using a bundt pan. First, most of them have a non-stick finish which does not help the cake rise. Second, the more intricate designs will make it difficult to get the cake out of the pan in one piece.
How far ahead of time can I bake this cake?
I like to bake it the night before the party. Let the cake cool upside down all night when it comes out of the oven. The next day, frost with whipped cream and decorate with chocolate ganache. Keep the cake in the refrigerator until you are ready to serve it because of the whipped cream icing.
---
Parting thoughts: This cake is now the most-requested birthday cake in my family. Even the kids ask for it. Here are a couple more favorites with my grandkids: Kay's Swiss Chocolate Cake Mix Recipe–A Crowd Favorite and Kid-Friendly Coffee Cake with Bisquick. If you need something more sophisticated, my mom's favorite was this Carrot Cake without Pineapple.
---
If you have questions or suggestions, email me privately for a quick answer: Paula at saladinajar.com. Hope to see you again soon!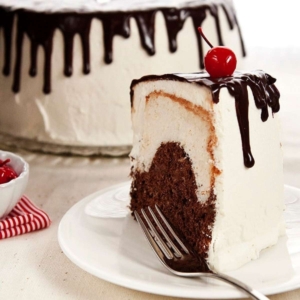 Scratch Angel Food Cake Drizzled with Chocolate Ganache
No decorating talent is required to make this showy angel food cake for your next birthday party. The whole flavor experience reminds me of a dipped cone from the DQ.
Rate this recipe here
Ingredients
Cake:
1½

cup

confectioners sugar

-

170 g

1

cup

cake flour

-

120 g

1½

cup

egg whites

-

360 g

1½

teaspoon

cream of tartar

-

5 g

¼

teaspoon

salt

-

1.5 g

¼

teaspoon

almond extract

-

1 g

1½

teaspoon

vanilla extract

-

7 g

1

cup

granulated sugar

-

198 g

2

tablespoons

powdered cocoa (dutch-process)

-

(sifted) 10 g
Chocolate Ganache:
⅔

cup

heavy whipping cream

-

151 g

4

oz.

semi-sweet chocolate bar

-

113 g
Whipped Cream Icing:
1-1/2

cup

heavy whipping cream

-

(chilled) 340 g

⅓

cup

confectioners sugar

-

76 g

1

teaspoon

vanilla extract

-

5 g
Instructions
Cake:
Whisk 1 c cake flour and 1½ c confectioners sugar in a medium bowl.

Use a stand mixer with a large mixing bowl and the wire whip attachment. Add 1½ c egg whites, 1½ t cream of tartar, ¼ t salt, ¼ t almond extract, and 1½ t vanilla extract to the bowl and mix on LOW for one minute.

Turn the mixer up to HIGH speed and add 1 c of sugar in 1 tablespoon increments from the side. Allow 15 seconds between each tablespoon. Mix until the egg whites are thick and billowy and the peaks stand up without falling over.

Use a large rubber spatula to delicately and carefully fold the flour and sugar mixture into the whipped egg whites. Add about ½ cup of the flour mixture at a time. Use the spatula to slice perpendicular to the whites down to the bottom of the bowl and turn the spatula slightly to pull up the batter from the bottom and lay it over the top.

Turn the bowl 1/4 turn and repeat the slice-and-fold process until the flour and egg whites are just mixed. Do this with patience and a light hand. Practice helps. If you overdo the mixing, your cake won't be as high as your hopes.

Pour slightly more than half of the cake batter into a 10-inch ungreased tube pan with a removable bottom. Use a thin knife to gently "slice" through the batter to remove any large air bubbles. Use a spoon to draw a trough around the middle. (See the picture above.)

Carefully fold 2 T sifted powdered cocoa into the remaining batter until completely mixed. (Do not skip the sifting or you will have little chunks of cocoa in your batter.) Fill the trough with the chocolate batter and then smooth over the top.

Bake for 50-55 minutes at 325˚F. Remove from the oven and immediately turn the cake upside down to cool for two to three hours. (Don't use the legs on your pan when you turn it over. Better to use a pop bottle or funnel.) Use a firm hand and a skinny knife to loosen the cake from the edges of the pan. Turn the cake upside down onto the cake plate or cooling rack.
Chocolate Ganache:
Heat 2/3 c heavy cream in a small glass bowl for 1 minute in a microwave oven. Add the 4 oz chocolate bar that has been broken into smaller pieces to the hot cream. Allow the chocolate to sit in the cream and melt for a few minutes.

When the chocolate is completely melted, use a small wire whisk or spatula to stir. Start by making small circles at first, then larger, and finally, mix the melted chocolate and cream until smooth.

Set the ganache aside to cool while you prepare the whipped cream icing.
Whipped Cream Icing:
Whip 1½ c heavy whipping cream in a medium-sized chilled bowl with a wire attachment or a portable mixer. When the cream begins to thicken and has soft peaks, add ⅓ c confectioners sugar and 1 t vanilla extract. Go too far, and the whipped cream will be dry-looking or turn into butter. Spread the whipped cream smoothly over the angel food cake.
Assembly:
Pour the warm chocolate ganache into a small zippered bag. Snip one corner about 1/4 inch. If this is your first time, turn over a cereal bowl and practice running chocolate along the edge till you get the effect you want. If it's too thick to make nice "runs", add a few drops of warm cream. If too thin, let the chocolate cool a while longer.

Slowly squirt ganache from the small hole in the corner of your zippered bag making "runs and drips" around the perimeter of the cake. Do the center of the cake the same way. Quickly squirt the remainder of the ganache over the top of the cake. Then, use a spoon, spatula, or offset flexible knife to spread the ganache evenly. You have a small window to smooth the ganache because the cold whip cream icing will harden the ganache on contact.

Chill at least one hour before serving. Best eaten within 24 hours but still amazingly good for a couple of days.
Notes
*You don't have to use dutch-process cocoa. Regular powdered cocoa will work, but the taste and color will be slightly different.
Nutrition
Serving:
1
|
Calories:
247
kcal
|
Carbohydrates:
37
g
|
Protein:
4
g
|
Fat:
9
g
|
Saturated Fat:
6
g
|
Polyunsaturated Fat:
1
g
|
Monounsaturated Fat:
3
g
|
Trans Fat:
1
g
|
Cholesterol:
24
mg
|
Sodium:
82
mg
|
Potassium:
156
mg
|
Fiber:
1
g
|
Sugar:
29
g
|
Vitamin A:
259
IU
|
Vitamin C:
1
mg
|
Calcium:
20
mg
|
Iron:
1
mg
Did you try this recipe?
If you loved it, don't forget to leave a 5-star rating 🌟🌟🌟🌟🌟 at the top of the recipe card. Thanks so much for taking the time to do that!