Chocolate and Vanilla Angel Food Cake with Dipped Cone Icing is an angel food cake frosted with whipped cream icing and chocolate ganache. The chocolate ganache reminds me of a dipped cone from the DQ.
Except for a few attempts to win a blue ribbon in 4-H, I've always made angel food cakes from a mix. While it seemed good enough most of the time, homemade does taste better (especially the better.)
Besides, I'm tired of throwing away egg whites. So I resolved to learn how to bake a light and fluffy cake that rises so high it peeks over the side of the pan like Kilroy.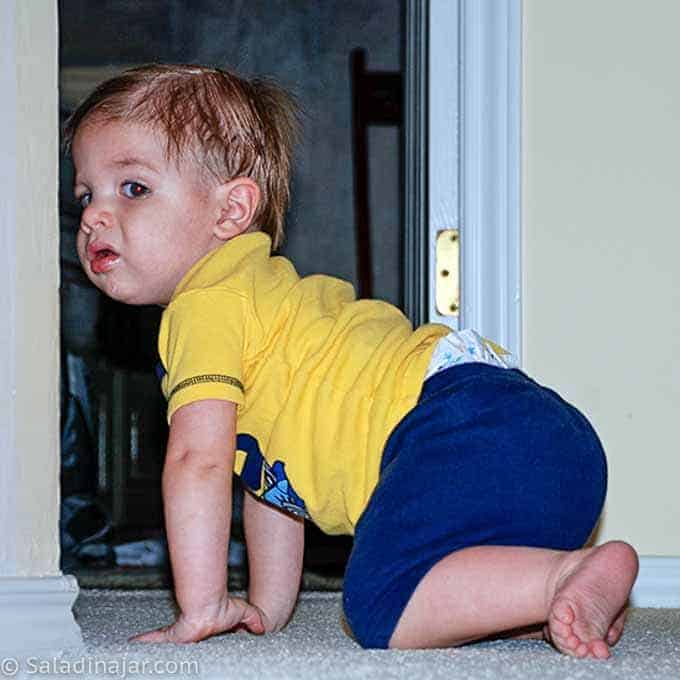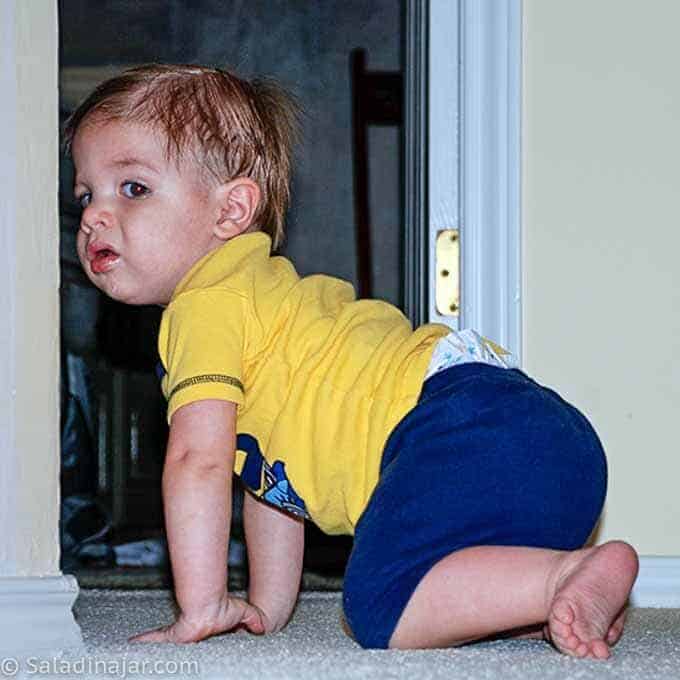 Hey, come back here. If I can do it, you can too.
Yes, you can bake an angel food cake from scratch. I'm not saying it's easy, but it's also not that hard.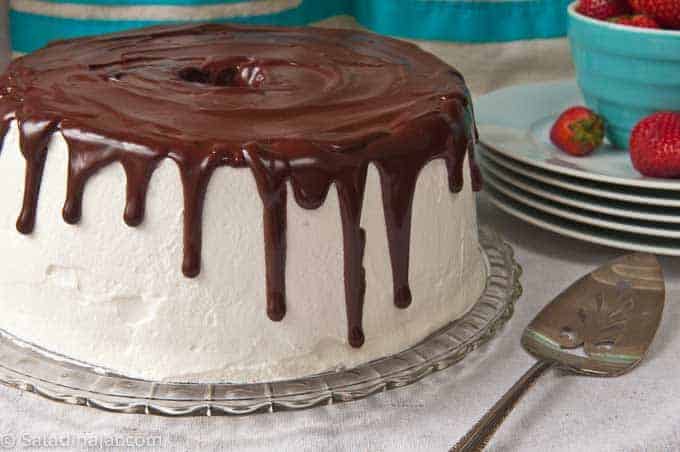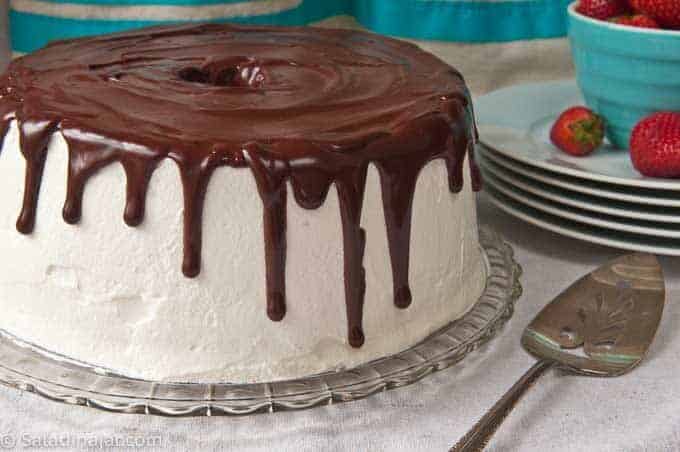 The basic recipe for angel food cake comes from my good friend, Joan.
Then I combined it with an interesting idea I saw on Confections of a Foodie Bride (she's a fellow Texan who seems to like Mexican food as much as I do). In much the same way Foodie Bride did, I folded cocoa into part of the batter and carefully poured it over the vanilla batter to make an irregular but pretty pattern.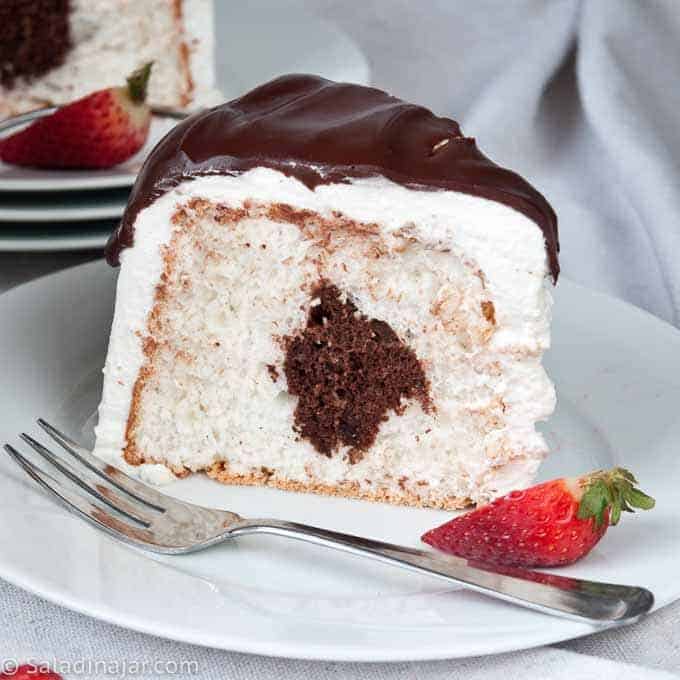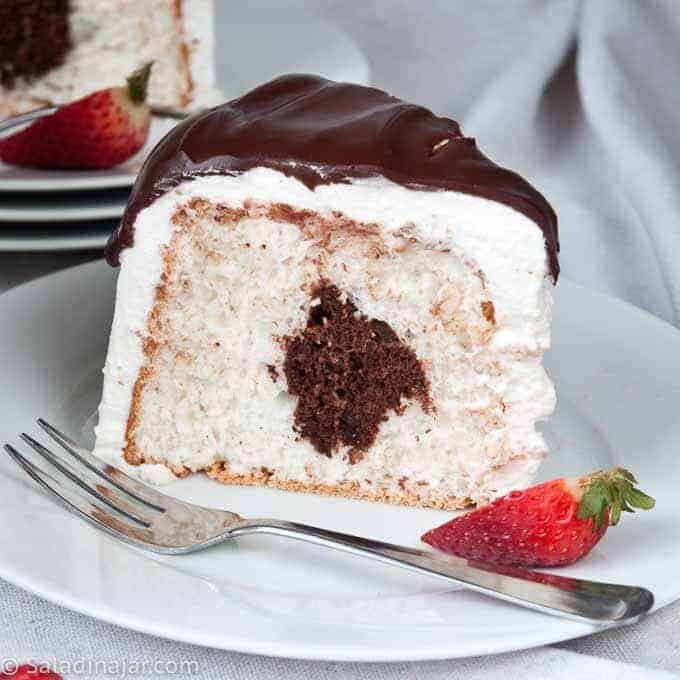 Here's where it gets good.
Frost this cake with whipped cream icing, then drizzle with chocolate ganache. Thankfully, imperfect drizzling adds charm
Try this for Valentine's or Easter or any time you want a grand finale to a nice dinner.
How to layer the cake batter: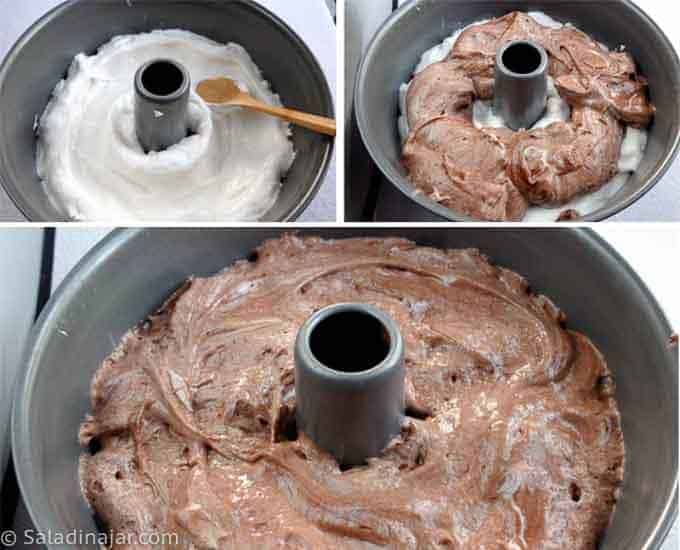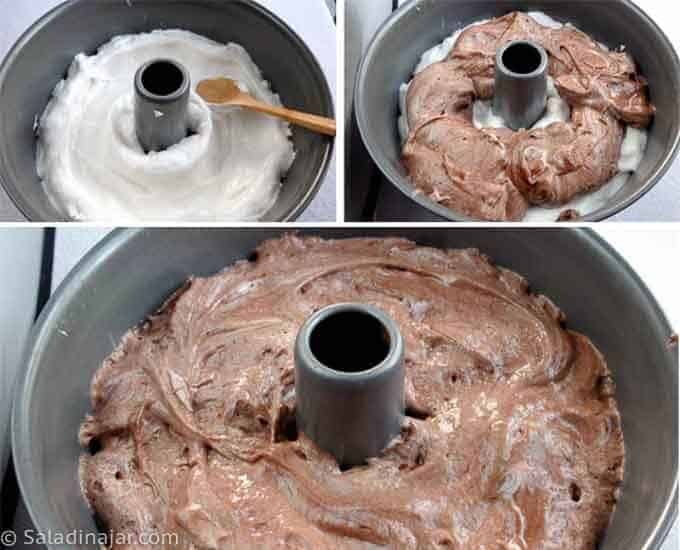 Kitchen Hint: How to practice drizzling icing: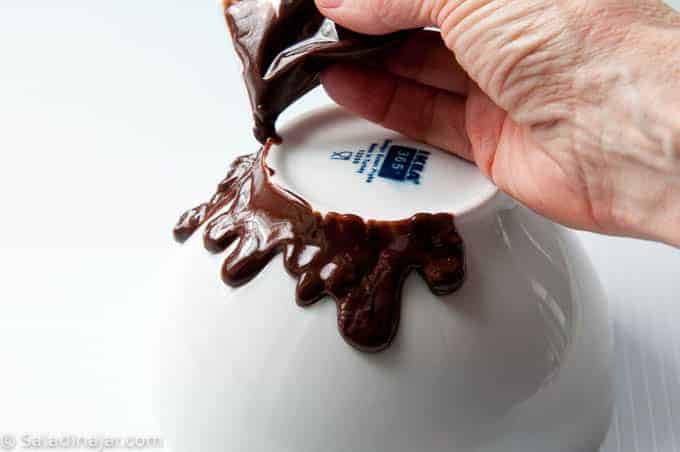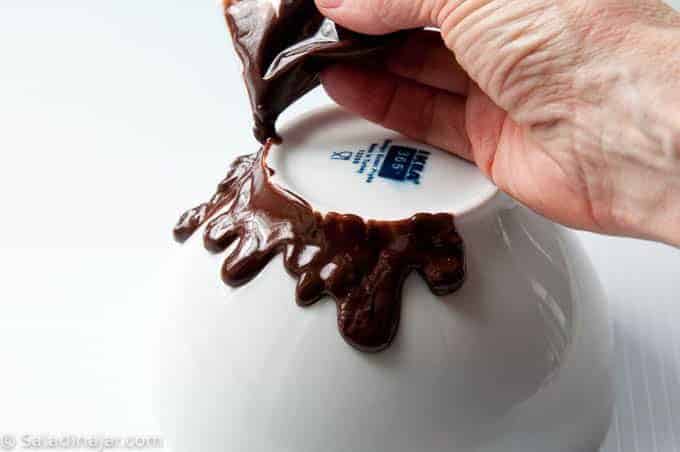 Pin the picture below to save for later.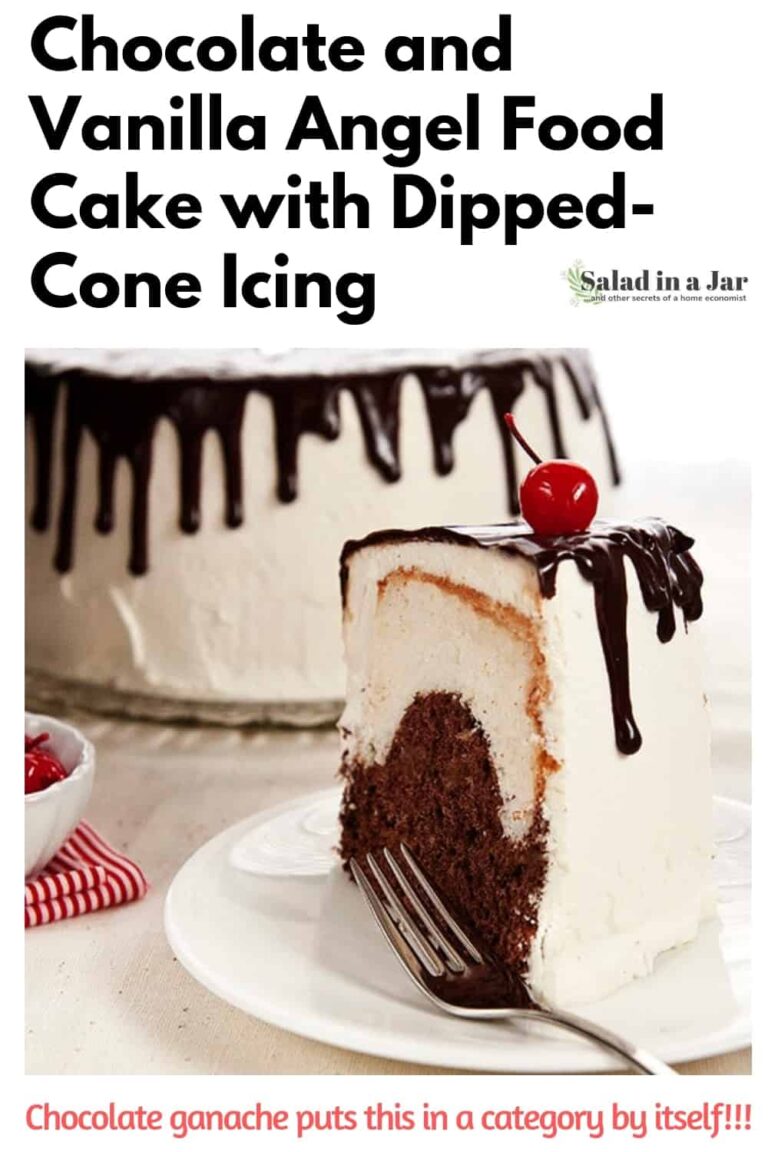 If you make this recipe and enjoy it, consider helping other readers and me by returning to this post. Leave a rating on the recipe card itself underneath the picture. Although always appreciated, comments aren't required. Thank you for visiting! Paula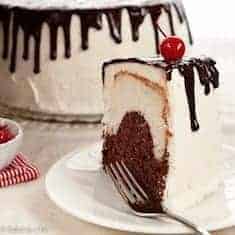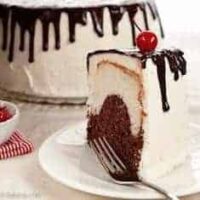 Chocolate and Vanilla Angel Food Cake with Dipped-Cone Icing
Total Time:
1 hour
20 minutes
Chocolate and vanilla angel food cake frosted with whipped cream icing and chocolate ganache that will remind you of a dipped cone from the DQ.
Ingredients
Cake:
1 cup cake flour
1-1/2 cup sugar--divided (I like superfine)
1-2/3 cup egg whites (10-11 large eggs)
1 teaspoon cream of tartar
1/4 teaspoon salt
1/4 teaspoon almond extract
1 teaspoon vanilla extract
3 tablespoons Dutch chocolate, sifted
Chocolate Ganache:
2/3 cup heavy cream
4 oz. semi-sweet chocolate bar
Whipped Cream Icing:
1-1/2 cup heavy cream, chilled
1/3 cup powdered sugar
1 teaspoon vanilla extract
Instructions
Preheat oven to 325 degrees.
Cake:
Sift together cake flour and 3/4 cup sugar. Using stand mixer and wire attachment, begin mixing egg whites and cream of tartar on low for one minute. Add salt. Increase speed to medium-high and mix until egg whites are thick and billowy.
With mixer running, pour the remaining 3/4 cup of sugar in from the side--slowly. Continue beating egg whites until glossy and soft peaks gently tip over when you pull the wire beater up. Add extracts and turn the mixer on for a couple of seconds to incorporate.
Use your largest rubber spatula to delicately and carefully fold sifted flour and sugar into whipped egg whites. I add only about 1/4 cup of the flour and sugar mixture at a time. Slice with spatula perpendicular to whites down to bottom of bowl and turn spatula slightly to pull up batter from the bottom and lay over the top.
Turn bowl 1/4 turn and repeat slice with spatula until flour and egg whites are just mixed. The folding process should be done with patience and a light hand. Practice helps. If you overdo the mixing, your cake won't be as high as your hopes.
Pour slightly more than half of cake batter into an ungreased angel food cake pan with a removable bottom. Use a spoon to draw a trough around the middle. Carefully fold sifted cocoa into remaining batter until completely mixed. (Do not skip the sifting or you will have little chunks of cocoa in your batter.) Fill trough with the chocolate batter and then smooth over the top.
Bake for 50-55 minutes. Remove from oven and immediately turn over to cool for several hours. I recommend overnight. Use a firm hand and a skinny knife to loosen cake from edges of pan and invert cake onto cake plate.
Chocolate Ganache:
Heat heavy cream in small glass bowl for 1 minute in microwave oven. Add chocolate bar broken in several pieces to hot cream and allow to sit and melt while you ice the cake.
When chocolate is completely melted use small wire whisk or spoon to mix making small circles at first, then larger and finally, mixing chocolate and cream until smooth.
Whipped Cream Icing:
Whip cream in chilled bowl with wire attachment. When thick with soft peaks, add powdered sugar and continue to whip until cream makes stiff peaks. Go too far and whipped cream will be dry looking or turn into butter. Watch it! Spread smoothly over angel food cake.
Assembly:
Pour warm chocolate ganache into a small Ziplock bag. Snip one corner about 1/4 inch. (Eyeball it.) Turn over a cereal bowl and practice running chocolate along the edge till you get the effect you want. If it's too thick to make nice "runs", add a few drops of warm cream. If too thin, let cool a while longer.
Here is where it gets a little tricky. Run ganache along the upper/outer edge of cake and slowly squirt ganache from small hole in the corner of your Ziplock bag making "runs and drips" around the entire cake. Do the inner edge the same way. Squirt remainder of ganache over top of cake and use a spoon to quickly spread evenly.
You have a small window to get it smooth because the cold whip cream icing will harden the ganache on contact. Chill at least one hour before serving. Best eaten within 24 hours but still amazingly good for a couple days.
Notes
1. No shame in using a mix if you prefer. Follow directions on the box, then proceed to Step 3 in the directions for the cake.
2. You don't have to use Dutch cocoa. Regular cocoa will work but the taste and color will be slightly different.
3. I think superfine (not powdered) sugar dissolves quicker in the cake batter. It's available at my local grocery but you can turn regular sugar into superfine with a blender.
4. I don't recommend substituting regular flour for the cake flour. It will taste fine but may not rise as much.
Recommended Products
As an Amazon Associate, I earn from qualifying purchases. But don't worry. This doesn't change the price you pay.
Nutrition Information:
Yield:

16
Serving Size:

1
Amount Per Serving:
Calories:

282
Total Fat:

14g
Saturated Fat:

9g
Trans Fat:

0g
Unsaturated Fat:

4g
Cholesterol:

37mg
Sodium:

87mg
Carbohydrates:

35g
Fiber:

1g
Sugar:

27g
Protein:

5g
Posts Related To Chocolate and Vanilla Angel Food Cake with Dipped-Cone Icing