Preview: Angel Food Cake with Chocolate Ganache is a scratch angel food cake with a chocolate tunnel. Frost with whipped cream and chocolate ganache.
Except for a few attempts to win a blue ribbon in 4-H, I've always made angel food cakes from a mix. While it seemed good enough most of the time, homemade does taste better (especially the batter.)
Besides, I'm tired of throwing away egg whites. So I resolved to learn how to bake a light and fluffy cake that rises so high it peeks over the side of the pan like Kilroy. Follow me and let's do it.
Black and White Angel Food Cake with Chocolate Ganache Icing is a classic angel food cake with a tunnel or layer of chocolate angel food cake running through it. Top it off with whipped cream icing and chocolate ganache. The whole experience will remind you of a dipped cone from the DQ.
Hey, come back here. If I can do it, you can too.
Yes, you can bake an angel food cake from scratch. I'm not saying it's easy, but it's also not that hard.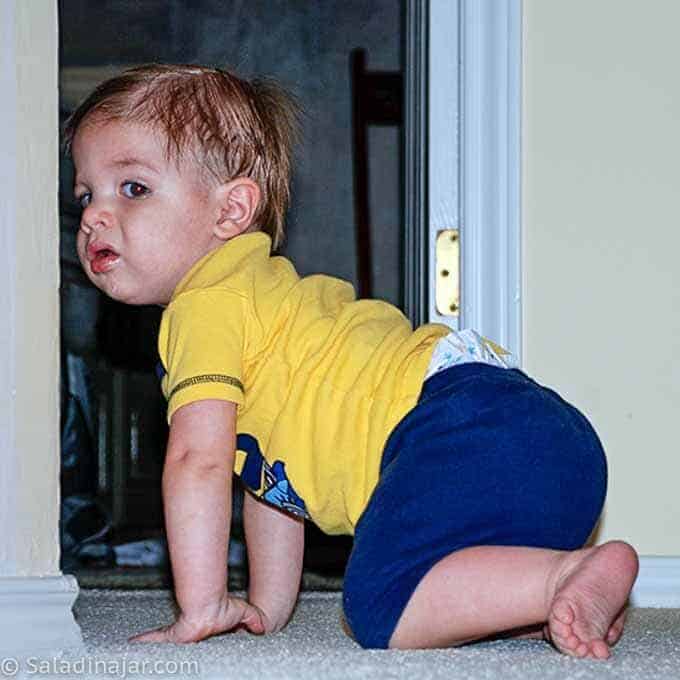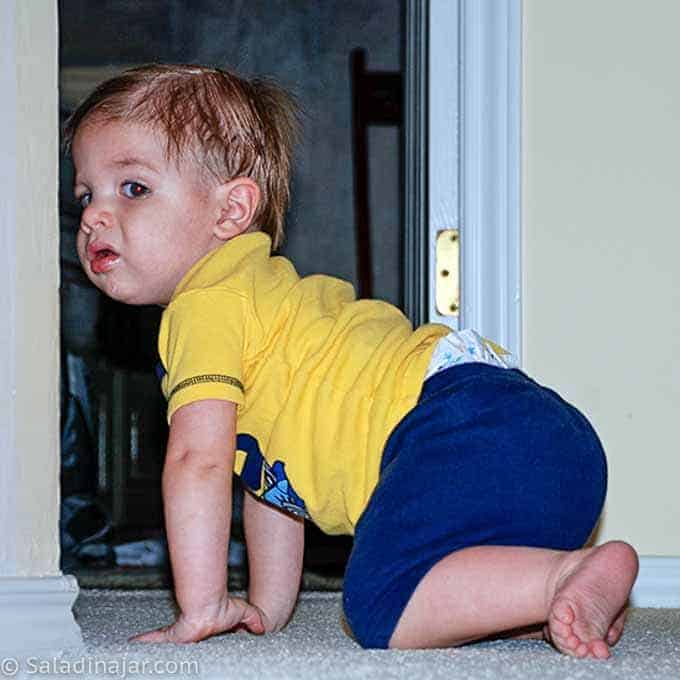 Recipe inspiration:
The basic recipe for angel food cake comes from my good friend, Joan.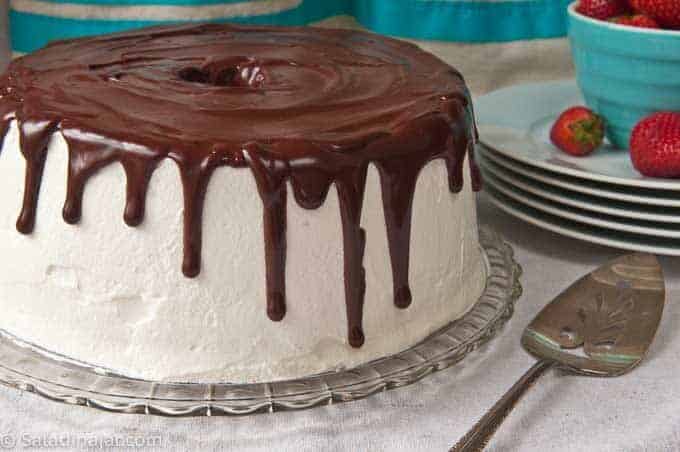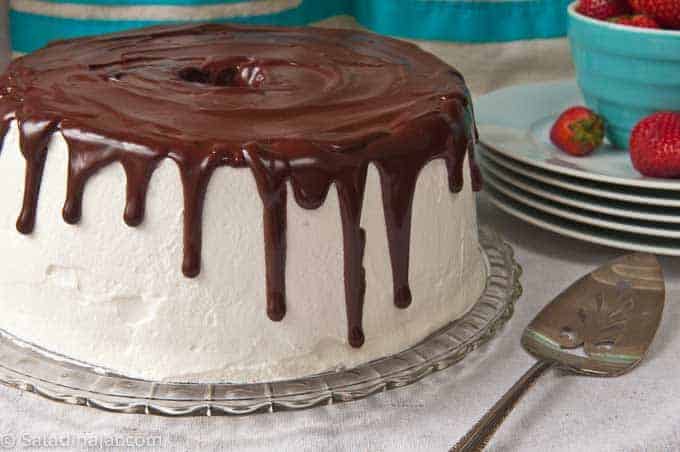 Then I combined my friend Joan's recipe for angel food cake with an interesting idea I saw on Confections of a Foodie Bride (she's a fellow Texan who seems to like Mexican food as much as I do). In much the same way Foodie Bride did, I folded cocoa into part of the batter and carefully poured it over the vanilla batter to make an irregular but pretty pattern.
Here's where it gets good.
Frost this cake with whipped cream icing, then drizzle with chocolate ganache. Thankfully, imperfect drizzling that actually feels a bit dangerous adds charm.
Try this for Valentine's or Easter or any time you want a grand finale to a nice dinner.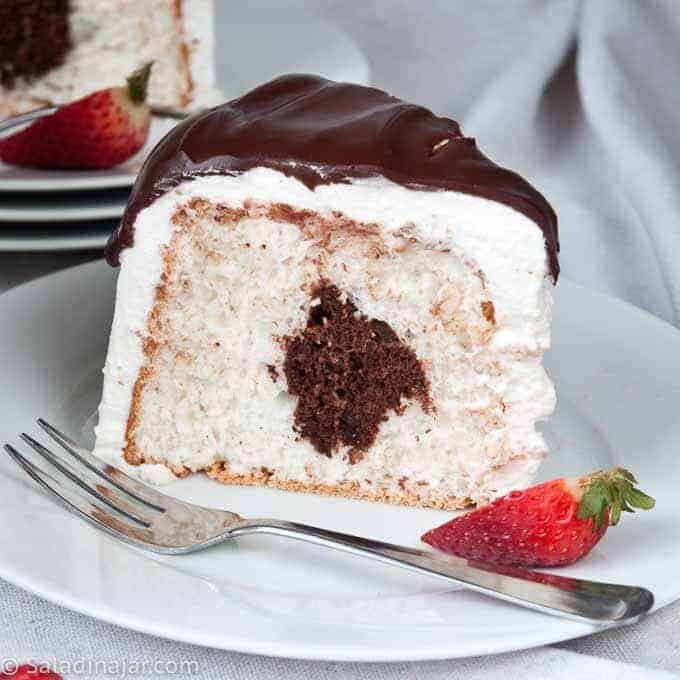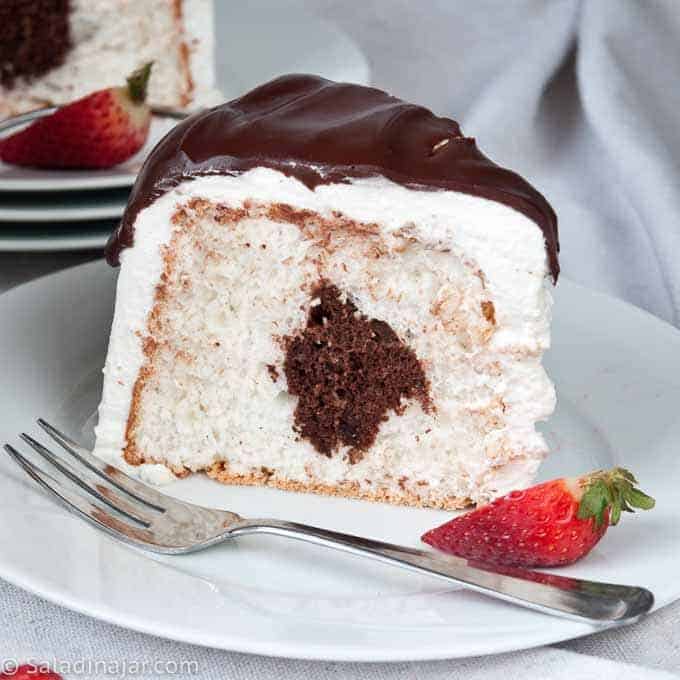 Ingredients and substitutions:
CAKE FLOUR: Cake flour contains less protein than all-purpose flour. If you must substitute, use 1 cup of all-purpose flour minus 2 tablespoons. Some people recommend replacing the 2 tablespoons of all-purpose flour with 2 tablespoons of cornstarch. I have not tried that myself.

"Cakes made with lower-protein cake flour will have a finer, more tender crumb than those made with all-purpose flour."
—Nigella

SUGAR: Granulated sugar will work. Superfine sugar is even better. Giving granulated sugar a spin in a food processor will result in superfine sugar. But don't do it too long. You don't want powdered sugar.

EGG WHITES: They whip higher if allowed to come to room temperature.

Any speck of egg yolk will keep the egg whites from whipping. If you inadvertently drop some egg yolk into your egg white mixture, try using part of the shell to scoop it out. Works much better than a spoon.

CREAM OF TARTER: Cream of tartar helps to stabilize your egg whites. Don't leave it out.

SALT: I use Diamond Crystal Kosher salt in all my baking because it dissolves quickly. You can substitute table salt.

ALMOND EXTRACT: This extract gives angel food cake its classic flavor.

DUTCH CHOCOLATE COCOA: Use dark chocolate cocoa for maximum chocolate color and flavor. Regular cocoa can be substituted but the color contrast with the white batter will be less.
Layering the cake batter: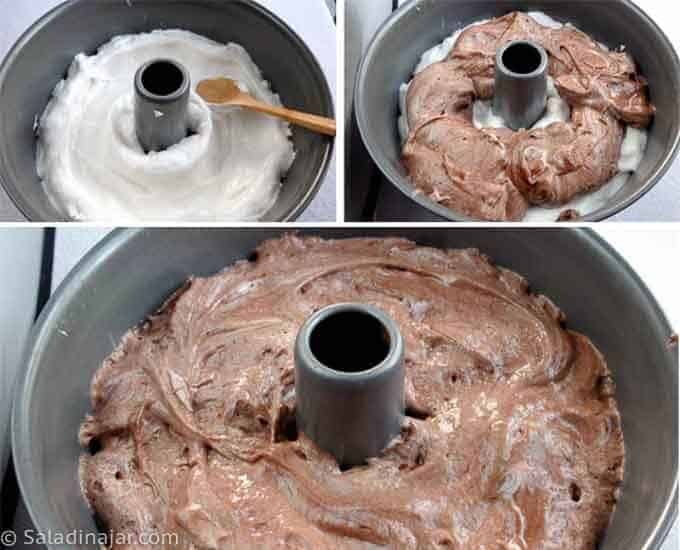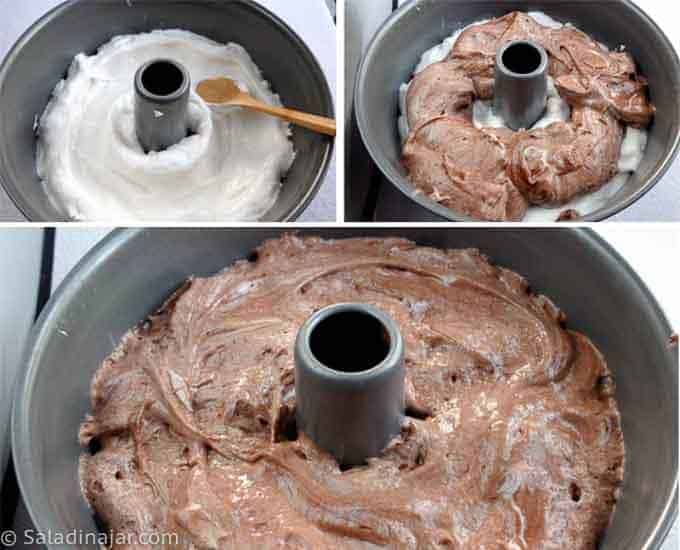 Kitchen Tip: Drizzling the chocolate ganache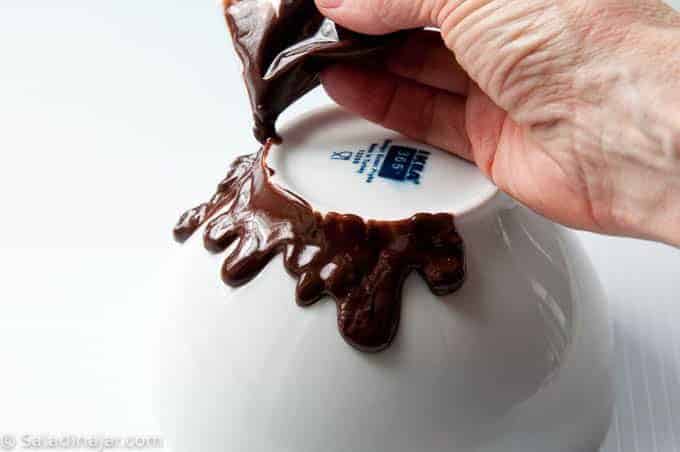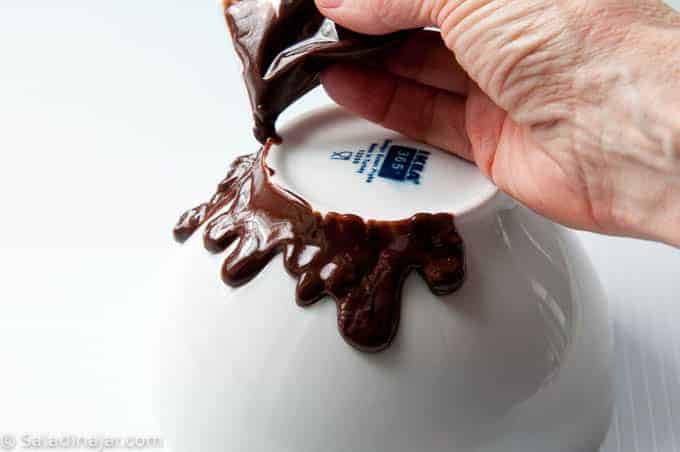 ---
Pin the picture below to save for later.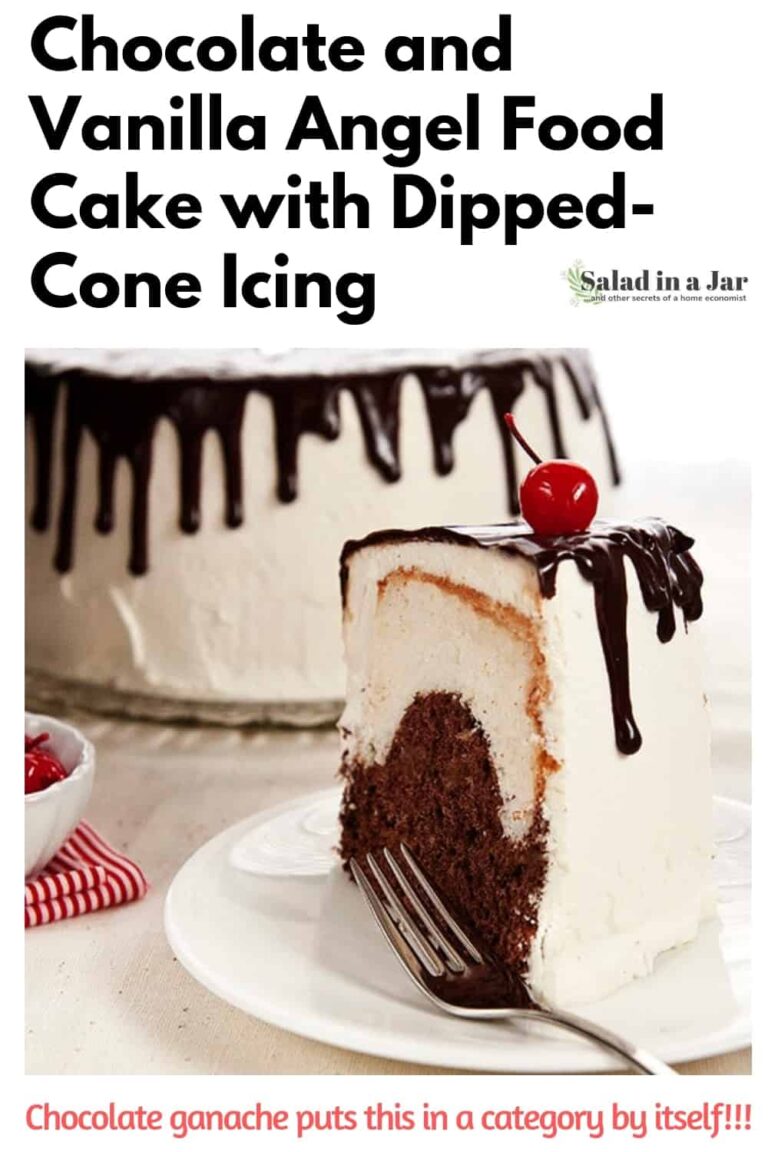 ---
More recipes for cake lovers:
---
Did you enjoy this recipe? If so, you can help others and me by leaving a 5-star 🤩 rating inside the recipe below. No comments are required.
Hope to see you again soon!
Paula
p.s. If you have any questions or suggestions, you can email me privately: Paula at saladinajar.com.