Preview: These tabletop s'mores ideas will help you make your own tabletop marshmallow roaster using Sterno to set up a beautiful, delicious, and interesting tray with homemade graham crackers. Updated 1/2021.
Invite your friends, kids, or grandkids, to celebrate a special occasion with a tableside s'more party. Let them help you make graham crackers from scratch in your kitchen if you're brave. (I'll share my "Ziplock-bag-trick" to make it easier.)
Follow the directions to make a simple DIY marshmallow toaster. Finally, you'll find ideas for different fillings you can add to your toasty marshmallows to make the whole event memorable.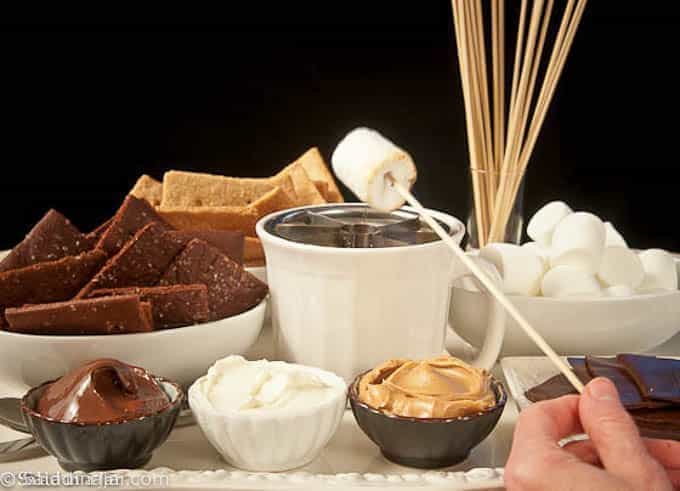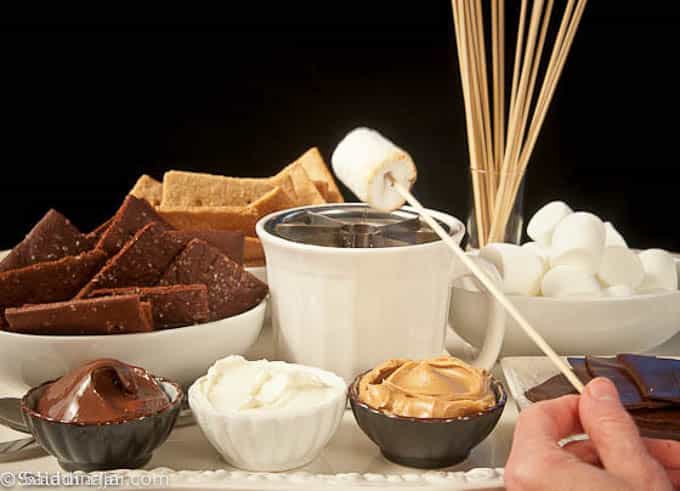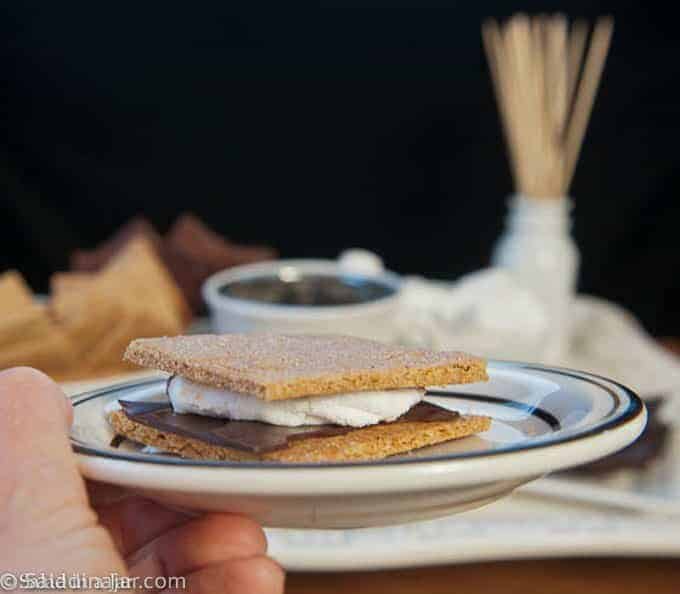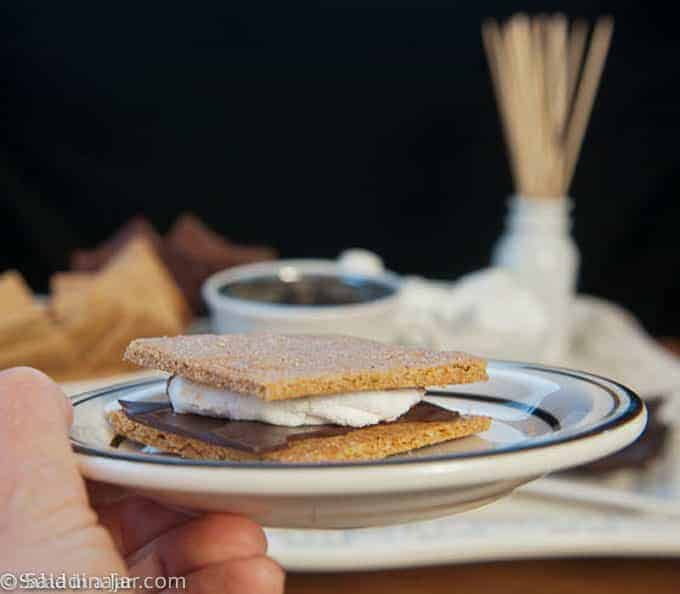 Making S'mores is a fun dessert and activity for a relaxed, sit-down meal or a party where people linger around the food.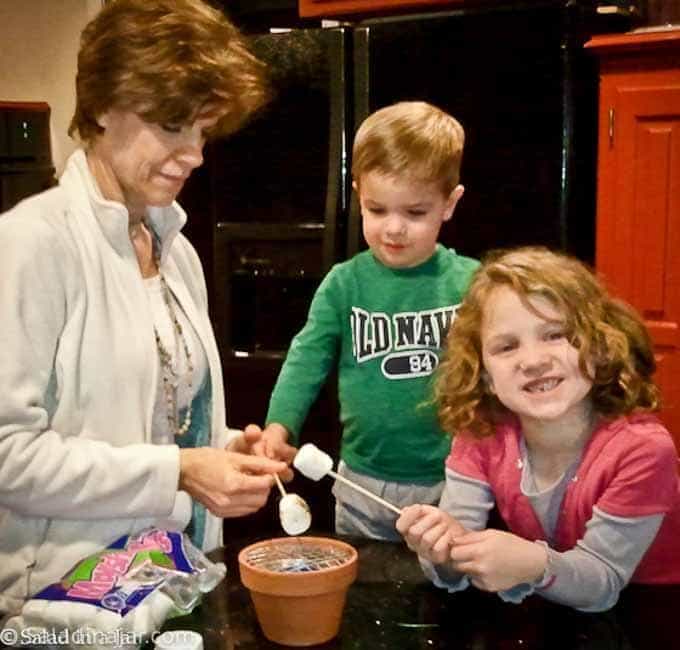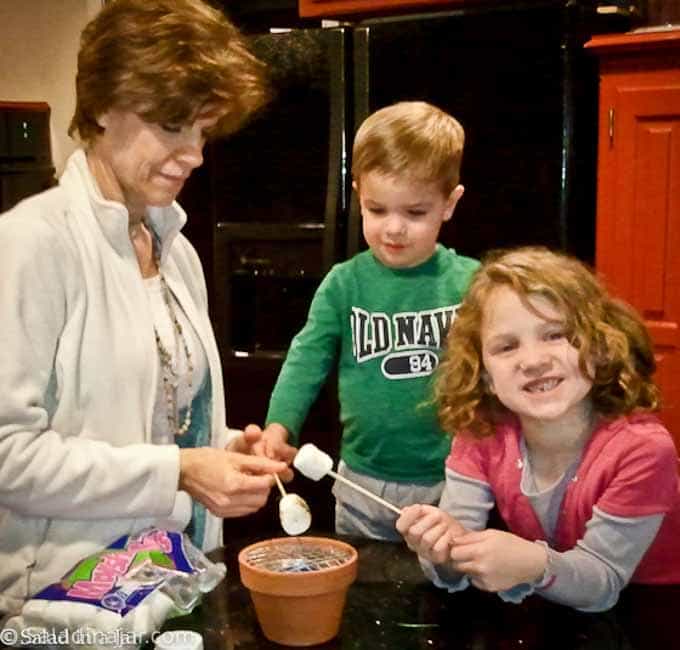 Kids love it too. Adult supervision is required, of course.
How to make a DIY table-top grill:
You can buy a miniature table-top grill at the store–if you can find one, for 30$ and up. But it's easy to make them yourself. It's nice to have more than one if you are serving more than four people.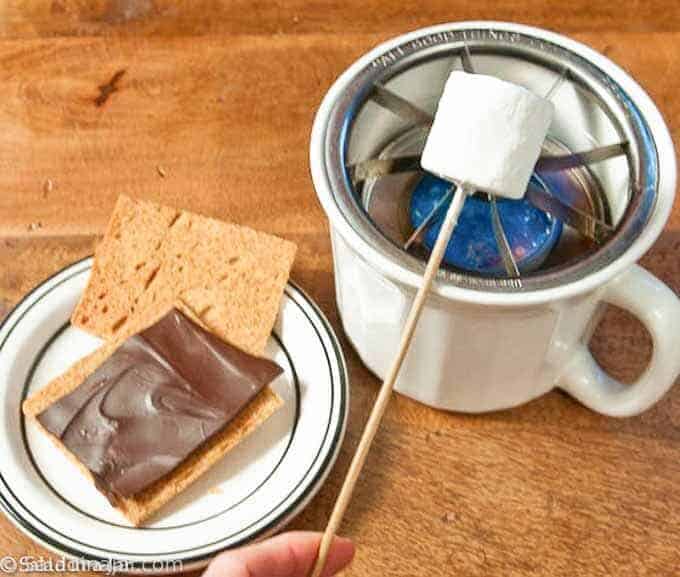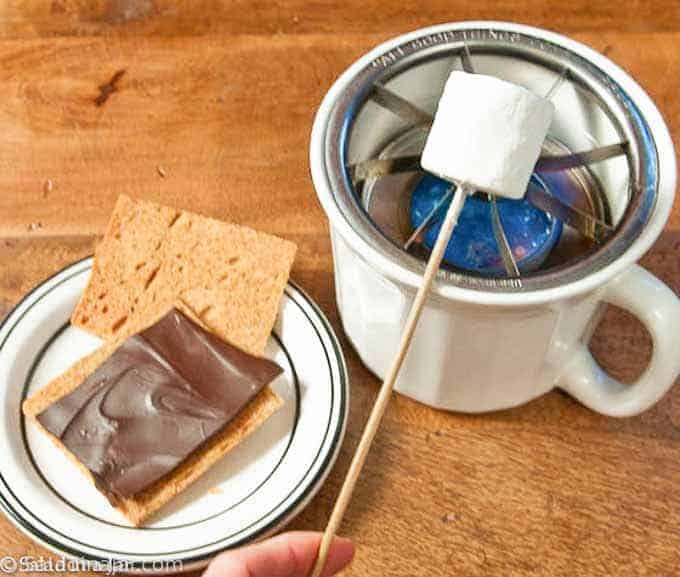 I first tried using a soup mug and an old apple corer.
If you don't have the same, you can make a table-top grill with a clay pot, hardware cloth (available at a hardware store by the inch or foot), and a can of Sterno.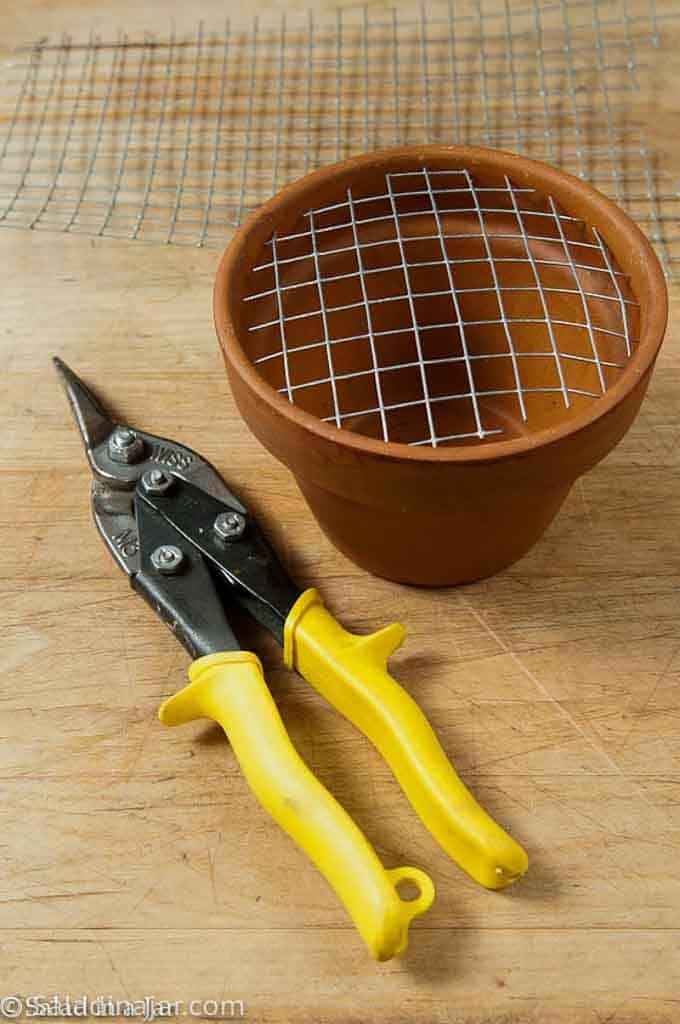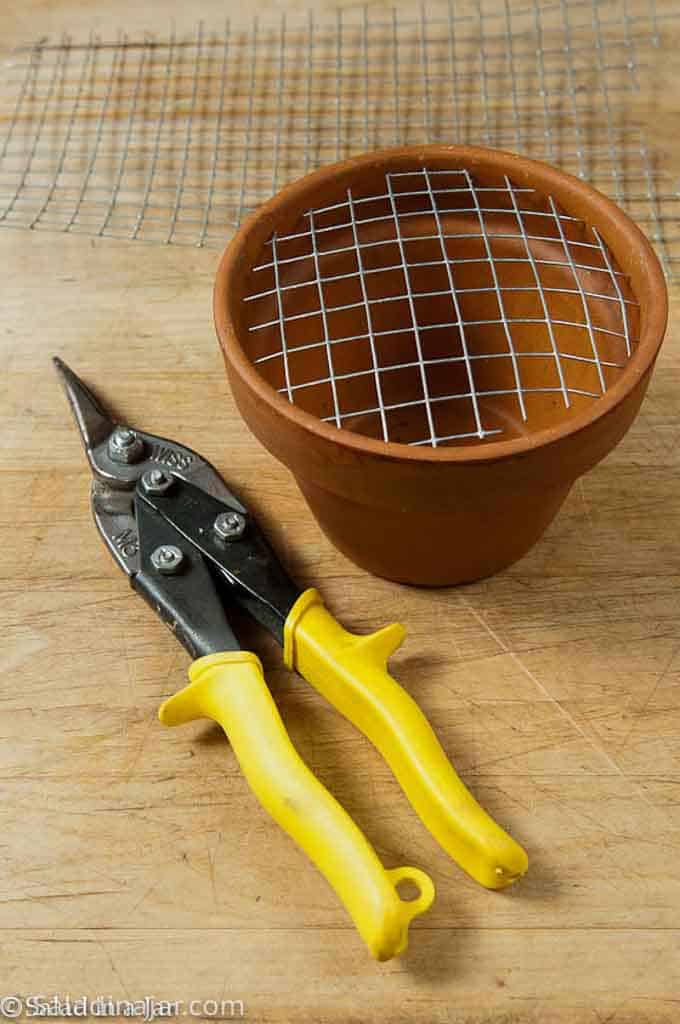 How to make a table-side s'mores grill or marshmallow roaster:
Invert pot and trace shape of 4-inch clay pot onto a sturdy piece of hardware cloth.
Cut hardware cloth with wire snippers and trim if necessary to barely fit inside. You need to be able to remove and replace the wire easily to change the Sterno.
Use a can of Sterno to provide the heat. (In case you're wondering, Sterno is a formulation of denatured alcohol, water, and gel. Commercially sold table-side marshmallow roasters use the same.
Sterno comes in more than one size. Buy one that will sit on the bottom of the pot with at least 1-2 inches of clearance from the top.
S'more bar ideas to get you started:
Graham crackers: I like to make my own honey wheat graham crackers (see recipe below), but the store-bought crackers are good, too. I recommend including a variety. The homemade chocolate crackers are most popular and fabulous with various spreads.
Chocolate: Use your favorite chocolate bar, but milk chocolate is traditional. Gently melt in a microwave oven, Spread it thin (see the picture of the s'more above) on wax paper, and chill. Cut the chocolate in squares about the same size as the crackers. A variety of different chocolate makes the tray interesting.
Marshmallows: If you are a candy maker, trying making your own in different flavors just as maple, coffee, or orange. I'm not a candy maker, so I can't recommend a recipe. Store-bought marshmallows work fine, too.
Roasting Sticks: Wooden or metal k-bob sticks.
Spreads: Sweetened cream cheese and peanut butter are easy. My favorite is cookies and cream frosting. If your party includes kids, they might enjoy a plain buttercream frosting with colored sprinkles or chocolate chips.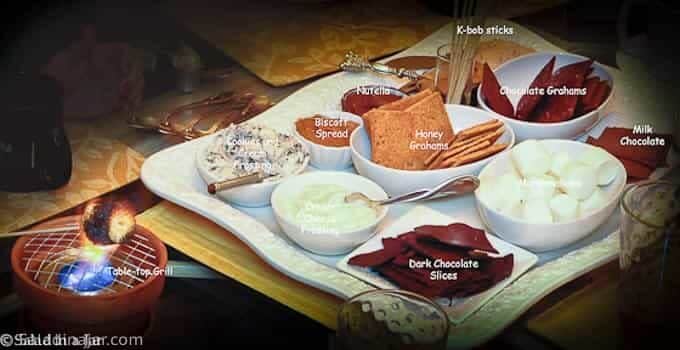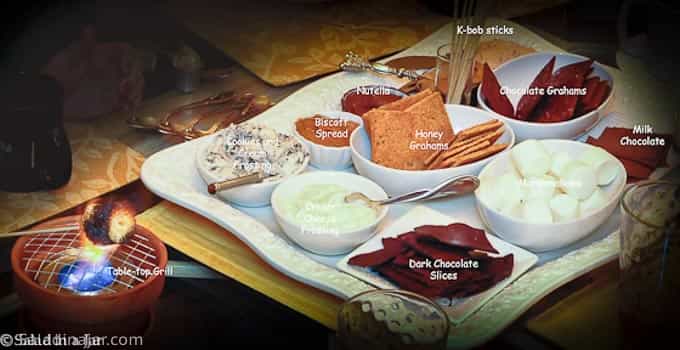 You don't have to make your own graham crackers but doing so will make your graham cracker bar a more memorable event. Making them yourself means you can experiment with the spices. It also means you can roll them out thinner–more like a wafer.
My Ziplock-bag-trick for rolling out graham crackers for s'mores:
Using zippered plastic bags is much easier than the traditional method of rolling out the dough on a floured cutting board and transferring each cracker to a cookie sheet.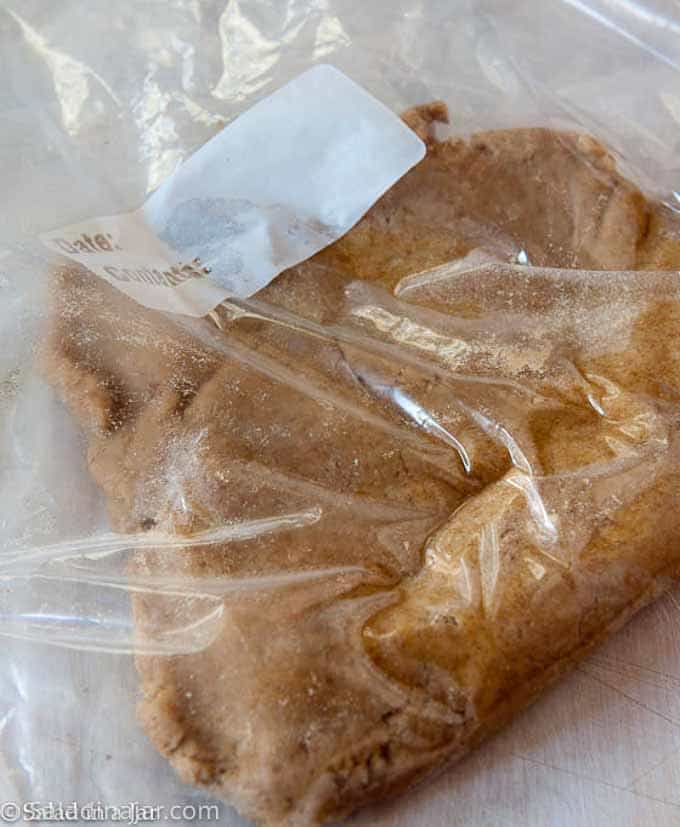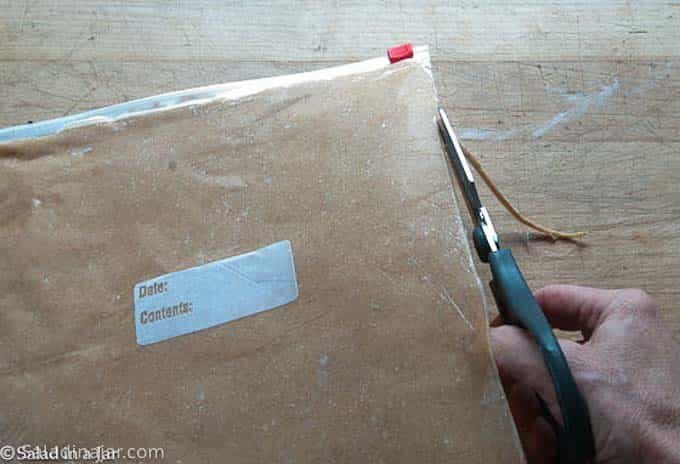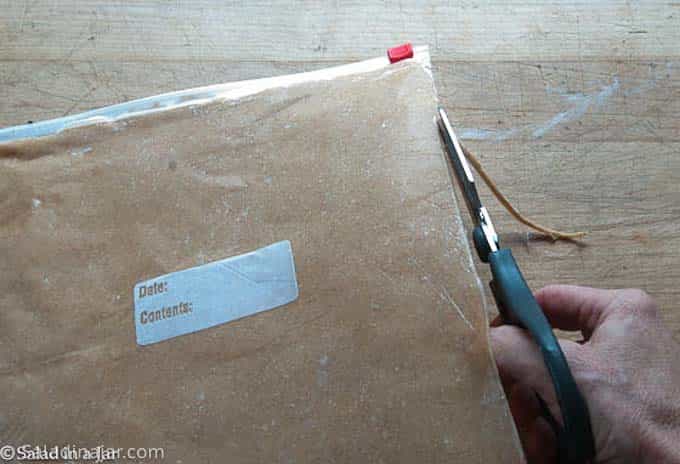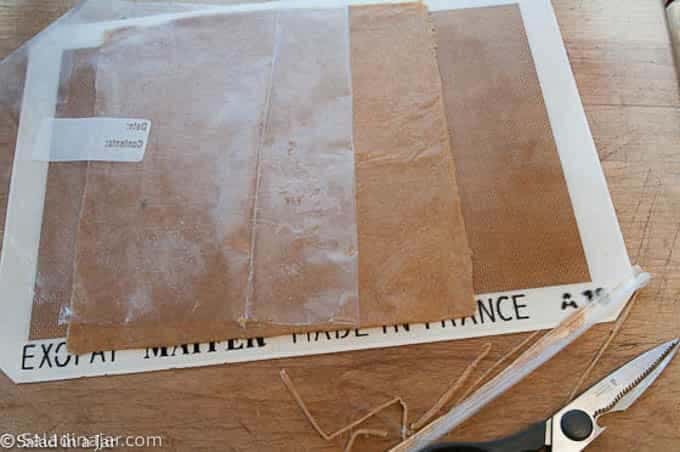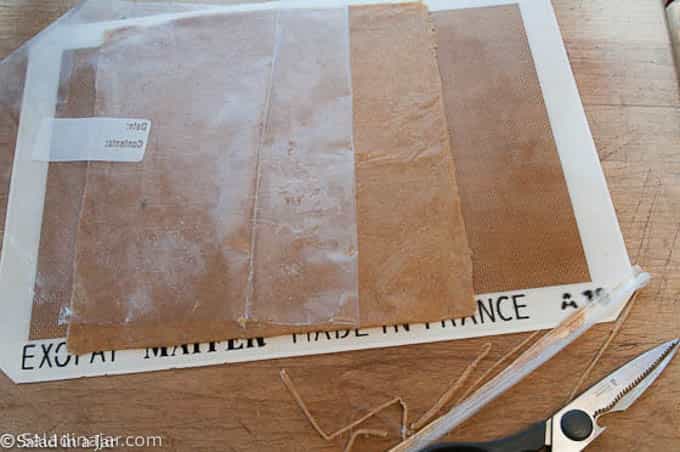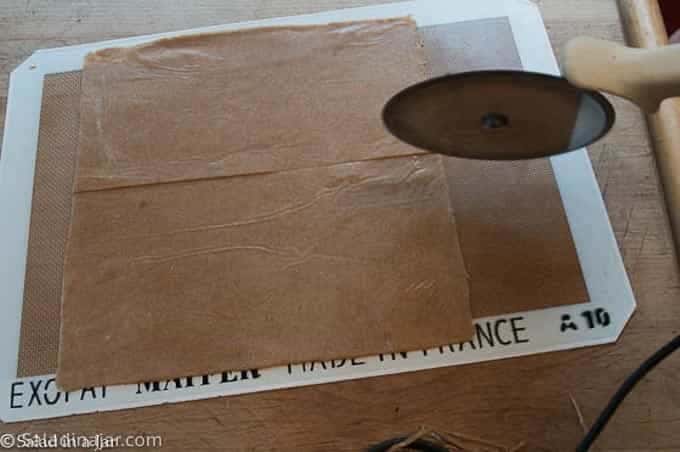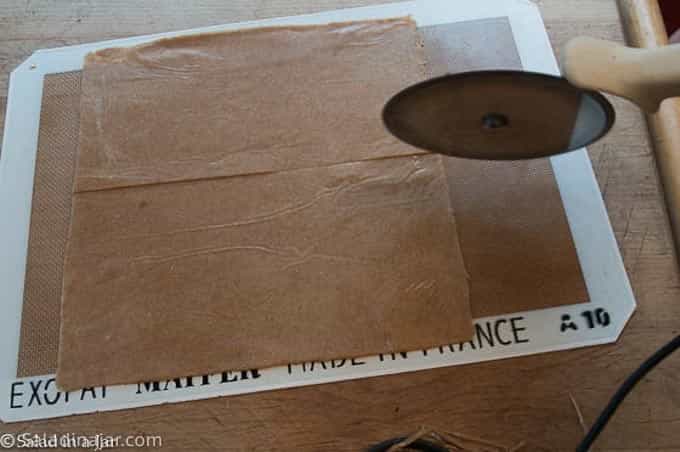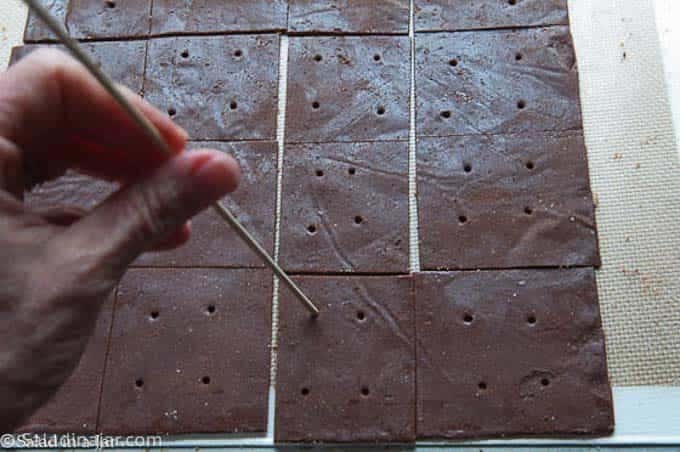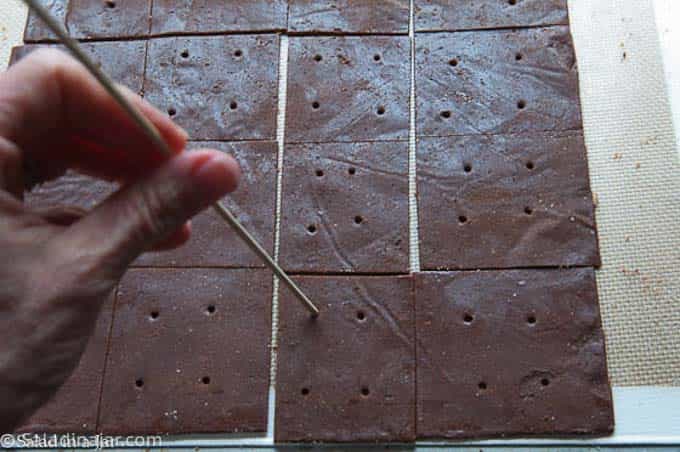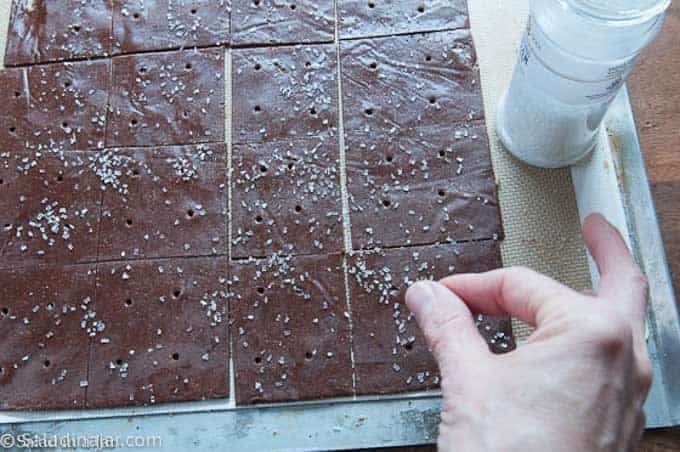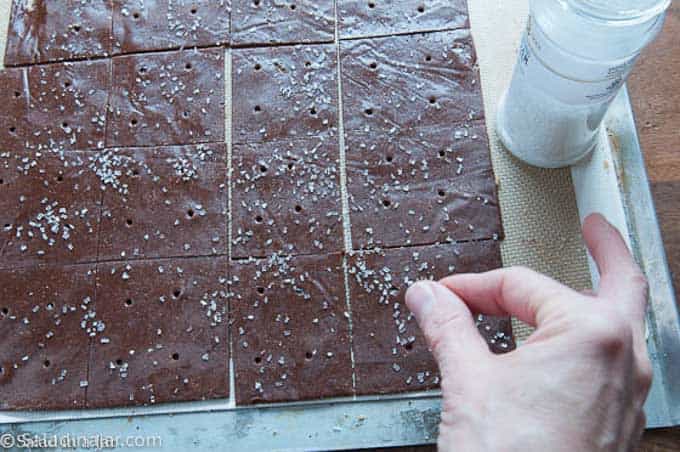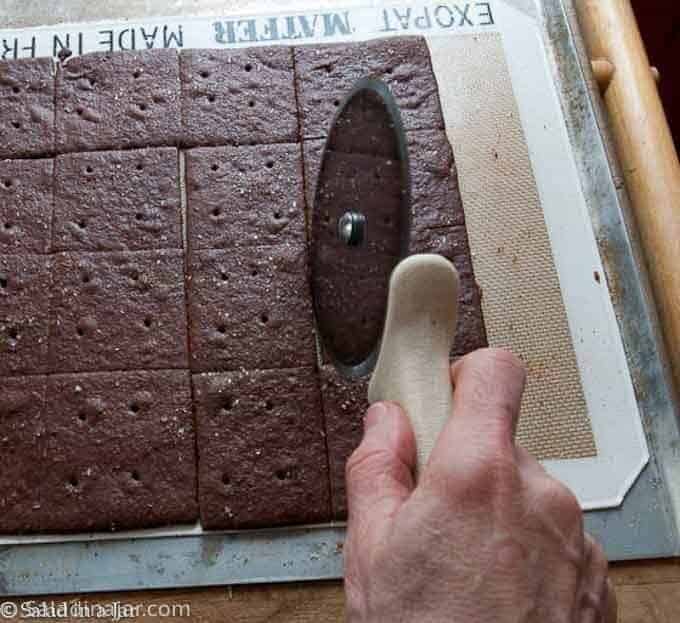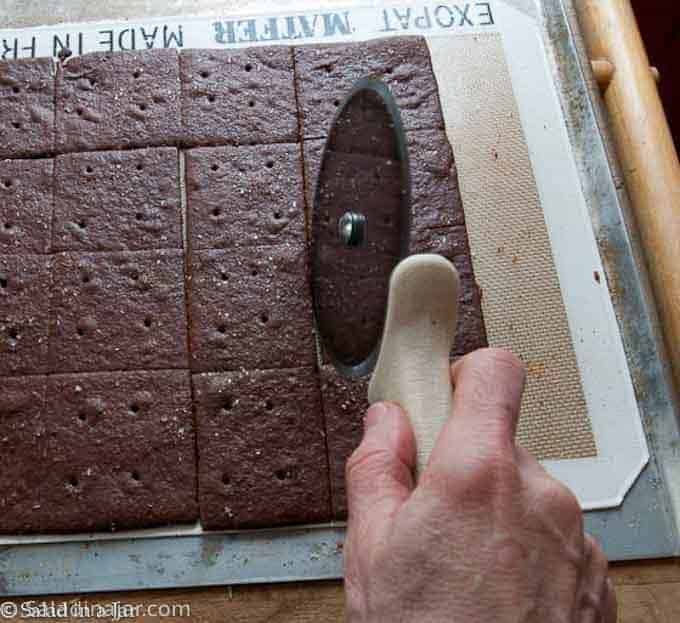 The chocolate wafers are my favorite. Cinnamon is delicious, too.
If you enjoyed this recipe, it would help others and me if you gave it a five-star rating inside the recipe card below. 🤩 No comment required. Thank you.

Hope to see you again soon!
Paula
p.s. Questions or suggestions? Please email me: Paula at saladinajar.com.