Graham Cracker Party Bar Including a DIY S'mores Table-Top Grill is a great party idea using homemade graham crackers (if you want), multiple spreads and a homemade table-top grill to make s'mores.
This is perfect for a relaxed, sit-down meal or a buffet/party where people linger around the food.
Kids love it too.  Adult supervision required, of course.
Do-it-Yourself Table-top Marshmallow Grill
You can buy a miniature table-top grill at the store–if you can find one, for 30$ and up. But it's easy to make them yourself. It's nice to have more than one if you are serving more than 4 people.
I first used a soup mug and an old apple corer I just happened to find in my kitchen drawer.
If you don't have the same, you can also make a table-top grill with a clay pot,  hardware cloth (available at a hardware store by the inch or foot) and a can of Sterno. 
Invert pot and trace shape of 4-inch clay pot onto a sturdy piece of hardware cloth.
Cut hardware cloth with wire snippers and trim if necessary to barely fit inside. You need to be able to remove and replace the wire easily to change the Sterno.
Use a can of Sterno to provide the heat.(In case you're wondering, Sterno is a formulation of denatured alcohol, water and gel. It's what they use in commercially sold table-side marshmallow roasters. You can read more about it here.) Sterno comes in more than one size. Buy one that will sit on the bottom of the pot with at least 1-2 inches of clearance from the top. 
Graham crackers:  I like to make my own honey wheat graham crackers (see recipe below) but the store-bought crackers are sufficient. I recommend including a variety.  The homemade chocolate crackers are most popular and fabulous with the various spreads.
Chocolate: I prefer to melt chocolate bars suitable for eating in the microwave (your choice, but milk chocolate is traditional), spread it thin (see the picture of the s'more above) on wax paper, chill, and then cut in squares about the same size as the crackers. Again, a variety of different chocolates makes the tray interesting.
Marshmallows: If you are a candy maker, trying making your own in different flavors just as maple, coffee, or orange.  I'm not a candy maker so I can't recommend a recipe. Store-bought marshmallows work fine too.
Roasting Sticks:  Wooden or metal k-bob sticks.
Spreads: Several have been mentioned already.  My favorite is the cookies and cream frosting.  If your party includes kids, they might enjoy a plain buttercream frosting with colored sprinkles or chocolate chips.
Homemade Honey Wheat Graham Crackers–The Recipe (with a Chocolate and Cinnamon Variation)



You don't have to make your own graham crackers but doing so will make your graham cracker bar a more memorable event. Making them yourself means you can experiment with the spices. It also means you can roll them out thinner–more like a wafer. I MUCH prefer them over the thicker crackers. Using zippered plastic bags is much easier than the traditional method of rolling out the dough on a floured cutting board and transferring each cracker to a cookie sheet.
Place 1/3 of dough into a zippered plastic bag. Chill in fridge 15-30 minutes. Use a rolling pin to roll out dough and distribute evenly throughout entire bag. Use hands to smooth out wrinkles. Freeze.

 When completely hard, remove from freezer and barely trim bag on 3 sides.
Carefully peel plastic back from ugliest side of frozen sheet of dough.
Flip over onto parchment paper so silicone baking mat so the smoothest side shows. Pull plastic from top side.

Cut into 16 squares with a pizza cutter or large knife.
Poke 4 holes in each square with the blunt end of a wooden k-bob stick.
Sprinkle with sparkling or sanding sugar. Transfer dough to parchment or baking mat, then to a cookie sheet.

Bake. Re-cut squares immediately after removing from the oven.
The chocolate wafers are my favorite.  Cinnamon is delicious too but so far, my friends seem to prefer them plain for S'mores.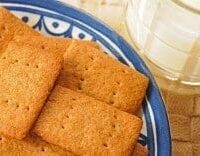 Homemade Honey Graham Crackers (Wafers)
Store-bought graham crackers will never be the same after you try these homemade Honey Grahams.
Ingredients
1-1/4 cup all-purpose flour
1 cup whole wheat flour
1/2 teaspoon ground cinnamon (optional)
1/2 teaspoon baking soda
1/2 teaspoon salt
3/4 cup unsalted butter, chilled
1/3 cup lightly packed light brown sugar
3 tablespoons granulated sugar
2 tablespoons honey
1 large egg
1 teaspoon vanilla extract
Instructions
Sift flours, cinnamon if using, soda and salt together.
Mix butter and sugars together. Add honey, egg and vanilla and continue to mix.
Add dry ingredients in three batches, mixing just until ingredients are combined and come together in a ball.
Divide dough into 3 equal portions. Place each dough ball inside of lightly floured gallon-sized zippered plastic bag. If dough is very soft, refrigerate for 15-30 minutes.
Remove from refrigerator and use a rolling pin to roll dough out inside plastic bag until evenly distributed and the same thickness everywhere. If wrinkles develop, use your hand to smooth out bag.
Place plastic bag in the freezer and leave until hard. Dough will keep in the freezer for several weeks.
When ready to bake, use scissors to barely trim edges from 3 sides of the bag. Carefully pull plastic from one side (the ugliest side). Place ugly side down on parchment paper or a silicone mat. Peel other side of plastic from dough.
Use large knife or pizza cutter to make 16 equally sized squares. Make 4 holes in each wafer with a wooden k-bob skewer. Sprinkle with sparkling or sanding sugar. If making cinnamon grahams, add a bit of cinnamon to granulated sugar and sprinkle crackers.
Bake at 350 degrees for 13 minutes.
Remove from the oven and re-cut the squares in the same place as previously cut.
Notes
To make chocolate grahams, substitute 1/2 cup of Dutch-processed cocoa for 1/2 cup of flour.
Recommended Products
As an Amazon Associate, I earn from qualifying purchases. But don't worry. This doesn't change the price you pay.
Nutrition Information:
Yield:

24
Serving Size:

2
Amount Per Serving:
Calories:

116
Total Fat:

6g
Saturated Fat:

4g
Trans Fat:

0g
Unsaturated Fat:

2g
Cholesterol:

23mg
Sodium:

75mg
Carbohydrates:

14g
Fiber:

1g
Sugar:

6g
Protein:

2g