Easy Vanilla Posset Recipe with Lemon: Sweet and Simple
Sneak Preview: This easy dessert recipe for Vanilla Posset with Lemon is as simple as it gets, with no need for an oven or advanced cooking skills. All you'll need are some basic ingredients: heavy whipping cream, vanilla bean paste or vanilla extract, and zesty lemon.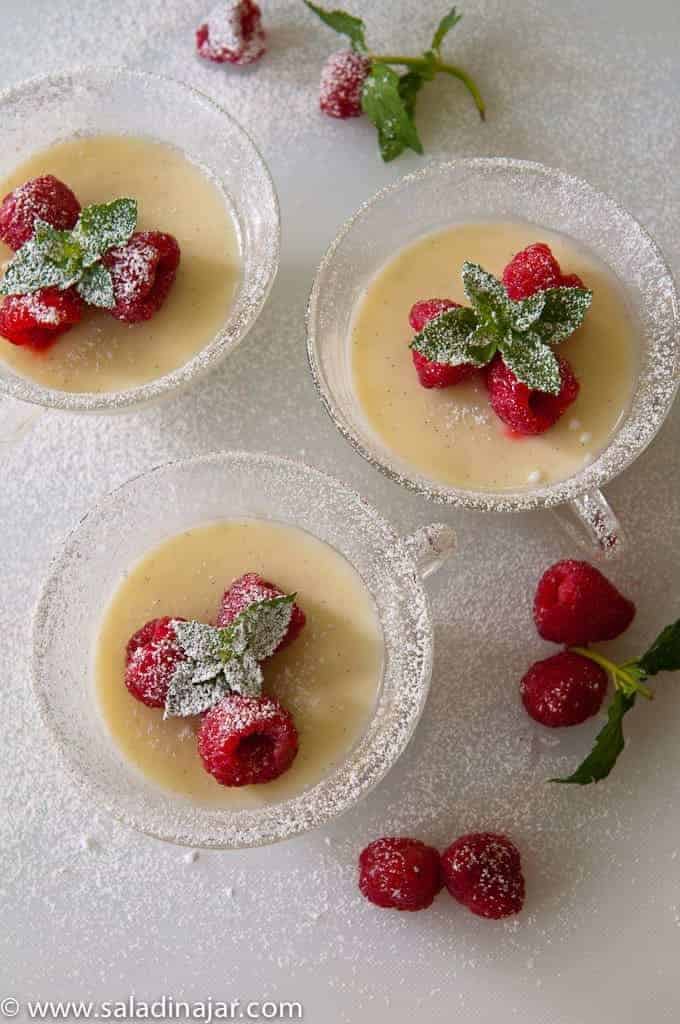 As an Amazon Associate, I earn from qualifying purchases.
This vanilla posset recipe reminds me of a cross between creme brûlée custard (without the tricky sugar crust) and ice cream (but it's not frozen). No ice cream freezer, oven, or torch is needed.
When you need a dessert to go with a heavy meal, this is it. It's also good for a ladies luncheon. Love your family and friends with this light but satisfying dessert.
This decadent treat was a big hit at our family dinner last weekend. Even the little ones ate it up.
---
Ingredients and substitutions:
Can you believe this recipe has only four ingredients? Use the best quality and freshest ingredients you can find!
HEAVY CREAM: No substitutions will do here. Heavy cream is the secret to achieving that unmatched, luscious thickness.
SUGAR: Stick with granulated sugar; there's simply no match.
LEMONS: Fresh lemons are non-negotiable. Bottled juice won't deliver that vibrant zest.
VANILLA: You've got options. Vanilla extract is a budget-friendly and widely available choice. However, if you can get your hands on a vanilla bean or vanilla bean paste, you're in for a treat. The result? A luxurious dessert that's not only a delight to the taste buds but also a feast for the eyes.

Vanilla paste, speckled with those tiny black gems, offers a hassle-free alternative to scraping and splitting vanilla beans. Find it at local stores like Central Market, Williams-Sonoma, and, of course, online. Try it in ice cream, pudding, custards, yogurt…actually, any dessert where you want to see the little black specks.
---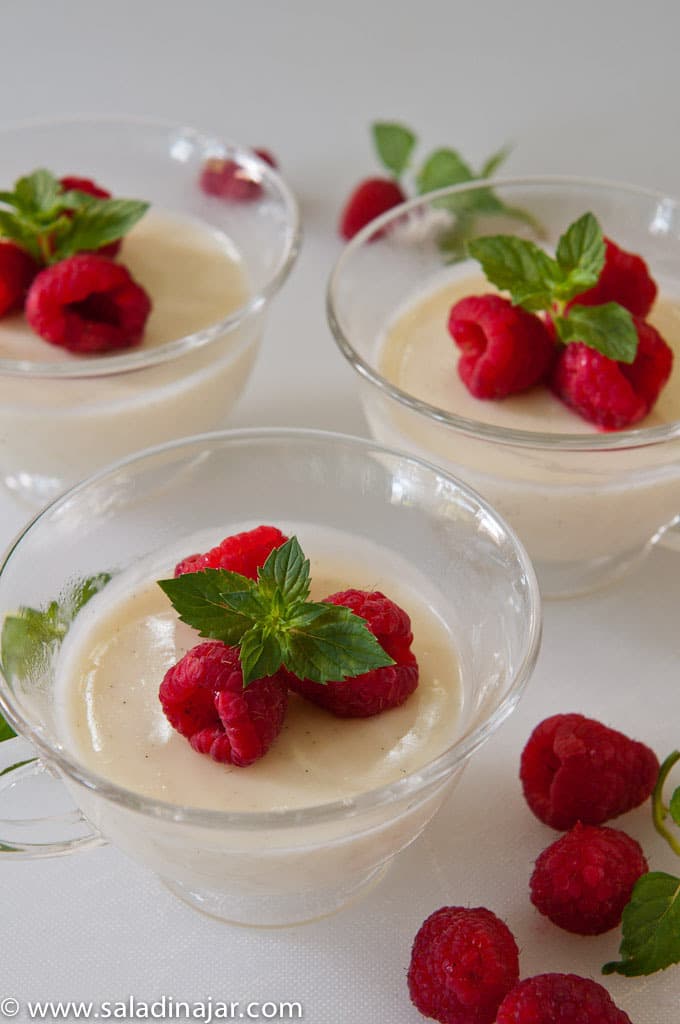 Creating a Vanilla Posset with Lemon in 4 simple steps:
Boil Cream and Sugar: Start by bringing heavy cream and sugar to a gentle boil, where the magic happens as the sweetened cream transforms into a luxurious, thickened sauce.
Add Vanilla and Lemon Juice: Infuse your posset with vanilla extract or vanilla bean paste. Then, add the bright and zesty flavor of lemon by adding freshly squeezed lemon juice.
Strain and Pour: To ensure a silky-smooth texture, strain the lemony sauce as you pour it into individual serving dishes. As it chills, the posset will gradually set and become firmer.
Garnish with Berries: Elevate the posset's appearance and taste by garnishing it with your choice of berries. Raspberries are a personal favorite that adds a burst of color and freshness to your dessert. Enjoy!
📌Kitchen Tip📌 The optional powdered sugar adds a fancy touch with no special decorating skills. Place a tablespoon or two of powdered sugar into a small grocery-store-type strainer and gently tap the edge to make an even shower of "snow."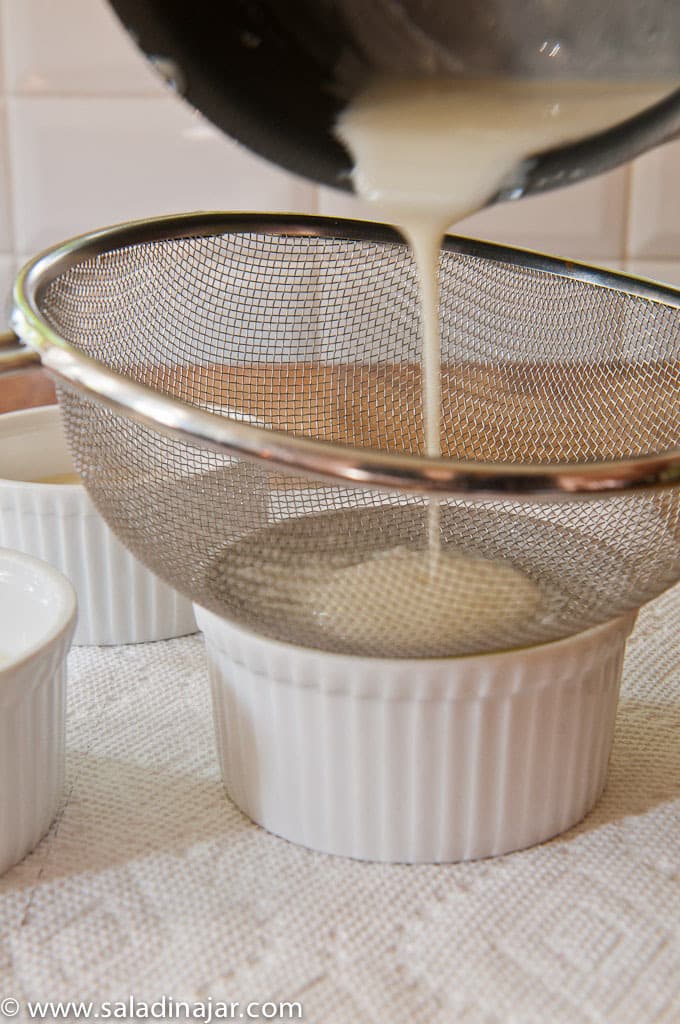 ---
FAQ about Vanilla Posset with Lemon:
What is a posset made of?
A posset consists of heavy cream, sugar, an acid like lemon juice, and sometimes additional flavorings like vanilla in this recipe. No eggs, gelatin, or baking is required.
What sets a posset?
The acid in the lemon juice sets the heavy cream.
Can I make a posset ahead of time?
Yes. Your posset will need time to chill after you make it. Allow at least 3-4 hours before you want to serve it.
Can I substitute half-and-half for heavy cream?
No, the fat content in heavy cream helps make this posset thick. It won't be the same if you use something else.
Can I substitute vanilla extract for the vanilla bean?
Yes.
---
Parting thoughts: This posset is a great dessert after a heavy meal or for a ladies luncheon. Other "cool" desserts include this Blackberry Ice Cream, Creme Fraiche Ice Cream, and my favorite, Coffee Ice Cream.
Recipe Help at Your Fingertips: For questions or suggestions, email Paula at saladinajar.com. If you need help, I'm happy to troubleshoot via email (faster than leaving a comment). Attach pictures and as many details as possible for the best advice.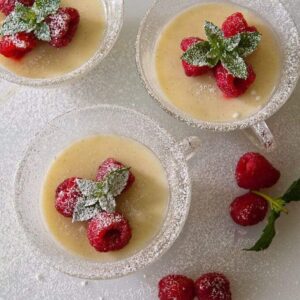 Easy Vanilla Posset with Lemon Recipe
This cool and refreshing treat is a culinary masterpiece, kissed by the delicate essence of vanilla bean (or vanilla extract) and the zesty allure of lemon. It's the ultimate sweet finish for any occasion, whether you've just savored a hearty meal or you're hosting a ladies luncheon.
Rate this recipe here. ⬇
Ingredients
2

cups

(

454

g

)

heavy whipping cream

⅔

cup

(

133

g

)

granulated sugar

Juice of 2 fresh medium lemons

1

teaspoon

vanilla bean paste

–

or vanilla extract

Powdered sugar for garnish
Instructions
Bring

2 cups

(

454

g

) heavy whipping cream and

2/3 cup

(

133

g

) granulated sugar to a quiet boil over medium-low heat, stirring continuously. Reduce heat and simmer 2-3 minutes. Don't allow the mixture to boil furiously.

Remove from heat and whisk in

Juice of 2 fresh medium lemons

that has been strained. Add

1 teaspoon

vanilla bean paste. Pour through a strainer into 8 ramekins. For more generous servings, use only 6 dishes.

Allow to cool about 20 minutes.

Chill at least 3-4 hours. Garnish with raspberries and

Powdered sugar for garnish

immediately before serving.
Nutrition
Serving:
1
serving
|
Calories:
272
kcal
|
Carbohydrates:
19
g
|
Protein:
1
g
|
Fat:
22
g
|
Saturated Fat:
14
g
|
Polyunsaturated Fat:
1
g
|
Monounsaturated Fat:
6
g
|
Cholesterol:
82
mg
|
Sodium:
23
mg
|
Potassium:
45
mg
|
Sugar:
17
g
|
Vitamin A:
875
IU
|
Vitamin C:
1
mg
|
Calcium:
39
mg
|
Iron:
1
mg
HELP OTHERS find this recipe. Leave a 5 🌟🌟🌟🌟🌟 rating at the top of the recipe card if you enjoyed it. No comment is required.