Easy Vanilla Posset Recipe with Lemon: The Perfect Summertime Dessert
Sneak Preview: This Easy Vanilla Posset Recipe with Lemon is a refreshing dessert requiring no oven or complicated cooking skills. The star players are cream, vanilla bean paste or vanilla extract, and lemon.
This vanilla posset recipe reminds me of a cross between creme brûlée custard (without the tricky sugar crust) and ice cream (but it's not frozen). No ice cream freezer, oven, or torch is needed.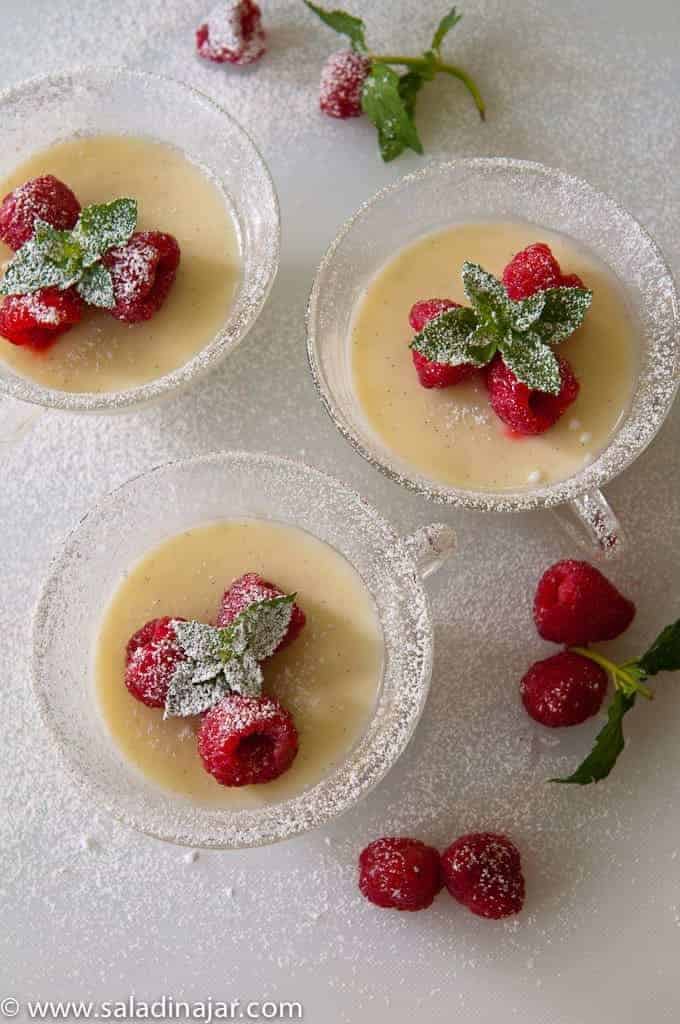 As an Amazon Associate, I earn from qualifying purchases.
When you need a dessert to go with a heavy meal, this is it. Love your family and friends with this light but satisfying dessert.
This decadent treat was a big hit at our family dinner last weekend. Even the little ones ate it up.
Ingredients and substitutions:
Can you believe this recipe has only four ingredients? Use the best quality and freshest ingredients you can find!
HEAVY CREAM: No substitutes here. Nothing else will thicken like heavy cream.

SUGAR: Use granulated sugar. Again, I know of no substitutes.

LEMONS: Fresh lemons are vital. Bottled juice won't cut it.

VANILLA: You have a couple of choices here. Vanilla extract is the cheapest and readily available. However, if. you can put your hands on a vanilla bean or vanilla bean paste, the reward is a luxurious dessert that tastes and looks extremely enticing.

Using speck-heavy vanilla paste is so much easier than scraping a softened and split vanilla bean. In my area, I can buy it at Central Market, Williams-Sonoma, and of course, online. Try it in ice cream, pudding, custards, yogurt…actually, any dessert where you want to see the little black specks.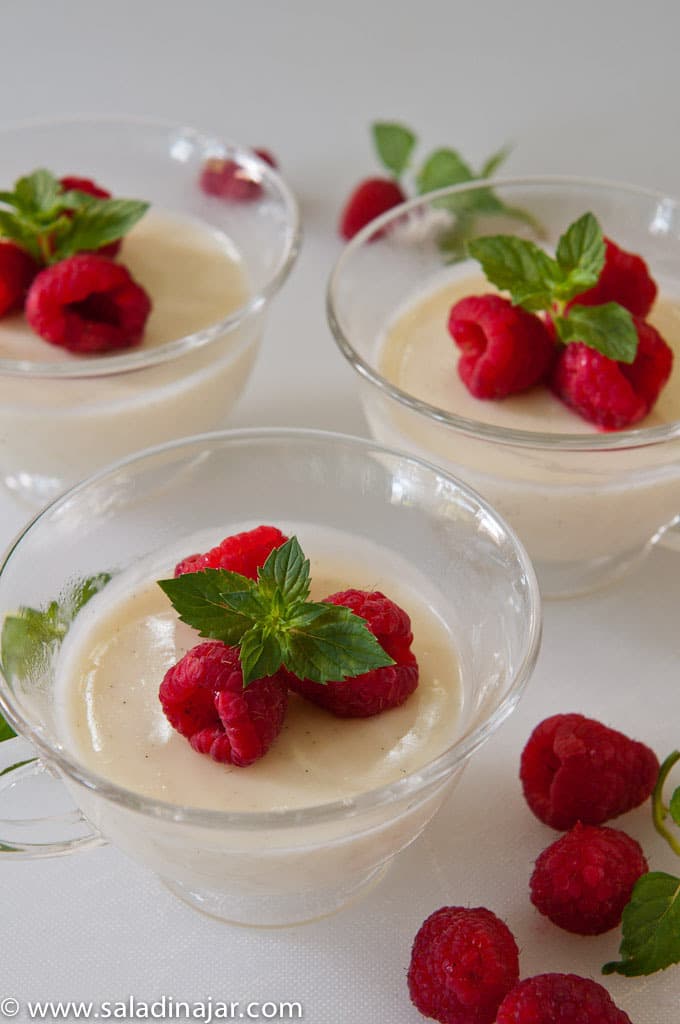 How to make a vanilla posset recipe with lemon:
Bring heavy cream and sugar to a boil to transform the sweetened cream mixture into a velvety, thickened sauce.
Add lemon juice to set and flavor the posset.
Strain the sauce while pouring it into individual serving dishes to keep it silky smooth to the tongue. The posset will set and firm up as it chills.
Garnish with raspberries, blueberries, or whatever fruit you can find that tastes and looks good. Raspberries are my personal favorite as they play well with lemon.
The optional powdered sugar adds a fancy touch with no special decorating skills. Place a tablespoon or two of powdered sugar into a small grocery-store-type strainer and gently tap the edge to make an even shower of "snow."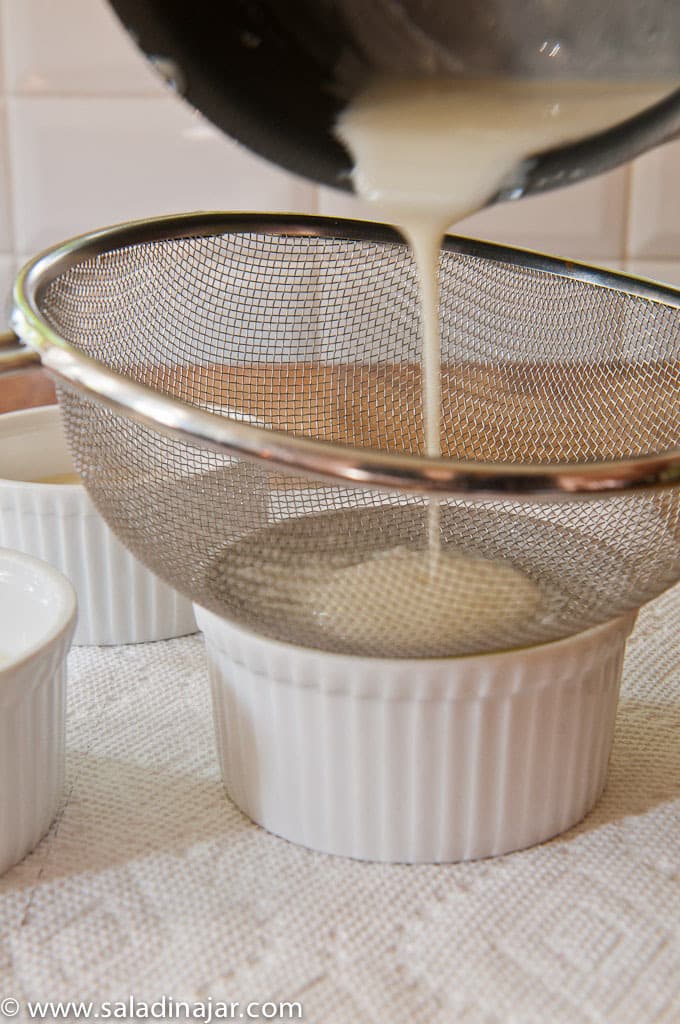 FAQ about Vanilla Posset with Lemon:
What is a posset made of?
A posset consists of heavy cream, sugar, an acid like lemon juice, and sometimes additional flavorings. No eggs, gelatin, or baking is required.
What sets a posset?
The acid in the lemon juice sets the heavy cream.
Can I make posset ahead of time?
Yes. Your posset will need time to chill after you make it. Allow at least 3-4 hours before you want to serve it.
Can I substitute half-and-half for heavy cream?
No, the fat content in heavy cream helps make this posset thick. It won't be the same if you use something else.
Can I substitute vanilla extract for the vanilla bean?
Yes.
---
More recipes for dessert-lovers
---
If you have questions or suggestions, email me privately to Paula at saladinajar.com. Hope to see you again soon! Paula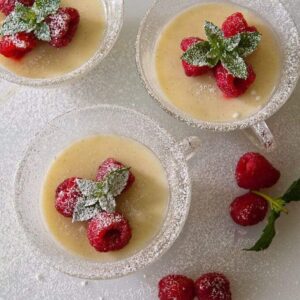 Easy Vanilla Posset with Lemon Recipe
Vanilla Posset with Lemon is a cool and refreshing dessert that requires no oven or complicated cooking skills. Flavored with vanilla bean (or vanilla extract) and lemon. Perfect for a heavy meal or ladies' luncheon.
Ingredients
2

cups

heavy cream

⅔

cup

sugar

Juice of 2 fresh lemons

1

teaspoon

vanilla bean paste

-

or vanilla extract

Powdered sugar for garnish
Instructions 
Bring cream and sugar to a quiet boil over medium-low heat, stirring continuously. Reduce heat and simmer 2-3 minutes. Don't allow the mixture to boil furiously.

Remove from heat and whisk in strained lemon juice. Add 1 teaspoon vanilla bean paste. Pour through a strainer into 8 ramekins. For more generous servings, use only 6 dishes.

Allow to cool about 20 minutes.

Chill at least 3-4 hours. Garnish with raspberries and powdered sugar immediately before serving.
Nutrition
Nutrition Facts
Easy Vanilla Posset with Lemon Recipe
Amount per Serving
% Daily Value*
* Percent Daily Values are based on a 2000 calorie diet.
Like this recipe? Thanks for leaving a 5-star rating inside the recipe at the top! 🤩