Homemade Blackberry Ice Cream With Chocolate Flakes (Small Batch)
Sneak Peek: This recipe for Blackberry Ice Cream with Chocolate Flakes uses fresh or frozen blackberries. Although the berries are cooked to make it easier to remove the seeds, the ice cream mixture is uncooked to produce the freshest flavor. Adding chopped chocolate or Oreos makes this frozen dessert memorable.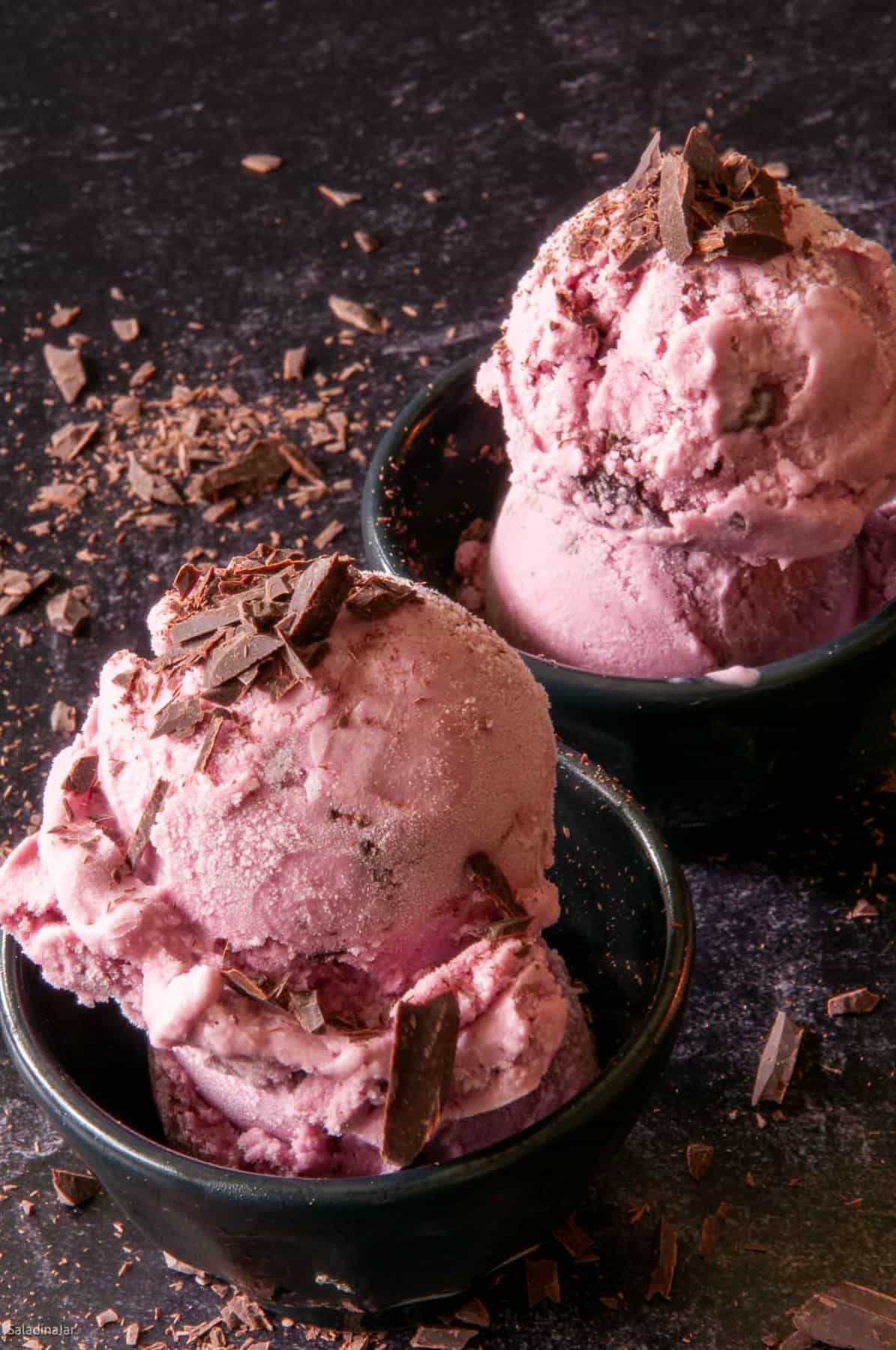 As an Amazon Associate, I earn from qualifying purchases.
Do you have an abundance of blackberries but want to use them for something besides blackberry cobbler or eating with Greek yogurt? If you haven't tried making blackberry ice cream, here's a good place to start.
Although I'm not a big fan of fruit and chocolate combinations (no chocolate-covered cherries for me), I'm surprised at how well chocolate pairs with the fresh berry flavor in this homemade ice cream recipe.
Your tastebuds will wallow in the initial mellowness of the blackberry-flavored cream. As the cream disappears, you are left to savor the chocolate pieces. Indulge yourself and buy good chocolate for the greatest satisfaction. If you decide to go the cookies-and-creme route, your tastebuds are in for a treat that won't stop.
---
Ingredients and common substitutions:
BLACKBERRIES: Use fresh or frozen blackberries. You will microwave them to make a blackberry puree and make it easier to get rid of the seeds. Frozen berries do not need to be defrosted.

SUGAR: Granulated sugar dissolves the quickest without adding extra flavor. If your berries are extra sweet, consider cutting back the amount of sugar by a couple of tablespoons.

MILK: Whole milk gives the creamiest results, but 2% is ok, too. Using milk with less fat will result in ice cream that freezes harder. Consequently, your ice cream will need to sit out a few minutes to soften before eating.

EGGS: I always use large eggs. Since this recipe is not cooked, see the paragraph below for a discussion about using raw eggs in ice cream.

HEAVY WHIPPING CREAM: The better the cream, the better your ice cream. Don't skimp here if you want ice cream worth the calories.

SALT: A pinch of salt brings out the sweetness. You can leave it out if the doctor insists.

VANILLA EXTRACT: A touch of almond extract would make a good substitute or a nice addition to this recipe.

VODKA: Optional. See the discussion below.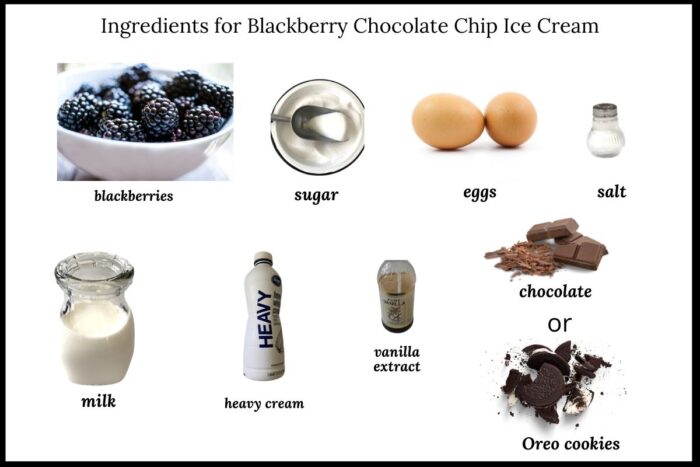 Is it OK to use raw eggs in ice cream?
This recipe is for uncooked ice cream. Cooked ice cream tends to be richer (all those egg yolks). It's also more work.
Whenever you use raw eggs in a recipe that won't be cooked, you run the risk of food-borne illness. This is particularly concerning for the very young, the very old, or someone with a compromised immune system.
If this is a concern for you, buy pasteurized eggs at the grocery store or pasteurize them yourself. According to the International Egg Pasteurization Manual, this involves holding the eggs at 140˚F for 3.5 minutes. If you want a video showing specifics about pasteurizing eggs at home, check YouTube.
A Sous Vide (paid link) makes it simple to do this at home. Bring the eggs to the exact temperature needed and hold the sous vide will hold it steady without babysitting.
Why add vodka?
I'm not into drinking alcohol (personal preference), but I keep vodka in the house for two reasons.
Vodka is useful for making vanilla extract.
A tablespoon of vodka added to any homemade ice cream keeps it from freezing rock hard without changing the flavor. Leaving it out is OK, too. No substitute is required.
Variation: Blackberry Cookies and Cream Ice Cream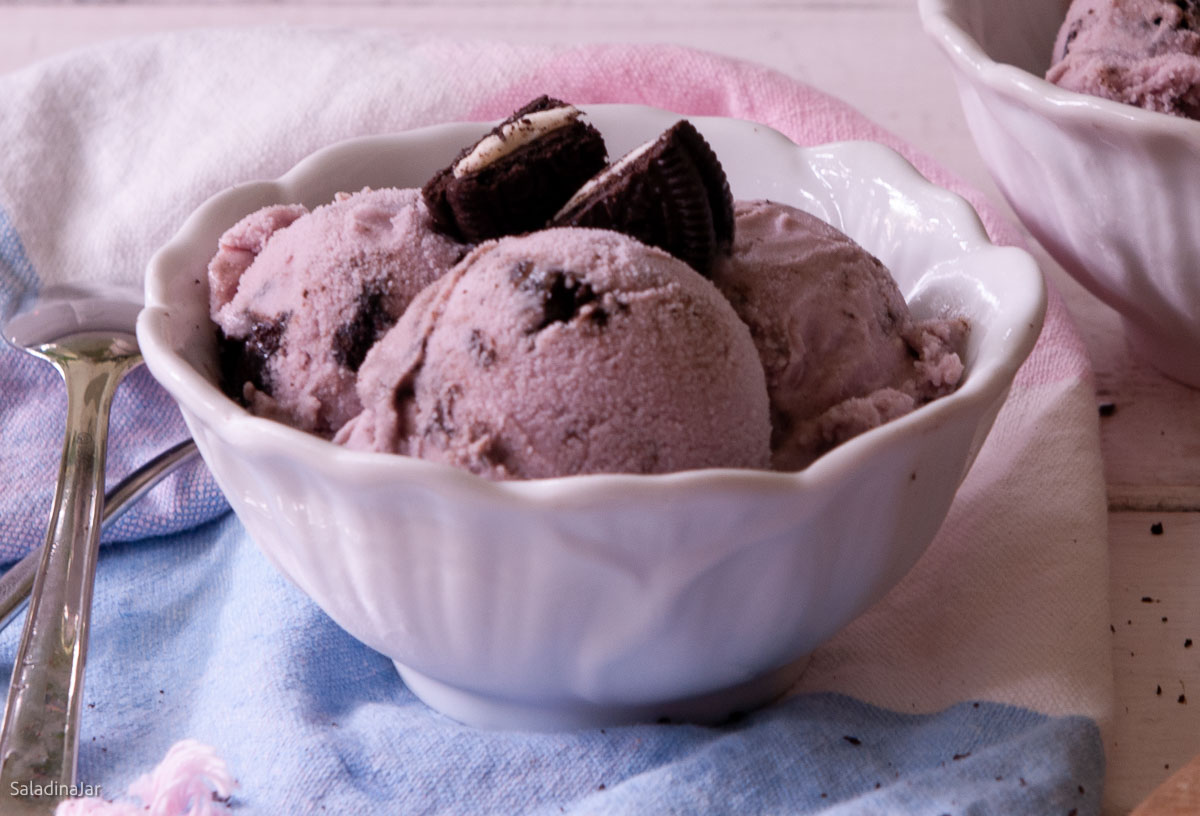 Instead of chocolate pieces, add chopped-up Oreo cookies to your ice cream after it has frozen but is not yet too firm to stir. Start out with six regular-size cookies.
How to make this Homemade Blackberry Ice Cream Recipe with Chocolate:
Preparing the Berries: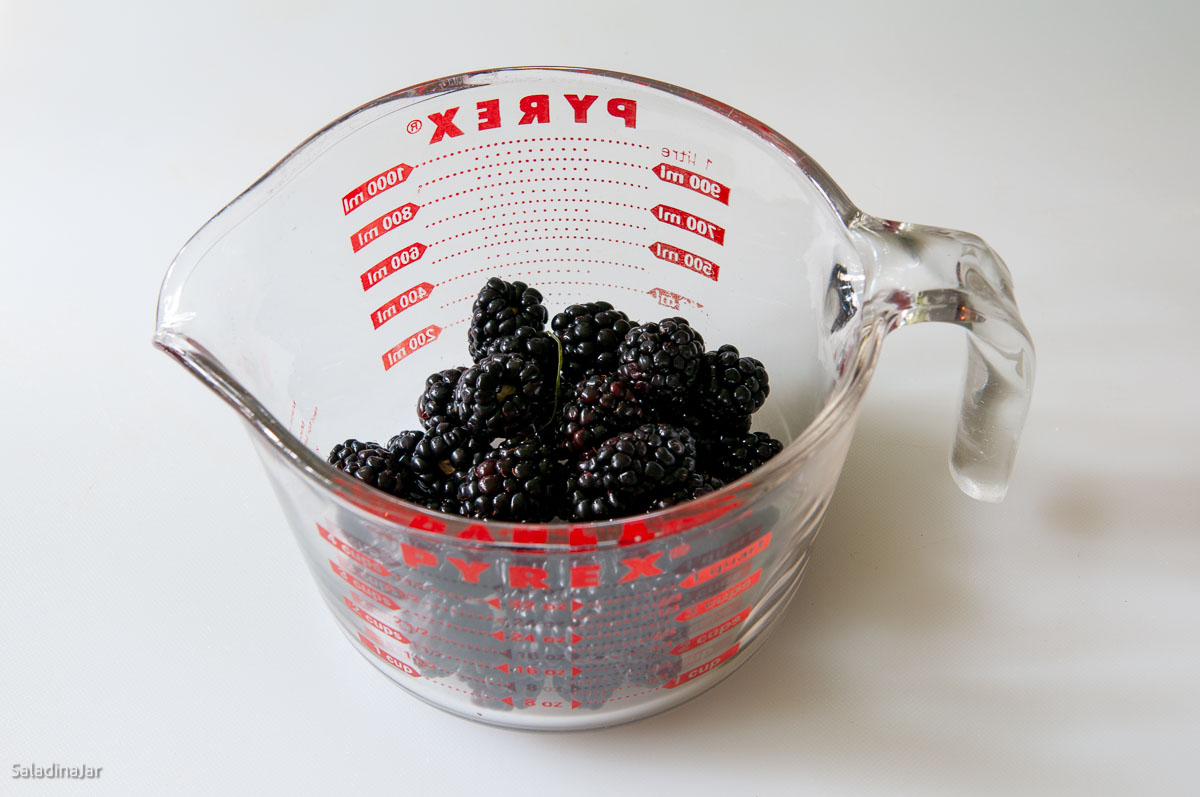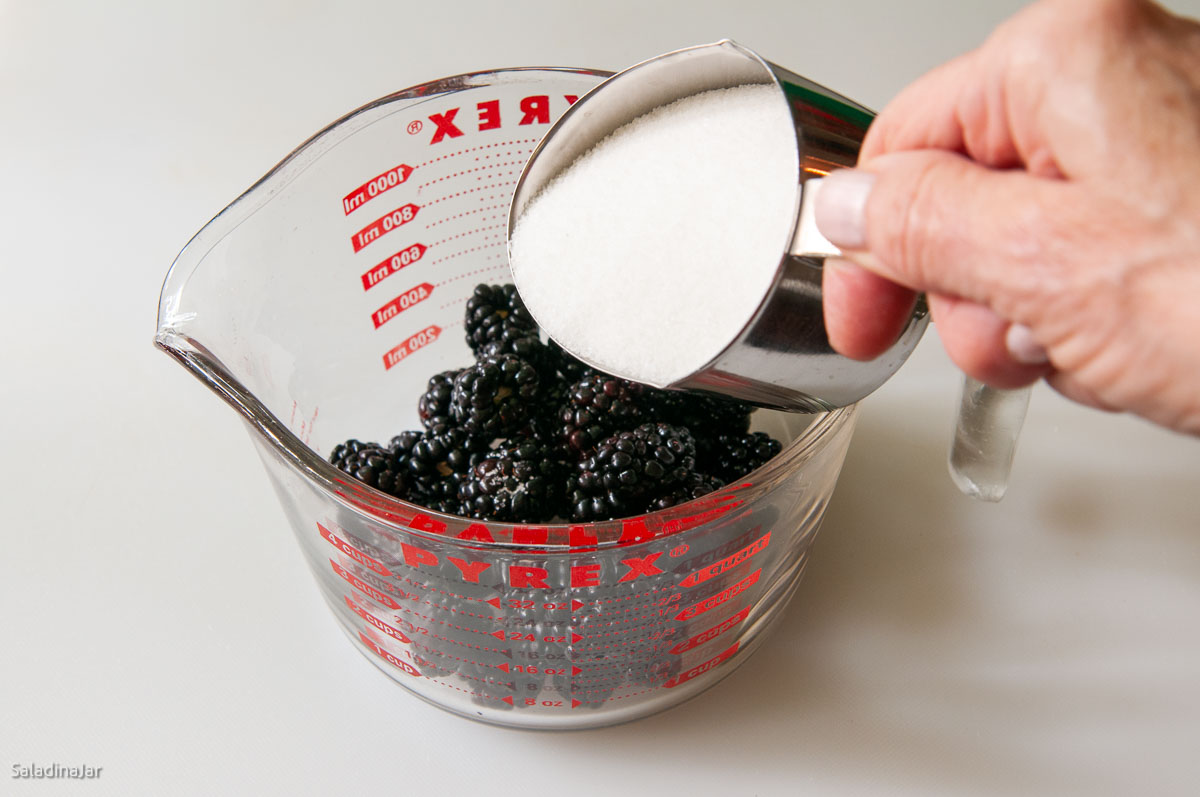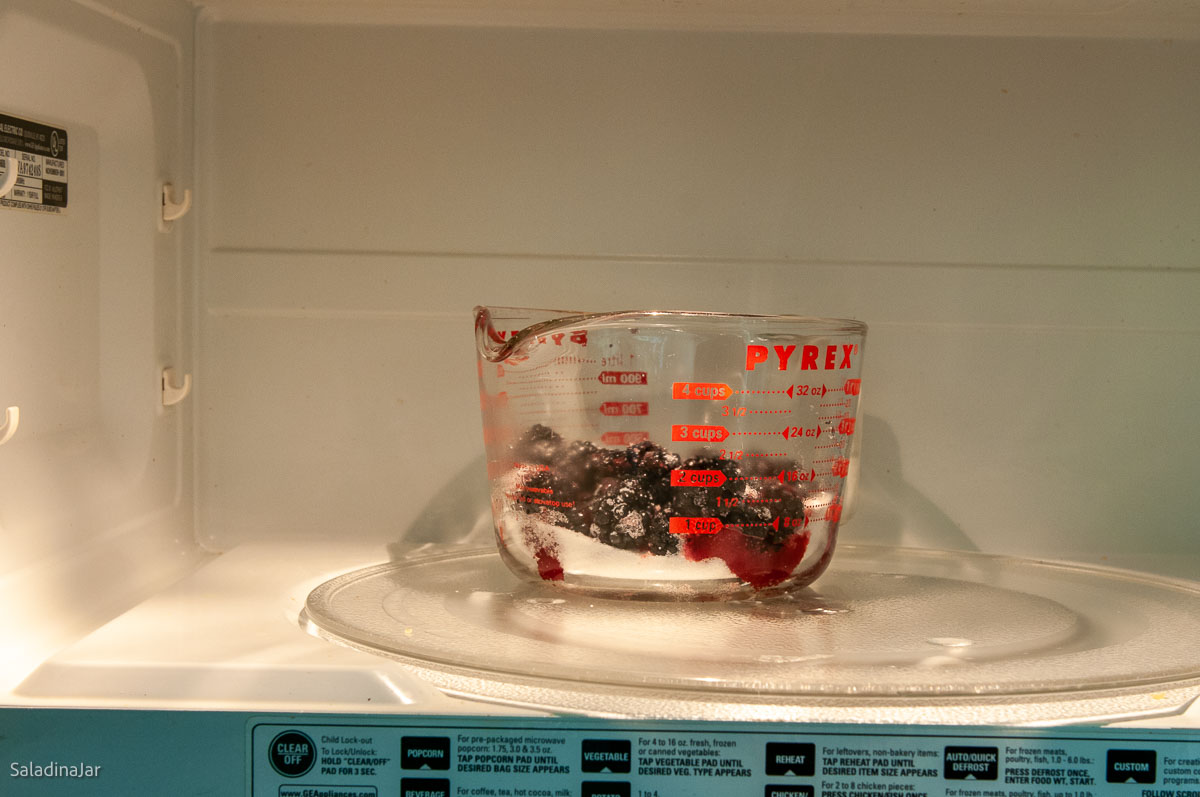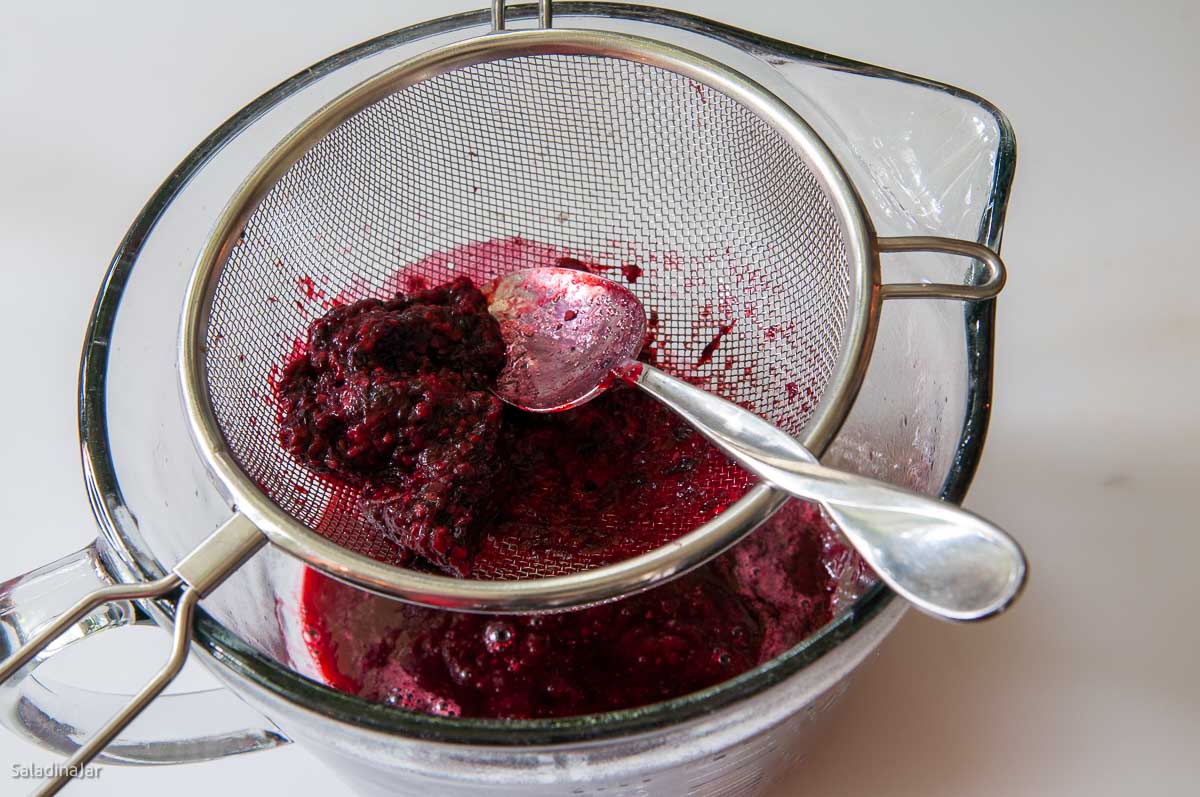 ---
Preparing the ice cream to freeze: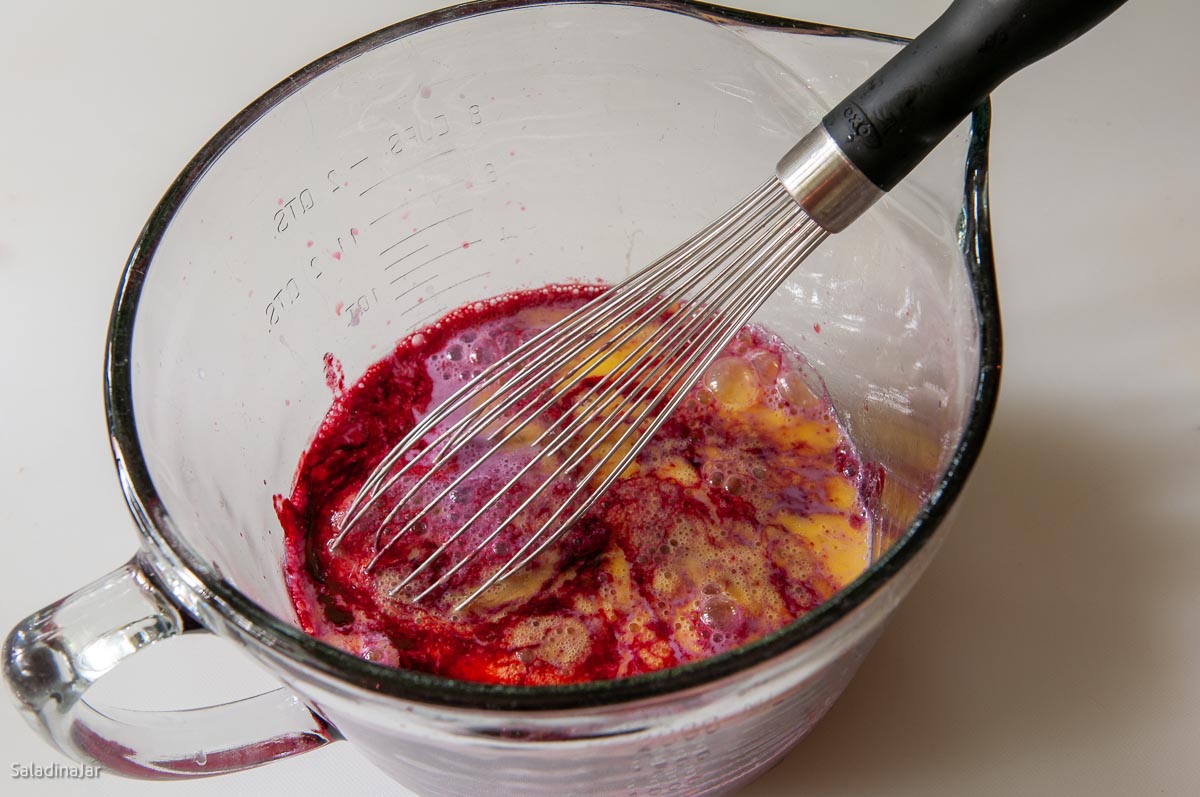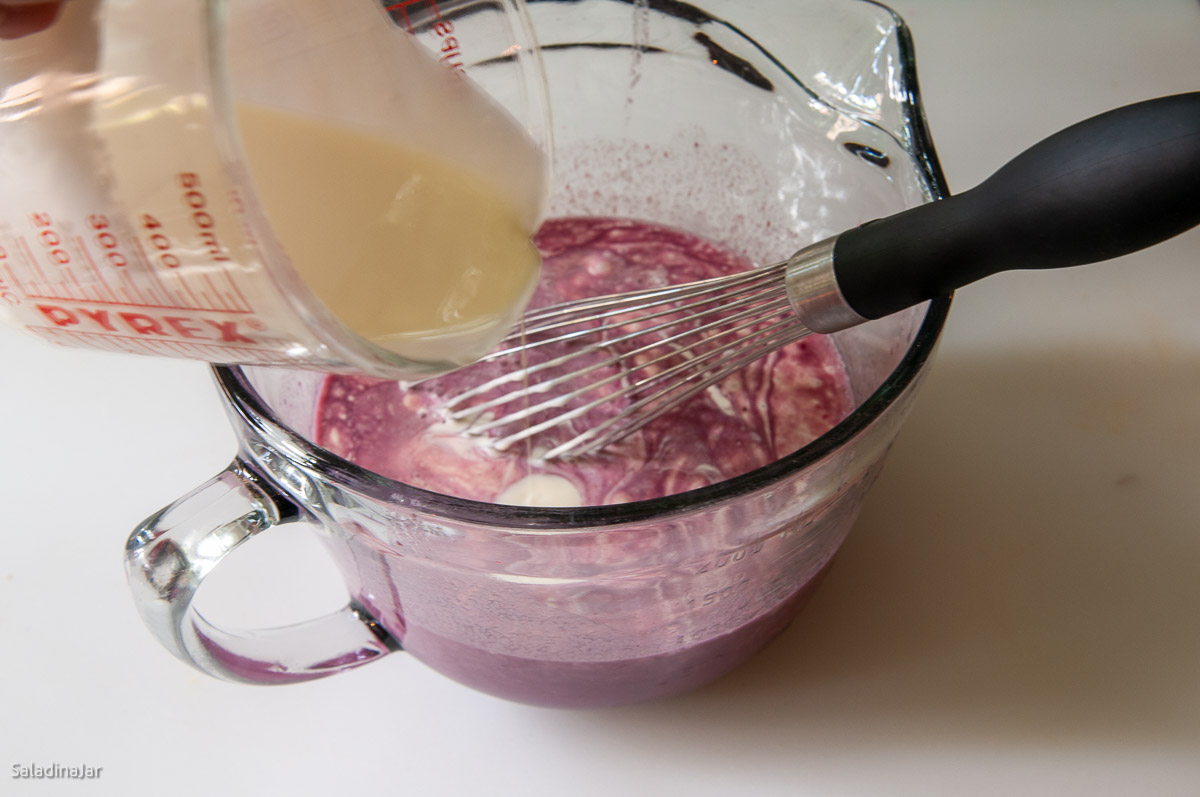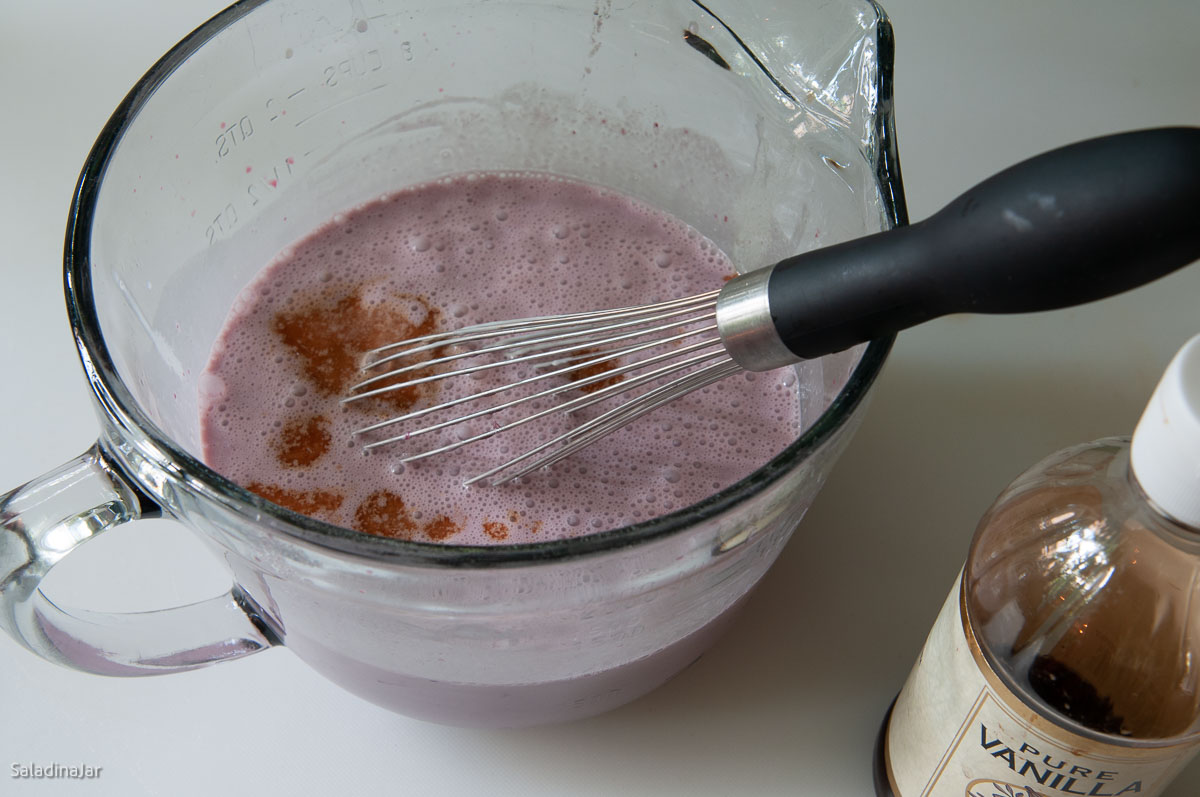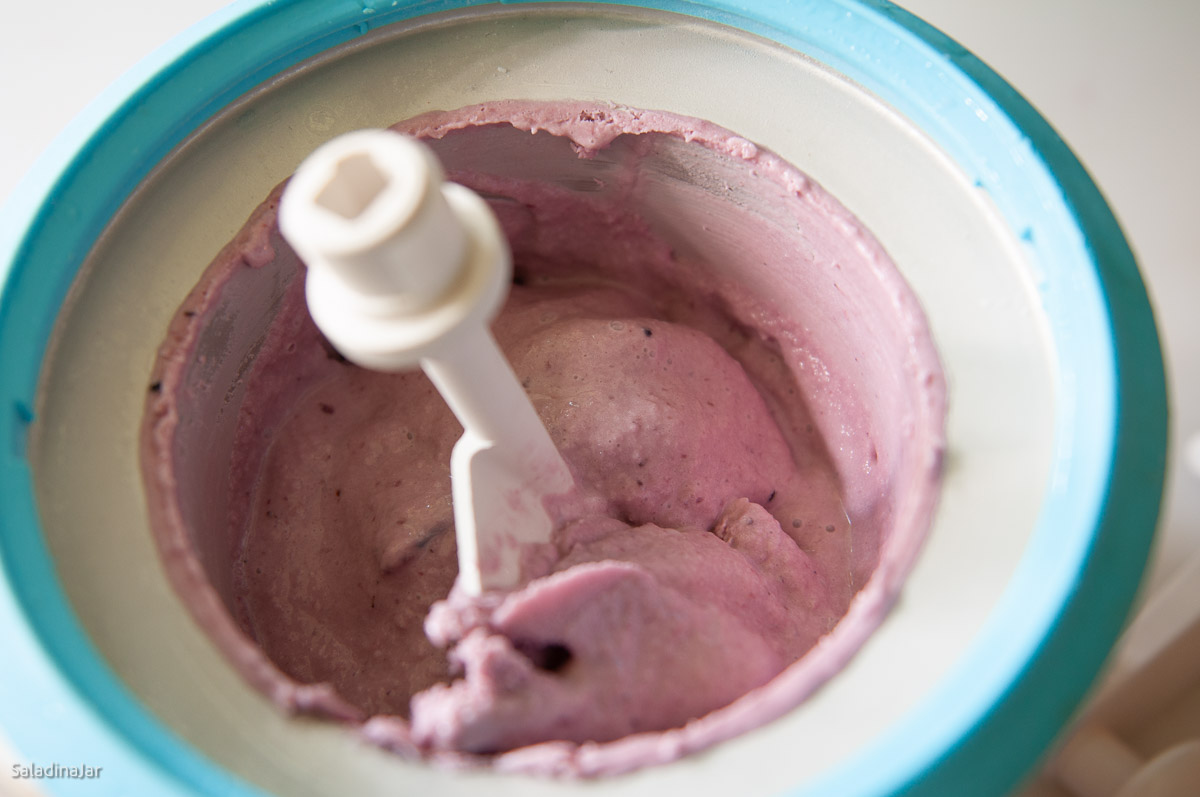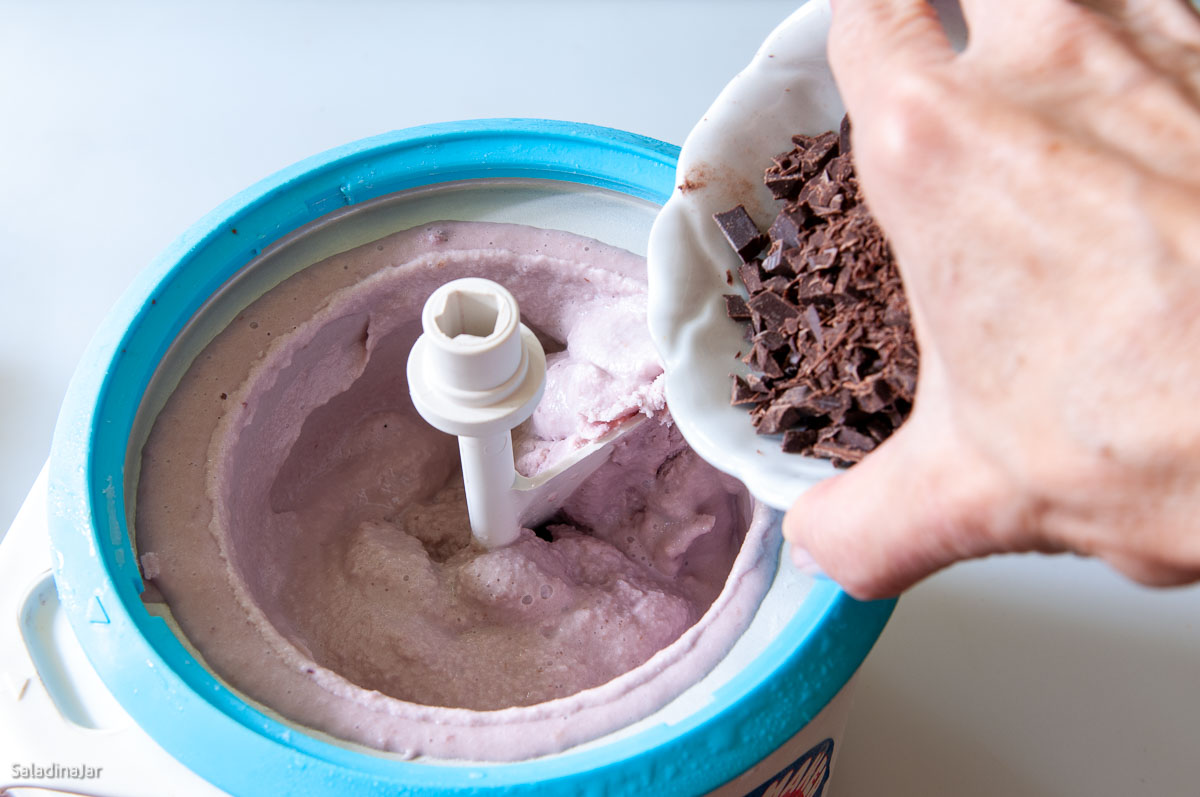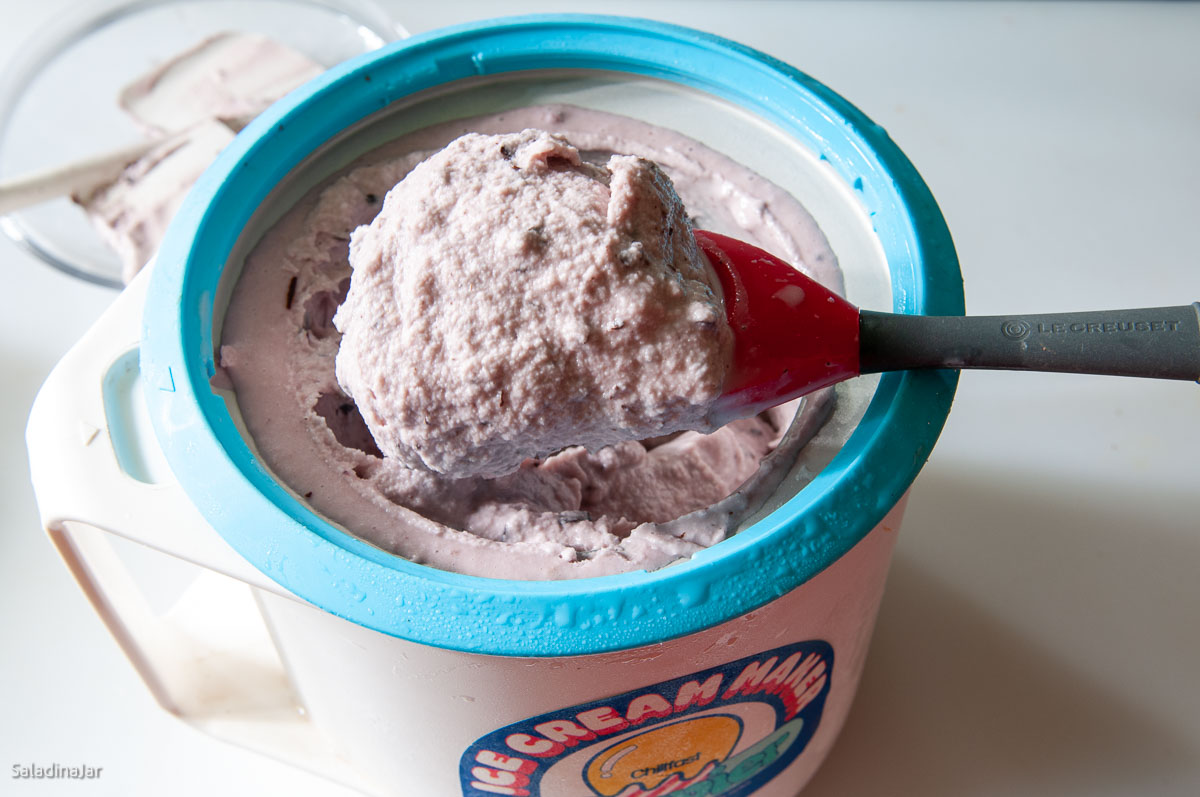 ---
FAQ about this recipe:
Can I make this ice cream without an ice cream maker?
Technically, yes. If you don't mind opening your freezer door every 30 minutes to break up and whisk the ice cream as it freezes, go ahead. It will not be as creamy as ice cream made with an ice cream maker. Read this post for details.
Can I use different fruits besides blackberries?
Yes. Strawberries, blueberries, or raspberries would all be delicious.
How long can I keep blackberry ice cream in the freezer?
If your freezer stays really cold, it should be good for at least a week. If you see that your ice cream is getting icy, it's time to throw it out.
---
Other posts that might interest you:
If you have questions or suggestions, email me privately for a quick answer: Paula at saladinajar.com. Hope to see you again soon!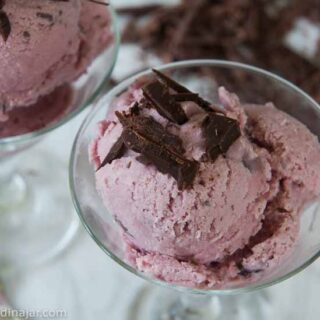 Homemade Blackberry Ice Cream Recipe with Chocolate Flakes
Blackberry Ice Cream with Chocolate Flakes is a fruity ice cream studded with chocolate pieces. Uncooked for easier assembly and a fresher taste.
Ingredients
6-8

ounces

fresh or frozen blackberries

¾

cup

sugar

-

149 gr

1

cup

milk

-

227 gr

2

eggs

-

100 gr

pinch

of salt

1-1/2

cups

heavy cream

-

360 gr

1

teaspoon

vanilla extract

1

tablespoon

vodka

-

optional

2

ounces

semi-sweet or bittersweet chocolate

-

cut into small pieces with a large knife
Instructions
Put blackberries into a microwave-safe Pyrex bowl along with the sugar. Microwave on HIGH for 2-3 minutes or until the mixture starts to bubble up. Stir about halfway through.

Extract the seeds by using a spoon or spatula to force the berry mixture through a strainer.

Whisk eggs, salt, and milk into the seedless berry mixture. Add heavy cream and vanilla. Continue whisking until smooth.

Cover and chill for 3 hours or overnight.

Add vodka (if using) just before pouring cold ice cream mixture into your ice cream freezer. Freeze according to the manufacturer's instructions.

Add chopped chocolate (or chopped Oreos) at the end of the freezing process before the ice cream gets too hard to stir.

Transfer the soft ice cream to a plastic container or a loaf pan. Store in the freezer for several hours to finish getting hard before serving.
Notes
No chocolate in the house? Try crumbled Oreo cookies instead–6 of them is a good place to start.
Nutrition
Serving:
1
|
Calories:
198
kcal
|
Carbohydrates:
25
g
|
Protein:
3
g
|
Fat:
9
g
|
Saturated Fat:
6
g
|
Polyunsaturated Fat:
1
g
|
Monounsaturated Fat:
2
g
|
Trans Fat:
1
g
|
Cholesterol:
64
mg
|
Sodium:
43
mg
|
Potassium:
114
mg
|
Fiber:
1
g
|
Sugar:
23
g
|
Vitamin A:
309
IU
|
Vitamin C:
1
mg
|
Calcium:
73
mg
|
Iron:
1
mg