Preview: This recipe for Blackberry Chocolate Chip Ice Cream uses fresh or frozen blackberries. The custard mixture is uncooked producing the freshest flavor. Adding chopped chocolate or Oreos makes it especially memorable.
Have you ever experienced something like this? We had been enjoying our first successful crop of blackberries for the year.
Something mysterious decided to enjoy them as well. The guilty party swooped in and cleaned out our bushes overnight like hungry fish after bread crumbs dropped in the water.
The only clues were some berry parts and seeds spotted on top of the nearby pool equipment. Makes me think the berry-thieves could fly.
Do you love fruit with your chocolate?
I'm usually not a big fan. No chocolate-covered cherries for me. But I'm surprised at how well the chocolate pairs with the fresh berry flavor.
Your tastebuds will wallow in the initial mellowness of the blackberry-flavored cream. As the cream disappears, you are left to savor the chocolate pieces. Indulge yourself and buy good chocolate for the greatest satisfaction. If you decide to go the cookies-and-creme route, your tastebuds are in for a treat that won't stop.
Ingredients and substitutions:
BLACKBERRIES: Use fresh or frozen blackberries. You will microwave them to make it easier to get rid of the seeds. Frozen berries do not need to be defrosted.

SUGAR: Granulated sugar dissolves the quickest without adding extra flavor. If your berries are extra sweet, consider cutting back the amount of sugar by a couple of tablespoons.

MILK: Whole milk gives the creamiest results, but 2% is ok, too. Using milk with less fat will result in ice cream that freezes harder. Consequently, your ice cream will need to sit out a few minutes to soften before eating.

EGGS: I always use large eggs. Since this recipe is not cooked, see the paragraph below for a discussion about using raw eggs in ice cream.

HEAVY CREAM: The better the cream, the better your ice cream. Don't skimp here if you want ice cream worth the calories.

SALT: A pinch of salt brings out the sweetness. You can leave it out if the doctor insists.

VANILLA EXTRACT: A touch of almond extract would make a good substitute or a nice addition to this recipe.

VODKA: Optional. See the discussion below.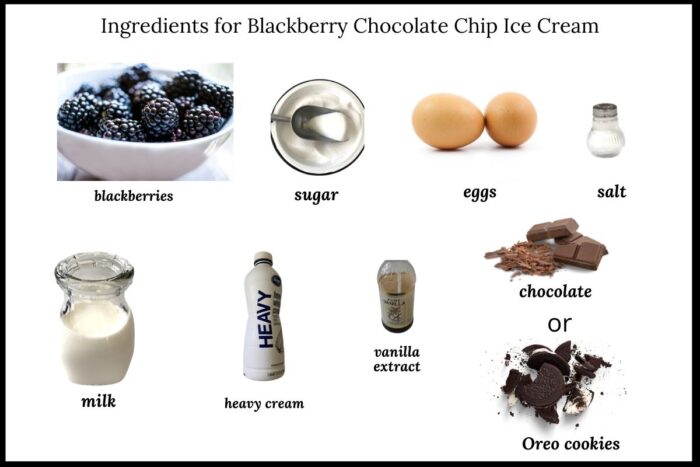 ---
Is it OK to use raw eggs in ice cream?
This recipe is for uncooked ice cream. Cooked ice cream tends to be richer (all those egg yolks). It's also more work.
Whenever you use raw eggs in a recipe that won't be cooked, you run the risk of food-borne illness. This is particularly concerning for the very young, the very old, or someone with a compromised immune system.
If this is a concern for you, buy pasteurized eggs at the grocery store or pasteurize them yourself. According to the International Egg Pasteurization Manual, this involves holding the eggs at 140˚F for 3.5 minutes. If you want a video showing specifics about pasteurizing eggs at home, check YouTube.
A Sous Vide (paid link) makes it simple to do this at home. Bring the eggs to the exact temperature needed and hold the sous vide will hold it steady without babysitting.
---
Why add vodka?
I'm not into drinking alcohol (personal preference), but I keep vodka in the house for two reasons.
Vodka is useful for making vanilla extract
A tablespoon of vodka added to any homemade ice cream keeps it from freezing rock hard without changing the flavor. Leaving it out is OK, too. No substitute is required.
FAQ about this recipe:
Can I make this ice cream without an ice cream maker?
Technically, yes. If you don't mind opening your freezer door every 30 minutes to break up and whisk the ice cream as it freezes, go ahead. It will not be as creamy as ice cream made with an ice cream maker. Read this post for details.
Can I use different fruits besides blackberries?
Yes. Strawberries, blueberries, or raspberries would all be delicious.
How long can I keep blackberry ice cream in the freezer?
If your freezer stays really cold, it should be good for at least a week. If you see that your ice cream is getting icy, it's time to throw it out.
---
Variation: Blackberry Cookies and Cream Ice Cream
Instead of chocolate chips, add chopped-up Oreo cookies to your ice cream after it has frozen but not yet too firm to stir. Start out with six regular-size cookies.
---
How to make Blackberry Chocolate Chip Ice Cream:
---
Other posts that might interest you:
If you enjoyed this recipe, it would help others and me if you gave it a five-star rating inside the recipe card below. 🤩 No comment required. Thank you.

Hope to see you again soon!
Paula
p.s. Questions or suggestions? Please email me: Paula at saladinajar.com.