If you are trying to figure out how to get your kids to eat more fish, try this Pizza Fish. It's lightly breaded, then sautéed, smeared with a little pizza sauce, and topped with cheese. Fresh basil adds sophistication for participating adults.
This post was originally posted in April 2010. Edited and republished November 2018 with new photos.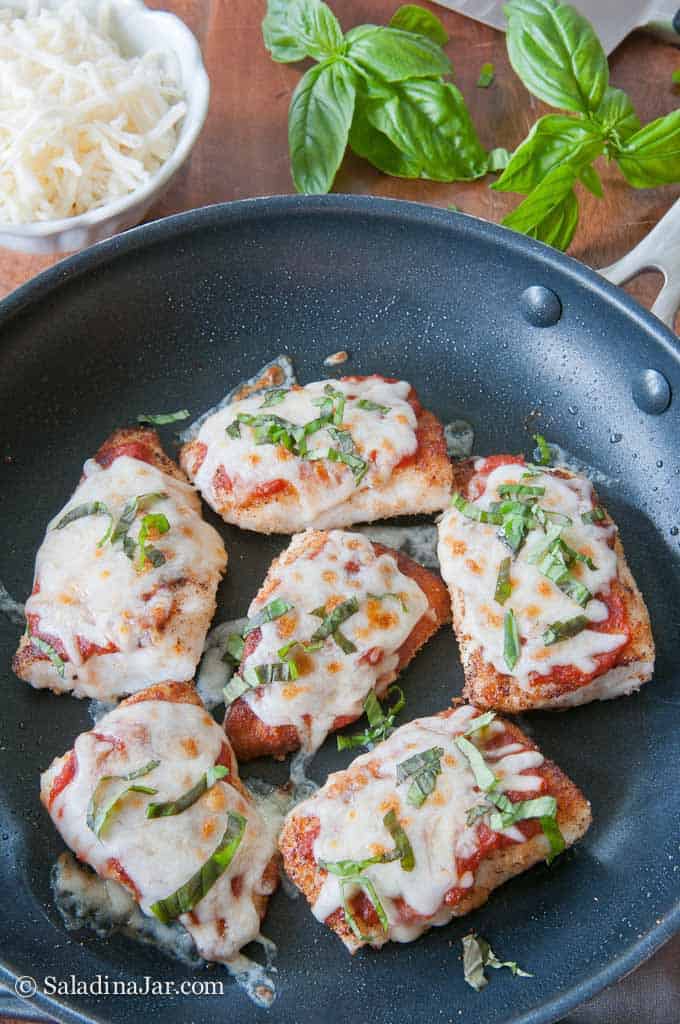 Once upon a time…
I worked as a grocery store demonstrator for a fish distribution company. It wasn't the most glamorous gig of my varied career, but it allowed me to control my own schedule when the boys were young.
The best part?
It's where I learned about Pizza Fish. Customers were crazy about it. Translation: We sold a lot of fish.
If your family's only exposure to fish is the high-calorie fried fish sandwich at fast food joints, you've got your work cut out for you. Nonetheless, Pizza Fish is a great place to start. It's easily customizable and the pizza flavors are familiar.
Try this:
Get your kids to help you fix it. They might be more likely to eat it. Worth a try.
Pizza Fish takes less than 15 minutes to make. Using frozen fish makes it even more convenient from a shopping standpoint.
How to Make Pizza Fish in a Hurry:
Frozen tilapia and orange roughy will defrost in the time it takes to walk in the door from work, change clothes, and heat up the skillet. Typically, it takes less than 20 minutes to defrost the average fillet when placed in a bowl of water.
Another way to cut corners with this recipe is to first brown the fish, cover with pizza sauce and cheese, then put a lid on the pan and let the residual heat melt the cheese. This cuts out the broiler step although your cheese won't get brown.
How to Assemble: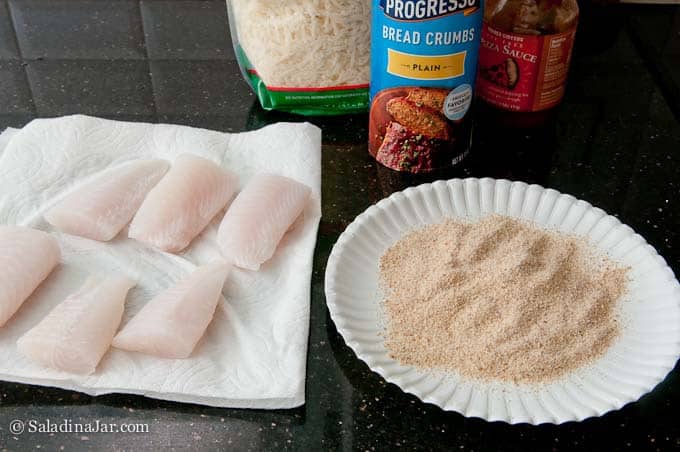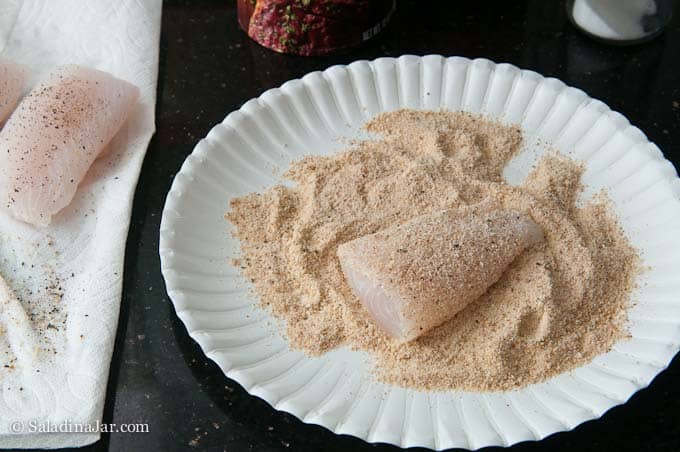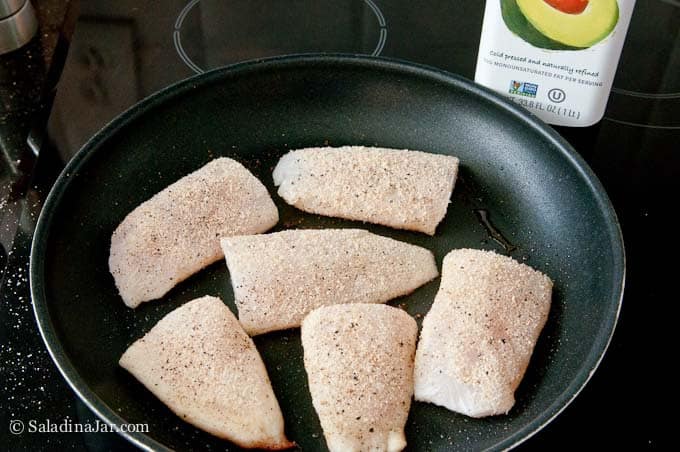 If you make this recipe and enjoy it, consider helping other readers and me by returning to this post. Leave a rating on the recipe card itself underneath the picture. Although always appreciated, comments aren't required. Thank you for visiting! Paula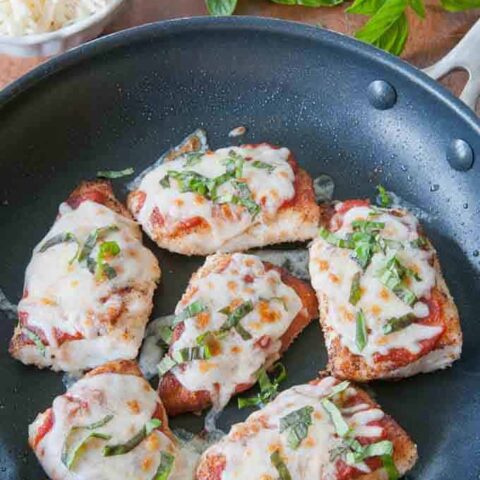 Pizza Fish...or How to Get Your Kids to Eat Fish
Lightly breaded fish topped with pizza sauce and mozzarella cheese and chopped basil.
Ingredients
1-2 tablespoons avocado or olive oil
Tilapia, orange roughy or other thin, mildly flavored fish fillets (if frozen, allow to thaw)
Salt and pepper
Bread crumbs, dried
Pizza Sauce
Shredded Mozzarella Cheese
Fresh Basil
Instructions
Preheat oil in non-stick skillet over medium heat.
Lightly dry fish with paper towels. Season with salt and pepper.
Pour crumbs onto plate or wax paper and coat fish on both sides. Use your hands to pat crumbs to get them to stick to surface of fish.
Sauté fish until brown (2-3 minutes) and flip to brown other side. (You could stop here and serve the fish with no sauce. It's delicious!)
Spoon light coating of pizza sauce over fish. Then sprinkle about 1 tablespoon of cheese over sauce. Place under broiler for a minute or two to brown cheese.
Sprinkle chopped fresh basil on top of fish and serve immediately. Really good served as a fish sandwich with your favorite buns.
Recommended Products
As an Amazon Associate, I earn from qualifying purchases. But don't worry. This doesn't change the price you pay.
Posts Related to Pizza Fish