Preview: This recipe for Breaded Almond Chicken is breaded with sliced almonds and bread crumbs. A quick trip through the oven adds crunchiness and color. Updated 2/11/21.
Do you occasionally crave fried chicken as I do? The crunch of lightly-fried almonds and bread crumbs combined with tender bites of chicken always satisfies my naughty yearnings.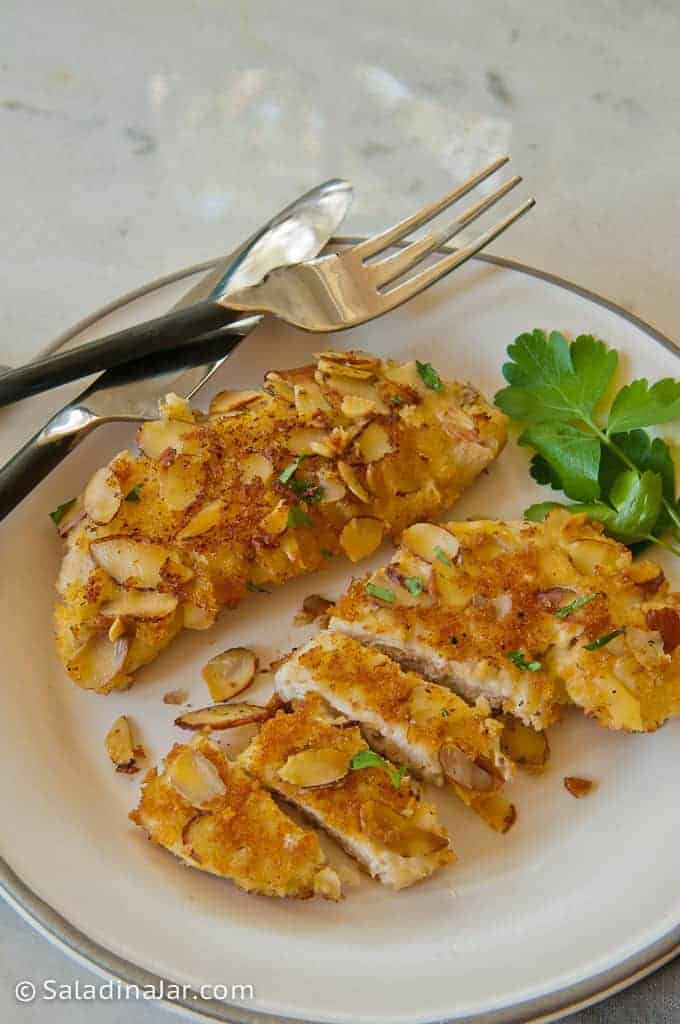 These oven-baked breaded almond chicken tenders are fancy enough for company. On the other hand, if you don't count the salt and pepper, there are only five ingredients making this recipe uncomplicated and easy.
Recipe inspiration:
The directions for this chicken come from my friend Scooter of Scooter's Spaghetti fame (the third most popular post on this blog). Years ago, she showed up at my house with this special treat after I had been in the hospital for a few days.
I've never forgotten her visit. That memory only reinforces my theory that sharing recipes can be an enduring gift.
Ingredients and substitutions:
CHICKEN: Skinless and boneless chicken tenders are best for this recipe. They are easier to handle than a full tenderloin. Be careful not to overcook them.

FLOUR: Substitute whole wheat or bleached all-purpose flour for unbleached flour. If you want to go low- carb (often for me), you can leave out this first step in the breading process, but the bread crumbs will not adhere to the chicken tenders quite as well.

ALMONDS: Use blanched and slivered almonds or sliced almonds (with the brown skin barely visible on the edges. Leave them out for people who have allergies or don't like almonds.

BREAD CRUMBS: My first choice would be soft bread crumbs you make yourself with a loaf of bread (in a food processor or blender). You can also use Panko crumbs.

Substitute almond meal for the breadcrumbs if you are feeding a low-carb or Keto eater.
How to make the coating stick to the chicken
Dredge with seasoned flour
Dip in eggs
Coat each side of the tenders with the crumb and almond mixture.
Handle the tenders with care to avoid knocking off the almonds.
How can I tell when these tenders are done and ready to eat?
The internal temperature should reach 165˚F. Check with a quick-read thermometer if you're not sure. Remember that the temperature will continue to rise for a few minutes after you remove them from the oven.
What to serve with chicken tenders:
Serve these easy chicken tenders with rice or small roasted potatoes, a green vegetable like broccoli or green beans, and our favorite homemade rolls.
How to make Breaded Almond Chicken: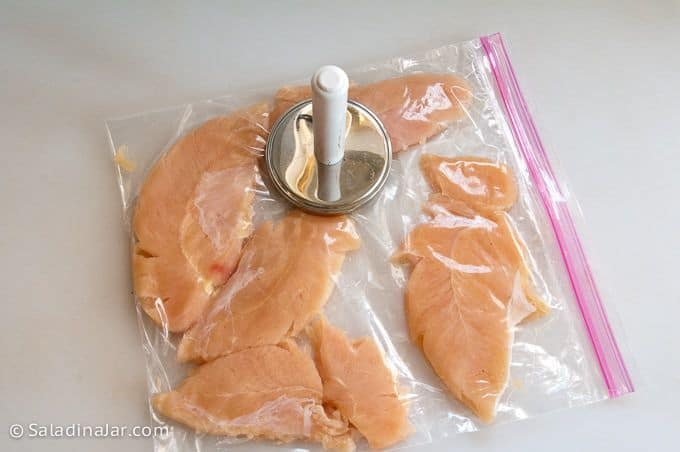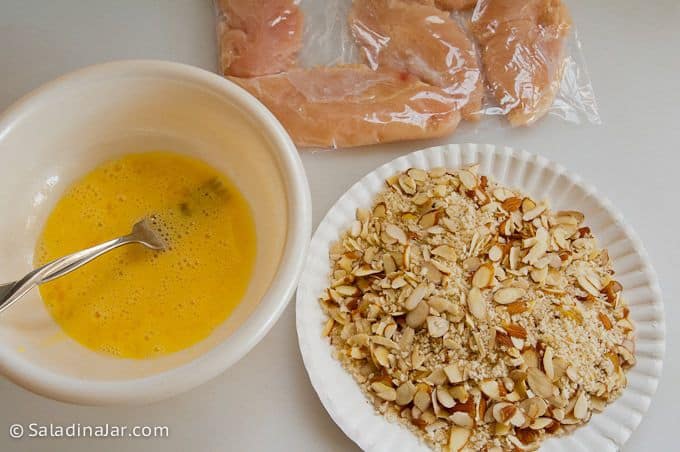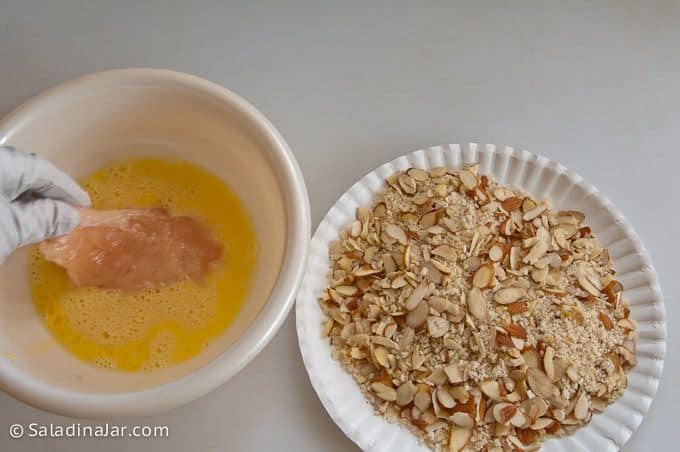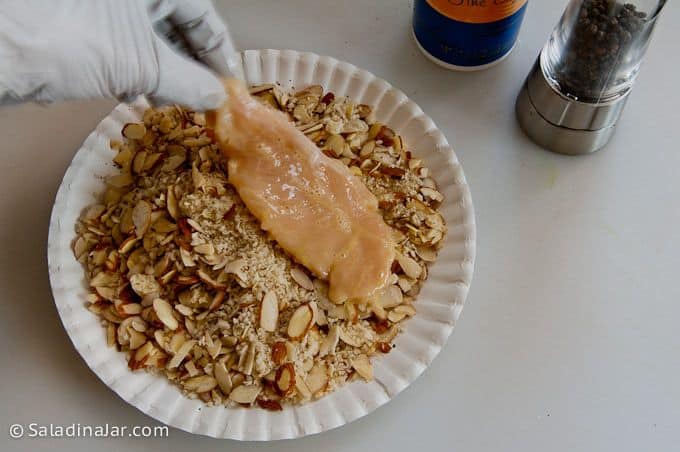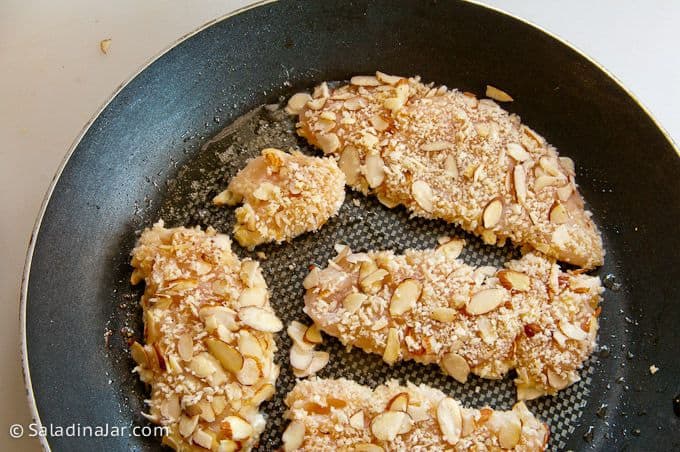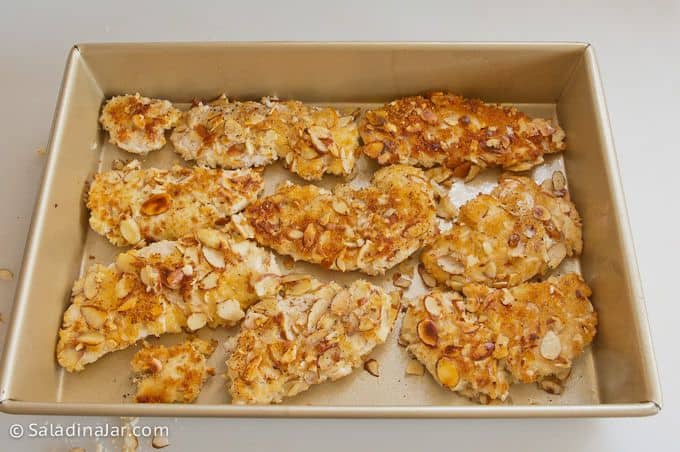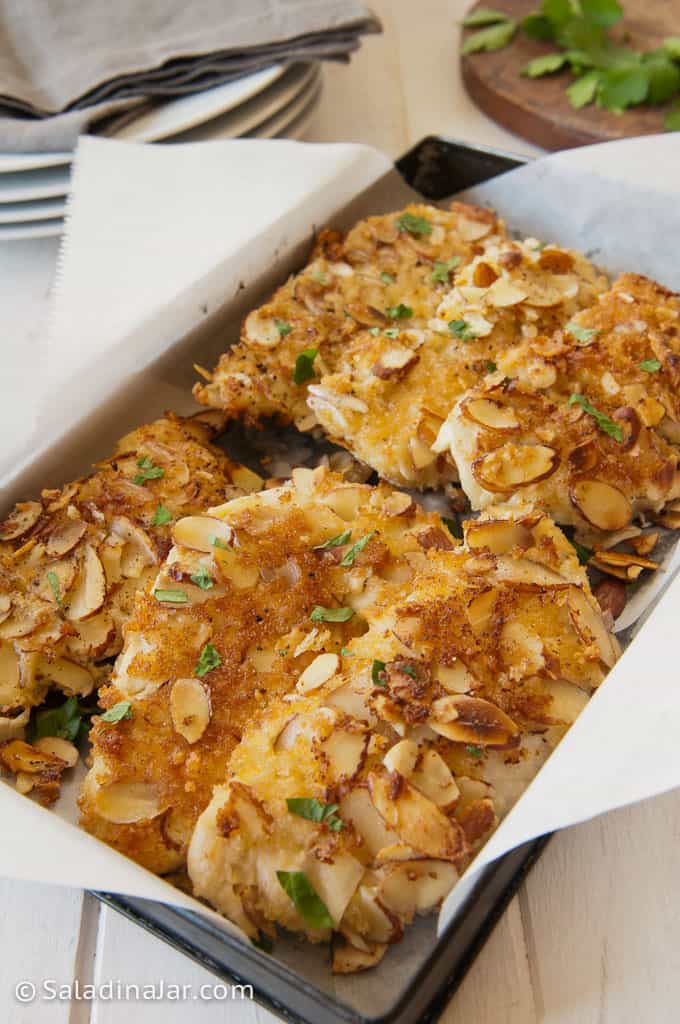 ---
If you enjoyed this recipe, it would help others and me if you gave it a five-star rating inside the recipe card below. 🤩 No comment required. Thank you.

Hope to see you again soon!
Paula
p.s. Questions or suggestions? Please email me: Paula at saladinajar.com.
---