This Smoked Turkey, Pepper Jack Cheese, and Basil Panini Sandwich is a crispy panini stuffed with flavor–inspired by Oprah's Love Sandwich.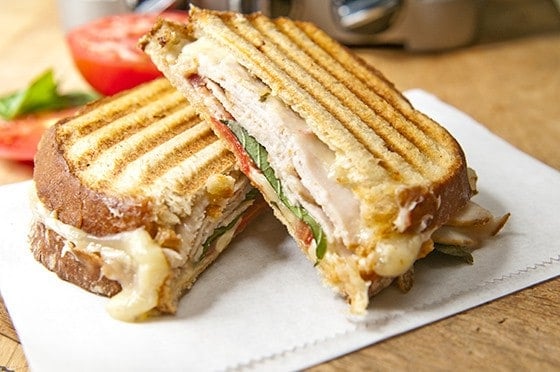 Have you ever heard of the 5-second rule about dropping food on the floor?
It's possible I made it up.
As a teenage girl, I spent many summer days driving a tractor by myself in the fields of our Indiana farm. Either Mom would bring me lunch or send it with me. It was almost always a cold cut sandwich, more often than not, bologna.
Sometimes, I would accidentally drop my sandwich on the ground. Since it was all there was to eat, I wasn't about to throw it away. If I could rescue it and brush the dirt off faster than the germs could hop on (less than 5 seconds), then all was good. Right?
A hot lunch is so much better, when possible…
While I never got sick from this immunity-building exercise, I did get tired of bologna sandwiches. In fact, I pretty much avoid cold sandwiches altogether, especially now that I can make a warm and crusty panini instead.
Discovering the "Love Sandwich"
A few years ago, Oprah published the recipe for her "Love Sandwich" which is the basis for this recipe. I use smoked turkey instead of plain, roasted turkey as Oprah suggested. Add tomato slices (dried by pressing between paper towels) for more color and flavor.
Substitutions
Basil is the unique calling card of this sandwich. Substitute spinach or another green if you prefer.
Instead of smoked turkey, use roast turkey or ham.
Pepper Jack cheese adds spicy interest but a milder cheese like Muenster or mild Cheddar sounds good, too.
---
Looking for more ideas and information about panini?
I'm not an expert but I know someone who is. Check out Panini Happy. Kathy's blog is full of creative recipes and helpful hints about making a panini. She also gives advice for buying a panini maker, or you can read about making one using two skillets.
---
What post would you like to read next?
---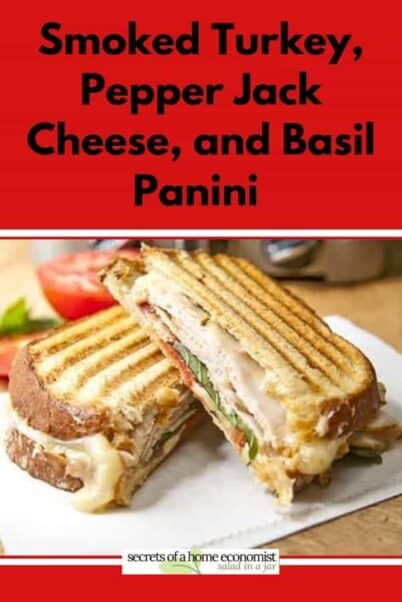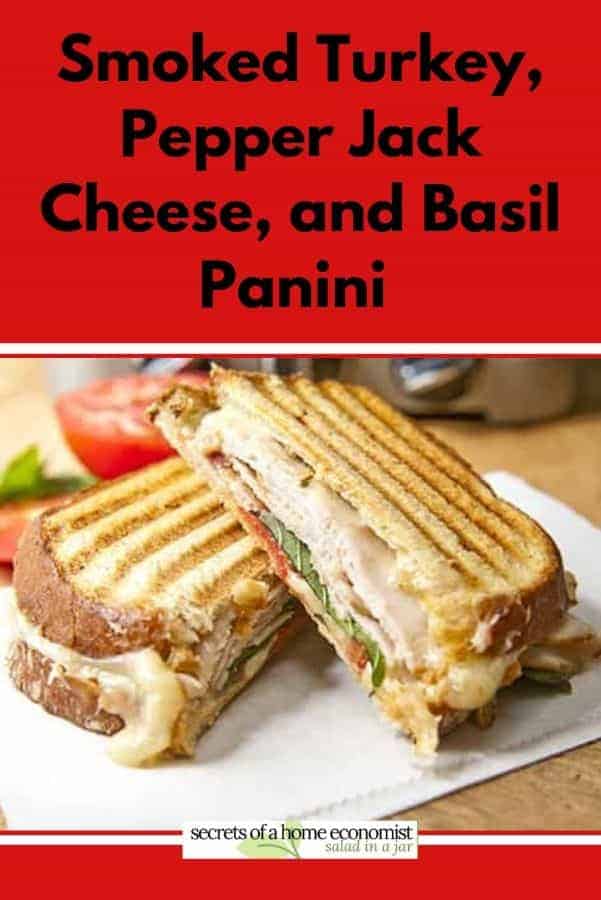 ---
If you enjoyed this recipe, it would help others and me if you gave it a five-star rating inside the recipe card below. 🤩 No comment required. Thank you.

Hope to see you again soon!
Paula
p.s. Questions or suggestions? Please email me: Paula at saladinajar.com.
---