Preview: Leftover pork roast stew with hominy turns your leftover pork roast into a Southwestern posole-like pot of goodness. It's the only thing I want to eat when it's in the fridge.
Are you staring at a leftover pork roast and wondering what to do with it? When you get tired of sandwiches, try it in this Southwestern soup. Sometimes, I cook a large pork roast so I can make this Leftover Pork Roast Stew recipe in my Instant Pot the next day.
No worries if you don't have an Instant Pot, I've included directions for cooking on top of the stove as well.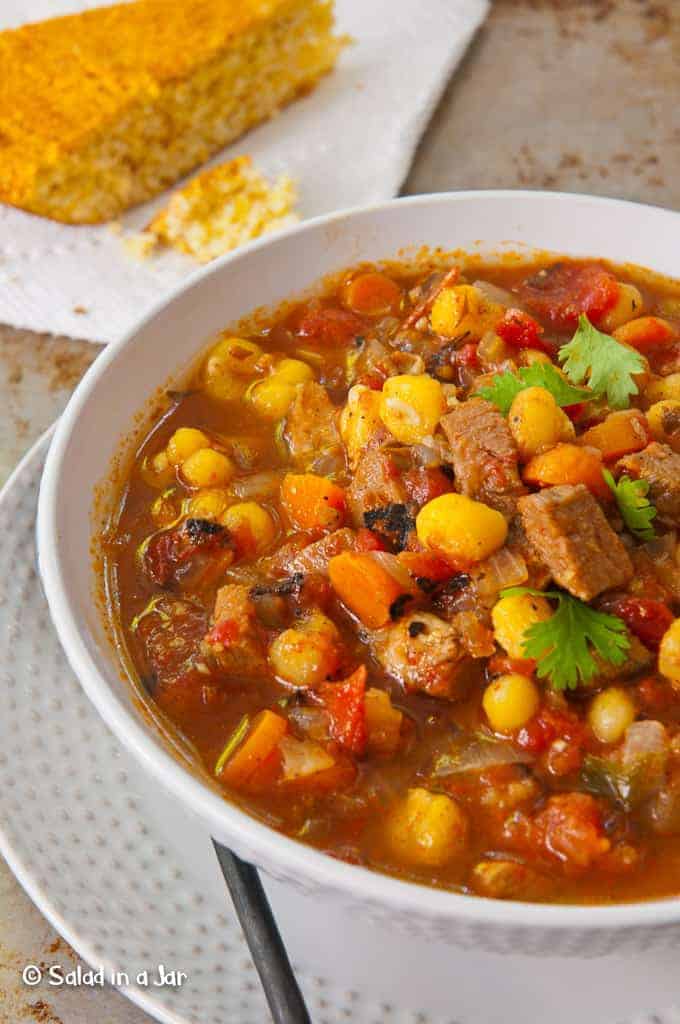 Is this stew the same as pork posole?
Yes, they are essentially the same. Posole (aka"pozole") is traditionally made with pork but sometimes chicken is substituted. Posole always contains hominy, just like this recipe.
Do you want to cook this in your Instant Pot?
I'm a gadget person who likes things to happen fast. That's why I'm in love with my Instant Pot.
Since I was raised on food cooked in a pressure cooker, it feels quite normal in a retro sort of way. However, my mom's pressure cooker was a stove-top affair. Fortunately, I have no good explosion stories.
Does anybody besides me miss the sound of the happy "rocker?"
If you are new to this type of cooking, be warned that it takes longer than 7 minutes (the amount of time you set on the timer) to cook the soup. First, the pot must come to a certain pressure level before the timer kicks in. How much time this process adds depends on the temperature of the ingredients when you put the lid on.
How can I speed up the process when using an Instant Pot?
When you need dinner on the table as fast as possible, heat all liquids before adding them to the Instant Pot. Pop them into the microwave.
Also, avoid putting any frozen ingredients into your cooker. You don't HAVE to do this, it's just a shortcut for helping your Instant Pot get up to pressure faster. This will hasten the cooking of your food under full pressure.
Directions for making Leftover Pork Roast Stew with Hominy on top of the stove:
Don't feel left out if you don't have a pressure cooker of some kind. First, follow step 1 using a large pot on top of the stove. Like step 2, add the remaining ingredients and simmer for about 30-40 minutes.
You could also make this in a slow cooker and let it cook all day but I would only do that if it's convenient since long cooking is not really necessary.
FAQ about Leftover Pork Roast:
How long will leftover pork roast keep in the fridge?
4-5 days. Wrap it well to keep it from drying out.
How long can I freeze leftover pork roast?
4-6 months is. Double wrap it to prevent freezer burn.
Can you reheat cooked pork?
Yes. I prefer to use the microwave but the oven will work. Be sure the pork is covered (it may pop) and be careful not to let it dry out.
---
More Southwestern recipes for your consideration:
---
If you enjoyed this recipe, it would help others and me if you gave it a five-star rating inside the recipe card below. 🤩 No comment required. Thank you.

Hope to see you again soon!
Paula
p.s. Questions or suggestions? Please email me: Paula at saladinajar.com.