Sneak Preview: Brisket Quesadillas with Pepper Jack Cheese and barbecue sauce are a great way to use up leftover brisket.
Beef briskets seem to come only in large and X-large sizes. At my house, that means brisket leftovers. Try these quesadillas with brisket, barbecue sauce, and shredded cheese if you have a similar problem.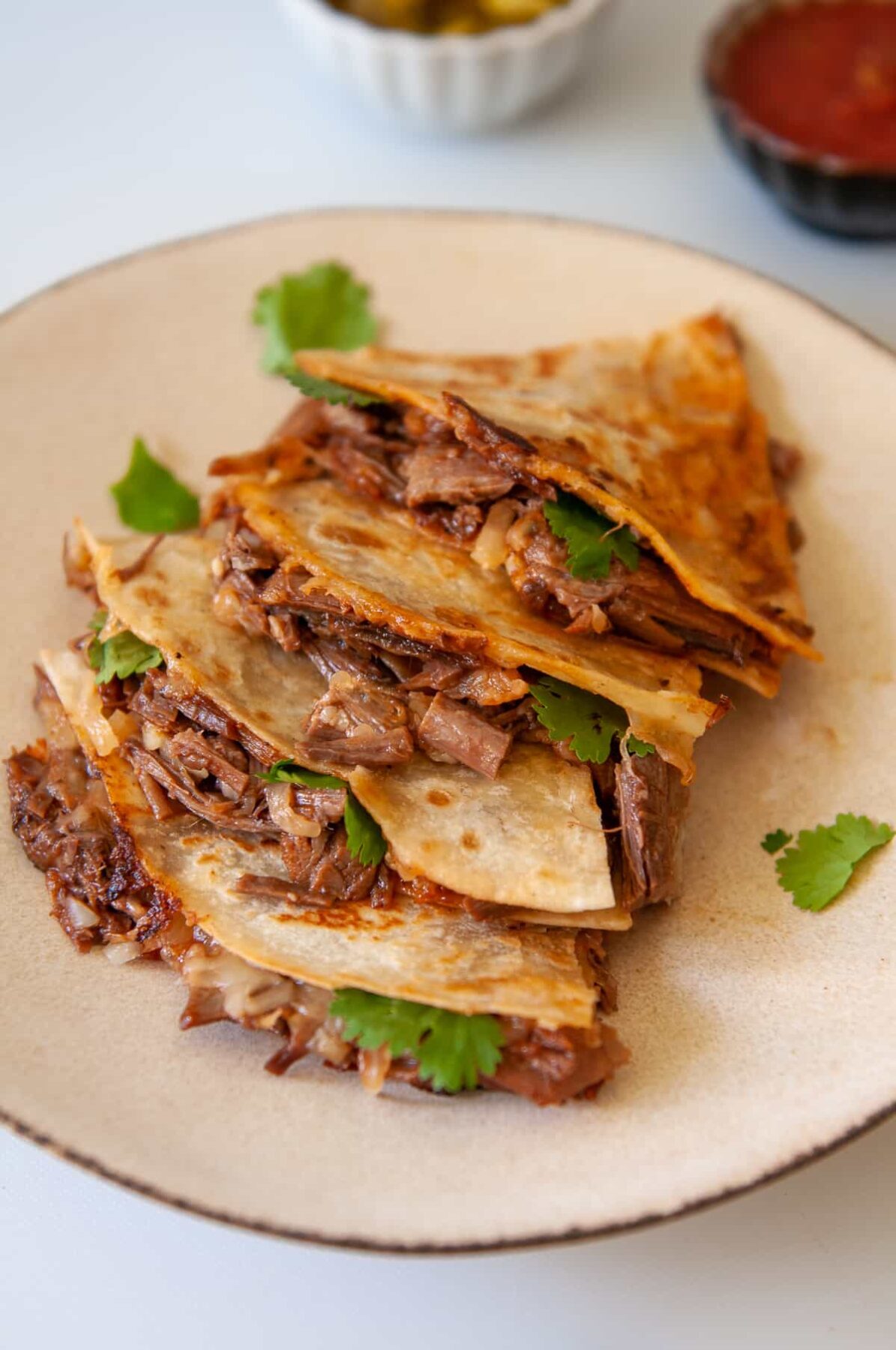 Although we like Pepper Jack cheese the best, making quesadillas is an excellent opportunity to use whatever bits and pieces of cheese you have in the fridge, from Mozzarella to Cheddar to Jack cheese.
What makes these quesadillas unique?
Make these brisket quesadillas more sophisticated by spreading a layer of Brie on the bottom tortilla. It adds a subtle, slightly-musty flavor I adore. I think you will, too. If you don't like Brie or don't have it on hand, leave it out. It's not a deal-breaker.
Even without the Brie, the Pepper Jack cheese adds some kick. If you are cooking for somebody who doesn't do "spicy", stick with Monterey Jack. Cheddar will also work.
The amounts given below are only a suggestion. I don't measure.
Ingredients and Substitutions:
TORTILLAS: Flour tortillas work better than corn tortillas because they are more pliable. As the cheese melts, the tortillas will soften and hold the ingredients together better. Whole wheat tortillas or gluten-free tortillas are also acceptable. If you don't have access to good flour tortillas, check out this recipe for homemade flour tortillas.

CHEESE: The recipe specifies Pepper Jack cheese because it's our favorite. We enjoy the flavor the peppers add to the quesadilla. If you don't favor "spicy" foods, use Monterrey Jack or Cheddar of any color.

BRIE: A smear of Brie adds a nice flavor, but it's not an essential ingredient. Don't hesitate to leave it out if you don't have it or don't like Brie.

BRISKET: Brisket is one of our favorite types of beef. We especially love to bring chopped brisket leftovers home from our favorite barbecue restaurant. In place of brisket, use chicken, ground beef, or pulled pork if you prefer.

BARBECUE SAUCE: Use your favorite barbecue sauce or make it yourself.

OTHER OPTIONS: The simplicity of quesadillas begs for creativity. Try adding cooked mushrooms, green onions, red onions, jalapenos, or corn.
Kitchen tips for quesadillas:
1. Layers of cheese are the "glue."
Be sure there is a layer of cheese next to the underside of each tortilla. When melted, it will glue everything together. Also, it makes the quesadilla easier to flip without losing all the goodies.
2. Too much filling can make things messy.
Just like piling too many ingredients on a pizza, getting all the ingredients hot and melty inside becomes a challenge. Overloaded quesadillas are also hard to eat.
3. How to flip a quesadilla without losing the filling inside:
When turning a quesadilla, grab another plate. In my case, it would be another paper plate because it's very lightweight. But, of course, you could also use a piece of paper.
Place the plate upside down over the quesadilla you want to flip. Use one hand to hold the plate over the quesadilla and the other hand to hold the skillet handle.
Now turn the skillet upside down, so the quesadilla falls onto the plate in one piece. You should see the browned side on top. Slip your quesadilla back into the skillet. Return the skillet to your stovetop to finish browning.
4. Use a pizza cutter to portion your quesadilla.
A pizza cutter makes quick work of cutting a pizza. If you don't have a pizza cutter, kitchen shears will also work.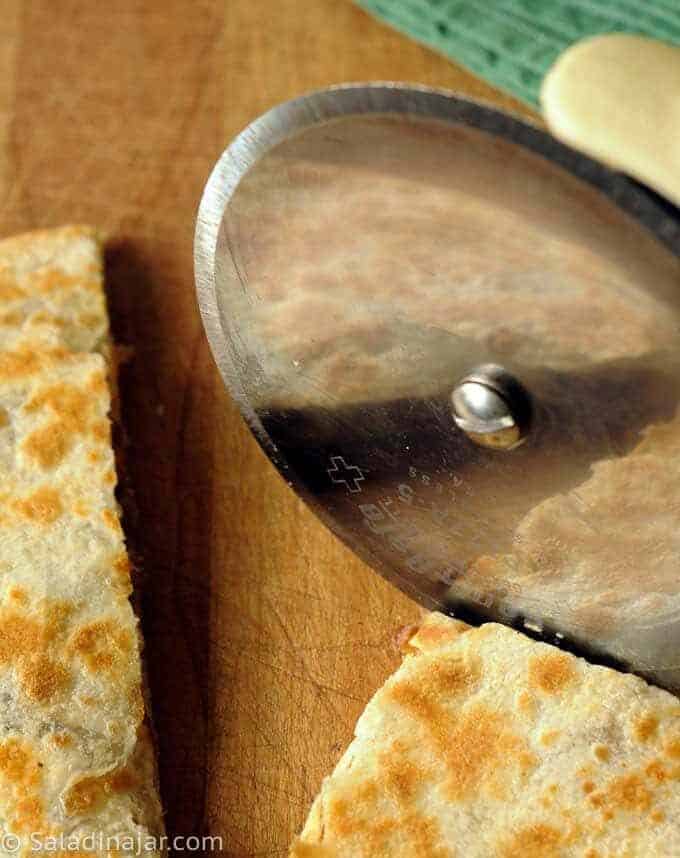 Q and A about quesadillas:
Can I make quesadillas ahead of time?
Quesadillas are best served straight out of the pan. However, you can reheat them in an oven, if necessary. Reheating them in an air fryer works quite well.
Why are my quesadillas soft and greasy?
If you use too much oil in the pan when heating them, quesadillas will turn greasy. Don't use more than 1/4 teaspoon of oil. One squirt from this oil sprayer is all you need.

Raw tortillas that you cook yourself seem to have more fat (and consequently, more flavor). You may not need to grease the pan at all.
How to assemble leftover brisket and Pepper Jack quesadillas: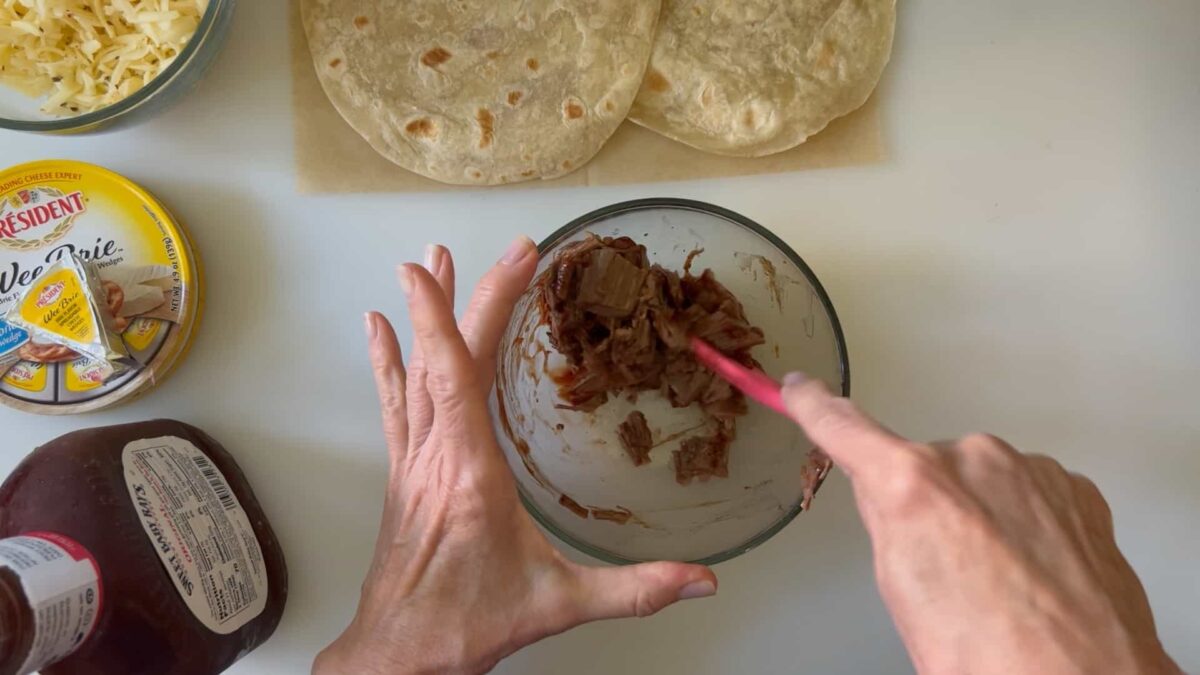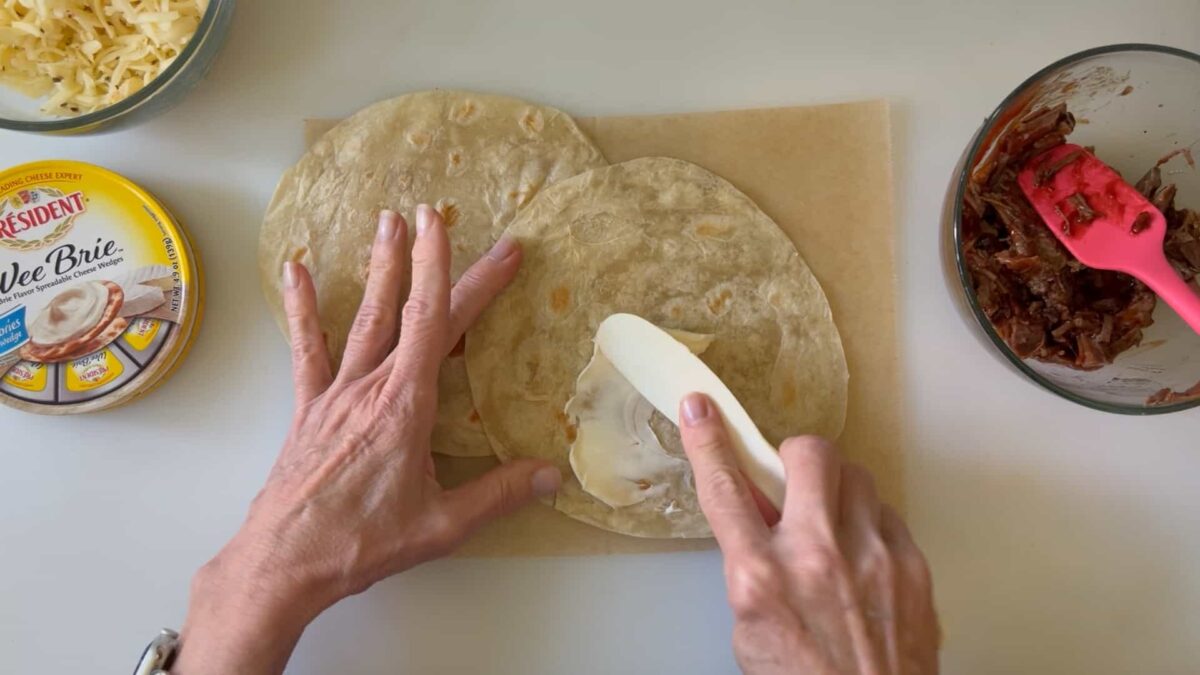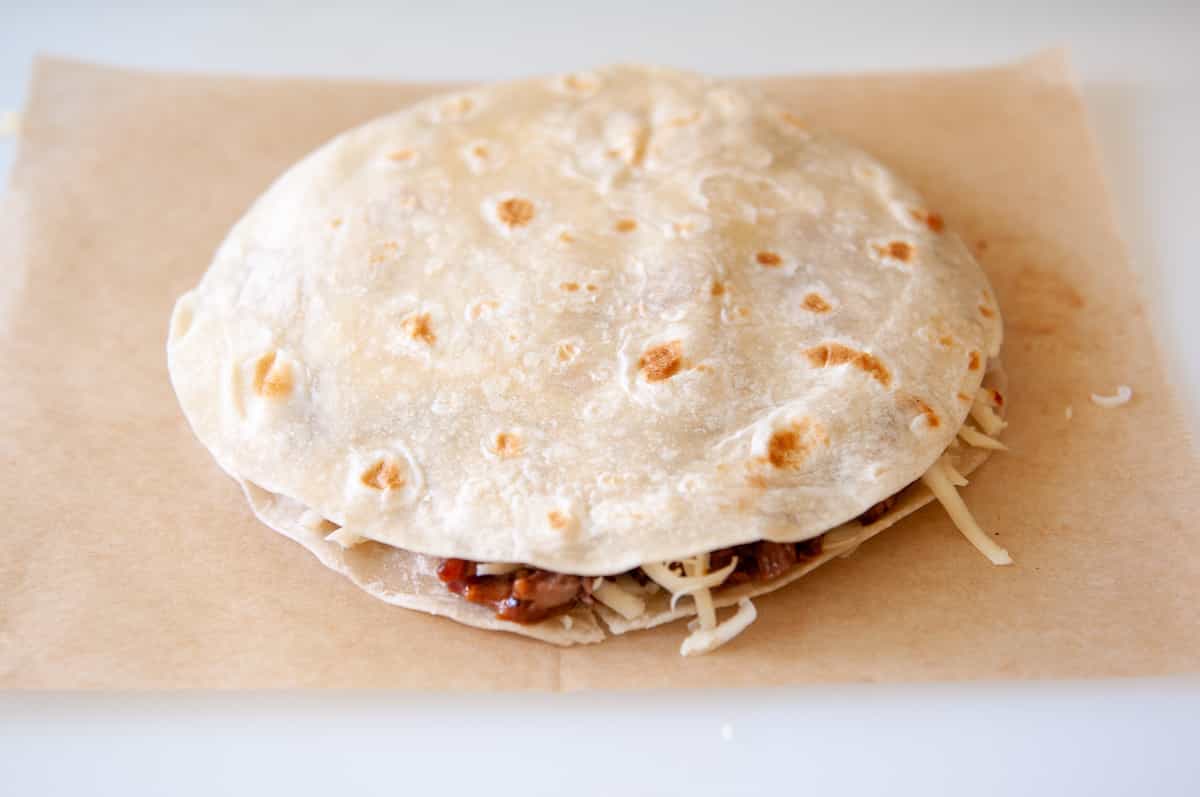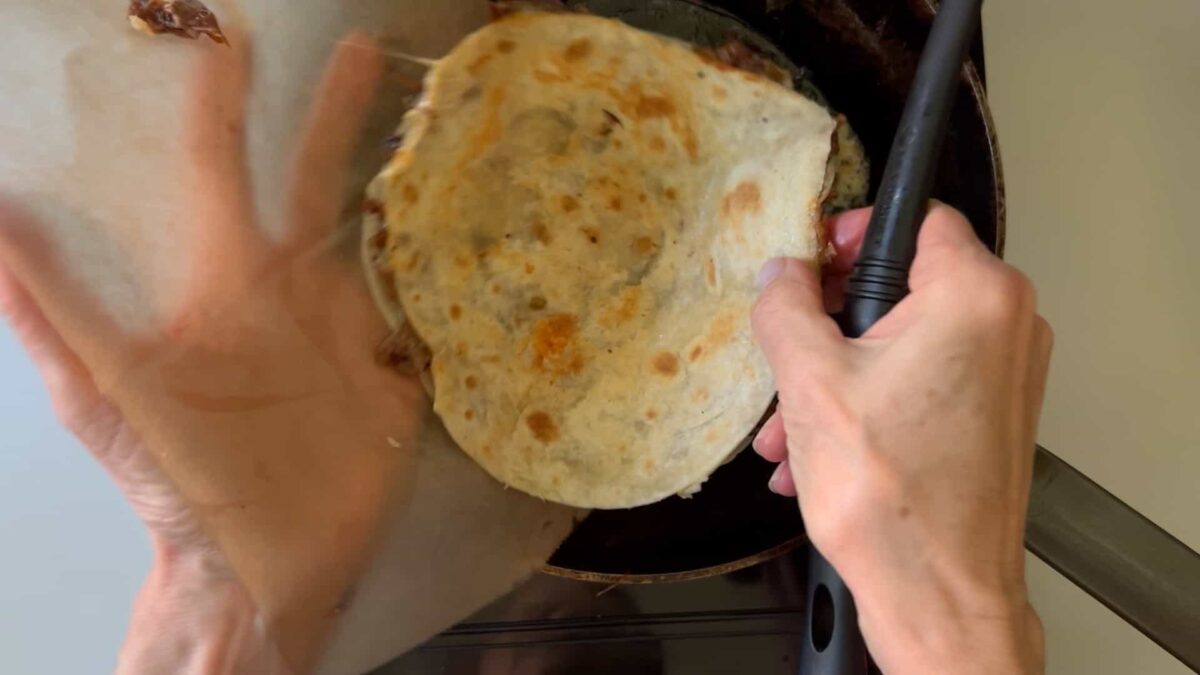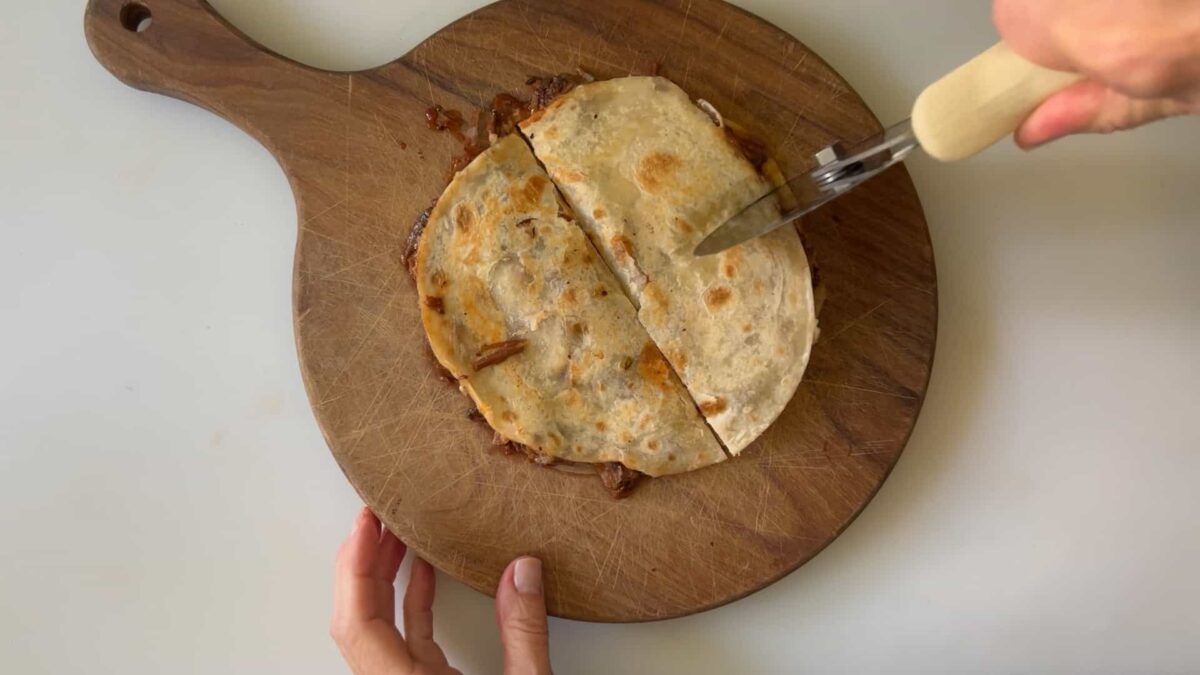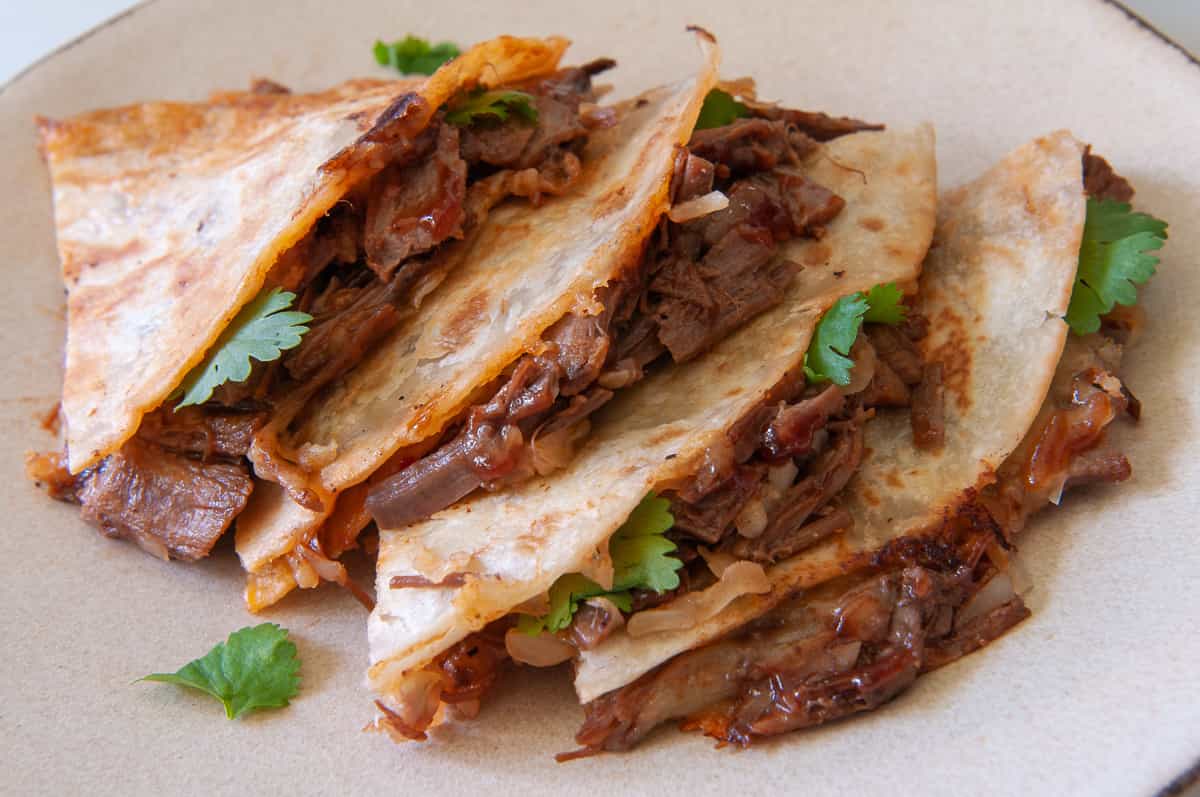 This recipe is slightly adapted from The Pastry Queen by Rebecca Rather.
---
More food you can eat with your hands:
Did you enjoy this recipe? If so, you can help others and me by leaving a 5-star 🤩 rating in the comment section below. No comment is required.
p.s. If you have any questions or suggestions, you can email me privately: Paula at saladinajar.com.
Hope to see you again soon!
Paula
A Leftover Brisket Recipe: Brisket and Pepper Jack Quesadillas
To make these tasty quesadillas, chopped brisket, Brie, and Pepper Jack cheese get dressed up with barbecue sauce for a party between a couple of flour tortillas.
Ingredients
1

tablespoon

barbecue sauce

2-3

ounces

cooked brisket

-

shredded

2

7 or 8-inch cooked flour tortillas

1 tablespoon

Brie

-

enough to make a thin layer (optional)

⅓

cup

shredded PepperJack cheese

Cilantro for garnish
Instructions
Add the barbecue sauce to the meat and stir to coat.

Assemble tortilla in the following order: tortilla, Brie (if using), half of the Jack cheese, brisket, then the other half of the Jack cheese, and finally, the remaining tortilla.

Briefly preheat a medium non-stick skillet. Coat pan with a quick spray of cooking oil. (No more than 1/4 teaspoon of oil.)

Carefully lay a tortilla into a skillet over medium-low heat. Press lightly to help the cheese melt and hold everything together. When the bottom is golden brown and crispy, spray the top tortilla with vegetable spray and turn the quesadilla with a spatula. (See my kitchen secret above for turning quesadillas without losing their innards.) Continue grilling until the second side is also brown and crispy.

Transfer to cutting board and cut into four or six wedges. I like to use a pizza cutter. Scissors also work well. A knife would be my third choice.
Nutrition
Serving:
1
quesadilla
Calories:
597
kcal
Carbohydrates:
20
g
Protein:
36
g
Fat:
41
g
Saturated Fat:
24
g
Polyunsaturated Fat:
2
g
Monounsaturated Fat:
13
g
Cholesterol:
147
mg
Sodium:
1130
mg
Potassium:
347
mg
Fiber:
1
g
Sugar:
5
g
Vitamin A:
833
IU
Vitamin C:
1
mg
Calcium:
385
mg
Iron:
2
mg