Preview: Brisket Quesadillas with Pepper Jack Cheese and barbecue sauce are a great way to use up leftover brisket.
Briskets seem to come only in Large and X-Large sizes. At my house, that means brisket leftovers. If you have a similar problem, try these quesadillas with brisket.
Although we like Pepper Jack Cheese, it's a good chance to use whatever bits and pieces of cheese you have in the fridge from Mozzarella to Cheddar to Jack cheese.
---
What makes quesadillas special?
Sandwich beef brisket with cheese and barbecue sauce between crispy, golden-brown tortillas. Make them more sophisticated by spreading a layer of Brie on the bottom tortilla. It adds a subtle, slightly musty flavor I adore. I think you will, too.
Even without the Brie, the Pepper Jack cheese adds some kick. If you are cooking for somebody who doesn't do spicy, stick with Monterey Jack. Cheddar will also work.
The amounts given below are only a suggestion. I never measure–just pile it on.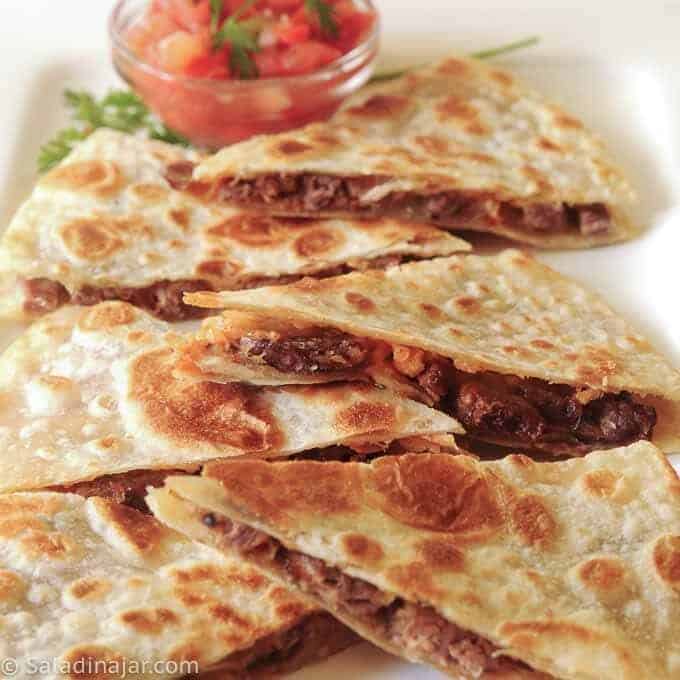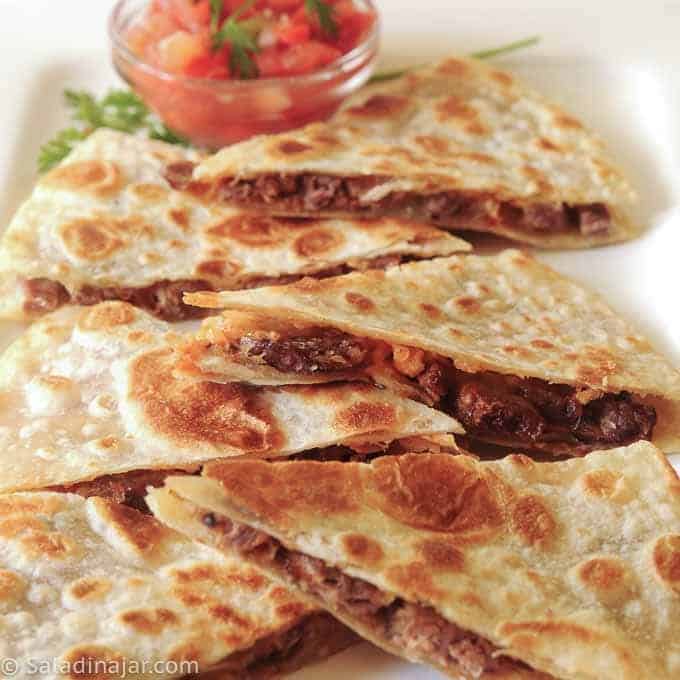 ---
Kitchen tips for quesadillas:
#1
How to flip a quesadilla without losing the filling inside:
When flipping a quesadilla, grab another plate. In my case, it would be another paper plate because it's very lightweight.
Place the plate upside down over the quesadilla you want to flip. Using one hand to hold the plate over the quesadilla and the other hand to hold the skillet handle.
Now turn the skillet upside down so the quesadilla falls onto the plate in one piece. You should see the browned side on top. Slip your quesadilla back into the skillet. Return the skillet to your stovetop to finish browning.
#2
Use a pizza cutter to portion your quesadilla.
A pizza cutter makes quick work of cutting a pizza. If you don't have a pizza cutter, kitchen shears will also work.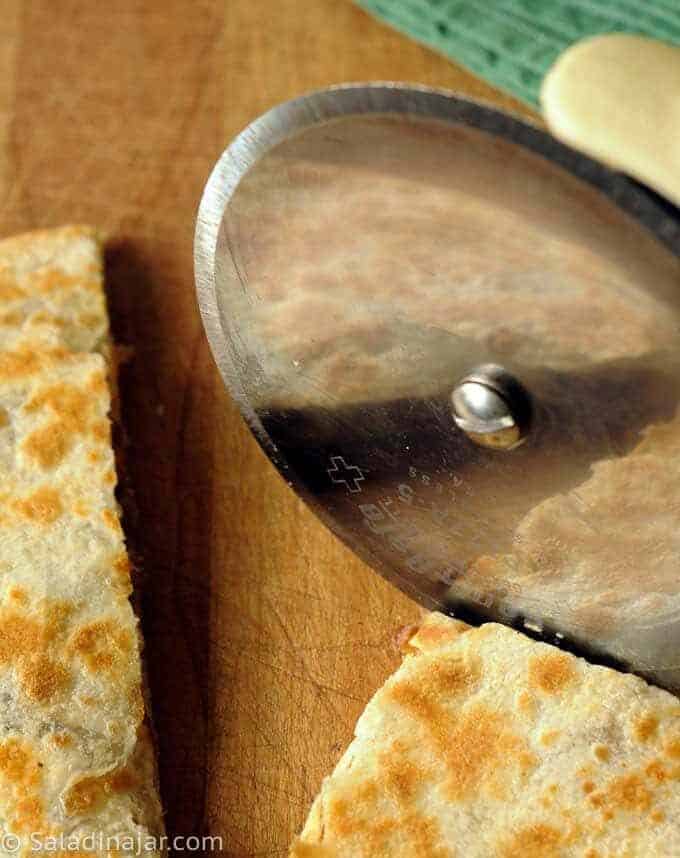 #3
Layers of cheese are the "glue."
Be sure there is a layer of cheese next to each tortilla. When melted, it will glue everything together. Makes them easier to flip without losing all the goodies.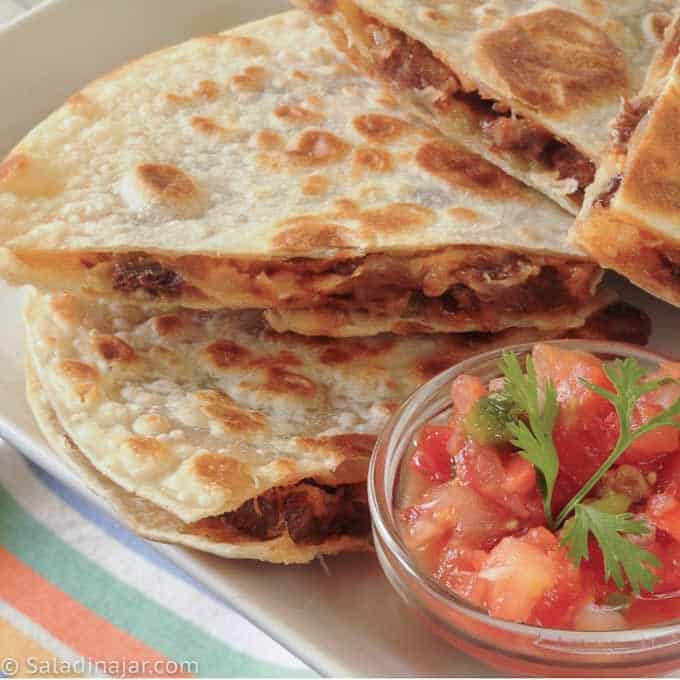 ---
How to assemble Leftover Brisket and Pepper Jack Quesadillas: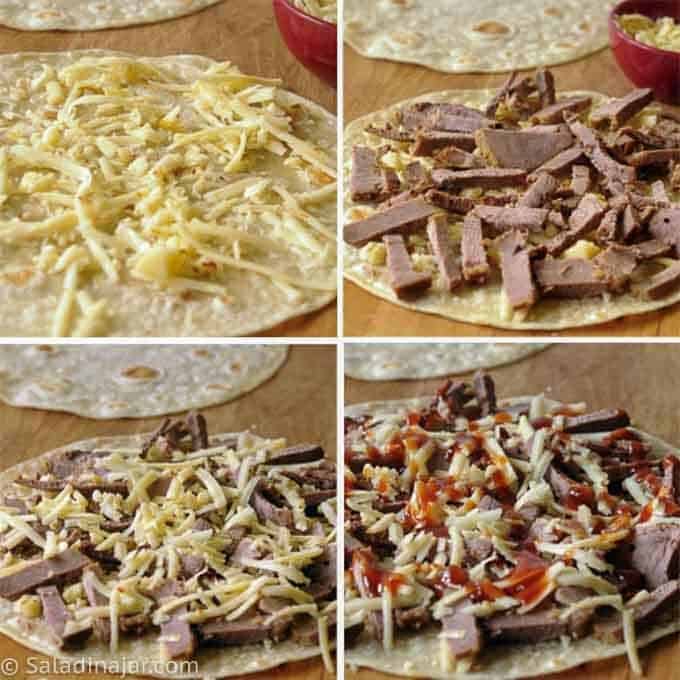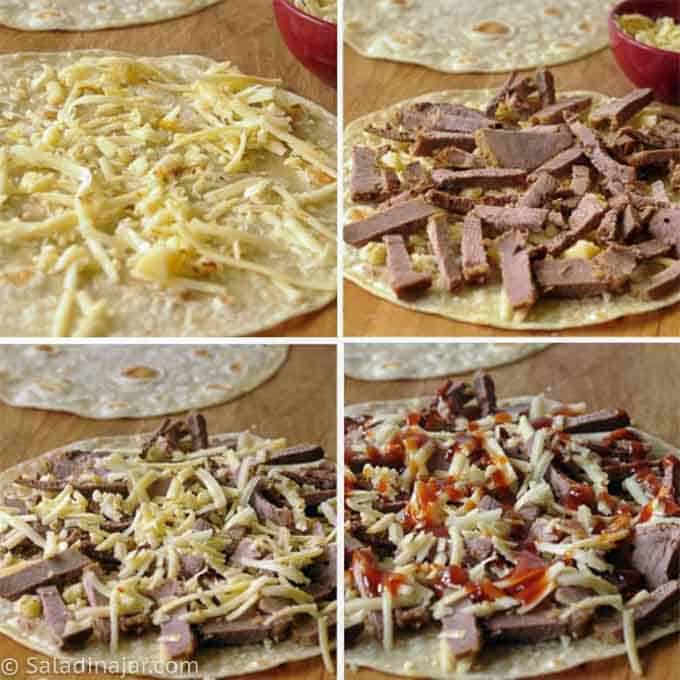 This recipe is slightly adapted from The Pastry Queen by Rebecca Rather.
---
More food you can eat with your hands:
---
If you enjoyed this recipe, it would help others and me if you gave it a five-star rating inside the recipe card below. 🤩 No comment required. Thank you.

Hope to see you again soon!
Paula
p.s. Questions or suggestions? Please email me: Paula at saladinajar.com.