Got some beef brisket leftover? "Remodel" it with these Brisket and Pepper Jack Quesadillas. A little Brie spread inside (optional)  and a drizzle of barbecue sauce up the flavor profile. Serve with guacamole or ranch dressing.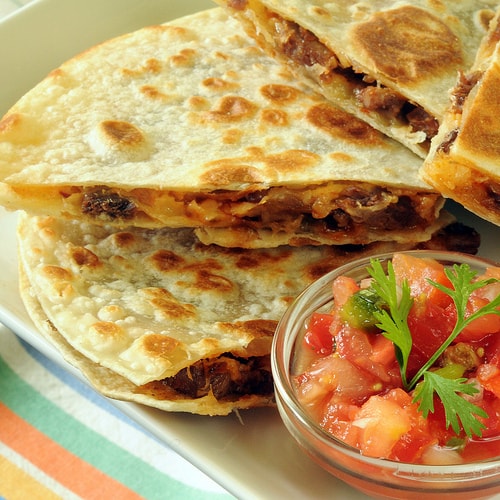 My father was a Midwest farmer who grew corn and fattened cows.  Guess I was pretty spoiled with the really good-tasting beef we had at home, because I don't eat much beef now.
It's not the same when purchased from the grocery store. Or maybe, it's a case of things tasting different as an adult than as a child. Twinkies aren't nearly as good as they used to be, either.
So when I do eat beef, it has to be special. These quesadillas qualify.  Beef brisket, smoked or otherwise, is sandwiched with cheese and barbecue sauce between crispy, golden-brown tortillas.  Make them more sophisticated by spreading a layer of Brie on the bottom tortilla.  It adds a subtle and slightly musty flavor I really like.
Even without the Brie, the Pepper Jack cheese adds some kick.  If you are cooking for somebody who doesn't do spicy, stick with Monterey Jack.  Cheddar will also work.
Amounts given below are only a suggestion.  I never measure–just pile it on.
Be sure there is a layer of cheese next to each tortilla. When melted, it will glue everything together making them easier to flip without losing all the goodies.
How To Assemble Brisket and Pepper Jack Quesadillas
Kitchen Secret Regarding Quesadillas
Even have trouble turning over a quesadilla without losing all the fillings?
When flipping a quesadilla, grab another plate. In my case, it would be another paper plate because it's very lightweight.
Place the plate upside down over the quesadilla that needs to be turned over. Using one hand to hold the plate over the quesadilla and the other hand to hold the skillet handle, turn the skillet upside down so the quesadilla falls out on the plate in one piece. Now you should see the browned side on top. Slide quesadilla back into upright skillet and return to your stovetop to finish browning.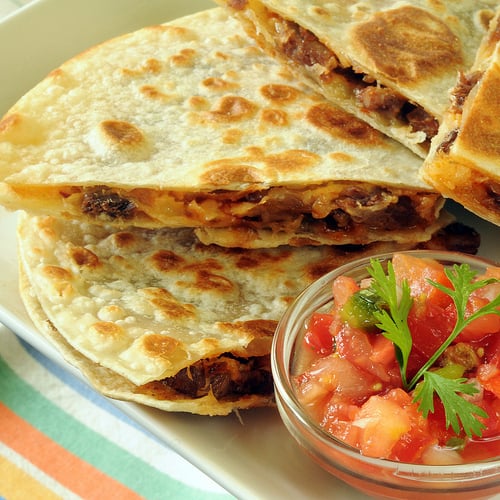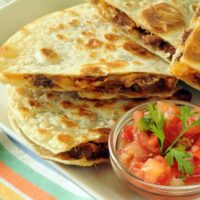 Brisket and Pepper Jack Quesadillas
Chopped brisket, brie and pepper jack cheese get a drizzle of barbecue sauce between a couple of flour tortillas to make these tasty quesadillas.
Ingredients
2 (7 or 8-inch) flour tortillas
3 ounces chopped, cooked brisket
Brie (enough to make thin layer), optional
1/3 cup shredded Pepper Jack Cheese
Generous tablespoon barbecue sauce
Instructions
Assemble tortilla in the following order: tortilla, half of Jack cheese (Spread some Brie on first if using), brisket, the other half of the Jack cheese, barbecue sauce, tortilla
Briefly preheat a medium non-stick skillet. Coat pan with a quick spray of cooking oil.
Carefully lay tortilla into skillet over medium heat. Press lightly to help the cheese melt and hold everything together. When bottom is golden brown and crispy, spray top tortilla with vegetable spray and turn quesadilla with a spatula. (See my kitchen secret above for turning quesadillas without losing their innards.) Continue grilling until second side is also brown and crispy.
Transfer to cutting board and cut into four or six wedges. I like to use a pizza cutter. Scissors also work well. A knife would be my third choice.
Recommended Products
As an Amazon Associate, I earn from qualifying purchases. But don't worry. This doesn't change the price you pay.
Nutrition Information:
Yield:

1
Serving Size:

1 quesadilla
Amount Per Serving:
Calories:

741
Total Fat:

17.2g
Carbohydrates:

57.2g
Fiber:

0.1g
Sugar:

5.3g
Protein:

47.2g
Posts Related to Brisket and Pepper Jack Quesadillas