Preview: Try this easy Stuffed London Broil with Sausage for your next celebratory meal. Bake in a slow cooker or the oven.
Assembling this recipe may take you a fair amount of time, although less so the more often you make it. But once you put this Stuffed London Broil into your slow cooker or oven, you are free to carry on with your life until it's time to make the gravy and serve.
About 15 minutes before dinnertime, remove the toothpicks, slice the steak rolls, and stir together some gravy. Bring on the mashed potatoes for an unforgettable feast.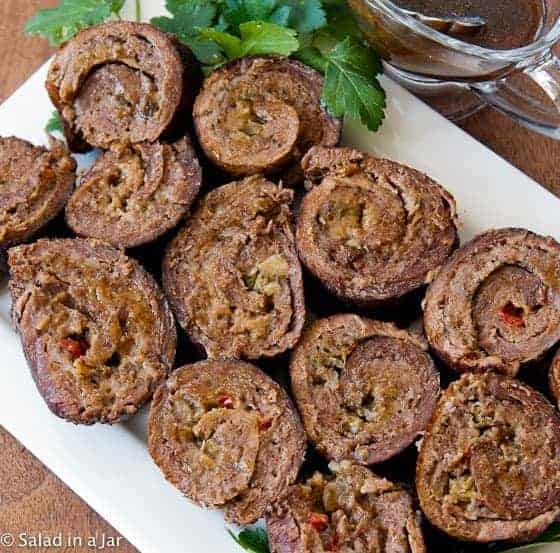 ---
Ingredients and substitutions:
STEAK: London broil or top round steak is usually the most economical choice. Flank steak is suitable as well. The steak should be thin–cut about 1/2 inch thick. Pound it with a mallet for maximum tenderness unless it was already tenderized by the butcher.

GROUND SAUSAGE: You have several choices. I use breakfast sausage, hot or mild. Italian sausage will work just as well if you prefer that flavor profile.

BREAD CRUMBS: Again, you see the flexibility of this recipe. The crumbs can be soft or dried, seasoned or plain.

ONIONS: White or yellow onions are both suitable. Chopped onions are convenient.

PEPPERS: Red bell peppers are somewhat sweet. Green peppers have a bitter edge. Using both or including yellow and orange peppers makes a colorful pinwheel.

KITCHEN BOUQUET: Worcestershire sauce can be substituted here.

CORNSTARCH: Substitute flour for cornstarch when making the gravy if you prefer. You may need a little more flour.
---
FAQ
Are London Broil and round steak the same thing?
Not exactly, but they are often interchangeable. See this website for a more detailed answer about the differences. Round steak is usually more tender. However, the meat is cooked for hours, so flank steak, London Broil, or round steak are all good choices in this recipe.
Can I freeze this recipe?
Yes. Cook the stuffed steak and let them cool. Freeze with or without the gravy on them. Double wrap to protect the steak rolls for up to 4 months.
Can I make this recipe ahead of time?
Yes. Bake the rolls a day ahead. Cool and chill. Make gravy just before serving.
I don't have a slow cooker. Can I bake these in the oven?
Yes. Bake in a 300˚F oven for 2-3 hours.
What can I substitute for the sausage if we don't eat pork?
Try turkey or chicken sausage. Or leave off the sausage completely and use only bread crumbs and veggies.
---
How to cook Stuffed London Broil with Sausage:
Don't miss the video if you want to watch how this dish comes together.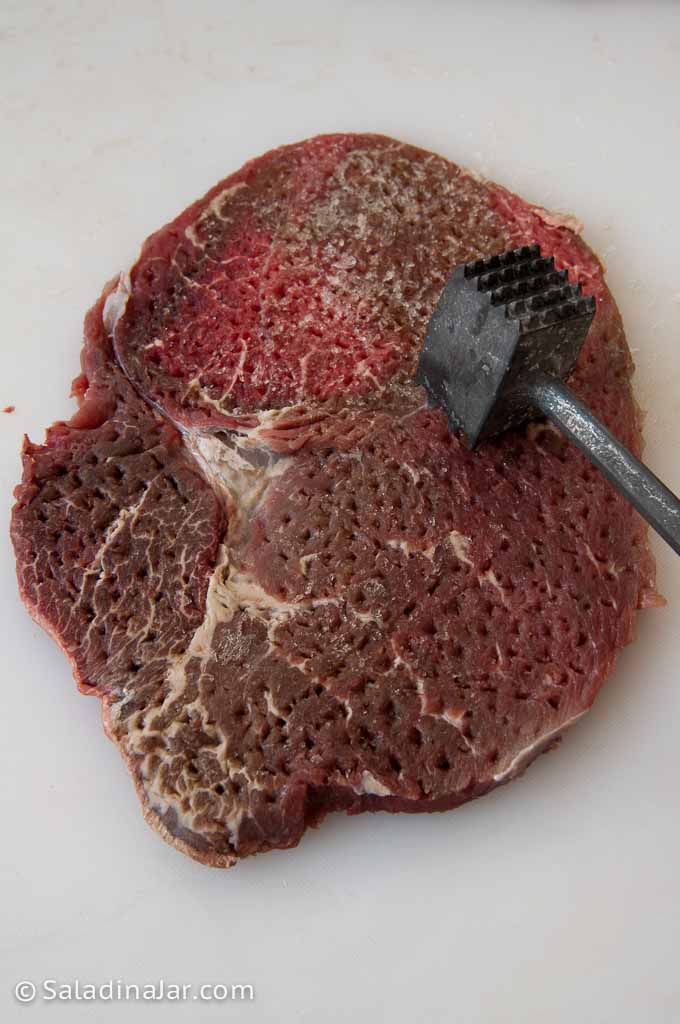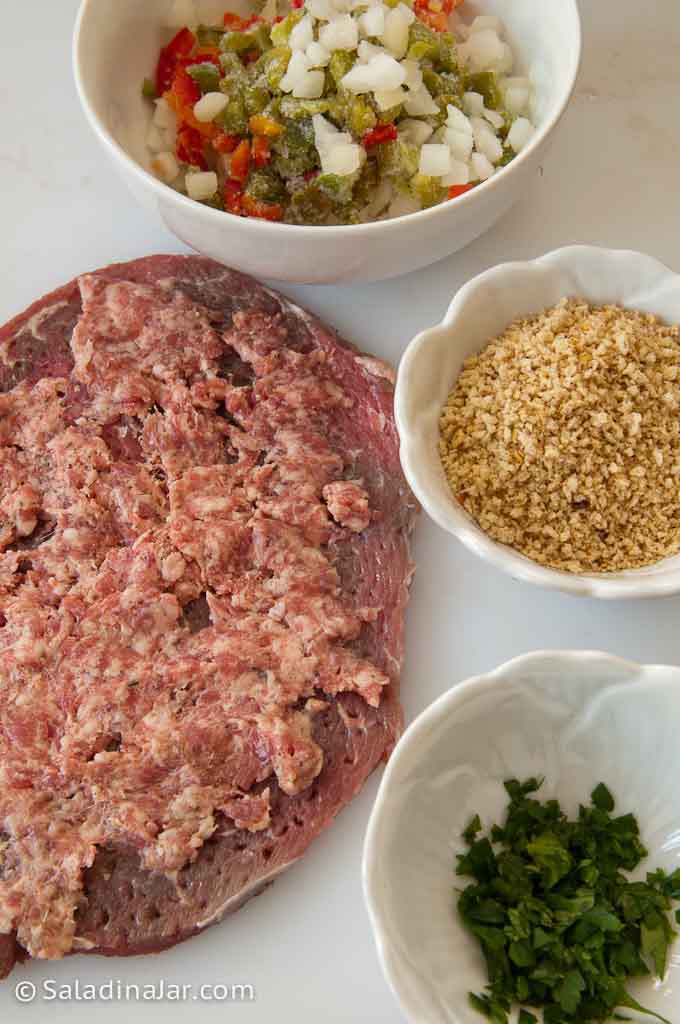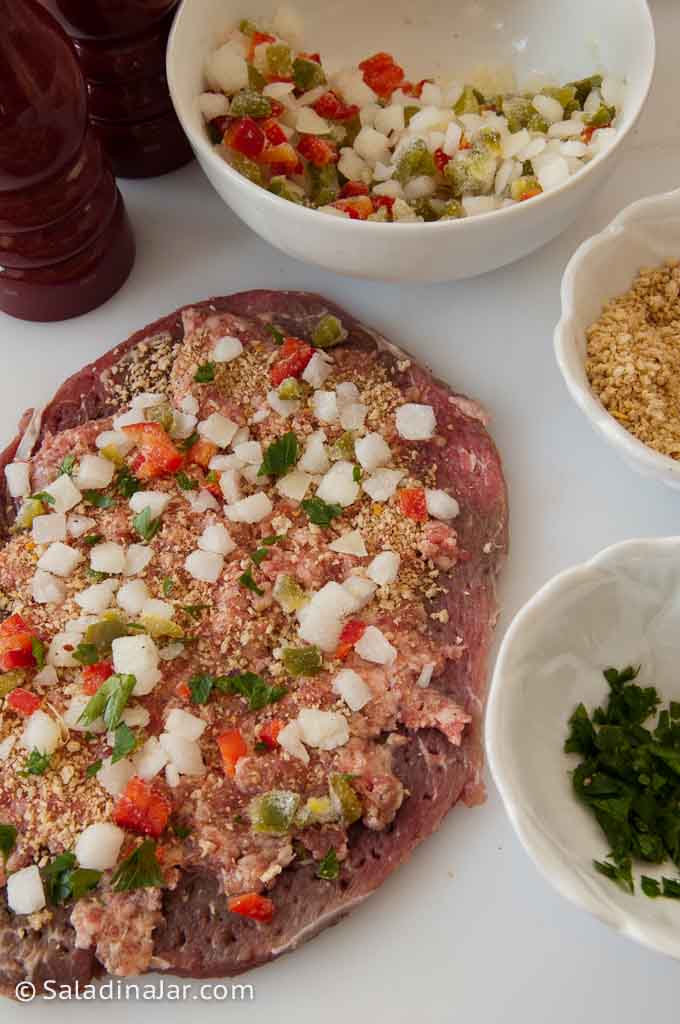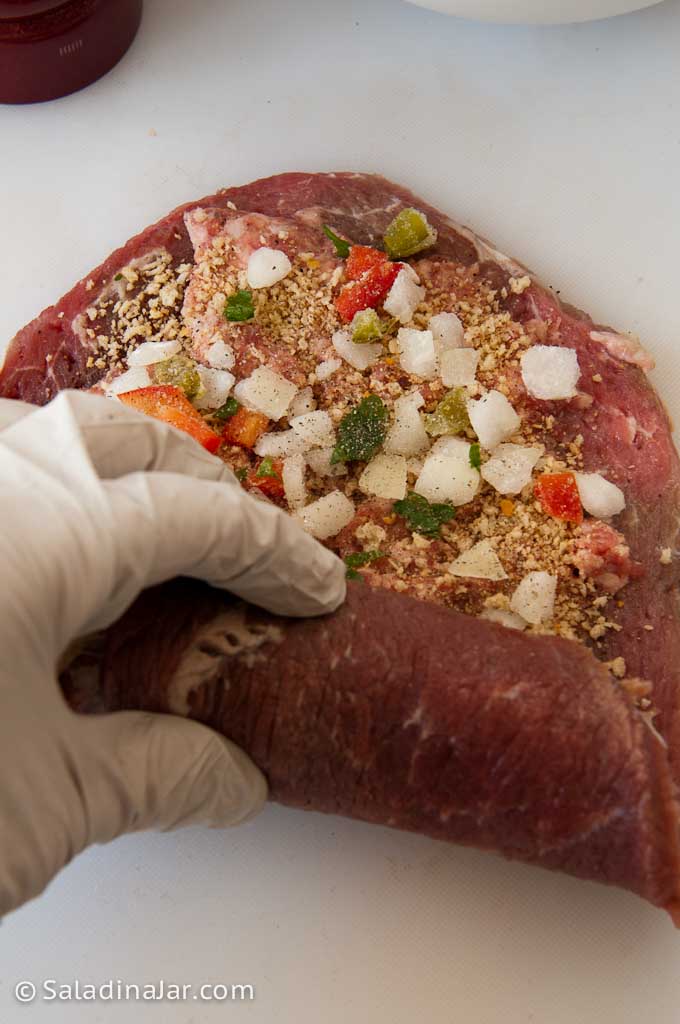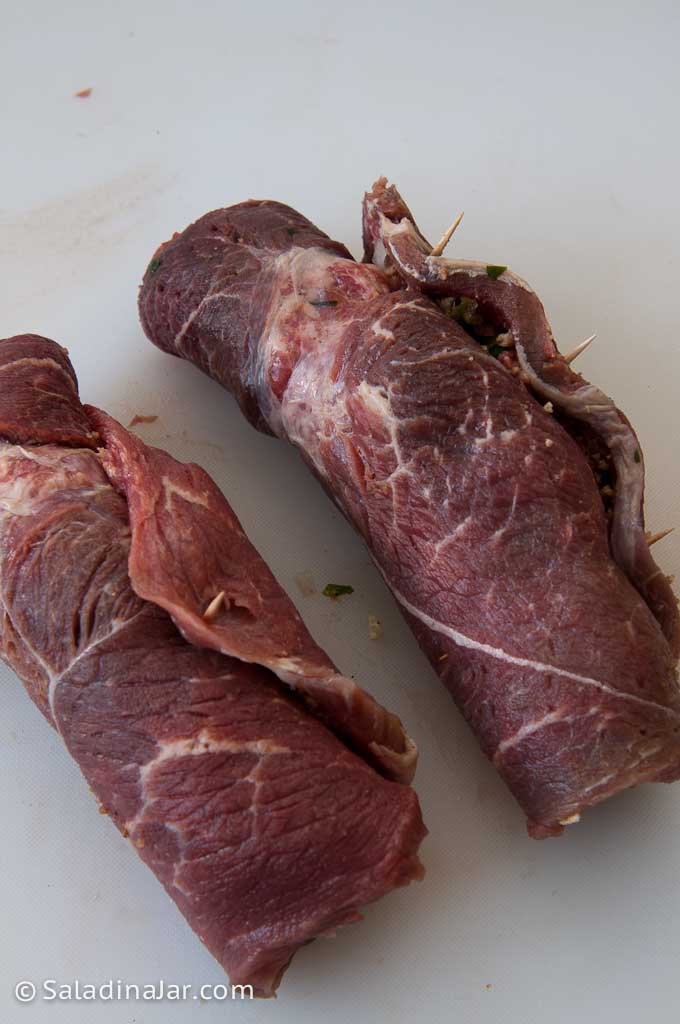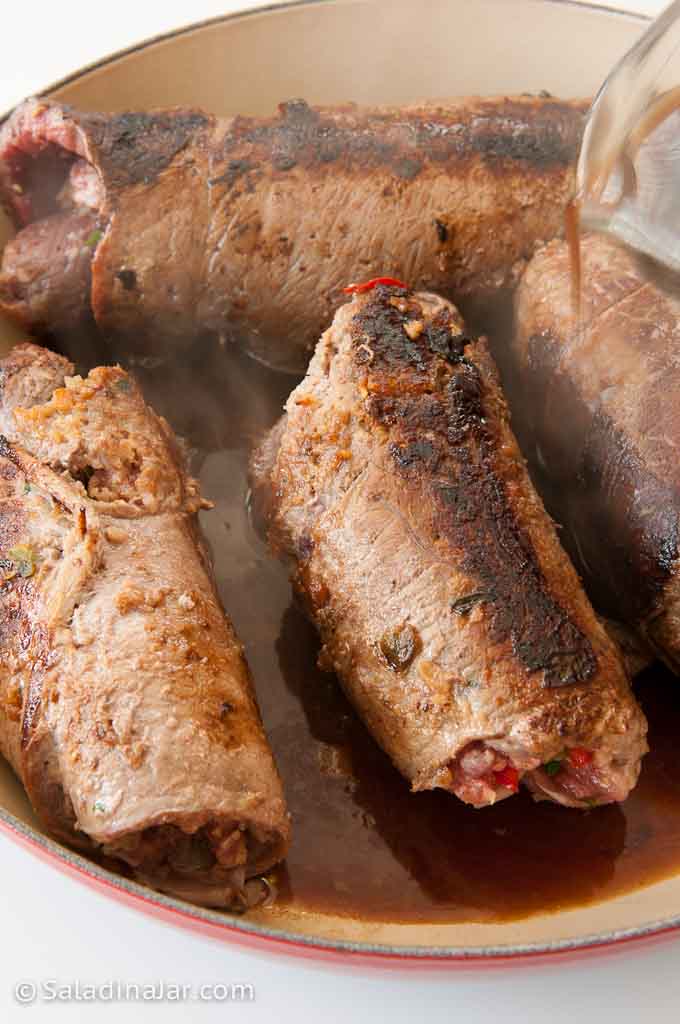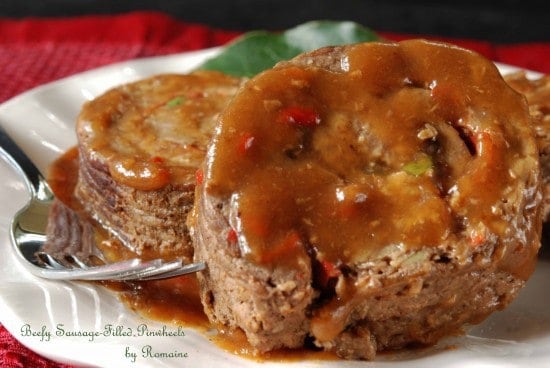 ---
Posts Related to London Broil Stuffed with Sausage
If you enjoyed this recipe, it would help others and me if you gave it a five-star rating inside the recipe card below. 🤩 No comment required. Thank you.

Hope to see you again soon!
Paula
p.s. Questions or suggestions? Please email me: Paula at saladinajar.com.