Easy Sausage Kabobs for a Special Breakfast or Brunch
Sneak Preview: Make these Sausage Kabobs with three different types of sausage, pineapple chunks, and a delicious sweet and sour sauce for a breakfast or brunch recipe that your family and friends are sure to remember. No skewers or grill is required.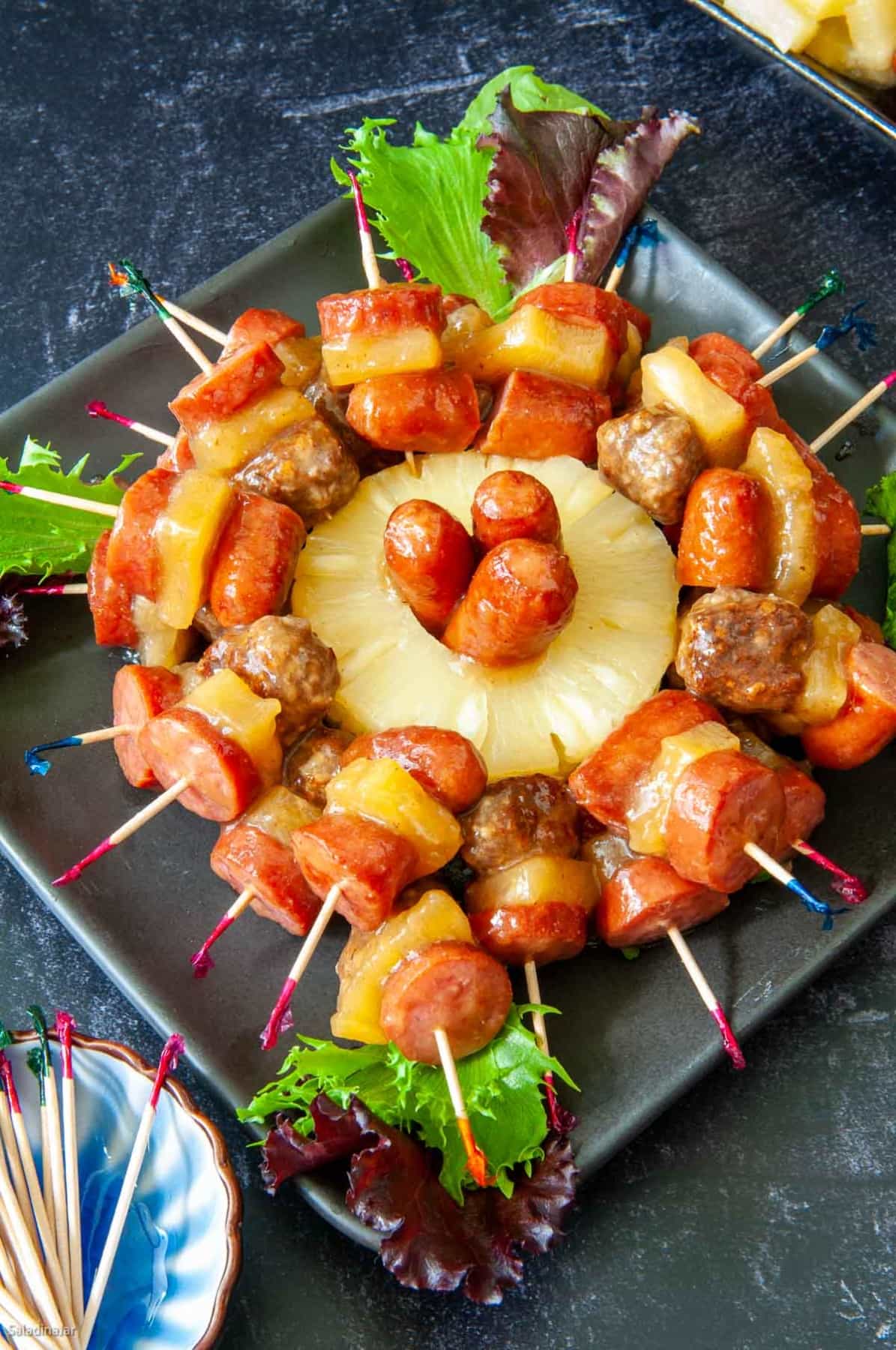 As an Amazon Associate, I earn from qualifying purchases.
This recipe for Sausage Kabobs was first served to me at a brunch hosted by our minister's wife several years ago. She promised to give me the recipe. Unfortunately, I never received it. 😟 She probably forgot—same as I do sometimes.
However, it was a culinary memory I was determined to repeat, even without the original recipe. So eventually, I developed this clone, which tastes just as good as hers did—at least the way I remember it. I think you'll love it as an appetizer, a brunch dish, or a main course served with rice.
Ingredients and Substitutions:
GROUND SAUSAGE: I use mild ground breakfast sausage, but I think the HOT breakfast sausage would be wonderful, too. I have not tried Italian sausage. Form the sausage into tiny meatballs before you start or break the meat into large chunks as you brown it.

SMOKED SAUSAGE: Link sausages, either smoked or Kielbasa sausage, are my first choice.

COCKTAIL SAUSAGES: These are bite-sized sausages or smoked cocktail sausages, which we call Little Smokies. (That's a brand name familiar to most Americans.) Since they are fully cooked, you only have to warm or brown them.

PINEAPPLE SLICES OR CHUNKS: If you buy slices, cut each slice into chunks. Or buy the chunks. Don't throw out the juice. You'll need it to make the sauce.

BROWN SUGAR: Brown sugar gives the glaze an amber color and the perfect amount of sweetness.

CORNSTARCH: Cornstarch thickens the glaze.

SOY SAUCE: Besides adding salt, soy sauce adds a great umami flavor. Tamari or Worcestershire sauce are acceptable substitutes.

VINEGAR: Vinegar lends the "sour" flavors to the sauce. I use apple or white vinegar.

SWEET and SPICY MUSTARD: Mustard is optional, but if you enjoy food with a little kick, you will love this addition.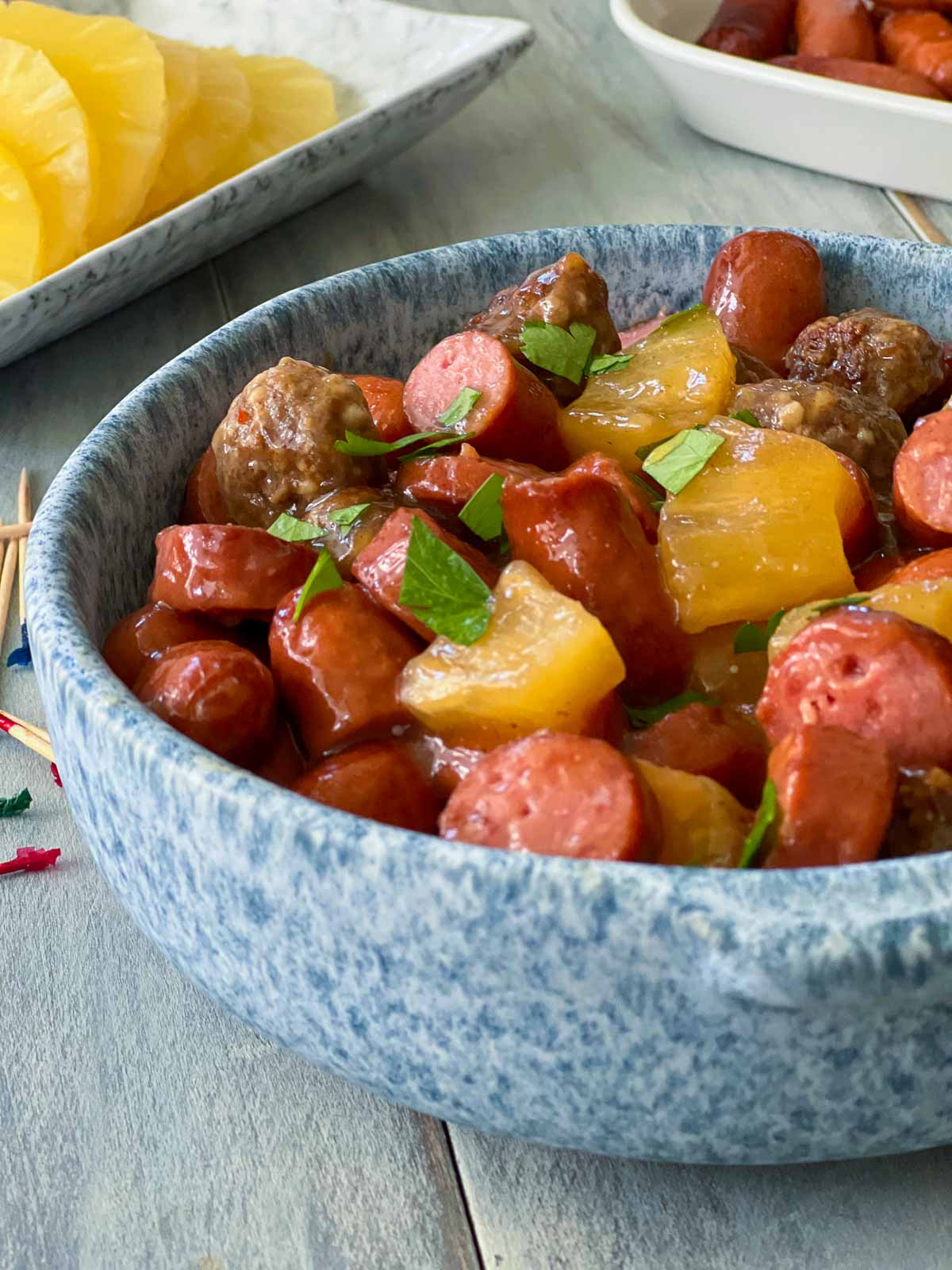 ---
How to make Sausage Kabobs: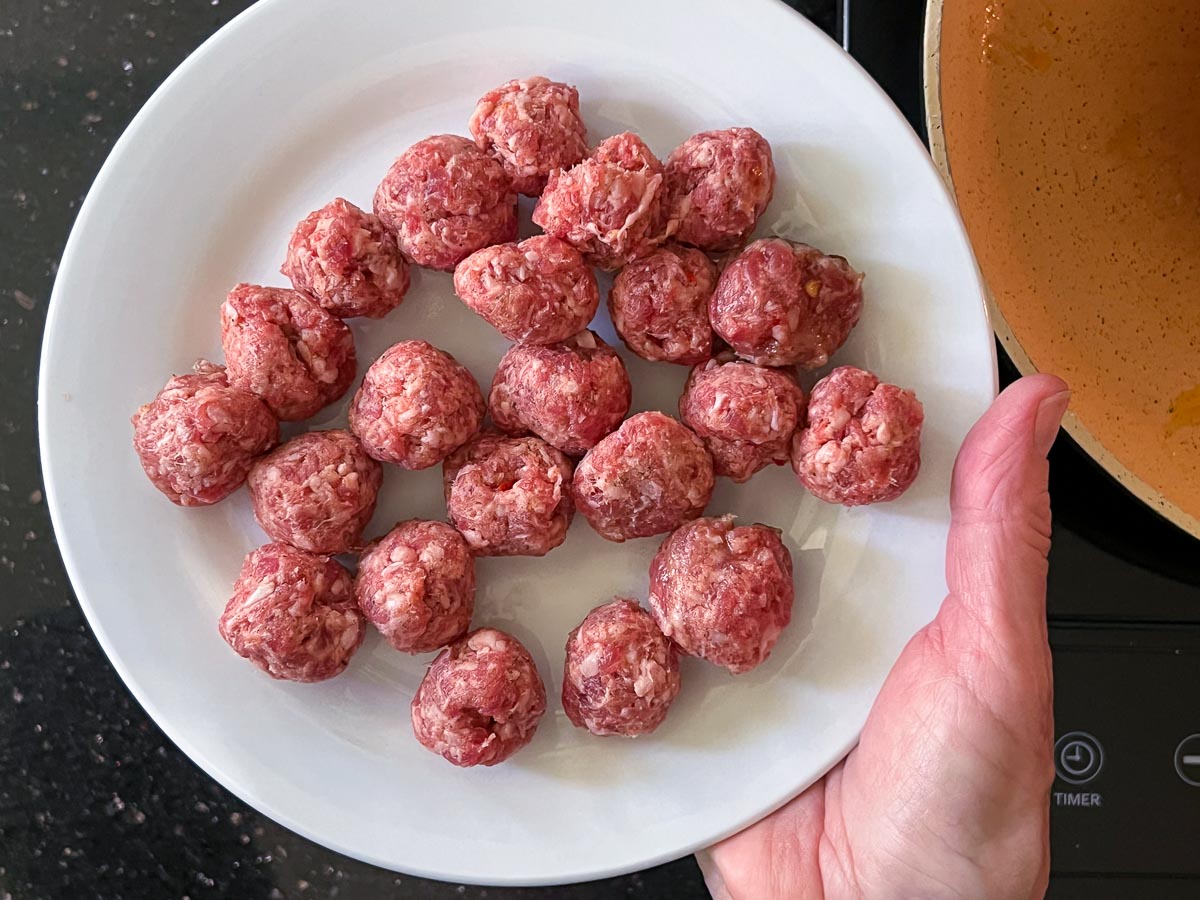 Form ground sausage into mini-meatballs. I use a small ice cream scoop, so they are somewhat uniform.
Brown the meatballs and allow them to cook through.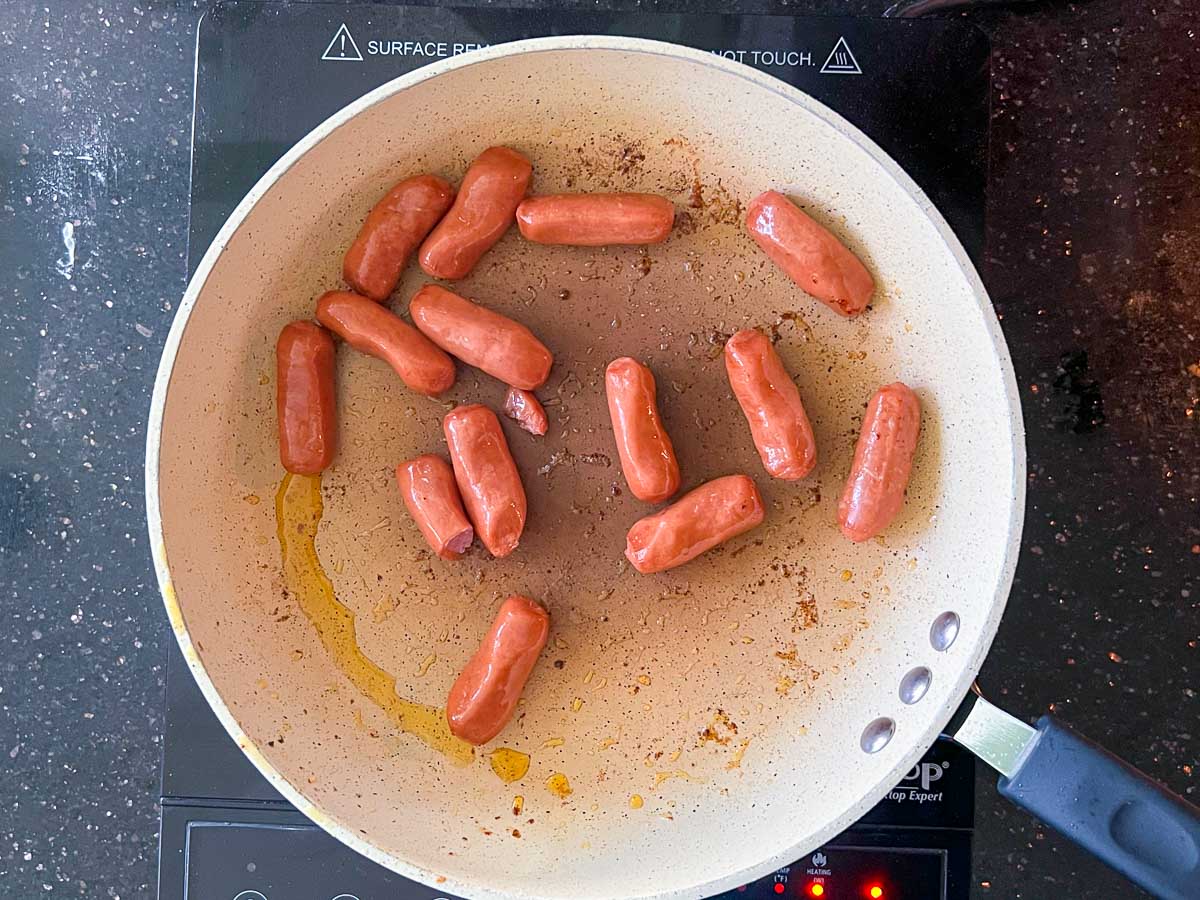 Cut the link sausage into small slices or chunks. Brown the little smokies and the link sausage. (I forgot to do it here, but I prefer to cut the little smokies in half.) Remove them from the skillet and set them aside.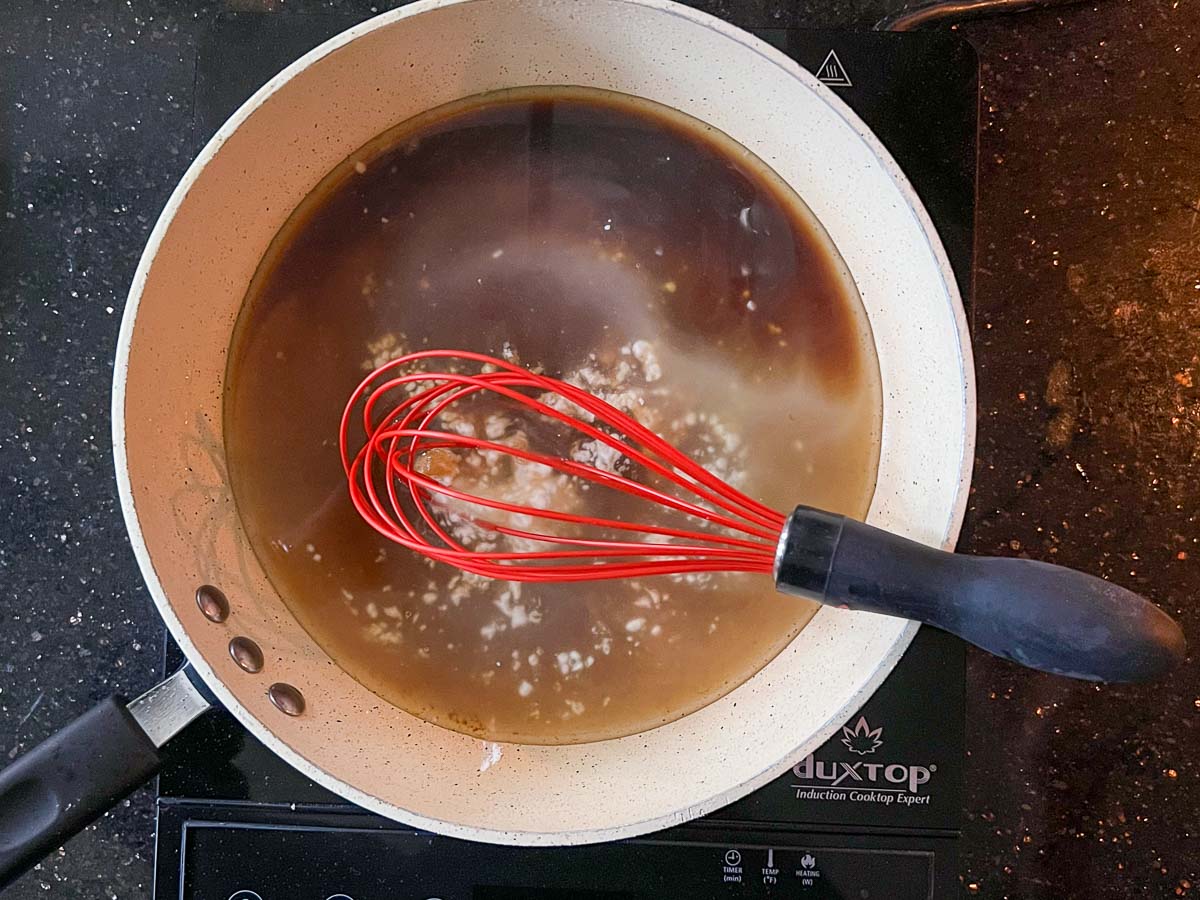 Add the remaining ingredients except for the pineapple to the same skillet.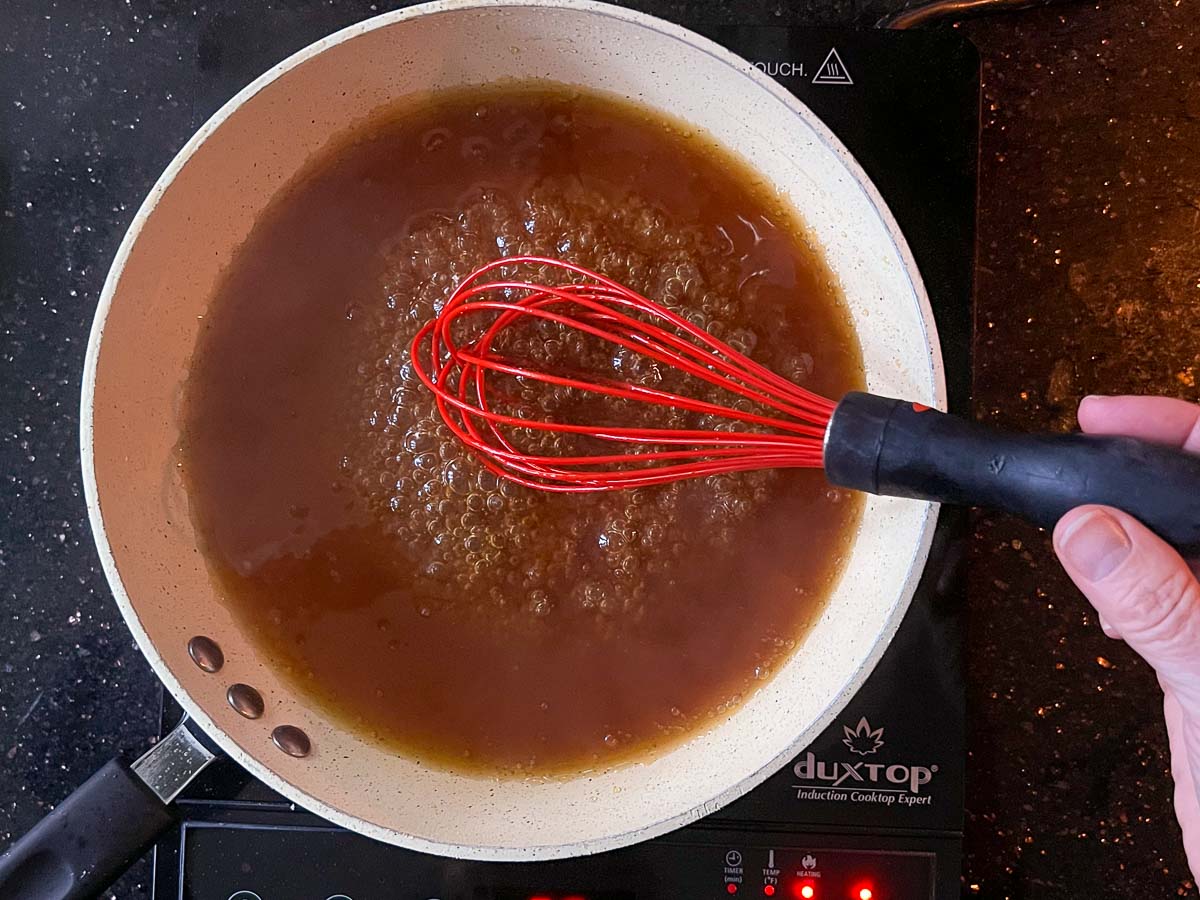 Bring the sauce to a boil over medium-high heat and whisk until it thickens.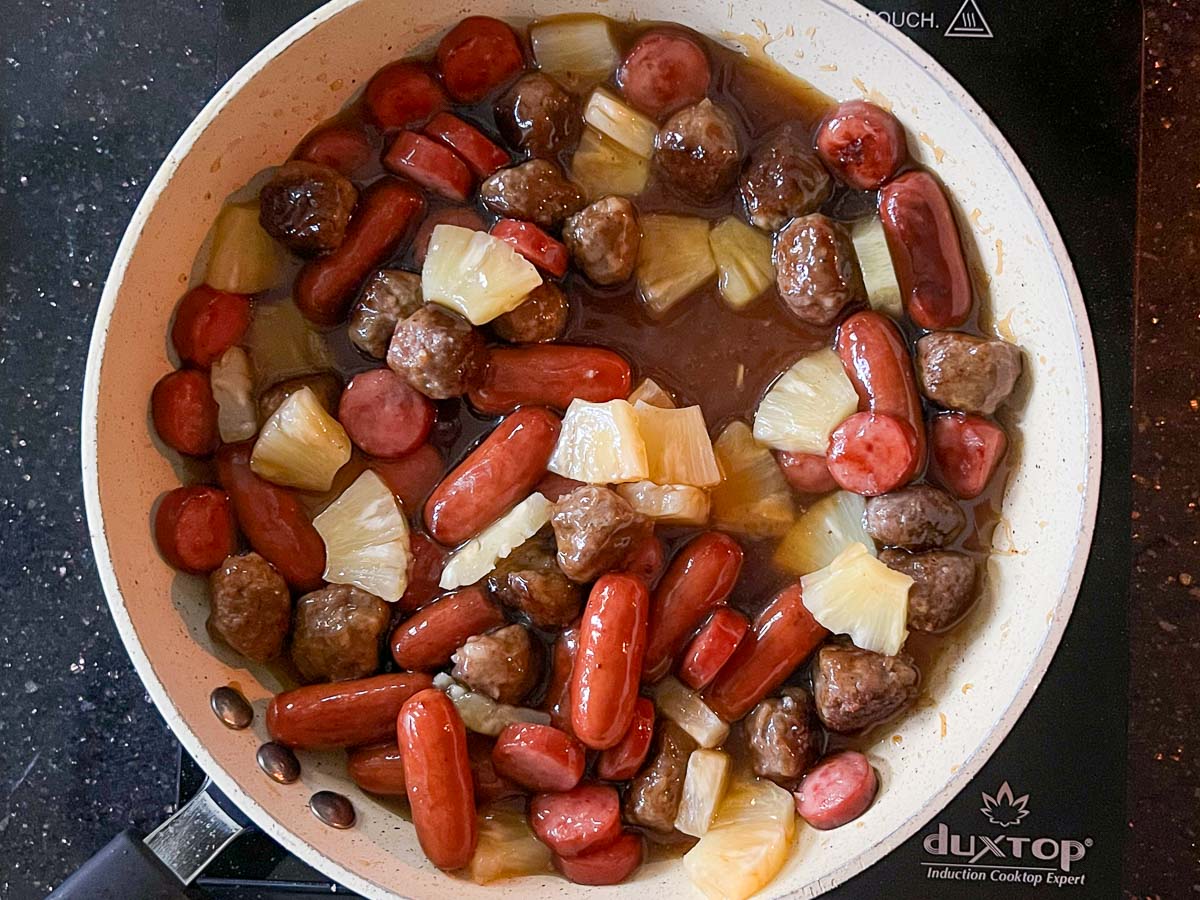 After the sauce thickens, add the pineapple and meat. Stir until heated through.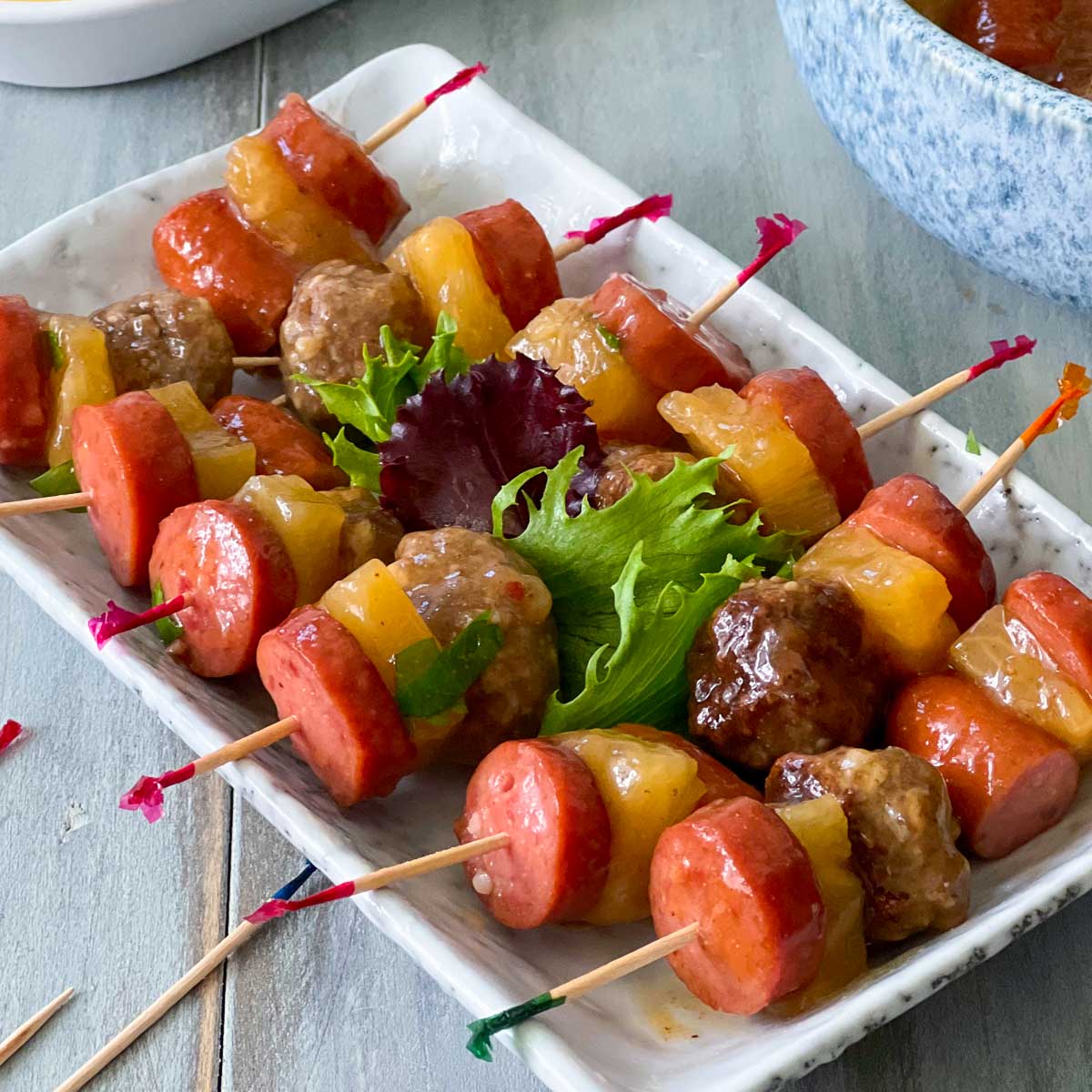 Use a toothpick and poke a slice of sausage, then a piece of pineapple, and finally, another type of sausage that differs from the one you already have on the toothpick. Sprinkle with parsley if you like.
FAQ about Mini Sausage Kabobs:
Can I make these ahead of time?
Make the day before and refrigerate. When ready to serve, microwave until heated through. Stir to redistribute the sauce.
Can I add green or red bell pepper pieces?
Yes. I recommend you soften pepper pieces in the grease left from cooking the sausage.
Can I add veggies like mushrooms, zucchini pieces, or cherry tomatoes?
These add a lot of color and interest. However, since you won't be grilling these kabobs, add the vegetable pieces to the grease in the skillet and sauté until slightly softened if you don't want them to be raw.
What else can I do with sausage kabobs?
Try it as an entrée with white or brown rice on the side. Or serve with breakfast along with pancakes or waffles.
---
Parting Thoughts: Even though I never got the original recipe for this sausage from my friend, I still remember it some 30+ years later. Serving food worth sharing has been known to create life-long memories.
---
If you have questions or suggestions, email me privately for a quick answer: Paula at saladinajar.com. Hope to see you again soon!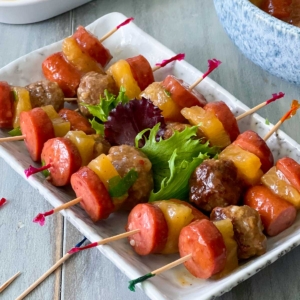 Easy Sausage Kabobs for a Special Breakfast or Brunch
This super easy Sausage Kabob recipe combines three types of sausage, pineapple chunks, and a delicious sweet and sour sauce for a breakfast or brunch recipe that your family and friends are sure to remember.
Rate this recipe here
Ingredients
½

pound

ground sausage

-

made into mini-meatballs

½

pound

smoked sausage

-

cubed

½

pound

little smokies

1

8-oz

can sliced pineapple

-

drained, and cut into chunks (save juice and set pineapple aside)

¼

cup

brown sugar

1

tablespoon

cornstarch

⅔

cup

water plus pineapple juice

1-2

teaspoons

sweet and spicy mustard

-

optional

1

tablespoon

soy sauce

2

tablespoons

vinegar

-

white or apple vinegar
Instructions
Brown the ground sausage (½ lb) in a medium non-stick skillet. Set aside.

Brown the smoked sausage (½ lb) and the small sausages (little Smokies) in a medium skillet. Drain any excess fat. Cut the smoked sausage into bite-size chunks. Set aside.

Combine brown sugar (¼ c), cornstarch (1 T), water + reserved pineapple juice (2/3 c), mustard (1-2 t), soy sauce (1 T ), and vinegar(2 T) into a small bowl. Whisk until smooth. Pour this mixture into the skillet used to brown sausage. On low heat, cook and whisk until thickened.

Add sausages and pineapple. Heat until warm throughout.

Make kabobs using toothpicks adding one piece of pineapple and two pieces of sausage. OR, stir together and serve from a serving bowl.
Nutrition
Serving:
1
serving
|
Calories:
246
kcal
|
Carbohydrates:
11
g
|
Protein:
9
g
|
Fat:
18
g
|
Saturated Fat:
6
g
|
Polyunsaturated Fat:
2
g
|
Monounsaturated Fat:
8
g
|
Trans Fat:
1
g
|
Cholesterol:
47
mg
|
Sodium:
672
mg
|
Potassium:
181
mg
|
Fiber:
1
g
|
Sugar:
9
g
|
Vitamin A:
30
IU
|
Vitamin C:
3
mg
|
Calcium:
16
mg
|
Iron:
1
mg
Did you try this recipe?
If you loved it, don't forget to leave a 5-star rating 🌟🌟🌟🌟🌟 at the top of the recipe card. Thanks so much for taking the time to do that!