Easy Salt-Free Bread: Make this Focaccia in a Bread Machine
Sneak Preview: This easy Salt-Free Bread is mixed in a bread machine. It's quick, easy, and customizable to your tastes. Use this same recipe for making no-salt pizza dough. See details in the recipe notes.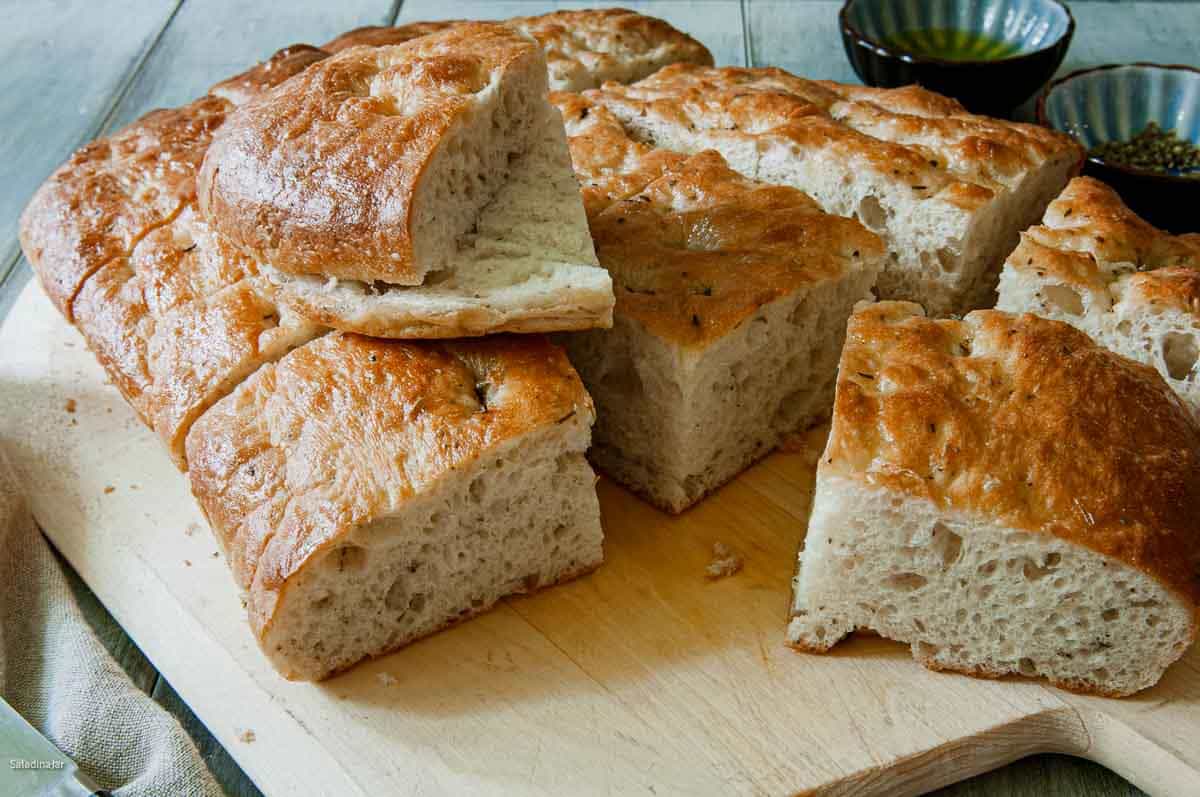 As an Amazon Associate, I earn from qualifying purchases.
Finding a good salt-free bread recipe is TOUGH! Because salt is an extremely important ingredient in making traditional bread, it's challenging to make bread without it. I don't know about you, but if I'm going to eat those calories and spend my time making bread, the recipe has to be delicious.
When it comes to bread, salt is the hall monitor for yeast. Without someone or something around to ensure it behaves, things can go awry with the dough in a hurry.
---
What are my options when making bread on a low-sodium diet?
Reduce the salt by half. ½-¾ teaspoon of salt for a 1½ lb recipe of bread usually produces a loaf that is almost as delicious as the original recipe. Cutting back the amount of liquid and yeast may be helpful.
Use a recipe specifically designed for restricted salt diets. You could leave the salt out of your favorite recipe entirely, but the results are usually unsatisfactory. It's better to use a recipe like this one designed for no salt.
Use caution with toppings, sandwich fillings, or spreads. They can be full of sodium and supersede the efforts you expended to make bread without salt.
---
CAUTION! Pitfalls ahead.
Why bread needs salt and how this recipe compensates for the lack of salt.
Salt restrains yeast. Otherwise, it exhausts itself too soon. If you've ever left out the salt by mistake, your bread probably rose and then fell because the yeast ran out of energy before it should have. The final result is often a flat top with a dense and crumbly internal texture.

Solution: Reduce the yeast.

Salt strengthens gluten. Without salt, the gluten structure cannot support the bubbles that expand inside the gluten network of the dough. It also controls the production of protein-destroying enzymes in flour.

Solution: Be careful not to let the dough over-proof. Use bread flour instead of all-purpose flour for maximum gluten.

Bread without salt tends to be drier and doesn't stay fresh as long.

Solution: Make smaller batches you can eat quickly or freeze.

The crust on salt-free bread tends to be lighter in color. Salt slows down the consumption of sugar by hungry yeasty bodies leaving some sugar to caramelize the crust as it bakes. Without salt, the yeast eats the "candy" with abandon.

Solution: Brushing olive oil or butter on top helps.

Bread without salt tastes bland. In my experience, you have two choices when it comes to pumping up the flavor in the absence of salt:

Solutions:

Add herbs or spices to satisfy your taste buds.
Serve salt-free bread with something extremely flavorful. That could be seasoned oil, a well-seasoned soup, or a delicious gravy or sauce that's part of the main dish.
---
Using a bread machine to make this recipe.
No bread machine? No worries. Use a stand mixer or make the dough by hand. See the recipe notes.
If you have baked bread with me in the past, you know I'm not a fan of baking bread in a bread machine. I'm over-the-top picky about my bread and often give it away or sell it. Cardboard crusts, misshapen loaves, crumbly texture, and holes in the bottom need not apply.
Without salt in the recipe, the timing of the rises will vary more than normal. (Remember, the yeast will go crazy without the salt around to hold it back.) You will need to watch the dough more carefully. No matter how you shape the dough, baking it in your oven is the best way to ensure success with this recipe.
---
Ingredients and substitutions: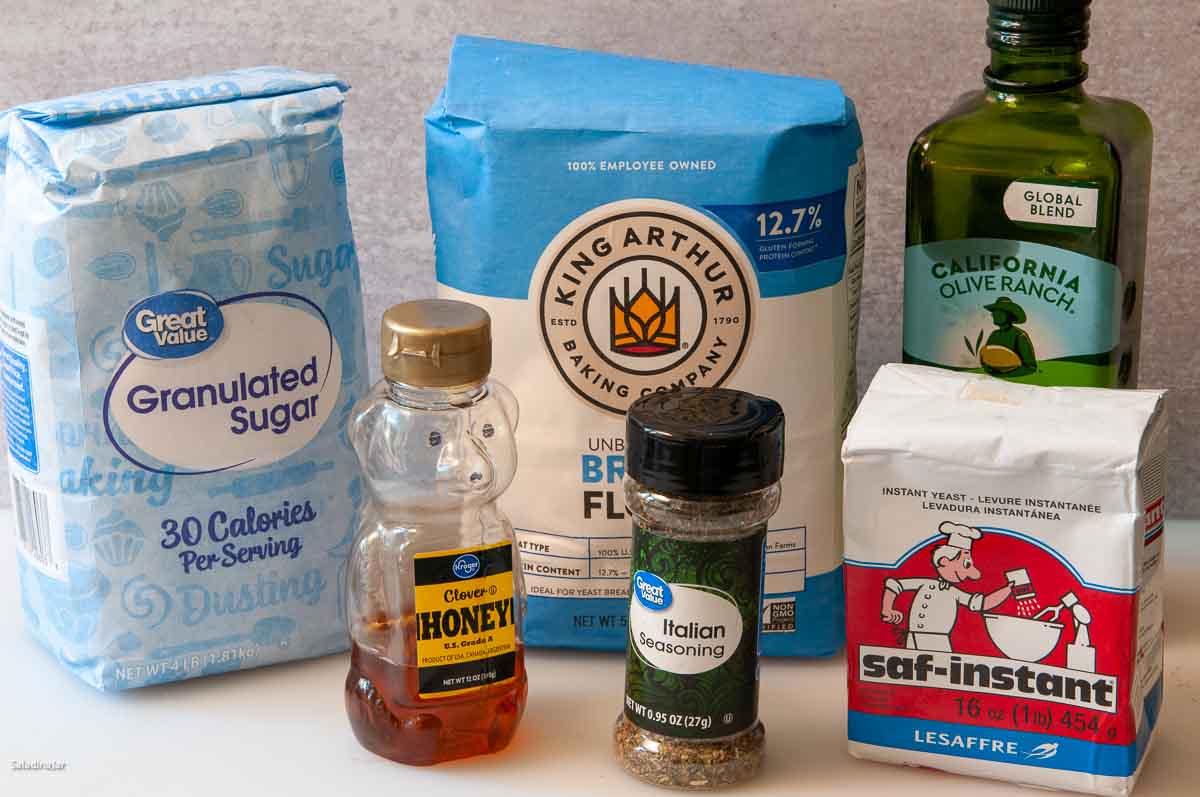 Water: This is not a fancy recipe. Tap water is fine. So is filtered water, spring water, whey from straining yogurt, or potato water. (Potato water is water drained from cooking plain white potatoes.) Although I don't recommend icy cold water, warm water is unnecessary. The friction of the bread machine paddles will warm all ingredients in a hurry.
Sugar: The small amount of sugar is energy food for the yeast. Use granulated sugar or brown sugar.
Olive Oil: I like fruity olive oil to pump up the flavor of this bread in the absence of salt. Substitute another vegetable oil at the risk of less flavor.
Honey: Honey lends much-needed flavor to this recipe.
Flour: Bread flour is my first choice, but all-purpose flour works fine, too. If like some chewiness, use bread flour.
Yeast: I always use bread machine or instant yeast. It's ideal for all bread machine recipes. If you only have active dry yeast, add ¼ teaspoon of extra yeast to compensate.
---
How to make a Salt-Free Bread Machine Focaccia: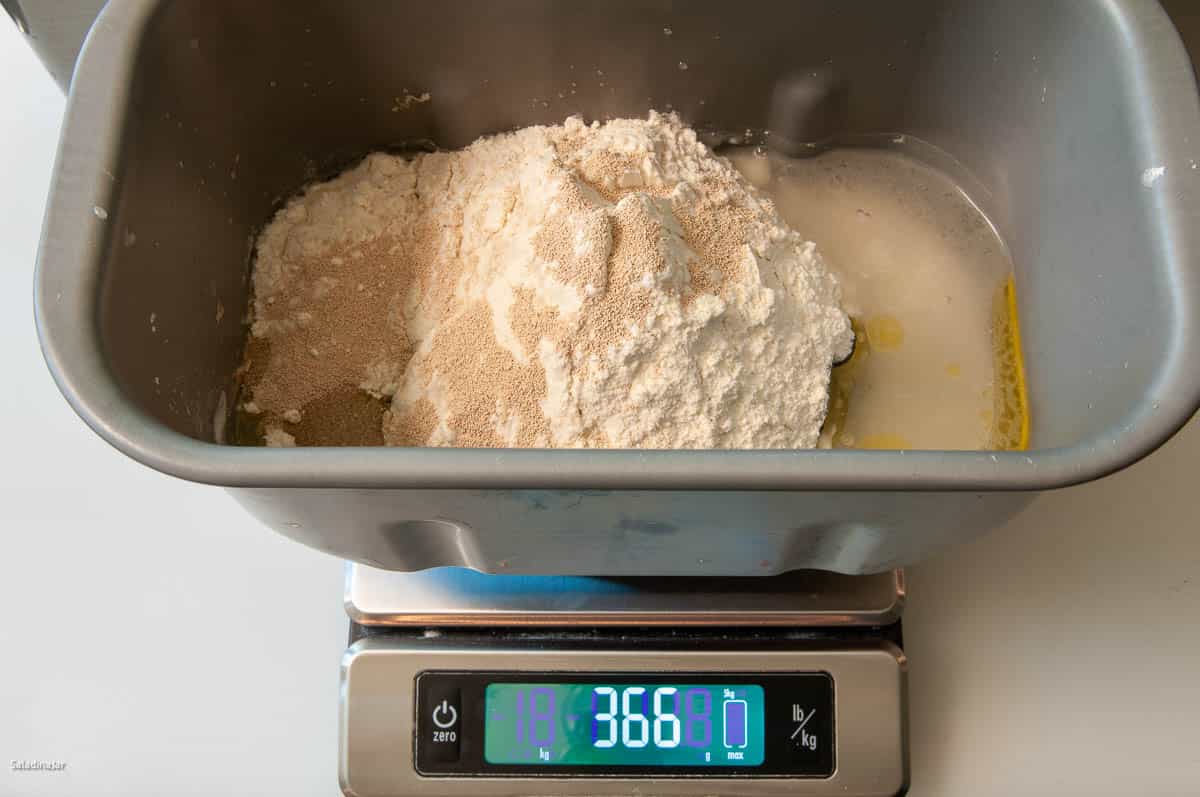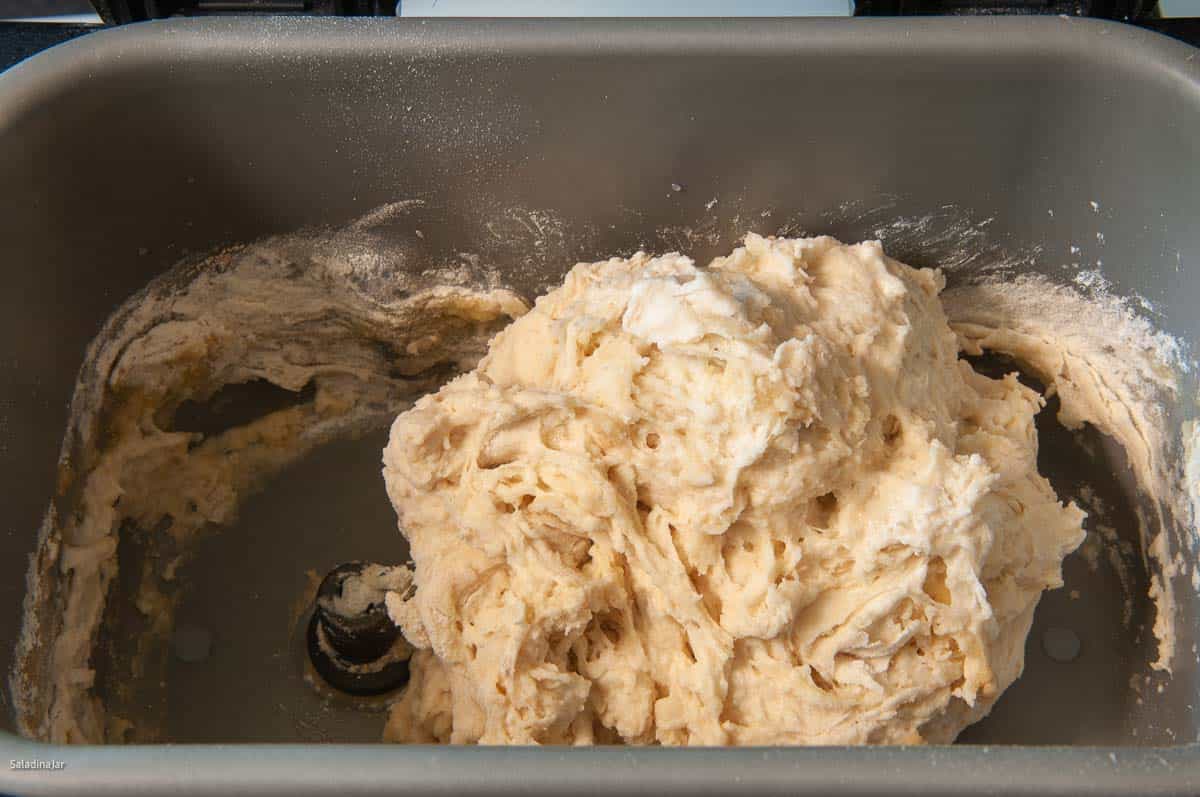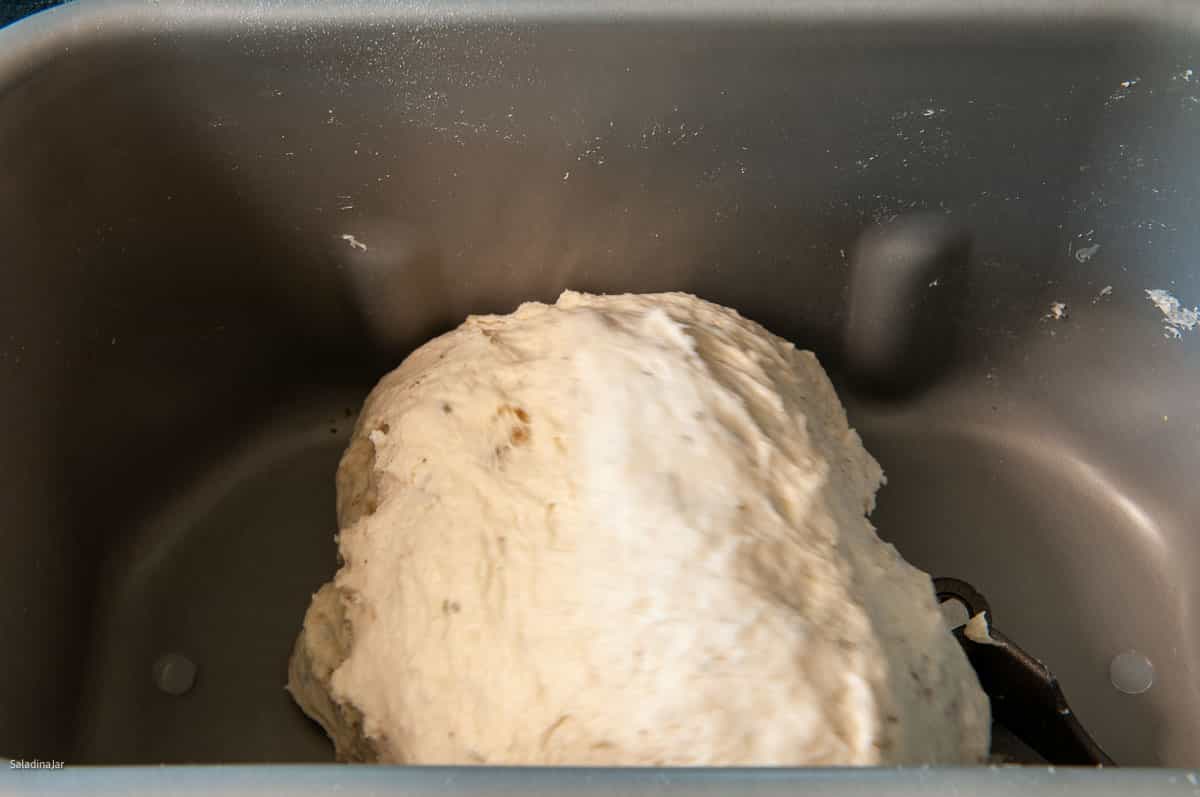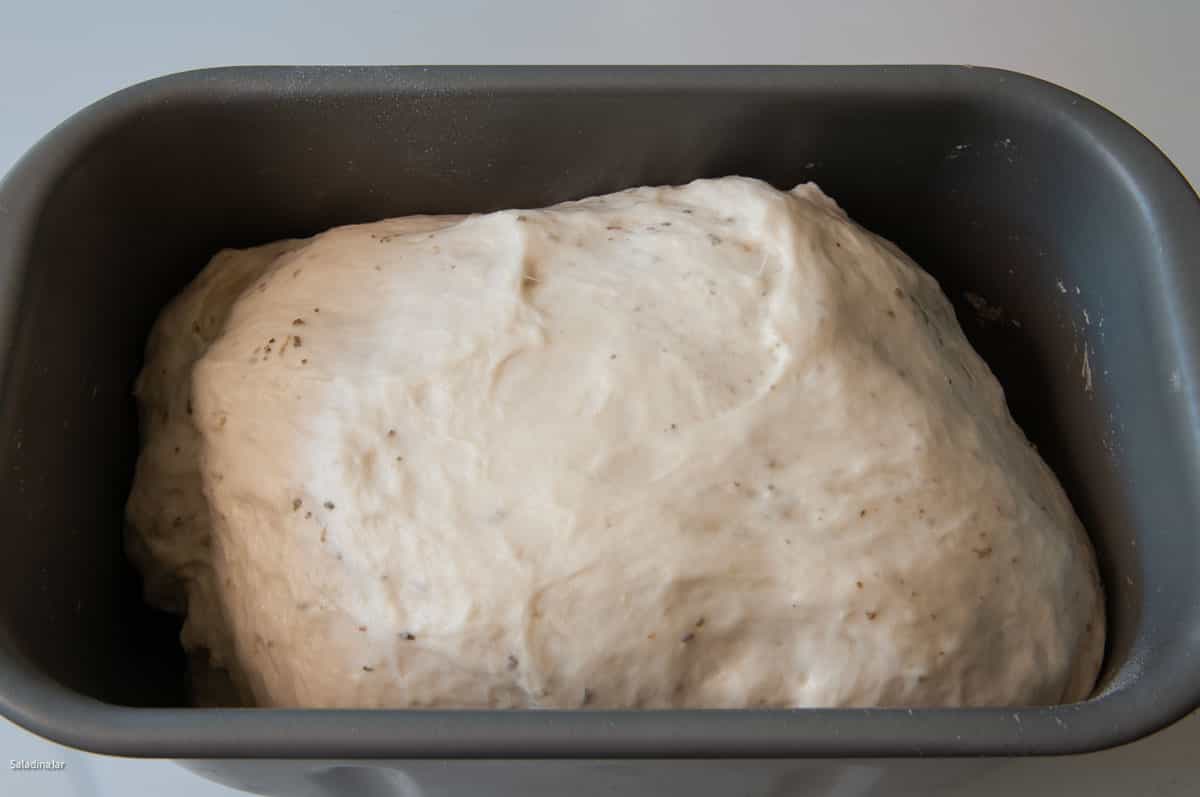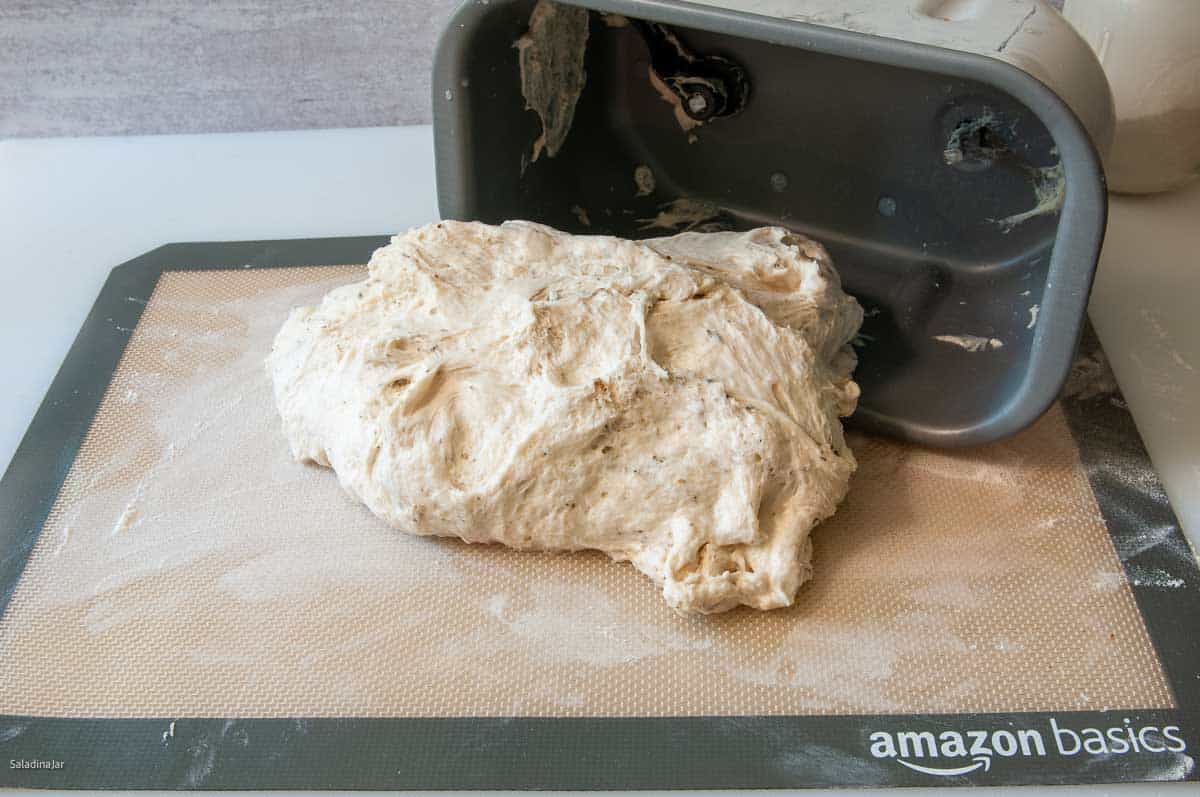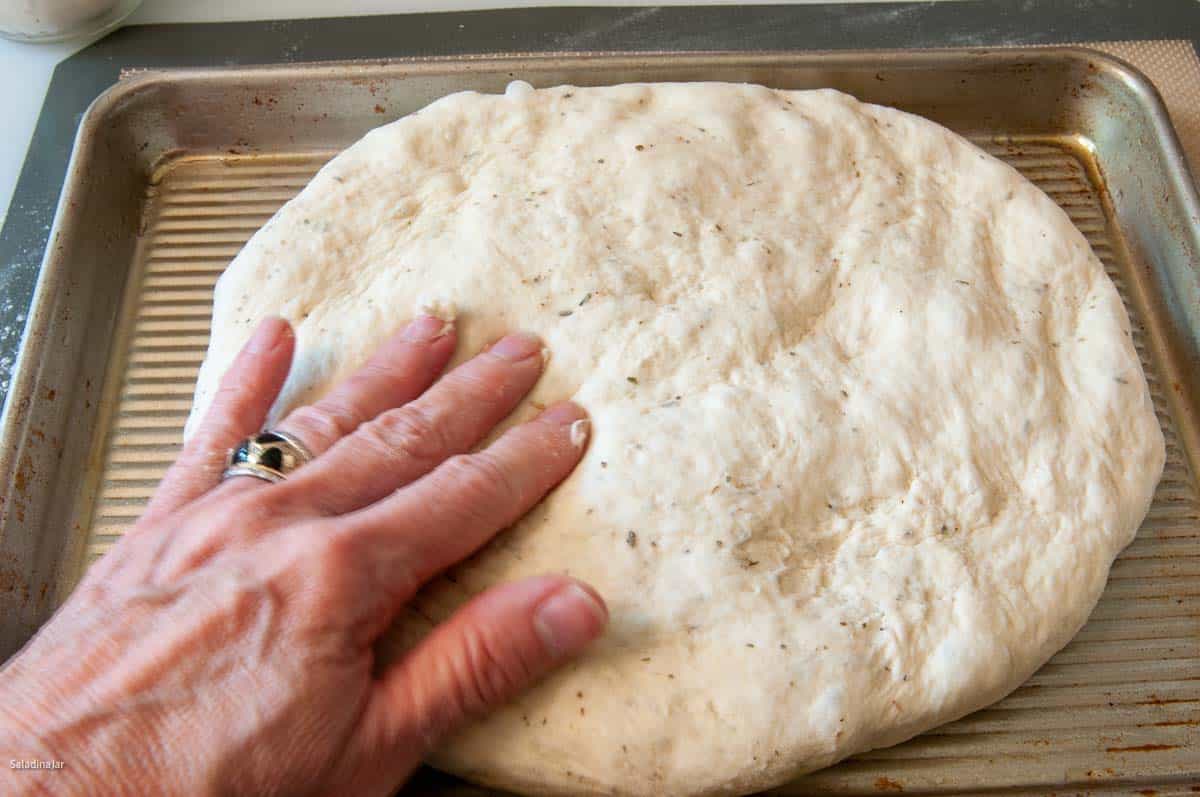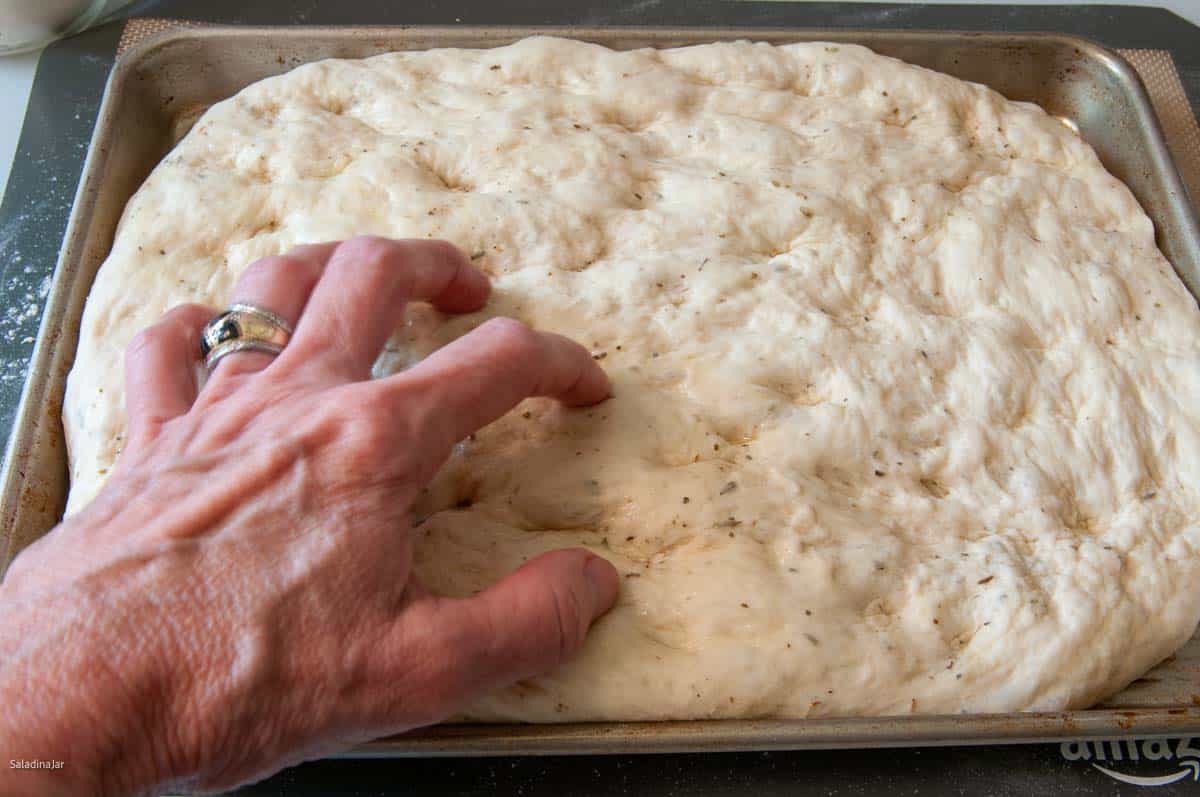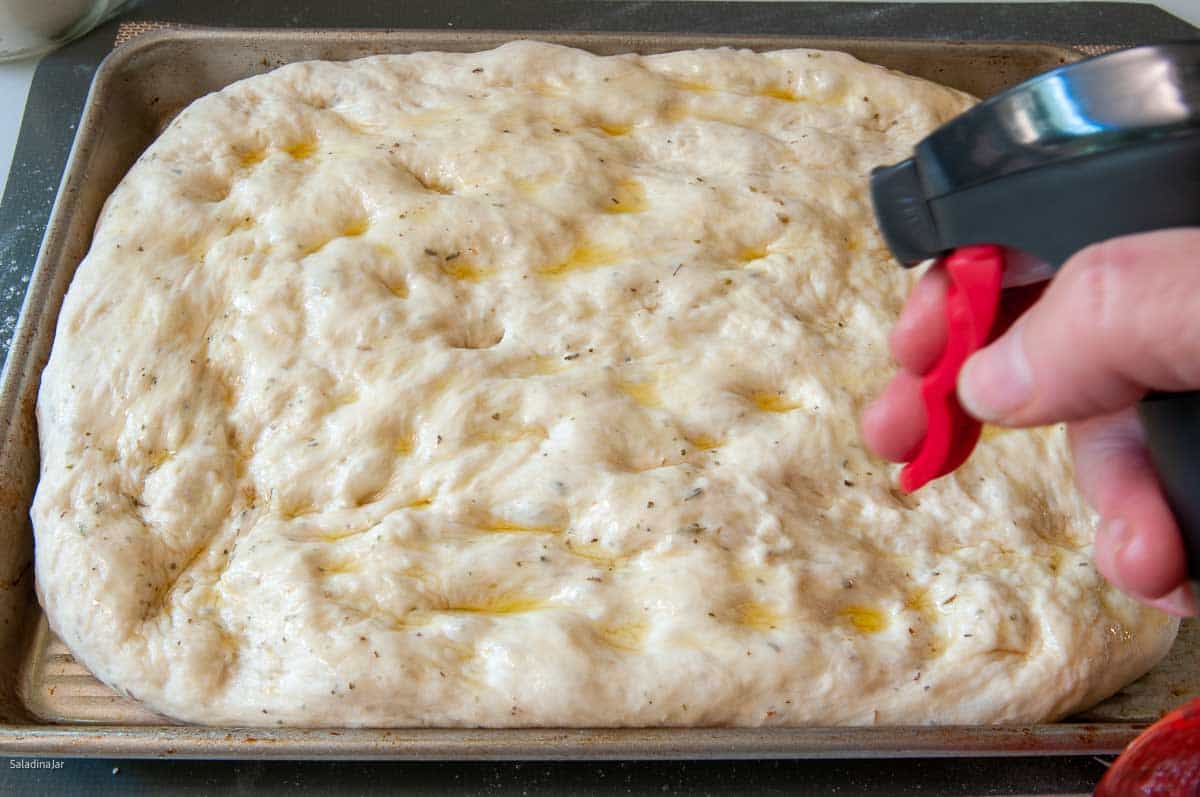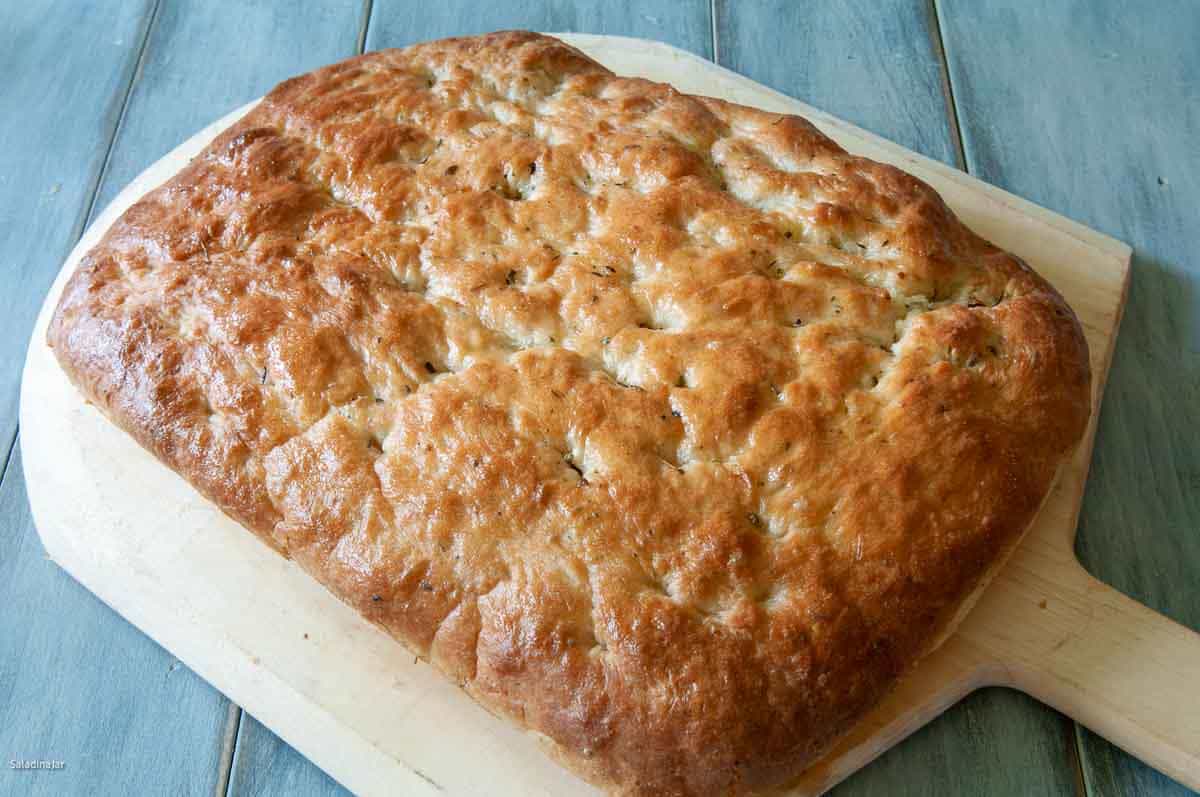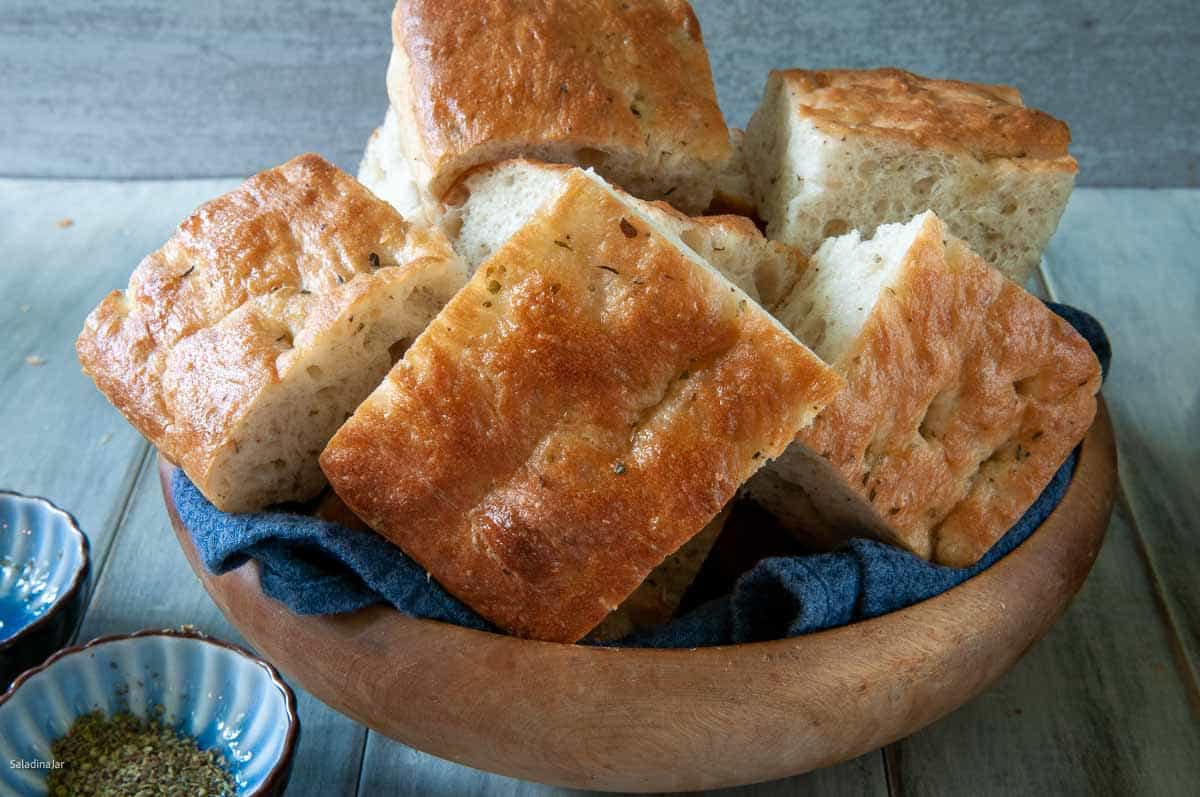 ---
FAQ about No-Salt Bread:
Why is there a small amount of sodium listed in the nutritional analysis?
Flour naturally contains a slight amount of sodium.
Can I use lite salt or a sodium substitute in this recipe?
This recipe has not been tested with these products.
Why did I have to add more flour or water to this recipe to make a nice ball of dough?
Did you weigh your ingredients? Did you remember to zero out the scale after every measurement? Were you distracted while measuring and inadvertently add the wrong amount? Did you substitute a different kind of flour? Is the environment extremely dry, humid, hot, or cold in your kitchen? All of these things have happened in my kitchen and can happen in yours unless you live somewhere like the North Pole (where it's never too hot).
Can I use this dough to make a loaf?
Yes. At the end of the DOUGH cycle, shape the dough (please don't stuff it into a pan like a lump of soft clay) and place it into a 9 x 5-inch loaf pan. Cook at 375˚F (190˚C) until the interior temperature reaches 200˚F and the top is golden brown. (Approximately 35 minutes.).

Hint: Watch the dough closely since it rises faster than normal without salt. As soon as the dough gets to the top of the pan, it's ready to bake.

This loaf will mold quickly during the summer. Consider slicing and freezing anything you can't eat after a couple of days.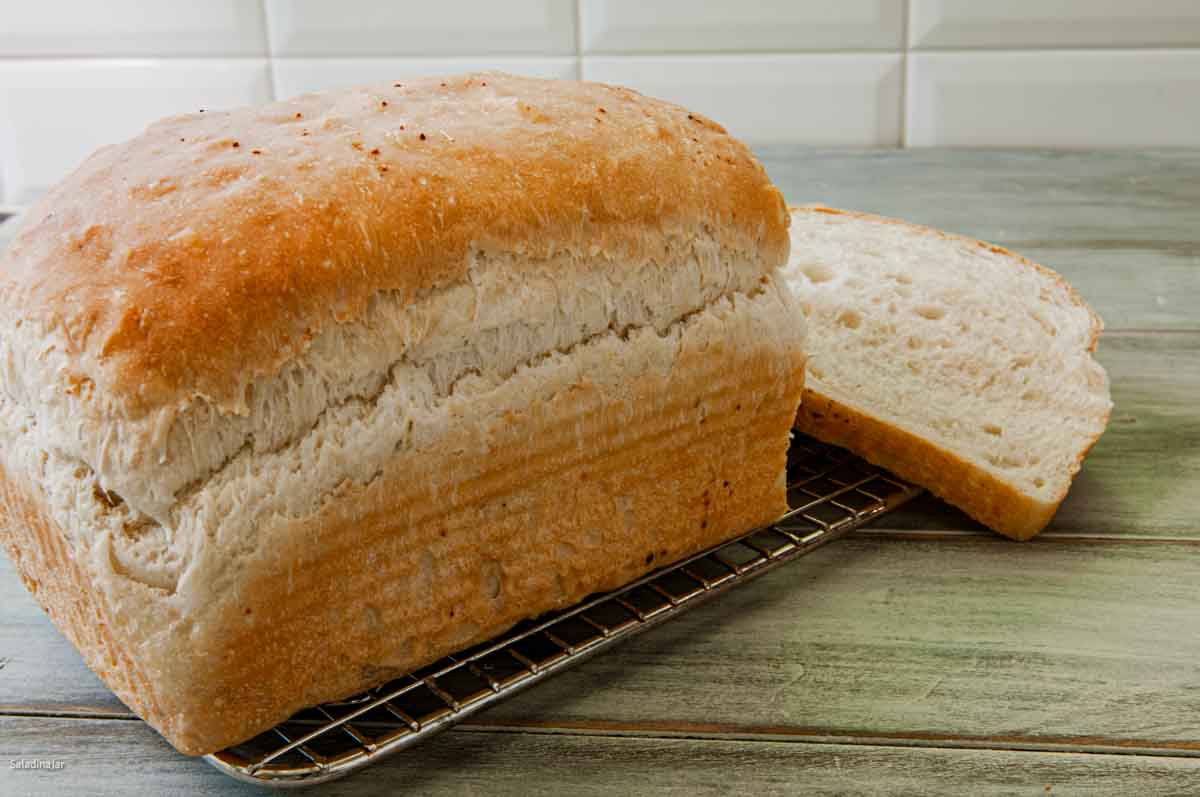 Parting thoughts: This recipe was created in response to a reader's request. I haven't tried it with whole grains, so if you want to experiment, I suggest you substitute only ½ cup for bread flour to start with. If that goes well, increase the amount of whole-grain flour gradually.
I don't generally develop bread recipes for special diets such as gluten-free, Keto, etc., but since making salt-free bread allows one to use the same flour as regular bread, I have made this one exception.
---
Recipe Help at Your Fingertips: For questions or suggestions, email Paula at saladinajar.com. If you need help, I'm happy to troubleshoot via email (faster than leaving a comment). Attach pictures and as many details as possible for the best advice.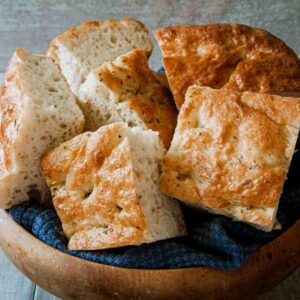 Salt-Free Bread Machine Recipe for Focaccia (or Pizza Dough)
This salt-free focaccia crust is made with a bread machine (although easily converted to a stand mixer recipe or by hand) and is simple enough for a beginner to make.
Share recipe love here. ⬇
Ingredients
1

cup + 1 tablespoon

(

241

g

)

water

1

teaspoon

(

4

g

)

granulated sugar

2

tablespoons

(

25

g

)

olive oil

1

tablespoon

(

21

g

)

honey

1½

teaspoon

Italian seasoning, dried

–

or use no-salt spices of choice

3

cups

(

360

g

)

bread flour

–

substitute all-purpose flour

1¼

teaspoons

instant or bread machine yeast
Instructions
Place all dough ingredients into the bread machine pan in the order given:

1 cup + 1 tablespoon

(

241

g

) water,

1 teaspoon

(

4

g

) granulated sugar,

2 tablespoons

(

25

g

) olive oil,

1 tablespoon

(

21

g

) honey,

1½ teaspoon

Italian seasoning, dried,

3 cups

(

360

g

) bread flour, and

1¼ teaspoons

instant or bread machine yeast. Select the DOUGH cycle, then START.

Open the lid after you start it and check to ensure the paddles are engaged. Watch the dough to make sure it starts to clump immediately. If the dough looks like a thick cake batter or is dry and crumbly like raw oatmeal, something likely went wrong with the measurements. Add liquid or flour a spoonful at a time until the dough comes together.

Peek at the dough after 15 minutes. It should stick to the edge of the pan, then pull away cleanly. If it bounces off the sides of the pan, add a tablespoon of water. Add a tablespoon of flour if it doesn't pull away after sticking.

When the DOUGH cycle completes or the dough doubles in size (whichever is first), remove the dough from the bread pan onto a lightly floured surface. Knead lightly to compress any bubbles. Shape the dough into a ball. Cover and allow to rest for 10-15 minutes.

Place the dough onto a 13 x 9-inch baking sheet (or a 13 x 9-inch baking dish) generously greased with olive oil. Use your hands to press the dough evenly to the edges. (If you prefer thinner focaccia, use a larger baking sheet.) If the dough is resistant to stretching, let it sit and relax for a few minutes, then come back to it. Use your fingers to dimple the dough lightly. Don't press hard enough to create holes.

Preheat your oven to 500˚F(260˚C) about 20 minutes before you think the focaccia will be ready to bake.

Spray or drizzle the top with fruity olive oil. Be generous for the best flavor. Let the dough rise until it's as thick as you like–anywhere from 10-30 minutes.

Place the prepared focaccia into a hot oven and turn the temperature back to 450˚F (230˚C). Bake until the crust is golden brown, and the internal temperature reaches 200˚F (93˚C).

Let cool for 5-10 minutes before slicing.
Notes
Directions for making a no-salt pizza crust:
Follow the directions to step 4, except divide the dough in half. Shape each half into a ball. Cover and let rest 10-15 minutes.
Use your hands to shape each ball into a circle and spread the dough as thinly as you want it. If the dough wants to bounce back, cover it, allow it to relax, and try again. When you get it stretched enough, add the pizza ingredients.

Layer the sauce first (don't overdo it), cheese, and then meat and/or vegetables. Watch the amounts. Excess toppings will cause your pizza to take too long to bake and may result in a soggy middle. (Be mindful of the sodium in these ingredients if you are counting.)

Turn the oven temperature back to 450˚F (230˚C) after you put the pizza in to bake. Bake for 10-15 minutes or until the crust is golden on the edges and the toppings start to turn golden brown.

Directions for making bread with a stand mixer or by hand:

To make this recipe in a heavy-duty stand mixer, add ingredients to the bowl in the same order. Turn on low to mix until all ingredients are moistened. Using the dough hook, turn the speed to 2 or 3 and continue beating/kneading for about 5-10 minutes or until the dough becomes smooth and elastic. Cover and allow to rise in a warm place. Deflate the dough gently and shape as indicated in the recipe.
If making by hand, combine all ingredients into a shaggy ball in a large bowl. Turn dough out on a floured surface and knead with your hands until dough becomes smooth and elastic, which will likely take 10-20 minutes, depending on your experience. Place the dough ball into a greased bowl. Cover and allow to rise until double. Deflate the dough gently and shape the dough as indicated in the recipe
Please note: You can substitute active dry yeast for instant or bread machine yeast. Be aware that it may be slower-acting than instant yeast, but it'll get there.
Nutrition
Serving:
1
piece
|
Calories:
147
kcal
|
Carbohydrates:
25
g
|
Protein:
5
g
|
Fat:
3
g
|
Saturated Fat:
0.4
g
|
Polyunsaturated Fat:
0.5
g
|
Monounsaturated Fat:
2
g
|
Sodium:
3
mg
|
Potassium:
54
mg
|
Fiber:
1
g
|
Sugar:
2
g
|
Vitamin A:
5
IU
|
Vitamin C:
0.02
mg
|
Calcium:
10
mg
|
Iron:
0.4
mg
HELP OTHERS find this recipe. Leave a 5 🌟🌟🌟🌟🌟 rating at the top of the recipe card if you enjoyed it. No comment is required.