How To Get a Crispy Pizza Crust Without a Pizza Stone
Sneak Preview: Learn how to get a crispy pizza crust at home without a baking stone. Nothing fancy here. Works in an ordinary kitchen with a regular oven.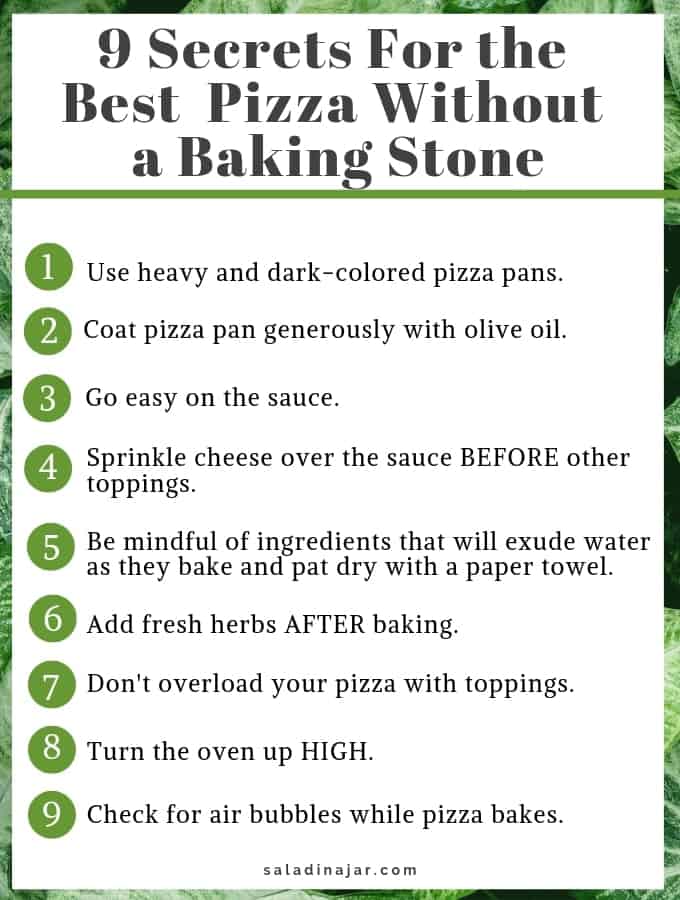 As an Amazon Associate, I earn from qualifying purchases.
What would you guess is the most common mistake people make with homemade pizza? I haven't done a scientific survey, of course, but I have a good idea based on my observations at many DIY pizza parties. Read to the end of the post to find out if your guess matches mine.
Would you like to make a better pizza at home? Are you discouraged by those who say you need to use a pizza stone or even a wood-burning oven?
As a former Research and Development person for a national pizza chain, here's what I've learned:
FIRST: Preheat your oven to 450˚F, and let's get started.
9 tips for getting a crispy crust without a baking stone:
Tips for a crispy crust: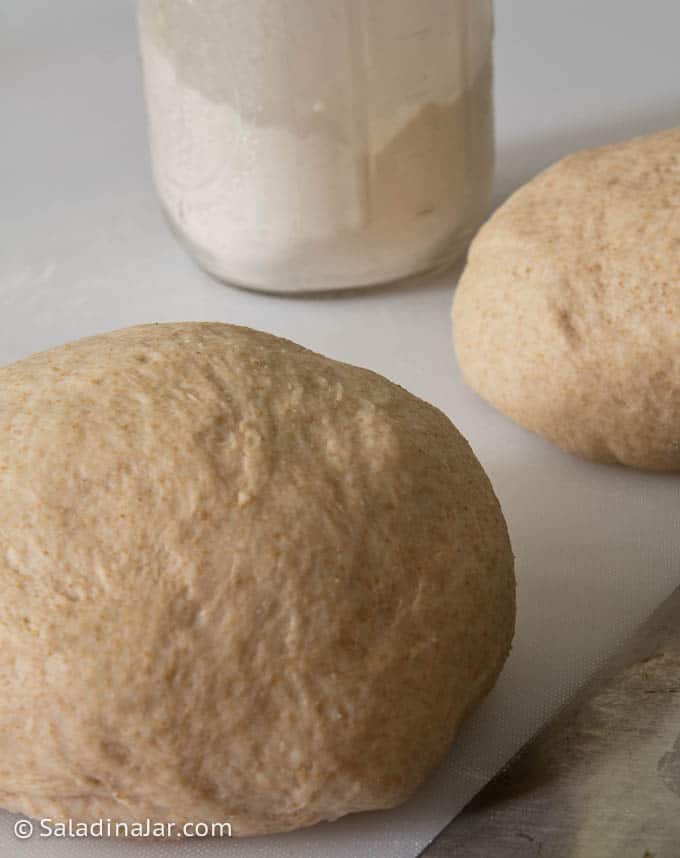 If you use a good crust recipe and follow these suggestions, I doubt you'll miss using a pizza stone unless you prefer a dry and slightly burnt crust. (No judgment here. It's just a different kind of pizza.)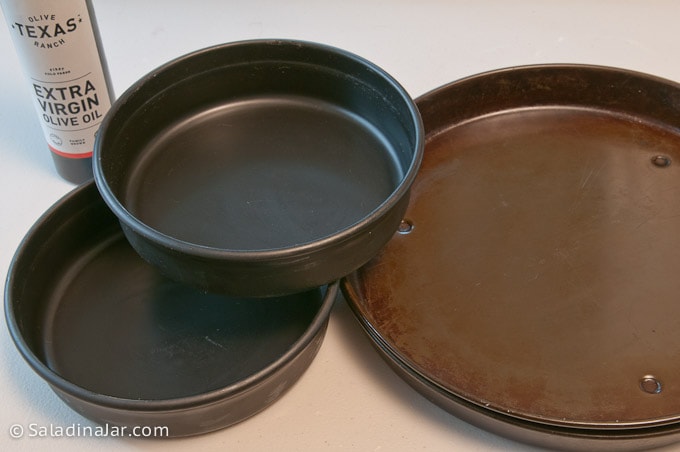 #1 Use heavy and dark-colored pizza pans.
Try to find a heavy baking pan with a dark finish for a crispy crust that will hold up to all the sauce, cheese, and various ingredients you're dreaming about.
Commercial pizza pans like the one pictured above are my favorite. "Used" pizza pans are even better because they have a patina similar to an iron skillet. As a result, there's no need to wash them. Instead, wipe them clean with a paper towel.
Where do I find these magic pans?
Check eBay. The used ones from a closed pizza restaurant are the best (and usually cheap, too!)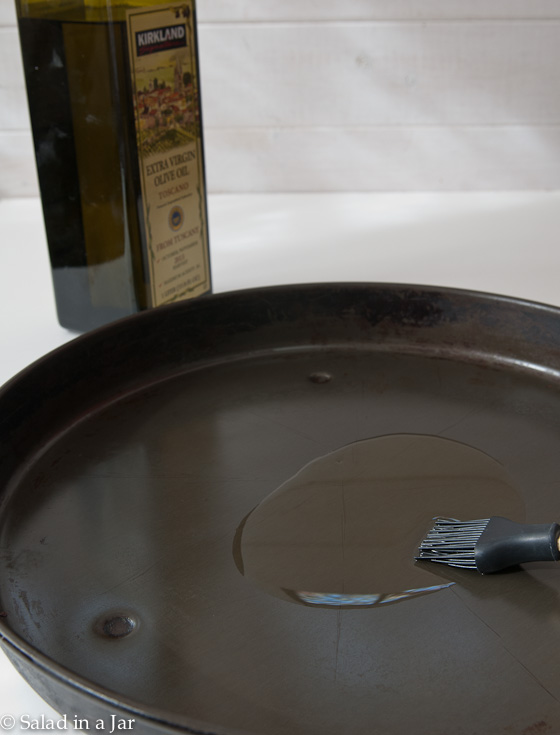 #2 Coat your pizza pan generously with olive oil.
Restaurants use an insane amount of oil at the bottom of the pan. That's one reason why their pizza is so good and filling–all that oil adds FLAVOR and CRISPINESS. Using a pizza stone will give you a dry, crisp crust. This method will also give you a crispy crust but with tons of flavor.
How much oil? Start with 1-2 tablespoons for a 14-inch pan.
Check out the underside of this pizza crust baked with plenty of olive oil. I wish you could "scratch and taste."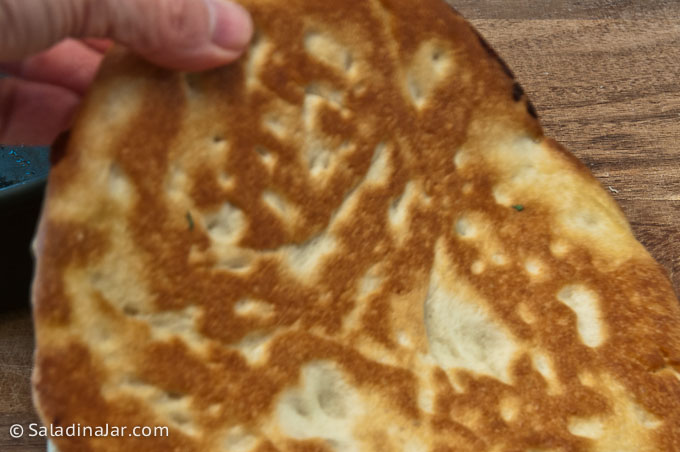 My litmus test for an extraordinary pizza crust?
When I can hold a slice grasping only the outer edge, the pizza doesn't bend down at the point of the wedge. Yep! That's what I'm looking for. Well-baked and crispy. It doesn't matter whether the crust is thick or thin.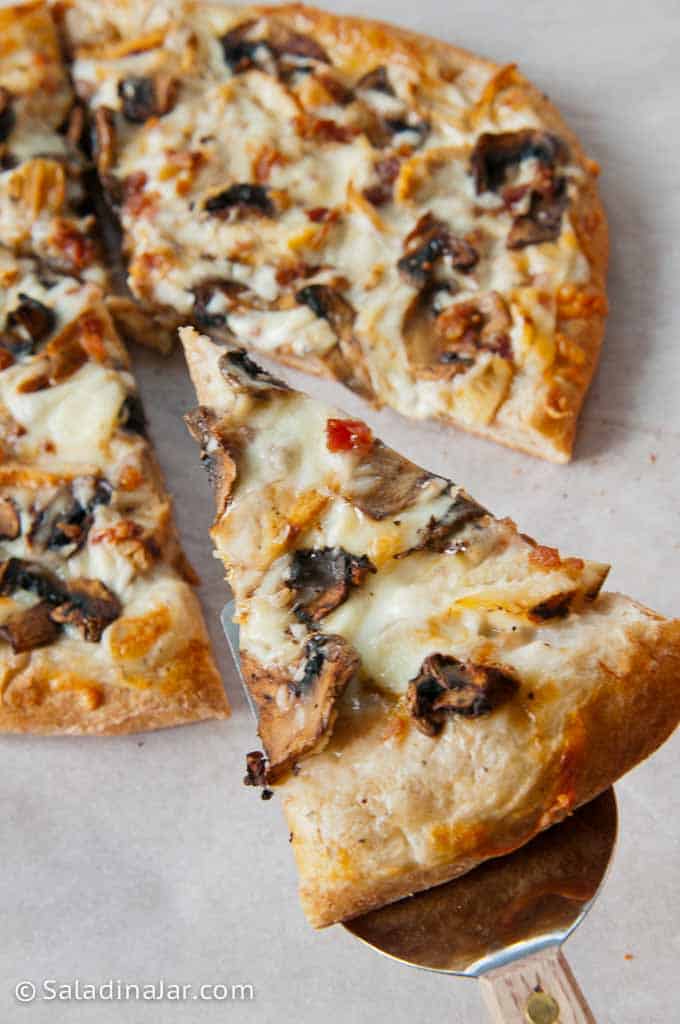 You might be wondering…
What do you do differently if you want a thin and crispy crust versus a thicker, chewy crust?
Thin and Crispy: After making the dough, don't let it rise for more than a few minutes before preparing it for the pizza pan. Use a rolling pin to roll it out thinly and evenly.
You might even want to dock the dough after you get it into the pan. Translation: Poke the dough with a fork all over so it will be more like a cracker. Proceed to add the sauce, cheese, and toppings and get it into the oven ASAP.
Thick and Chewy (but still crispy on the bottom): Let the dough rise until almost double in size after kneading it. Press down, then use your fingers to press dough into the bottom of the pan. If the dough is too elastic and springs back, allow to rest for 10-15 minutes and try pressing again.
Before we go any further, let me emphasize the proper sequence for the layers of a pizza.
How to build your pizza in the right order:
Crust
Sauce
Cheese
Meat and/or veggies
A light sprinkle of additional cheese
Herbs or lettuce (After baking)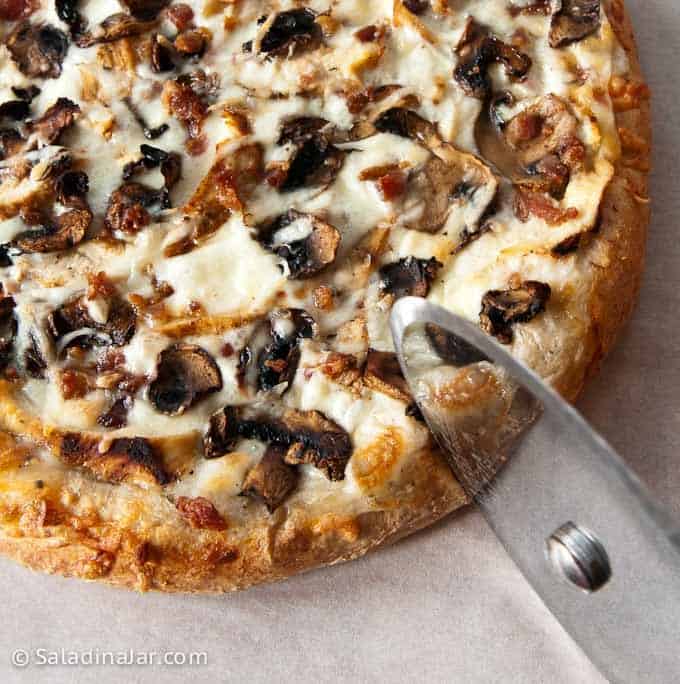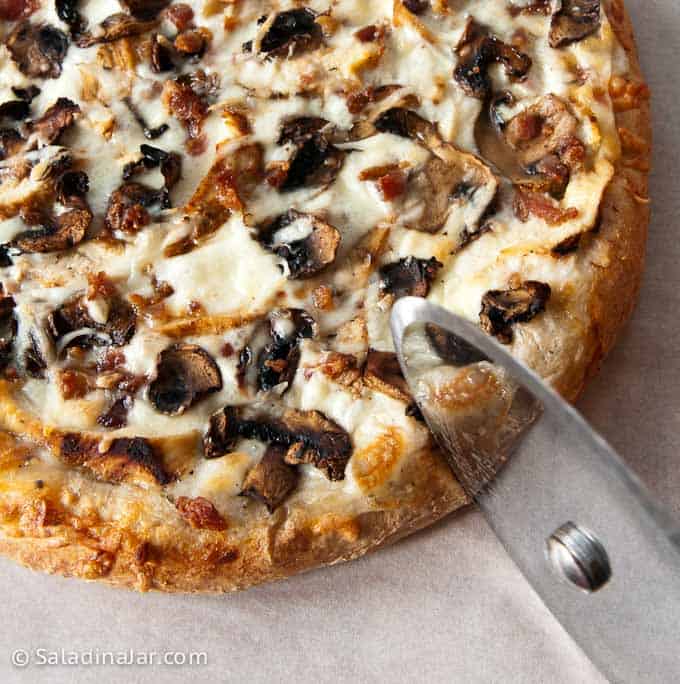 Tips for the pizza sauce:
#3 Go easy on the pizza sauce.
Use too much sauce, and your pizza will be challenging to bake all the way through.
Also, too much sauce can cause a "topping-slide." That's when all the cheese, meat, and vegetables pull off your pizza slice with the first bite. You should be able to see a bit of crust through your sauce.
Tips for the cheese: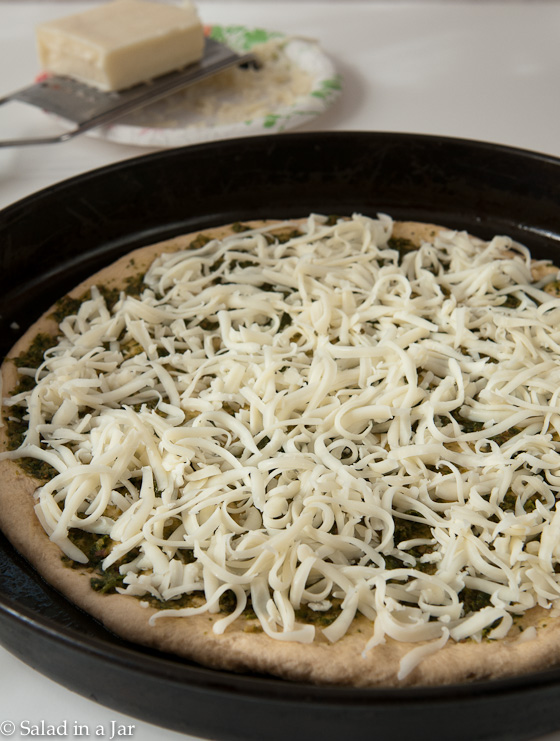 #4 Sprinkle the cheese over the sauce BEFORE other toppings.
Using this order keeps the cheese from burning. In addition, it glues the toppings to the pizza while allowing them to bake thoroughly.
I like lots of cheese, but just like too much sauce, too much cheese can make it challenging to get a crispy and completely-baked crust. Another option is to save some cheese to sprinkle over the top. A cheese topping can protect delicate ingredients such as spinach.
Tips for pizza toppings: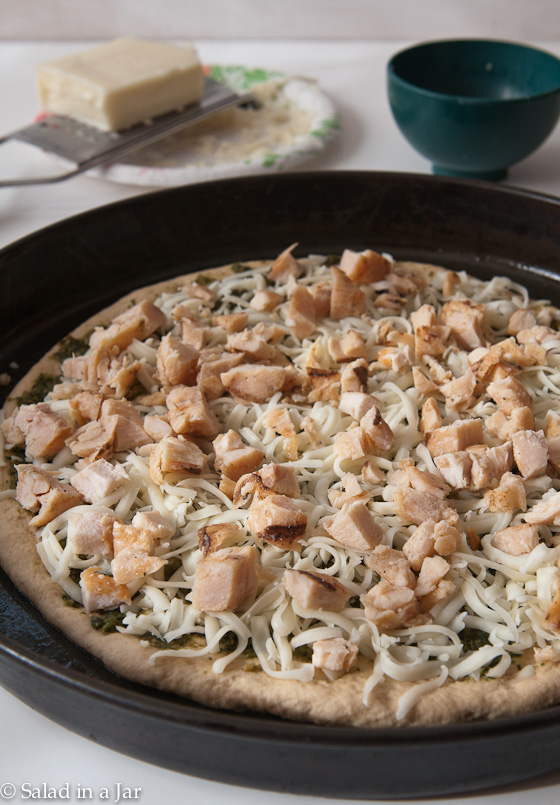 #5 Be mindful of ingredients that will exude water as they bake.
Toppings such as pineapple and fresh mushrooms can leave little puddles of water that take a long time to dry out before your pizza can brown. So, either pat them dry with a paper towel or cut them into smaller pieces.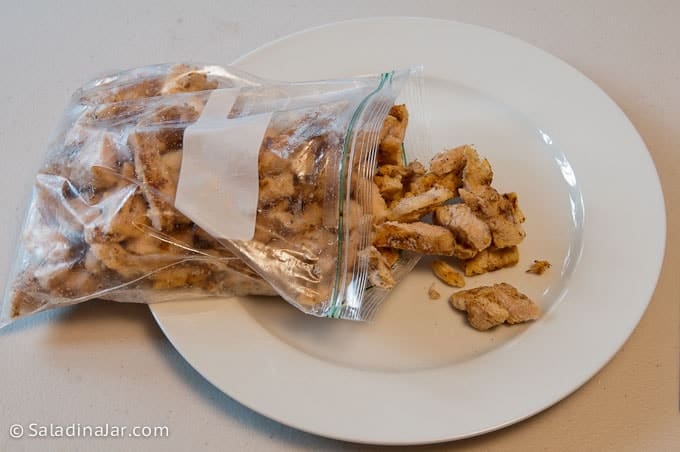 Want to add meat to your pizza?
You can find fully-cooked ground beef, sausage, and grilled chicken in my freezer at all times to make quick work of assembling a pizza. Defrosting the meat before adding it to your pizza will avoid the puddles mentioned above and raw spots in the middle of your pizza.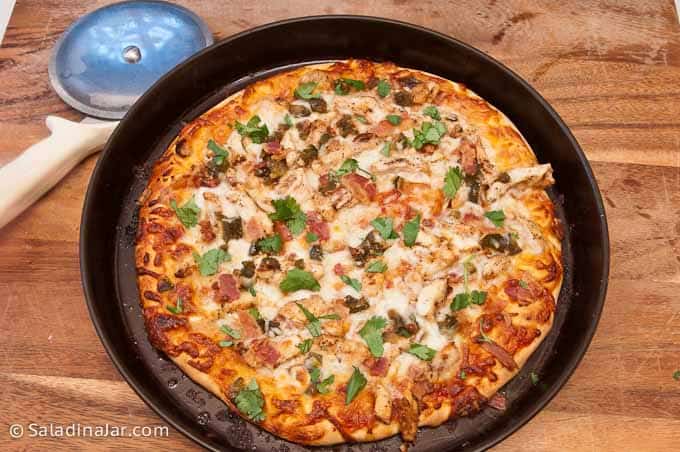 #6 Add fresh herbs AFTER baking.
Sprinkle herbs onto your pizza as soon as you take it out of the oven. Otherwise, they will wilt and turn brown. Not appetizing.
And now–the #1 mistake I see people make when building a pizza at home:
#7 Don't overload your pizza with toppings.
Does it seem like we've already talked about this?
This principle applies to everything. Just like excessive cheese and sauce, too many toppings will keep your pizza from baking in a timely manner. The outer crust will over-bake, and the middle will be doughy if you pile on too many ingredients.
Tips for getting a crispy pizza crust without a pizza stone:
#8 Turn the oven temperature up to HIGH.
Be sure you preheat your oven. Turn it on when you walk into the kitchen. I preheat my oven to 450˚F, then turn it back to 425˚F when I put the pizza in the oven.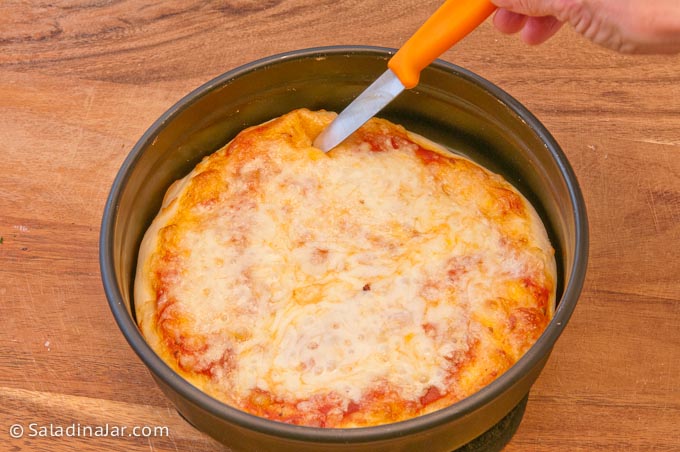 #9 Check for air bubbles while the pizza bakes.
Bubbles often happen with plain cheese pizza when extra ingredients don't hold the dough down quite as well. So watch out for that.
After about 8-10 minutes, look in on your pizza. Have any large air bubbles developed? If so, prick them with a sharp pointy knife or a fork. Failure to do this will result in a soft, white crust under the bubble.
---
p.s. I make my pizza crust dough in a bread machine using the dough cycle. However, if you prefer whole wheat, here is a honey whole wheat pizza dough recipe cloned from California Pizza Kitchen. Either recipe can be assembled with a bread machine, a stand mixer, a food processor, or by hand.
---
If you have questions or suggestions, email me privately for a quick answer: Paula at saladinajar.com. Hope to see you again soon!