The Best Whole Wheat Pizza Dough for a Bread Machine
Sneak Preview: This is the Best Whole Wheat Pizza Dough recipe for mixing with a bread machine. The touch of honey makes it memorable. Whole wheat pizza crust has never tasted better. Please note: This dough benefits from spending several hours in the fridge before using it.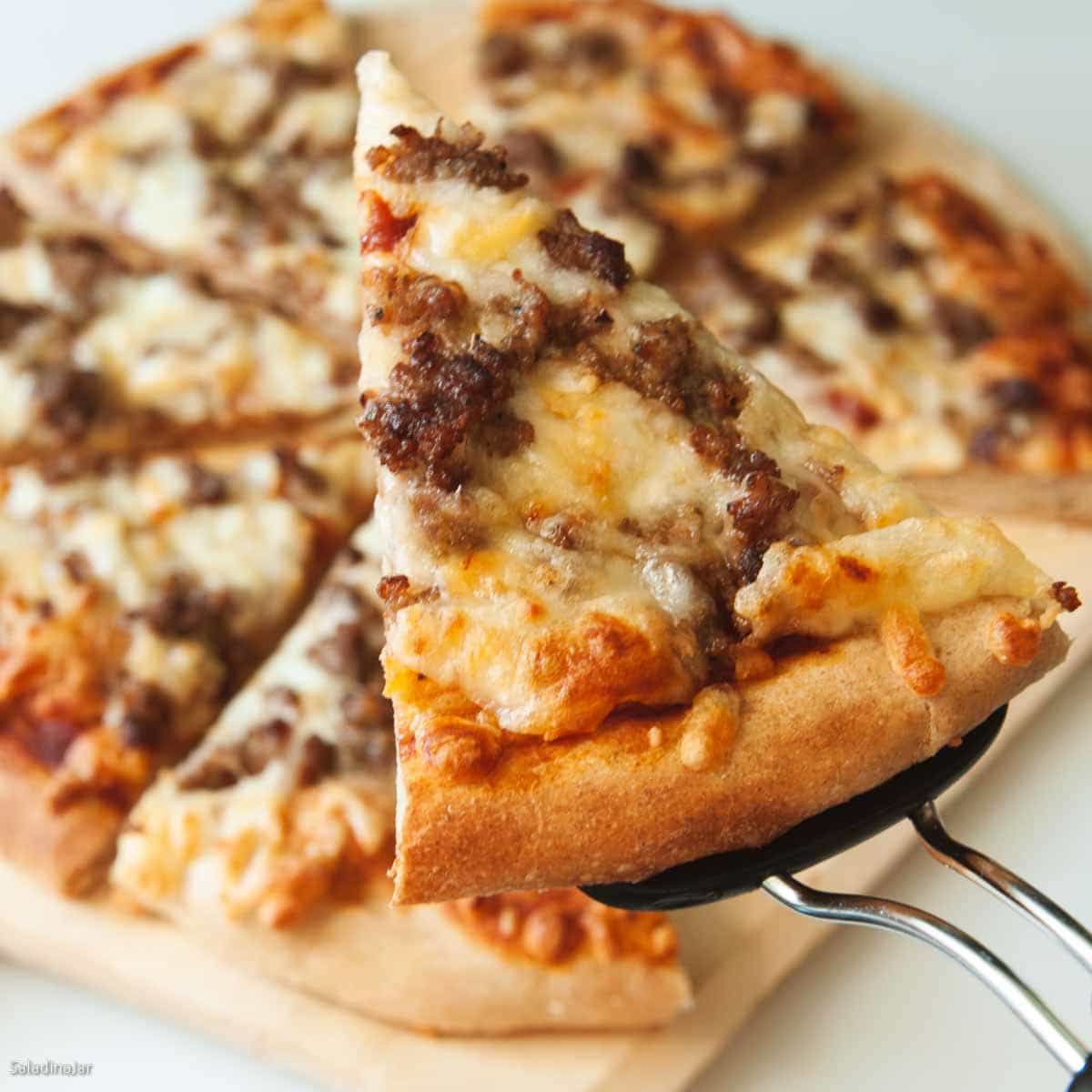 As an Amazon Associate, I earn from qualifying purchases.
What do you do when you get a less-than-glorious report about your cholesterol or other important body chemistry? My answer to that question includes adding more whole grains to my diet.
This pizza crust is a great way to get more whole grains into your diet. After all, isn't that why we all eat pizza? 😉
For years, guilt about eating pizza motivated me to look for an irresistible whole-wheat pizza dough recipe that I could whip up in my bread machine in the same way I do ALL of my bread recipes.
How I use a bread machine to make bread that I'm excited to share with others:
Let the dough rise one final time before baking it in a conventional oven.
This is the only way I know of to make beautiful bread with a gorgeous crumb and a fabulous crust using a bread machine. When done well, your bread will rival the best bakery in town.
Happy Bakers Speak Up
I tried the whole wheat pizza dough recipe today and we all loved it. Thanks again." — Christina H.
---
---
Recipe Inspiration:
Since I'm a fan of the California Pizza Kitchen restaurant, I have a couple of their cookbooks. I thought it might be worth trying their Honey Whole Wheat Pizza Dough recipe since they know something about pizza.
Turns out–I loved it. I bet you will, too.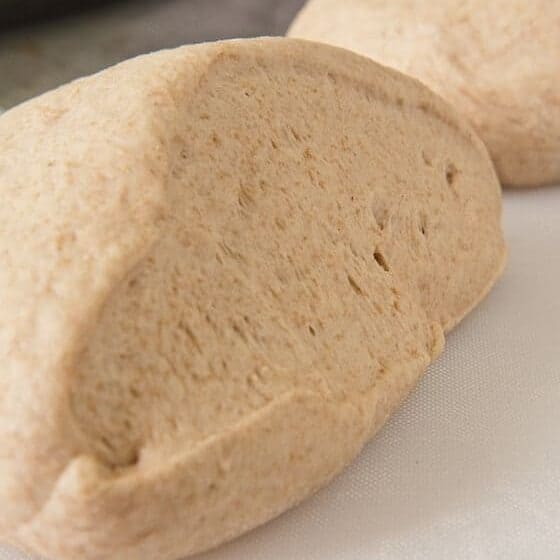 Why I prefer a blend of whole wheat and bread flour:
Whole wheat flour adds more fiber and flavor.
Adding bread flour makes the crust chewy and easier to manage.
Mix this recipe in your bread machine (or stand mixer) for the best texture ever. Of course, the original recipe wasn't written for a bread machine, but I won't do it other way. So, I changed the directions and adjusted the amounts to fit the size of most bread machines.
Directions are provided for a bread machine, but no worries if you don't have one. You can still make it by hand or use a stand mixer. See the notes in the recipe below.
Heads up: This recipe has the best flavor when chilled overnight before using it to make a pizza. However, you can skip that part if you need your pizza immediately.
---
Ingredients and substitutions: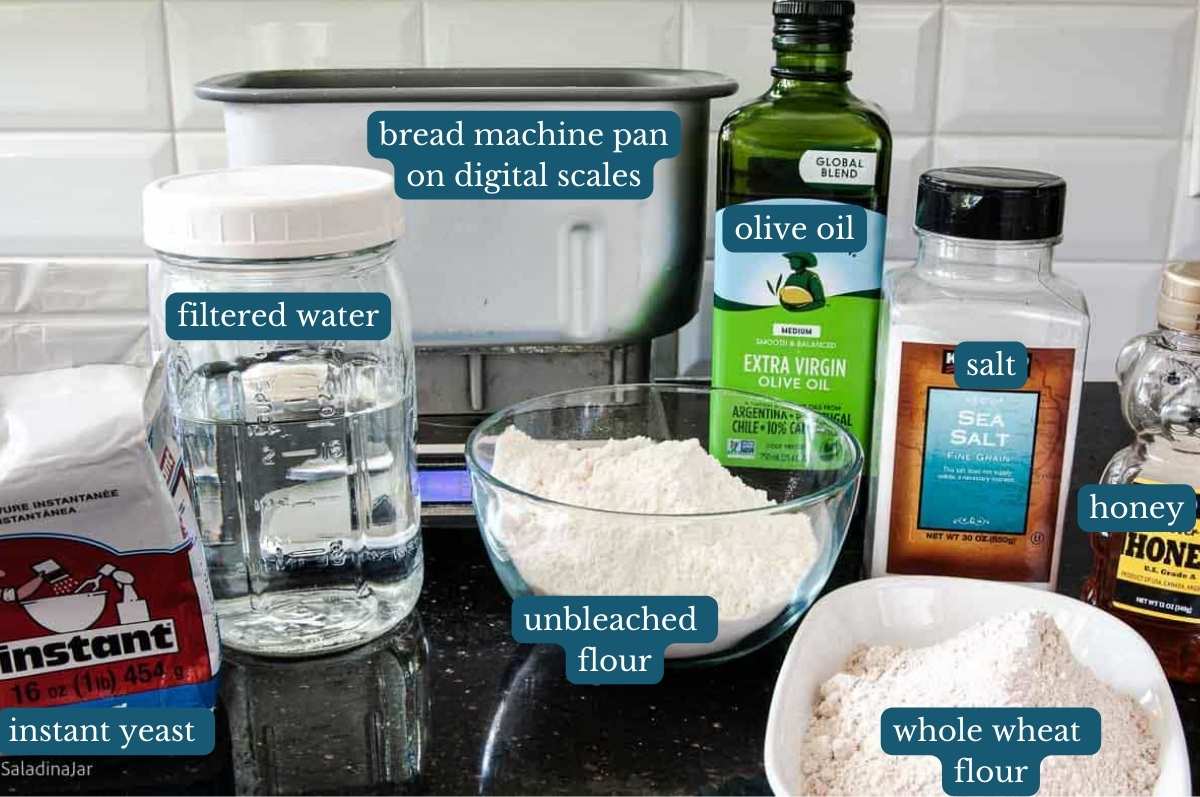 WHOLE WHEAT FLOUR: This recipe is not 100% whole wheat because I like the taste of a mixture of bread flour and whole wheat flour. Be sure to weigh your flour instead of measuring with a cup.

BREAD FLOUR: I like bread flour in pizza dough because I prefer a chewy crust. You can substitute either bleached or unbleached all-purpose flour if you don't have bread flour.

HONEY: I love the taste of honey combined with whole wheat flour. God surely created them to be eaten together. Substitute at your own risk. 🤨

OIL: Olive oil is my calling card for pizza dough. I use it in the dough and for oiling the bottom of the pizza pan. Extra Virgin Olive oil adds so much flavor. Substitutions include avocado, grapeseed, or canola oil.

SALT: This recipe is formulated to contain salt. You can cut back a little, but don't leave it out. The dough will be bland without it, and the dough rise may be unpredictable.

YEAST: Anytime you use a bread machine, instant or bread machine yeast makes it easy. You can also use active-dry-yeast as a substitute. The amounts are the same. You no longer need to dissolve it before using, but be aware that it may rise more slowly.

---
How to mix and knead whole wheat pizza dough in a bread machine: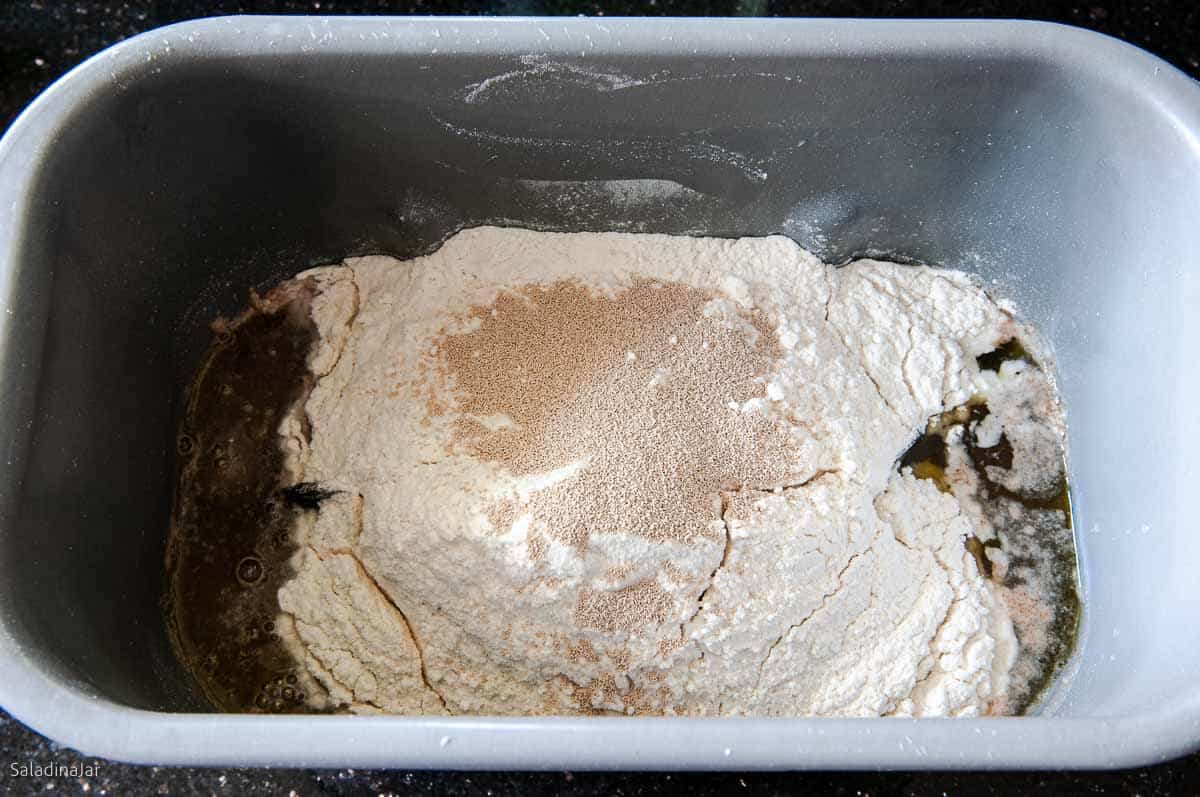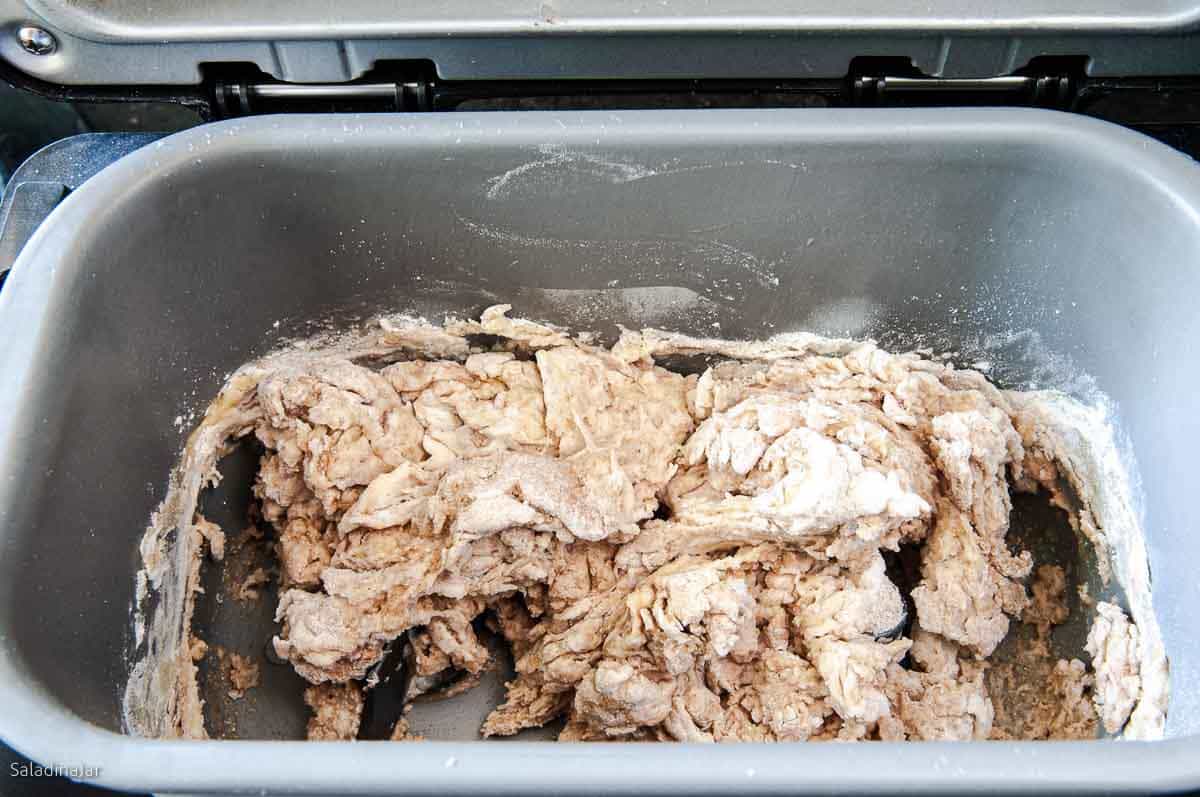 If the dough looks wet, like pancake batter, you probably added too much liquid or too little flour.
If the dough looks like dry and crumbly pancake mix in the box, you likely added too much flour or not enough liquid.
Add whatever is missing immediately until the dough starts to clump.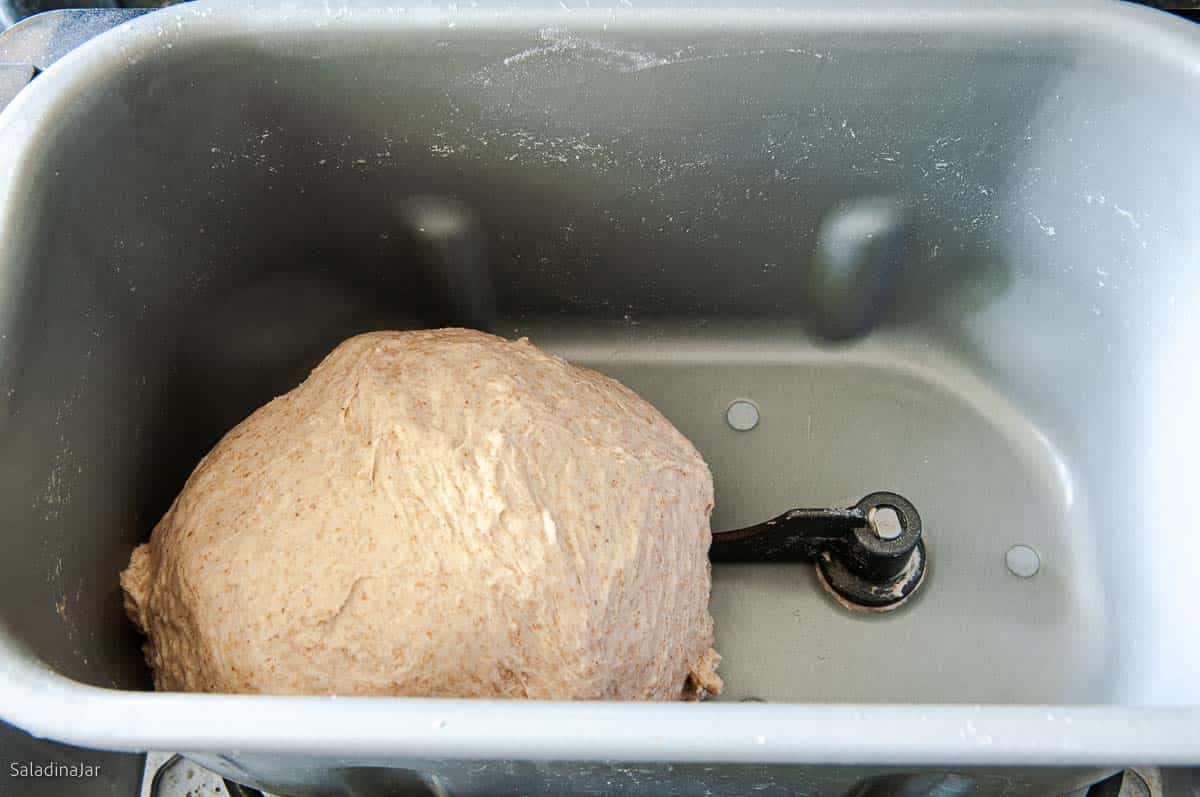 If the dough is too dry and bounces off the sides or rides on top of the paddle, add a teaspoon of water, allowing it to soak into the dough before adding more.
If the dough is too wet and leaves dough on the sides or bottom of the pan, add flour one tablespoon at a time until the dough sticks to the side and pulls away cleanly.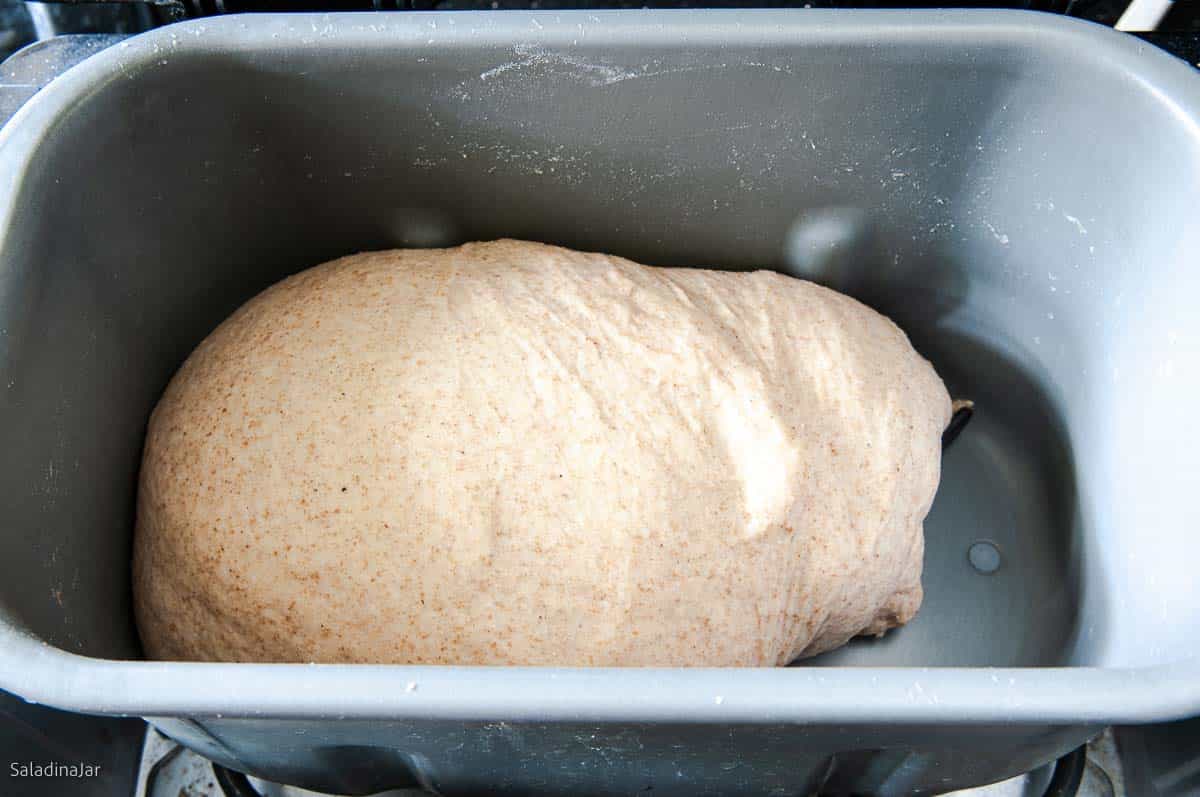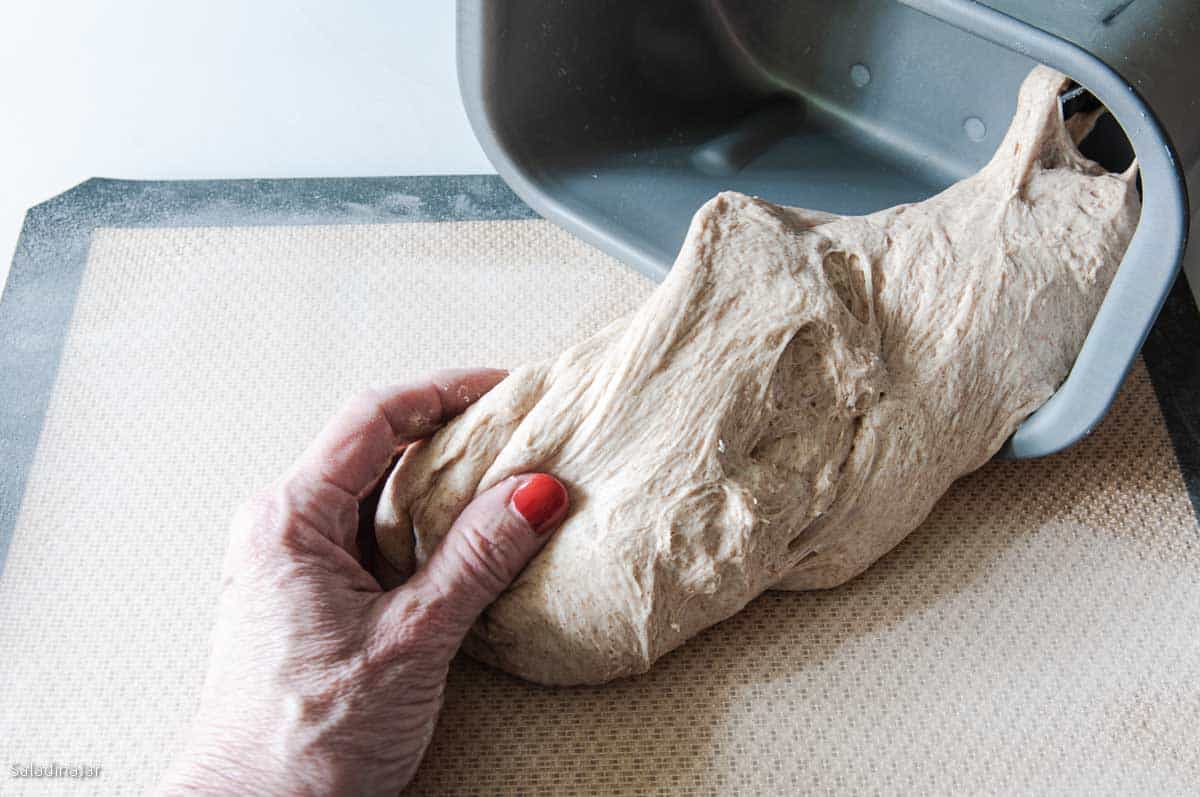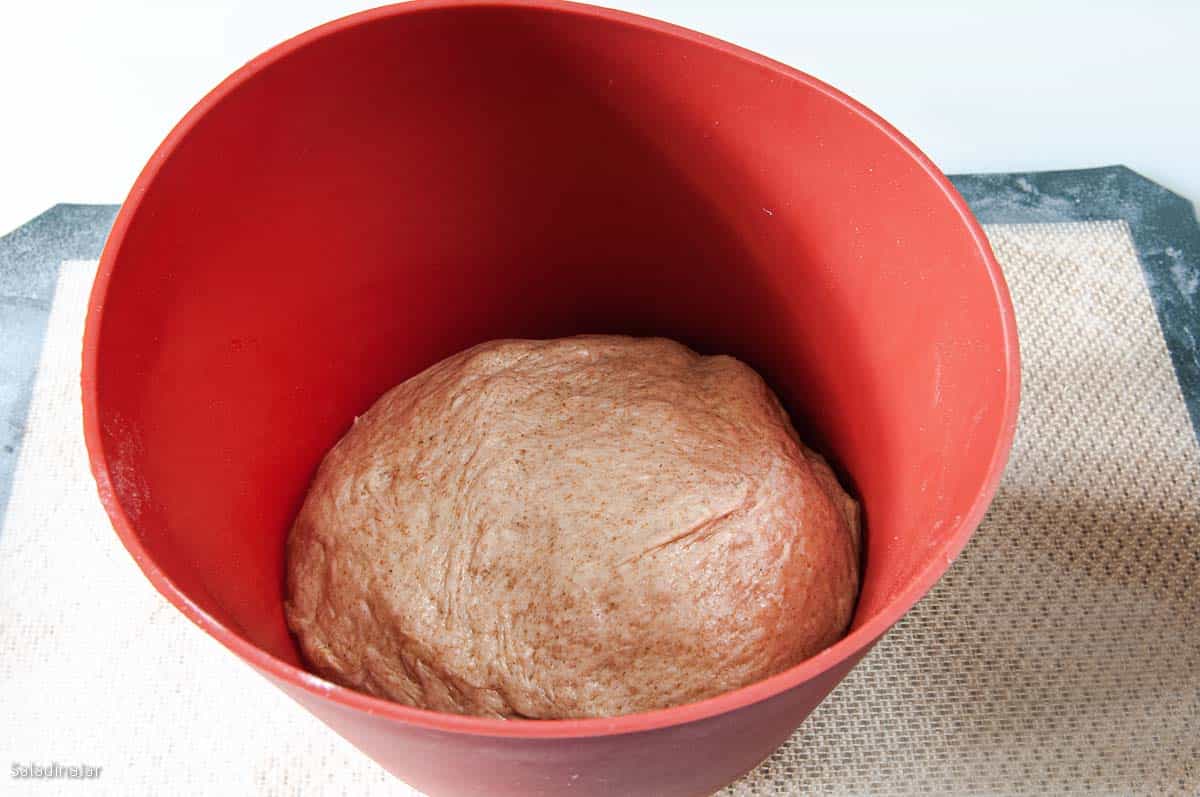 Cover the bowl of dough with a cheap shower cap or cellophane wrap. Place the bowl into the refrigerator for 8 hours or overnight.
---
How to roll out bread machine whole wheat pizza dough: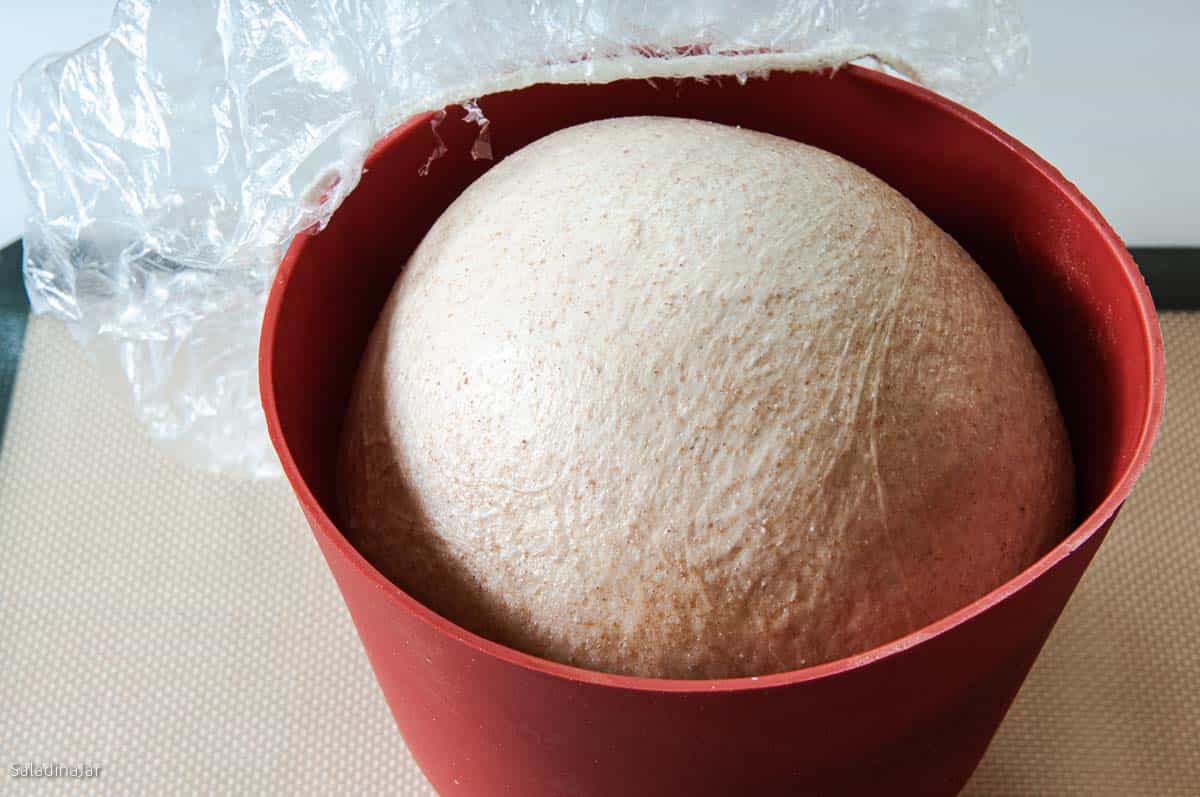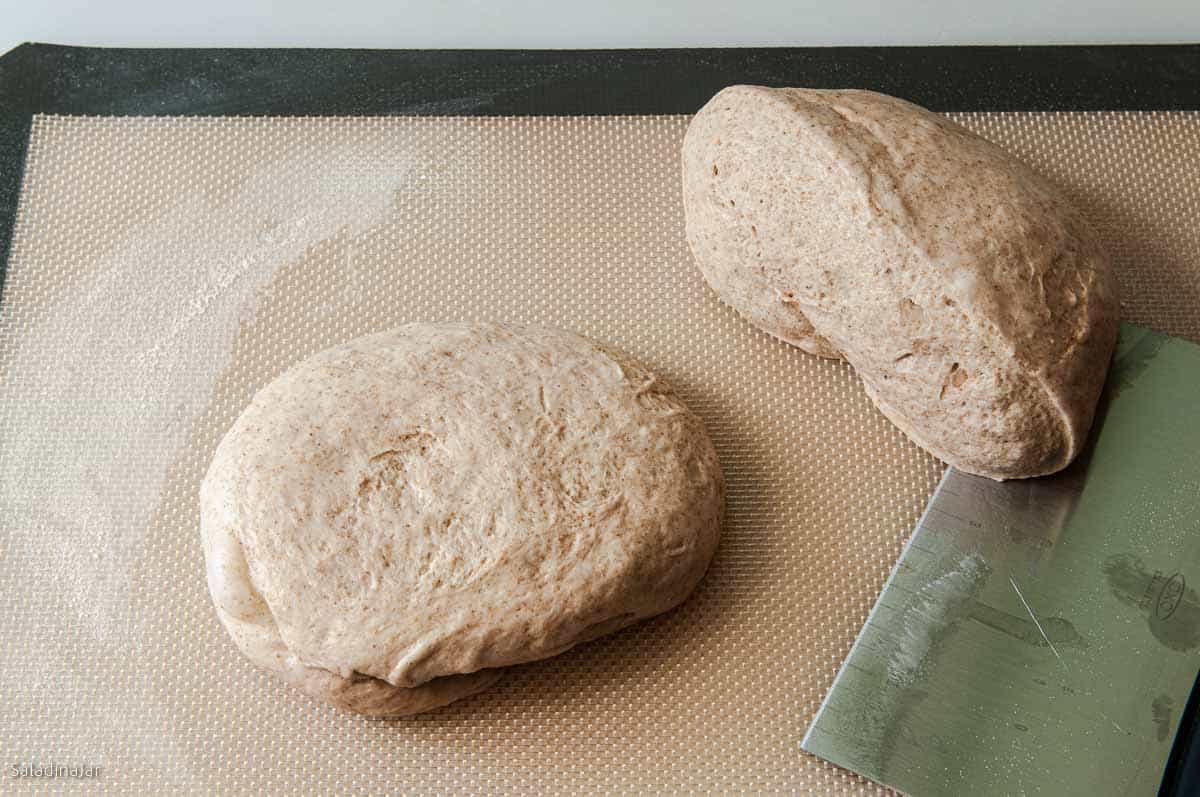 A heavy, dark-colored pizza pan greased liberally with olive oil will give you the nicest crust. USA brand pizza pans(paid link) are not light-colored, but they are heavy enough to produce a crispy crust, too.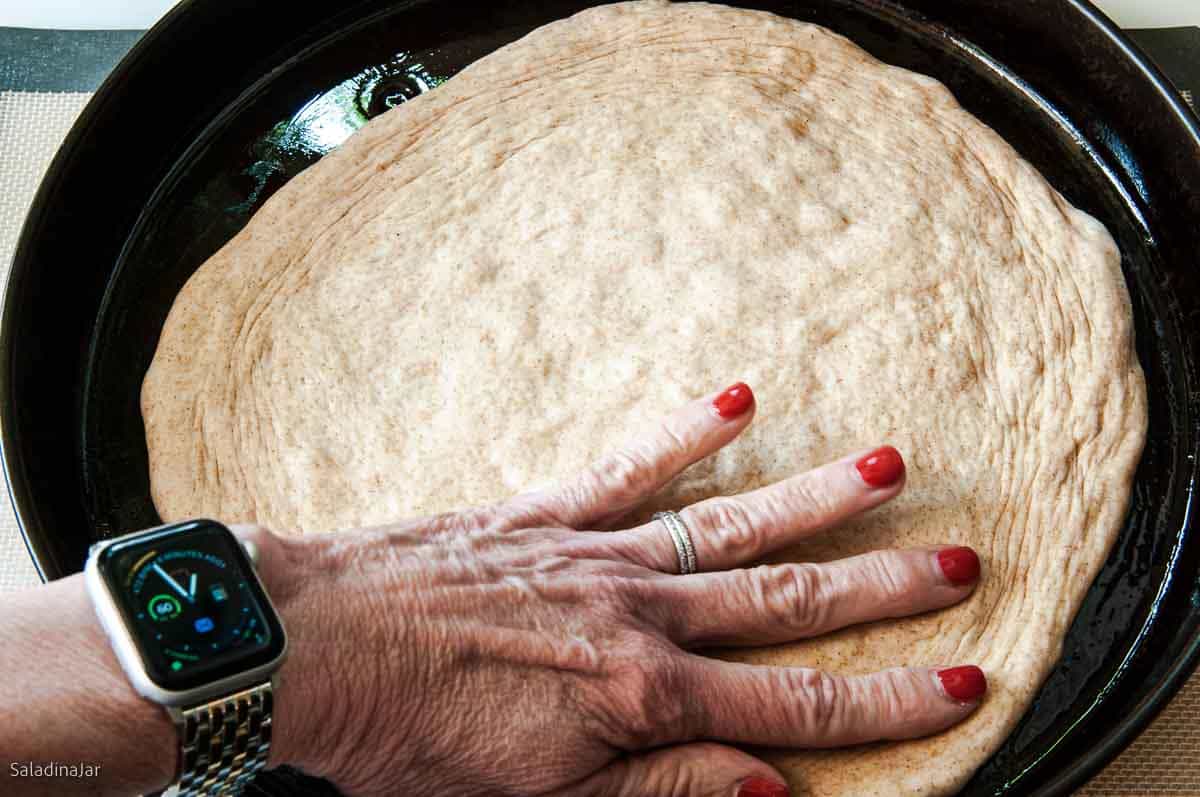 If the dough is uncooperative, treat it like a toddler having a temper tantrum. Take a break. Cover the dough and walk away. When the gluten in the dough has a chance to relax, it will be much more agreeable. Return after 10-15 minutes and try again.
📌Kitchen Secret📌 If you prefer, use a rolling pin to roll the dough thinner and more uniformly before placing it into a pizza pan.
Preheat oven to 475˚F (240˚C).
How to assemble a simple pizza: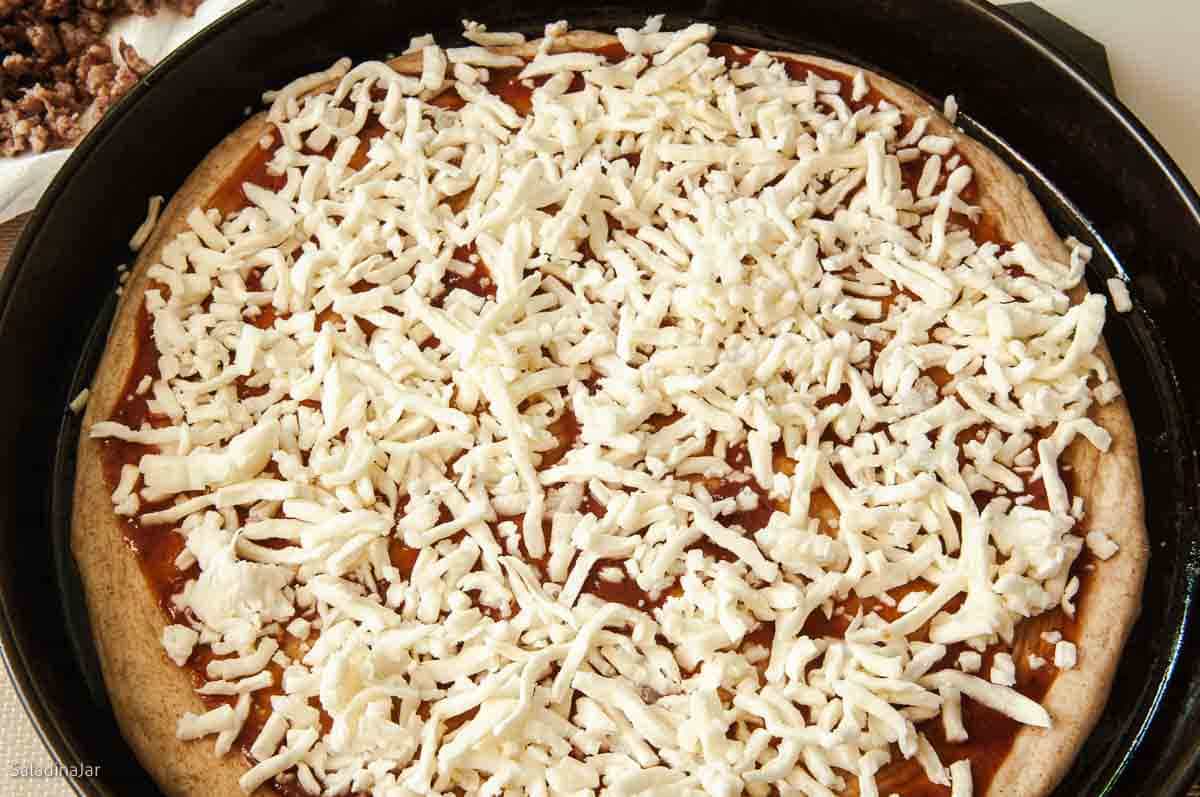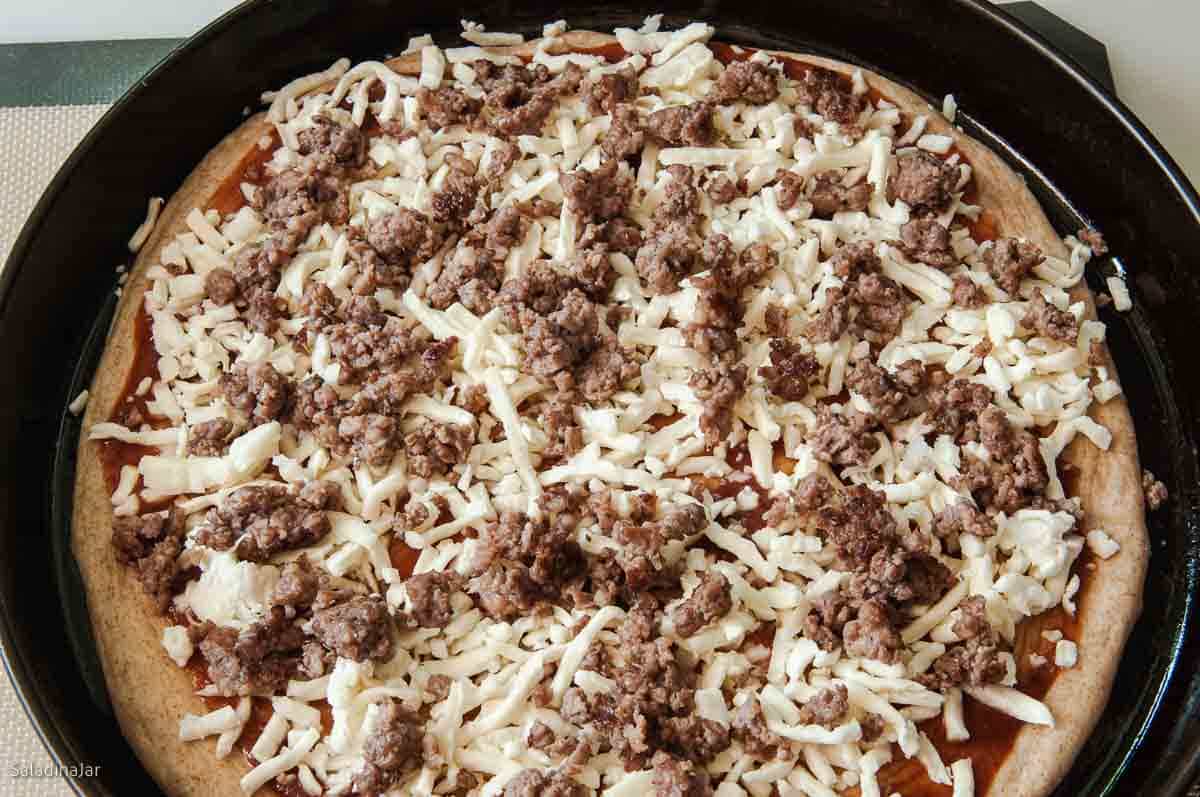 Lower the oven temperature to 425˚F (220˚C) and bake for 10-12 minutes or until the crust is golden brown and the cheese has some brown spots. The number and amount of ingredients used on top will affect the time.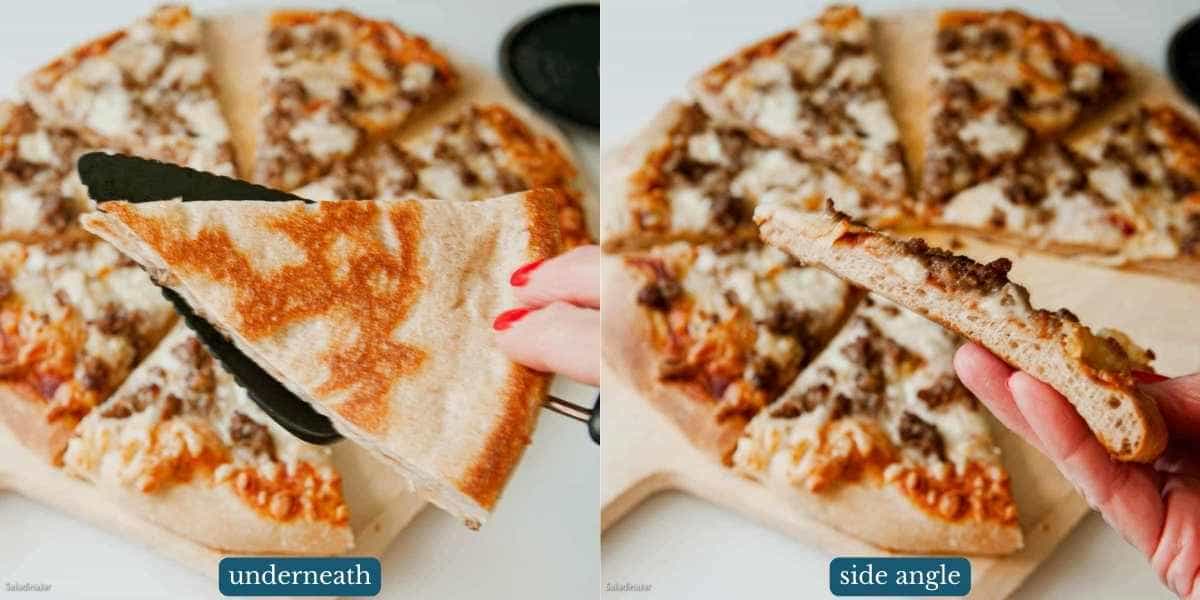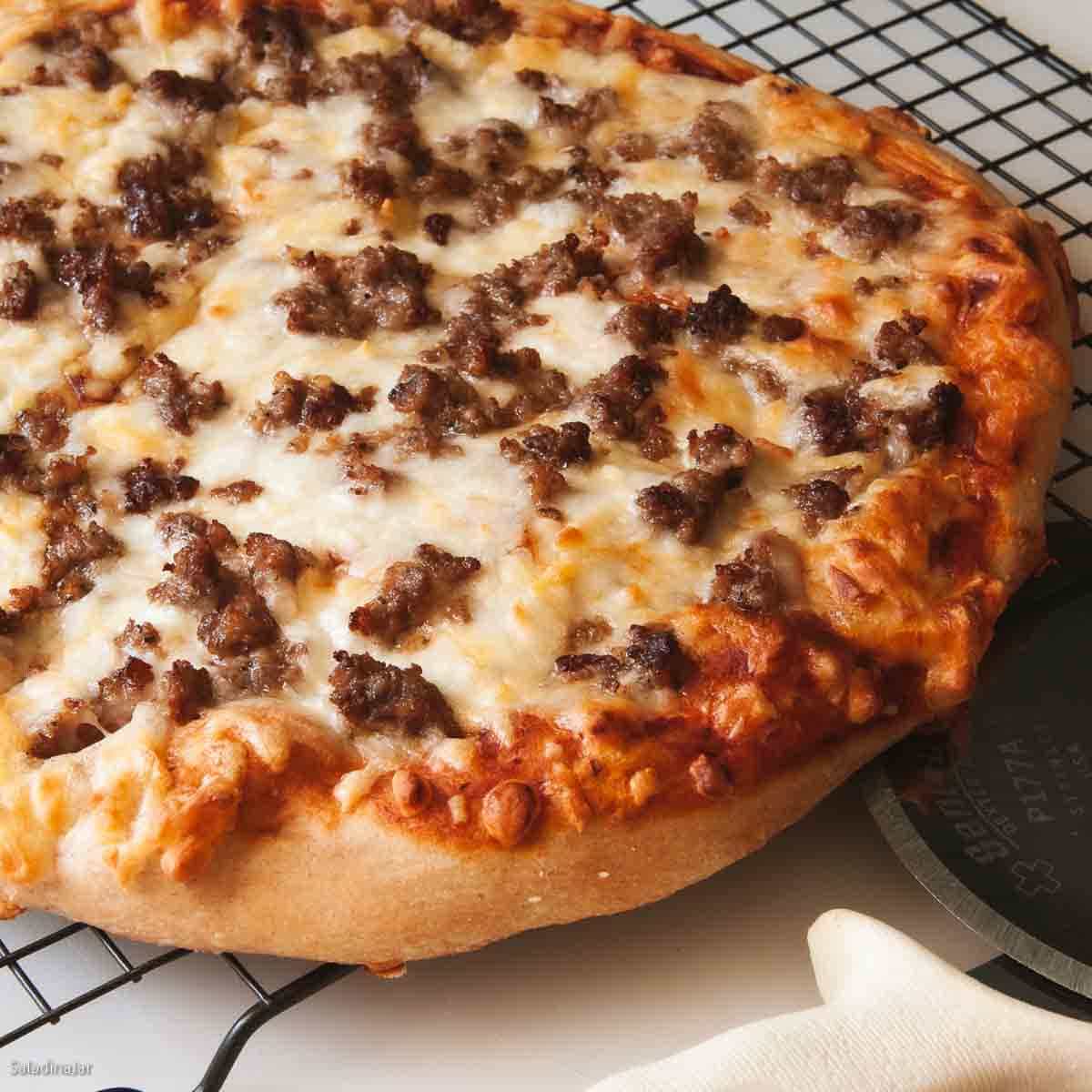 FAQs about Whole Wheat Pizza Dough made with a bread machine:
Can I freeze this dough?
Yes. Double-wrap the dough in plastic bags. Use within one month. Thaw out in the refrigerator before using.
Can I use all-purpose flour instead of bread flour?
Yes. For other substitution possibilities for this recipe, see the "Ingredients and Substitutions" box earlier in this post.
What is the best way to reheat leftover pizza?
An air fryer works great, and it doesn't take long. A microwave takes even less time, but the crust will not be crispy. If you aren't in a hurry, place cold baked pizza in a cast iron skillet and slowly heat it on the stove.
Parting thoughts: I have a rule of thumb about assembling pizzas. You should be able to see glimpses of the layer below. Go back and look at each of the three pictures above.
If you can't see small patches of the crust through the sauce, you probably used too much.
If you can't see spots of sauce through the cheese, you may have overdone it.
If you can't see a few shreds of cheese between the toppings, your crust will have difficulty baking up golden brown and crispy.
Read more secrets for making a good pizza at home.
---
More recipes for pizza lovers:
Help at Your Fingertips: For questions or suggestions, email Paula at saladinajar.com. If you need help, I'm happy to troubleshoot via email (faster than leaving a comment). Attach pictures and as many details as possible for the best advice.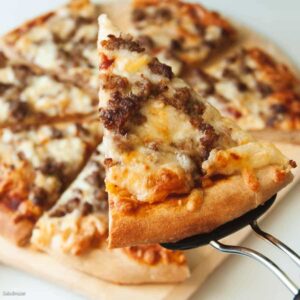 Bread Machine Whole Wheat Pizza Dough with Honey
This Honey Whole Wheat Pizza Dough recipe has directions and amounts appropriate for a bread machine. The dough benefits from spending one night in the fridge before using it.
Share recipe love here. ⬇
Ingredients
1

cup

(

227

g

)

warm water

3

tablespoons

(

63

g

)

honey

2

tablespoons

(

28

g

)

olive oil

1-1/2

teaspoons

salt

1

cup

(

120

g

)

whole wheat flour

2

cups

(

240

g

)

bread flour

2

teaspoons

bread machine or instant yeast
Instructions
Put all ingredients into your bread machine in order listed:

1 cup

(

227

g

) warm water,

3 tablespoons

(

63

g

) honey,

2 tablespoons

(

28

g

) olive oil,

1-1/2 teaspoons

salt,

1 cup

(

120

g

) whole wheat flour,

2 cups

(

240

g

) bread flour, and

2 teaspoons

bread machine or instant yeastSet the machine on the DOUGH cycle and press start.

When the dough cycle completes, remove the dough to a large bowl (cover tightly) or pop the dough into a gallon-sized zippered bag and refrigerate overnight.

Approximately 2 hours (less in my warm kitchen) before you plan to put together your pizza, remove the dough from the fridge.

Divide in half and form each half into a smooth, rounded ball. At this point, I place each ball into a well-oiled pizza pan and cover with plastic wrap.

When the dough has warmed and it looks puffy, preheat oven to 450˚ F.

Use your hands and fingers to flatten the ball until it is the thickness you prefer. I use a 13″ pizza pan and try to press it to the edge. If you tear it or make a hole, patch it with your fingers.

Assemble pizza in this order: Sauce first, then cheese, then meat or other toppings. If I have enough, I usually sprinkle a little more cheese over the top.

Pop into the oven and turn the temperature back to 425˚F (220˚C) How long you bake the pizza will depend on how liberal you were with the toppings, and your specific oven, so I hesitate to be specific about the time. My pizzas usually take around 12 minutes, but yours might be different, so watch carefully after the first 10 minutes.
Notes
Directions for making bread with a stand mixer or by hand:

To make this recipe in a heavy-duty stand mixer: Add ingredients to the bowl in the same order. Turn on LOW to mix until all ingredients are moistened. Then, using a dough hook, turn the speed to 2 or 3. Continue beating/kneading until dough becomes smooth and elastic (about 5-10 minutes). Cover and allow to rise in a warm place. Deflate dough gently and shape as indicated in the recipe.
If making by hand: Combine all ingredients into a shaggy ball in a large bowl. Turn dough out onto a floured surface. Knead with your hands until the dough becomes smooth and elastic. This will likely take 10-20 minutes, depending on your experience. Place the dough ball into a greased bowl. Cover and allow to rise until double. Deflate the dough gently and shape as indicated in the recipe.
Please note: You can substitute active dry yeast. Dissolving it first is optional. It tends to rise slower in the beginning but will catch up eventually.
Nutrition
Serving:
16
slices
|
Calories:
114
kcal
|
Carbohydrates:
21
g
|
Protein:
3
g
|
Fat:
2
g
|
Saturated Fat:
1
g
|
Polyunsaturated Fat:
1
g
|
Monounsaturated Fat:
1
g
|
Sodium:
75
mg
|
Potassium:
59
mg
|
Fiber:
2
g
|
Sugar:
3
g
|
Vitamin A:
1
IU
|
Vitamin C:
1
mg
|
Calcium:
6
mg
|
Iron:
1
mg
HELP OTHERS find this recipe. Leave a 5 🌟🌟🌟🌟🌟 rating at the top of the recipe card if you enjoyed it. No comment is required.