Have you tried Meyer lemons yet? The tartness of a lemon + the sweetness of a tangerine = a Meyer lemon. Perfect for these lemon squares. They're in season from January to April, so act fast.  Otherwise, you can use regular lemons.
Over at Will Write for Food (an interesting website about the art of food blogging), Dianne J. recently hosted a lively discussion concerning what constitutes an adapted or inspired recipe, an original recipe and outright stealing. After testing and tweaking these bar cookies at least 4-5 times, I'd like to think this recipe is all mine but I actually borrowed ideas from many places.
The crust is adapted from the shortbread cookie base in Pam Anderson's The Perfect Recipe for Losing Weight & Eating Great (one of my favorite cookbooks). Can't tell you how much I have enjoyed this recipe. You've seen it before in my Toffee Bars Made Easy and you'll be seeing it again
I read about lemon grass bars in a recent issue of Bon Appetit. They added coconut to the shortbread base so I did it too. Wow!  If you're a coconut lover or even if you're not, don't miss this one.
Dorie Greenspan gave me the idea to use a blender to pulverize a whole lemon in her recipe for Tartest Lemon Tart published in Baking From My House to Yours. Sure beats grating lemon rind and I'm more than happy to skip squeezing lemons with their nosy seeds.
I wanted a creamy lemon layer as opposed to a clear, lemon pie-like filling. Since I always have nonfat Greek yogurt in the refrigerator, it turned out to be the perfect addition to these lemon cookies.
My co-workers have been bugging me for this recipe for some time now so here it is as promised.  Since I'm pretty sure you won't find it anywhere else, print and save it.  It'll be a treat for the lemon lovers in your life.
Meyer Lemon Yogurt Squares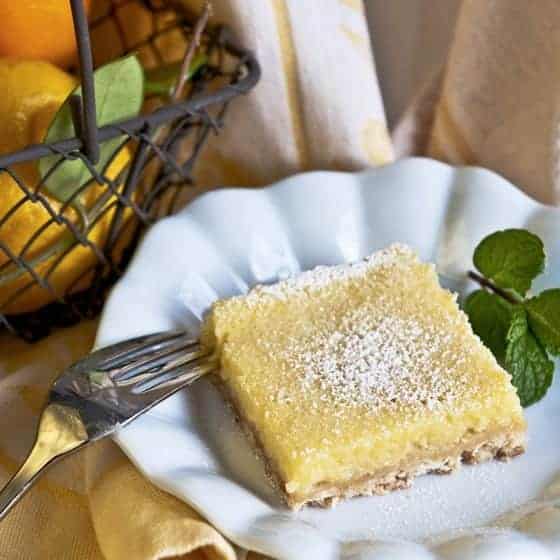 Author:
Paula (Salad in a Jar)
Lemon Bars with a coconut shortbread base and a creamy lemon layer over the top. Uses the entire lemon (minus seeds)--no grating or squeezing required.
Ingredients
Shortbread Base
1 cup flour
¼ cup powdered sugar
¼ cup butter
¼ teaspoon salt
½ cup shredded coconut
Lemon Layer
1 whole Meyer lemon (may substitute a medium-size regular lemon)
1 cup sugar
1 tablespoon flour
¼ teaspoon salt
½ teaspoon baking powder
2 eggs
⅓ cup plain Greek yogurt (I use nonfat)
Instructions
Prepare 8-inch square pan by lining with non-stick foil. Mold foil to shape of pan by turning it over, using hands to shape and then placing molded foil back inside. See pictures above. I highly recommend the foil as the lemon filling can leak under the base and make the finished bars difficult to remove.
Melt butter in microwave for 50 seconds on HIGH in 4 cup or more glass measure. Add flour, powdered sugar, salt, and coconut. Lightly mix with a fork just until all ingredients are moistened. Pat into prepared pan. Bake in oven preheated to 350 degrees F for 20 minutes.
Quarter washed and dried Meyer lemon. Trim center core and remove ALL seeds. (If you miss one, you'll have dark specks in your lemon layer.) Place in blender with sugar and pulse on high until mixture is homogeneous throughout, cleaning the sides often. Add flour, salt, and baking powder, pulsing until mixed. Add eggs and yogurt pulsing only 3-4 times or until batter is just mixed but smooth. Pour lemon mixture over warm crust immediately after removing crust from the oven. Put back into the oven and bake at 300 degrees for 20 minutes or until middle is set.
When cool, place in refrigerator to chill for at least 2 hours. Pull bars out of pan with foil still attached. Peel foil away and cut into squares while cold. Sprinkle with powdered sugar just before serving. Serve chilled. Store leftovers in refrigerator.
Notes
* Do not layer bars when storing or serving. The crust will soften where they are stacked on top of each other. * Regular lemons may be substituted for Meyer lemons but the taste will be a bit more tart--still very good.
Related Posts