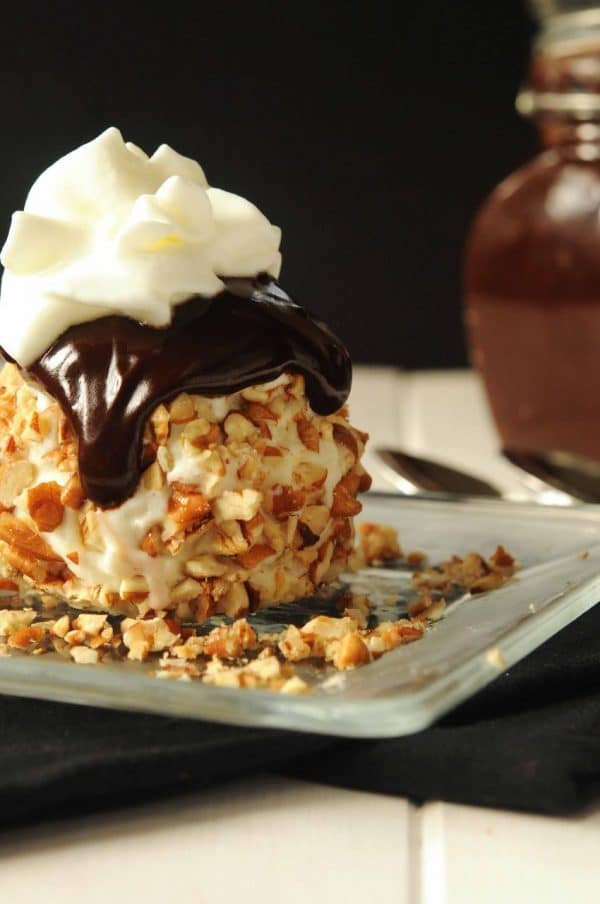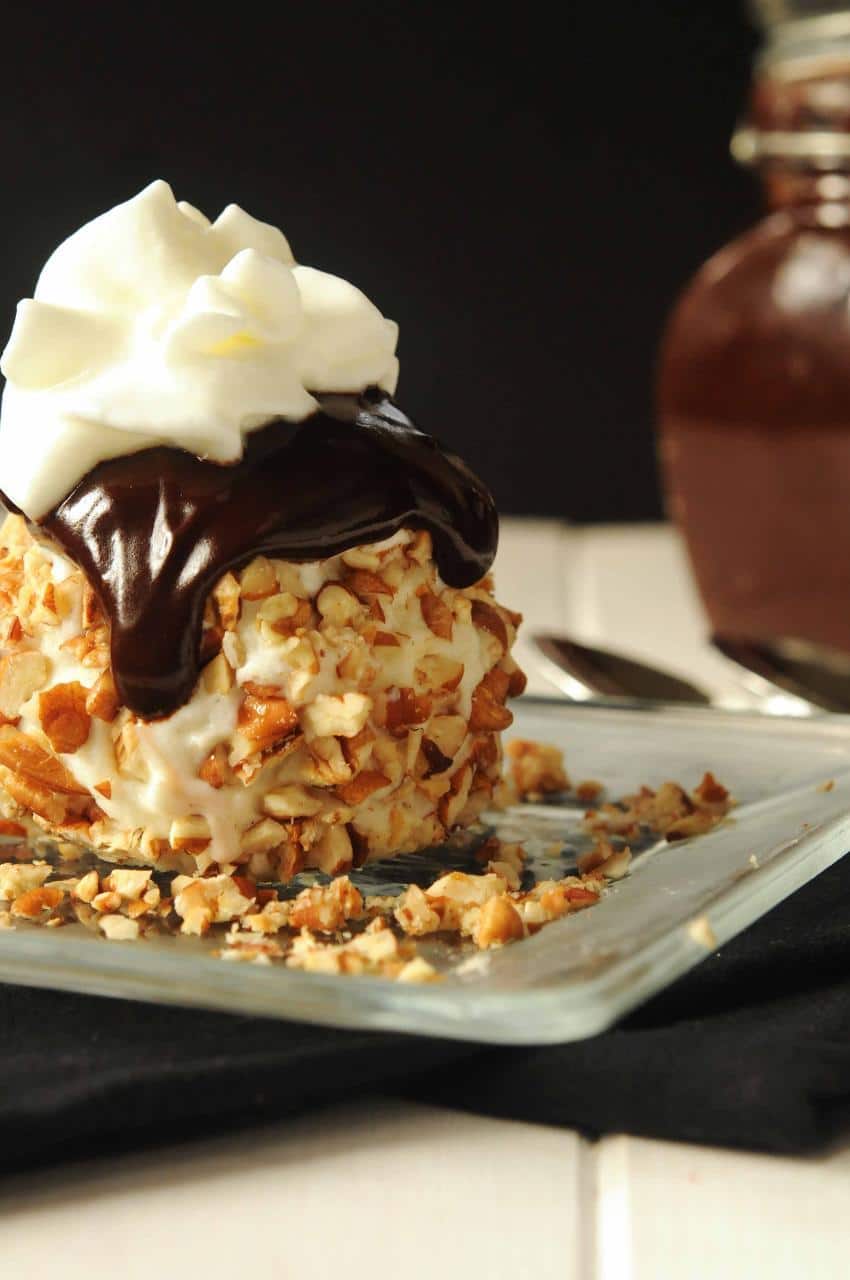 Normally I don't think about Easter dinner anytime before Good Friday. But my relatively new blogging addiction has me thinking about dessert already. Since dinner will be after church, I want something I can prepare ahead of time–as in DAYS ahead of time. I think these retro Pecan Covered Ice Cream Balls with Hot Fudge Sauce will be perfect.
Helen Corbitt, one of the greatest influences on my cooking because of my previous job in the kitchen at The Greenhouse, published this wonderful hot fudge sauce recipe in Helen Corbitt's Cookbook. She called for using a double boiler and 30 minutes on the stove.  I prefer to use my microwave for the same delicious results.
Time for my trusty 2-quart glass batter bowl.   Two trips to the microwave and a good beating will produce a thick, rich, glossy, fudgy sauce you can reheat (in the microwave if you are careful) at a moment's notice.  Or pour into a pretty glass jar and give it away.
Ms. Corbitt also gave me the idea of ice cream balls.  I usually use vanilla but coffee, chocolate chip, mint, cherry, etc. would all work.  Toasting whatever nuts you decide to use will bring out the flavor. Chopped candy or colored sprinkles would work in place of nuts.
Ice Cream Balls

Scoop out ice cream.  Using plastic gloves, quickly mold ice cream into a rough ball and drop on pile of toasted, chopped and cooled nuts. Roll to cover completely and return to the freezer to harden.  Wrap well to store.
Pecan Covered Ice Cream Balls with Hot Fudge Sauce
Ice cream balls rolled in toasted pecans and served with hot fudge sauce
Ingredients
½ cup butter
2¼ cups powdered sugar
⅔ cup evaporated milk
6 squares unsweetened chocolate
¼ teaspoon salt
1 teaspoon vanilla extract
Cream
Instructions
In 2-quart Pyrex batter bowl, melt butter in the microwave for 1 minute, 15 seconds on HIGH. Stir in powdered sugar.
Lay chocolate on top of sugar mixture in glass bowl and pour milk over all. DO NOT STIR. Microwave on MEDIUM for 8 minutes. Check after 5 or 6 minutes. Chocolate should just be melted--no more. If you prefer, heat in a double boiler for 30 minutes.
Remove from microwave and add salt and vanilla extract. Beat--slowly at first and then more vigorously. A portable mixer works perfectly but you could also use a whisk. Keep beating until silky smooth. Add cream 1 tablespoon at a time if sauce is too thick but never add water.
Store sauce in the refrigerator and reheat as needed.