Preview: Pecan Ice Cream Balls Recipe with Hot Fudge Sauce is ice cream formed into balls, rolled in toasted pecans, and served with homemade hot fudge sauce.
Looking for a make-ahead dessert? If you have room in your freezer and a gallon of ice cream, you're set. Make the pecan ice cream balls ahead of time and reheat the fudge sauce at the last minute.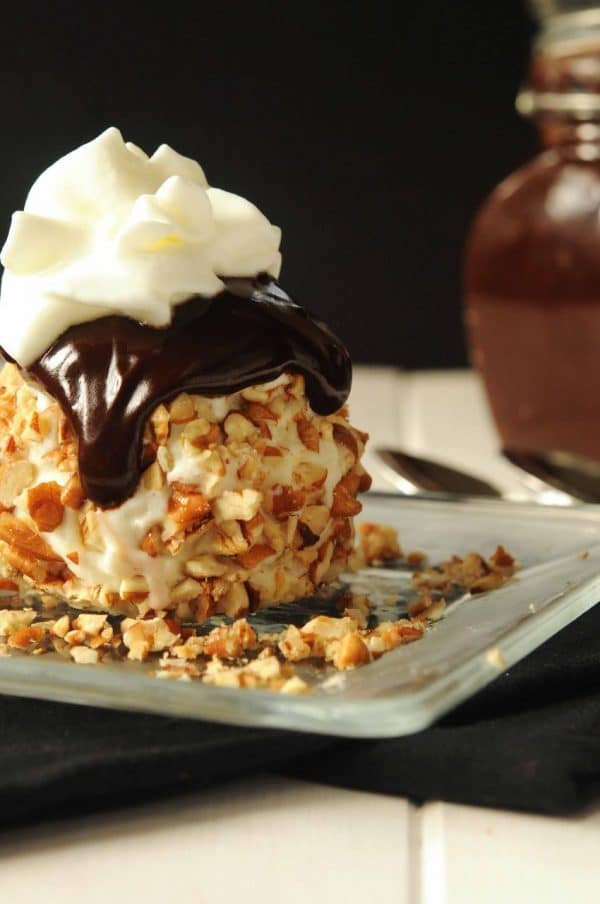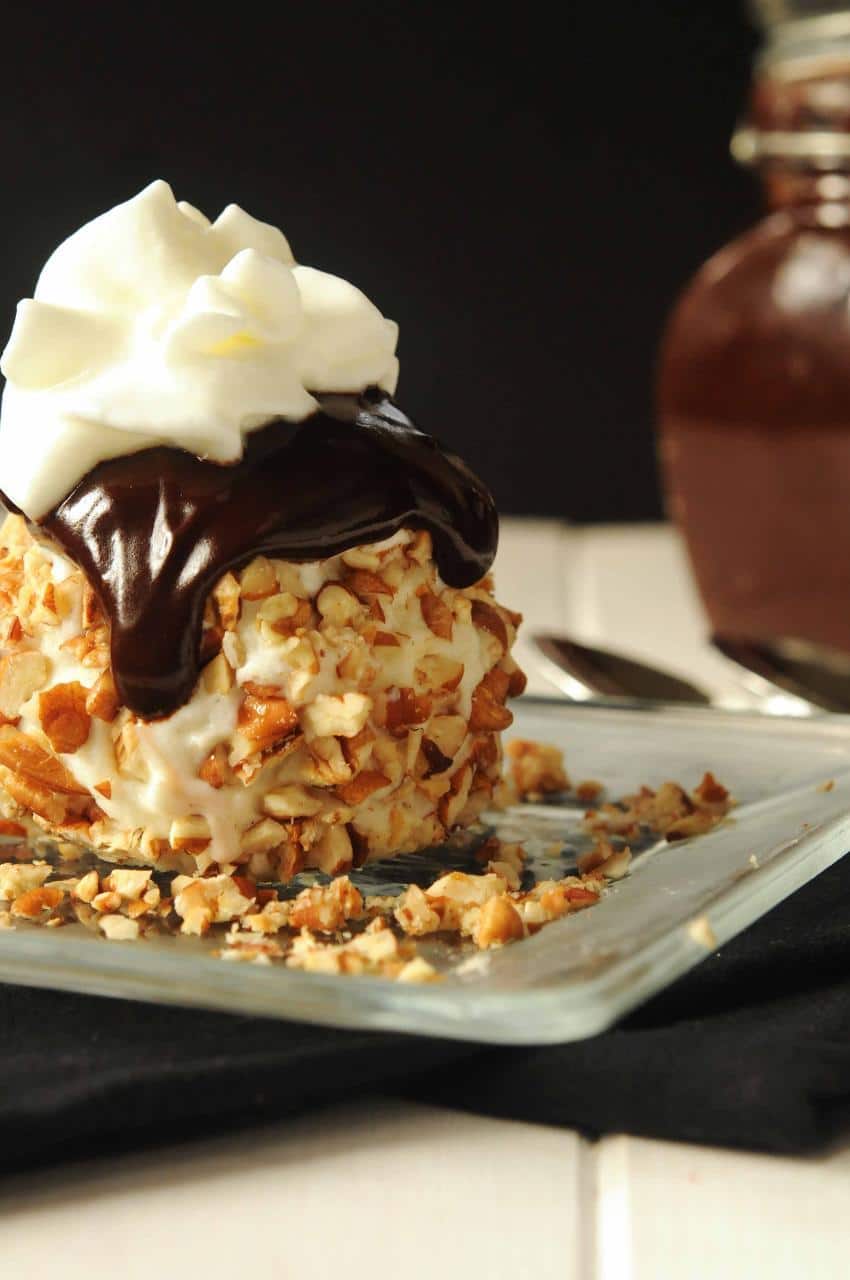 Normally I don't think about Easter dinner anytime before Good Friday. But my relatively new blogging addiction has me thinking about dessert already.
Since dinner will be after church, I want something I can prepare ahead of time–as in DAYS ahead of time. I think these retro Pecan Ice Cream Balls with Hot Fudge Sauce will be perfect.
Helen Corbitt was one of the greatest influences on my cooking because of my previous job in the kitchen at The Greenhouse. She published this wonderful hot fudge sauce recipe in Helen Corbitt's Cookbook. Her directions called for using a double boiler and cooking for 30 minutes on the stove.
Using your microwave to make the fudge sauce:
I prefer to use my microwave for the same delicious results in a third of the time.
First, I get out my trusty 2-quart glass batter bowl. Two trips to the microwave and a good beating will produce a thick, rich, glossy, fudge-y sauce you can reheat (in the microwave if you are careful) at a moment's notice. Or pour the sauce into a pretty glass jar and give it away.
Variations:
Ms. Corbitt also gave me the idea of making ice cream balls. I usually use vanilla but coffee, chocolate chip, mint, cherry, etc. would all work. Toasting whatever nuts you decide to use will bring out the flavor. Kids will go crazy for chopped candy or colored sprinkles instead of nuts.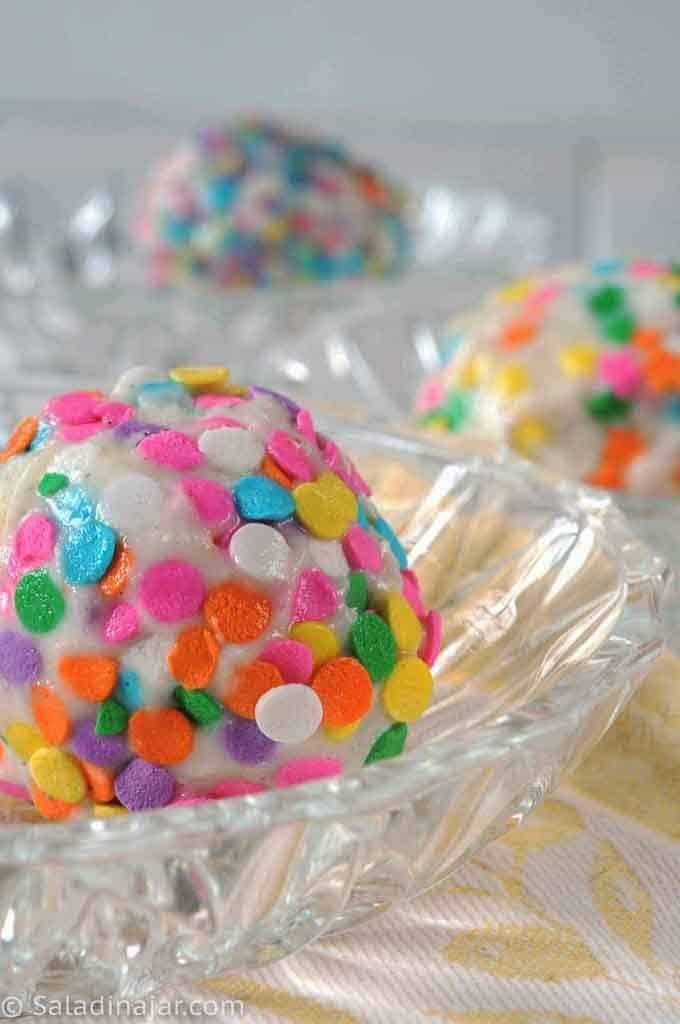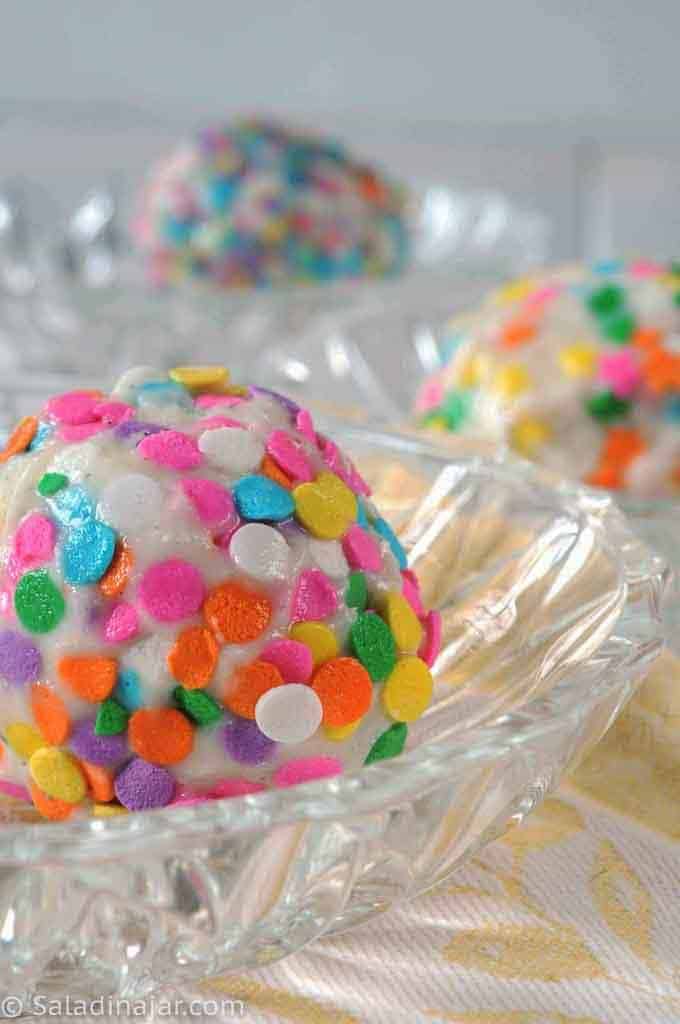 How to make Ice Cream Balls and cover them with pecans or candy:
Scoop out ice cream. Using plastic gloves, quickly mold ice cream into a rough ball and drop it on a pile of toasted, chopped, and cooled pecans or candy sprinkles. Roll to cover completely and return to the freezer to harden. Wrap well to store.

Did you enjoy this recipe? If so, you can help others and me by leaving a 5-star 🤩 rating inside the recipe below. No comments required.
Hope to see you again soon!
Paula
p.s. If you have any questions or suggestions, you can email me privately: paula at saladinajar.com.
Related Posts:
If you enjoyed this recipe, it would help others and me if you give it a five-star rating inside the recipe card below. 🤩 No comment required. Thank you.

Hope to see you again soon!
Paula
p.s. Questions or suggestions? Email me: paula at saladinajar.com.
---