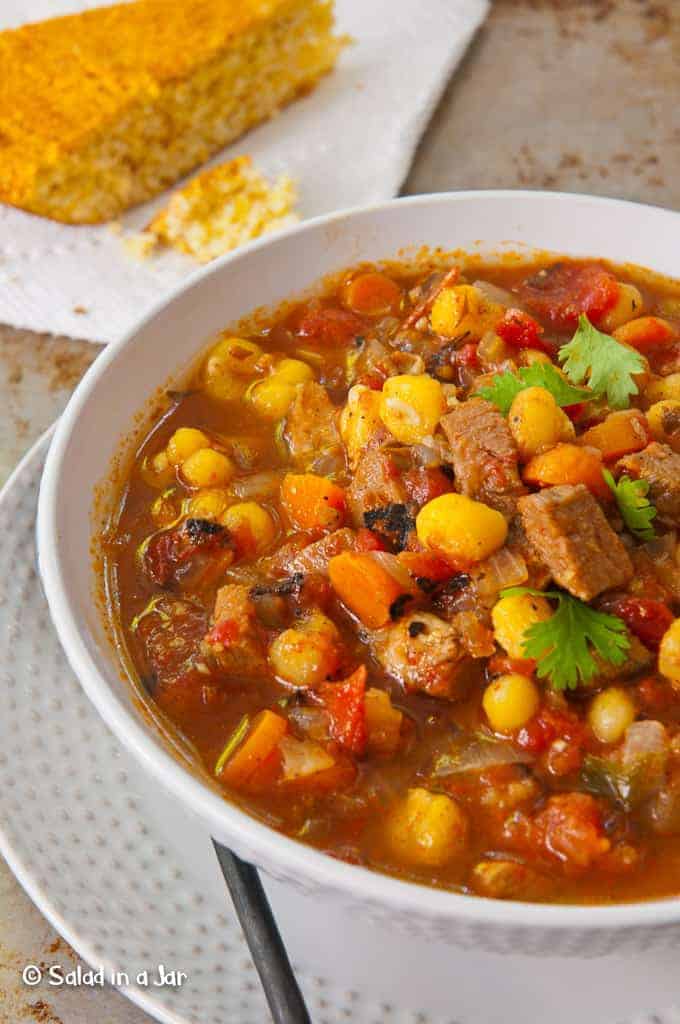 Question:  How is a pork roast like a Thanksgiving turkey?
Answer:  Sometimes the leftovers seem to last forever.
Maybe not at your house, but since it's only my husband and me hanging out here, a pork roast can be a long-term commitment. This is my go-to recipe to recycle leftover pork. In fact, this soup is so tasty and comforting, I've been known to cook a pork roast just so I can have Pork and Hominy Stew the next day.
Have you hopped on the electric pressure cooker wagon yet? I'm a gadget person so I've had one for awhile and absolutely love it. Actually, I was raised on food cooked in a pressure cooker so it feels quite normal in a retro way, except that my mom's pressure cooker was a stove-top affair.  Fortunately, I have no good explosion stories. My electric cooker is very quiet but I'll admit I kinda miss the sound of the happy "rocker".
If you are new to this type of cooking, be warned that it will take longer than 7 minutes (the amount of time you set on the timer) to cook the soup. First, the pot has to come to a certain pressure level before the timer kicks in. How much time this process adds will depend on the temperature of the ingredients. Imagine how much more time it would take to heat 4 cups of cold broth than 4 cups of hot broth and you can begin to understand what I'm talking about.
Kitchen secret alert: When you need dinner on the table as fast as possible, heat all liquids (I just pop them in the microwave) and avoid putting any frozen ingredients in your cooker. You don't HAVE to do this, it's just a shortcut for getting your cooker up to pressure faster so it can get started sooner on the actual time your food cooks under full pressure.
Don't feel left out if you don't have a pressure cooker. Follow steps 1-3 in a large pot on top of the stove. Instead of step 4, add the remaining ingredients and simmer for about 30-40 minutes. You could also make this in a slow cooker and let it cook all day but I would only do that if it's convenient since long cooking is not really necessary.

Pork and Hominy Stew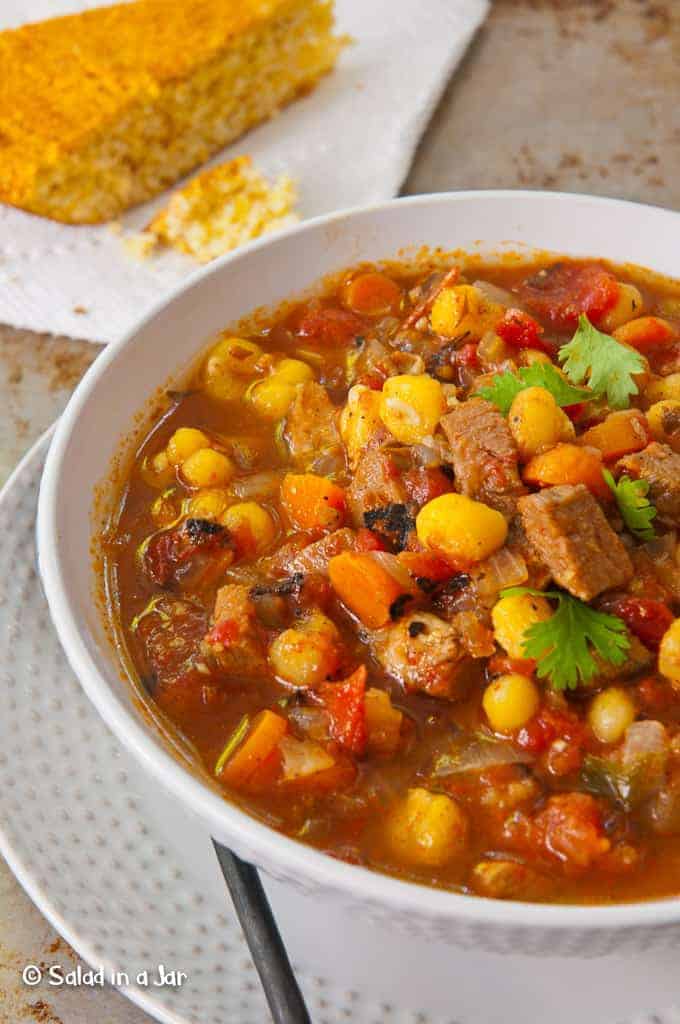 Author:
Inspired by a recipe from the Eastside Cafe in Austin
A delicious way to use leftover roast pork with directions for making in an electric pressure cooker.
Ingredients
2 tablespoons vegetable oil (I use avocado oil)
1 medium onion, finely diced
1 stalk celery, finely diced (optional)
2-3 carrots, finely diced
1 tablespoon fresh garlic, finely chopped
2-3 cups roast pork, diced
4 cups chicken broth
1 15½-ounce can hominy, drained
1 14½-ounce can fire-roasted diced tomatoes (can substitute regular diced tomatoes)
½ teaspoon fresh oregano, finely chopped (or substitute ¼ teaspoon dried)
1 tablespoon chili powder
1 teaspoon ground cumin
½ teaspoon salt
½ teaspoon freshly ground pepper
2 teaspoons fresh cilantro, chopped, for garnish
Instructions
Press Sauté (not using the lid at this point) and allow to preheat until it says HOT. Add oil and chopped onions and cook for about 3-4 minutes, stirring frequently until onions are softened.
Add celery and carrots and continue cooking for another 4-5 minutes, stirring often.
Add garlic and sauté 1-2 minutes. Press the "cancel" button.
Add remaining ingredients, except cilantro, to Instant Pot and stir to combine. Place the lid on and make sure pressure lever is turned to the back. Press the "Manual" button and then adjust the time by using the + or - button to set for 7 minutes on HIGH Pressure. Alternatively, you could press the "Soup" button and use the - button to reduce the time to 7 minutes.
When finished, pressure can be released immediately (manually--be careful of steam) or allow pot to lose pressure naturally (do nothing) and it will automatically keep your soup warm until you are ready to eat.
Add chopped cilantro if using.
Notes
If you don't have a pressure cooker, follow steps 1-3 in a large pot on top of the stove. Instead of step 4, you will add all the ingredients to the pot and and simmer for about 30-40 minutes.

If you are really in a hurry, heat the broth in the microwave while you are cooking the vegetables so that Instant Pot will come to full pressure faster.
**This is not a sponsored post. I have no relationship with Instant Pot. I purchased mine with my own money so I could give you my honest opinion.
Other posts you might find interesting: