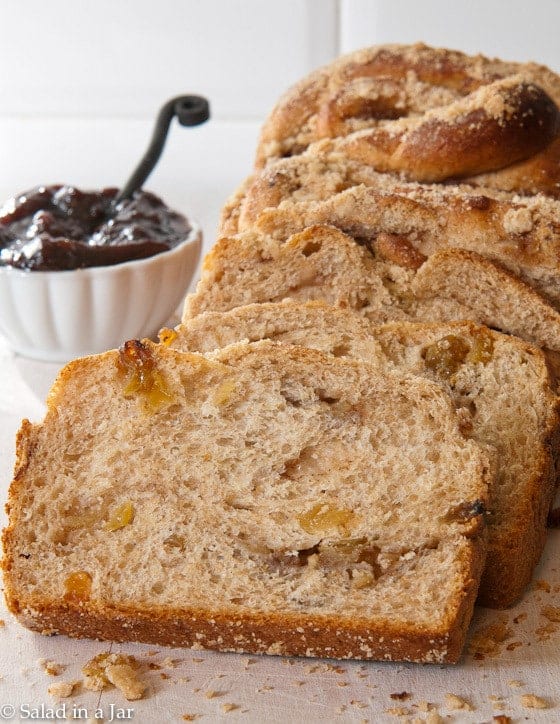 If you ask Pinterest, one of the most popular posts on this blog is entitled "Apples in a Bag." It's super easy with only 4 ingredients and makes a healthy snack or dessert for 1-2 people. Add the apples to a bowl of oatmeal or plain yogurt, or use them to make a "sauce" for bread pudding. My personal favorite is to serve as a dip with cinnamon tortilla chips.
Since I'm a bread-machine freak, I thought it was high time to create a bread recipe incorporating "Apples in a Bag."  You probably aren't surprised to hear it also includes Greek yogurt (but you can substitute buttermilk if you prefer) which results in a tender crumb not unlike my favorite cinnamon rolls. It's perfect to make in the days leading up to Christmas because it only gets better after hanging around for a day or two.
Top this apple-studded loaf with a streusel topping as seen above, or ice it with powdered sugar frosting as seen below. Frosting will make your loaf taste very similar to a huge cinnamon roll. If you want to be really decadent, pour frosting on top of a streusel-topped loaf. I don't recommend frosting if you don't have enough mouths available to eat the entire loaf immediately. Storing iced bread in a plastic bag can be messy business.
When it comes to yeast bread, I get tons of questions about how to make it ahead of time. But with this recipe, go ahead. Make it and bake it. The bread only gets better the next day or two or three. It also freezes well after it has been baked.
When I was creating this loaf, I wanted the top to be uneven and craggy with apples peeking through. I settled on two different methods of assembly. The first shown below is my favorite but is a bit trickier to accomplish. In a nutshell, roll the dough out like you would for cinnamon rolls, and sprinkle the cooled apple filling over the dough. Roll into a long cylinder and pinch the dough to seal. Use the sealing line as a guide for cutting the cylinder in half the length-wise. With cut sides up, place each "half-pipe" into a prepared loaf pan in an S shape as illustrated in the picture below. Allow to rise until almost double, sprinkle with streusel, then bake as directed.
The second method might be easier if you are a novice baker. After rolling the dough into a long cylinder and sealing it (as seen in the pictures on the left side above), the same way you would for cinnamon rolls, slice the cylinder crosswise into six large slices and set on end in a loaf pan. Let rise until almost double. Sprinkle with streusel if using. Bake as directed.
Whole Wheat Apple Pie Yeast Bread
A sweet yeast bread to mix and knead in a bread machine, then baked in a conventional oven
Ingredients
Dough
⅔-3/4 cup buttermilk or yogurt thinned with milk to buttermilk consistency
1 egg
¾ teaspoon salt
2 tablespoons butter
2 tablespoons brown sugar
1 cup whole wheat flour
1-1/4 cup bread flour
1-1/2 teaspoons bread machine yeast
½ cup golden raisins
Apple Pie Filling
1 medium yellow delicious apple, peeled and finely diced
1 teaspoon cinnamon
⅛ teaspoon allspice (optional)
¼ teaspoon cornstarch
1 tablespoon water
Streusel:
2 tablespoons flour
1 tablespoon brown sugar
1 tablespoon cold butter
¼ teaspoon cinnamon
Frosting: (if desired)
½ cup powdered sugar
2 teaspoons coffee
1 tablespoon cream cheese
Instructions
Dough:
Heat buttermilk or yogurt in microwave on HIGH for 1 minute. Mixture will probably separate but don't worry. Add only ⅔ cup yogurt to bread machine pan along with all other ingredients except raisins.
Select dough cycle and push start. Check dough about 5 minutes into the dough cycle. If dough is too dry (dough doesn't stick to sides and then pull away), add the remaining yogurt a teaspoon or two at a time until dough looks just right. Add raisins after you hear the signal for add-ins.
When dough cycle completes, push dough back to original size with your hands. Remove pan (with dough still inside) from the bread machine. Cover pan and dough with a towel or shower cap and place in warm place for a SECOND rise. This helps make a lighter loaf since bread contains whole wheat flour.
Remove dough from pan to a floured surface. (See picture above.) Roll into a rectangle approximately 9 x 13 inches. Distribute apple mixture over the top like you would when making cinnamon rolls.
Starting with long side, roll dough up tightly and pinch closed at the seam. Use a large, sharp knife to cut the roll in half length-wise at the seam. You should now have two long "half-pipes."
With cut side up, make a snake or "S" shape going back and forth with one of the half-rolls (see picture above) and place into one end of a non-stick 9 x 5 loaf pan (mine holds 2 quarts of water if you want to compare sizes) sprayed on the inside with an aerosol flour/oil mixture like Baker's Joy. Make an "S" shape with the other roll and place into the other end of the pan as pictured. It doesn't have to be perfect but should fill the pan from one end to the other.
Cover dough with shower cap or tea towel and set in warm place to rise for approximately 45 minutes. Dough should rise somewhat less than double. 10 minutes before bread is ready to bake, preheat oven to 350 degrees F.
If using streusel, sprinkle it over the top. Bake for 35 minutes. About halfway through baking time, cover bread loosely with foil to prevent over-browning.
Remove from oven and immediately turn out onto cooling rack. Allow to cool before slicing bread.
Apple Pie Filling
Combine all ingredients in a microwave-safe bowl and cover. Cook on HIGH for 2 minutes. Allow to cool while dough is rising.
Frosting
Combine powdered sugar, coffee, and cream cheese. Add more sugar if too thin, or add coffee if too thick. Drizzle over cooled loaf.
Streusel
Combine all ingredients with a fork until crumbly and mixture resembles oatmeal.
RELATED  POSTS: