Preview: Although your Grandma probably wouldn't make this Apple-Cinnamon Bread recipe with a bread machine, I'm pretty sure she would love to eat it. Your friends and family will like it, too.
Wait for the aroma of baking yeast bread with buttery cinnamon, sugar, and spiced apples to fill your kitchen. Drizzle with decadent cream cheese icing. Pour yourself a cup of coffee and prepare to enjoy. Move over cinnamon rolls!
Although the recipe is written to be mixed and kneaded in a bread machine, you can easily do it by hand or use a stand mixer. See the notes in the recipe.
If you ask Pinterest, one of the most popular posts on this blog is entitled "Apples in a Bag" as pictured below. It's super easy with only 4 ingredients and makes a healthy snack or dessert for 1-2 people.
Seeing how as I'm a bread-machine freak and I love these apples, it was high time to create a bread recipe incorporating "Apples in a Bag."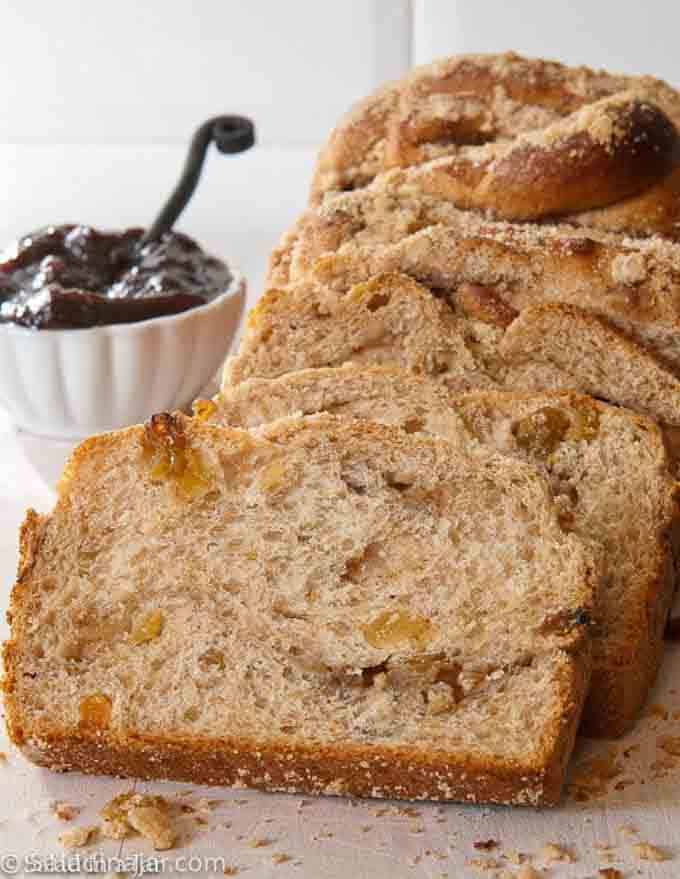 Since I love to make yogurt, you probably won't be surprised to hear that this Whole Wheat Apple Cinnamon Yeast Bread recipe also includes Greek yogurt (but you can use buttermilk if you prefer). Either way, the result will be a tender crumb not unlike my favorite cinnamon rolls.
Top this apple-studded loaf with a streusel topping as seen above, or ice it with powdered sugar frosting as seen below. Frosting will make your loaf taste very similar to a huge cinnamon roll. If you want to be really decadent, pour the frosting on top of a streusel-topped loaf.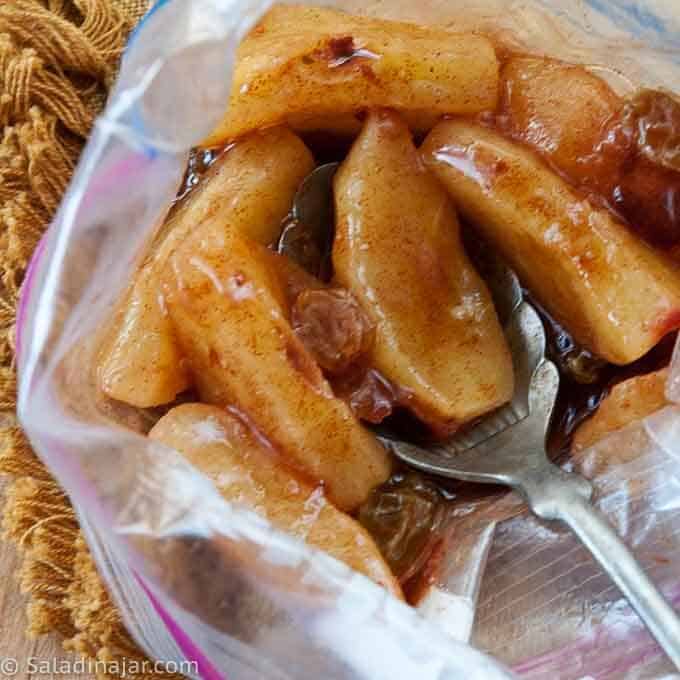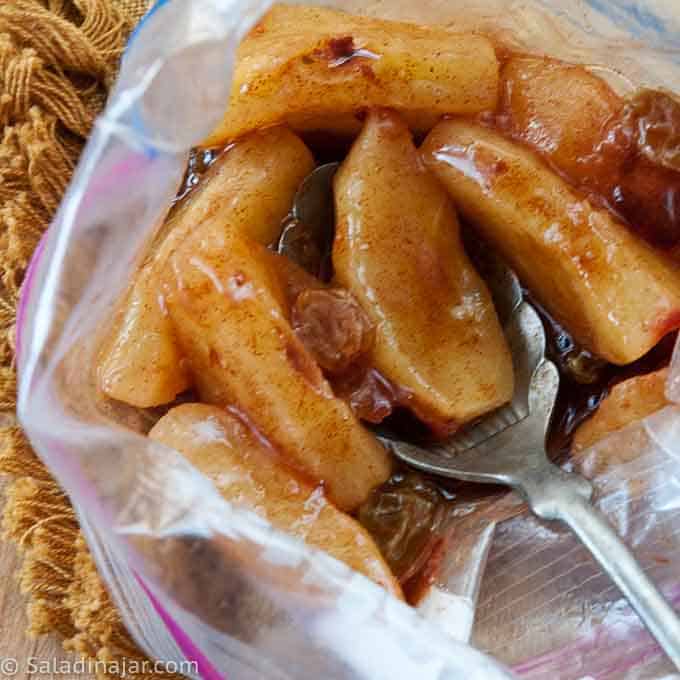 ---
Ingredients and substitutions:
BUTTERMILK: Yogurt thinned with milk to a buttermilk consistency is a good substitute. You could also use whey leftover from making Greek yogurt.

EGG: I use large eggs in all my bread recipes. If you use larger or smaller eggs, compensate with more or less liquid accordingly.

SALT: Use table salt or sea salt. If you use Kosher salt, add 1/4 teaspoon more.

BUTTER: Be sure the butter is softened but not melted.

BROWN SUGAR: I used light brown sugar but dark brown sugar is suitable, also.

FLOUR: The mix of whole wheat and bread flour makes this bread so flavorful. However, 100% bread flour is also good.

YEAST: I use bread machine or instant yeast in all my bread recipes. If you want to use active dry yeast, add 1/4 teaspoon more because it is slower to rise.

RAISINS: Golden raisins, standard dark raisins, currants, or other dried fruit like dried cranberries can all be added here. On the other hand, they can be left out if you prefer.

APPLES: Use any type of apple that will hold its shape when cooked like yellow delicious apples.

---
How do I store this loaf?
Storing iced bread in a plastic bag can be a messy business. Consequently, I don't recommend frosting this loaf if you don't have enough mouths to eat it all in one sitting.
The best way to store most homemade bread is stored in a plastic bag and room temperature. Take a tip from King Arthur Flour: If you're storing bread for a day or two at room temperature, plastic or foil (rather than cloth) are the best options.
Storing in the refrigerator can quickly cause your bread to get hard.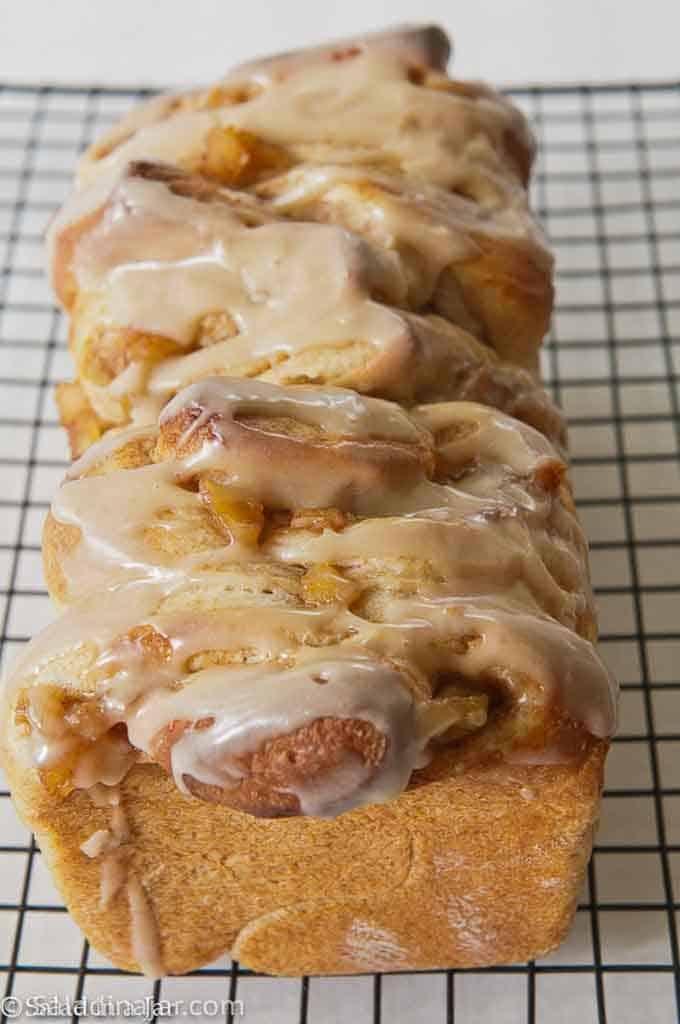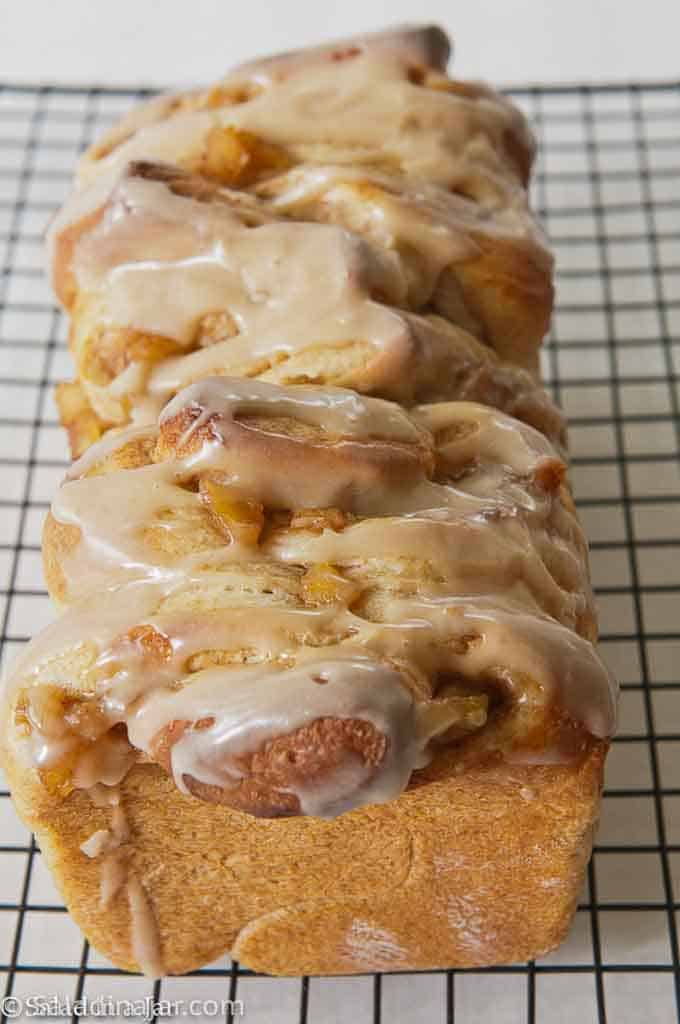 ---
---
How to shape the dough:
Method #1
The first shown below is my favorite, but it's a bit trickier to accomplish.
Roll the dough out as you would for cinnamon rolls, and sprinkle the cooled apple filling over the dough.
Roll into a long cylinder and pinch the dough to seal.
Use the sealing line as a guide for cutting the cylinder in half the length-wise. Now say a prayer, take a deep breath and proceed.
Carefully lift up each "half-pipe" one at a time. With cut sides up, place each "half-pipe" into a prepared loaf pan in an S shape as illustrated in the picture below.
Loosely cover the pan. Allow the shaped loaf to rise until almost double.
Finally, remove the cover, sprinkle with streusel, then bake as directed.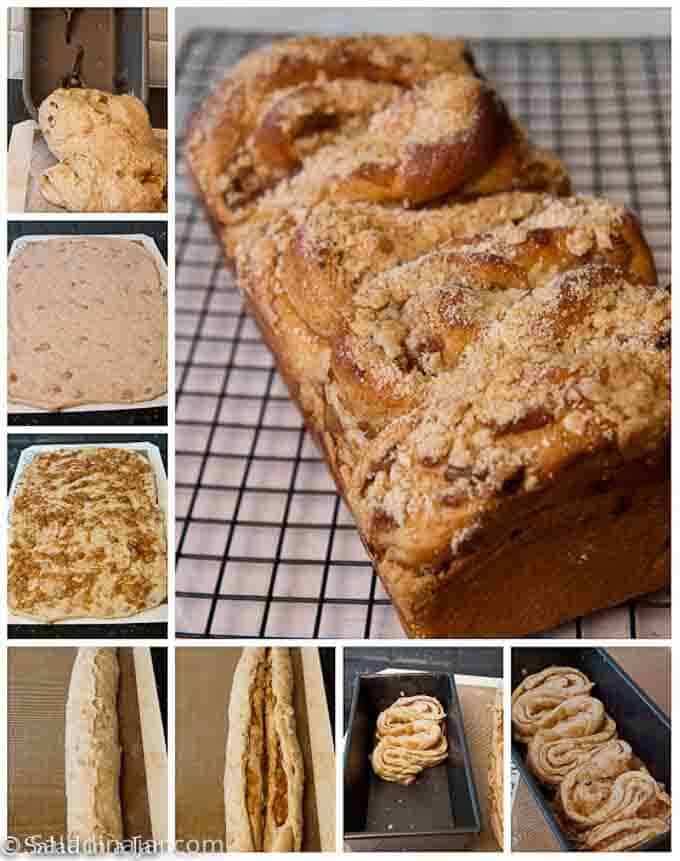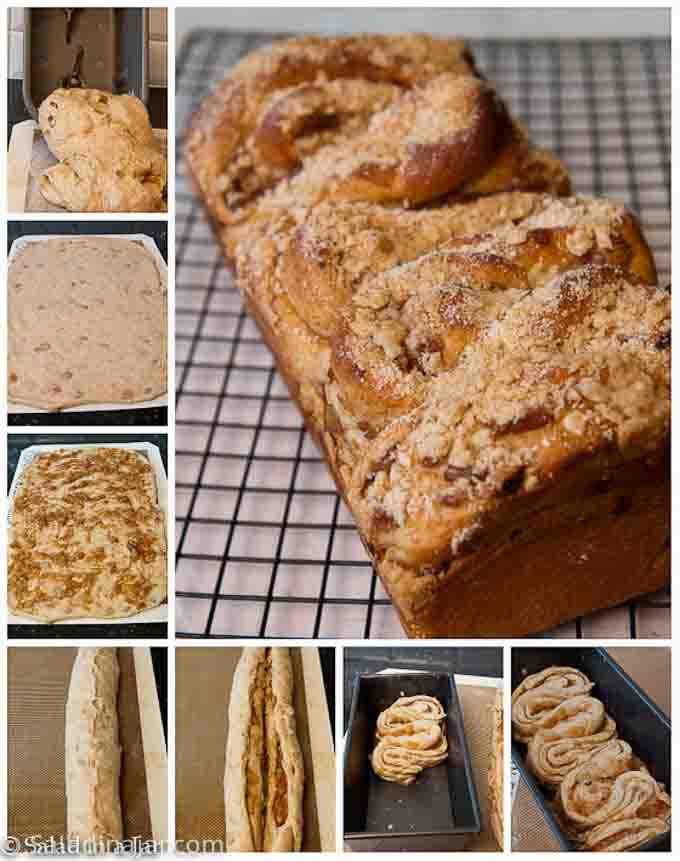 Method #2:
The method pictured below might be easier if you are a novice baker.
After rolling the dough into a long cylinder and sealing it (as seen in the pictures on the left side above), the same way you would for cinnamon rolls, slice the cylinder crosswise into six large slices and set on end in a loaf pan.
Cover the pan loosely with a tea towel or freebie shower cap. As soon as the dough is almost double in size, remove the cover.
Sprinkle with streusel if using, then bake as directed.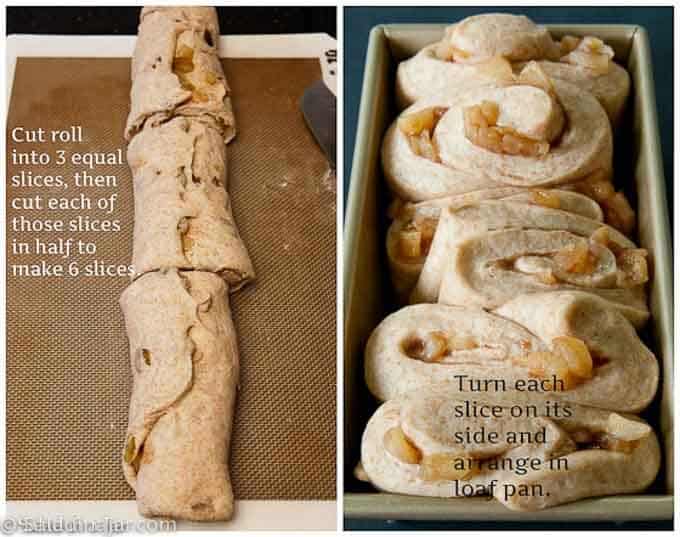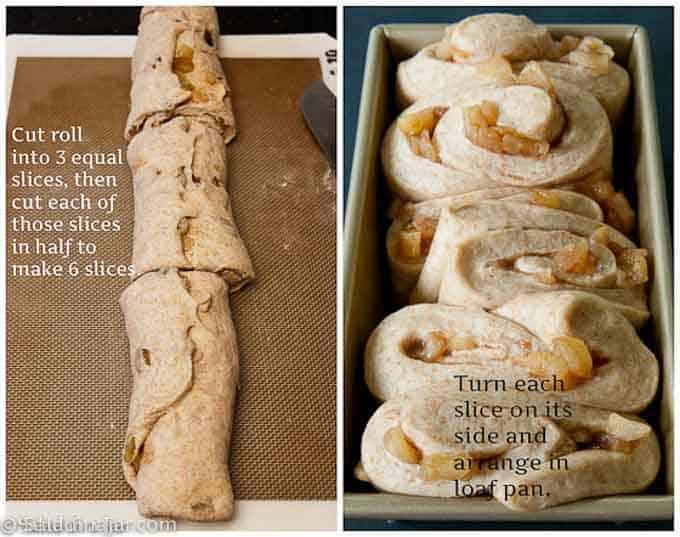 Can I make this Apple-Cinnamon Bread Machine recipe ahead of time?
Certainly! Make it and bake it. This moist bread only gets better the next day or two or three. It also freezes well after it has been baked. It's perfect to make in the days leading up to Christmas because it only gets better after hanging around for a day or two.
---
Did you enjoy this recipe? If so, you can help others and me by leaving a 5-star 🤩 rating inside the recipe below. No comments are required.
Hope to see you again soon!
Paula
p.s. If you have any questions or suggestions, you can email me privately: paula at saladinajar.com.