Extremely Fresh Glazed Strawberry Pie with Jello is not overly sweet and formulated for maximum enjoyment of fresh strawberries. No cooked berries in sight. The recipe includes directions for an easy pat-in-the-pan cookie crust.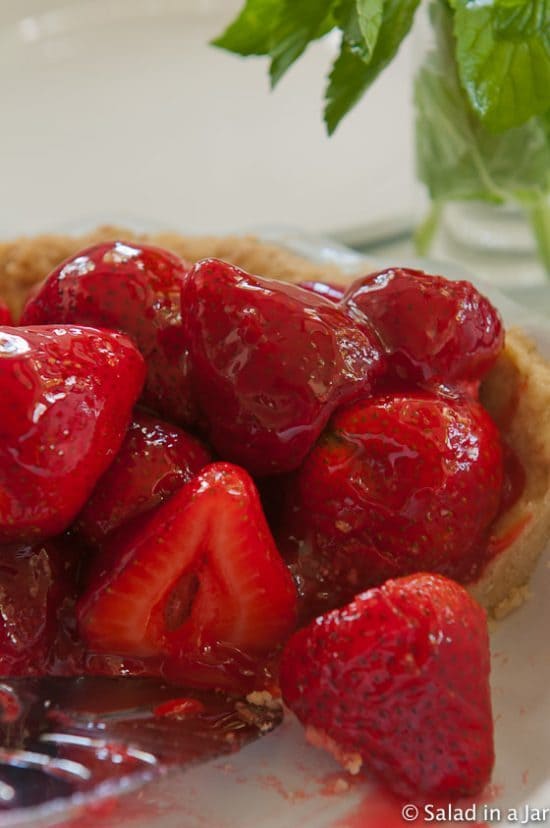 You would not believe how many strawberries I've eaten lately in my quest for the BEST fresh strawberry pie.
Recipe Inspiration
Thankfully, my experimenting ended when I remembered my Aunt Marg's strawberry pie. She served it to me during a visit to her house in Speedway, Indiana (my home state). Although I was in high school at the time, I still remember it. (This is the same aunt who won second place in a baking contest with her recipe for Hickory Nut Cake.)
Isn't this amazing?
A quick e-mail produced the recipe in short order. Don't you think it's impressive that, my aunt, who is well into her eighties, looks at and uses her computer often enough to reply to my e-mail within a couple of hours?
As it turns out…
Aunt Marg's strawberry glaze recipe was exactly what I had been searching for. The glaze is translucent, glossy, colorful, light, thick, and sweet. It's the perfect foil for beautiful and tasty spring strawberries.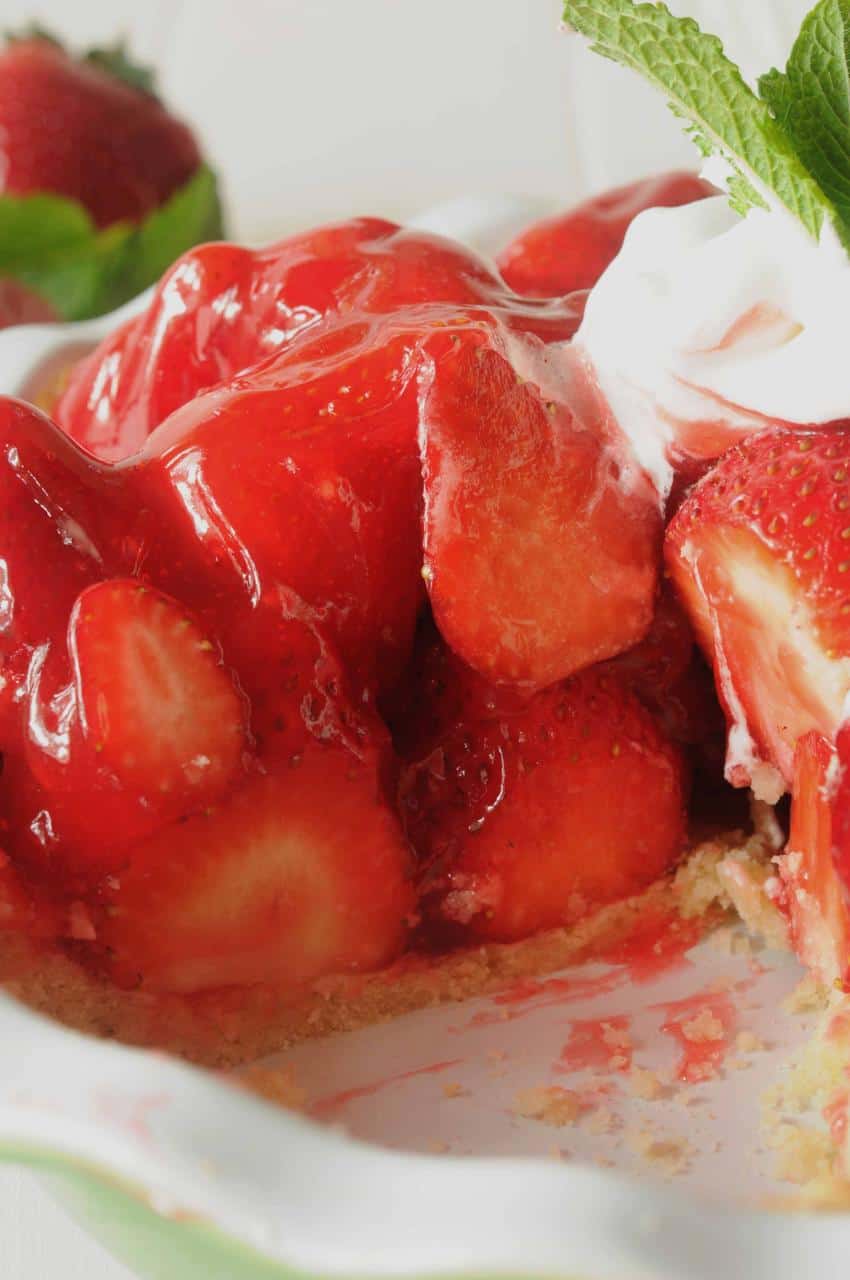 What you can expect
Aunt Marg's recipe is not cloyingly sweet but just sweet enough to enhance the berries. The texture of the gel is not so thick that it seems rubbery, nor so thin that it is runny or watery.
The first picture posted above was taken 24 hours after the pie was made so you can see exactly what to expect. Of course, any kind of dessert made with fresh fruit is better eaten the day you make it. Otherwise, one runs the risk of a soggy crust as the strawberries release moisture.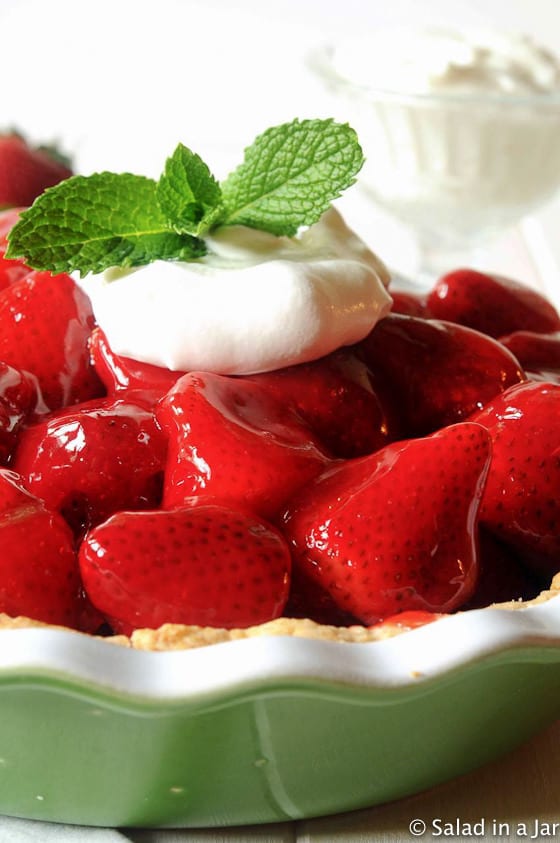 The Crust
A regular flaky pie crust is more than acceptable. A cookie-type crust, although richer, is more memorable.
This pat-in-the-pan recipe is adapted from Joy the Baker, a fabulous baker, and blogger worth checking out. Her crust is a cross between a regular pie crust and a sweet-tart crust. No rolling required.
Be sure to let the crust cool before adding strawberries and filling. This is key to keeping it crispy as long as possible.
Interestingly, my aunt didn't mention the crust in her recipe. If memory serves me right, she didn't assemble the pie until we were ready to eat. Consequently, the crust was crisp and flaky. (She used a standard crust like this one.)
At least part of the time, she broke off large pieces of the crust and laid them on individual serving plates. Then strawberries covered in glaze were poured on top. Maybe not very photogenic but exceedingly edible!
Two Ways To Make Pat-in-the-Pan Pie Crust
1. Hand-Grating the Butter
2. Making the Crust in a Food Processor
Pat-in-the-Pan Piecrust is perfect for any fresh fruit pie. However, I am adding a second option in the recipe for putting it together using a food processor.
Personally, I think this is an easier method for making the crust. If you don't have a food processor, Joy's method described above works fine even if it's a bit more labor-intensive.

P.S. In looking at the original recipe my aunt emailed, I notice she specifies adding a touch of almond extract to the glaze.
I tried it. I liked it. Optional, of course, but a nice touch!
---
More Strawberry Recipes
---
Pin the picture below to save for later.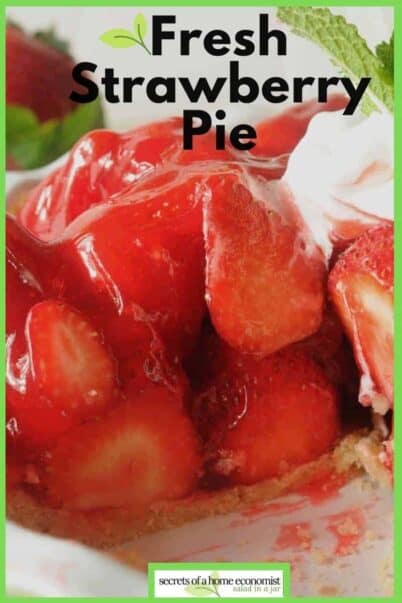 ---
Did you enjoy this recipe? If so, you can help others and myself by leaving a 5-star 🤩 rating in the recipe below. No comments required.
Hope to see you again soon!
Paula
p.s. If you have any questions or suggestions, you can email me privately: paula at saladinajar.com.
---