Frosted Strawberry Cake Donuts are flavored with strawberry jello and strawberries, then frosted with a cream cheese frosting. Sprinkle with colored sugar if kids will be eating them.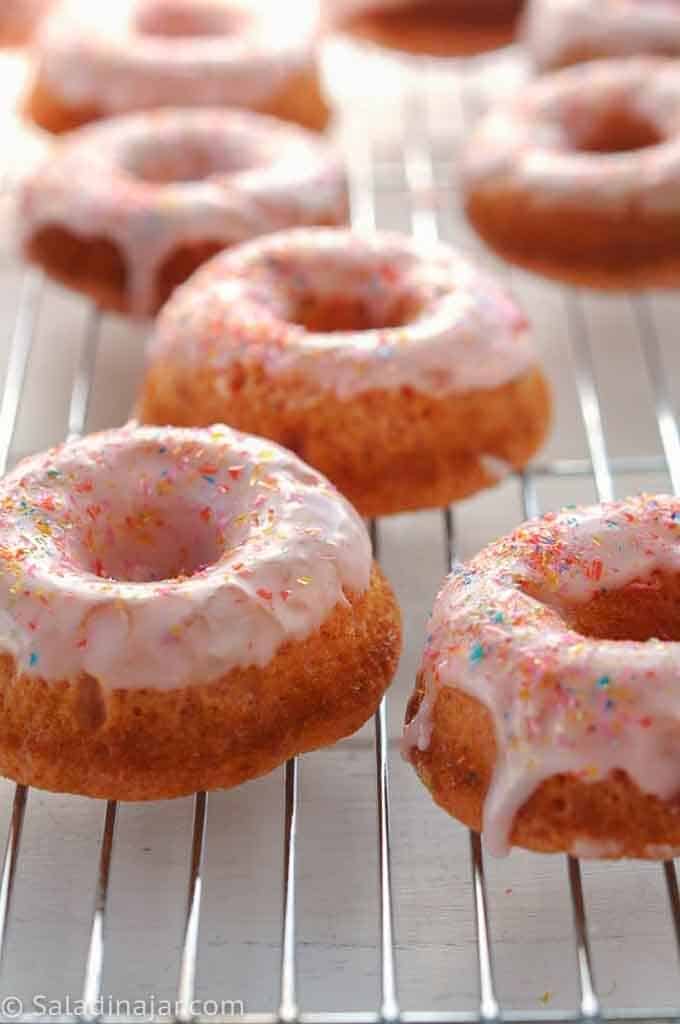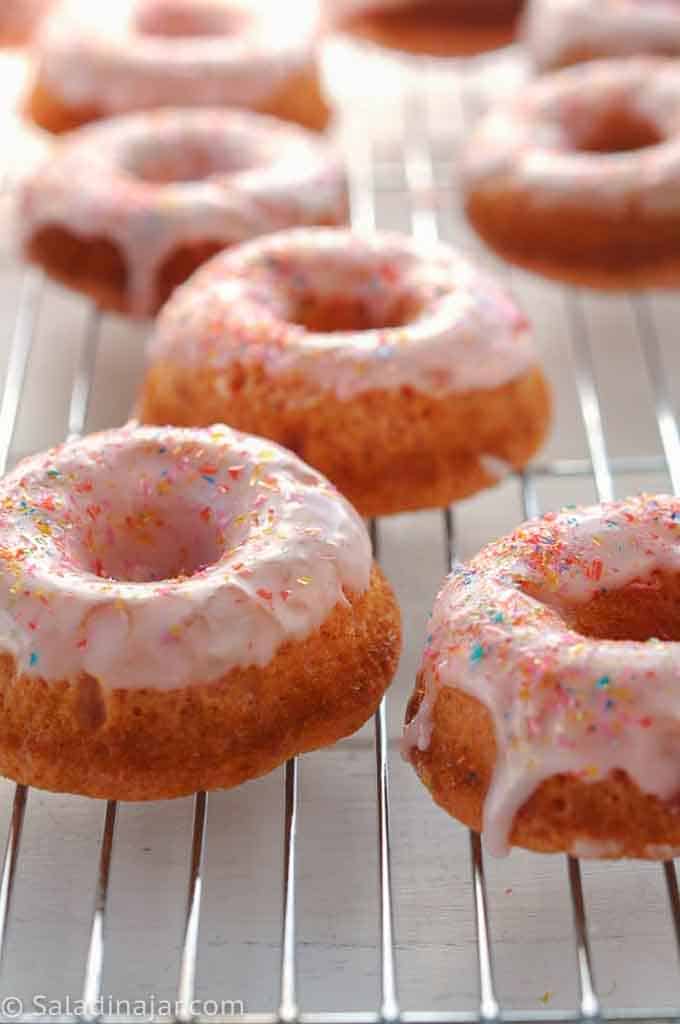 They're fun!

They're pink!

They're girly! (However, boys like 'em, too.)

They're sweet!

They're festive!

They whisper Valentine's Day!

They're baked, not fried. (Woohoo! Fresh donuts with no smelly grease in the house.)
If you haven't found yourself a donut pan yet and you have kids or grandkids, what are you waiting for? I'm having so much fun with mine. You could use a mini-muffin pan but something about the donut shape makes them irresistible.
How I modified the popular Baked Whole Wheat Donut recipe to make Frosted Strawberry Cake Donuts:
Instead of white whole wheat flour, use all-purpose unbleached flour. Adding dry strawberry jello powder to the dry ingredients gives the expected pink color and intensifies the strawberry flavor.
Substitute 1/4 cup finely chopped or mashed fresh strawberries for the milk.
Dress them up for a party with a glaze, flavored and colored with strawberry jello powder. Don't forget the sparkly or colored sugar!
Kitchen secret for getting the batter into a doughnut pan:
Place the batter in a plastic bag and clip off a corner. Next, squeeze batter into donut pans going around each little post.
When I first saw this tip, it seemed like too much trouble to scoop the batter into a plastic bag. But believe me when I say: It goes better, faster, and neater for you with a bag. The batter is a little bit stiff and won't drop off a spoon easily so the effect ends up looking lumpy and irregular.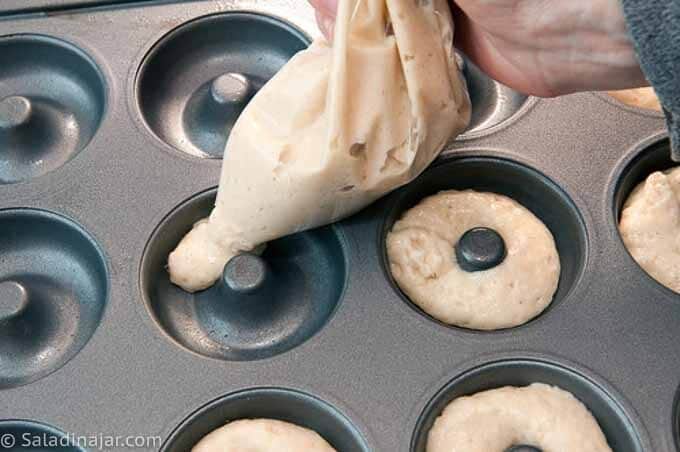 ---
Yield: 12 mini-donuts
Frosted Strawberry Cake Donuts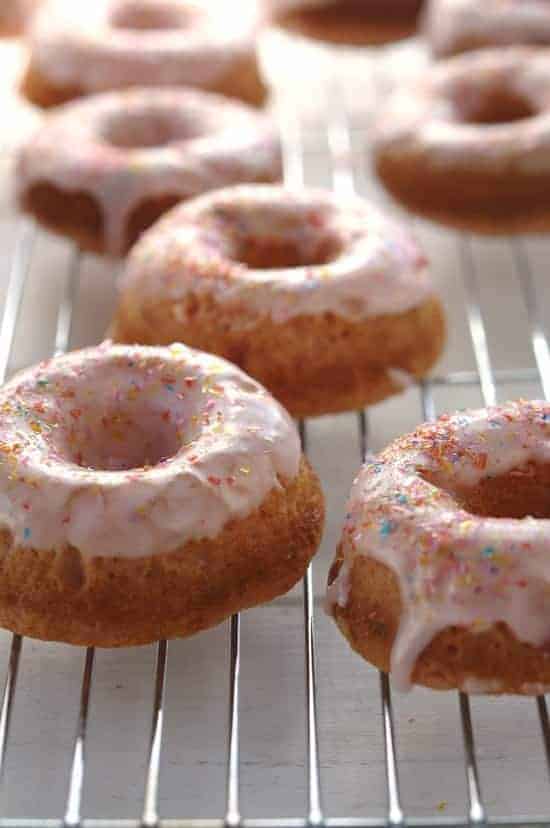 Frosted Strawberry Cake Donuts are flavored with strawberry jello and strawberries, then frosted with a cream cheese frosting. Sprinkle with colored sugar if kids will be eating them.
Ingredients
1 cup unbleached all-purpose flour
1/3 cup sugar
1 teaspoon baking powder
1/4 teaspoon baking soda
1 tablespoon dry strawberry jello
1/2 teaspoon salt
1/8 teaspoon nutmeg, freshly grated
1/4 cup finely chopped fresh strawberries
1/4 cup plain fat-free Greek yogurt
1 egg
2 tablespoons canola or vegetable oil
1 teaspoon vanilla extract
a few drops of almond flavoring
Strawberry Glaze:
2 tablespoons softened cream cheese
2-3+ tablespoons milk
2 cups powdered sugar
1 teaspoon strawberry jello powder
Instructions
Preheat oven to 350 degrees. Grease doughnut pan well (I use spray oil with flour in it i.e. Baking by Pam).
Whisk flour, sugar, baking powder, baking soda, strawberry jello, salt, and nutmeg together in a medium mixing bowl. (You can leave the nutmeg out but it gives the characteristic donut flavor.)
Whisk yogurt, strawberries, egg, oil and flavorings together in a separate small bowl.Pour all at once over dry ingredients and stir only until everything is moistened.
Spoon batter into pastry bag or quart-size zippered plastic bag. Seal. Snip small corner of plastic bag and force dough out of hole in a fat rope that encircles each doughnut cup. Fill only 1/2 to 3/4 full or you will lose the hole in the middle of your doughnut. Makes 12 donuts and possibly 3-4 "donut holes" in a mini cupcake pan. Bake for 9-10 minutes.
Strawberry Glaze:
Combine cream cheese and milk in a medium mixing bowl. Mix powdered sugar and jello powder with cream cheese until smooth. Add more milk (a few drops at a time) if necessary to achieve correct consistency. It should drip slowly without being runny.
Dip donuts face down into glaze and turn over to dry on rack (see picture) or pour over the top. Sprinkle with colored sugar or other edible decorations, if desired, before the glaze dries.
Notes
It has come to my attention that mini-donut pans do not all make donuts the same size. I bought mine from World Market and the donuts measure 2-3/4 inches in diameter.
Recommended Products
As an Amazon Associate, I earn from qualifying purchases. But don't worry. This doesn't change the price you pay.
Nutrition Information:
Yield:
12
Serving Size:
1
Amount Per Serving:
Calories:

173
Total Fat:

4g
Saturated Fat:

1g
Trans Fat:

0g
Unsaturated Fat:

3g
Cholesterol:

18mg
Sodium:

174mg
Carbohydrates:

33g
Fiber:

0g
Sugar:

24g
Protein:

2g
Nutritionals may vary according to the size of donut pan you use.
Posts Related to Frosted Strawberry Cake Donuts: