Easy Bacon-Wrapped Cream Cheese Chicken Bites with Jalapenos
Sneak Peek: These easy Bacon-Wrapped Cream Cheese Chicken Bites are flat chicken tenders stuffed with jalapeno-laced cream cheese, then wrapped with bacon. Grill, bake, or air fry these delectable little appetizers.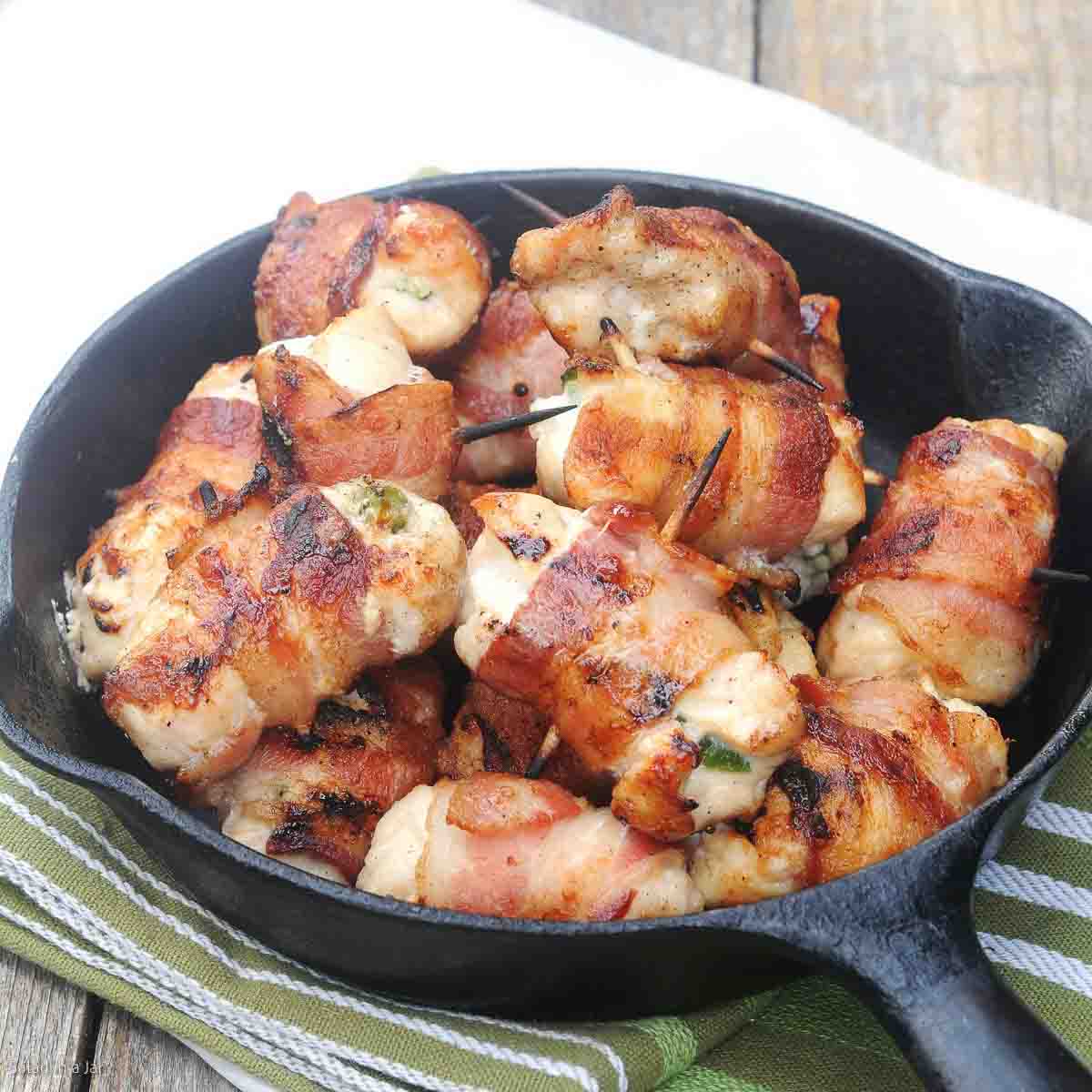 As an Amazon Associate, I earn from qualifying purchases.
Add bacon to anything, and it will fly off the table. That's what a caterer once told me. I believe it. Certainly applies here. I can't think of a better way to celebrate a holiday or special occasion than with a big plate of these spicy, cheesy, smoky, and crispy bacon-wrapped chicken nuggets.
These simple bites require only four ingredients. Bacon takes care of the salt. Jalapenos eliminate the need for black pepper or cayenne pepper.
Caution: These will make the men in your life go crazy–at least, that's my experience with my husband and sons.
Happy Cooks Speak Up:
As soon as I saw the recipe I knew I had to try these. Served them on the weekend with family including two teens! Everyone loved them – five stars from everyone. I can't grill so did them in the air fryer. F-A-B-U-L-O-U-S. Thanks Paula. —Stephen
---
Ingredients and substitutions:
CHICKEN: I like to use boneless, skinless chicken breasts or tenders. I have not tried these with chicken thighs.
CREAM CHEESE: Room temperature cheese is easier to spread on the chicken but a bit messier to wrap. Take your choice. You can substitute Neufchatel cheese for less fat and a slightly softer texture.
JALAPENOS: Fresh jalapenos are my first choice. Not only are they cheaper, but they are not as spicy as jarred pickled jalapenos that many of us always keep in our fridges.
BACON: I recommend using thin-sliced bacon because it bakes better and will be crispy when the chicken is cooked.
---
How to assemble Bacon-Wrapped Cream Cheese Chicken Bites with Jalapenos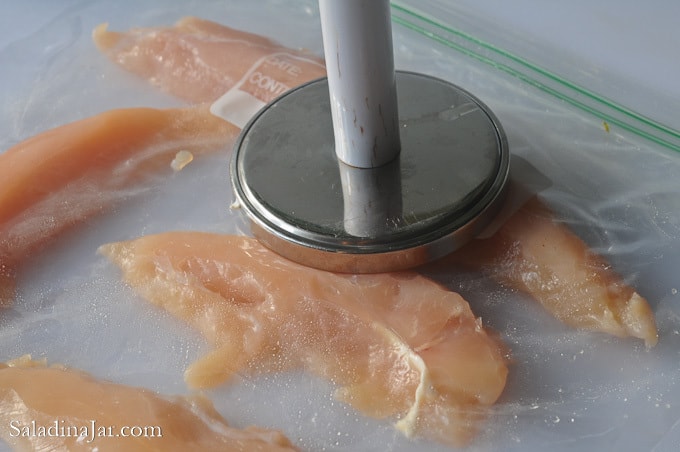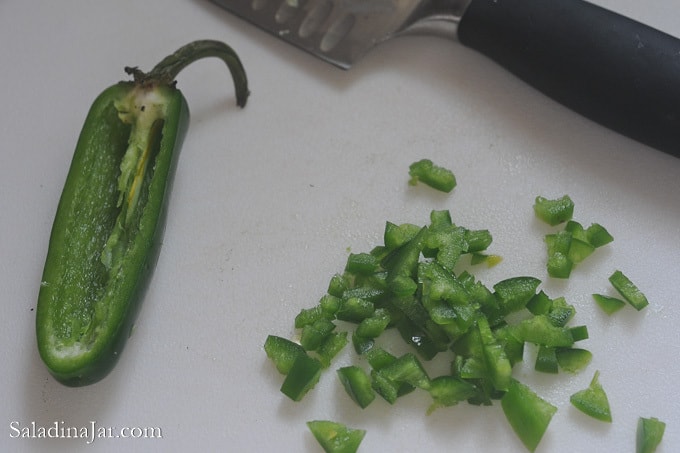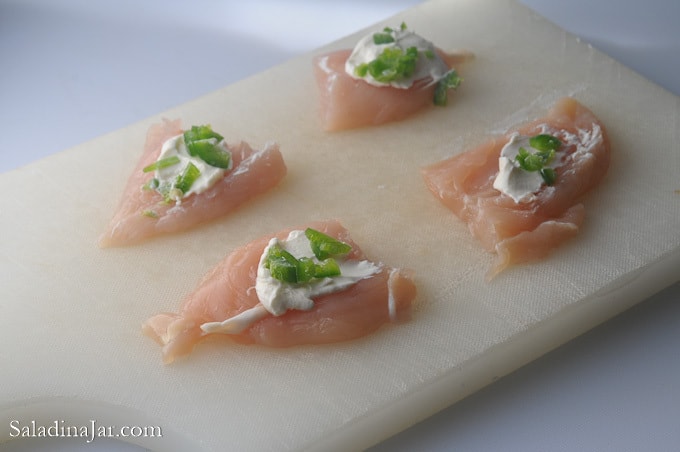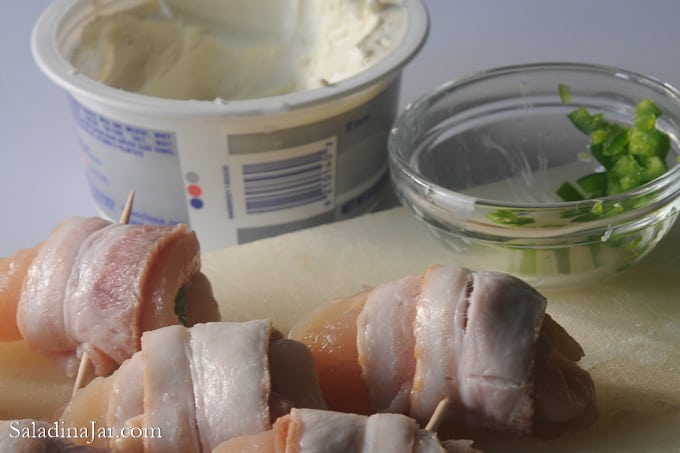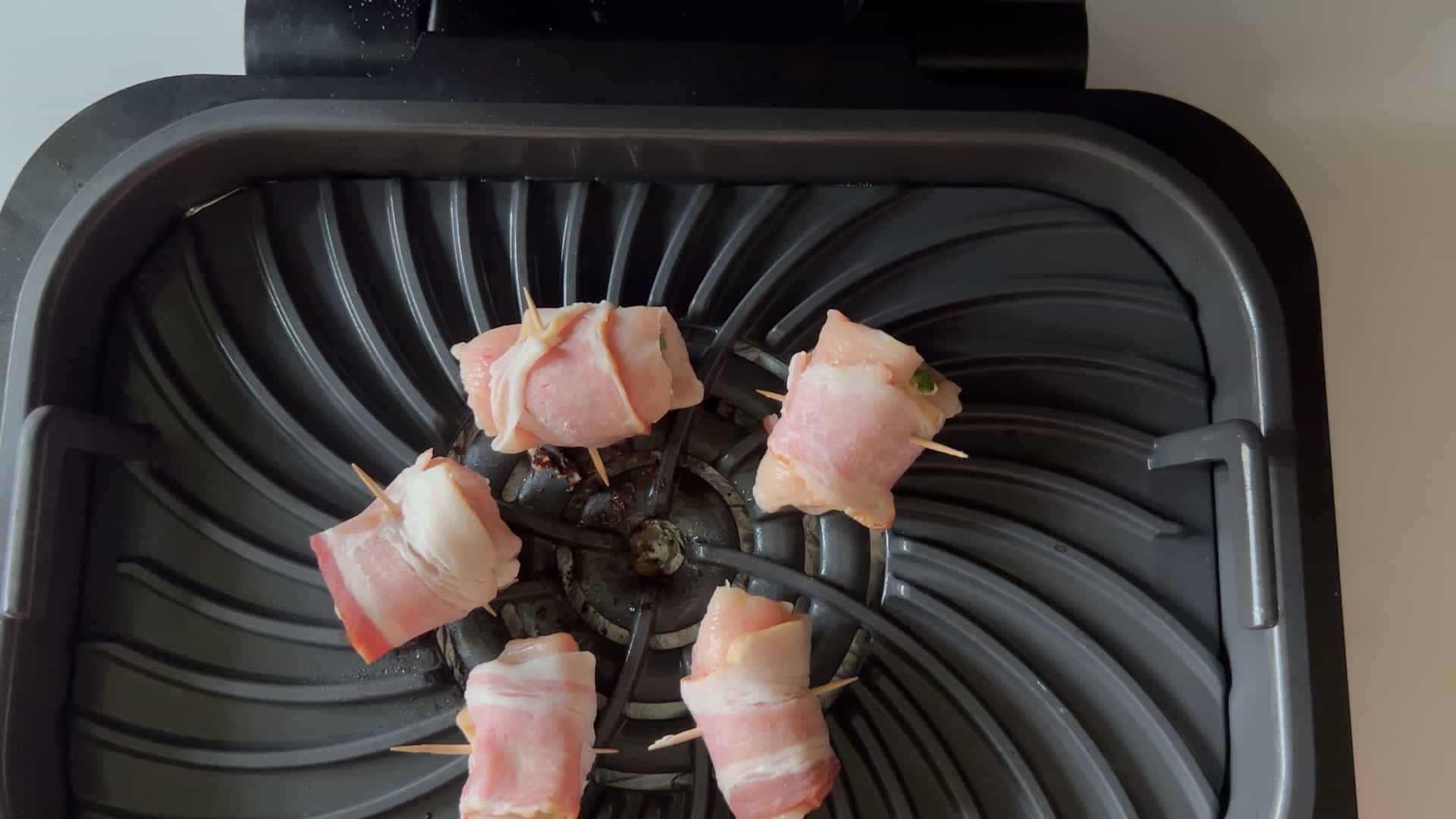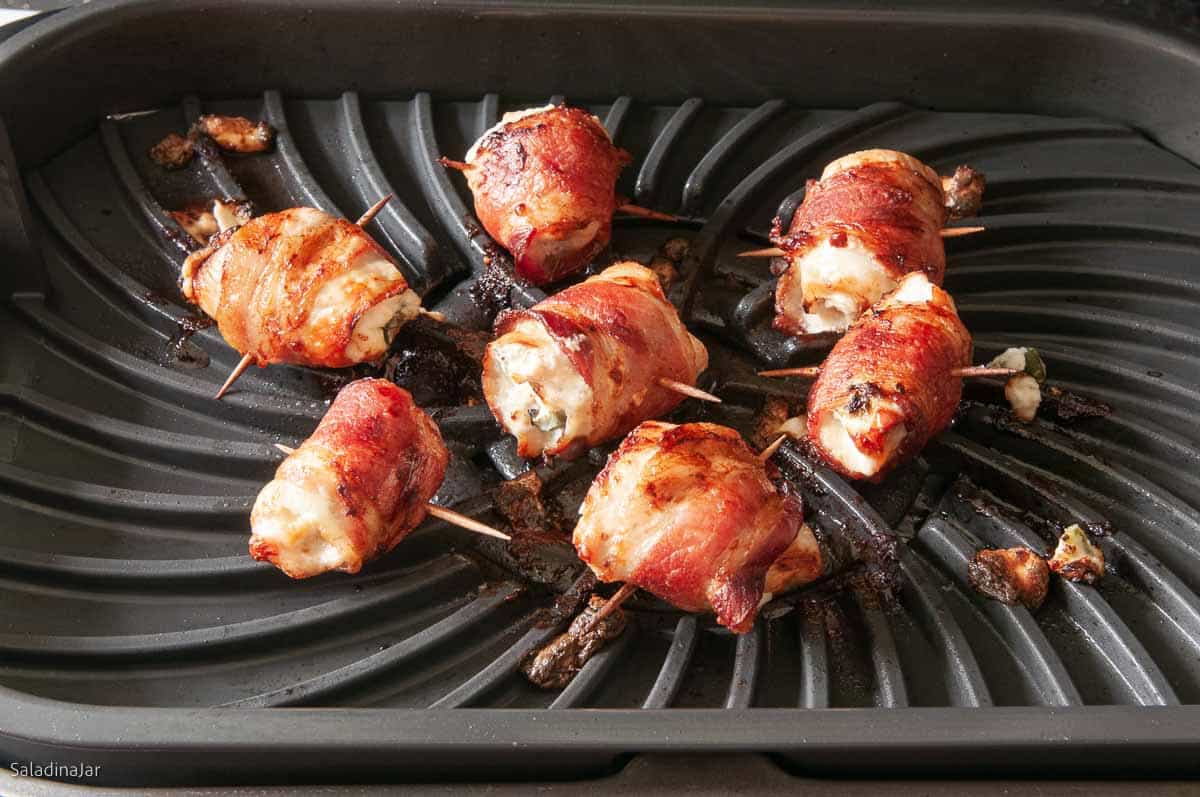 Variation:
I love brushing these chicken bites with Raspberry Chipotle Sauce before grilling or baking them. It's a mini version of this popular recipe for Bacon-Wrapped Pork Tenderloin.
---
Frequently asked questions about this chicken appetizer:
Is there a substitute for the jalapenos?
If you don't like spicy, leave out the jalapenos or skimp a bit. Or use green or red bell peppers instead.
Can I freeze jalapeños?
Did you know you can freeze whole fresh jalapeno peppers? Throw the washed peppers into a small plastic bag and freeze. Thaw the peppers under running water when ready to use, and prepare for your recipe.
Can I cook these in a conventional oven?
Yes. Place prepared bacon-wrapped chicken onto a foil-lined baking sheet. Cook at 400˚F until the bacon is crispy on both sides and the chicken is cooked.
Can I make these and freeze them to grill later?
I don't recommend freezing them raw. The cream cheese changes in texture, and the jalapenos may become watery.
---
Parting Thoughts: I invite you to have fun with this recipe. Some people like to add garlic powder, paprika, or chili powder to the cream cheese. Others like to baste them with barbecue sauce during the last minute of baking. You really can't mess them up.
If you're a bacon lover like me, check out these recipes that would be the same without bacon: Hearty Ham Stew: Popular with Meat Lovers, Four-Layer Meat and Potatoes in a Skillet–Bacon Saves the Day, Baked Beans with Ground Beef, Sausage, and Bacon, and Bacon-Wrapped Stuffed Pork Tenderloin with Raspberry Chipotle Sauce
---
Help at Your Fingertips: For questions or suggestions, email Paula at saladinajar.com. If you need help, I'm happy to troubleshoot via email (faster than leaving a comment). Attach pictures and as many details as possible for the best advice.
---
Easy Bacon-Wrapped Cream Cheese Chicken Bites with Jalapenos
This simple recipe involves small pieces of raw chicken breast spread with cream cheese and jalapenos, rolled and wrapped with bacon, then grilled outside or in an air fryer.
Share recipe love here. ⬇
Ingredients
1.5

pound

(

680

g

)

raw chicken breast or tenders

3

ounce

(

85

g

)

cream cheese

–

softened slightly

1

(

14

g

)

jalapeno pepper, fresh

–

seeded and finely chopped

8

slices

(

176

g

)

thin-cut bacon

–

cut in half
Instructions
Slice a chicken breast in half horizontally. Then cut each half into strips approximately 2 x 4 inches. (No need to measure, eyeball them.)

Place the chicken pieces in one layer inside a zippered plastic bag. Pound with a mallet or the side of your hand to make the chicken ¼ to ⅓-inch thick. Lay out several chicken pieces on a cutting board.

Dab a scant teaspoon (more or less) of cream cheese on top of each piece of chicken. Sprinkle a scant teaspoon of jalapeno peppers over the cream cheese. Fold the chicken to enclose the cream cheese mixture.

Wrap each chicken roll with one piece of bacon and secure it with a toothpick.

Place into a preheated air fryer or a barbecue grill.

Bake or grill at 400˚F (200˚C) until the bacon is brown and crispy on both sides. This takes about 8-10 minutes. Turn the chicken halfway through. Note: Because air fryers come in many shapes and forms, you may need to experiment with the time and temperature.
Notes
Be sure to wear plastic gloves when handling fresh jalapenos. The oil will attach itself to your hands and is not easily washed away. An accidental swipe of the hand close to your eyes could be a regrettable experience.
Try flattening meat inside a zip-lock bag, as pictured above. No flying pieces, no contamination on your cutting board from the chicken, and the cleanup is super easy.
Nutrition
Serving:
1
|
Calories:
39
kcal
|
Carbohydrates:
1
g
|
Protein:
6
g
|
Fat:
1
g
|
Saturated Fat:
1
g
|
Polyunsaturated Fat:
1
g
|
Monounsaturated Fat:
1
g
|
Trans Fat:
1
g
|
Cholesterol:
17
mg
|
Sodium:
67
mg
|
Potassium:
109
mg
|
Fiber:
1
g
|
Sugar:
1
g
|
Vitamin A:
20
IU
|
Vitamin C:
1
mg
|
Calcium:
20
mg
|
Iron:
1
mg
HELP OTHERS find this recipe. Leave a 5 🌟🌟🌟🌟🌟 rating at the top of the recipe card if you enjoyed it. No comment is required.
Recipe slightly adapted from "Warren's Chicken Bites" published in Home Cooking with Trisha Yearwood.