Sneak Peek: Ground Beef and Potatoes Skillet with bacon is a go-to recipe for a busy day when you are too tired to think about what to cook and the pantry is almost empty. 2/11/21
After a hard day of work with a growling stomach providing background music, I find it hard to think clearly about what to fix for dinner. When the only vegetables in the fridge are carrots, wilted celery, and a month-old cabbage, this Ground Beef and Potato recipe sounds pretty good.
We first came to love this recipe when camping. I know just about anything tastes better when you eat it in the woods, but whenever I'm in the mood for meatloaf and potatoes, this is an easy substitute that takes much less time to prepare.
Recipe Inspiration
Know what else makes food taste better? (Not cooking it yourself doesn't count here.)
Bacon! Like I said in my recipe for Bacon-Wrapped Jalapeño Chicken Bites, bacon makes any food fly off the table.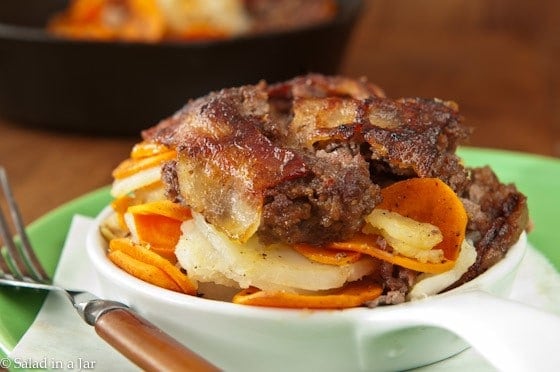 Don't get me wrong…
I'm not trying to sell this particular recipe as some amazing gourmet delight that will make your dress fly up, your pants fall down or your life turn out perfectly.
Nope. This easy one-skillet recipe is a kind of comfort food assembled with four ingredients you probably already have on hand.
Hopefully, you won't have to make a special trip to the grocery store. Such a trip just before dinner is an exercise in patience that I try to avoid.
Ingredients and substitutions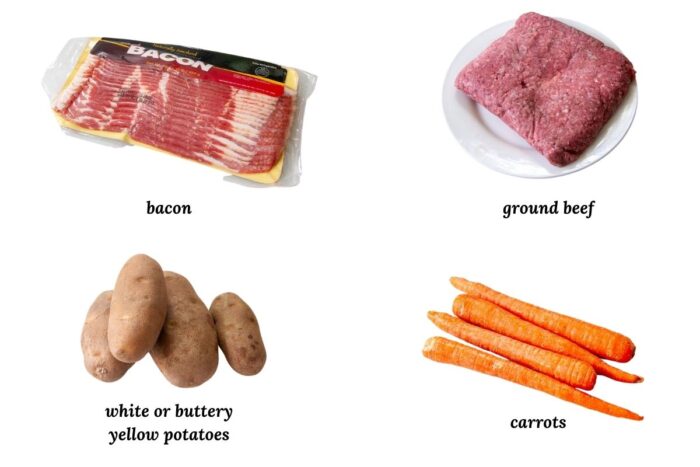 BACON: Nothing substitutes for the smoky flavor of bacon. Thinly-sliced bacon fries up best. You want it to be crispy, not limp and greasy. You could leave the bacon out, but I wouldn't. It's what makes this dish.

GROUND BEEF: Any kind of ground beef will work. I like 85/15 ground beef. Ground turkey is an acceptable substitute.

POTATOES: Substitute sweet potatoes for the white potatoes if you prefer. They cook a tad bit faster. However, since they are the same color as the carrots, the whole dish is not as pretty as it is with white or buttery yellow potatoes.

CARROTS: Not much to say about carrots other than they need to be sliced. Use baby carrots if you like, but I would still cut them into half-inch slices.
---
***Secrets for success with this recipe
The correct setting and timing for cooking this dish will be affected by the type of pan you use (the heavier the better) and your particular stove.
The thinner you slice the vegetables, the faster this dish will cook. I use a mandolin to get thin slices in a hurry, but a knife or slicing with a food processor is good, too.
If you slice the potatoes ahead of time, be sure to let them sit in a bowl of water so they won't discolor.
This makes a good camping recipe. Cook it in an electric skillet or an iron skillet.
What should I serve with this hamburger and potatoes?
Ketchup! Lots of it. Or barbecue sauce or ranch dressing. This recipe begs for your favorite condiment.
A light salad on the side will add some fiber to the menu. Fresh bread like this Crusty French Bread you can make with your bread machine would be another welcome addition.
Can I make this ahead of time?
I never do. It's more of a last-minute recipe–best eaten immediately.
How to layer Ground Beef and Potatoes Skillet:
FIRST LAYER: Bacon
SECOND LAYER: Ground Beef
THIRD LAYER: Sliced Potatoes
FOURTH LAYER: Carrots
---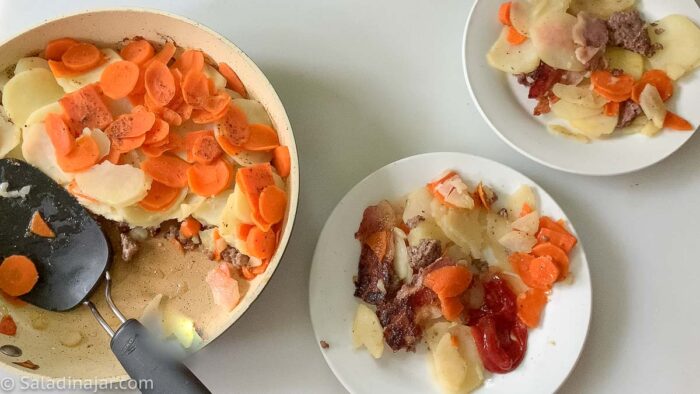 ---
Would you like to see more beef recipes?
If you enjoyed this recipe, it would help others and me if you gave it a five-star rating inside the recipe card below. 🤩 No comment required. Thank you.

Hope to see you again soon!
Paula
p.s. Questions or suggestions? Please email me: Paula at saladinajar.com.