Impressive Bacon-Wrapped Pork Tenderloin Stuffed with Cream Cheese
Sneak Preview: This recipe for Bacon-Wrapped Pork Tenderloin Stuffed with Cream Cheese and bathed in Raspberry-Chipotle Sauce is an impressive way to share with your family and friends.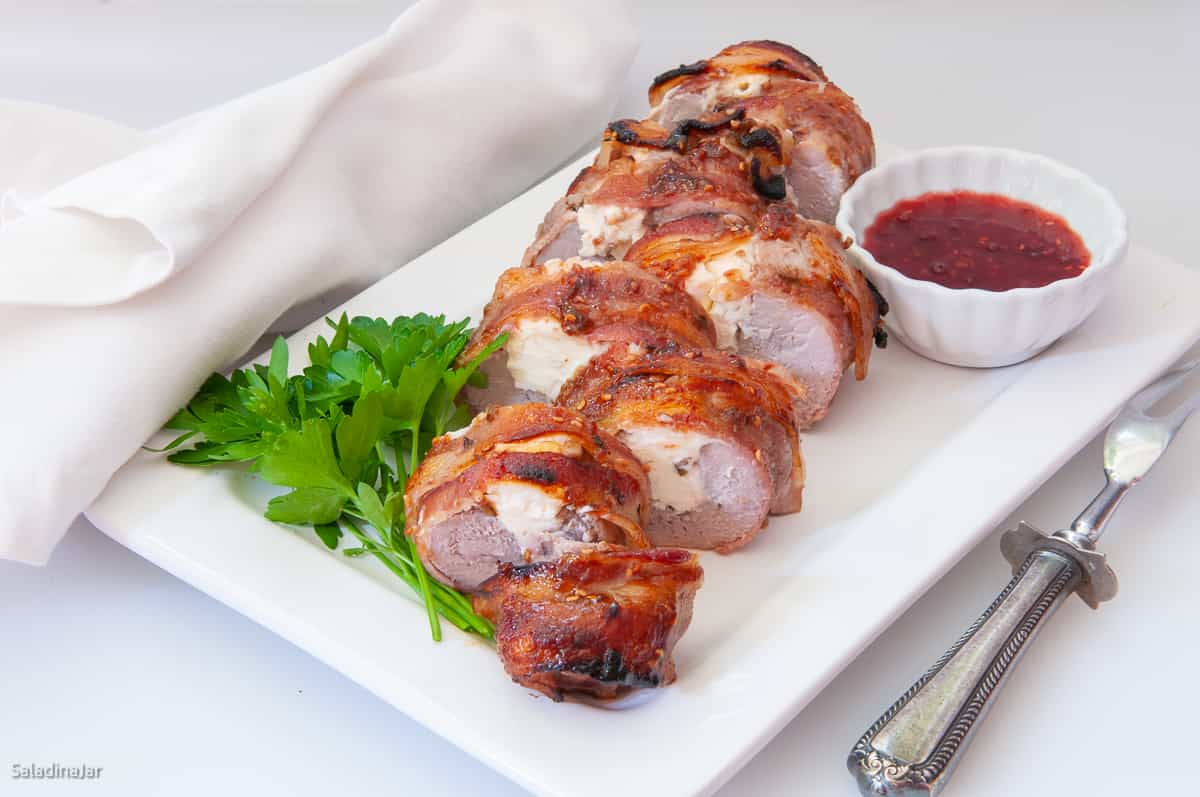 As an Amazon Associate, I earn from qualifying purchases.
Consider yourself warned about the come-hither aroma wafting from your oven as this bacon-wrapped stuffed pork tenderloin bakes. Any hungry person within sniffing distance of your kitchen will be begging for a sample.
With only four ingredients (pepper doesn't count), you won't need a recipe after making this stuffed tenderloin the first time. The spicy raspberry-chipotle sauce and the cream cheese filling make this pork tenderloin memorable.
A big thanks to my friend Scooter, of Scooter's Spaghetti fame, who shared this recipe. My husband went crazy for it. When I served this stuffed pork tenderloin recipe to my sister, who was in town from Alabama with her husband, they pronounced it a winner. I hope you and the people at your dinner table will enjoy it, too.
The magic of the cream cheese filling:
Consider the cream cheese a built-in condiment. The contrast between the mild and creamy cheese, the crispy bacon, and the sweet and spicy sauce will have your taste buds begging for more.
The bacon combined with raspberry-chipotle sauce and pork makes for an exquisitely sweet, salty, and smoky flavor experience.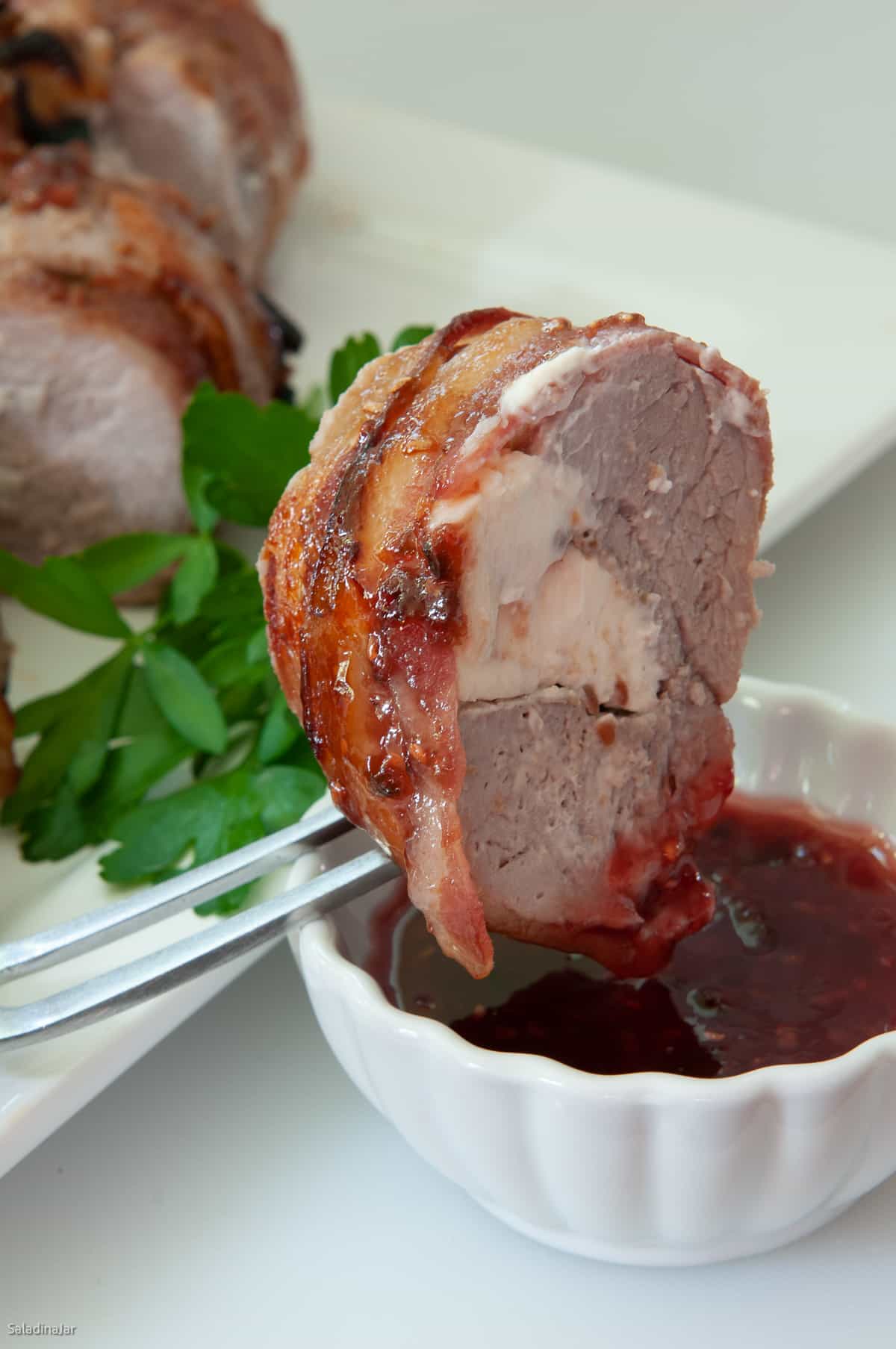 ---
Ingredients and common substitutes:
PORK TENDERLOIN: Pork tenderloin cooks quickly while retaining a tender texture, so it's perfect for this recipe. Be sure to remove the silver skin from the outside of the tenderloin. This membrane is strong and will be chewy if not removed.

Don't confuse a pork tenderloin with a pork loin. You can read more about the differences here. In this recipe, using a loin instead of a tenderloin would require a longer, slower cooking time to make it tender. Tenderloin is the most tender cut of pork. Cook it at a high temperature, but don't overcook it. Long cooking times can cause it to dry out since it is not a fatty cut of pork.

BACON: Regular-cut strips of bacon bake up crispier than thick-cut bacon.

CREAM CHEESE: If you prefer less fat, substitute Neufchâtel cheese for cream cheese. If you are violently opposed to cream cheese, leave it out.

RASPBERRY-CHIPOTLE SAUCE: I didn't specify an exact amount in the recipe. If you prefer mildly-spiced food, be sparing with this sauce. Be generous if you enjoy your food with some kick. I have only tried Fischer and Wieser raspberry-chipotle sauce.
---
How to assemble cream cheese stuffed pork tenderloin and wrap it with bacon: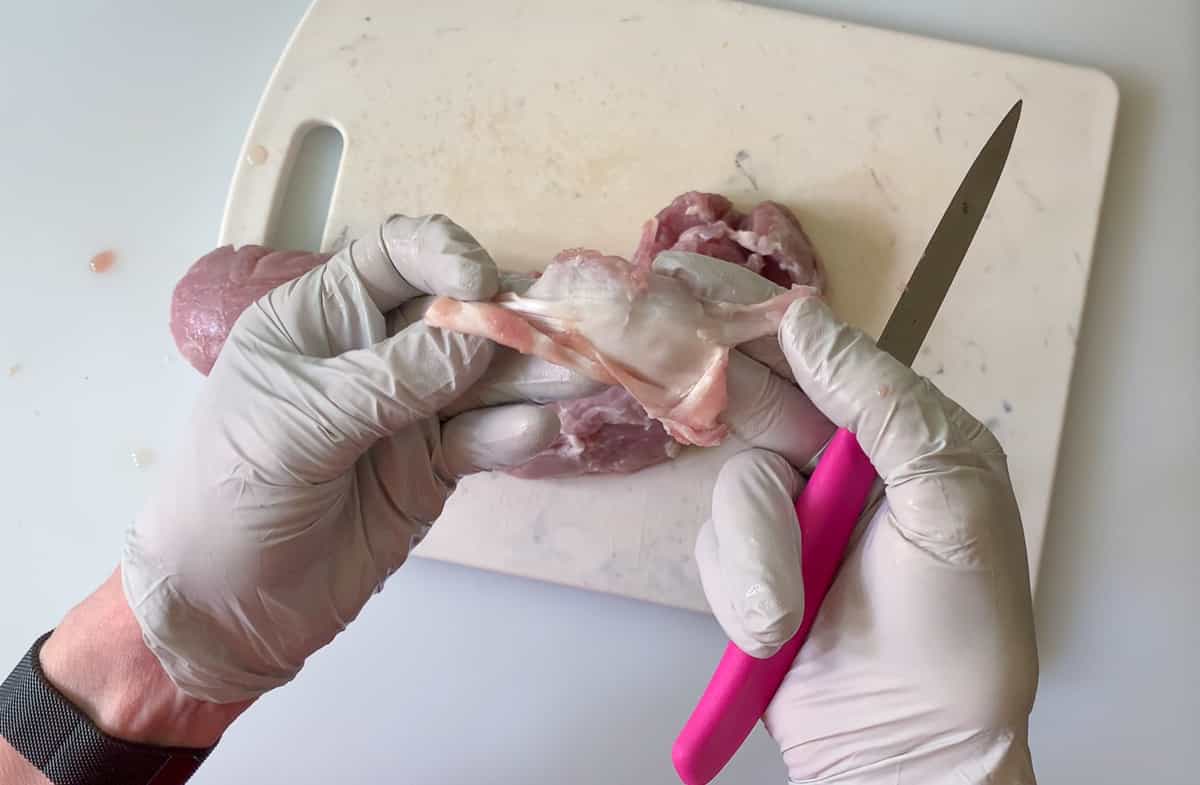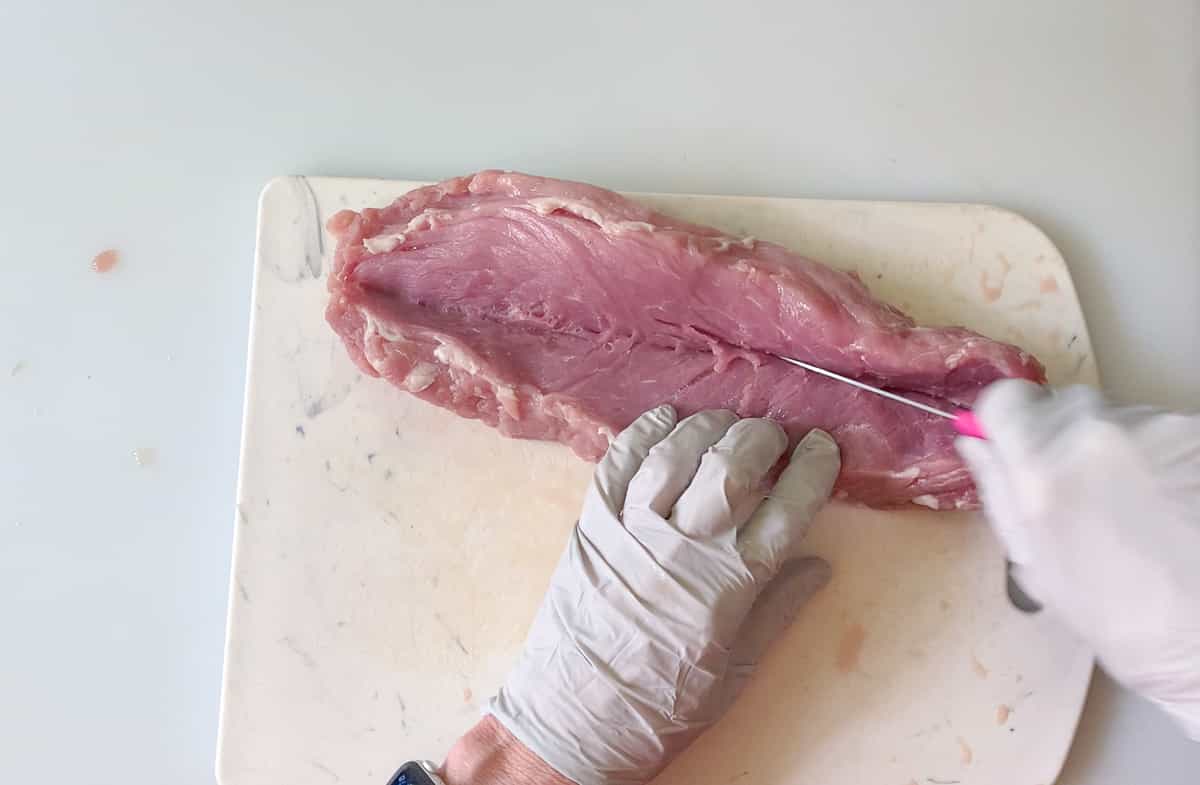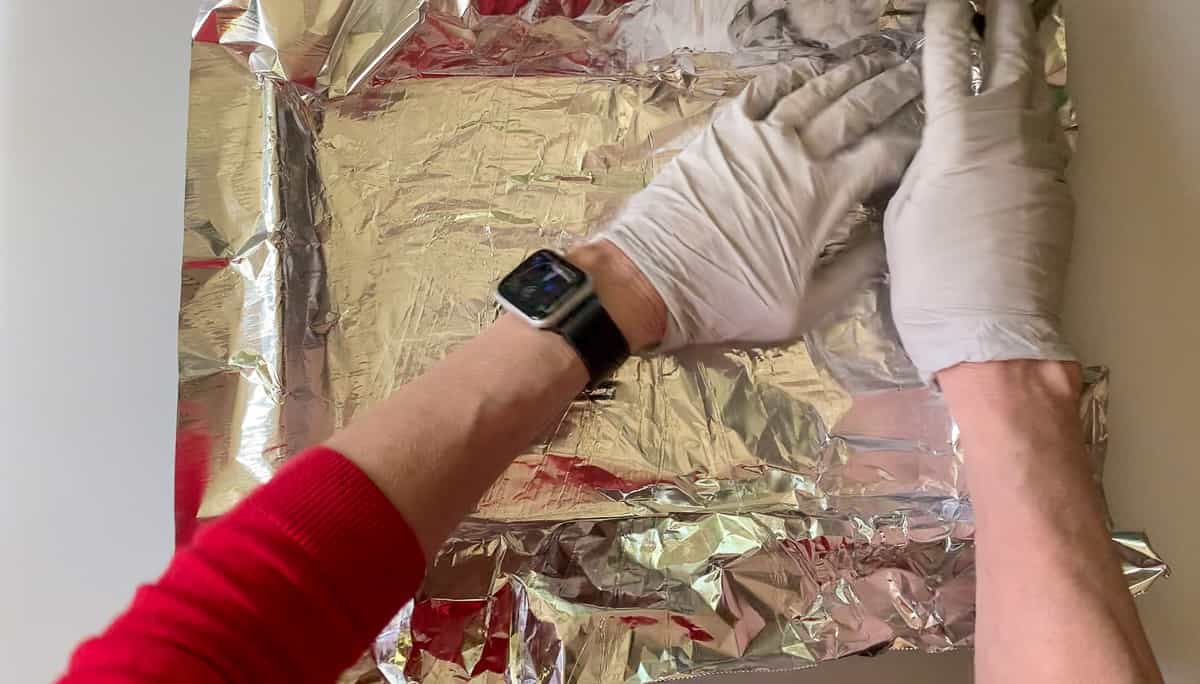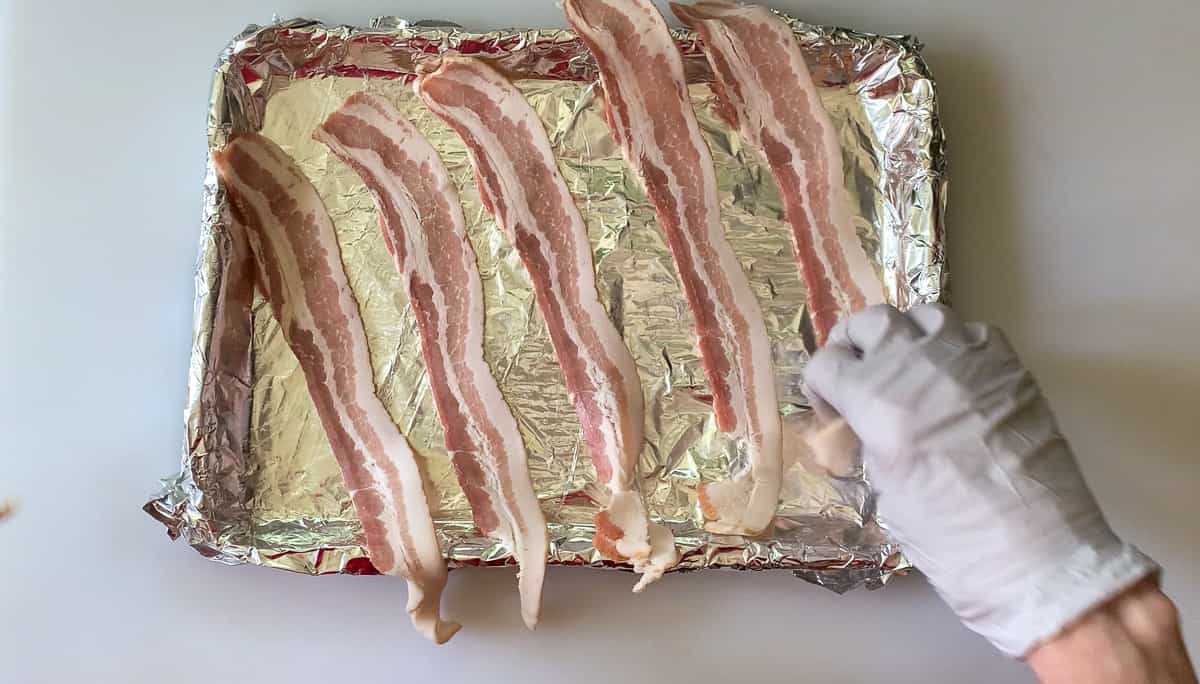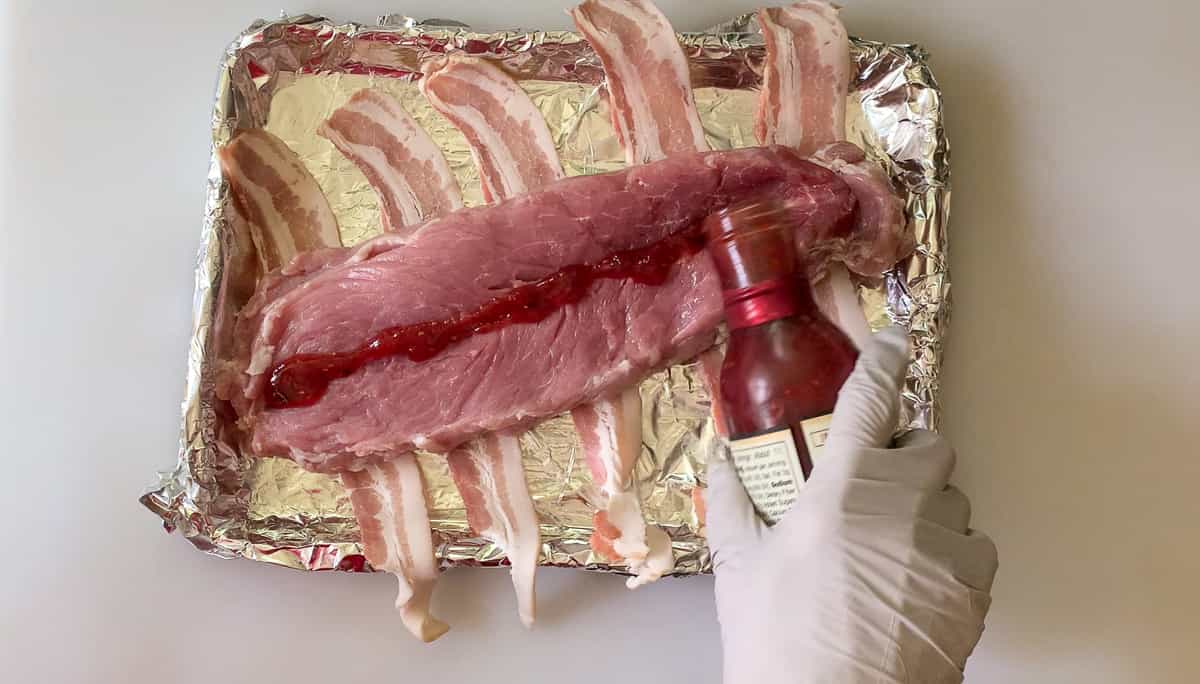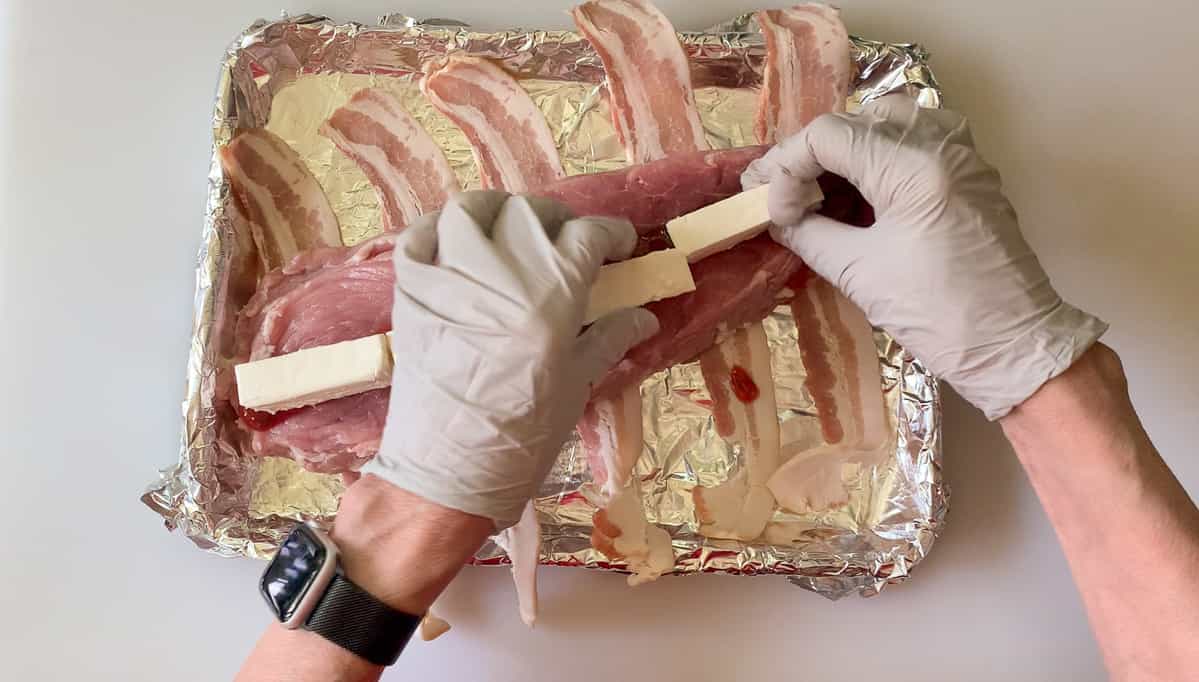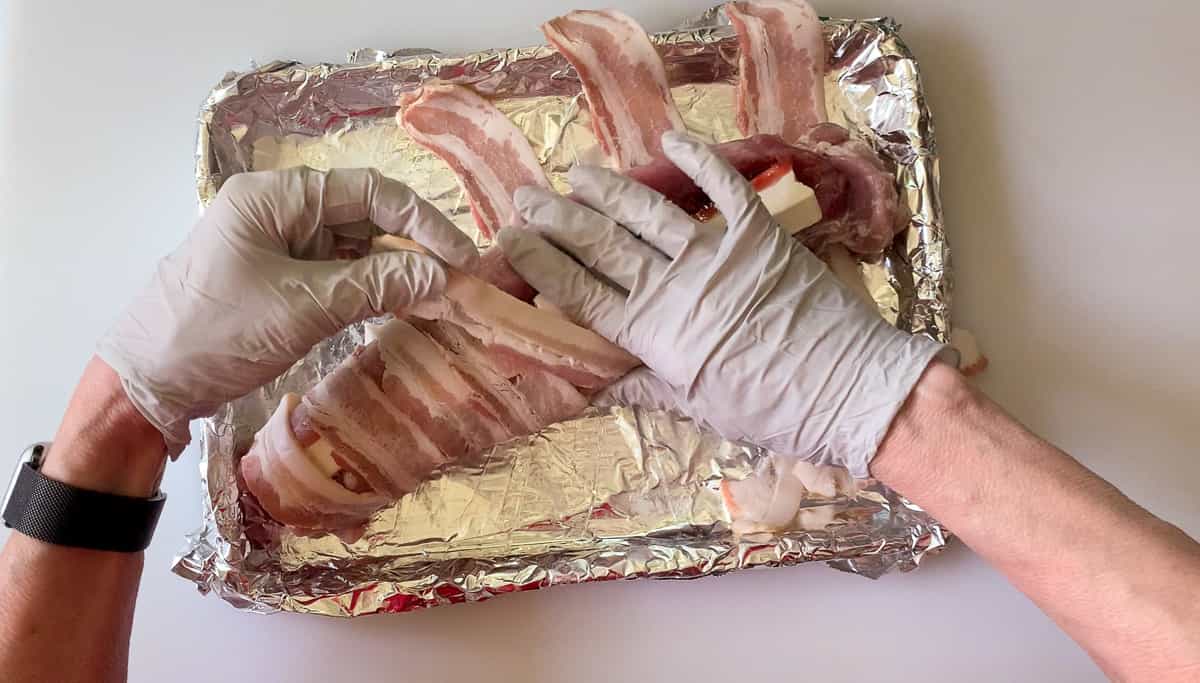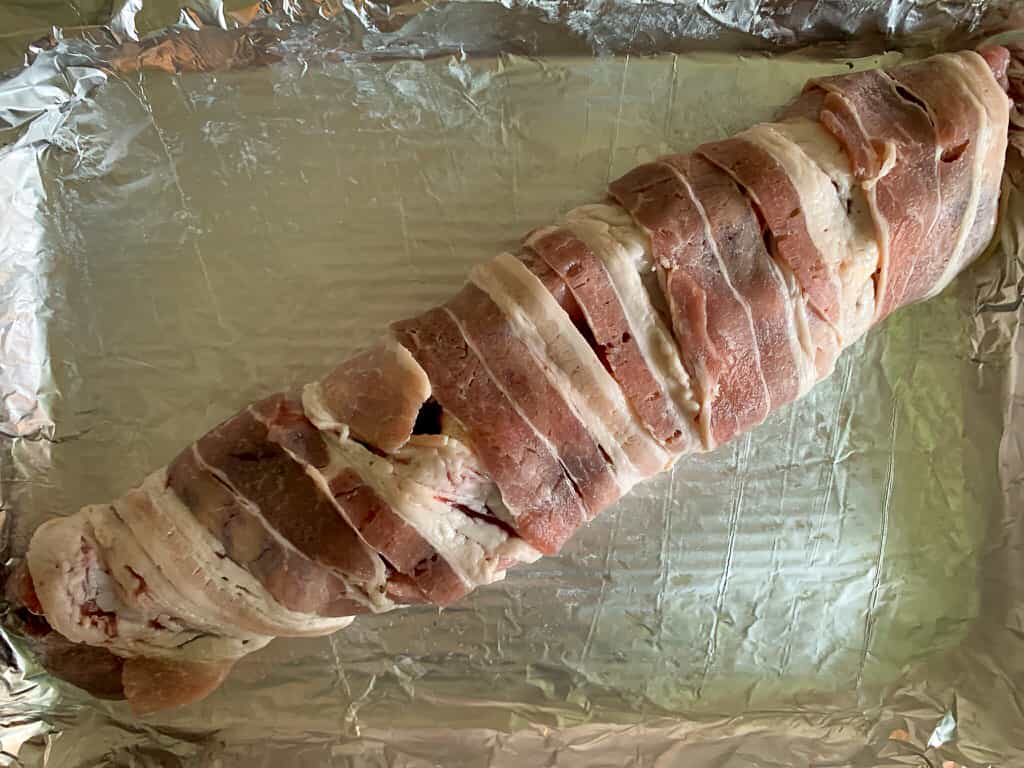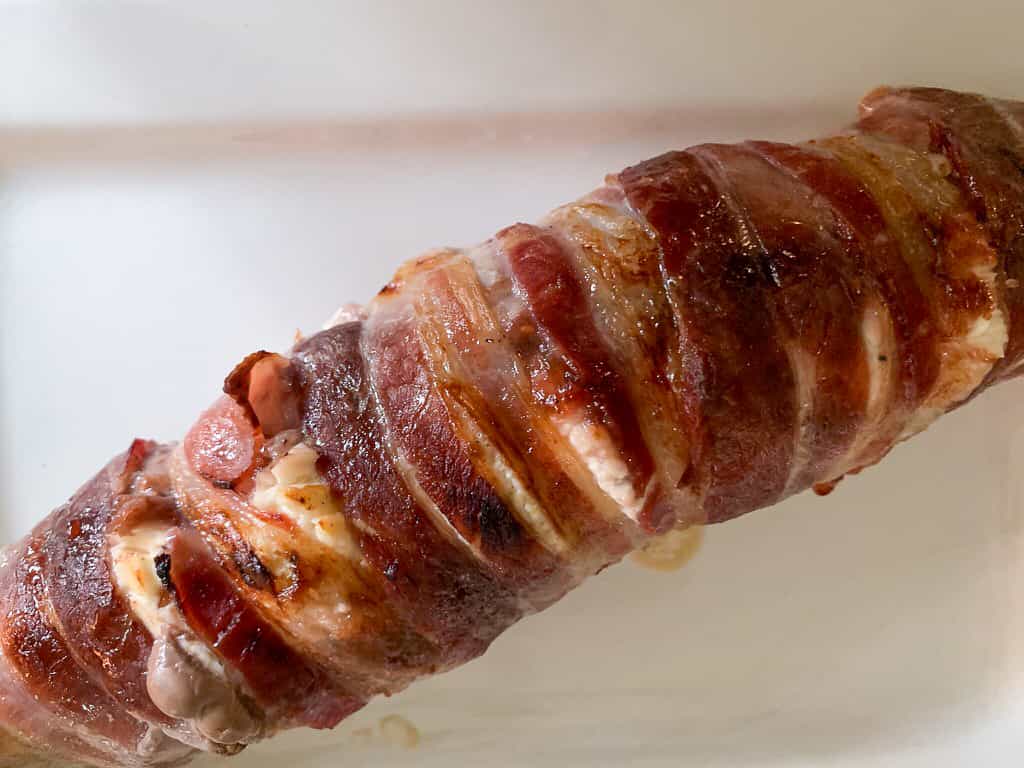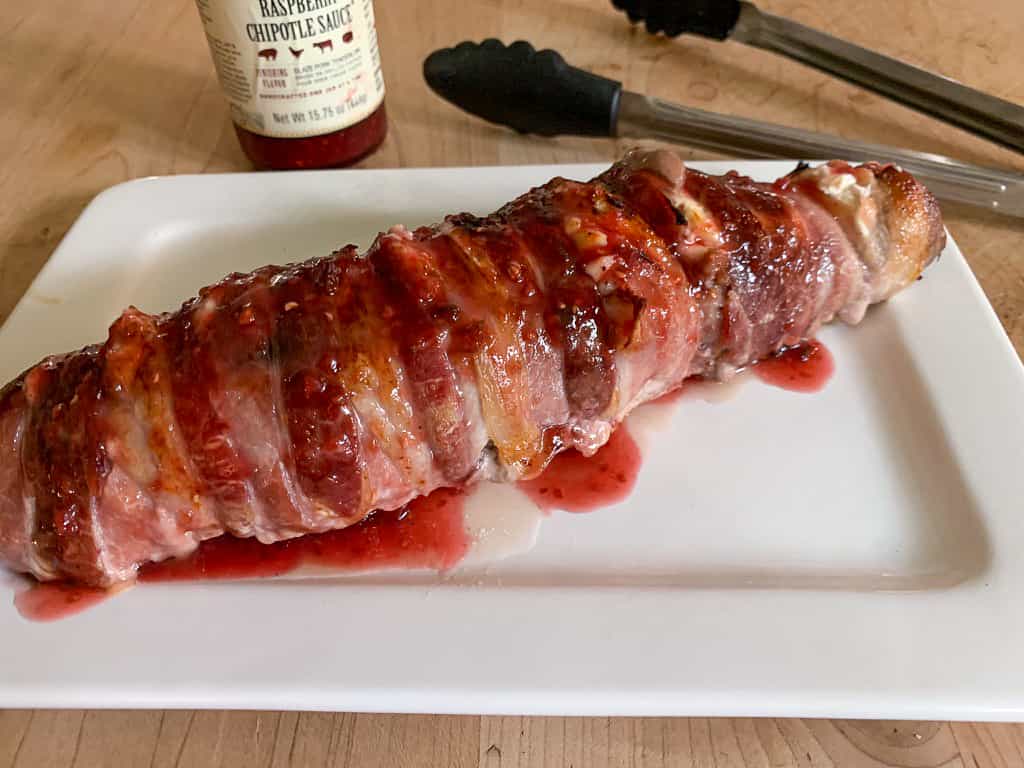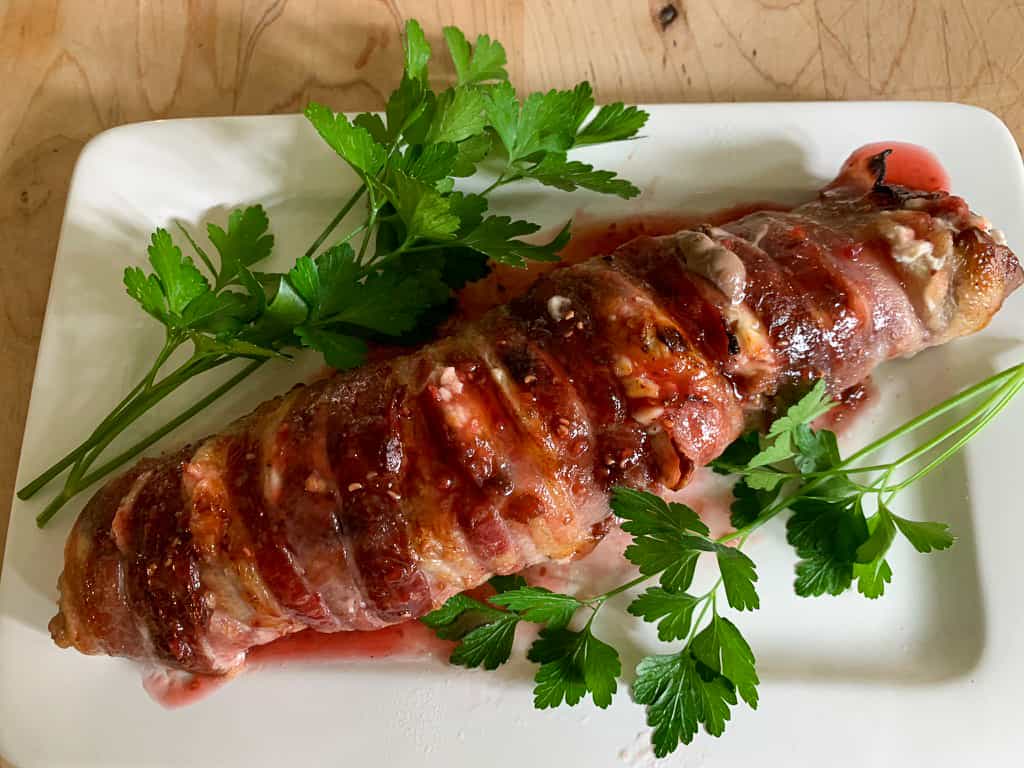 ---
FAQ about Stuffed Pork Tenderloin:
Can I make this recipe ahead of time?
You may prepare the meat earlier in the day, stuff it with cheese, wrap it with the bacon, and refrigerate it until it is ready to bake.
Can I make my raspberry-chipotle sauce?
I have not tried it myself, but others have here, here, and here.
How many will this recipe serve?
As written, this recipe serves 3-4 carnivores. The number of servings will also vary with the size of the pork tenderloin you are baking. This recipe is easy to double or triple.
My tenderloin was not done in the middle (or it was too done at the end of the specified cook time).
Tenderloins come in varying sizes. I recommend a quick-read thermometer, to know when your tenderloin has reached the correct temperature. Avoid sticking the thermometer into the cream cheese–it can trick you.
Where do I add salt?
Because of the salty bacon and the salt in the sauce, I don't add any. But if I did, I would salt the inside of the tenderloin before I stuff it with cream cheese.
Parting words: Although this recipe is easy with only 4 ingredients, peeling the silverskin from the tenderloin takes a little practice. I use a sharp little paring knife. If you've never done this before, allow yourself some extra time. Once you get the hang of it, the silverskin will fly off in no time.
---
Crazy about bacon?
---
Recipe Help at Your Fingertips: For questions or suggestions, email Paula at saladinajar.com. If you need help, I'm happy to troubleshoot via email (faster than leaving a comment). Attach pictures and as many details as possible for the best advice.
---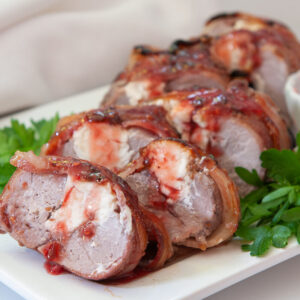 Impressive Bacon-Wrapped Pork Tenderloin Stuffed with Cream Cheese
Pork tenderloin stuffed with cream cheese is wrapped with bacon and bathed in Raspberry-Chipotle Sauce. The aroma in the house while this bakes is amazing!!!
Share recipe love here. ⬇
Ingredients
4

slices

bacon

–

regular-cut

1

pork tenderloin

–

1 to 1-1/2 pound

4

oz.

cream cheese

1

cup

raspberry chipotle sauce

Freshly-ground pepper
Instructions
Cover a small cookie sheet or shallow baking dish or pan with foil, preferably non-stick. Be sure foil goes up and over the sides with no seams.

Lay 4 slices of bacon on a cookie sheet with space the width of bacon between each strip. See the picture above.

Carefully trim any fat or silverskin from the tenderloin.

Butterfly tenderloin down the middle, cutting about 3/4 of the way through the meat. Lay it out on top of the bacon.

Place cream cheese down the middle. Cover with raspberry-chipotle sauce.

Fold tenderloin back up so that cream cheese is enveloped and wrap tenderloin with bacon. Tuck the ends under. Use extra bacon if necessary to cover tenderloin.

Season with freshly-ground pepper.

Bake in 450˚ F oven for 20 minutes or until the internal temperature of the pork is 145˚F. If bacon is not yet crispy and brown, put the meat under the broiler until the bacon gets crisp. Wrap the ends of the whole tenderloin with foil pieces to protect them from burning if they get done before the middle of the tenderloin.

Once the bacon is cooked, coat the entire bacon-wrapped tenderloin with enough raspberry-chipotle sauce to cover but not so much that it drips excessively onto the cookie sheet.

After removing from the oven, cover loosely with foil and allow to rest 5-10 minutes before slicing. Coat the entire bacon-wrapped tenderloin with enough raspberry-chipotle sauce. Serve with extra sauce on the side.
Nutrition
Serving:
1
serving
|
Calories:
670
kcal
|
Carbohydrates:
1
g
|
Protein:
95
g
|
Fat:
27
g
|
Saturated Fat:
11
g
|
Polyunsaturated Fat:
3
g
|
Monounsaturated Fat:
9
g
|
Trans Fat:
1
g
|
Cholesterol:
327
mg
|
Sodium:
358
mg
|
Potassium:
1828
mg
|
Fiber:
1
g
|
Sugar:
5
g
|
Vitamin A:
390
IU
|
Calcium:
57
mg
|
Iron:
5
mg
HELP OTHERS find this recipe. Leave a 5 🌟🌟🌟🌟🌟 rating at the top of the recipe card if you enjoyed it. No comment is required.
---