Preview: This Stuffed Bacon-Wrapped Pork Tenderloin with Raspberry Chipotle Sauce is a spectacular way to spoil your family and friends.
Consider yourself warned about the come-hither aroma wafting from your oven as this recipe bakes. I promise you. Every man, woman, and child within sniffing distance of your kitchen will be begging for a sample.
With only 4 ingredients (pepper doesn't count), you won't even need a recipe after making this bacon-wrapped pork tenderloin the first time. The spicy sauce combined with the cream cheese filling will be a winner at your dinner table.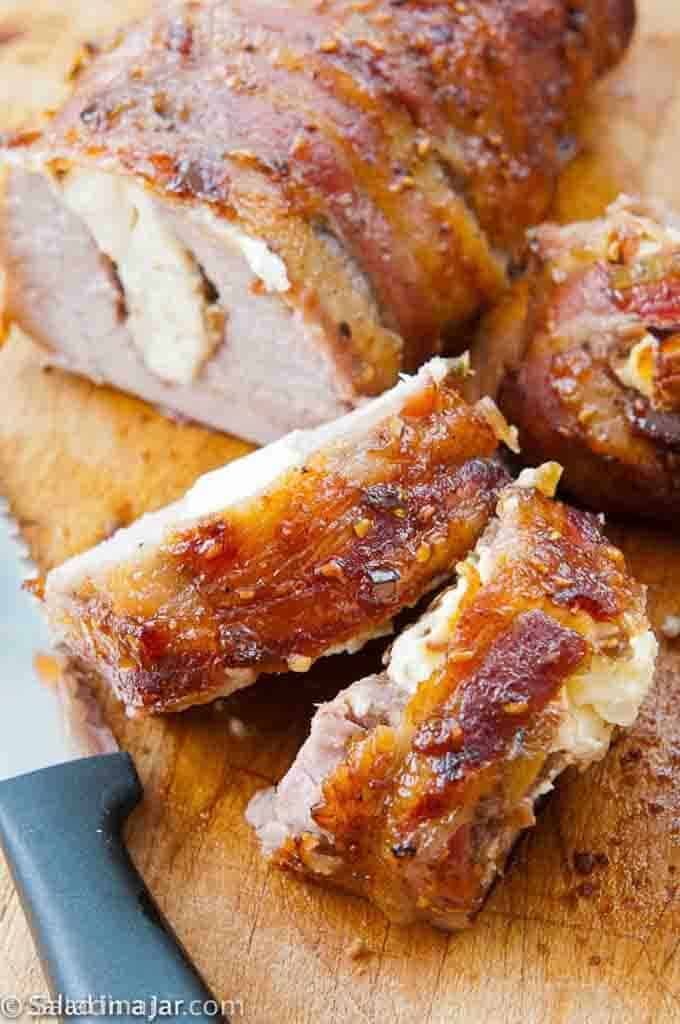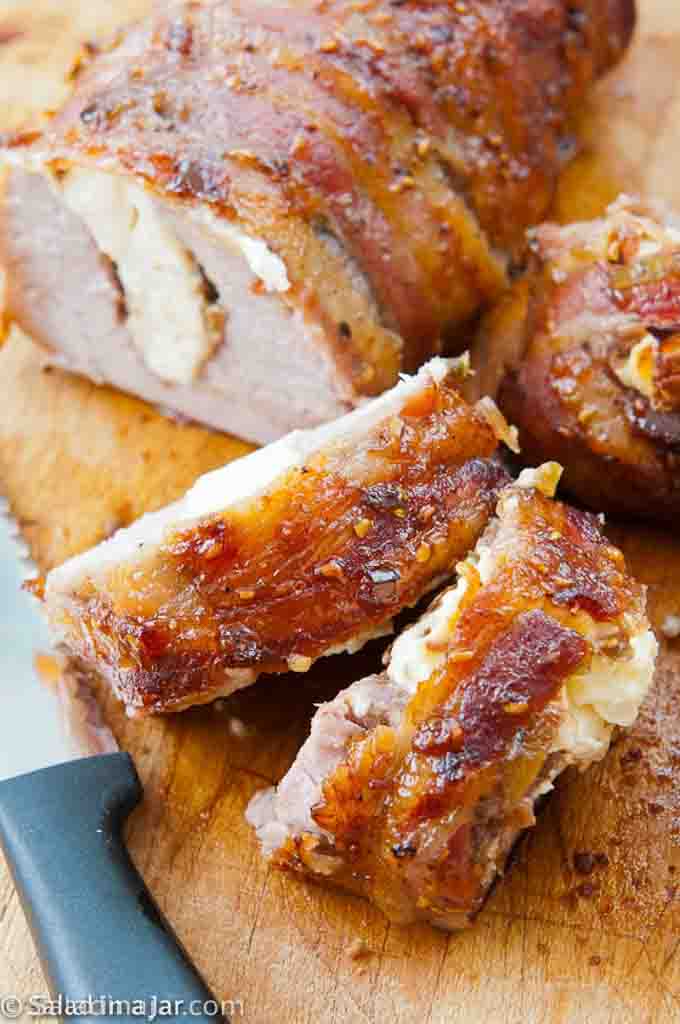 A big thanks to my friend Scooter, of Scooter's Spaghetti fame, who shared this recipe with me a few weeks ago. My husband went crazy for it.
I recently served this stuffed tenderloin to my sister who was in town from Alabama with her husband. They pronounced it a winner. I hope you and the people at your dinner table will enjoy it, too.
Why the cream cheese filling?
Consider the cream cheese a built-in condiment. The contrast between the mild and creamy cheese, the crispy bacon, and the sweet and spicy sauce will have your taste-buds begging for more.
The bacon combined with raspberry chipotle sauce and pork makes for an exquisite sweet, salty, smoky flavor.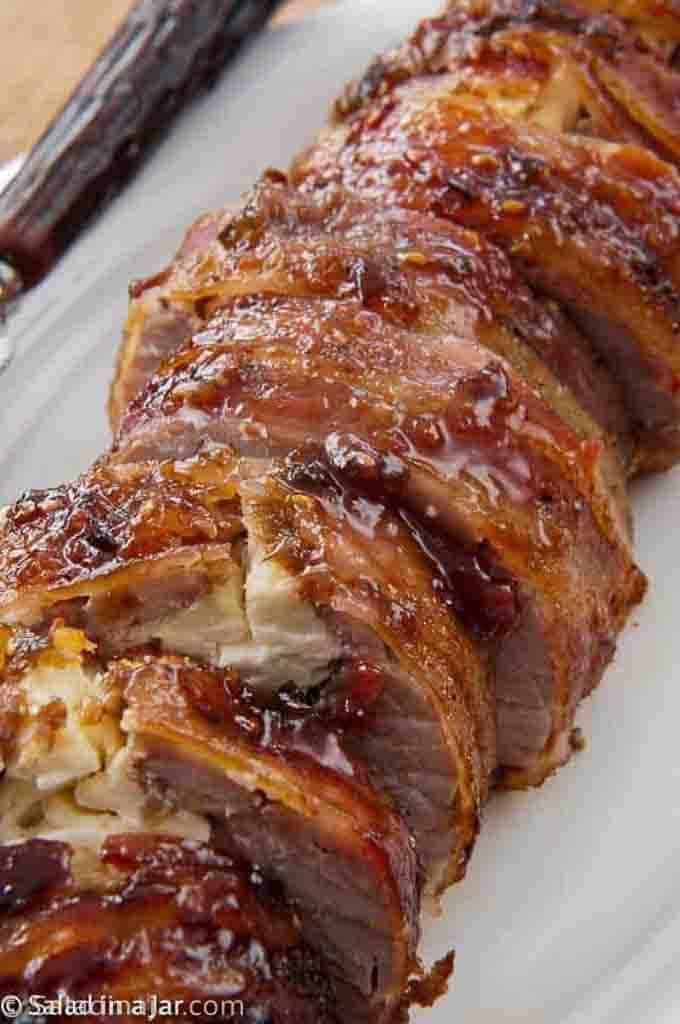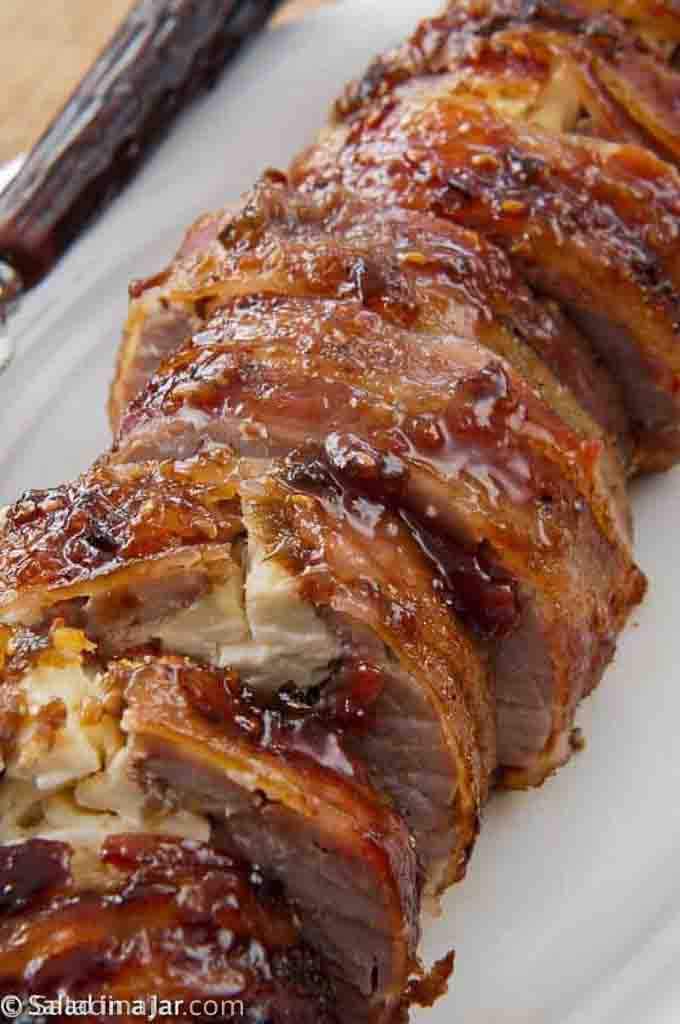 Tips for making Stuffed Bacon-Wrapped Pork Tenderloin:
#1
Cover your pan or baking dish with foil (include the sides).
You'll thank me when it comes time to do the dishes.
#2
Don't use thick-sliced bacon.
Thin bacon gets nice and crispy which is what you want. If you live near a Braum's store, you might try their thin bacon. It cooks up beautifully. (It also microwaves nicely for a BLT.)
#3
In regard to the amount of raspberry chipotle sauce.
I didn't specify an amount in the recipe. Go sparingly if you don't like a lot of spicy heat. Be generous if you do. Serve with extra sauce on the side if you live in Texas. I have only tried Fischer and Wieser raspberry chipotle sauce because I've been told it's the best.
#4
The recipe as written serves 3-4 carnivores.
It can be easily doubled, tripled, or more.
#5
Put your dinner over the top by serving homemade slider buns to make miniature sandwiches.
My Favorite Dinner Rolls or Sweet Potato Dinner Rolls are really good.
---
How to assemble the pork tenderloin and wrap it with bacon:
(If you prefer, watch the video above.)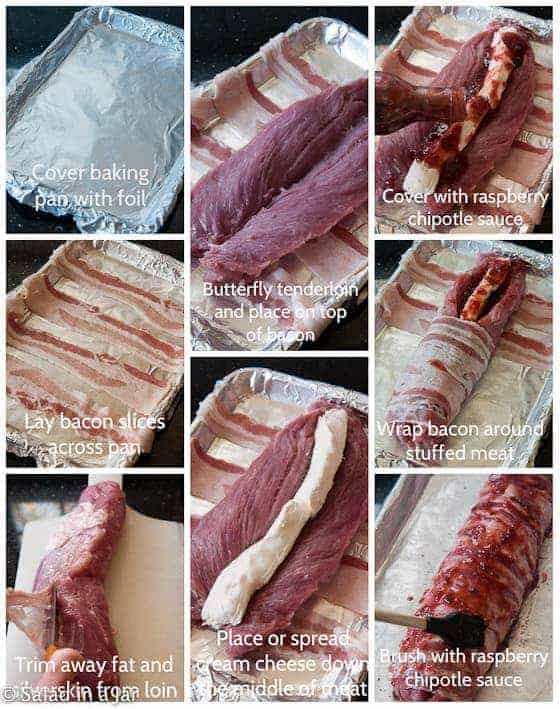 ---
Crazy about bacon?
Did you enjoy this recipe? If so, you can help others and myself by leaving a 5-star 🤩 rating in the recipe below. No comments required.
Hope to see you again soon!
Paula
p.s. If you have any questions or suggestions, you can email me privately: paula at saladinajar.com.
---