Easy Bear Claw Recipe for a Special Breakfast: Bread Machine
Sneak Preview: This Easy Bear Claw Recipe is a sweet yeast roll topped with icing and almonds. Although this dough is designed to be mixed in a bread machine, bakers who prefer a stand maker or their own hands will find those directions in the recipe notes.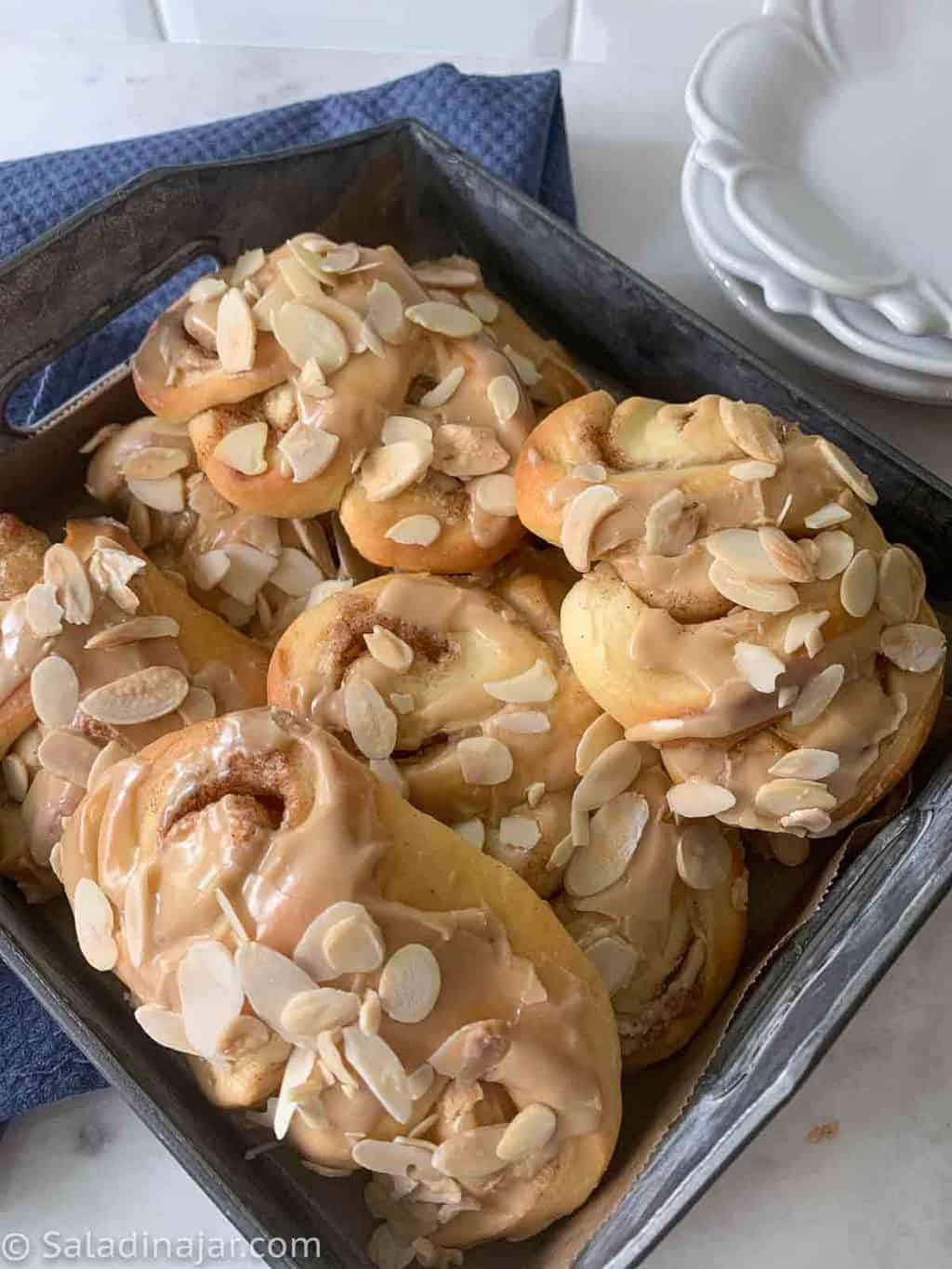 As an Amazon Associate, I earn from qualifying purchases.
The dough for these bread machine bear claws is richer than the average cinnamon roll. Sour cream is the secret ingredient.
They are fun to put together and a little something different to put on a brunch or breakfast table without getting complicated.
Bonus: It's easy for kids to pick off the almonds if they don't want them. Or you could leave them off if you prefer.
This recipe is mixed and kneaded with a bread machine. No worries if you don't have one. See the recipe notes on using a stand mixer or making them by hand.
Happy Cooks Speak Up
"I made these for the first time and they turned out just lovely! So excited to make my own, super fresh bear claws at home rather than paying 4 dollars each for a semi stale one. Thanks again!"

Chelsea D.
Recipe Inspiration
I adapted this bear claw recipe from one of my favorite cookbooks, Grant Corner Inn Breakfast and Brunch Cookbook by Louise Stewart(paid link). I have yet to find a bad recipe in this little book. This Twisted Cinnamon-Pecan Breakfast Yeast Bread is another treat from the same cookbook.
At one time, one of my goals in life was to try every one of Ms. Stewart's yeast-bread recipes. Surely, this would qualify me for a Nobel Peace Prize or something similarly lofty. In reality, it would probably land me a spot on The Biggest Loser.
Although they look fancy, these sweet bear claws aren't hard. Like all of my bread recipes, I make it in a bread machine. You can read about my bread machine philosophy in my list of bread machine tips.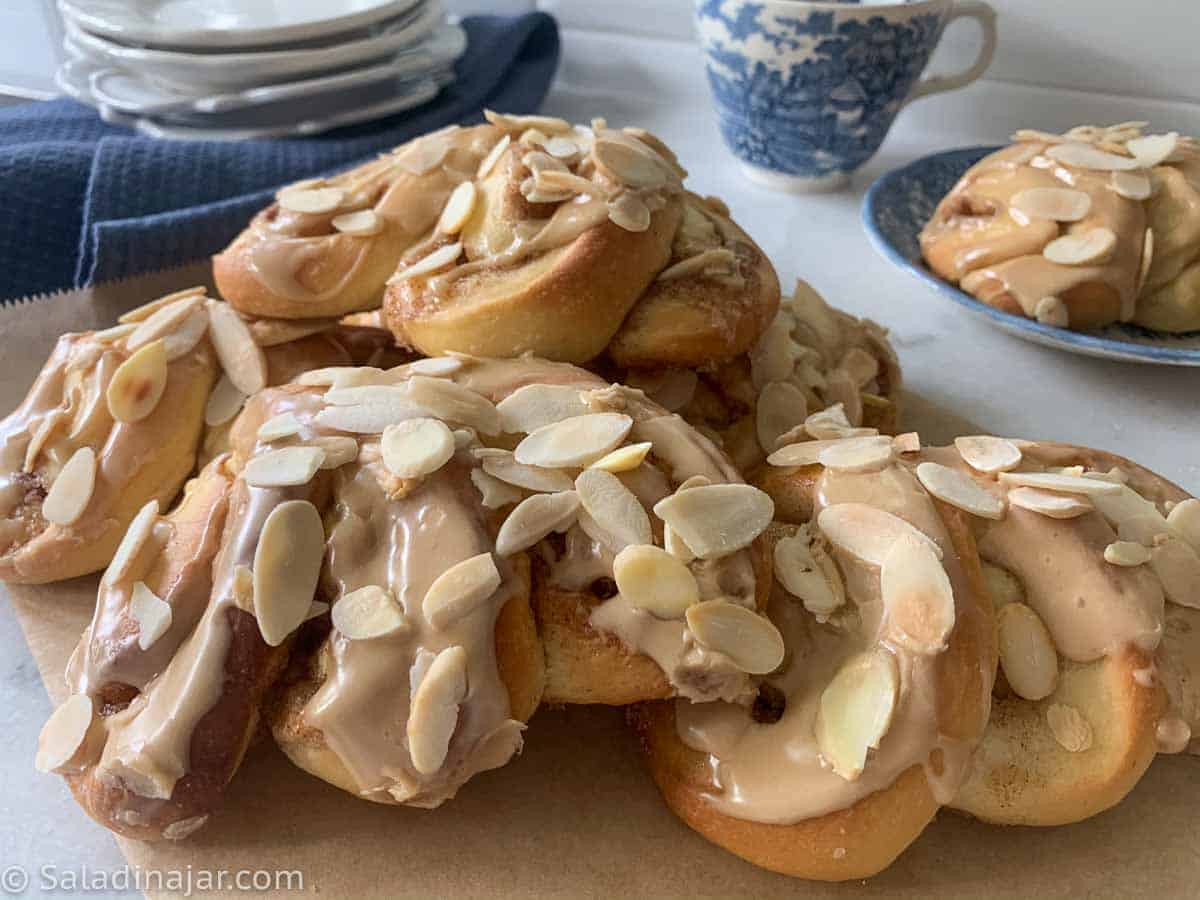 ---
---
How to make bear claw dough with a bread machine: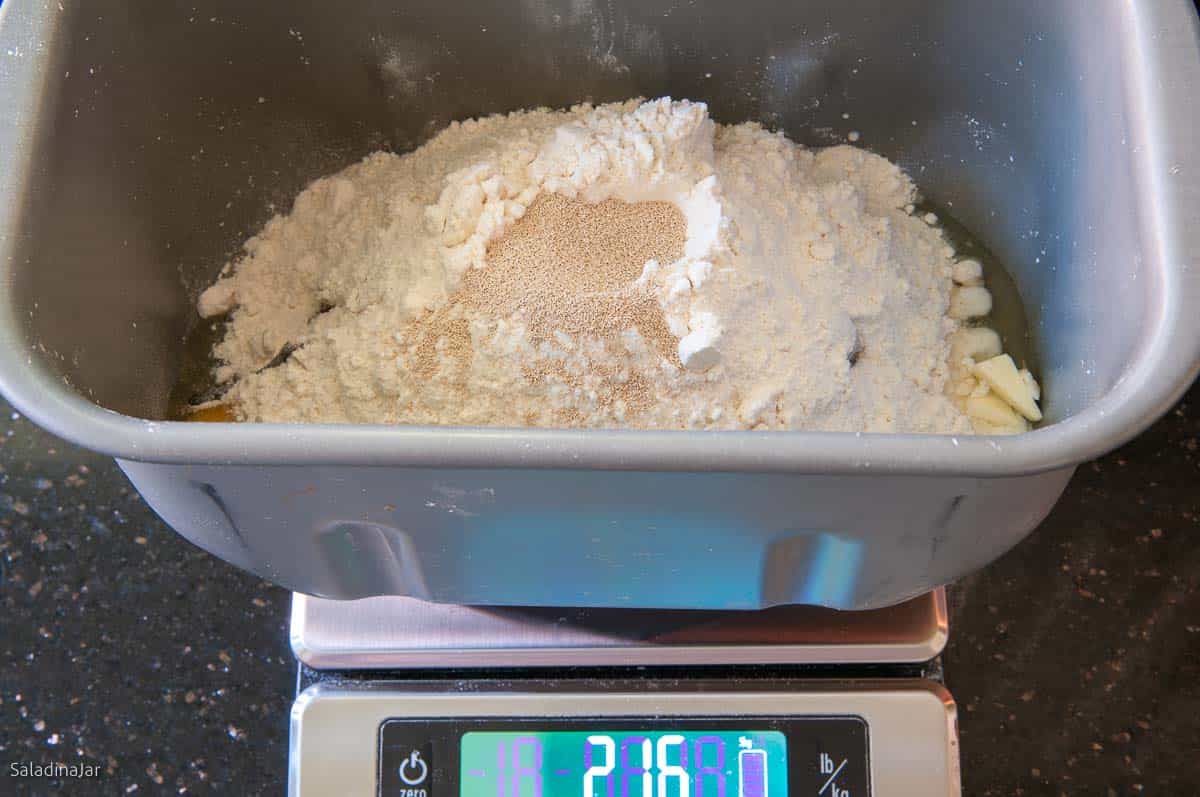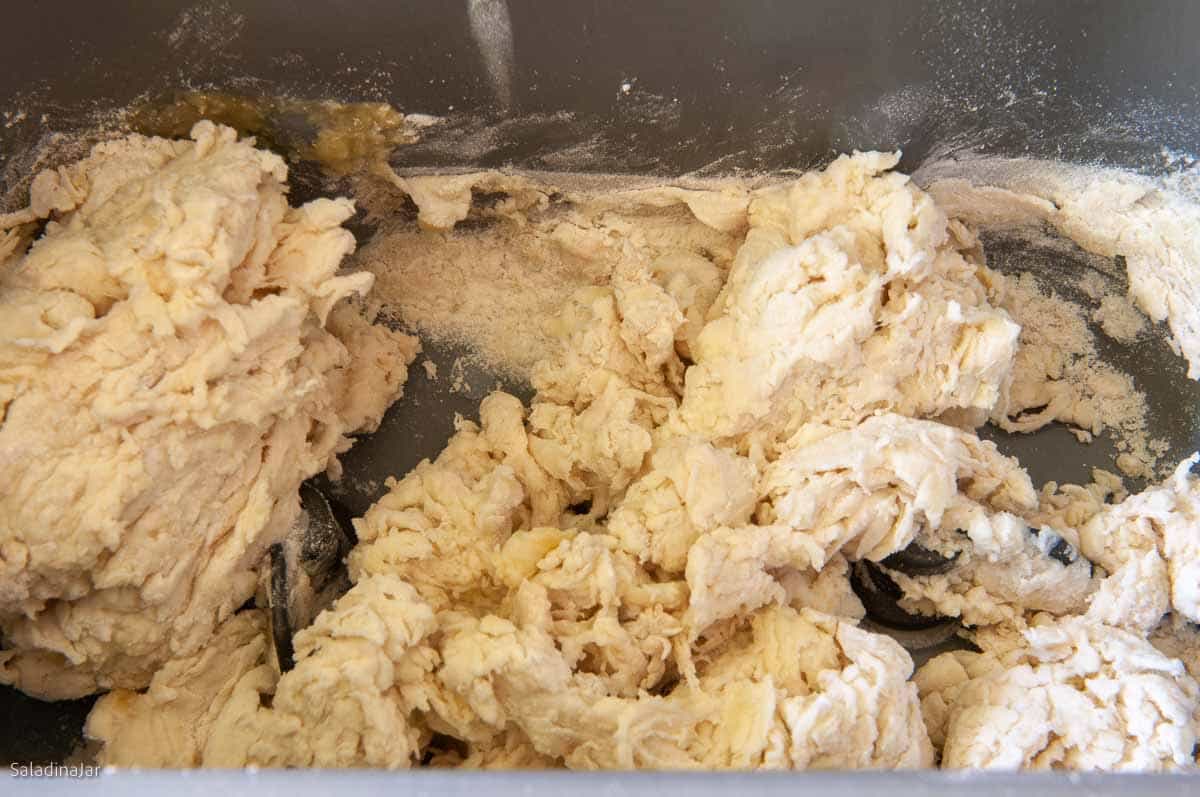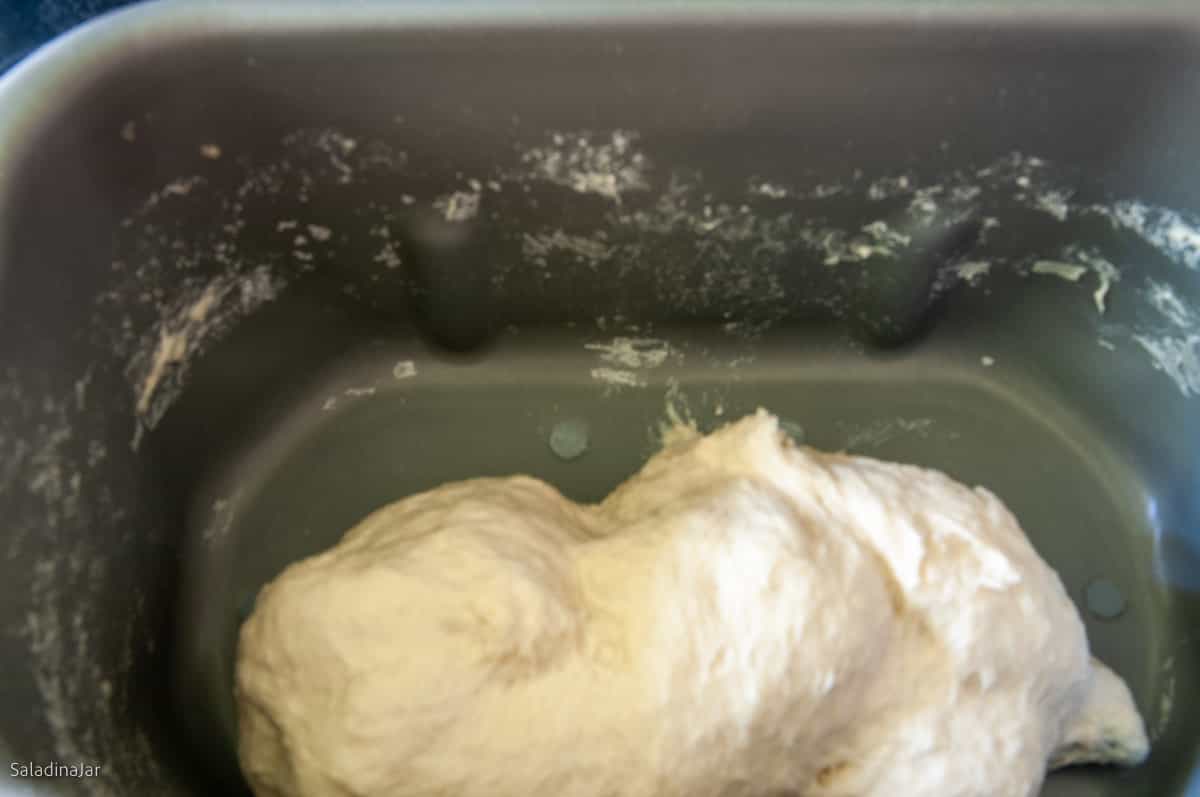 ---
How to roll out and shape a bear claw pastry: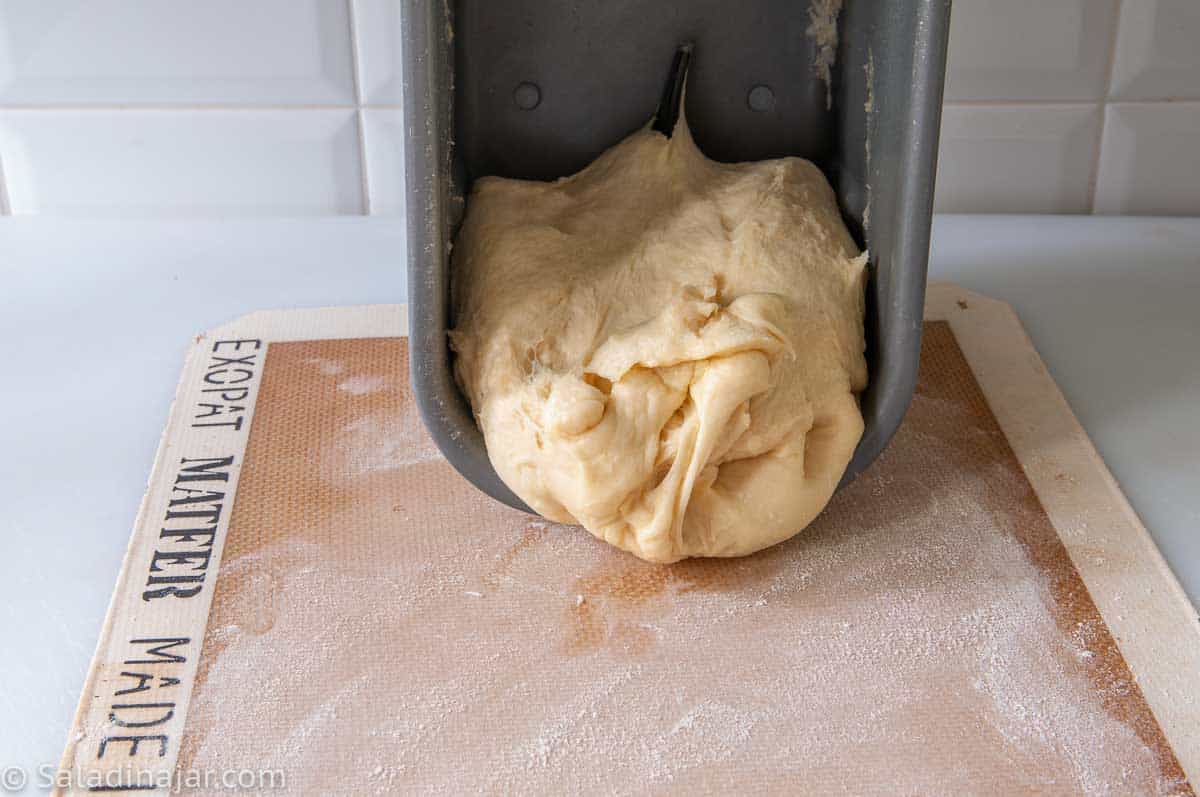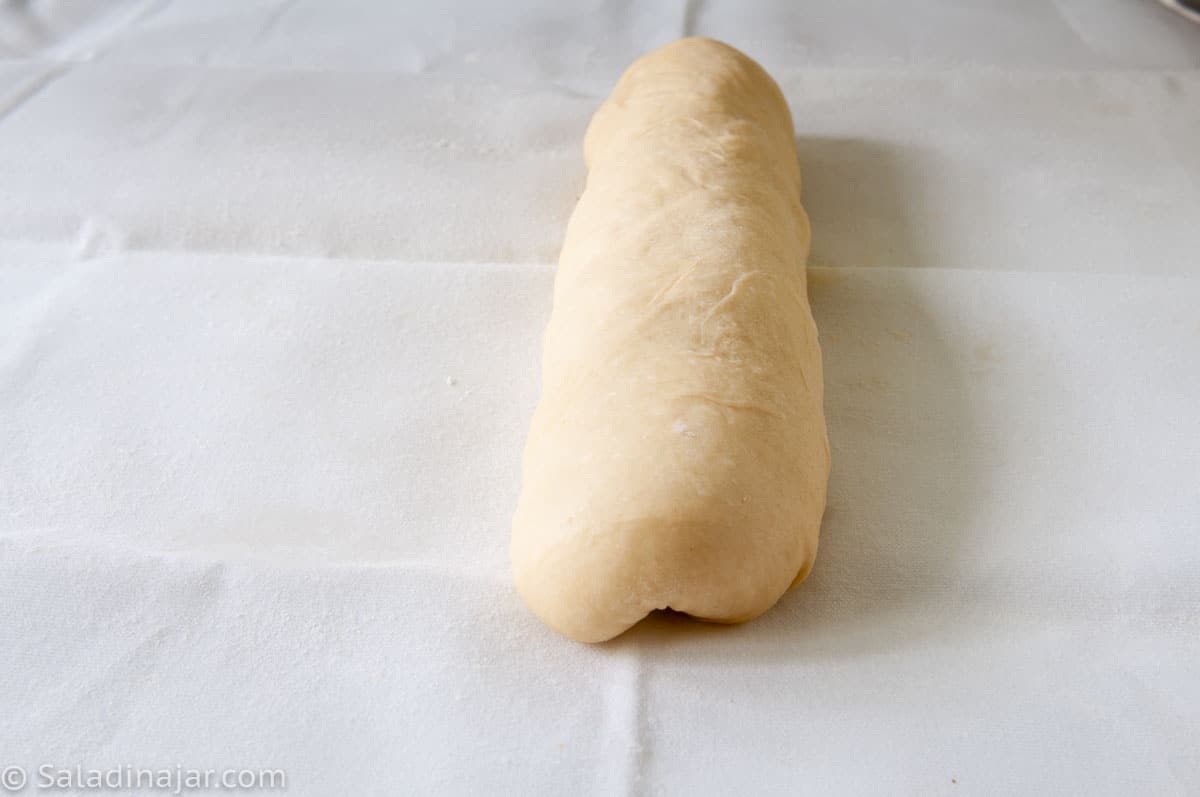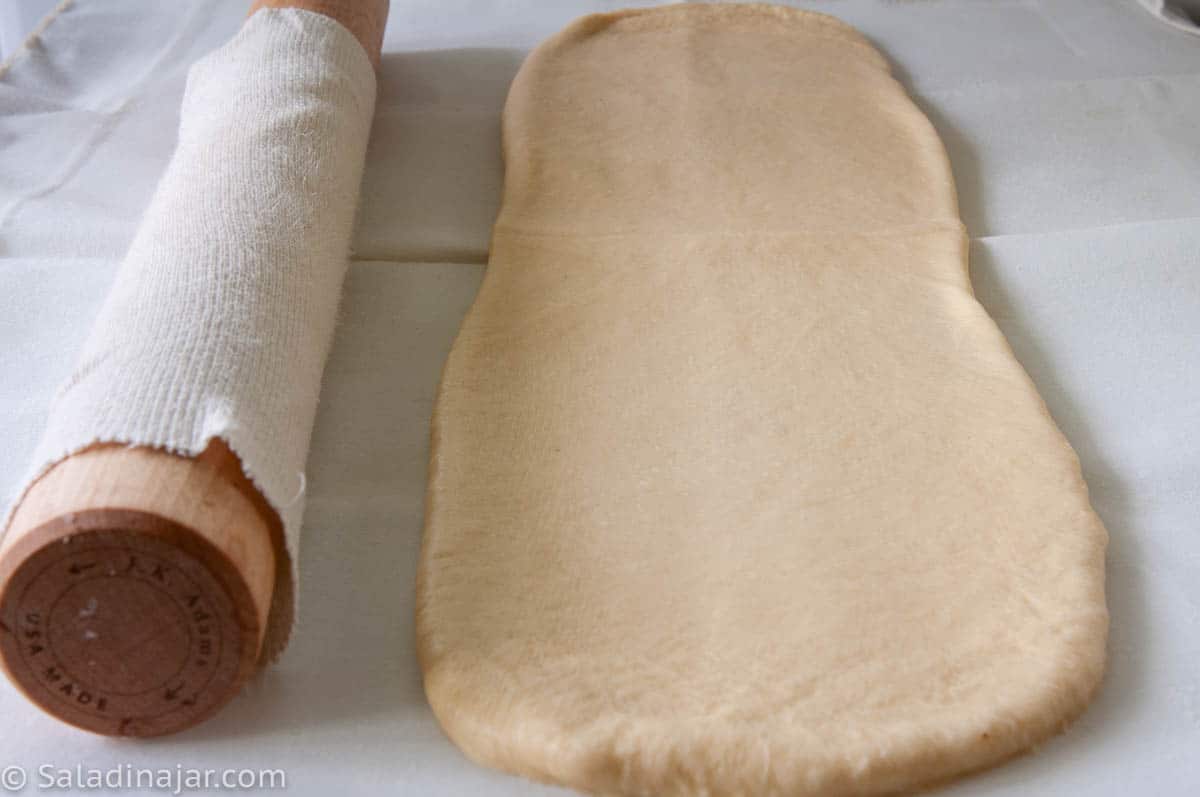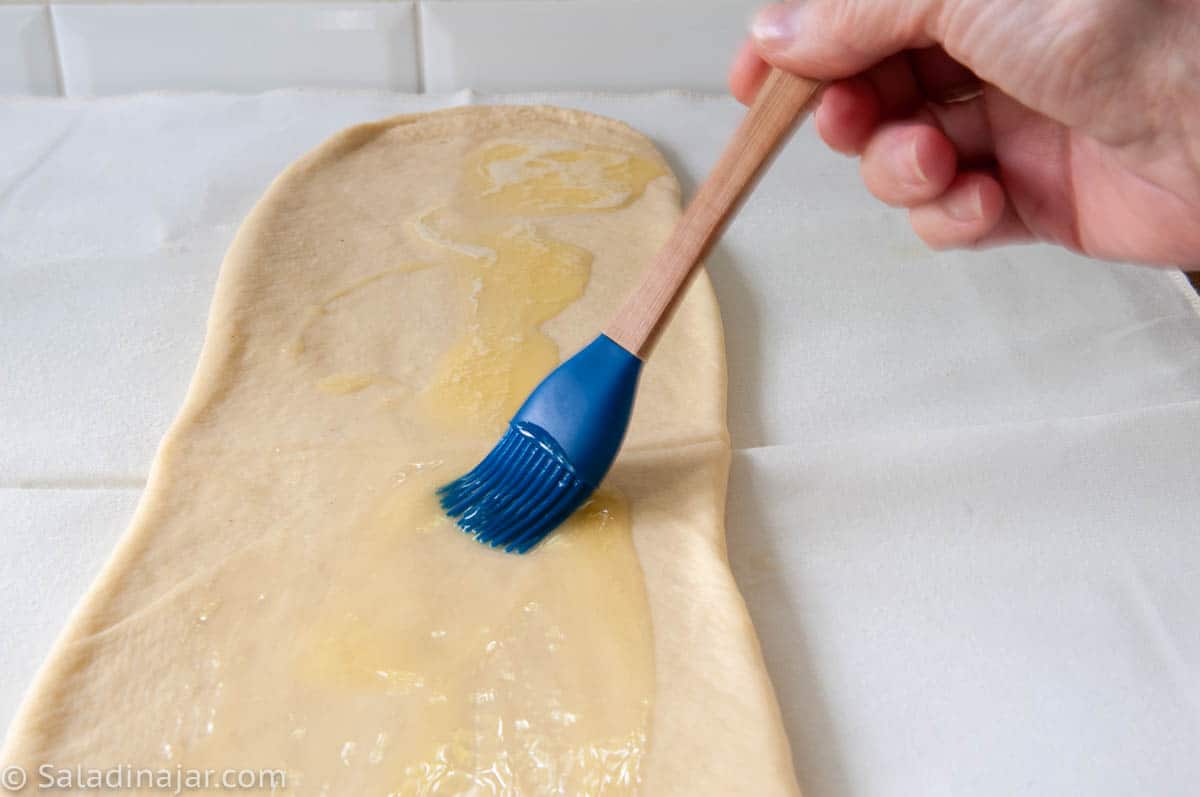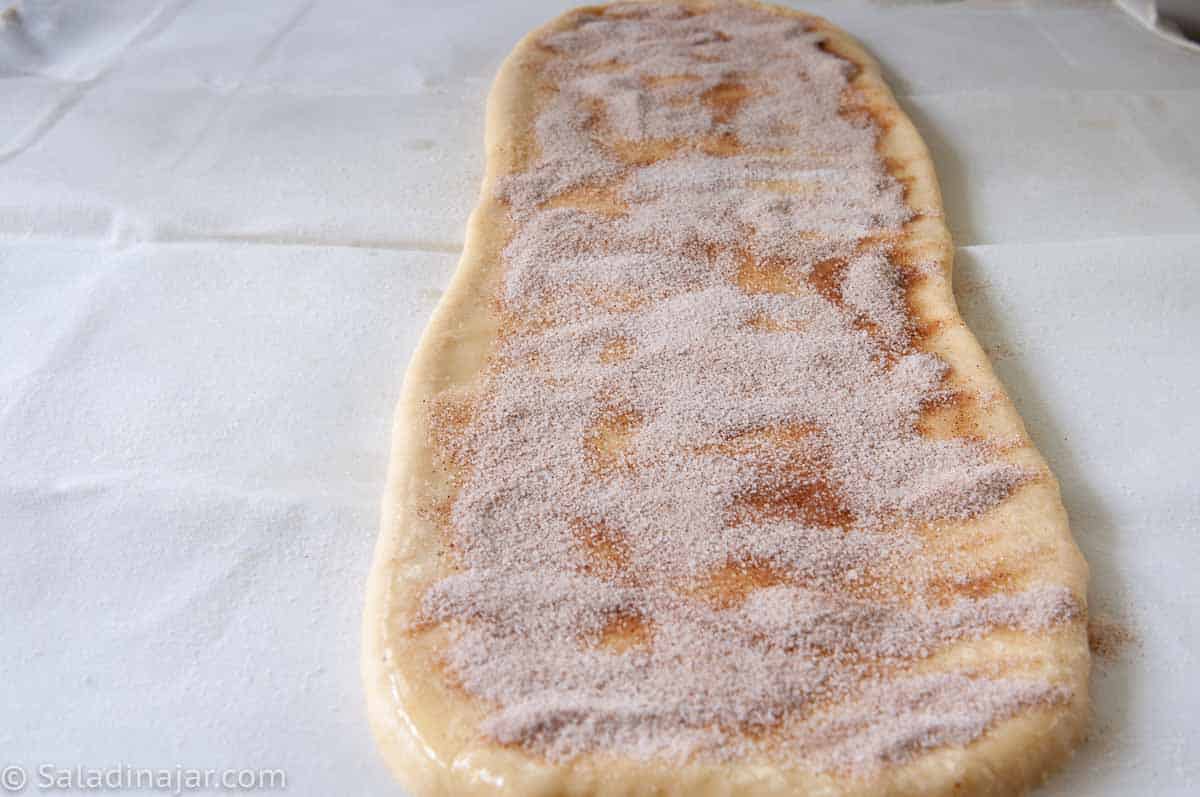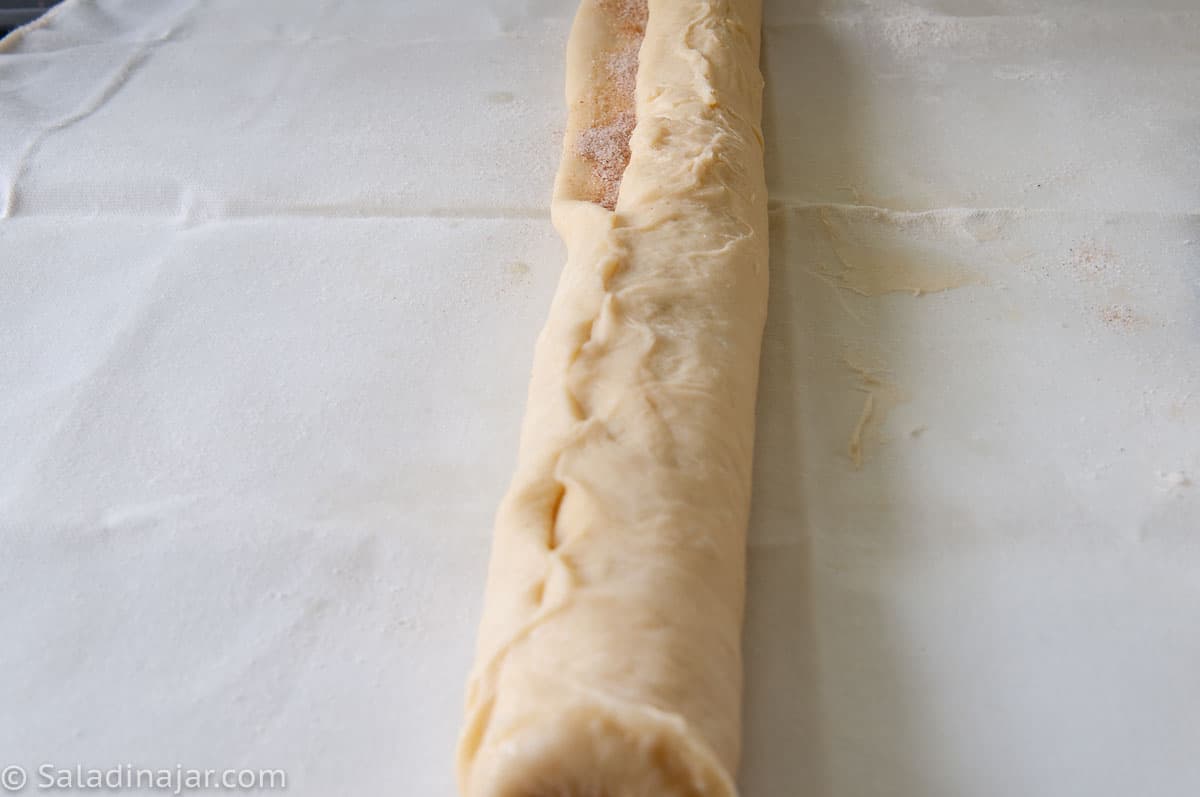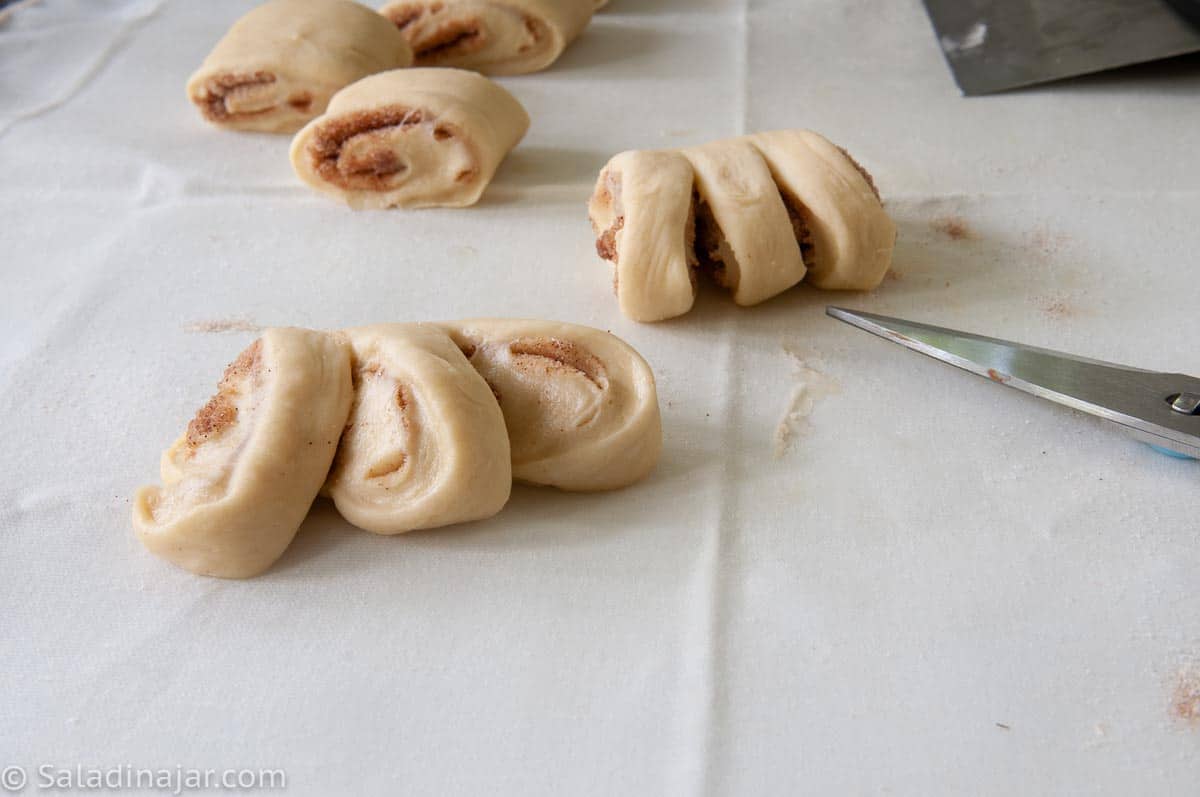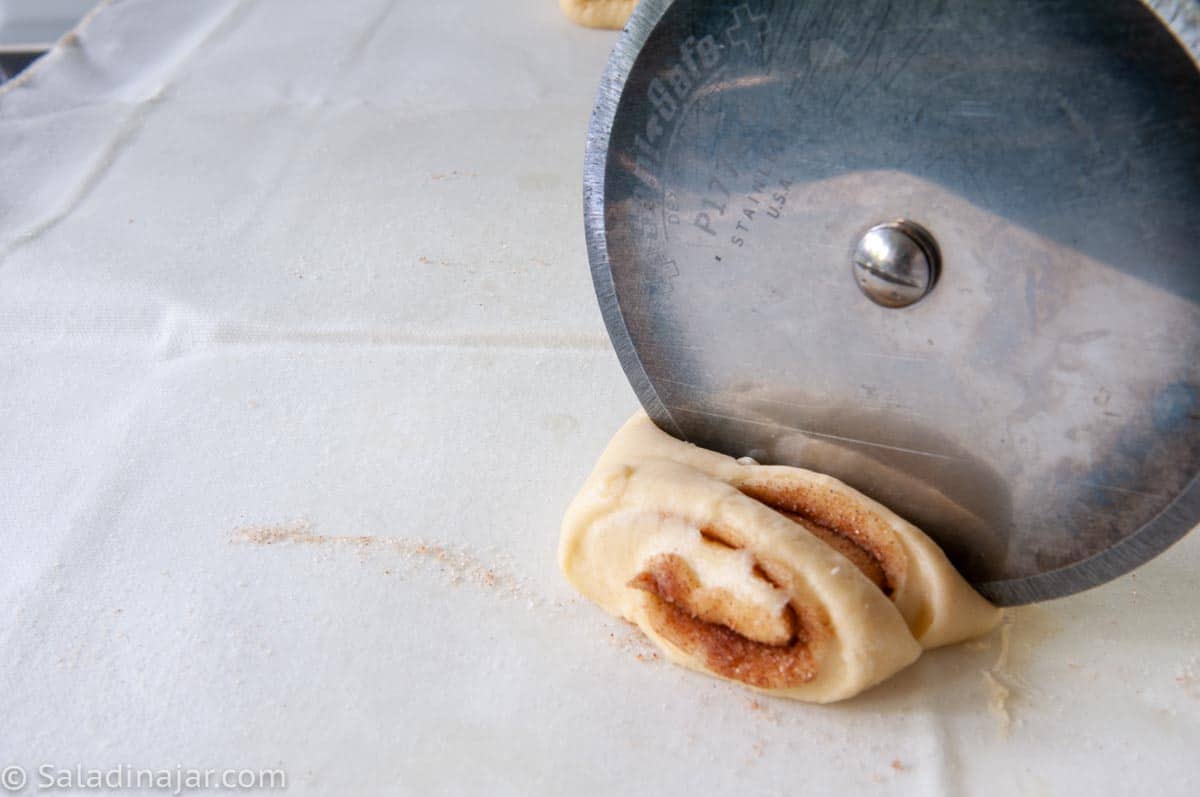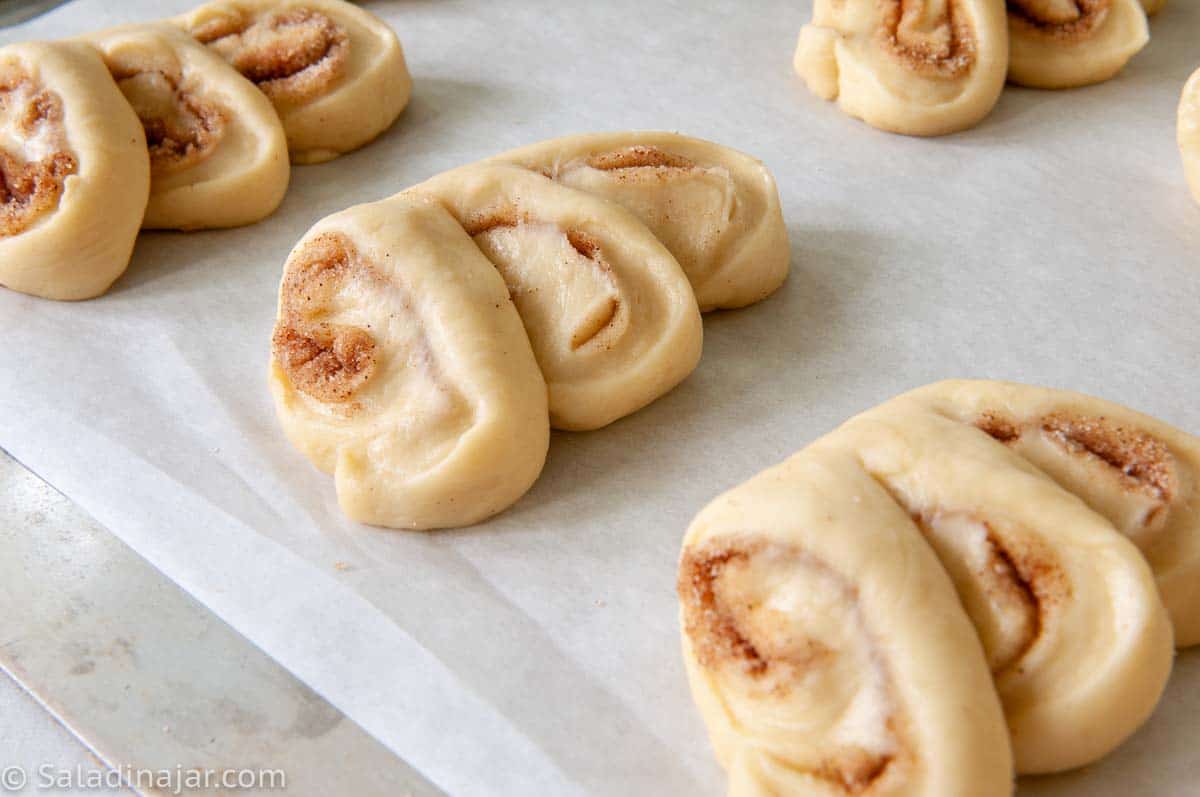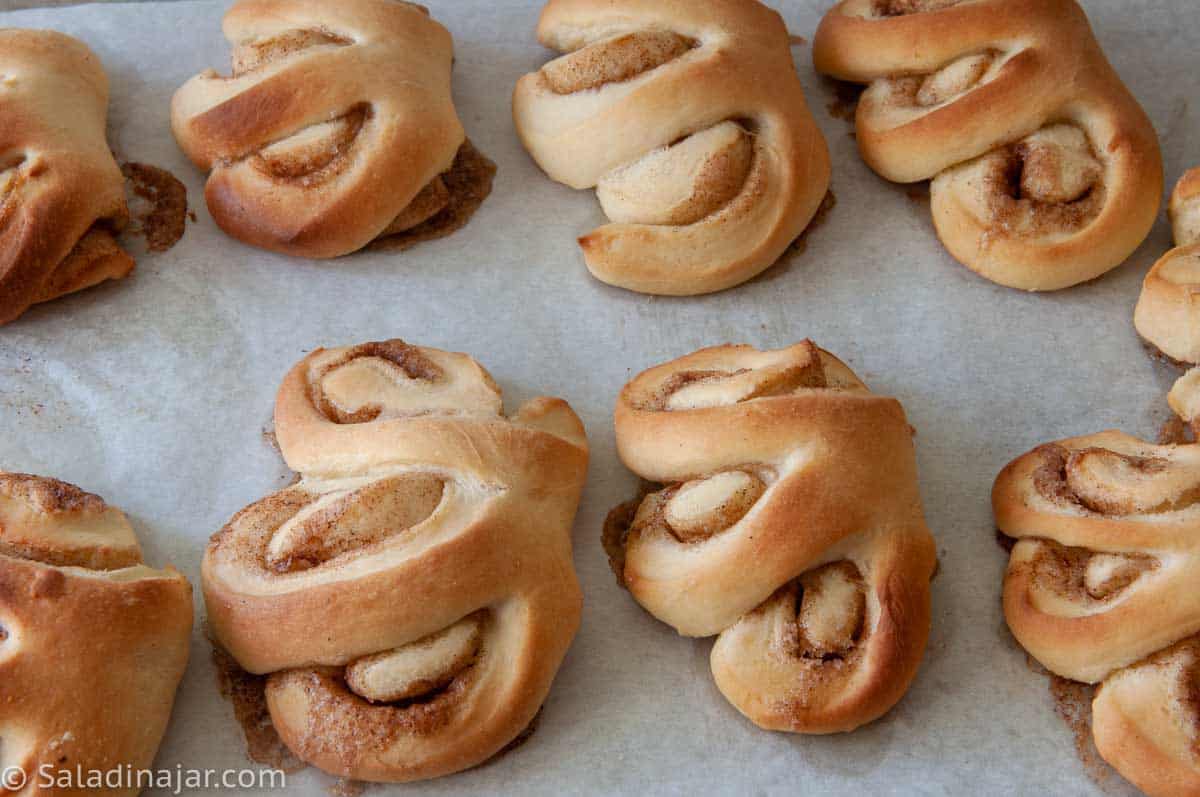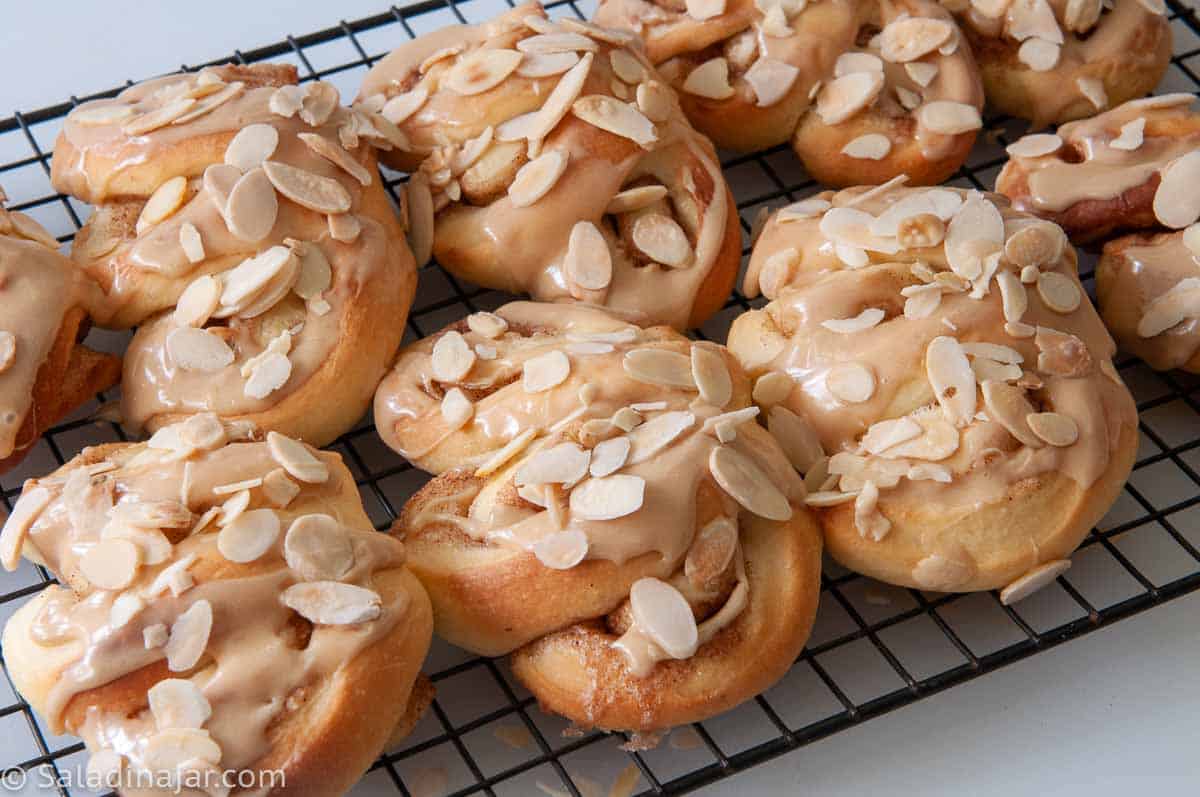 After 20 minutes, glaze the Bear Claws (aka bear paws) with confectioners' sugar icing. (This same glaze covers my Tangzhong Cinnamon Rolls and this Sweet Apple Cinnamon Bread Machine Recipe-so yummy!)
Sprinkle with toasted almonds immediately before the icing has a chance to dry. (Almonds on top are a cheaper and fresher way to get that delicious almond flavor rather than almond paste or filling.)
---
FAQ about bear claw pastries made with a bread machine:
Can I make these pastries ahead of time?
Make the dough and form the rolls a day ahead of time. Cover with plastic wrap and store in the fridge overnight.

At least two hours before you want to eat them, take them out of the fridge. Cover with a tea towel. When the rolls are warm and puffy, preheat the oven and bake.
How are these pastries different from an almond croissant?
Croissants are made with layers of flaky pastry. They are more difficult and tricky for the home baker. These are more like a traditional cinnamon roll shaped like a bear claw. Ice and decorate them with sliced almonds for a special treat that will impress your friends and family.
Can I freeze the dough and bake it later?
Yes. After the DOUGH cycle ends, shape the dough into bear claws. Place on the tray and freeze. Drop the rolls into a plastic bag as soon as they are frozen. Seal and place into a second bag or wrap with foil (double-wrapping). When ready to bake, remove the rolls to a baking sheet. Allow enough time for the rolls to defrost and rise until almost double before baking as directed.

I recommend you bake the rolls within 2-3 weeks for the best results.
---
Help at Your Fingertips: For questions or suggestions, email Paula at saladinajar.com. If you need help, I'm happy to troubleshoot via email (faster than leaving a comment). Attach pictures and as many details as possible for the best advice.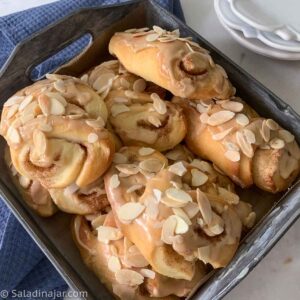 Easy Bear Claw Recipe made with a Bread Maker
Mix up these rich sweet rolls in your bread machine. They are really just fancy looking cinnamon rolls with icing and almonds on top. Crazy easy.
Share recipe love here. ⬇
Ingredients
Dough
¼

cup

(

57

g

)

water

–

cool

¼

cup

(

57

g

)

sour cream

–

cool

¼

cup

(

50

g

)

granulated sugar

½

teaspoon

table or sea salt

1

large

(

50

g

)

egg

¼

cup

(

57

g

)

butter, chopped

2-1/4

cup + 1 tablespoon

(

270

g

)

unbleached all-purpose flour

2

teaspoons

bread machine yeast
Filling
2

tablespoons

(

28

g

)

softened butter

¼

cup

(

50

g

)

sugar

1

teaspoon

cinnamon
Frosting:
2

teaspoons

butter

2

teaspoons

cream cheese

1 ½

tablespoon

coffee or milk

1

cup

(

113

g

)

powdered sugar

¼

cup

(

23

g

)

toasted sliced almonds
Instructions
MAKING THE DOUGH:
Add dough ingredients to a bread machine pan in the order listed:

1/4 cup

(

57

g

) water,

1/4 cup

(

57

g

) sour cream,

1/4 cup

(

50

g

) granulated sugar,

1/2 teaspoon

table or sea salt,

1 large

(

50

g

) egg,

1/4 cup

(

57

g

) butter, chopped,

2-1/4 cup + 1 tablespoon

(

270

g

) unbleached all-purpose flour, and

2 teaspoons

bread machine yeast. Select the DOUGH cycle, then press START.

Check the dough at least twice during the mixing and kneading phase by lifting the lid to take a peek. The first time, look immediately after the machine starts mixing to ensure the paddles are engaged correctly.

Look again 15 minutes into the DOUGH cycle to assess the consistency of the dough. For most recipes, the dough should stick to the side, then pull away cleanly.

If your dough is too wet, add flour one tablespoon at a time.

Conversely, if the dough is too dry, add one tablespoon of liquid at a time until the dough looks just right. Read more about this surprising secret to success with a bread machine here

When the DOUGH cycle completes, if the dough has doubled in size, go to the next step. If the dough has not doubled in size, leave it in the machine until it doubles before proceeding.
HOW TO ROLL-OUT DOUGH:
On a lightly-floured board. roll dough into a 6 x 24-inch rectangle.

Spread

2 tablespoons

(

28

g

) softened butter on the rectangle. Sprinkle

1/4 cup

(

50

g

) sugar mixed with

1 teaspoon

cinnamon evenly over the buttered area.

Begin rolling from the long side and roll up as tightly as possible. Flatten log slightly with palms, and slice the log into 10 pieces.

Using kitchen shears or pizza cutter, make 2 cuts into each slice, cutting to within 1/2 inch of the other side.

Twist each slice slightly to make it lay somewhat flatter. Place onto a greased baking sheet or one covered with parchment paper or a silicone mat.

Cover and let rise until almost doubled. (45 minutes-1 hour)

Bake rolls at 375˚F (190˚C) for 15-20 minutes until golden brown.
FROSTING:
Soften or allow

2 teaspoons

butter and

2 teaspoons

cream cheese to come to room temperature. Combine the butter, cream cheese, and

1 1/2 tablespoon

coffee or milk together and beat until perfectly smooth. Add

1 cup

(

113

g

) powdered sugar and mix until smooth.

Use a spoon to drizzle frosting over the rolls. Or pour frosting into a small plastic zippered bag. Cut off a small corner of the bag and use the closed bag to drizzle frosting back and forth over rolls.

Sprinkle

1/4 cup

(

23

g

) toasted sliced almonds (cooled) over frosted rolls immediately before frosting dries.

Or pick up the frosted roll and turn upside down, pressing icing into a plate of almonds. This ensures the almonds will stick to the icing.
Notes
Directions for making bread with a stand mixer or by hand:
To make this recipe in a heavy-duty stand mixer: Add ingredients to the bowl in the same order. Turn on LOW to mix until all ingredients are moistened. Then, using a dough hook, turn the speed to 2 or 3. Continue beating/kneading until dough becomes smooth and elastic (about 5-10 minutes). Cover and allow to rise in a warm place. Deflate dough gently and shape as indicated in the recipe.
If making by hand: Combine all ingredients into a shaggy ball in a large bowl. Turn dough out onto a floured surface. Knead with your hands until the dough becomes smooth and elastic. Kneading will likely take 10-20 minutes, depending on your experience. Place the dough ball into a greased bowl. Cover and allow to rise until double. Deflate the dough gently and shape as indicated in the recipe.
Please note: If you only have active dry yeast, use 1/4 teaspoon more than called for in the recipe.

It no longer needs to be dissolved first

, but you can if you prefer.
Nutrition
Serving:
1
|
Calories:
265
kcal
|
Carbohydrates:
35
g
|
Protein:
4
g
|
Fat:
13
g
|
Saturated Fat:
6
g
|
Polyunsaturated Fat:
1
g
|
Monounsaturated Fat:
4
g
|
Trans Fat:
1
g
|
Cholesterol:
41
mg
|
Sodium:
200
mg
|
Potassium:
98
mg
|
Fiber:
2
g
|
Sugar:
22
g
|
Vitamin A:
311
IU
|
Vitamin C:
1
mg
|
Calcium:
33
mg
|
Iron:
1
mg
HELP OTHERS find this recipe. Leave a 5 🌟🌟🌟🌟🌟 rating at the top of the recipe card if you enjoyed it. No comment is required.