Easy Almond Bear Claw Recipe from your Bread Machine
Preview: This easy Almond Bear Claw Recipe is a sweet yeast roll topped with icing and almonds. Mix with a bread machine or stand mixer.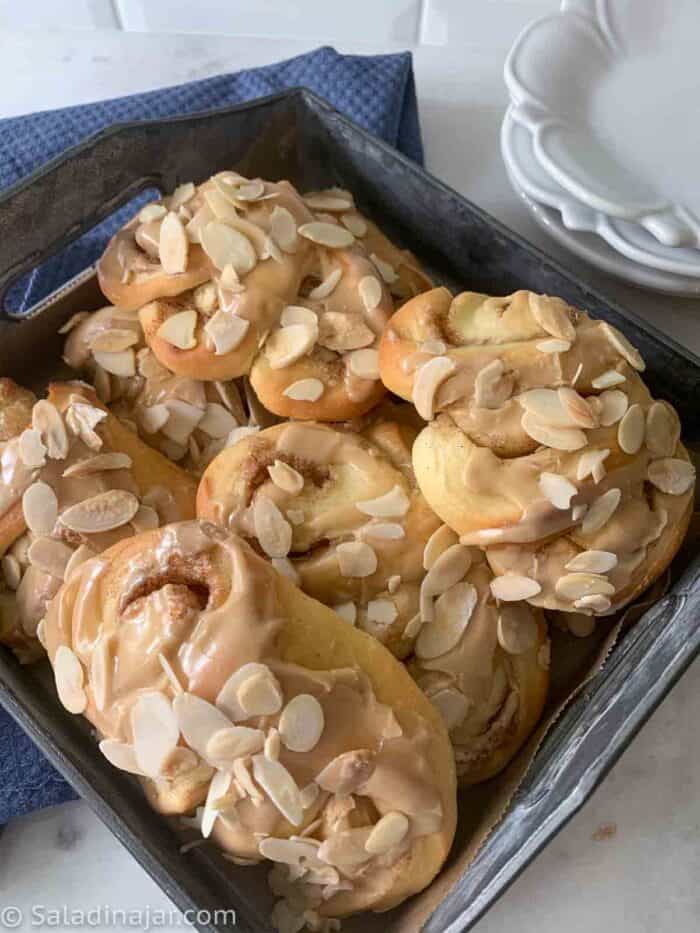 As an Amazon Associate, I earn from qualifying purchases.
The dough for these bread machine bear claws is richer than the average cinnamon roll. Sour cream is the secret ingredient.
They are fun to put together and a little something different to put on a brunch or breakfast table without being weird.
Bonus: It's easy for kids to pick off the almonds if they don't want them. Or you could leave them off if you prefer.
This recipe is mixed and kneaded with a bread machine. No worries if you don't have one. See the recipe notes on how to use a stand mixer or make them by hand.
Recipe Inspiration
I adapted this Almond Bear Claw recipe from one of my favorite cookbooks, Grant Corner Inn Breakfast and Brunch Cookbook by Louise Stewart. I have yet to find a bad recipe in this little book. This Twisted Cinnamon-Pecan Breakfast Yeast Bread is another treat from the same cookbook
At one time, one of my goals in life was to try every one of Ms. Stewart's yeast-bread recipes. Surely this would qualify me for a Nobel Peace Prize or something similarly lofty. In reality, it would probably land me a spot on The Biggest Loser.
Although they look complicated, these sweet bear claws aren't hard at all. Like all of my bread recipes, I make it in a bread machine. You can read about my bread machine philosophy in my list of bread machine tips.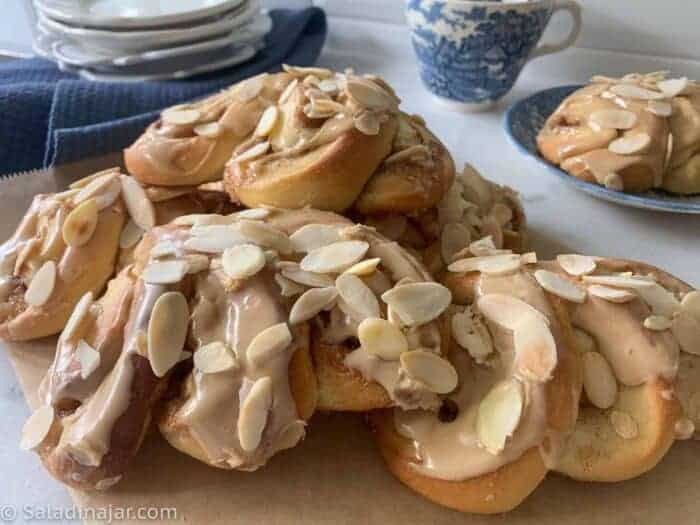 Ingredients and substitutions:
Flour:
Unbleached flour is best to make tender rolls. Bread flour or bleached all-purpose flour are viable substitutes.
You may need to adjust the amount of flour. Check your dough about 10-15 minutes after you start the DOUGH cycle on the bread machine. Add more flour (or water) to correct the consistency of the dough.
Sour Cream:
Sour cream adds richness. Might as well go for it. Substitute full-fat unflavored Greek yogurt if you prefer.
Yeast:
I always use instant or bread machine yeast.
If you want to substitute regular yeast for instant or bread-machine yeast, you must dissolve it first before adding it to the dry ingredients. Stir it into about 1/4 cup of the lukewarm liquid called for in the recipe. Let the yeast sit for about 10 minutes. Add to other wet ingredients and then add dry ingredients. Proceed as directed to knead and shape the dough.
Almonds:
Use either blanched, slivered almonds or sliced almonds (the ones with the skin left on that you can barely see around the edge.)
A quick way to toast the almonds is to microwave them for a couple of minutes.
---

Can I make these pastries ahead of time?
Make the dough and form the rolls a day ahead of time. Cover with plastic wrap and store in the fridge overnight.
At least two hours before you want to eat them, take them out of the fridge. Cover with a tea towel. When rolls are warm and puffy, preheat the oven and bake.
---
How to roll out Almond Bear Claws: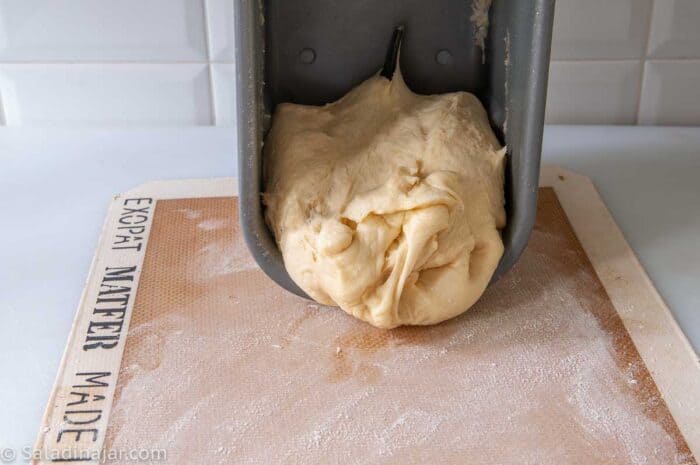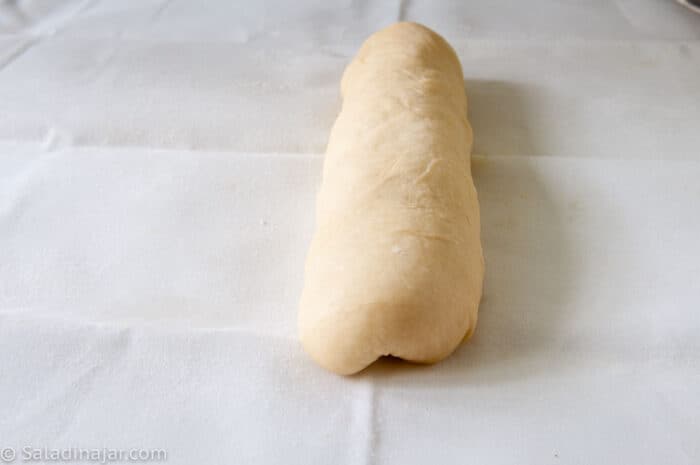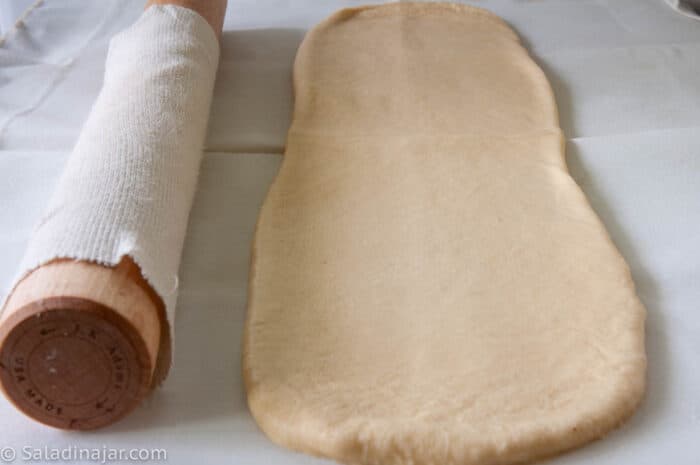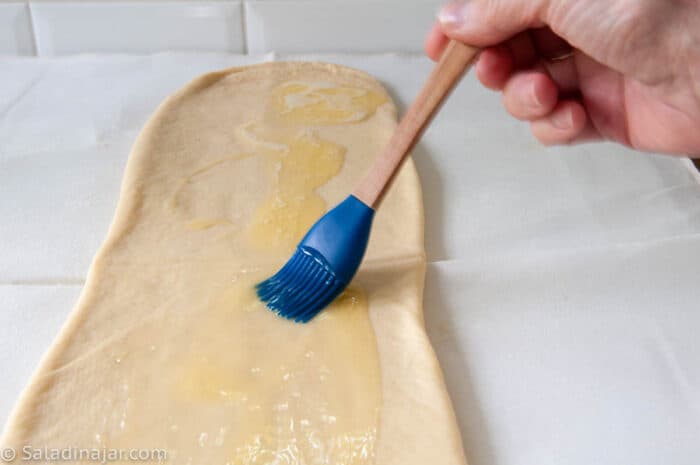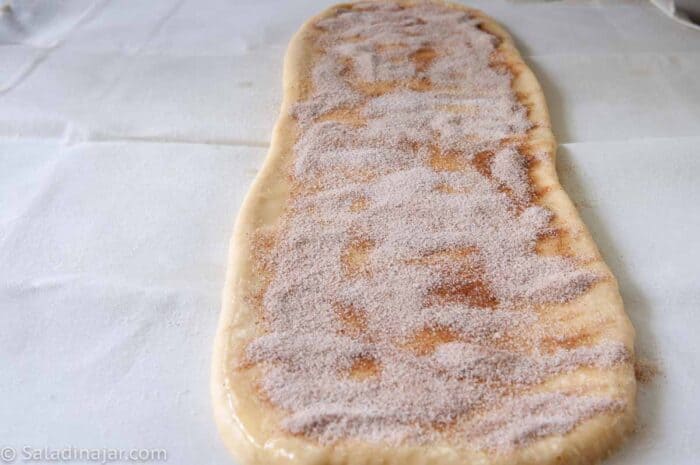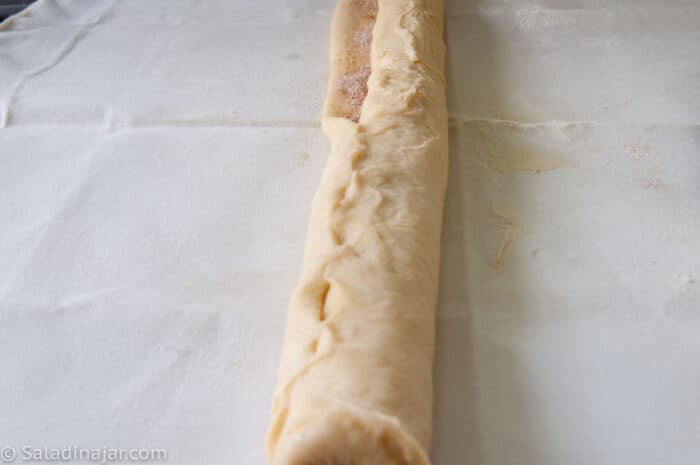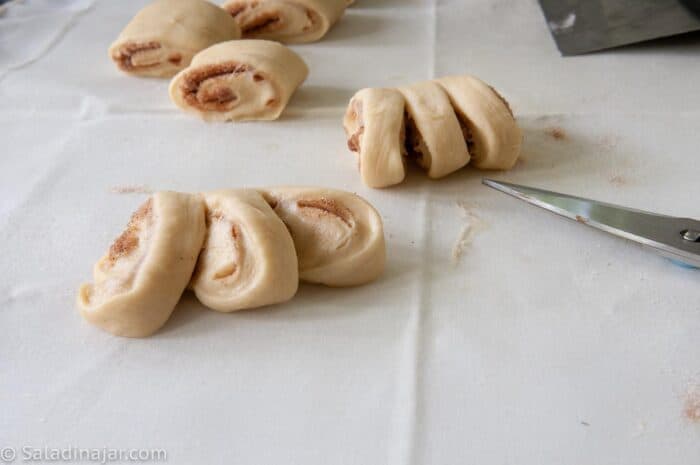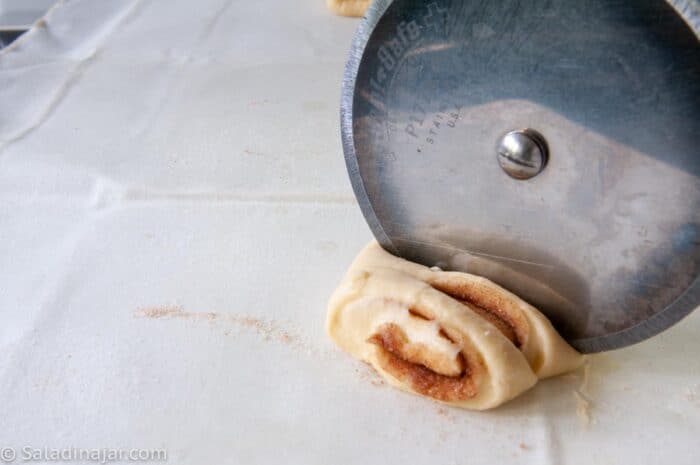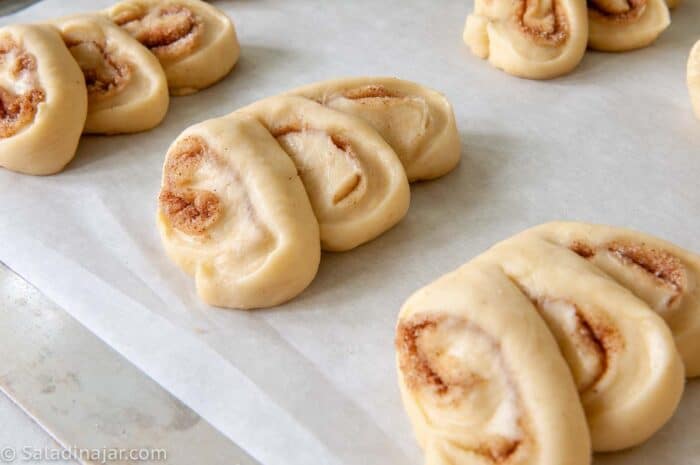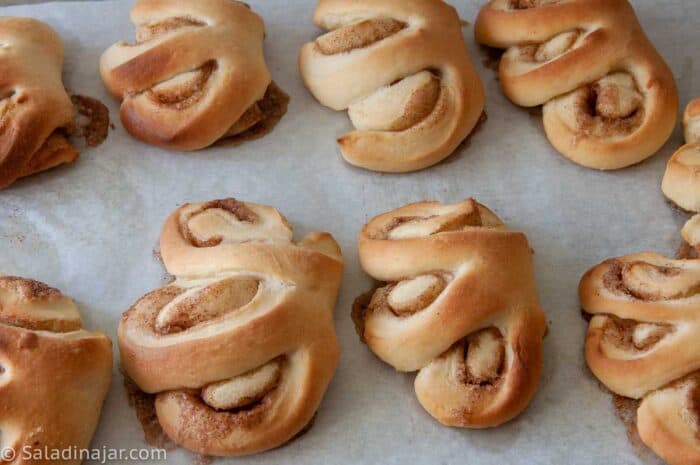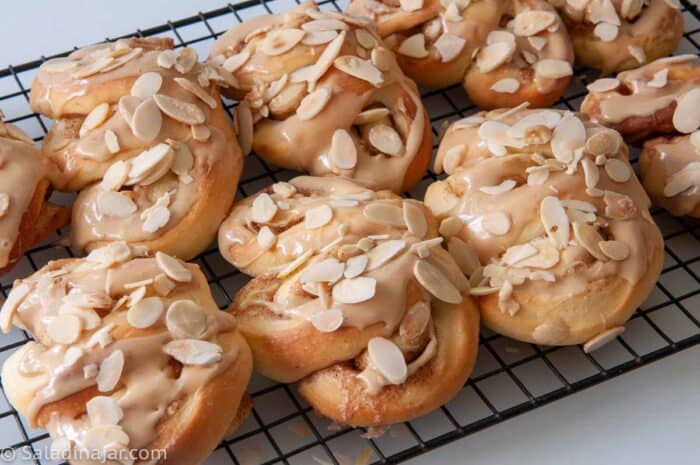 ---
If you have questions or suggestions, email me privately to Paula at saladinajar.com. Hope to see you again soon! Paula
---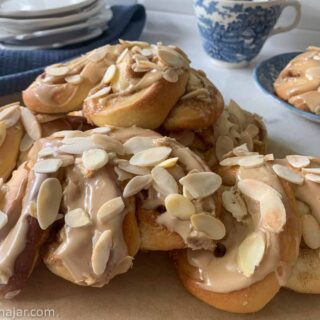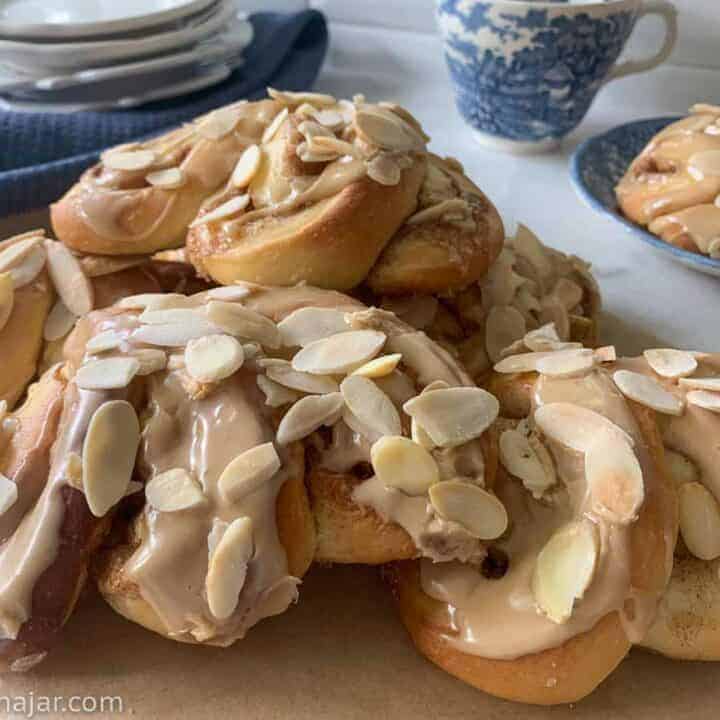 Easy Almond Bear Claw Bread Machine Recipe
Mix up these rich sweet rolls in your bread machine. They are really just fancy looking cinnamon rolls with icing and almonds on top. Crazy easy.
Ingredients
Dough
¼

cup

warm water

-

57 g

¼

cup

sour cream

-

57 g

¼

cup

sugar

-

50 g

½

teaspoon

salt

-

6 g

1

egg

-

50 g

¼

cup

butter, chopped

-

57 g

2-1/4

cup + 1 tablespoon

unbleached all-purpose flour

-

270 g

2

teaspoons

bread machine yeast

-

6g
Filling
¼

cup

sugar

-

50 g

1

teaspoons

cinnamon

-

7 g

2

tablespoons

softened butter

-

28 g
Frosting:
2

teaspoons

butter

-

28 g

2

teaspoons

cream cheese

-

28 g

1 ½

tablespoon

coffee or milk

-

21 g

1

cups

powdered sugar

-

113 g

¼

cup

toasted sliced almonds

-

22 g
Instructions 
MAKING THE DOUGH:
Add dough ingredients to a bread machine pan in the order listed. Select the DOUGH cycle, then press START.

Check the dough at least twice during the mixing and kneading phase by lifting the lid to take a peek. The first time, look immediately after the machine starts mixing to ensure the paddles are engaged correctly. 

Look again 15 minutes into the DOUGH cycle to assess the consistency of the dough. For most recipes, the dough should stick to the side, then pull away cleanly.

If your dough is too wet, add flour one tablespoon at a time.

Conversely, if the dough is too dry, add one tablespoon of liquid at a time until the dough looks just right. Read more about this surprising secret to success with a bread machine here

When the DOUGH cycle completes, if the dough has doubled in size, go to the next step. If the dough has not doubled in size, leave it in the machine until it doubles before proceeding.
HOW TO ROLL-OUT DOUGH:
On a lightly-floured board. roll dough into a 6 x 24-inch rectangle.

Spread the softened butter on the rectangle. Sprinkle cinnamon-sugar mixture evenly over the buttered area.

Begin rolling from the long side and roll up as tightly as possible. Flatten log slightly with palms, and slice the log into 10 pieces.

Using kitchen shears or pizza cutter, make 2 cuts into each slice, cutting to within 1/2 inch of the other side.

Twist each slice slightly to make it lay somewhat flatter. Place onto a greased baking sheet or one covered with parchment paper or a silicone mat.

Cover and let rise until almost doubled. (45 minutes-1 hour)

Bake rolls at 375 degrees for 15-20 minutes until golden brown.
FROSTING:
Soften or allow butter and cream cheese to come to room temperature. Combine butter, cream cheese, and coffee or milk together and beat until perfectly smooth.

Use a spoon to drizzle frosting over the rolls. Or pour frosting into a small plastic zippered bag. Cut off a small corner of the bag and use the closed bag to drizzle frosting back and forth over rolls.

Sprinkle toasted almonds over frosted rolls immediately before frosting dries.

Or pick up the frosted roll and turn upside down, pressing icing into a plate of almonds. This ensures the almonds will stick to the icing.
Notes
Directions for making bread with a stand mixer or by hand:
To make this recipe in a heavy-duty stand mixer:  Add ingredients to the bowl in the same order. Turn on LOW to mix until all ingredients are moistened. Then, using a dough hook, turn the speed to 2 or 3. Continue beating/kneading until dough becomes smooth and elastic (about 5-10 minutes). Cover and allow to rise in a warm place. Deflate dough gently and shape as indicated in the recipe.
If making by hand: Combine all ingredients into a shaggy ball in a large bowl. Turn dough out onto a floured surface. Knead with your hands until the dough becomes smooth and elastic. Kneading will likely take 10-20 minutes, depending on your experience. Place the dough ball into a greased bowl. Cover and allow to rise until double. Deflate the dough gently and shape as indicated in the recipe.
Please note: If you only have active dry yeast, use 1/4 teaspoon more than called for in the recipe.

It no longer needs to be dissolved first

, but you can if you prefer.
Nutrition
Nutrition Facts
Easy Almond Bear Claw Bread Machine Recipe
Amount per Serving
% Daily Value*
* Percent Daily Values are based on a 2000 calorie diet.
Like this recipe? Thanks for leaving a 5-star rating inside the recipe at the top! 🤩