These Flaky Biscuits with a Million Layers of Cinnamon and Sugar may not have a million layers, but it sure seems like it. I wrote the recipe to use leftover whey from making Greek yogurt, but buttermilk makes a dandy substitute for whey.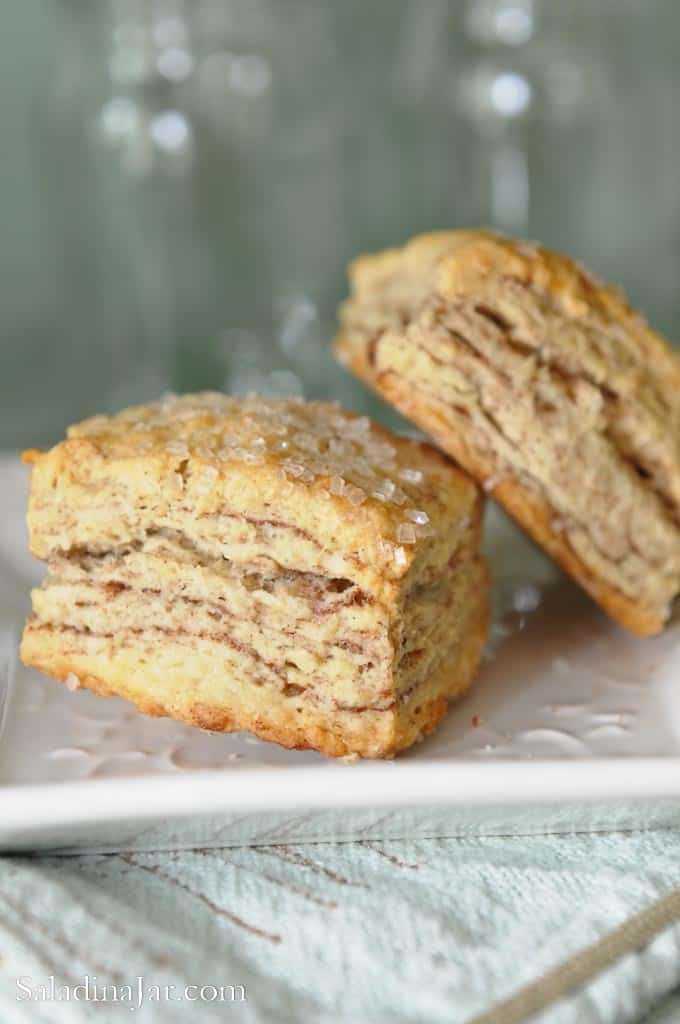 I used to be a whey-waster.
Yep, I threw out the yellowish liquid that collects on top of yogurt. We strain it out when making Greek yogurt at home. If you make much Greek yogurt, you'll soon have a barrel full.
But I have repented and changed my ways, due in large part to these flaky cinnamon biscuits.
While researching the whole ways-to-use-whey issue, I decided to invent a biscuit recipe using whey as the liquid ingredient. In the process, I not only perfected my recipe, but I discovered a new technique for making the flakiest biscuits to ever come out of my kitchen. (Canned biscuits don't count even though I'm a sucker for the Butterflakes, chemical taste and all.)
Please note: If you don't have whey sitting around the house, use buttermilk in the is this recipe instead.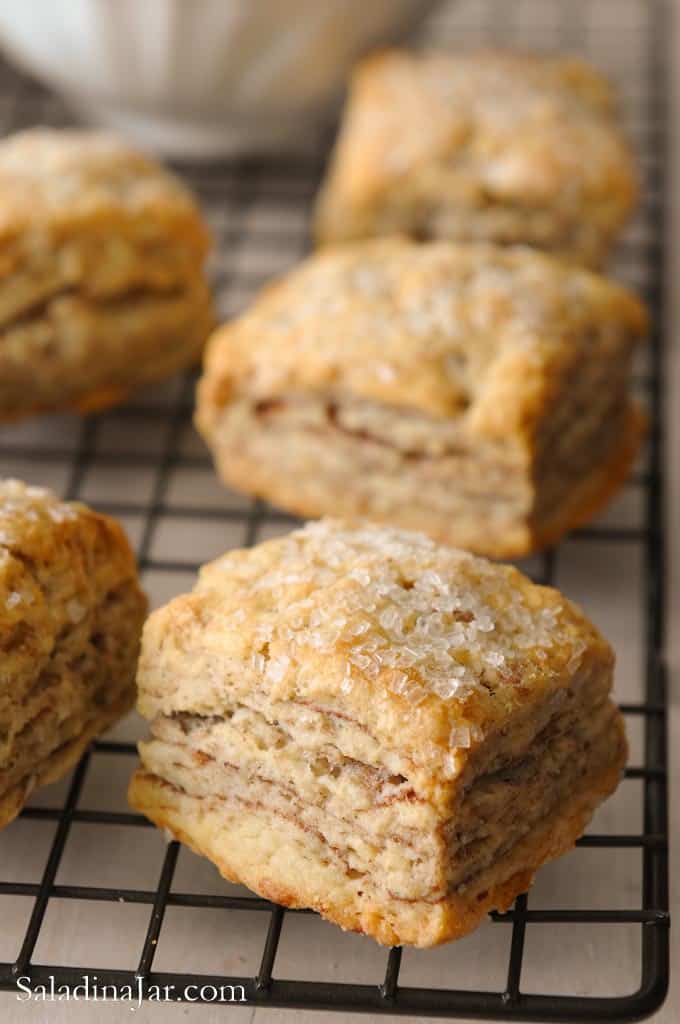 Part of the secret is in the rolling-out technique. The original inspiration came from Kate of Cooking During Stolen Moments. Check out the video below for the fine details. (This is my first attempt at a video so don't laugh or groan too much).
How to mix and roll out Flaky Biscuits: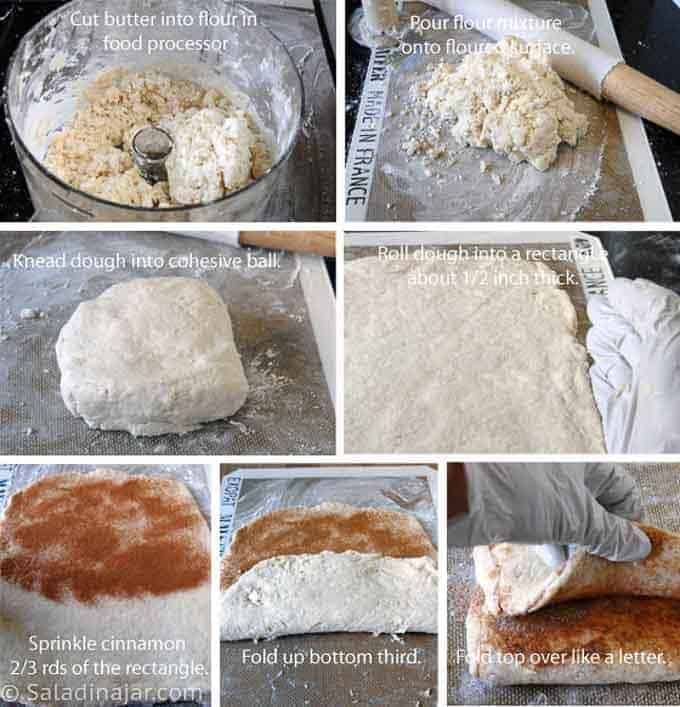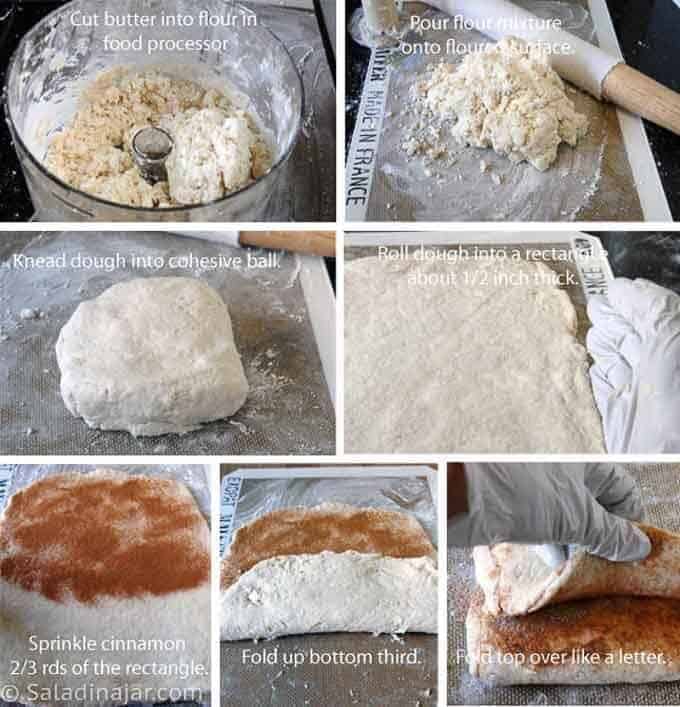 4 more reasons to love Cinnamon and Sugar Flaky Biscuits
#1
Want a quick snack or breakfast?
Freeze baked biscuits and microwave them as needed.
#2
Company coming?
Make ahead and freeze the raw biscuits. Add a few minutes to the baking time.
#3
Don't like sweets?
Skip the cinnamon and sugar. Stick with butter only over each layer.
#4
Love sweets?
Go all the way and make some brown butter icing to pour over the top.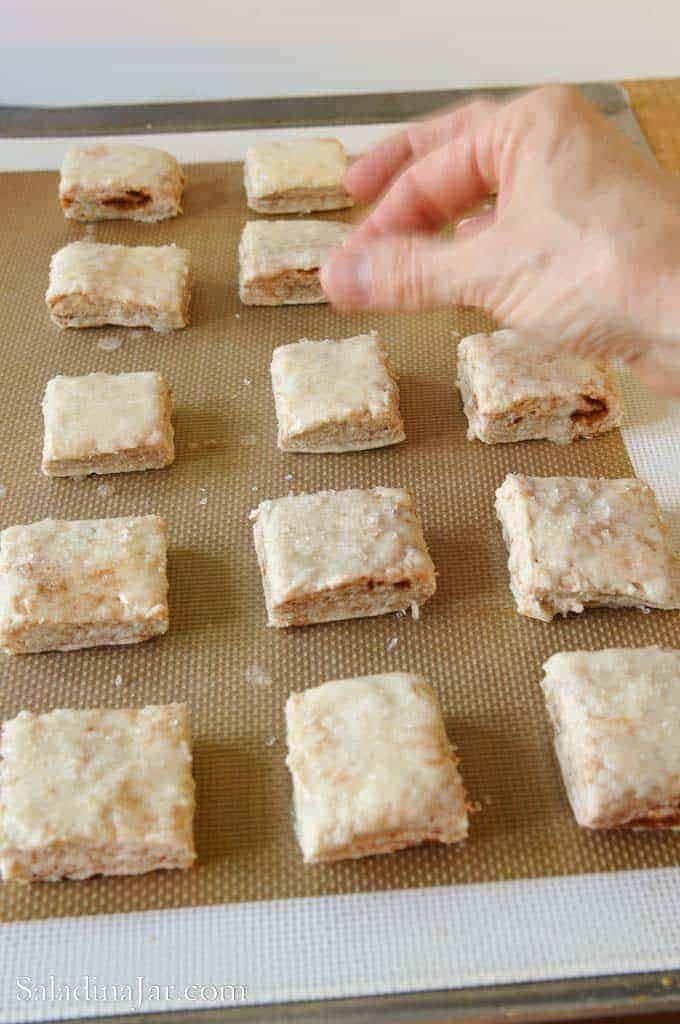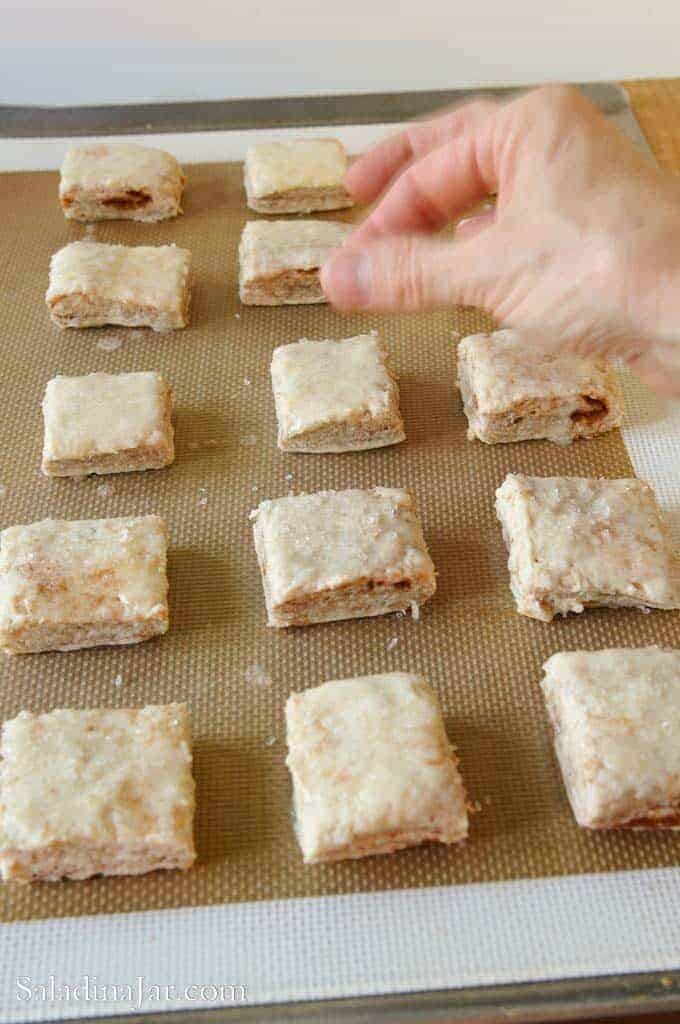 Pin the picture below to save for later.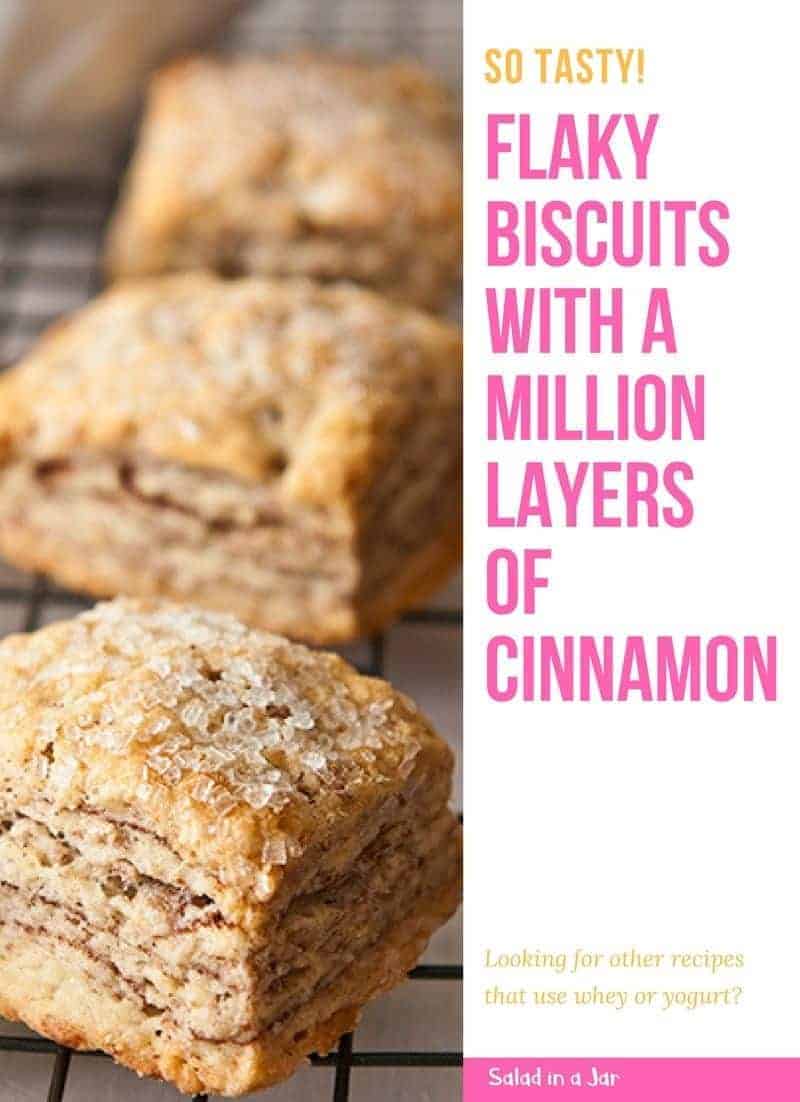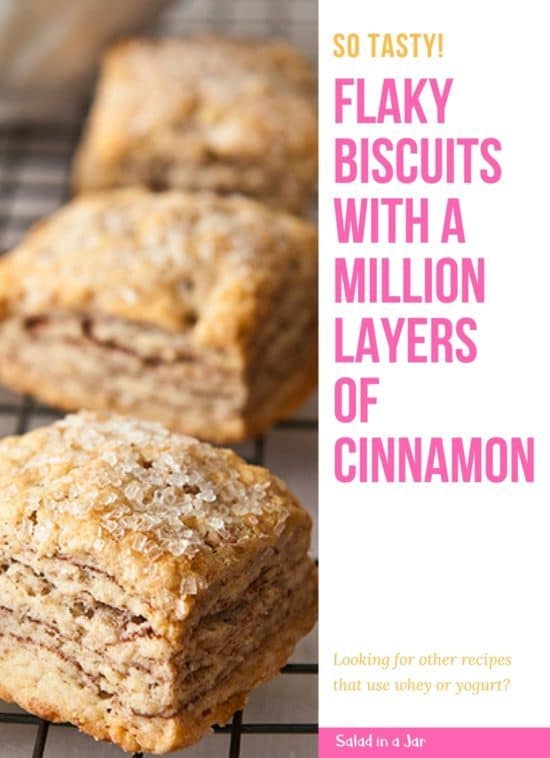 If you make this recipe and enjoy it, consider helping other readers and me by returning to this post. Leave a rating on the recipe card itself underneath the picture. Although always appreciated, comments aren't required. Thank you for visiting! Paula
Yield: 12 biscuits
Flaky Biscuits with a Million Layers of Cinnamon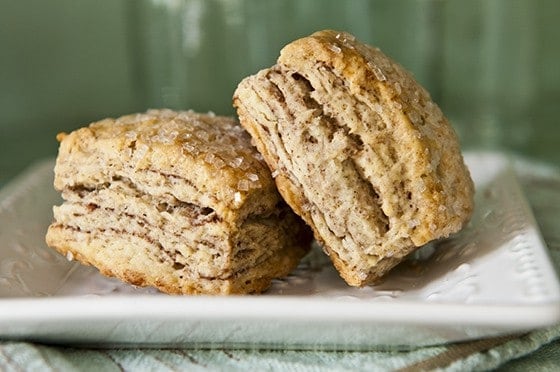 Light and flaky cinnamon-sugar-laced layers set these biscuits apart from the average. Substitute buttermilk if you don't have whey.
Ingredients
2 cups flour (I used bleached white flour)
1-2 tablespoons sugar (Use lesser amount for plain biscuits)
2 teaspoons baking powder
1/2 teaspoon salt
1/2 teaspoon baking soda
6 tablespoons butter + 1 tablespoon melted butter for brushing tops
2 tablespoons shortening
1/2 cup whey + 1 tablespoon extra if necessary OR 3/4 cup buttermilk
1 teaspoon sugar + 1 teaspoon cinnamon for layers)
Instructions
Preheat oven to 425 degrees F. Line baking sheet with parchment paper, silicone baking mat or lightly grease.
Place dry ingredients together in food processor bowl. Pulse 3 times.
Add cold butter and shortening, sliced into small pieces. Pulse 8 times to cut into flour until you have pieces of various sizes resembling oatmeal, peas, and cornmeal all mixed together.
Pour whey over mixture and pulse about 8 times just until mixture starts to stick together.
Turn out onto floured surface. (I like to use a silicone baking mat because clean-up is easy in the dishwasher.)
Knead about about 3-4 times until you have a cohesive ball of dough. Use your hands to gently push dough into a square shape.
Use a rolling pin to roll out dough about 1/2 inch thick. Sprinkle cinnamon-sugar mixture over 2/3 of the dough. (I like to execute one quick spritz of water on top of the cinnamon to help the layers stick together. Fold uncoated third of the dough over on top of the cinnamon layer and then the other third on top of that one. See picture. Repeat process one or two more times.
Roll dough to 1/2 inch thick and cut into 12 squares with a sharp knife. Use a greased cookie sheet or one covered with parchment paper or silicone mat.
Slice into 12 biscuits and use tip of sharp knife to lift onto prepared pan.
Brush with melted butter if desired and sprinkle with regular or sanding sugar.
Bake at 425 for 5 minutes. Reduce temperature to 400 degrees for another 12 minutes.
Notes
Butter Honey variation:
Leave out cinnamon-sugar mixture between layers. As biscuits come out of the oven, brush with a mixture of equal parts butter and honey.
Recommended Products
As an Amazon Associate, I earn from qualifying purchases. But don't worry. This doesn't change the price you pay.
Nutrition Information:
Yield:
12
Serving Size:
1 biscuit
Amount Per Serving:
Calories:

185
Total Fat:

9g
Saturated Fat:

5g
Trans Fat:

0g
Unsaturated Fat:

3g
Cholesterol:

20mg
Sodium:

311mg
Carbohydrates:

20g
Fiber:

1g
Sugar:

3g
Protein:

6g
Posts Related to Flaky Biscuits with a Million Layers of Cinnamon and Sugar: