This post will show you how to brown butter in the microwave and then turn it into frosting. No more watching and waiting that comes with doing it on the stove. It's a no-fuss way to make browned-butter icing.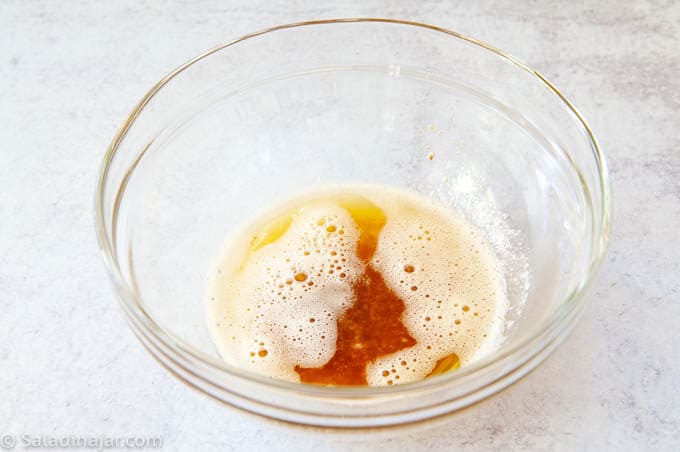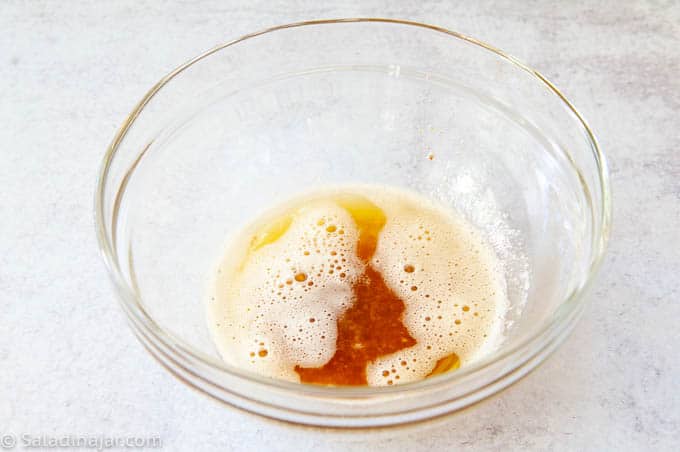 Remember these Flaky Cinnamon Biscuits I posted a few weeks ago? They are especially memorable drenched with Brown Butter Icing.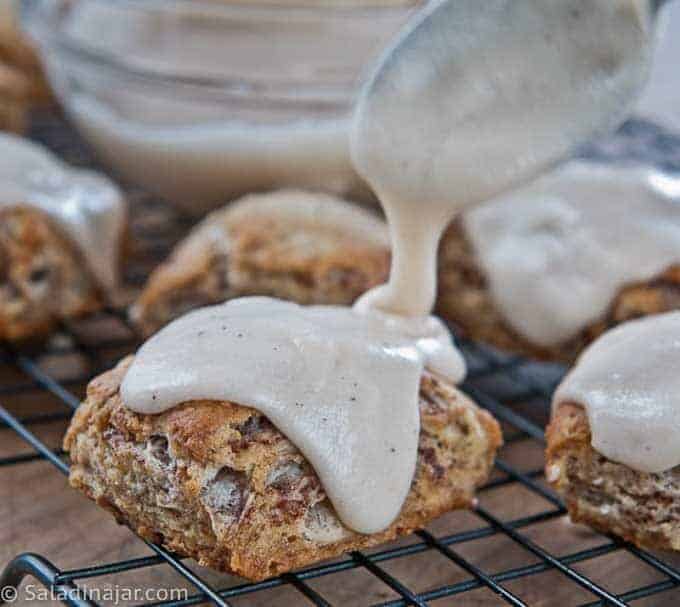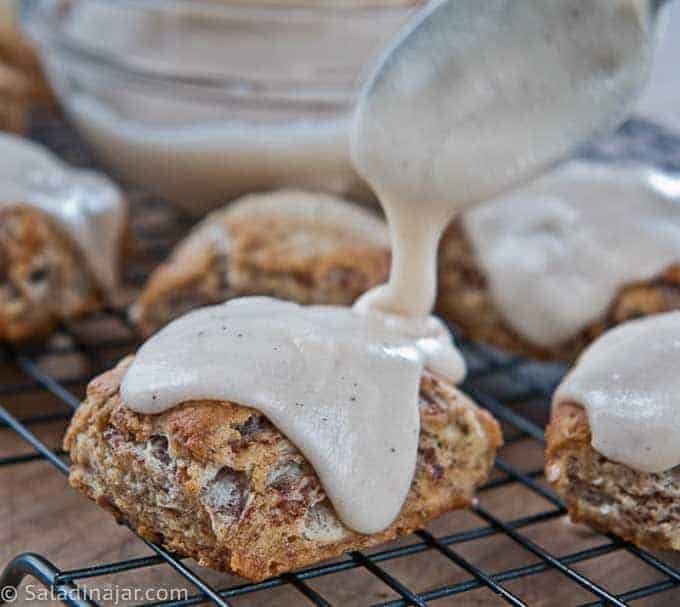 Other recipes good with this icing include Soft Cinnamon Cookies, Cinnamon Rolls, and Soft Pumpkin Cookies. The flavor of browned butter plays well with almost any cookies or sweets spiced with cinnamon, nutmeg, allspice, or cloves.
The Traditional Way To Brown Butter
Up until now, I've always made this icing the traditional way. Perhaps it's the way you do it, too.
Heat butter very slowly in a skillet or small pan. Watch and wait until the butter finally turns brown (and sometimes burns). Z-z-z-z-z-z.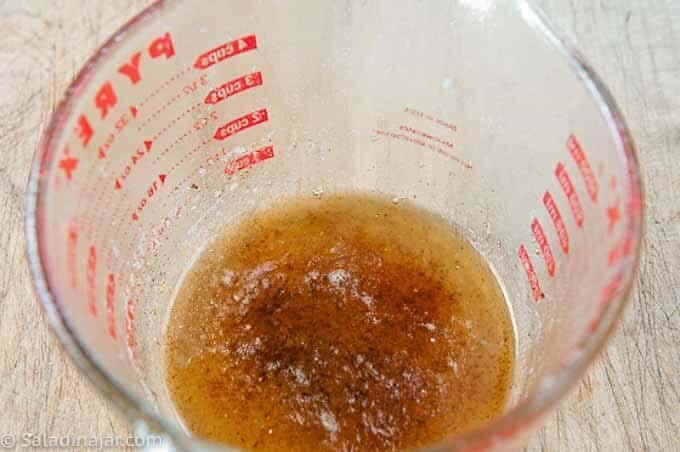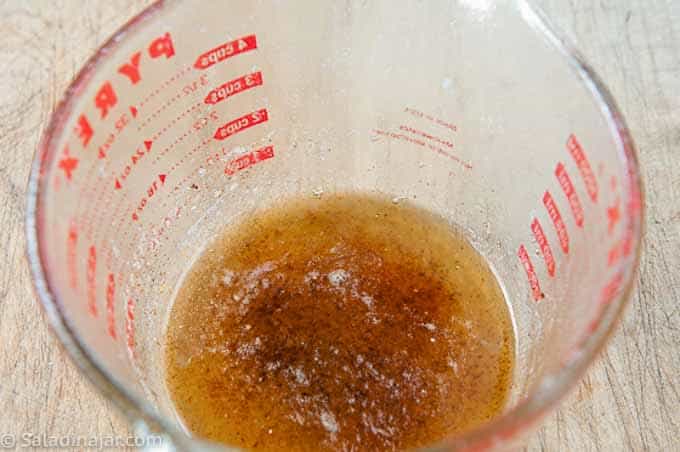 Why use a microwave for browning butter?
Then I tried making it in my microwave oven. I put 4 tablespoons of butter in a 4-cup Pyrex glass measuring dish and covered it with a cheap paper plate so it would be easy to scrape off butter splatters.
Exactly 3 minutes and 50 seconds later, the butter was browned to perfection. No stirring or babysitting necessary.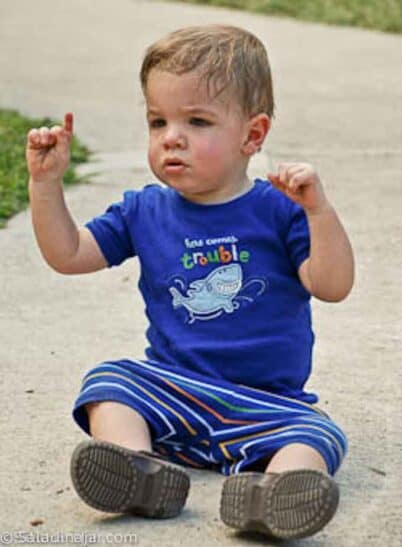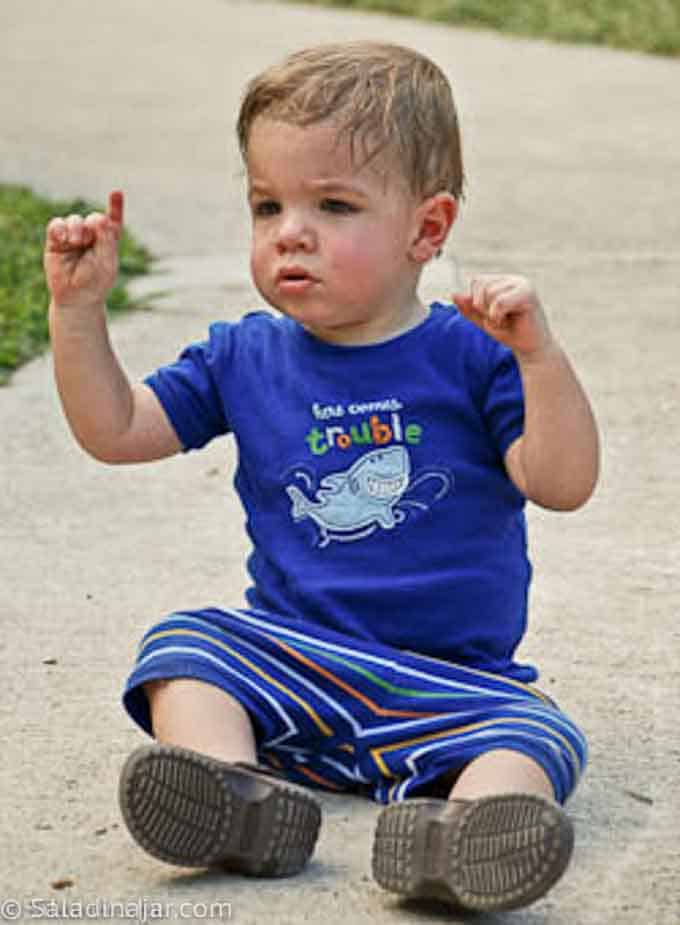 Some people might turn up their nose at the idea of using a microwave, and that's fine. In my kitchen, where I usually cook in small quantities, the microwave is a superhero.
Recipe Notes
1. The time required for your microwave may vary from the times called for in mine.
Like everything you make in the microwave, the times vary. Although similar, all ovens are not equal.
Also, the temperature and amount of food being cooked will influence the time required.
Having said that, pay attention the first time or two you do this and make a note of how long it takes. If you have a newer oven, I predict it won't take as long as I have specified
Keep this in mind if you decide to double the recipe.
2. Don't forget to COVER THE BOWL.
You must cover the bowl containing the butter because it will pop and splatter violently as it begins to brown. But that's OK. It will turn out fine unless you cook it too long.
How To Make Browned Butter Icing in a Microwave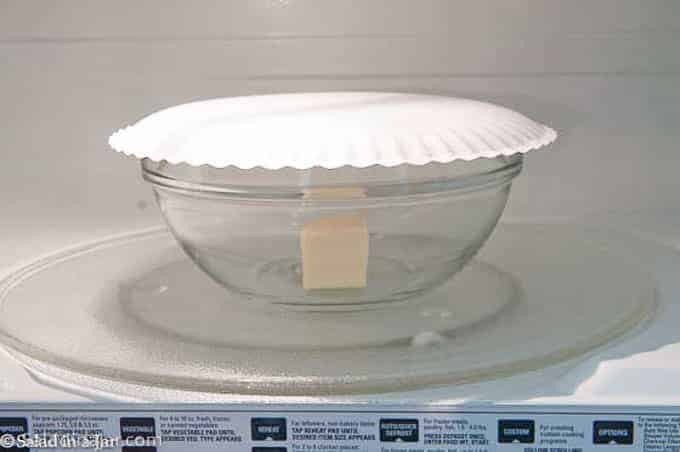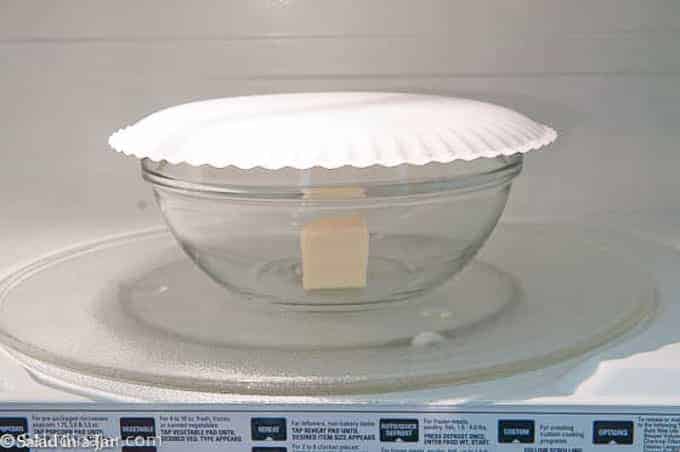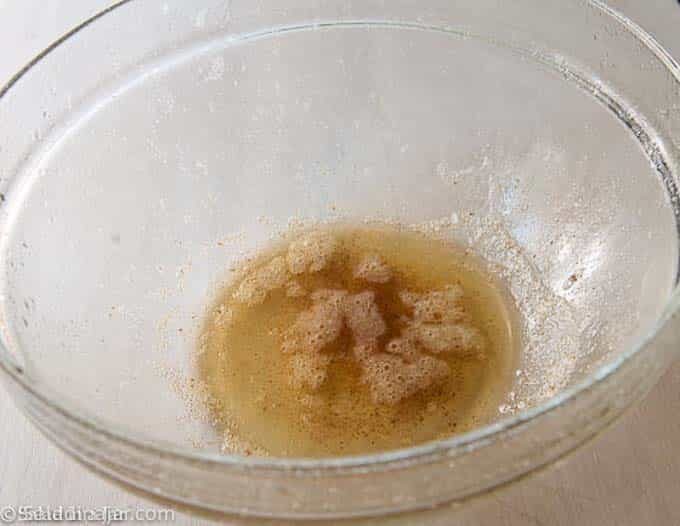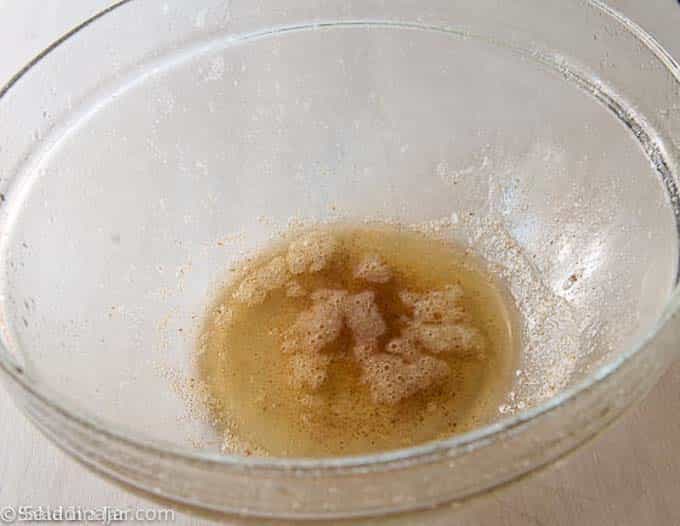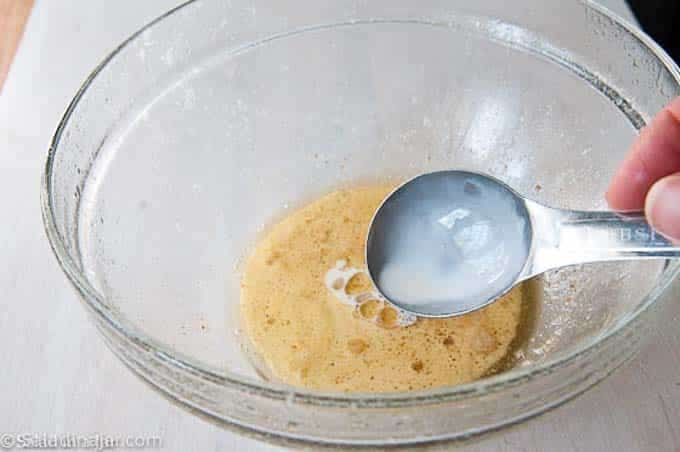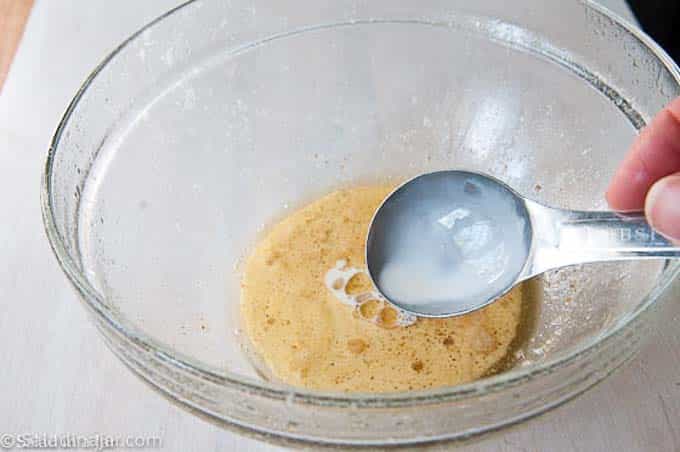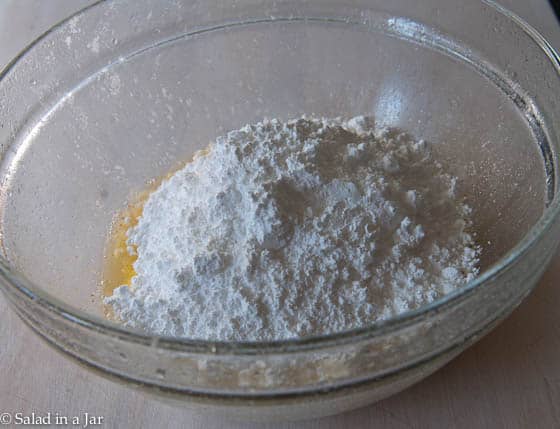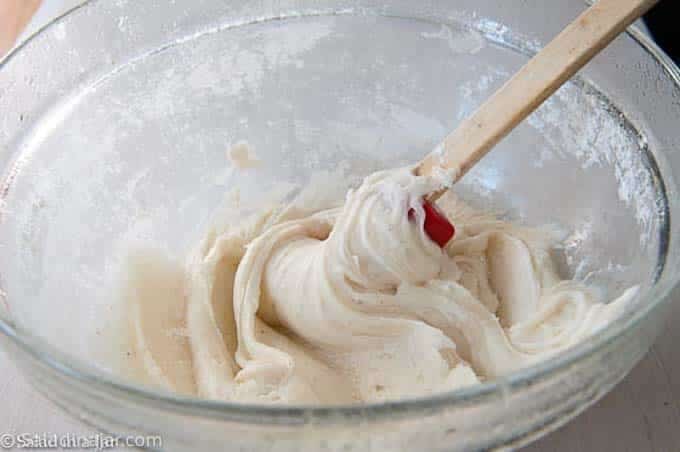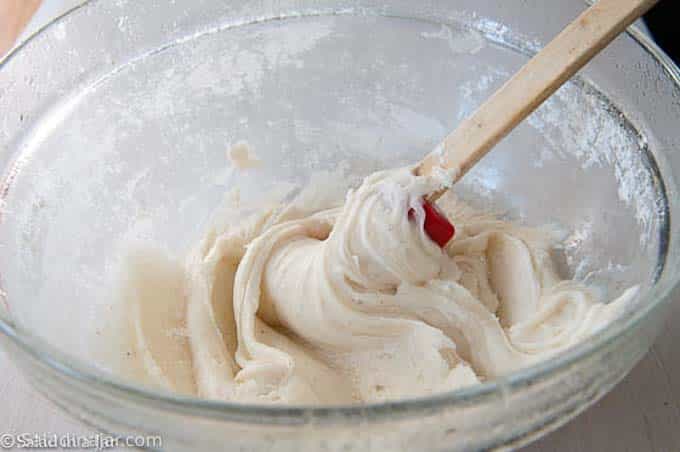 ---
Recipes Using Brown Butter Frosting
---
---
---
Did you try this recipe and enjoy it? Consider helping other readers (and me) by returning to this post. Leave a rating on the recipe card itself underneath the picture. Although always appreciated, comments aren't required.
If you have a question or tip to share, please leave it in the regular comments after the recipe so I can answer back. Or, email me privately: paula at saladinajar.com.

Thank you for visiting!
Paula
---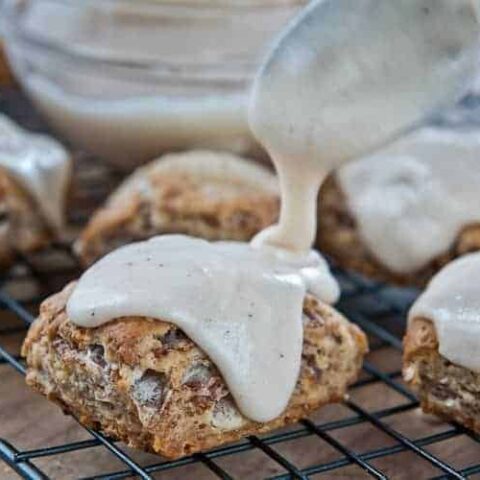 Browned Butter Frosting (Microwave Method)
A tasty browned butter icing perfect for cookies, cinnamon rolls, and my flaky cinnamon biscuits.
Ingredients
4 tablespoons butter (no substitutes)
1 tablespoon milk + additional drops to reach the consistency you want
1 tablespoon heavy cream
2 cups powdered sugar
1/2 teaspoon vanilla extract (optional)
Instructions
Microwave butter on HIGH in a COVERED Pyrex glass container. 3 minutes and 50 seconds works perfectly for me, but your microwave may be different and your butter may be a different temperature. Watch it closely the first few times you make it to determine what is perfect for your situation. Butter should be turning golden brown when done. It will continue to turn slightly browner after the oven stops so make allowance. If it burns, you must throw it out and start over.
Add milk and stir.
Add sugar all at once and stir vigorously with a spatula until smooth. If you want a glaze, add milk a few drops at a time and continue to stir until pourable.
Notes
If you prefer less richness, make this frosting with only 2 tablespoons of butter for s slightly lighter taste and color. Add a little more milk to make up for the loss of liquid. Nice for cookies that are already rich on their own.
If you don't like the dark specks in your icing, let browned butter sit for awhile and most of the darker particles will stick to the bottom of the bowl. I personally love them, in the same way I adore vanilla bean specks.
Don't need icing? Brown butter is fantastic poured over roasted veggies i.e. asparagus, broccoli, Brussel sprouts, etc.
Recommended Products
As an Amazon Associate, I earn from qualifying purchases. But don't worry. This doesn't change the price you pay.
Nutrition Information:
Yield:

16
Serving Size:

1
Amount Per Serving:
Calories:

83
Total Fat:

3g
Saturated Fat:

2g
Trans Fat:

0g
Unsaturated Fat:

1g
Cholesterol:

9mg
Sodium:

24mg
Carbohydrates:

14g
Fiber:

0g
Sugar:

14g
Protein:

0g