Preview: This Blackberry Scones recipe makes an easy-to-assemble scone you can freeze, then bake straight out of the freezer. So convenient!
Looking for an easy fix for a special breakfast? Prepare these blackberry scones ahead of time and freeze them. Bake when you get ready.
Imagine walking into the kitchen, taking out some frozen scones, and baking them straight away in the morning. The smell alone is going to start your day off right.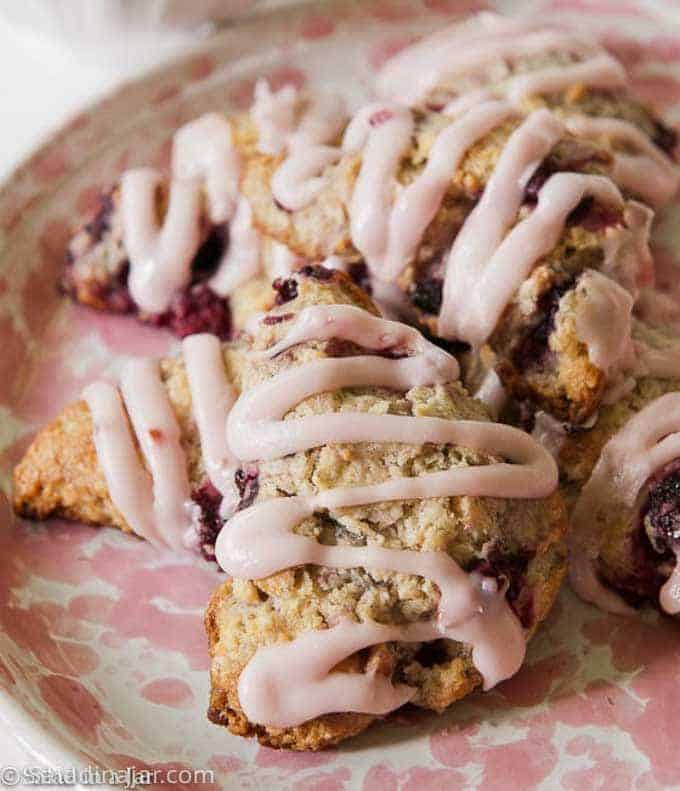 Recipe inspiration:
It's summertime and the livin' is easy, they say. Well, livin' may be easy, but hanging out in the kitchen on a hot Texas day is not so much.
If I'm going to turn the oven on, it has to be before 9 o'clock in the morning. That means this Blackberry Scone recipe is good for breakfast–even in the summer, especially when you've made them ahead of time and can pull them out of the freezer.
My son and daughter-in-law from NYC were recently here for a family trip to Galveston Beach. They are scone and blackberry lovers, so I made these scones in advance.
It was easy and convenient to bake them off as a special treat one morning during their way-too-short visit. I also made the frosting ahead and stored it in the fridge in a zippered plastic bag.
---
Ingredients and substitutions:
FLOUR: Use bleached or unbleached all-purpose flour.

SUGAR: Granulated sugar is specified. You may substitute brown sugar 1:1, but the texture may be different.

CINNAMON: The best substitute would be allspice or nutmeg. If you chose nutmeg, use half as much.

BUTTER: Substitute margarine or shortening. Salted or unsalted butter is fine. Whatever you use, be sure it's cold.

MILK: Any kind of milk will work. However, the more fat in the milk, the better the scones.

EGG: The recipe was tested with large eggs.

BLACKBERRIES: Presumably, you could substitute frozen blackberries instead of fresh, but I have not tried it. This recipe would also be good with blueberries.
---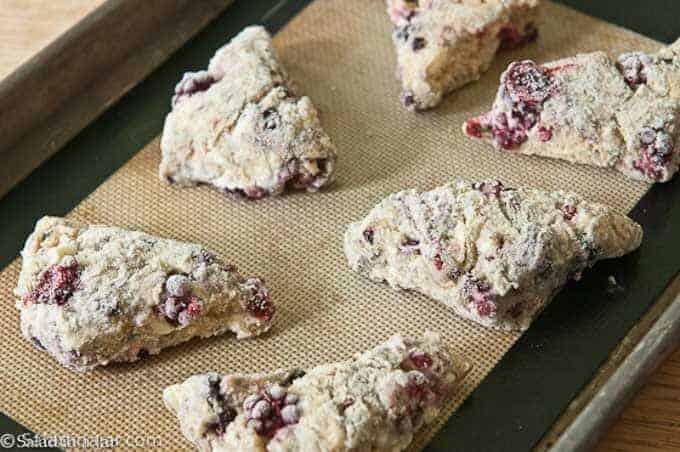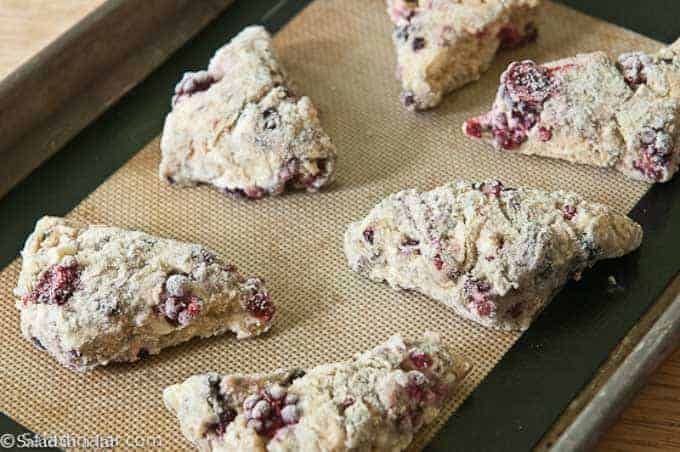 ---
FAQ for this blackberry scones recipe:
Can I make these a day ahead of time?
This recipe is like donuts. Best the day you make them. What that in mind, if you want to make them ahead of time, I would freeze them and bake right out of the freezer. No need to thaw.
Can I freeze the icing?
Yes. Put it in a separate container. Ice the scones after they are baked.
How do I drizzle the icing?
When the baked scones cooled a bit, I snipped one corner of the bag and squeezed the Berry Icing over the scones just like we used to do with Pillsbury Popovers.
Can I freeze baked scones?
Yes, you can. But I recommend freezing the raw dough and baking them up just before eating. That's the best!
How long does it take to bake a frozen scone?
It takes from 3-5 extra minutes.
---
More fruity breads:
---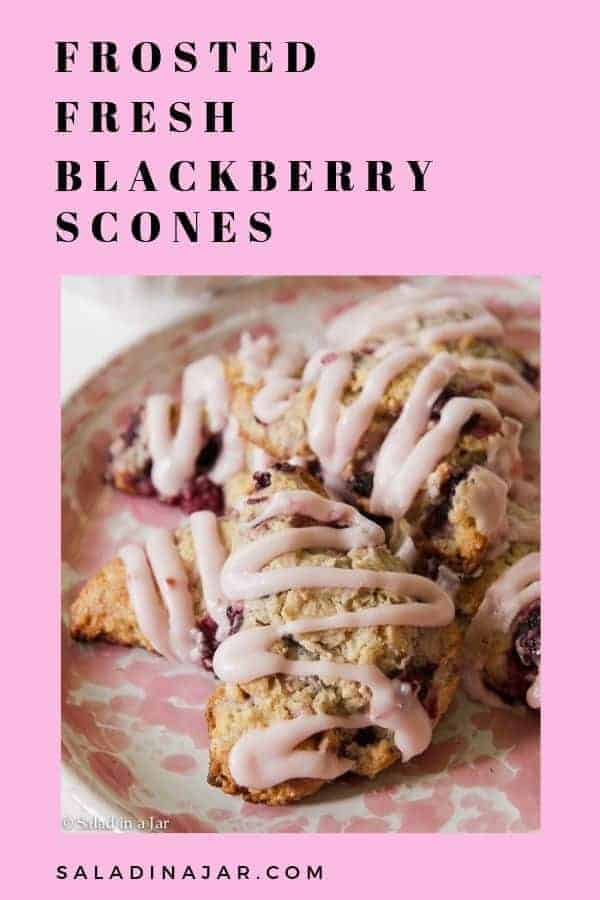 ---
If you enjoyed this recipe, it would help others and me if you gave it a five-star rating inside the recipe card below. 🤩 No comment required. Thank you.

Hope to see you again soon!
Paula
p.s. Questions or suggestions? Please email me: Paula at saladinajar.com.