Frosted Blackberry Scone Recipe: Bake Straight From the Freezer
Sneak Preview: This Blackberry Scone recipe makes an easy-to-assemble scone you can freeze, then bake straight out of the freezer. So convenient!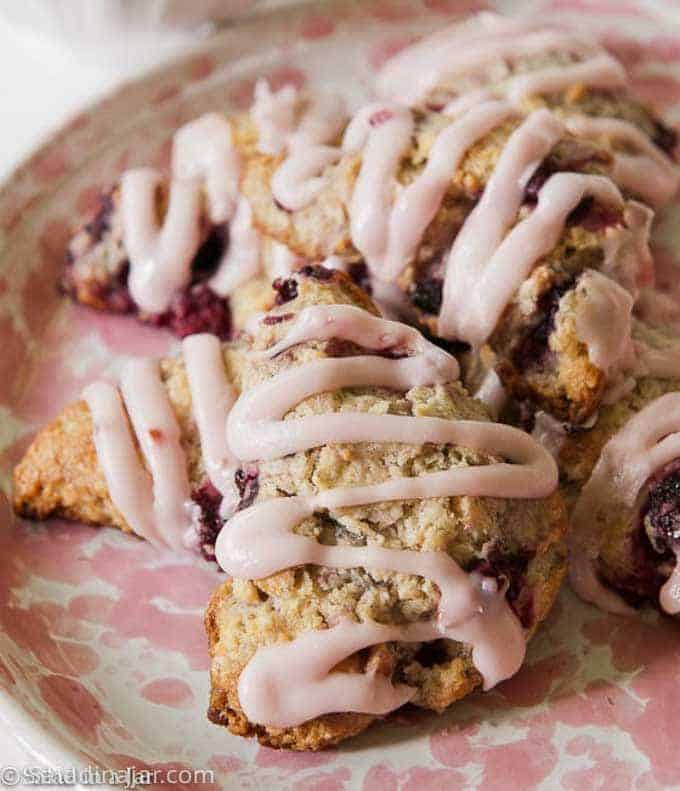 As an Amazon Associate, I earn from qualifying purchases.
Looking for an easy fix for a special breakfast? Prepare these blackberry scones ahead of time and freeze them. Bake when you get ready.
Imagine walking into the kitchen, taking out some frozen scones, and baking them immediately in the morning. The smell alone is going to start your day off right. Most scones, like these White Chocolate, Apricot, and Walnut Scones, or Lemon Poppy Seed Scones, tolerate the freezer treatment quite well.
Happy Bakers Speak Up
"They went together quickly and they were really good. I loved the idea of melting the butter with the blackberries. The frosting was so pretty and flavorful. "

–Sharon J.
Recipe inspiration:
It's summertime, and the livin' is easy, they say. Well, livin' may be easy, but hanging out in the kitchen on a hot Texas day…not so much.
If I'm going to turn the oven on, it has to be before 9 o'clock in the morning. That means this Blackberry Scone recipe is good for breakfast–even in the summer, especially when you've made them ahead of time and can pull them out of the freezer.
My son and daughter-in-law from NYC were recently here for a family trip to Galveston Beach. They are scones and blackberry lovers, so I made these scones in advance.
Baking them off as a special treat one morning during their way-too-short visit was easy and convenient. I also made the frosting ahead and stored it in a zippered plastic bag in the fridge.
---
Ingredients and substitutions:
FLOUR: Use bleached or unbleached all-purpose flour.

SUGAR: Granulated sugar is specified. You may substitute brown sugar 1:1, but the texture may be different.

CINNAMON: The best substitute would be allspice or nutmeg. If you chose nutmeg, use half as much.

BUTTER: Substitute margarine or shortening. Salted or unsalted butter is fine. Whatever you use, be sure it's cold.

MILK: Any milk will work. However, the more fat in the milk, the better the scones.

EGG: The recipe was tested with large eggs.

BLACKBERRIES: Presumably, you could substitute frozen blackberries instead of fresh ones, but I have not tried them. This recipe would also be good with blueberries.
---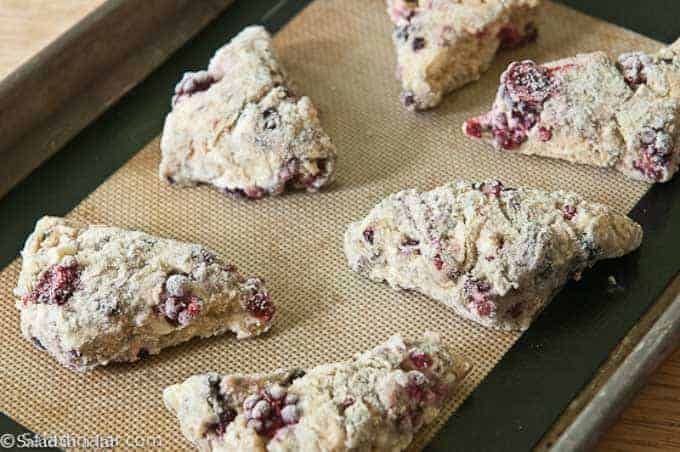 ---
FAQ for this blackberry scone recipe:
Can I make these a day ahead of time?
This recipe is like donuts. Best the day you make them. What that in mind, if you want to make them ahead of time, I would freeze them and bake them directly out of the freezer. No need to thaw.
Can I freeze the icing?
Yes. Put it in a separate container. Ice the scones after they are baked.
How do I drizzle the icing?
When the baked scones cooled, I snipped one corner of the bag and squeezed the Berry Icing over the scones like we used to do with Pillsbury Popovers.
Can I freeze baked scones?
Yes, you can. But I recommend freezing the raw dough and baking it immediately before eating. That's the best!
How long does it take to bake a frozen scone?
It takes from 3-5 extra minutes.
---
Parting thoughts: If you're a blackberry lover, you must try this blackberry ice cream. It has become a favorite of our family and always makes an appearance on the Fourth of July. And don't forget about this Blackberry Cobbler. The recipe makes a small batch, but it's easy to double or triple. Try some over your next bowl of yogurt.
Help at Your Fingertips: For questions or suggestions, email Paula at saladinajar.com. If you need help, I'm happy to troubleshoot via email (faster than leaving a comment). Attach pictures and as many details as possible for the best advice.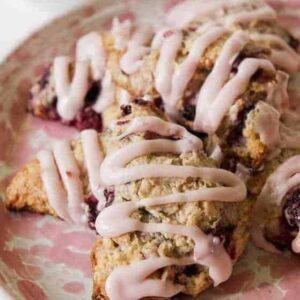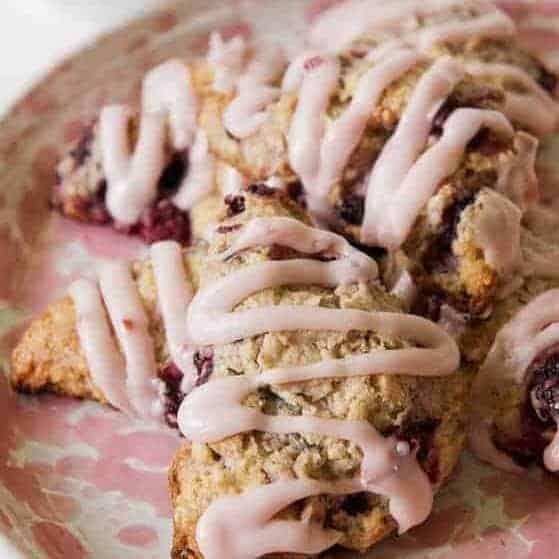 Frosted Blackberry Scone Recipe with Icing
These frosted Blackberry Scones are an easy-to-assemble project you can bake straight out of the freezer.
Share recipe love here. ⬇
Ingredients
2

cups

(

240

g

)

unbleached all-purpose flour

⅓

cup

(

66

g

)

granulated sugar

¼

teaspoon

baking soda

¼

teaspoon

cinnamon

½

cup

(

113

g

)

cold unsalted butter

¼

cup

(

57

g

)

2% or whole milk

1

(

50

g

)

large egg

1

cup

(

144

g

)

fresh blackberries
Berry Icing
1

tablespoon

butter

2

blackberries

1

tablespoon

heavy cream or half-and-half

1

cup

(

114

g

)

powdered sugar

1

teaspoon

vanilla extract
Instructions
Preheat oven to 450˚F (230˚C).

Place

2 cups

(

240

g

) unbleached all-purpose flour,

1/3 cup

(

66

g

) granulated sugar,

1/4 teaspoon

baking soda, and

1/4 teaspoon

cinnamon into your food processor or a large mixing bowl if you prefer. Pulse a few times or whisk by hand to mix.

Cut

1/2 cup

(

113

g

) cold unsalted butter into 8 slices and pulse until the mixture looks like oatmeal. Alternately, use a fork or two knives to cut butter into dry ingredients in a bowl.

Pour

1/4 cup

(

57

g

) 2% or whole milk into a measuring cup and add

1

(

50

g

) large egg. Lightly beat with a fork. Add to butter and flour mixture. Pulse until dough just begins to stick together.

Fold in

1 cup

(

144

g

) fresh blackberries with a spoon using a light touch. If making by hand, lightly stir in egg and milk mixture, then berries, and press dough together to form a loose ball of dough.

Transfer the dough to a floured surface. I like to use a silicone baking sheet so I can throw it into the dishwasher when I'm done. Roll or pat dough into a rectangle shape that is about 1-inch thick. Cut into 12 triangles.

Place onto a cookie sheet covered with parchment paper or a silicone mat. At this point, you can freeze and bake later or go ahead and bake immediately.

Bake for 13-15 minutes. (If baking from a frozen state, you don't have to defrost, but you may need a couple of extra minutes baking time.)
Berry Glaze:
Place

1 tablespoon

butter and

2

blackberries into a small, microwave-safe bowl and heat until butter is melted.

Use a fork to smash warm berries into the butter. Add

1 tablespoon

heavy cream or half-and-half,

1 cup

(

114

g

) powdered sugar, and

1 teaspoon

vanilla extract and stir until smooth.

Use a spoon to drizzle frosting over slightly cooled scones.
Nutrition
Serving:
1
scone
|
Calories:
231
kcal
|
Carbohydrates:
32
g
|
Protein:
3
g
|
Fat:
10
g
|
Saturated Fat:
6
g
|
Polyunsaturated Fat:
1
g
|
Monounsaturated Fat:
3
g
|
Trans Fat:
1
g
|
Cholesterol:
39
mg
|
Sodium:
41
mg
|
Potassium:
57
mg
|
Fiber:
1
g
|
Sugar:
16
g
|
Vitamin A:
339
IU
|
Vitamin C:
3
mg
|
Calcium:
18
mg
|
Iron:
1
mg
HELP OTHERS find this recipe. Leave a 5 🌟🌟🌟🌟🌟 rating at the top of the recipe card if you enjoyed it. No comment is required.