Million Layer Whey Biscuits–A Great Idea for Leftover Yogurt Whey
Sneak Preview: These Yogurt Whey Biscuits are a delicious way to use the extra whey leftover from making Greek yogurt. I have included a cinnamon sugar and whole wheat version.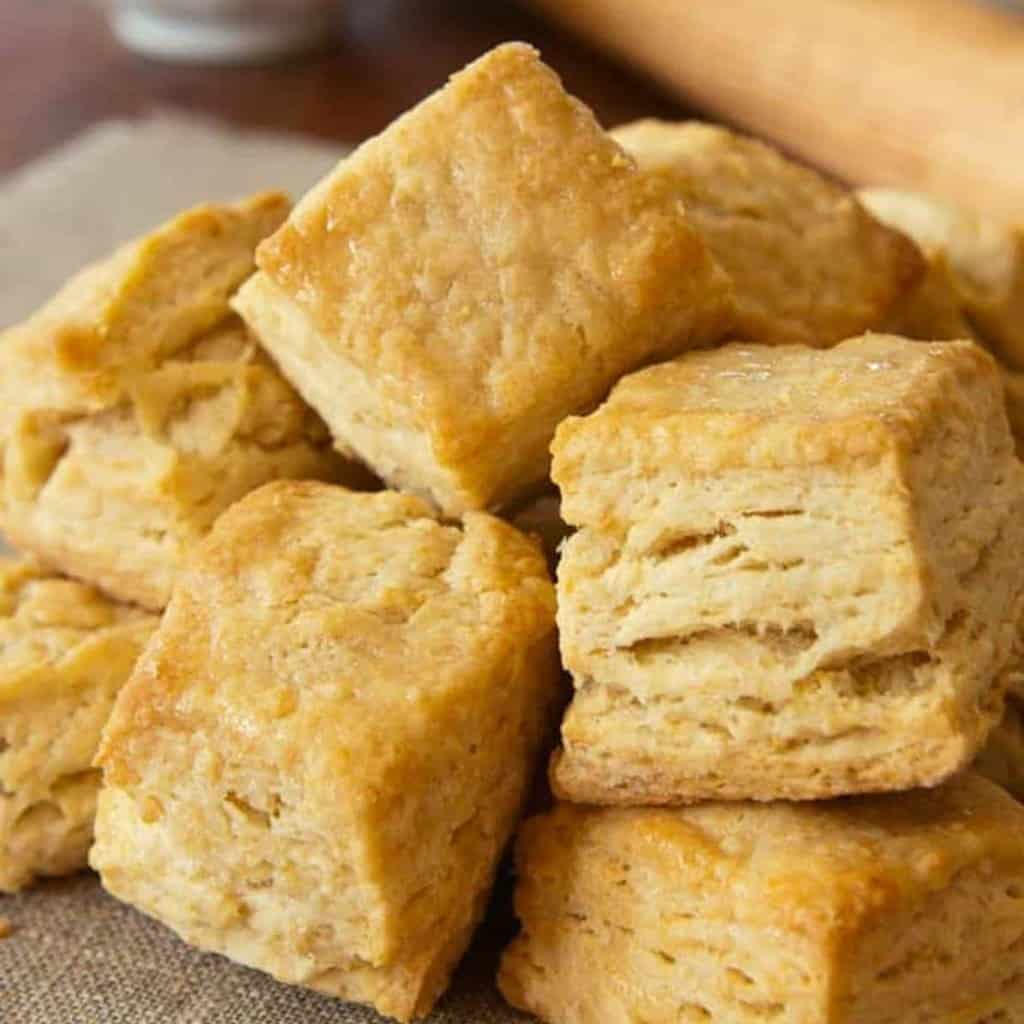 As an Amazon Associate, I earn from qualifying purchases.
Are you wondering what to do with the whey from making Greek yogurt? If so, this recipe is for you. Don't miss the other variations, including Cinnamon-Sugar Flaky Biscuits and Whole Wheat Whey Flaky Biscuits.
The secret to the flaky layers is in the technique. Keep reading or check out the video to find out more.
Recipe inspiration:
Due to an overload of Pillsbury Flaky Biscuits and Cinnamon Twirls in my childhood, I'm a sucker for layers in my bread. Pulling off the layers one by one is so much fun, whether it's cinnamon rolls, dinner rolls, or these biscuits.
You can make these flaky biscuits at home. They may appear complicated, but they're not. You'll enjoy making this recipe if you think making yogurt is fun.
Although not as simple as stirred or drop biscuits, you can whip up a batch in 15 minutes with some practice. Don't worry about rolling out perfectly symmetrical biscuits. Instead, some homemade charm and wonkiness will make them taste even better.
I created this recipe to use leftover whey from making Greek yogurt at home. For my readers who also make yogurt, you know what I mean. You can accumulate a boatload of whey with a voracious Greek yogurt habit.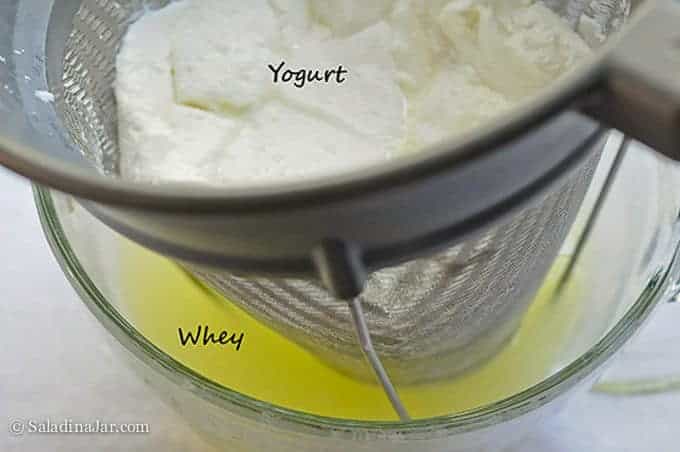 What do you do with all that leftover whey? First, check out this post for 18 Ways to Use Yogurt Whey. Then, try this crispy-on-the-outside, moist-and-tender-on-the-inside biscuit recipe the next time you have too much whey.
No whey in the house? Substitute buttermilk for the whey. They will be just as tasty! Promise.
What you should know about the different types of whey:
If you are confused about whey, you are in good company.
Yogurt whey is the watery liquid you often see on top of yogurt. Yogurt whey is an acidic whey.
A similar by-product of making hard cheese like Cheddar is sweet whey. However, it has different uses than acid whey because of the reduced acidity.
Whey protein powder is processed sweet whey derived from making cheese. It's an entirely different animal and will not work in this recipe.
What is the difference between sweet whey and acid whey? Acid whey is the leftover liquid when dairy producers make yogurts or soft cheeses. It is called acid whey because it is more acidic than sweet whey. Sweet whey is the excess liquid when dairy producers make hard or rennet cheeses. ACID WHEY FAQ – MOOSCIENCE
---
How can I make these biscuits if I don't make yogurt?
A common substitute for yogurt whey is buttermilk or a substitute (like milk with vinegar or lemon juice added).
For each cup of buttermilk, you can use one tablespoon of white vinegar or lemon juice plus enough milk to measure 1 cup. Stir, then let stand for 5 minutes. —Taste of Home: Buttermilk Substitute
Add milk or yogurt to make up the difference if you have some whey but not enough. You can substitute yogurt for whey or buttermilk. If your yogurt is thick, add some milk or whey until it matches the consistency of buttermilk.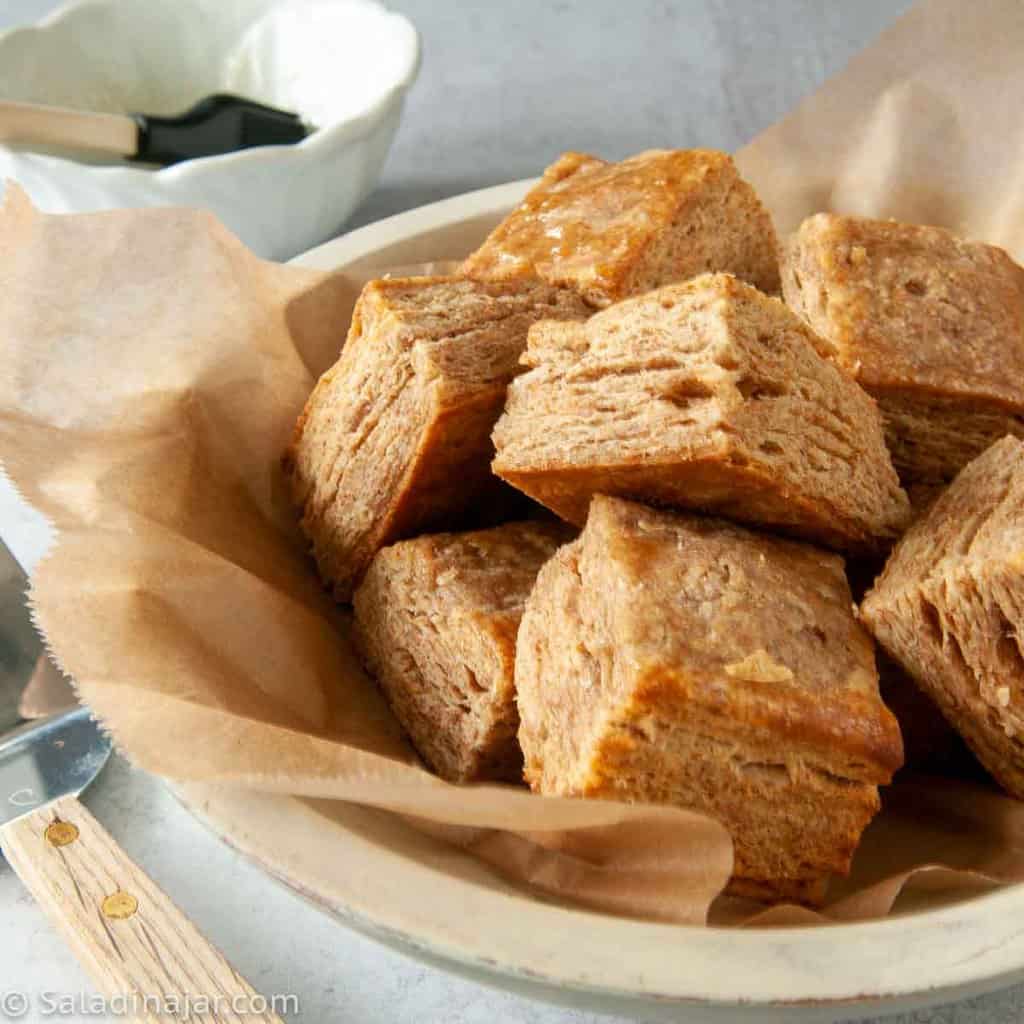 What can I substitute for shortening?
I modified the original recipe to use all butter instead of part shortening. Shortening helps to stabilize the biscuits, but I like the flavor better with butter.
However, the biscuits will sometimes rise so high they topple over without shortening. Here are some suggestions.
Don't skip the 30-minute rest period for the dough before you cut the biscuits.
Don't cut the biscuits too narrow. I've done that when trying to get more biscuits. They bake up deliciously that way, but it's not the look I want.
Place the biscuits close together (1/4 to 1/2-inch apart) on the baking sheet. If they start to tip over, they will be supported by the other biscuits.
---
Can I freeze these biscuits?
These flaky whey biscuits are great to make up to the point of baking. Wrap your unfrozen biscuit squares in two layers (plastic wrap and a zippered bag or foil) and freeze. Use within a month.
The frozen biscuits can go directly onto a baking sheet when ready to bake. Add a few extra minutes to the baking time.
---
How can I prepare whey biscuits in advance?
If you want to prepare flaky biscuits earlier in the day or the night before, make dough through step 8. Chill until you are ready to bake. Cut the biscuits into squares, place them on a baking sheet, and bake.
---
Variations
***Honey-Butter Whole Wheat Flaky Whey Biscuits
Substitute 1 cup of whole wheat flour with 1 cup of unbleached flour. Glaze with equal parts honey and butter as the biscuits come out of the oven.
If you want 100% whole wheat biscuits, substitute 2 cups of soft whole wheat pastry flour. I like to buy this flour from the bulk bin. If you can find it, I urge you to try this variation. They are so light and mild-tasting for a 100% whole-wheat product.
***Cinnamon-Sugar Flaky Whey Biscuits with Sanding Sugar or Icing
These biscuits are a time-saving substitute for cinnamon rolls made with yeast. Put them together through step #8 the day before and refrigerate.
Bake and cover them with a glaze like this quick brown butter icing you can make in the microwave. Everyone will be hopping out of bed when they smell them baking.
---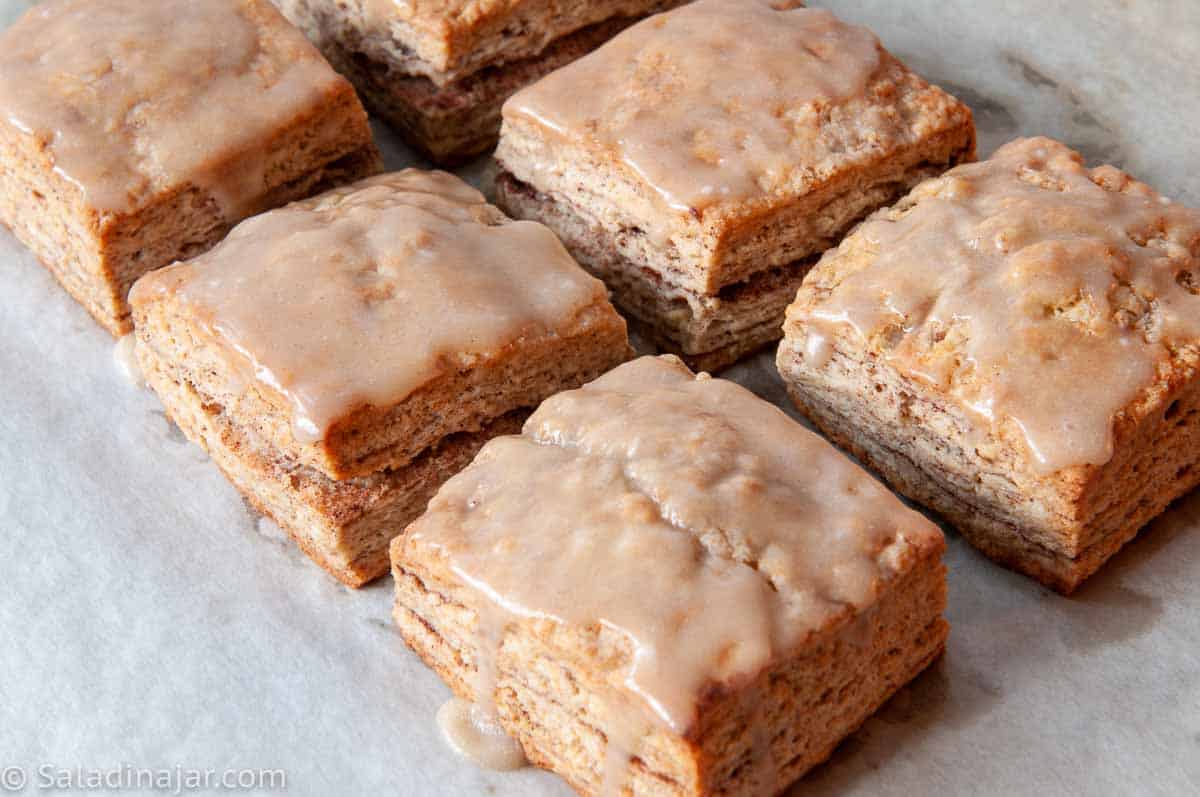 Use two tablespoons of sugar instead of 1 tablespoon.
Put together a mixture of 2 teaspoons of cinnamon and one teaspoon of sugar. Sprinkle the cinnamon mixture on each layer of dough as you roll out the biscuits. Fold and roll 4-5 times for the best results.
Brush the tops of the biscuits with butter before baking. Sprinkle with sanding sugar, raw sugar (Demerara), or cover with powdered sugar icing.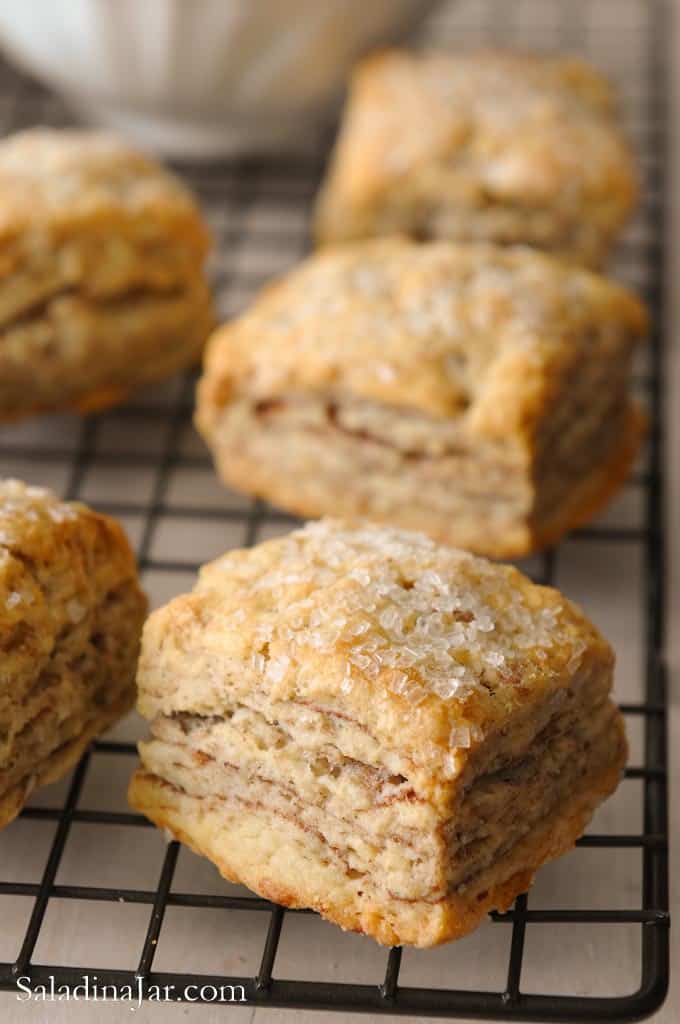 ---
Frequently Asked Questions about this Flaky Whey Biscuit recipe:
I don't have a food processor. Is it ok to mix these by hand?
Yes. Shredding the frozen butter will make it easier to incorporate if you do it by hand.
Why do my biscuits burn on the bottom?
Try moving your pan of biscuits to a higher rack in the oven. Using heavy, dark pans makes a difference, too.

Be sure your oven is preheated. Try calibrating your oven using a cheap oven thermometer if all else fails.
Why didn't my whey biscuits rise very high?
Use very cold or frozen butter. Also, make sure your whey (or buttermilk) is well-chilled. Some people go so far as chilling the flour and their mixing bowl. Chilling the dough for 30 minutes before you cut it into biscuits helps, too.

The temperature difference between the biscuit ingredients and the oven causes a pop of steam that helps the biscuits rise. Make sure your oven is hot and the biscuit dough is cold!
Why did butter leak out of my biscuits while they were baking?
The pieces of butter in the dough were too big. After you cut the fat into the biscuit dough, no pieces should be over the size of a pea.

Hint: If you notice smoke leaking out of your oven (burning butter) or see butter dripping from the cookie sheet while your biscuits are baking, do this. Cover another cookie sheet with a silicone baking sheet, parchment paper, or foil. Slide it onto a rack beneath the biscuits to catch the drips.

Throwing away parchment paper or foil is easier than cleaning your oven. Also, the drips won't burn and smoke on the cookie sheet as they do on the bottom of your oven. I've already tested this for you.

p.s. I always do this when baking pie crusts, too.
Why are my biscuits dry?
The most common reason is using too much flour. I recommend weighing instead of measuring for the best results.

If you want to measure, stir the flour first. Then spoon the flour into a measuring cup with a light hand before leveling. Scooping flour with a measuring cup often results in too much flour.
I know there is a lot of butter in this recipe. You can cut back a tablespoon or so without too much damage. However, the butter makes the fabulous layers and keeps these whey biscuits moist (along with the whey and yogurt).

---
How to mix whey biscuit dough: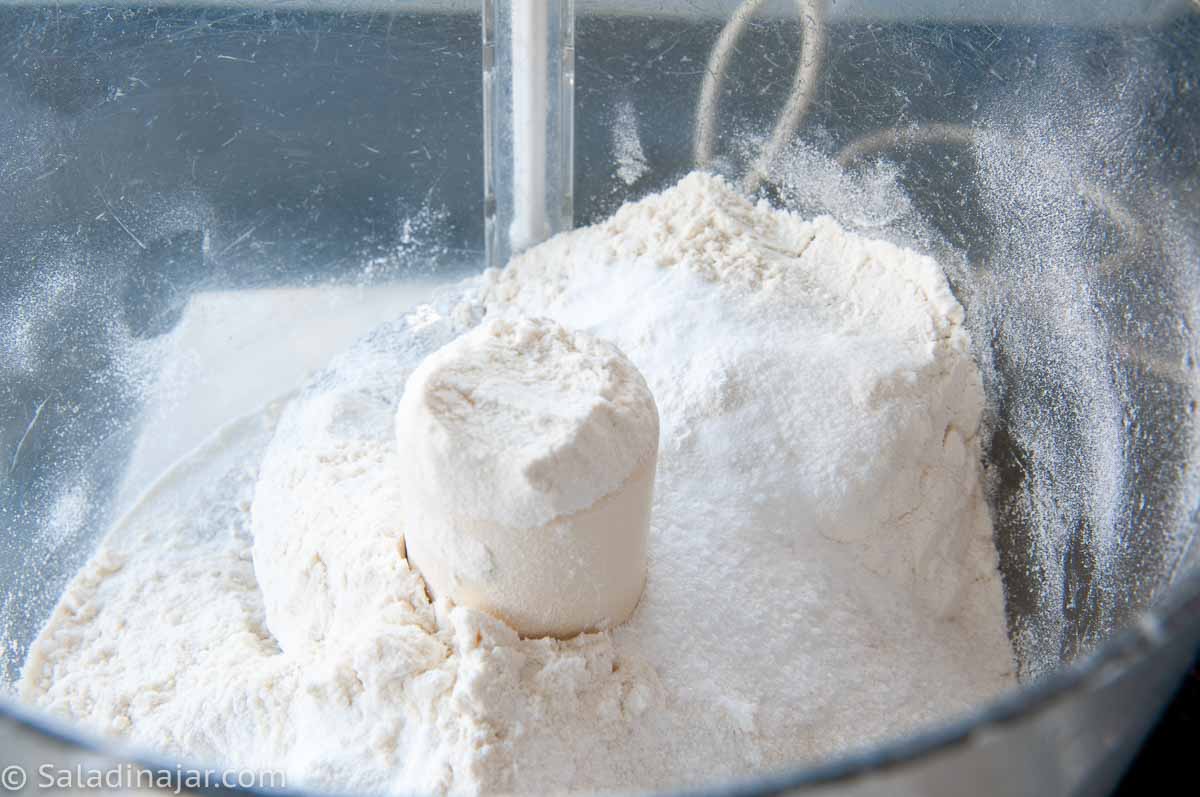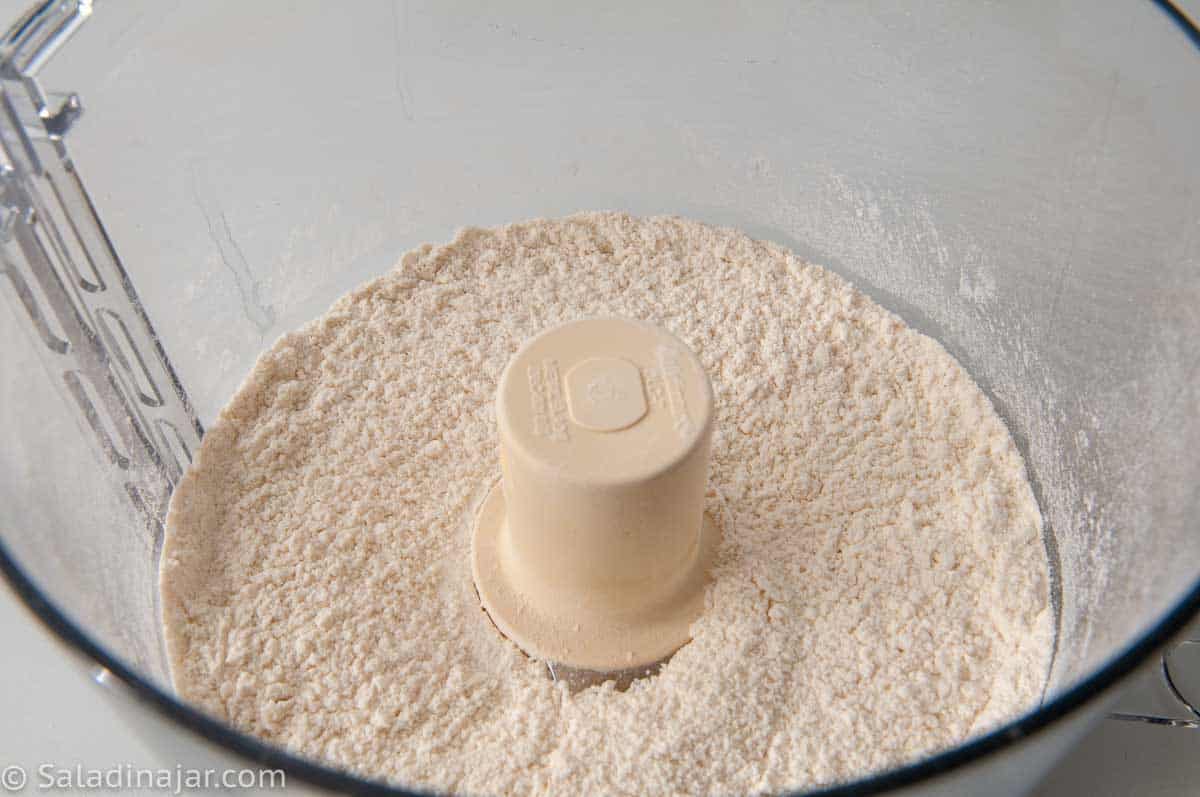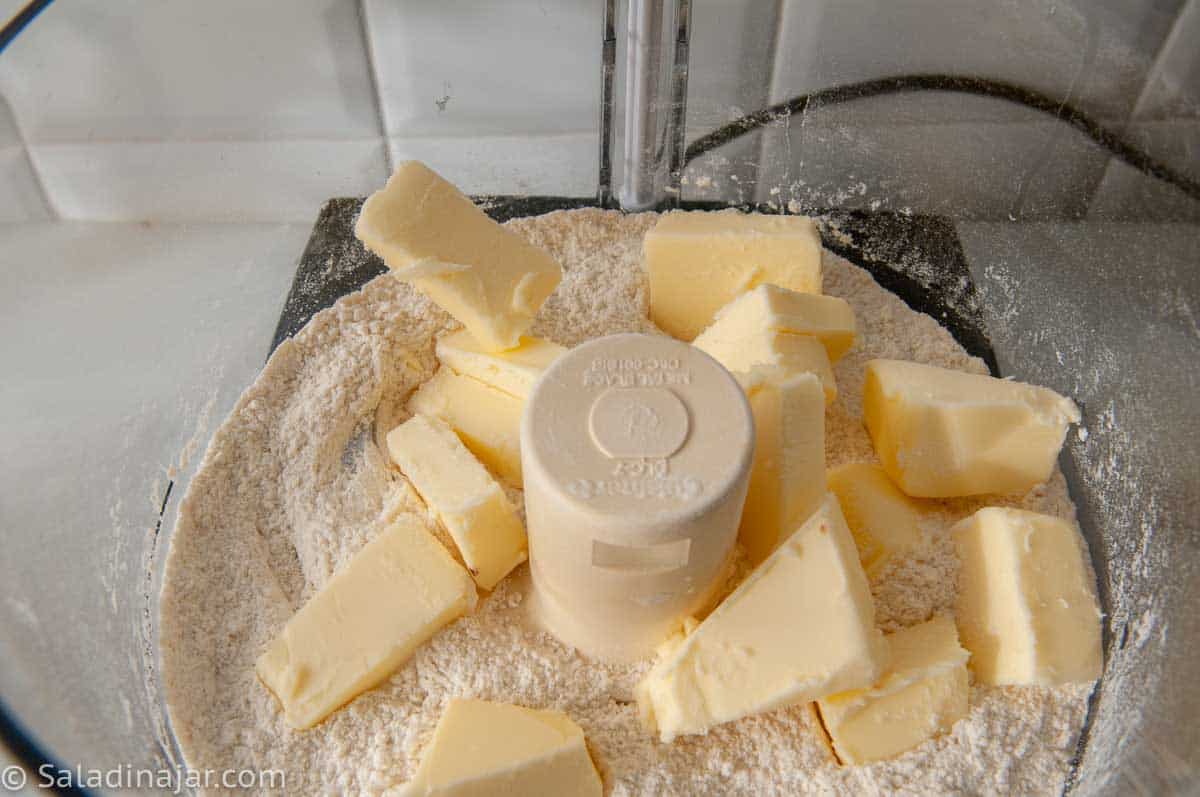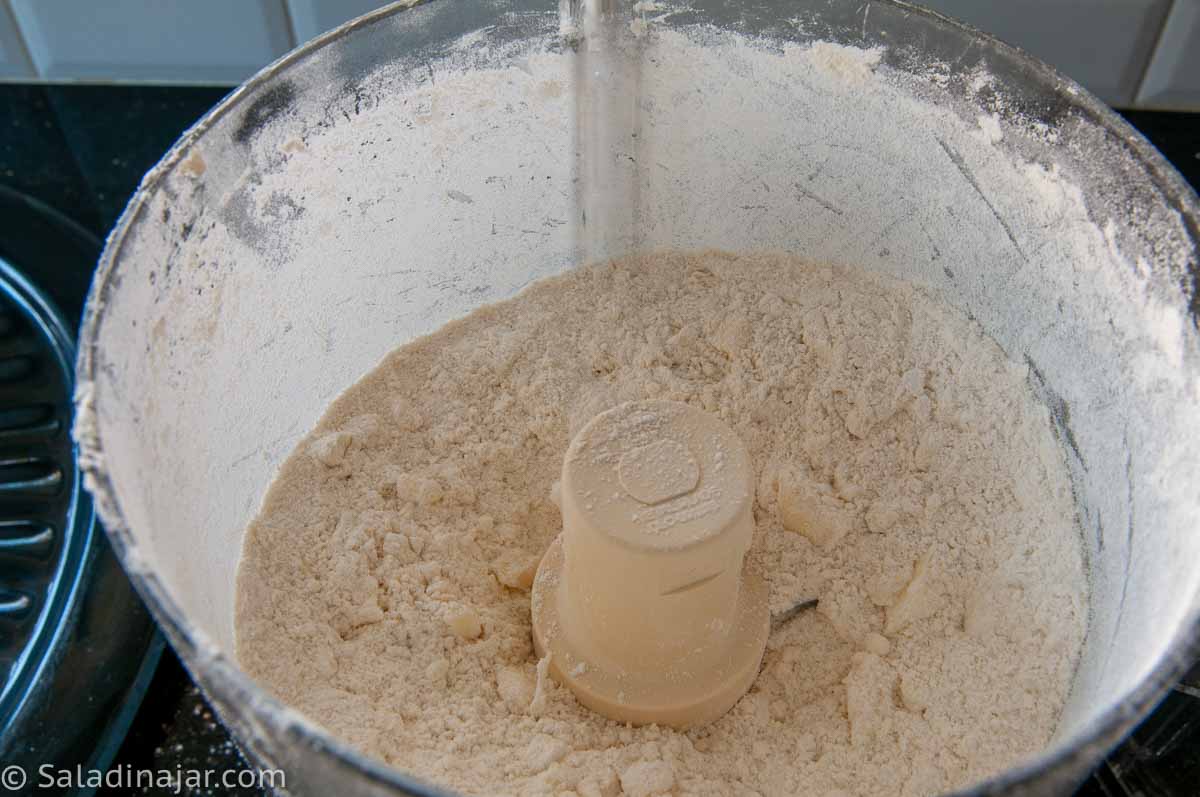 ---
How to roll out flaky whey biscuits: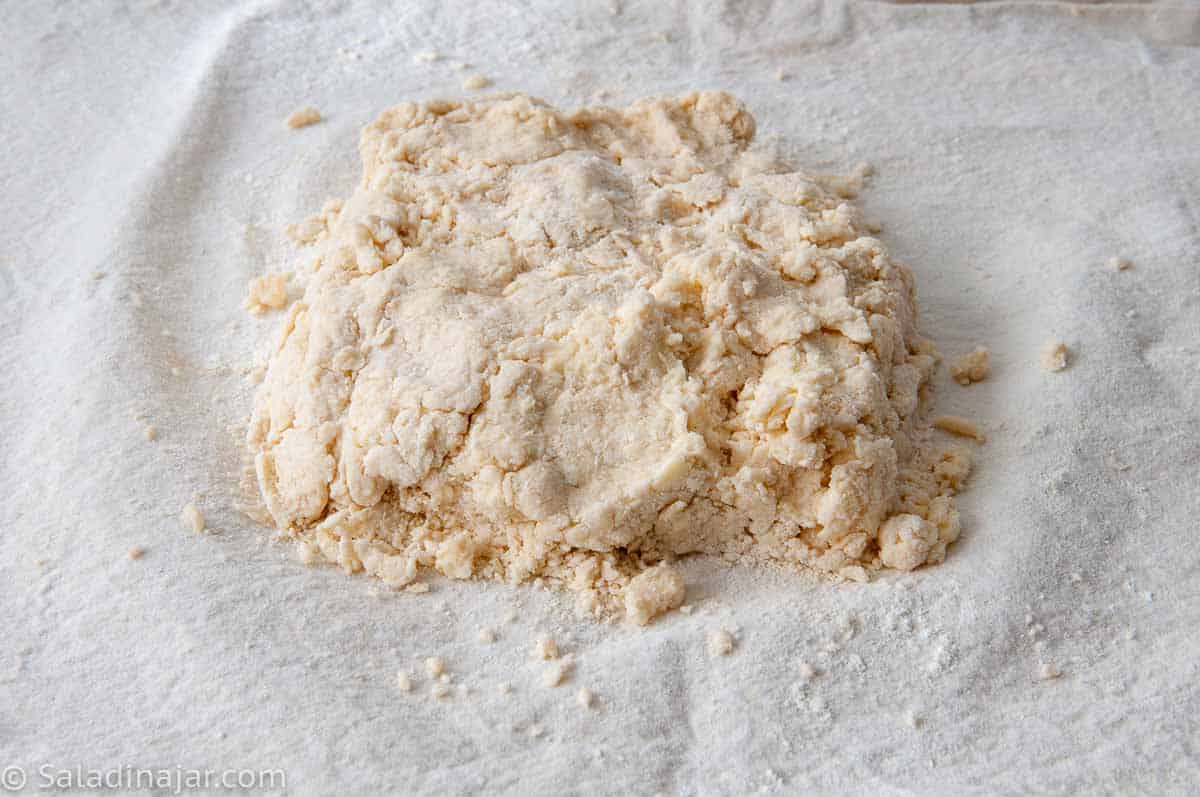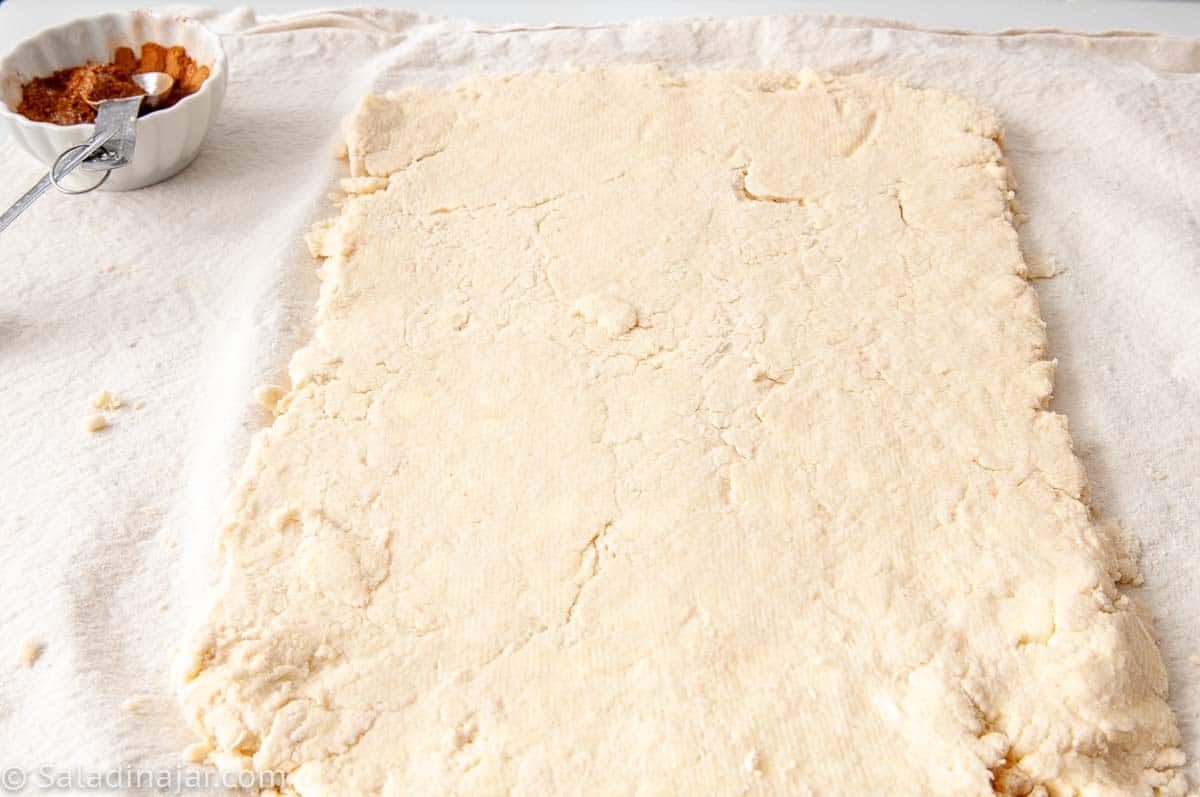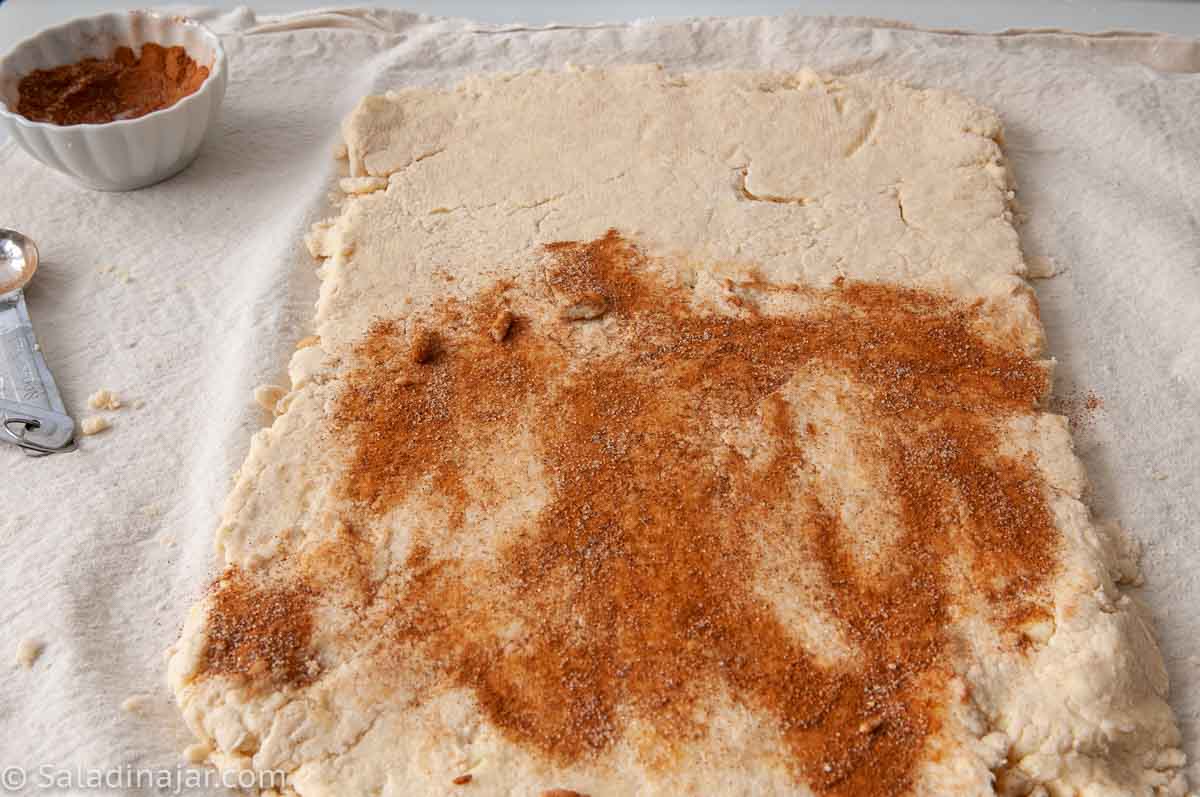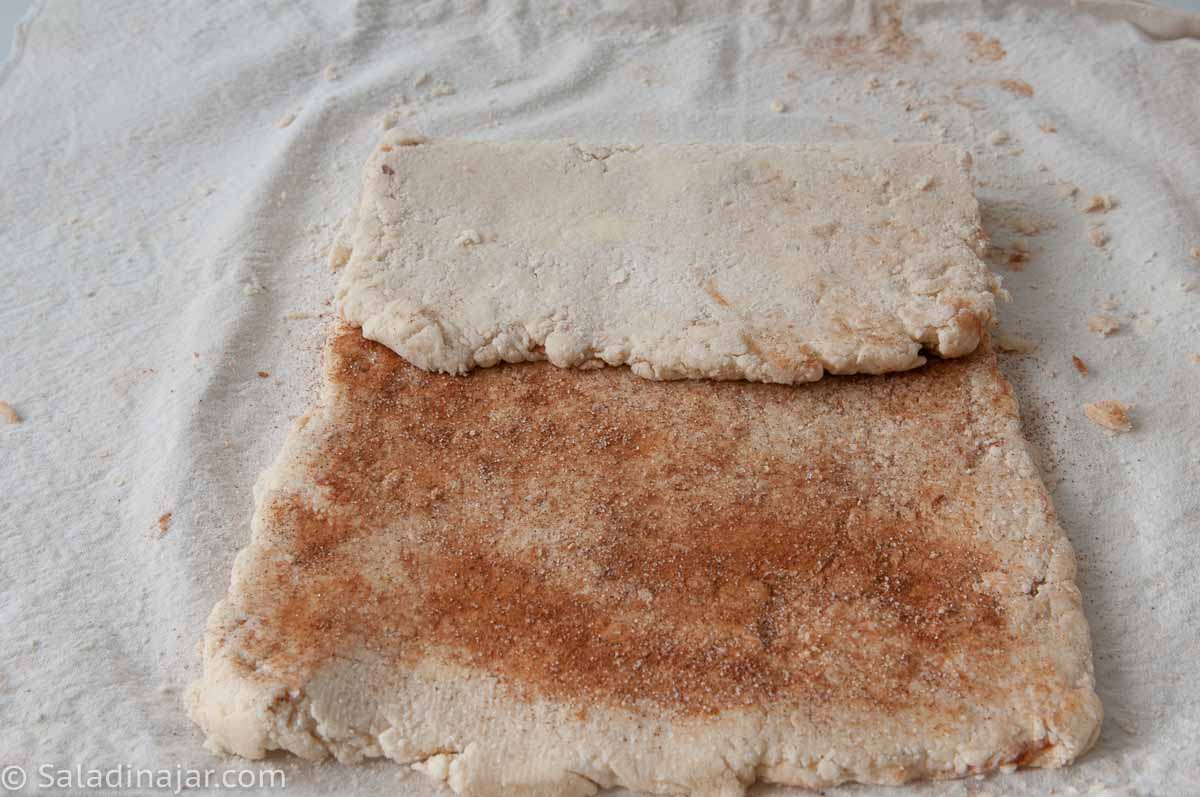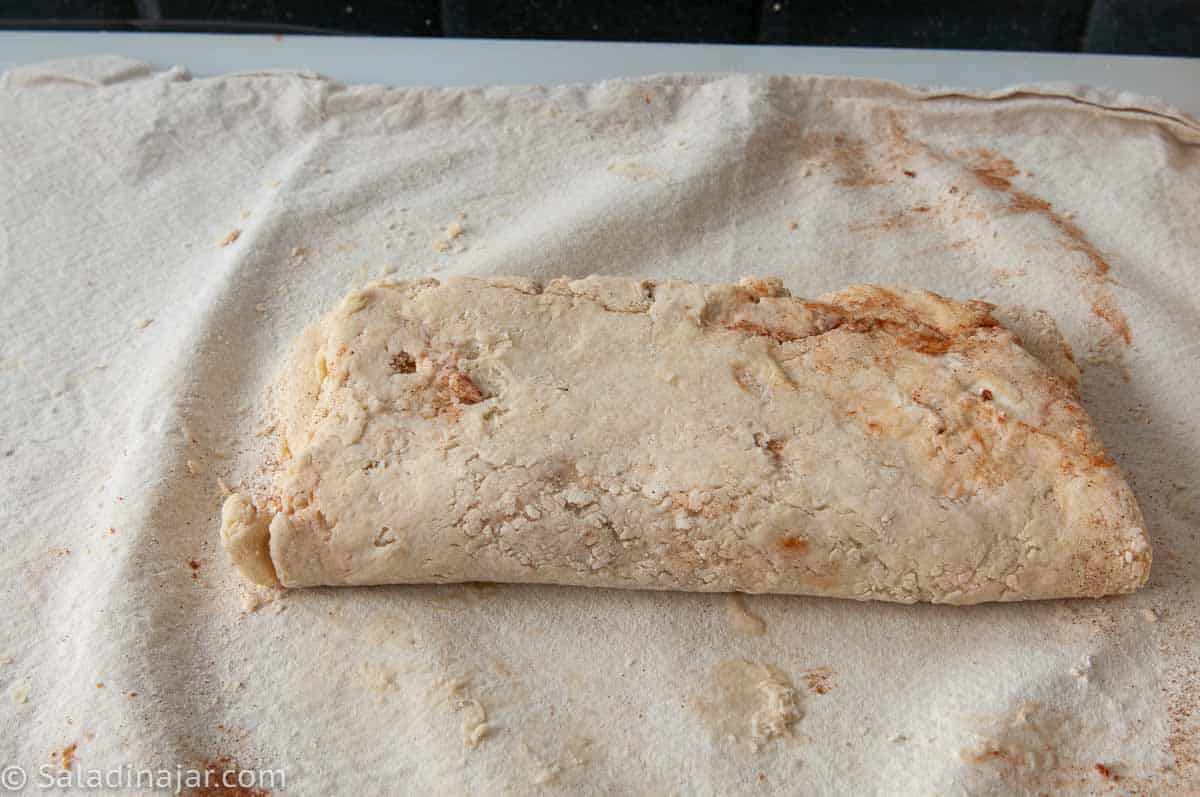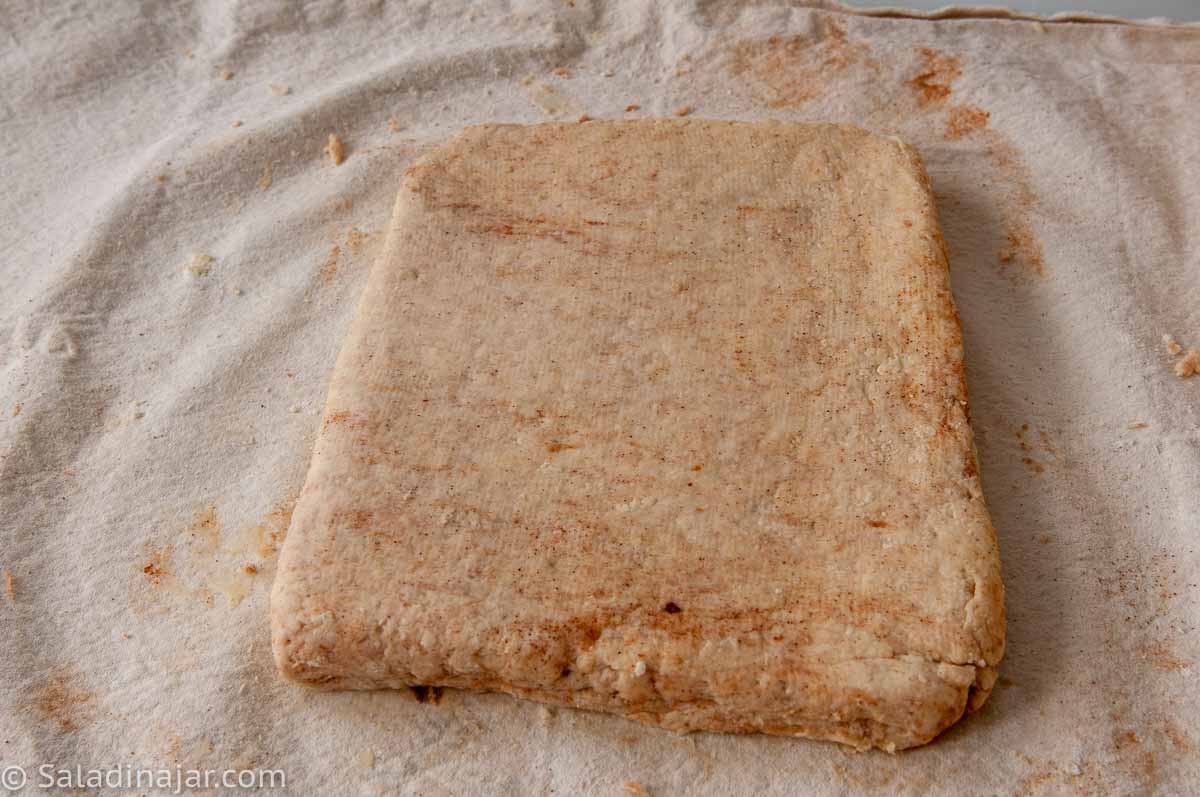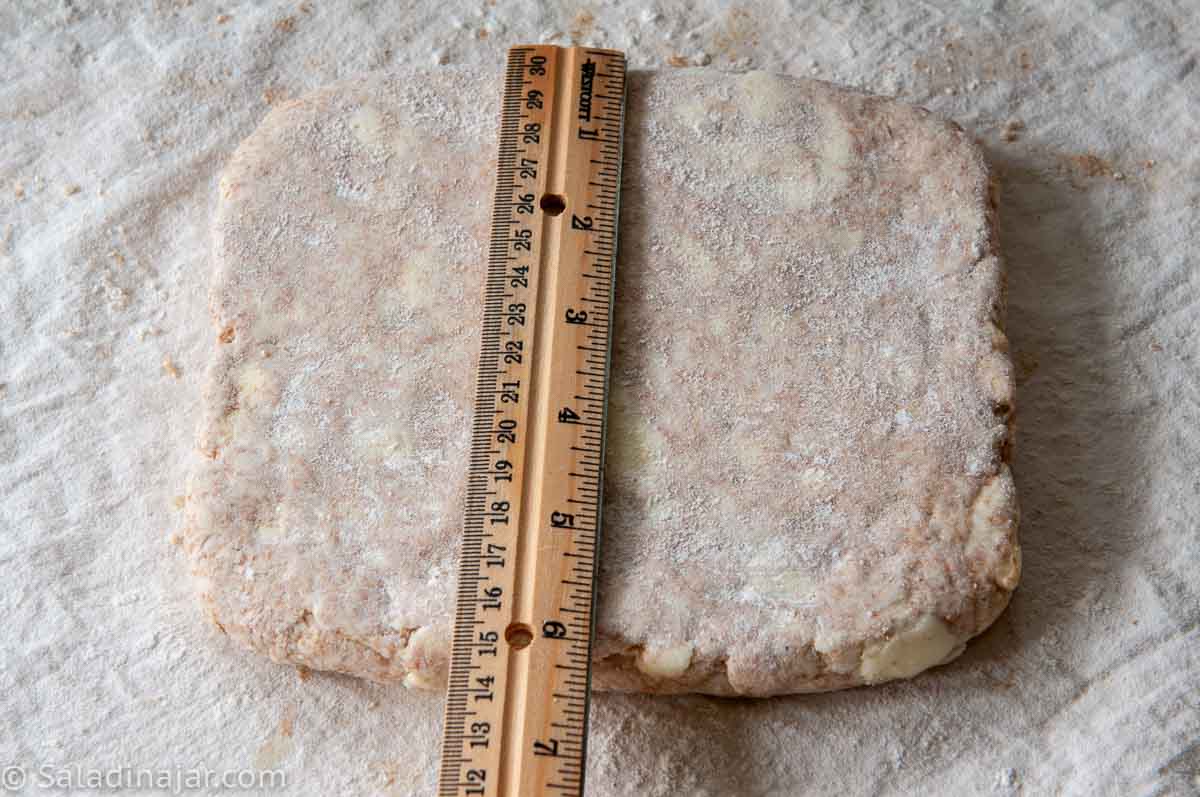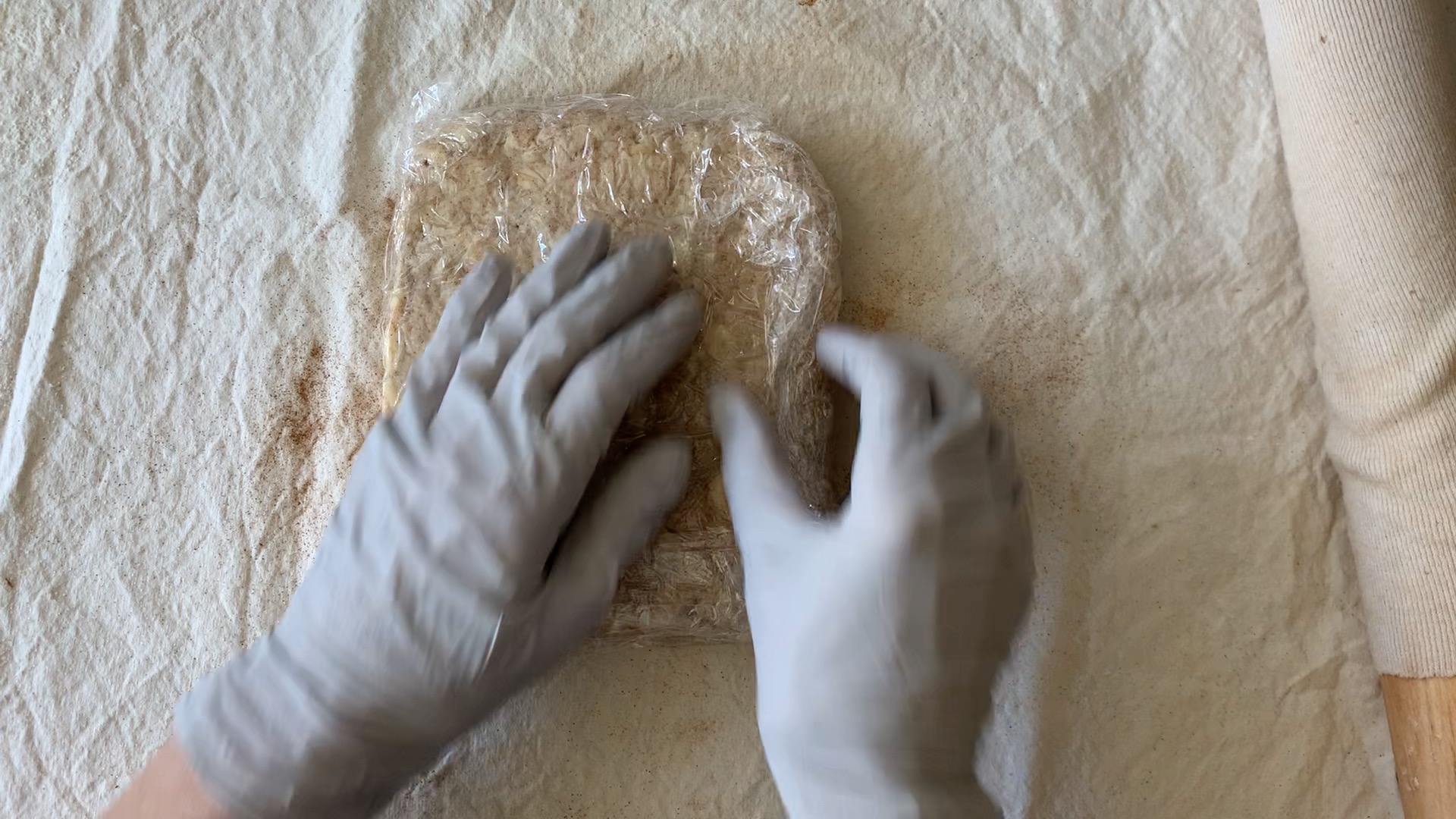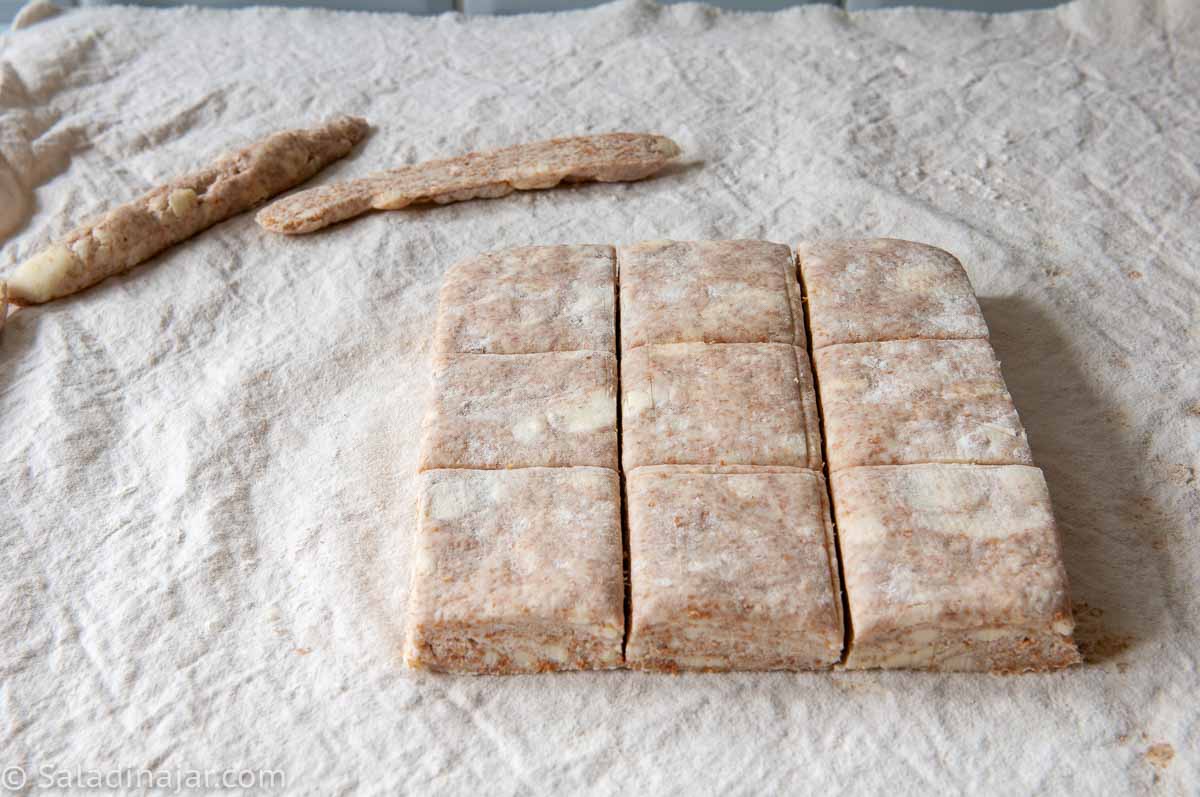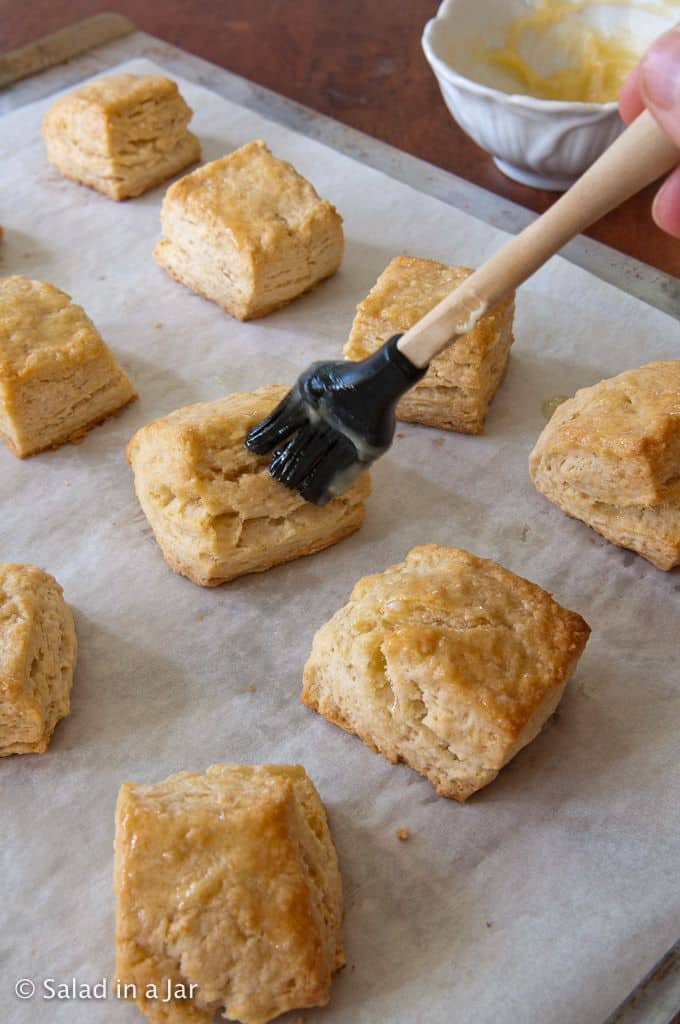 ---
Help at Your Fingertips: For questions or suggestions, email Paula at saladinajar.com. If you need help, I'm happy to troubleshoot via email (faster than leaving a comment). Attach pictures and as many details as possible for the best advice.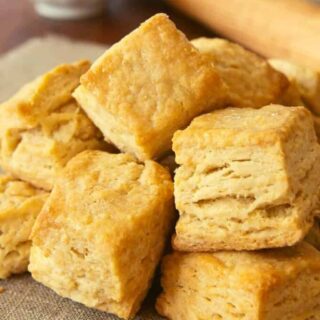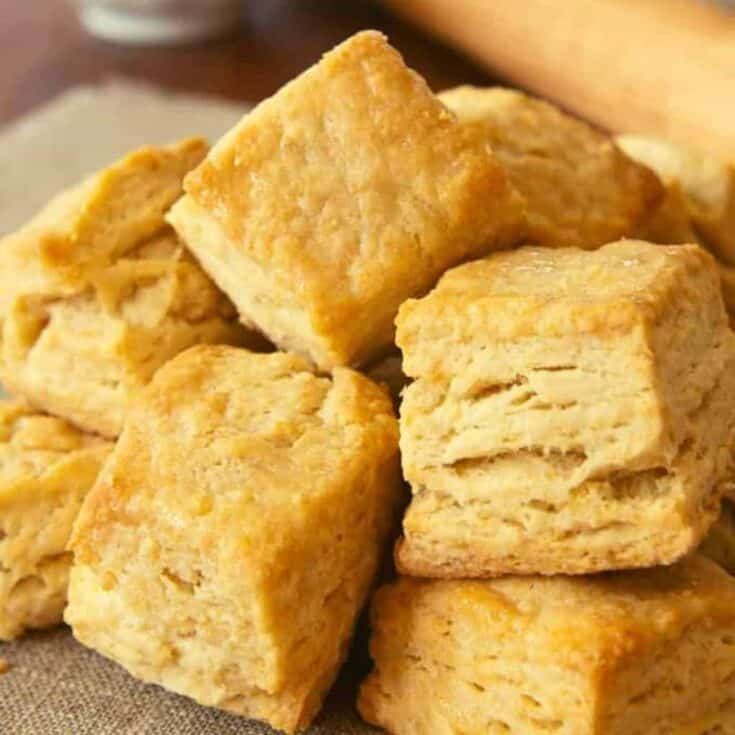 Flaky Whey Biscuits Recipe
Light and flaky layers set this flaky biscuit recipe apart from the average biscuit. Use whey drained from yogurt for the liquid or buttermilk if you don't have yogurt whey. These biscuits are one of the best uses of whey I can think of.
Share recipe love here. ⬇
Ingredients
2

cups

(

240

g

)

unbleached all-purpose flour

1-2

tablespoons

sugar

–

(Use lesser amount for plain biscuits )12-24 gr

2

teaspoons

baking powder

½

teaspoon

baking soda

½

teaspoon

salt

9

tablespoons

(

126

g

)

unsalted butter

–

126 gr + 1 tablespoon of melted butter for brushing tops

⅔

cup

(

151

g

)

yogurt whey

–

(or 2/3 cup buttermilk)
Honey-Butter Glaze
1

tablespoon

honey

1

tablespoon

melted butter
Instructions
Place

2 cups

(

240

g

) unbleached all-purpose flour,

1-2 tablespoons

sugar,

2 teaspoons

baking powder,

1/2 teaspoon

baking soda, and

1/2 teaspoon

salt together into the food processor bowl. Pulse 3 times.

Add frozen

9 tablespoons

(

126

g

) unsalted butter sliced into small pieces. Pulse 15-20 times to cut into the flour. You should have pieces of various sizes resembling oatmeal, peas, and cornmeal all mixed together. No pieces should be larger than a pea.

Pour

2/3 cup

(

151

g

) yogurt whey over the mixture and pulse about 8 times until the mixture turns into dough crumbles. It should not come into a ball yet.

Turn dough crumbles out onto a floured surface. I like to use a silicone baking mat or a well-floured pastry cloth. I also like to wear surgical gloves to protect the dough from the heat of my hands but it's not essential.

Knead about 3-4 times until you have a barely cohesive ball of dough. Use your hands to gently push the dough into a square shape.

Use a rolling pin to roll out dough to about 1/2 inch thick. Fold a third of the dough over itself. Now fold the uncovered third over the folded portion like a letter. (See the pictures or video)

Give the dough a quarter turn. Roll out again into a rectangle that is about 1/2-inch thick. Fold as described in the previous step. Repeat the folding process four-five times.

Roll dough to 1/2 inch thick and approximately 6-inch square. Wrap and chill for thirty minutes.

Preheat oven to 400˚F.

Trim 1/4 inch from each side of the square of dough with a sharp knife to make clean edges. You should be able to see all the layers.

Slice into 9 biscuits, Place biscuits about 1/2-inch apart on a cookie sheet that has been greased, covered with parchment paper, or a silicone mat.

Optional: Combine

1 tablespoon

honey and

1 tablespoon

melted butter to make honey/butter glaze. Brush over the biscuits after baking.

Bake in a preheated oven for 15-17 minutes
Notes
VARIATIONS:
Flaky Whole Wheat Biscuits with Honey-Butter Glaze Recipe:
Substitute 1 cup of whole wheat flour (113 grams) for 1 cup of unbleached flour (120 grams). As biscuits come out of the oven, brush with a mixture of equal parts butter and honey.
100% Whole Wheat Flaky Biscuits Recipe:
Use 2 cups of soft whole wheat pastry flour (192 grams) in place of the unbleached flour. Follow the recipe as written.
Cinnamon-Sugar Flaky Biscuits Recipe:
Stir together 2 teaspoons cinnamon and 1 teaspoon sugar. As you roll the layers, sprinkle cinnamon on each layer before folding. Roll and fold at least 4 times. Chill and cut as directed in the recipe. Before baking, brush the tops of the raw biscuits with butter and sprinkle with sanding sugar.
Continue with step 8. Icing or glaze is optional but it takes these cinnamon biscuits over the top. If doing icing, you can skip the sanding sugar.
Essentials (paid links)
French Wooden Rolling Pin 18″ x 1.55″ for Baking Pizza Pastry Dough, Pie Crust & Cookie – Kitchen Cuisine Utensil Smooth Tools Gift Ideas for Professional Bakers, Restaurants, Grandmas – MR. WOODWARE
Nutrition
Serving:
1
biscuit
|
Calories:
232
kcal
|
Carbohydrates:
26
g
|
Protein:
4
g
|
Fat:
13
g
|
Saturated Fat:
8
g
|
Polyunsaturated Fat:
1
g
|
Monounsaturated Fat:
3
g
|
Trans Fat:
1
g
|
Cholesterol:
34
mg
|
Sodium:
253
mg
|
Potassium:
35
mg
|
Fiber:
1
g
|
Sugar:
4
g
|
Vitamin A:
389
IU
|
Vitamin C:
1
mg
|
Calcium:
63
mg
|
Iron:
1
mg
HELP OTHERS find this recipe. Leave a 5 🌟🌟🌟🌟🌟 rating at the top of the recipe card if you enjoyed it. No comment is required.
Thanks to Kate of Cooking During Stolen Moments for showing me how to do the layers.