Preview: These baked whole wheat donuts with powdered sugar won't leave your kitchen in a greasy mess.
Do you ever buy powdered sugar doughnuts out of a vending machine? Those packages of 6 powdered sugar mini-donuts have so much powdered sugar on them, they could induce a coughing attack just by biting into them. Like sucking a sugar cloud into your lungs.
Make these Baked Whole Wheat Donuts and ease the guilt a little. The recipe incorporates white whole wheat flour (read more about it below) to make you feel even more virtuous.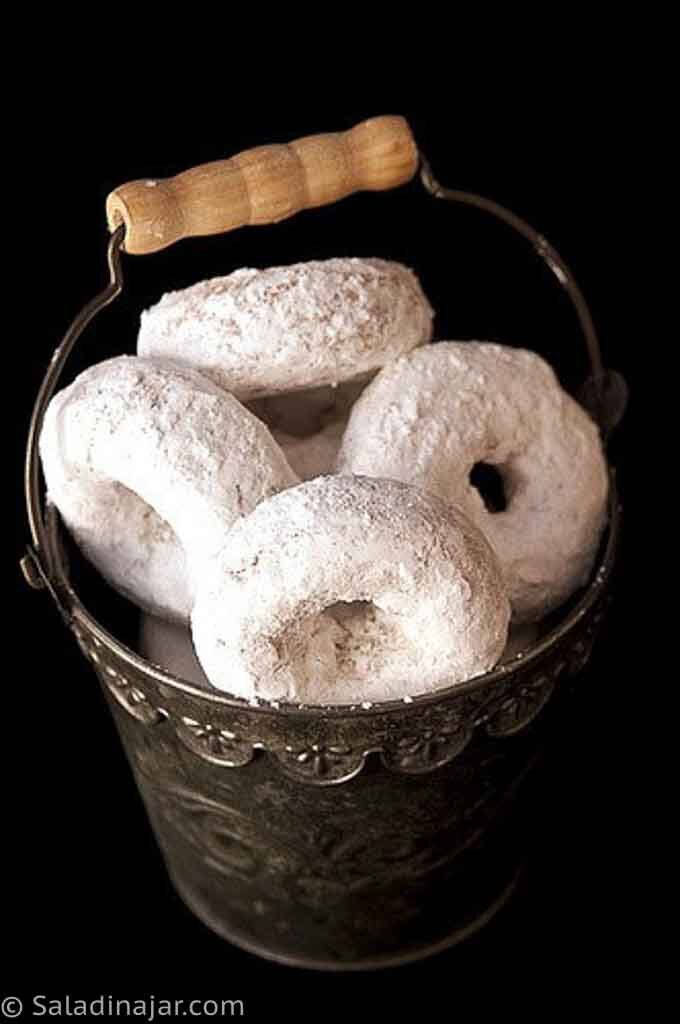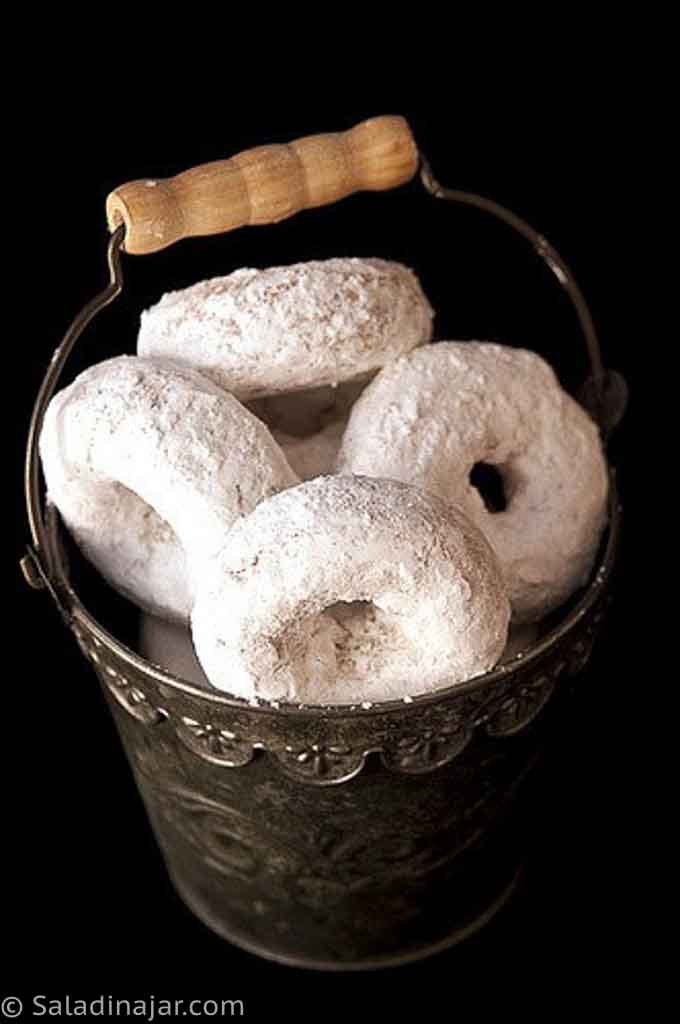 Searching for a healthier option:
What if I could bake donuts instead of frying, substitute white whole wheat flour for all-purpose white flour, and add some yogurt for extra protein?
After a few false starts, I found powdered sugar heaven for around 100 calories a donut. Now I'm not claiming you can't tell the difference from their fattier relatives, but they more than satisfy my cravings. Mix them up easy as muffins, and bake in less than 10 minutes with no greasy mess or odor in your house.
---
Ingredients and substitutions:
FLOUR: White whole wheat flour is my favorite for these little donuts. White whole wheat has all the nutritional value of regular whole wheat without the characteristic bitter flavor. The difference is the type of wheat used to make the flour. Since white whole wheat flour can be hard to find in stores, look online or use whole wheat or unbleached all-purpose flour.

SUGAR: Use granulated sugar.

NUTMEG: Did you know that nutmeg is a traditional spice to add to donuts? You don't need much but don't leave it out. Freshly grated nutmeg is not absolutely necessary–it's just fresher tasting.

PECANS: Optional.

MILK: To keep the calories down, I specified fat-free milk, but any milk will suffice. Needless to say, the more fat in the milk, the tastier the donuts.

GREEK YOGURT: I always have yogurt in the house because I make yogurt at home. Use you only have regular yogurt, decrease the amount of milk by 1 tablespoon.

EGG: I use large eggs in all my recipes.

VEGETABLE OIL: Use any unflavored vegetable oil such as canola oil, corn oil, or avocado oil.
---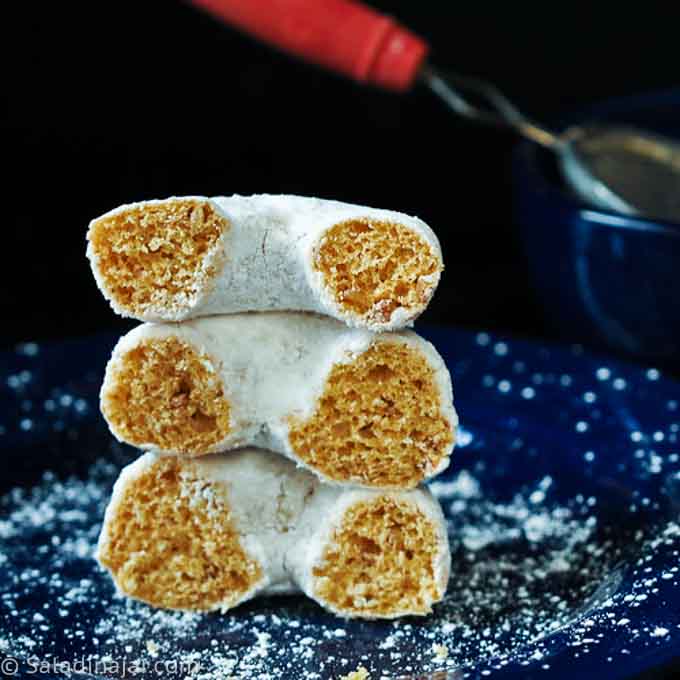 Two secrets for baking donuts: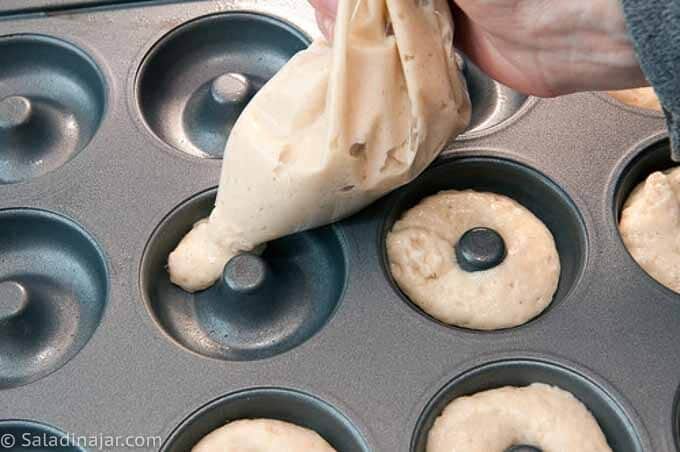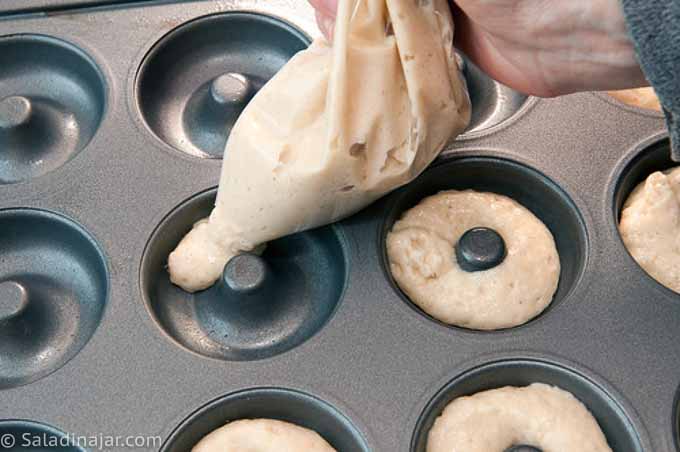 Thanks to Lara Ferroni who got me started down the baked donut path with her Baked Chocolate Doughnuts. She taught me two important secrets about homemade donuts.
Add nutmeg to get the characteristic flavor of a donut. I didn't know and likely would have left it out since it's not my favorite spice.
The idea of using a zippered plastic bag (although she used a decorator bag), with a hole to fill the pans, also came from her. Absolutely inspired!
Pecans pack a lot of flavor into these little gems. Chop finely and the kids won't notice. Or leave them out if you wish.
Use a plastic bag to coat donuts without a big mess.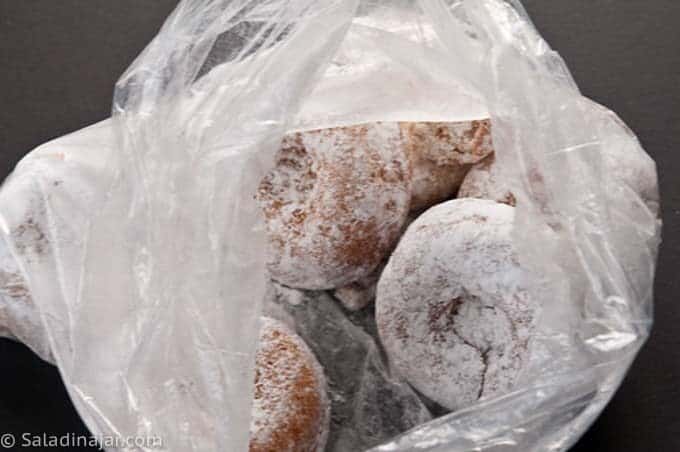 FAQ:
What if I don't have a donut pan?
Make donut "holes" with a mini muffin pan.
Where can I buy a donut pan?
I bought my doughnut pan at World Market, but they are available at most kitchen stores and online.
Can I use a cinnamon and sugar coating instead?
Yes. Combine 2 teaspoons of cinnamon with a 1/2 cup of granulated sugar and use in place of the powdered sugar.
How long will these donuts stay fresh?
Just like any other doughnuts, they are best the day they are made. If you have any leftovers, try dividing them in half horizontally. Fry them in a spot of butter. Yum!
---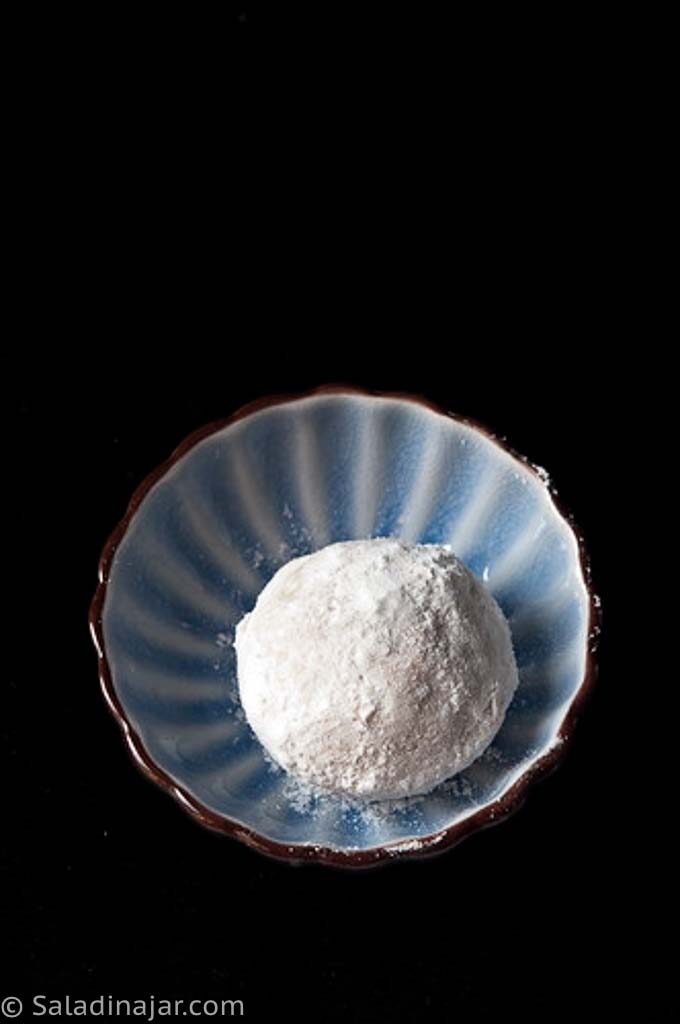 ---
More breakfast recipes:
---
If you enjoyed this recipe, it would help others and me if you gave it a five-star rating inside the recipe card below. 🤩 No comment required. Thank you.

Hope to see you again soon!
Paula
p.s. Questions or suggestions? Please email me: Paula at saladinajar.com.