Seeded Rolls: An Easy Bread Machine Recipe
Preview: This recipe for Seeded Rolls uses a bread machine to mix and knead the dough. Shape the dough into snails, top with seeds, and bake in a conventional oven.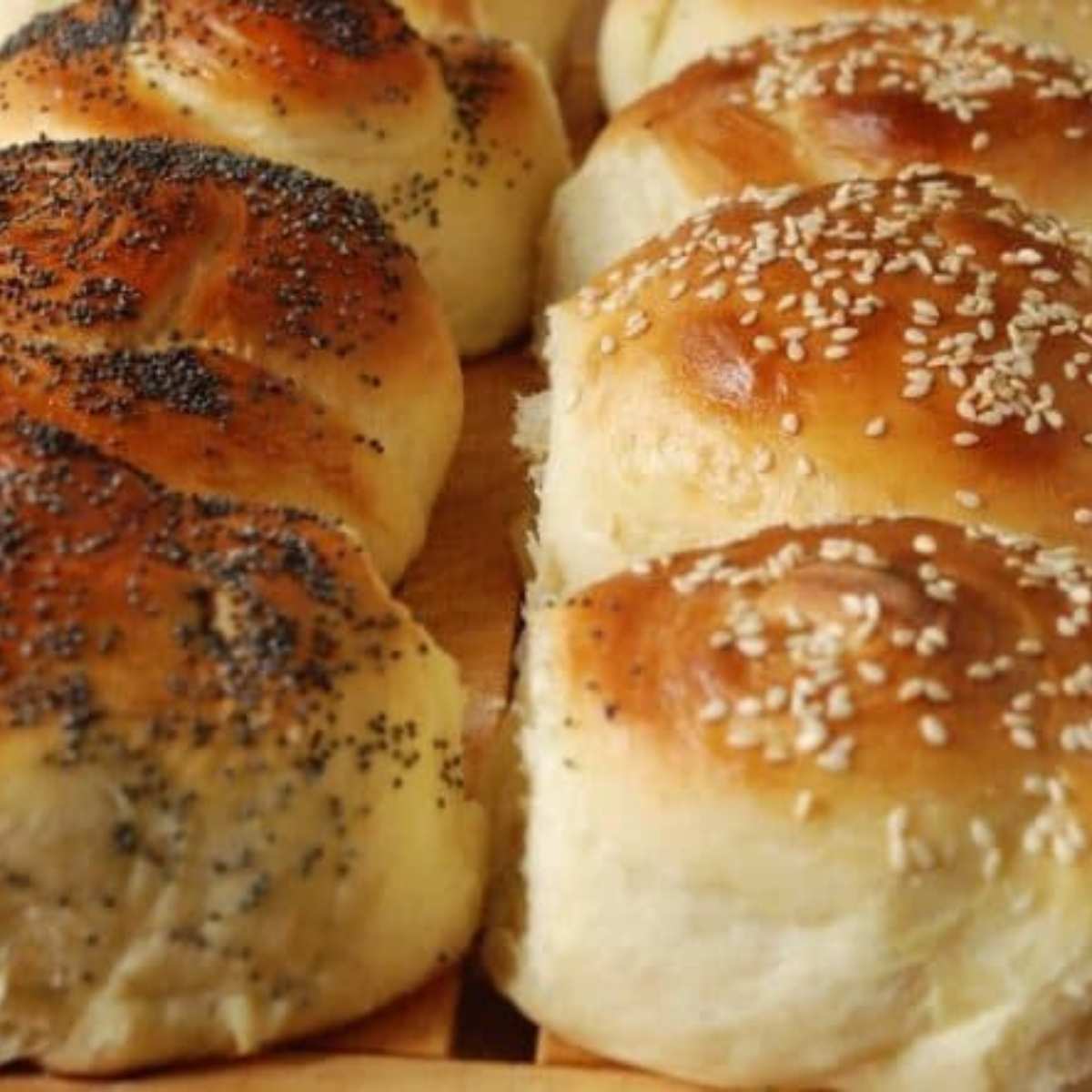 As an Amazon Associate, I earn from qualifying purchases.
Time to break out your bread machine. Buy, borrow or steal a machine if you don't have one yet. I'm telling you it's a miracle worker when it comes to homemade bread.  Just don't be baking your bread in it–at least that's my philosophy. It's only a mixer/kneader as far as I'm concerned.
Don't worry if you don't have a bread machine. You can also make these by hand or with a stand mixer. See the recipe notes for details.

Amaze your friends or family with these homemade fun-shaped rolls.  Amaze yourself with how easy they are to make.
Forget those squishy-squashy hamburger buns at the grocery store.  These have substance, character, and outstanding flavor.  Split these in half and use it as a slider bun if you like.
Why I use my bread machine for mixing and kneading only:
Bread machines can only make a loaf shape. When you shape the dough, the sky is the limit.
The crust is like cardboard. Since you can't "preheat a bread machine," it's next to impossible to get a nice crust.
Bread machines are the best "kneaders." It's almost impossible to overdo it. The bread machine does it thoroughly and completely.
What to look for when the dough is kneading:
As always with a bread machine, lift the lid after about 10-15 minutes into the cycle and check the texture. The dough should be starting to clean the sides of the bowl.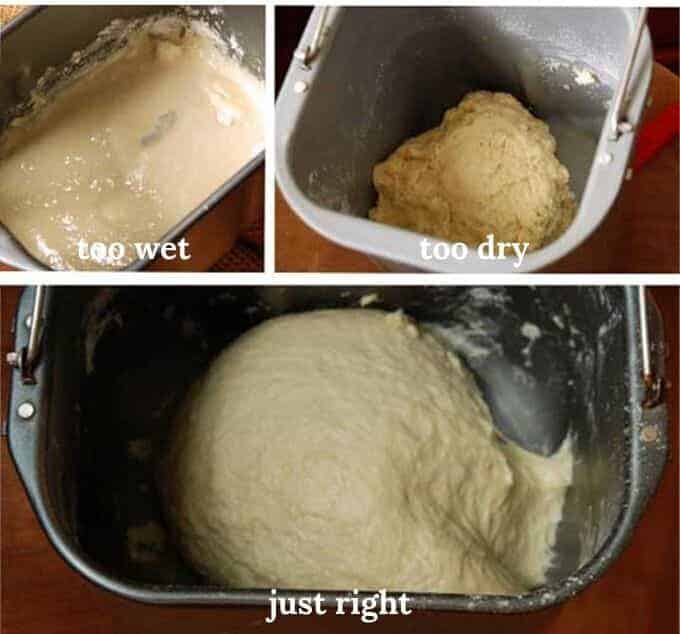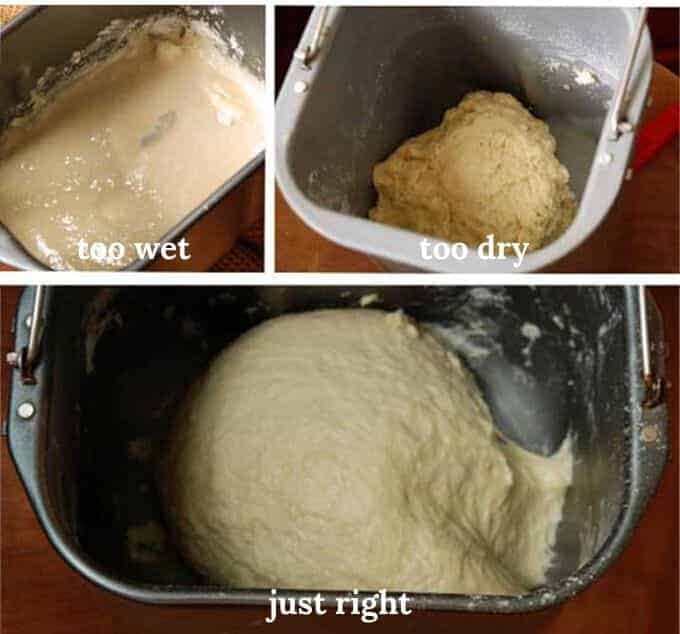 If it's too sticky, as in touching the pan everywhere, add flour 1 tablespoon at a time. 
If it's too dry, the dough will be in a tight ball flapping against the sides. You will hear it. Add water 1 tablespoon at a time till dough sticks to the side briefly but releases cleanly.  Experience is the best teacher with bread dough.
See the video for a picture tutorial about assessing the texture of your bread dough while it's mixing in the bread machine
Ingredients and substitutions:
MILK: Use whatever milk you have. The higher the fat content, the richer your rolls will be.

WATER: Whether you use tap water or spring water (my preference) it should be room temperature.

EGG: I buy and use only large-size eggs. If you have medium or extra-large eggs, you need to adjust the liquid accordingly.

BUTTER: The recipe is written for unsalted butter. If you use salted butter, you can reduce the salt by 1/4 teaspoon.

SUGAR: Granulated sugar or honey. If using honey, 27 grams is enough. Honey is sweeter than sugar.

SALT: Substitute sea salt 1:1. If you want to use Kosher salt, add 1/4 teaspoon more. Don't ever leave the salt out of a bread recipe unless the recipe has been specifically designed for no salt. The yeast will misbehave without salt to reign it in.

FLOUR: Bread flour is best for these rolls but you can substitute unbleached all-purpose flour if that's all you can get.

YEAST: Use instant or bread machine yeast. If using active dry yeast, add 1/4 teaspoon more.

SEEDS: Sesame seeds (black or white and make sure they're not rancid) and poppy seeds (keep them in the fridge) are my favorite. Substitute "Everything but the bagel seasoning" if you have it.
How to shape Seeded Rolls into "snails."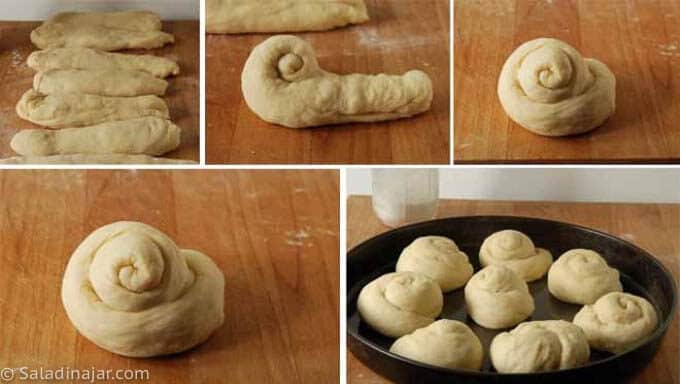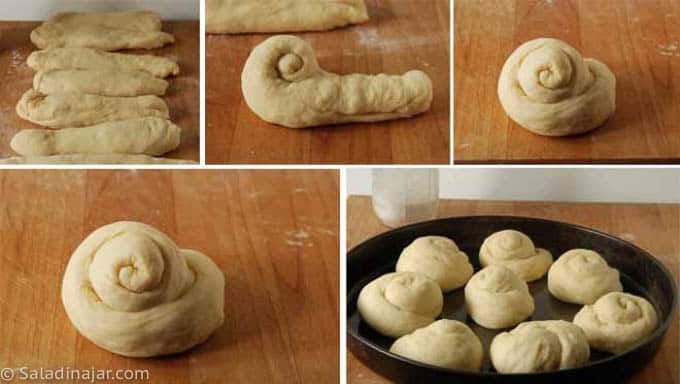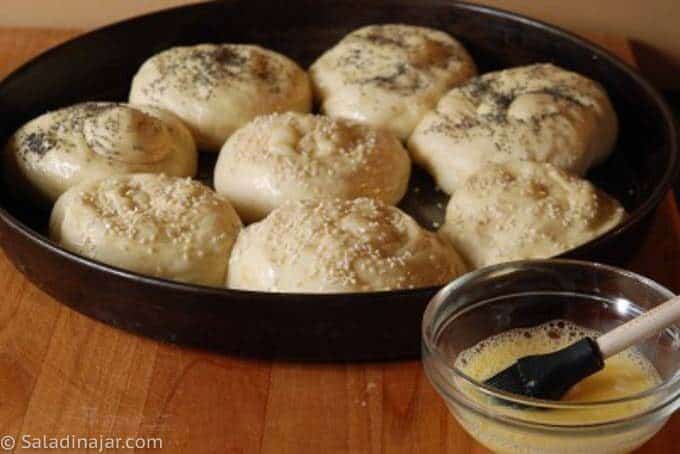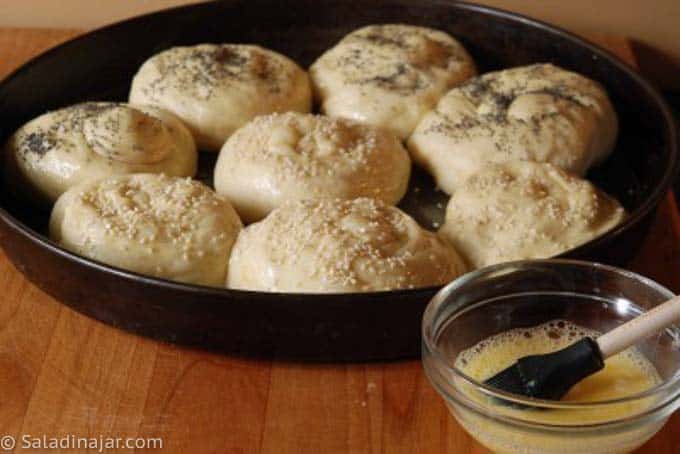 Adapted from One Hundred Years of Bread by Sidney Brockman Carlisle
---
If you have questions or suggestions, email me privately to Paula at saladinajar.com. Hope to see you again soon! Paula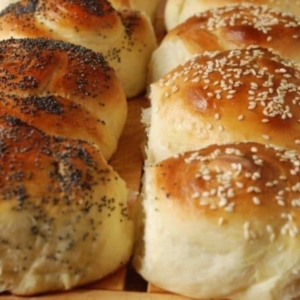 Seeded Rolls: A Bread Machine Recipe
This recipe for Seeded Rolls makes dinner rolls or buns mixed and kneaded in the bread machine, Roll in a snail shape, top with seeds, and bake in a conventional oven.
Ingredients
Dough
¾

cup

6 ounces warm milk

-

170 gr

3

tablespoons

1.5 ounces room-temperature water (42 gr)

-

42 gr

1

egg

-

50 gr

2

tablespoons

butter

-

28 gr

3

tablespoons

sugar

-

36 gr

1 ½

teaspoon

table salt

-

9 gr

3 ¼

cups

bread flour

-

390 gr

2 ¼

teaspoons

instant or bread machine yeast

-

7 gr
Glaze
1

egg + 1 teaspoon water

sesame seeds or poppy seeds
Instructions 
Place ingredients in order listed into your bread machine pan. Always check to be sure the blade is in place before you start. Set on the DOUGH cycle.

When the cycle is complete and the dough has doubled its original size, remove dough to a floured board or silicone sheet.

Divide the dough into two parts, then each of those halves into 4 pieces making a total of 8 portions.

Loosely form each piece into a fat, rope shape. Then, STEP AWAY! Let the dough relax for about 10 minutes and life will be easier. Well… maybe not, but your dough will be much more agreeable about shaping.

Using your hands, roll and pull each rope into an elongated piece of dough approximately 12 inches long. It doesn't have to be perfect. Then starting at one end, roll up like a snail.

Place about 2 inches apart in a large pan or on a greased cookie sheet. Even better if covered with parchment paper or a silicone sheet. Tuck the end of the coil underneath the roll as you place it in the pan. With the palm of your hand, flatten coil slightly. Cover with a towel.

Let rolls rise in a warm place until double. Flatten rolls with the palm of your hand again down to about 1-inch thickness. Don't worry, they will pop up in the oven. Brush each roll with egg wash. If desired, sprinkle buns with sesame seeds or poppy seeds.

Bake in a preheated oven for 10-12 minutes until golden. Cool on wire rack. When cool, split with a serrated knife to make sandwich buns.
Notes
These rolls don't have any preservatives so you need to eat them within a day or two for the most enjoyment. Otherwise, wrap well and freeze.
Directions for making bread with a stand mixer or by hand:
To make this recipe in a heavy-duty stand mixer:  Add ingredients to the bowl in the same order. Turn on LOW to mix until all ingredients are moistened. Then, using a dough hook, turn the speed to 2 or 3. Continue beating/kneading until dough becomes smooth and elastic (about 5-10 minutes). Cover and allow to rise in a warm place. Deflate dough gently and shape as indicated in the recipe.
If making by hand: Combine all ingredients into a shaggy ball in a large bowl. Turn dough out onto a floured surface. Knead with your hands until the dough becomes smooth and elastic. Kneading will likely take 10-20 minutes, depending on your experience. Place the dough ball into a greased bowl. Cover and allow to rise until double. Deflate the dough gently and shape as indicated in the recipe.
Please note: If you only have active dry yeast, use 1/4 teaspoon more than called for in the recipe.

It no longer needs to be dissolved first

, but you can if you prefer.
Nutrition
Nutrition Facts
Seeded Rolls: A Bread Machine Recipe
Amount per Serving
% Daily Value*
* Percent Daily Values are based on a 2000 calorie diet.
Like this recipe? Thanks for leaving a 5-star rating inside the recipe at the top! 🤩