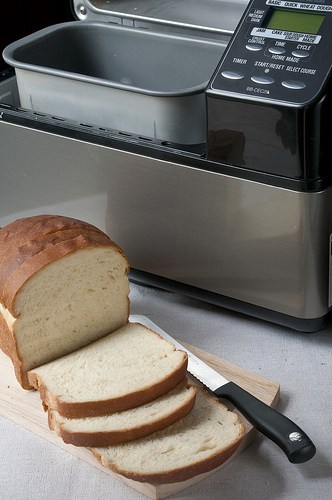 You may have noticed most of the yeast bread recipes on this blog are written for a bread machine. Not only do I love how easily it makes bread, apparently, I don't need to knead. The alleged therapeutic advantages of using my own two hands to work the dough are wasted on me.  My impatience rarely allows it and my penchant for quality bread demands the consistency of a bread machine.
If you prefer the traditional, hands-on approach, I'm not trying to convert you.  Keep doing it.
To those of you who are curious about bread machines or already have a machine but rarely use it, this post is for you.
Just so you know, I don't work for any bread machine companies or receive any perks for talking about them.
I have been making bread since I was a teenager in 4-H back on the farm in Indiana. In the beginning, I made my mom's famous butterhorn rolls by hand but when she got a Kitchen Aid, we were thankful to be able to mix bread dough in a big, honkin' stand mixer. When bread machines were invented, I wasted no time learning how to use one and have been in love with them ever since.  It is an absolute workhorse in my kitchen.
Please note:   I ALMOST NEVER BAKE BREAD IN MY MACHINE because…
I'm not fond of strangely shaped bread and/or an unsightly hole in the bottom where the blade inserted.
The crust is too often thick and tough.
More often than not, I want dinner rolls or some kind of specialty shape so actually baking in a bread machine is not a choice.
5 Reasons I  Would Rather Use a Bread Machine.

1. Simple assembly. Simple clean-up.
2. Less hands-on time.

3. Bread rises higher and texture is finer. (See post by King Arthur Flour for similar experiment and results)

4. Minimal attention required.
No need to change blades or mixing speeds. No need to grease a bowl, find a cover or look for a warm place for the proofing stage because the bread machine takes care of it automatically. A peek or two under the lid about 5-10 minutes into the dough cycle is all that's necessary. For this reason alone, I prefer a bread machine over a stand mixer although a Kitchen Aid will do a nice job once you get the hang of it.
5. Bread machines have useful timers.
I can do cool things like having My Favorite Pizza Dough ready to roll out when I walk in the door from a long day at work. I often throw ingredients for My Favorite Dinner Rolls into the bread machine pan before church and come home 2-3 hours later to risen dough ready to form in the shape of my choice.
To me, kneading bread dough by hand is like riding a horse to work.   A horse is fun and a delight for the senses but it's more trouble and takes longer.  A certain level of physical fitness and skill is required and it's a little scary for some of us.
On the other hand, a bread machine is like driving a car. If you need to arrive quickly and on schedule (and look good doing it), most people would choose  the speed and reliability of a car. Likewise, when you want homemade bread you can count on to be ready at meal time with good texture, height, and flavor, use a bread machine to mix and knead the dough.
If you've tried a bread machine without success, consider that bread-making is a skill which usually improves with practice.  Expect some failures in the beginning. However, I predict fewer fails with a bread machine than mixing by hand.
If your next question is, "Which one should I buy?", stay tuned. I plan to address the subject in an upcoming post.
If you already have a bread machine collecting dust, get it out and try the recipe for the bread shown in the comparison pictures above. It's our absolute favorite for a sandwich or munching loaf and it makes the best peanut butter and jelly sandwiches. The secret ingredient is sweetened condensed milk.  Whether you make it in a bread machine or knead by hand, leftovers are perfect for French toast or bread pudding.
Sweet Milk White Bread
Author:
Recipe adapted from Bread Machine Magic, Book of Helpful Hints by Lenda Rehberg & Lois Conway
Ingredients
7 ounces water
½ cup sweetened condensed milk
1 teaspoon salt
1 tablespoon butter
3 cups(+) bread flour
2 teaspoons instant yeast
Instructions
Add ingredients to bread pan in order listed. Start with 3 cups flour.
Select Dough Cycle and start. Raise lid and check dough after about 5-10 minutes. Add flour one tablespoon at a time, if necessary, until dough reaches correct consistency. It should come together in a ball that sticks to side of pan, then pulls away. If dough thumps against the side of pan, add warm water 1 tablespoon at a time. If dough is thin enough to level out, add flour 1 tablespoon at a time till dough starts to form a slightly sticky ball.
Remove dough from pan at the end of the dough cycle and place on lightly floured board. Roll into rectangle. Roll up and tuck ends to fit into greased 4 x 8 inch loaf pan. Let rise till dough is 1 inch above top edge of pan in the middle.
Bake at 375 for 35-45 minutes. Interior should reach 190 degrees. Place a foil tent over bread half-way through baking to protect from over-browning. Allow to cool 15 minutes before turning out to cool completely. Best if you wait at least two hours before slicing so loaf will hold its shape without squishing with the pressure of a knife.
P.S. Now you see why I eat Salad in a Jar almost every day for lunch.  If only a bread machine could remove calories….
RELATED POSTS: