Preview: Keto Cauliflower Soup with Cheese is a low-carb variation of my previously published Vegetable Cheese Chowder. Substitute mashed cauliflower for the potatoes and flour. The recipe is written for the Instant Pot, but you can easily prepare it on the stove as described in the recipe notes.
Are you preparing a lot of soup these days? I find myself apologizing to my husband for all the soup we're eating. But he doesn't seem to mind.
However, it feels like I'm cheating, primarily when I use my Instant Pot electric pressure cooker. It's just too easy to make soup sometime during the day at my convenience. The Instant Pot automatically holds it on "Warm" until we're ready to eat.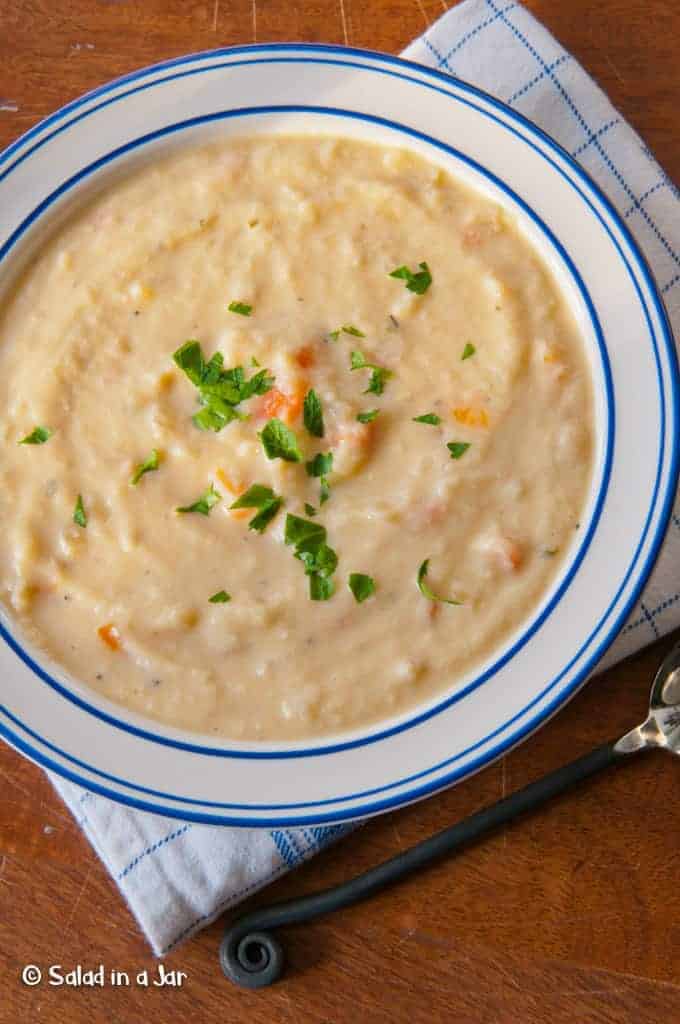 The base for this recipe is a batch (one head) of mashed cauliflower. I make mine in the microwave for maximum ease and no mushiness. On the other hand, if you have another recipe you prefer, no problem. In the same way, commercially prepared and frozen mashed cauliflower will also work.
---
Ingredients and Substitutions
OIL: Vegetable oil such as canola, corn or avocado oil are good.

CAULIFLOWER: Use 1 head of cauliflower. See above for more information about the way I prepare mine. You can also just buy it frozen to save time.

CARROTS: Save time by substituting sliced baby carrots.

CHICKEN BROTH: Use homemade broth if you have it. Otherwise, make a quick broth with chicken bouillon or use canned broth.

MILK: Take your pick: 1 cup whole, 2% or 1/2% milk, almond milk or cashew milk. Use only as much as you need to thin soup to your preference. The consistency of your mashed cauliflower will determine how much you need.

CHEESE: Use American-processed-cheese or any mild melting cheese like Colby. Cut into chunks. Leave out the cheese if you are concerned about calories.
---
FAQ abaout Keto Cauliflower Soup:
Can I freeze this soup?
Since the base is milk, I don't recommend freezing it as it may separate. You can always add cream to bring it back together if you like.
How long can I store cauliflower soup in the refrigerator?
At my house, the max is three days. Cauliflower tends to take on a stronger flavor as it ages.
---
Garnishing Cheesy Cauliflower Chowder
If you are a big cauliflower lover and want some texture in your soup, save a few cooked cauliflower florets. Add the florets to the soup after you mash the cooked cauliflower. Then, chop them coarsely to use as a garnish, as seen below.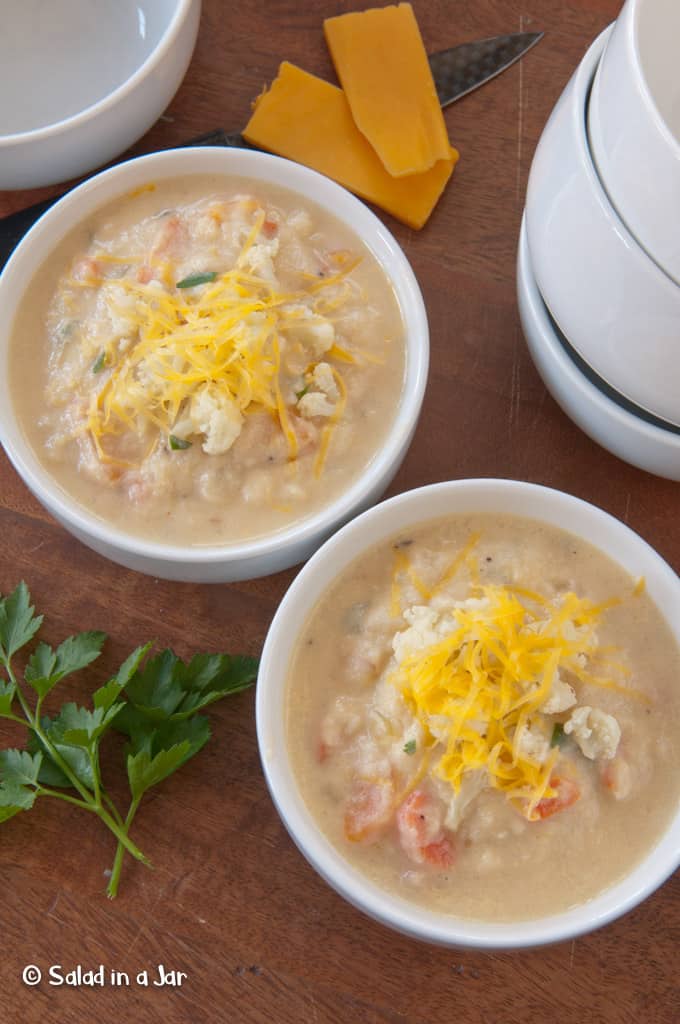 ---
What would you like to read next?
---
If you enjoyed this recipe, it would help others and me if you gave it a five-star rating inside the recipe card below. 🤩 No comment required. Thank you.

Hope to see you again soon!
Paula
p.s. Questions or suggestions? Please email me: Paula at saladinajar.com.