Preview: This recipe for Chocolate in Chili is a beefy chili stew with chocolate added. No one will guess the secret ingredient that smooths out the flavors and adds depth.
My younger sister told her future husband she was stirring up some chili. It surprised him to see macaroni in her chili the same way my mom made it.
My sister quickly learned she was serving Chili-Mac, not chili. So I made a mental note: Never add macaroni to my chili—or kidney beans.
But chocolate? Just say yes.
If you tell your family that you're serving Chocolate Chili for dinner, they might be skeptical. So don't tell them. It's not much. Keep reading to find out why adding chocolate is a great idea.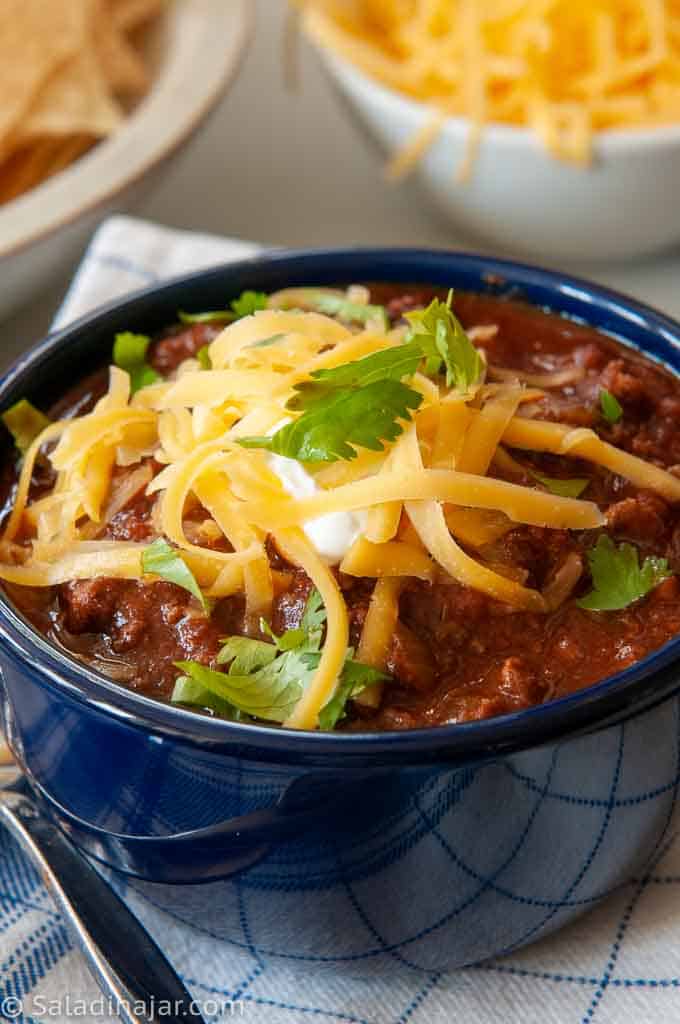 ---
Ingredients and substitutions:
Meat:
Freshly ground meat is always the best if you can get it. No surprise there.
For me, chili is a chance to clean out the freezer. Besides ground beef, try adding leftover beef roast or grilled meat ground up in the food processor.
Ground turkey will substitute for the pork.

Have some frozen pork chops or loin chops on hand? Barely thaw them, cut them into 1-inch chunks and use your food processor to process them into ground pork.
I don't have a hunter in my family, but ground deer or venison is a viable option when available.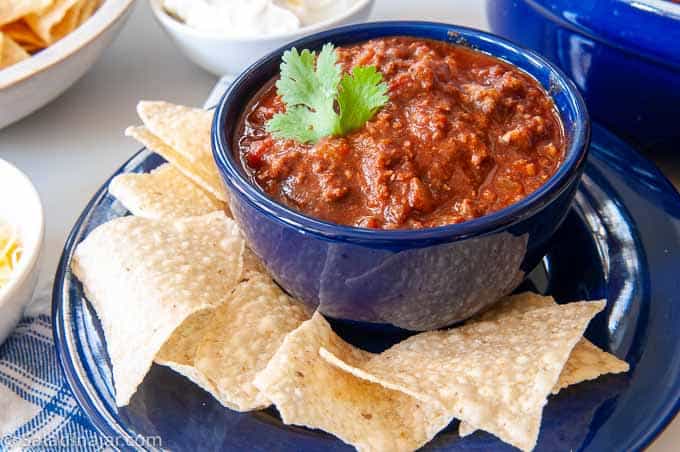 Onions:
Substitute frozen onions for fresh onions if you are sensitive to fresh onions. If I'm in a hurry, using frozen onions is a timesaver. Also, they've never made me cry.
Spices:
Since this recipe was first published, I've changed the way I put this chili recipe together. Add the spices after softening the onions in oil, but before adding the meat. Hot oil gives the spices a chance to "bloom" and intensifies the flavor.
Tomatoes:
My favorite tomatoes are the Red Gold Brand. Use your favorite. I use one can of crushed tomatoes and one can of diced tomatoes. Suit yourself or use what you have in the pantry.
Corn Masa:
If you don't have corn masa hanging around the house and don't want to buy a whole bag for two tablespoons, you can substitute flour or even leave it out.
Chocolate:
This recipe for chocolate in chili calls for semi-sweet baking chocolate. If you prefer, use bittersweet or dark chocolate for less sugar.
Cocoa is a possible substitute for solid chocolate. However, I have not tried it with this recipe, so I can't give you a specific amount.
Have you ever tried the Chocolate Hummus sold at Trader Joe's? (I see that other stores have versions of this product, but I haven't tried them, so I can't recommend them from personal experience.)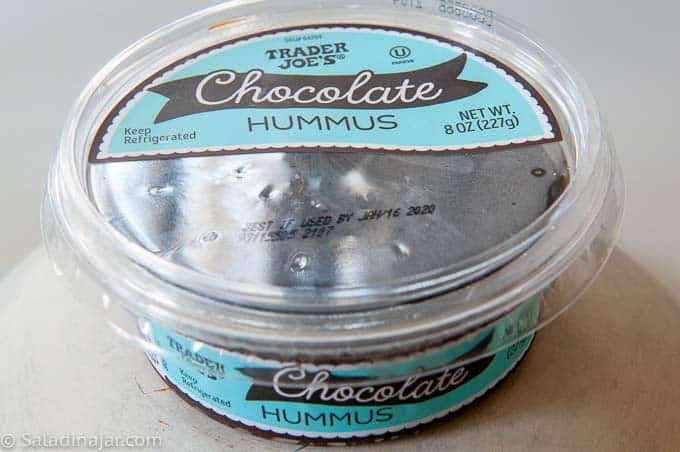 This idea may sound crazy but instead of hummus and corn masa, dump a container of chocolate hummus into your chili. It is the BOMB! I'm telling you. Stir it in. It couldn't be easier.
The flavor is indescribable. The velvety smooth beans in the hummus give the chili body and thickness, while the chocolate smooths out the flavors and ties it all up with a bow on top.
---
Variations
Add more tomatoes for a chili that feels lighter on your tummy.
Make Texas chili and step up the heat. Add hot sauce, chopped jalapenos, or some chopped chipotles.
Add pinto beans to your chili. Some would scoff, but they probably wouldn't add tomatoes either.
In case you missed it above, substitute Chocolate Hummus for the corn masa and semi-sweet chocolate.
Keto follower's favorite: Add more veggies by filling your bowl with a couple of scoops of mashed cauliflower before you add the chili. You are using the chili as gravy.
---
This makes a lot! What else can I do with this chili recipe?
Try adding warm chili to a lettuce salad with a little cheese and a few tomatoes.
Pour over a hot dog or hamburger. Add shredded cheese and mustard, if desired.
Make breakfast for dinner by adding some chili to your fried eggs and eating with a tortilla.
Make chili enchiladas. Fill corn tortillas with chopped onions and Cheddar cheese and roll. Line up enchiladas in a casserole dish. Cover with chili and lots more cheese. Bake at 350 degrees F until the whole thing is hot and melty. Please invite me for dinner.
---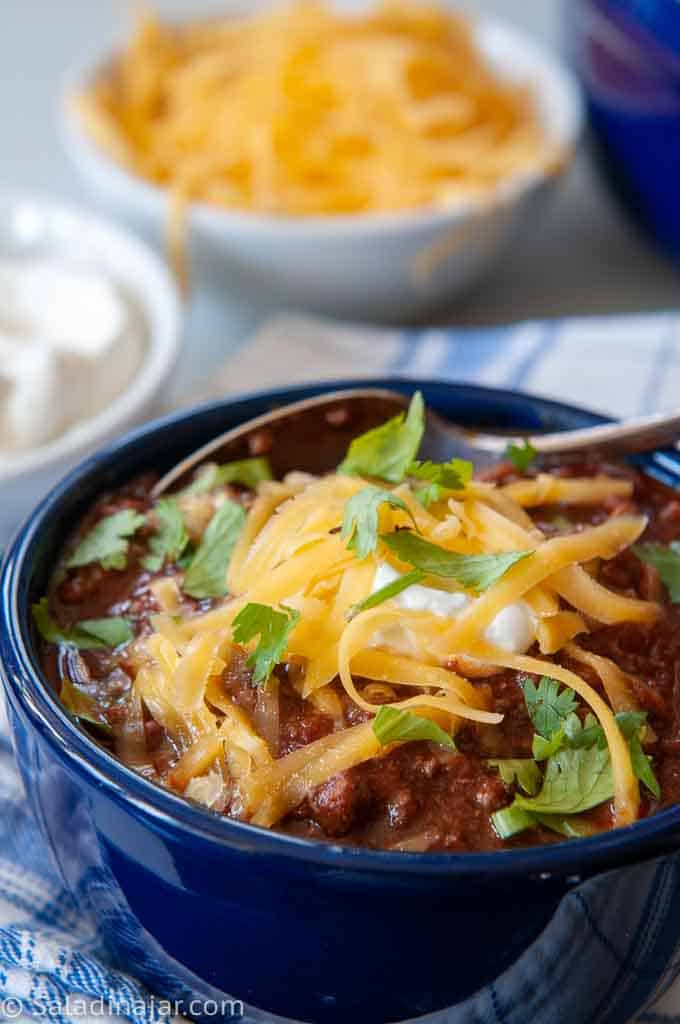 What can I serve with Chili?
Saltines are traditional.
Cornbread is my choice. Here's my favorite Cornbread recipe.
If you like Mexican food, try topping your soup with sour cream, shredded Cheddar cheese, corn chips, jalapeños, guacamole, green onions, fresh chopped tomatoes, or cilantro. A combination of any or all of these things makes an instant party.
How to make Chili with Chocolate: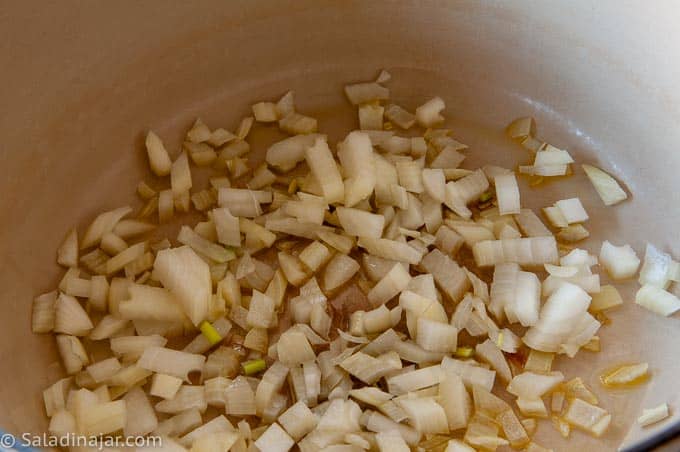 #1 Add oil to your pan. When it glistens, add onions and cook for 2-3 minutes. Next, add garlic and cook for another minute.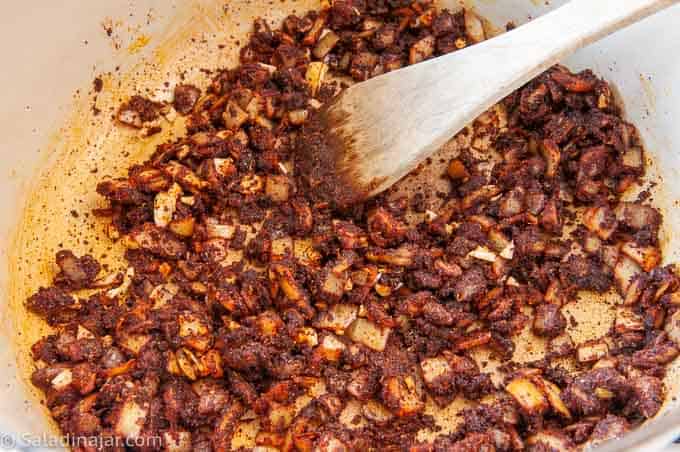 #2 Add spices and keep stirring to bloom the flavors.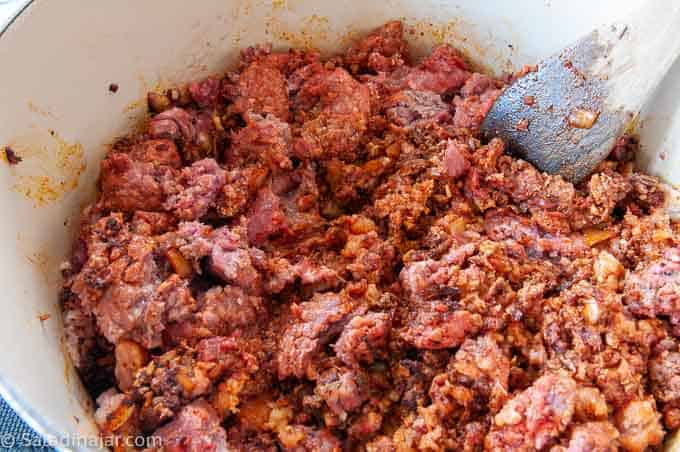 #3 Add raw meat to spices and brown in the pot.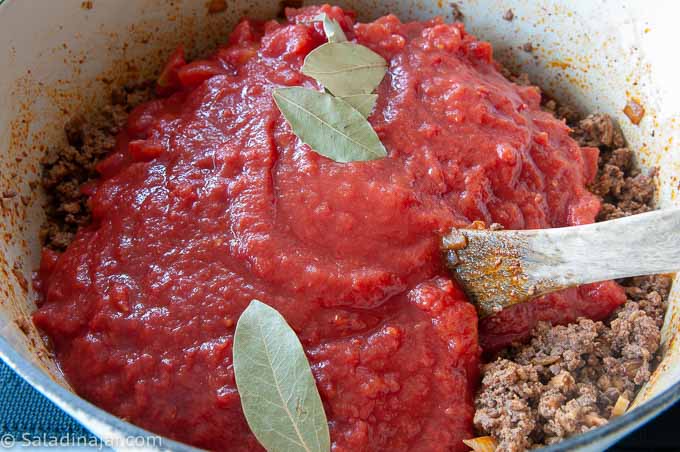 #4 Add tomatoes and bay leaves. Stir. Cook for 1 hour. 2 hours is even better.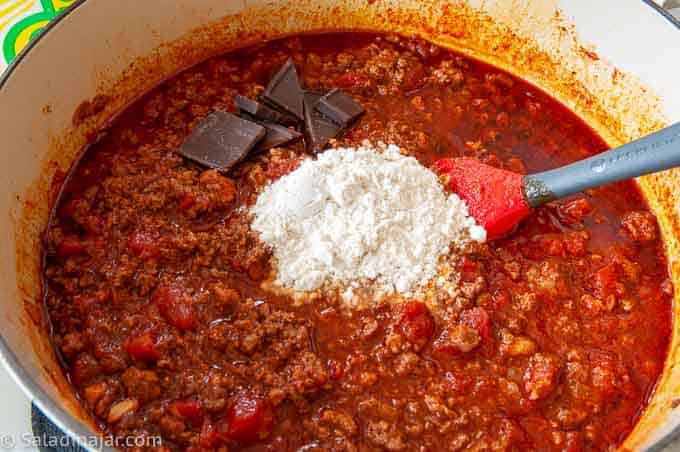 #5 Add corn masa and dark chocolate. Stir until smooth.
---
Frequently Asked Questions:
Why add chocolate to chili?
The taste will be unrecognizable. But somehow, the chocolate mysteriously adds depth and smoothness to chili. Of course, adding cheese, sour cream, and cilantro doesn't hurt the flavor either.
Can I freeze chili?
Yes. Divide chili into smaller packets and store them in the freezer. Making chili ahead is just one of the methods I employ to make homemade food convenient.

Store frozen chili for up to six months.
Can I make chocolate chili ahead of time?
Yes. Making chili a day ahead of time helps the flavors marry, resulting in a richer taste.
What does adding a spoonful of vinegar do for chili?
According to the Kitchn website: "Stirred into the pot right before serving, a spoonful of vinegar brightens up the finished product and gives it that full, rounded taste that was missing."

I like aged balsamic vinegar the best. Red wine vinegar or apple cider vinegar would also work.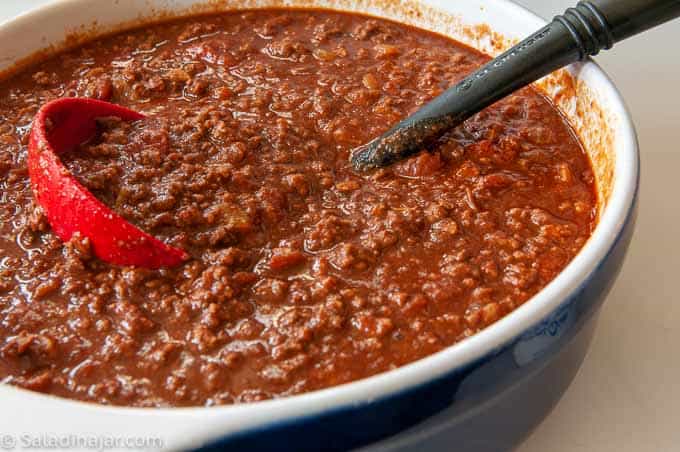 #6 Don't forget to remove the bay leaves before serving.
---
Sometimes I still like to make Chili-Mac for old-times-sake. But I never call it chili, and I always add a little chocolate.
---
What would you like to serve with your chili?
---
---
Did you enjoy this recipe? If so, you can help others and me by leaving a 5-star 🤩 rating in the comment section below. No comment is required.
p.s. If you have any questions or suggestions, you can email me privately: Paula at saladinajar.com.
Hope to see you again soon!
Paula
---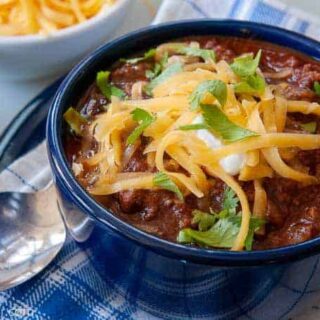 Chili with Chocolate
You will love this classic chili with chocolate added. You can't taste it, but the chocolate mysteriously adds depth and smoothness to the flavor.
Ingredients
3

tablespoons

vegetable oil

1-1/2

cups

chopped onions

-

1 medium onion

2

teaspoons

table or sea salt

-

divided

2

teaspoons

ground coriander

4

teaspoons

ground cumin

1

teaspoon

ground oregano

6

tablespoons

chili powder

4

cloves

garlic

-

minced

3

pounds

ground beef

1

pound

ground pork

½

teaspoon

freshly ground pepper

2

28-oz cans

peeled and diced tomatoes

4

bay leaves

2

tablespoons

corn masa

-

"Masa Harina de maiz"

2

ounces

semi-sweet chocolate baking bar

Freshly ground pepper to taste

1

tablespoon

vinegar

-

balsamic or apple cider (optional)
Instructions
Heat oil in a large pot or Dutch oven over medium-low heat. Add onions. Cook until softened for 2-3 minutes.

Add coriander, cumin, salt, oregano, and chili powder. Cook until the spices are fragrant. Stir often so they won't burn.

Add garlic and cook for 1 more minute.

Turn up the heat to medium and add meat to the pot and brown. Season with the remaining teaspoon of salt and freshly ground black pepper.

Add tomatoes and bay leaves. If you want the tomatoes to disappear into the chili, crush them with your hands or use a potato masher. Or put them in the blender for a few seconds.

Simmer chili for 1 hour. Two hours is even better.

Remove bay leaves and stir in corn masa until smooth; then add chocolate.

Optional: Add 1 tablespoon of balsamic vinegar.

Continue simmering for 10 more minutes to combine flavors.

Freezes well.
Notes
If you don't have corn masa hanging around the house and don't want to buy it for just two tablespoons, you can substitute flour or even leave it out. Add flour along with the spices before the hour-long simmer.
Fresh onions can be substituted for the frozen. I prefer frozen because they are milder and easier on the digestive system after the freezing process-and they've never made me cry.
Step up the heat by adding hot sauce, chopped jalapenos, or some chopped chipotles.
I like to add beans to my chili when eating it straight in a bowl. Some would scoff, but they probably wouldn't add tomatoes either.
This chili is even better the next day which will also give you a chance to remove any congealed fat off the top that you don't want.
If this chili is too rich for you, add 2-3 cups of water or more tomatoes. It will be more like "Wendy's chili" if you've ever tried that.
Substitute 8 ounces of chocolate hummus for the masa and chocolate bar.
Nutrition
Serving:
1
serving
Calories:
471
kcal
Carbohydrates:
7
g
Protein:
27
g
Fat:
37
g
Saturated Fat:
13
g
Polyunsaturated Fat:
4
g
Monounsaturated Fat:
15
g
Trans Fat:
1
g
Cholesterol:
108
mg
Sodium:
553
mg
Potassium:
558
mg
Fiber:
2
g
Sugar:
2
g
Vitamin A:
1209
IU
Vitamin C:
1
mg
Calcium:
60
mg
Iron:
4
mg