Yes! You CAN make Roux in a Microwave. Try it with this Chicken and Smoked Sausage Gumbo recipe.
Updated 5/2020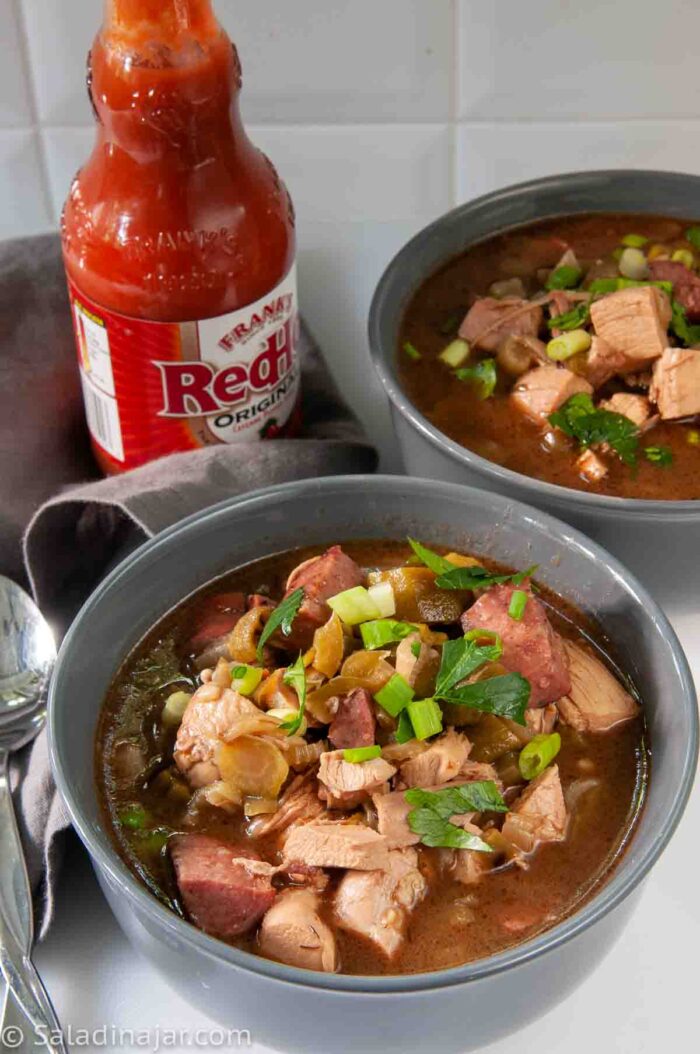 Gumbo is like meatloaf.
Everybody prefers their own mama's meatloaf unless mama doesn't make it. Mine didn't. So I had to figure it out for myself. Same with me and gumbo.
Just so you know…
I'm not Cajun nor do I claim to be an expert in the cuisine although I did honeymoon with my husband in New Orleans. Does that count? I don't remember much about the food on that trip, so I doubt it.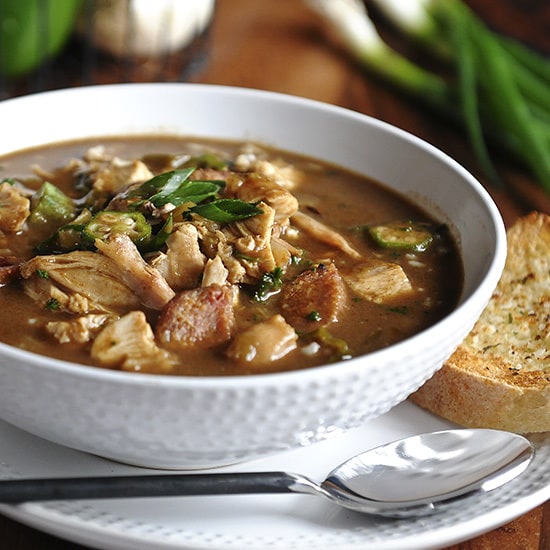 Why make a roux in the microwave?
#1
Microwaved roux requires less oil.
Making a roux (the characteristic dark brown flour and fat mixture) in the microwave is not the traditional way. Nonetheless, it works and requires much less oil than on top of the stove. I use a 2-quart Pyrex batter bowl because it can withstand the heat.
In this Chicken and Sausage Gumbo, I used 1 part fat to 3 parts flour. If you prefer, use 2 parts fat to 3 parts flour or you can do one to one proportions.
#2
Less time is needed to obtain a dark color.
Microwave ovens vary. But in my OLD microwave, the roux will go from blond to medium-dark chocolate in about 10 minutes. Your timing might be different, so pay attention. If necessary, record how long it took to get the color you want so you will know for the next time.
#3
When using less oil, you must mash the clumps of flour and oil against the side of the bowl.
Instead of just stirring like you can do when using 1:1 oil and flour, you must press the flour and oil against the side of the dish to evenly distribute the heat and make sure the roux browns evenly. You'll see what I mean when you try it.
WARNING:
Do not use untempered glass or a plastic container for this method. Fat and flour get extremely hot and could melt or break your dish.
How to make a roux in the microwave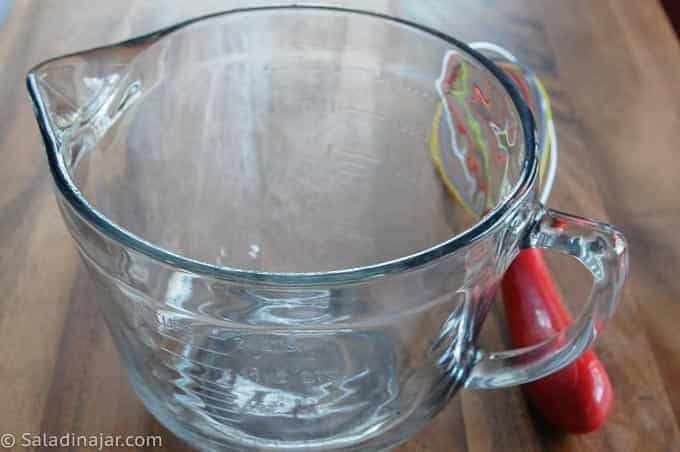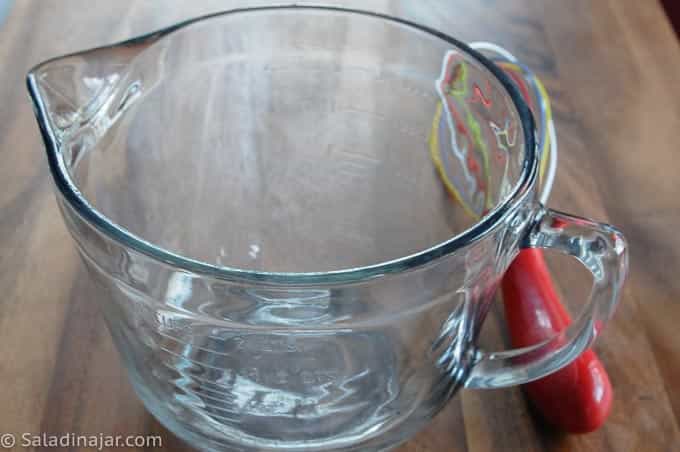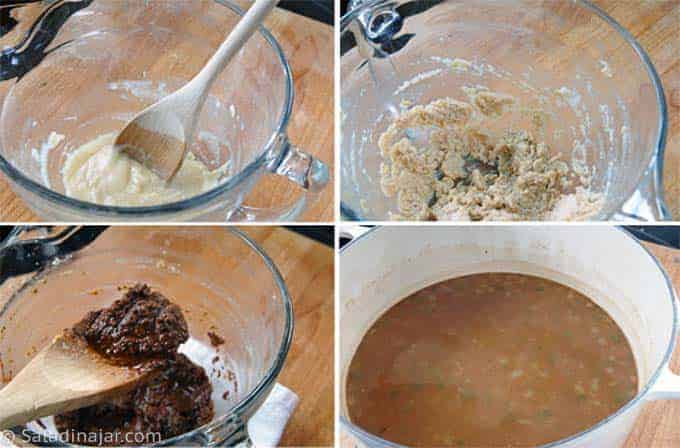 I first ate gumbo at my brother-in-law's (Phil) house years ago. He was adamant about the absence of tomatoes in his recipe. I ended up loving his gumbo and no-tomato policy, so I do the same.
Regarding okra in gumbo: We love it, but the Cajun police will not arrest you if you leave it out.
What do I serve with gumbo?
Gumbo is meant to be served with rice at the bottom of the bowl. I've heard that some people put potato salad under their gumbo. I load my bowl with mashed cauliflower, then put gumbo over the top.
Serve with French bread. My husband likes saltine crackers with his gumbo.
---
More recipes for Cajun-food lovers
Pin the picture below to save for later.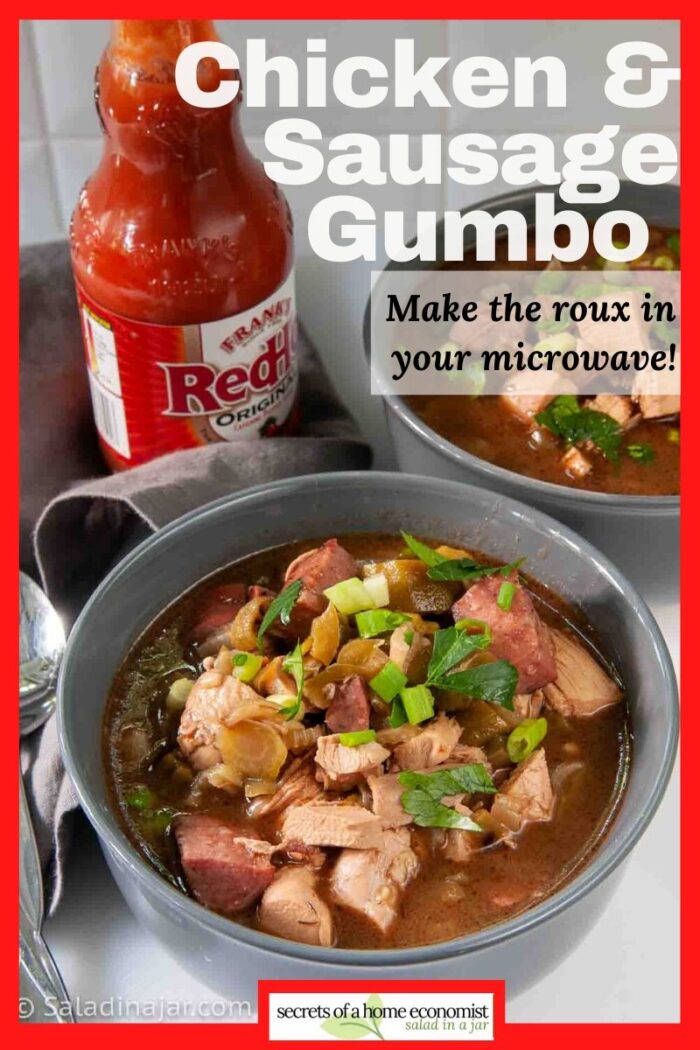 ---
---
---
Did you enjoy this recipe? You can help others (and me) by leaving a rating on the recipe card itself underneath the picture. No comment required. Thank you.

Hope to see you again soon!
Paula
p.s. Questions? Email me: paula at saladinajar.com.
Yield: 10 servings
Chicken and Smoked Sausage Gumbo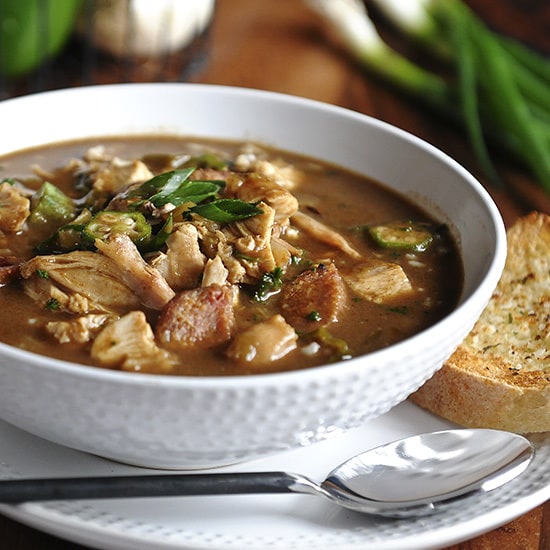 Chicken and smoked sausage gumbo including instructions for making roux in the microwave.
Cook Time
1 hour
30 minutes
Ingredients
1-1/2 cups chopped onions
1 cup chopped green bell peppers
2-3 stalks celery
2-3 garlic cloves
1/3 cup vegetable oil
3/4 cup flour
6 cups warm chicken broth (I boil the bones from a Rotisserie chicken)
2 bay leaves
1/4 teaspoon cayenne
Freshly ground black pepper
1/2 teaspoon white pepper
1 teaspoon seasoning salt
1/4 teaspoon thyme
1/4 teaspoon oregano
1 tablespoon Worcestershire sauce
2-3 dashes Hot Pepper Sauce (I like Frank's)
1 small package of frozen, sliced okra (thawed) or 1 -2 cups sliced fresh okra
2 tablespoons chopped fresh parsley
1 pound smoked sausage
1 pound cooked chicken meat, diced (I use a Rotisserie chicken, no skin)
Instructions
Spray large heavy-duty Dutch oven with a light coating of vegetable oil and saute onions, pepper, and celery. Cover to sweat and cook vegetables while completing step two.
Making the roux: Stir oil and flour together in a microwave-safe bowl. A Pyrex 2-quart batter bowl works perfectly. Place in microwave and cook on HIGH for 8-10 minutes stirring with a wooden spoon after every minute for the first 5 minutes and about every 45 seconds thereafter. Stir and mash flour against the side to be sure the mixture is the same color throughout before returning to the oven. (If you see black specks, it has burned and needs to be thrown out. Start over again being careful not to overcook by stirring frequently and thoroughly.) Cook until oil and flour mixture is the color of chocolate. Some people like it even darker...not me.
Add roux to softened vegetables in a Dutch oven. Stir warm broth and remaining seasonings into roux and vegetable mixture until roux is completely dissolved. Simmer 45-60 minutes. Add okra and chopped parsley. Cook another 10-15 minutes.
While veggies simmer in step three, dice sausage into medium size pieces. Saute in a medium skillet until brown. (Helps to relieve sausage of some of its grease.) Drain.
About 5 minutes before ready to serve, add sausage and chicken to pot and heat through. Remove bay leaves, taste, and adjust seasonings. Spoon cooked, long-grain rice into a bowl and cover with gumbo. Serve with saltines or sliced and toasted Crusty French Bread or Crusty Round Bread
Notes
*This is even better reheated after the flavors meld and marinate. I recommend making it early in the day. Chill and reheat for dinner in the evening.
*I've been known to use mashed potatoes instead of rice and some people even serve gumbo over potato salad.
Nutrition Information:
Yield:
10
Serving Size:
1
Amount Per Serving:
Calories:

446
Total Fat:

29g
Saturated Fat:

7g
Trans Fat:

0g
Unsaturated Fat:

18g
Cholesterol:

112mg
Sodium:

1262mg
Carbohydrates:

16g
Fiber:

2g
Sugar:

5g
Protein:

31g