Preview: This Easy Gumbo Without Tomatoes is full of chicken and smoked sausage. Also, learn how to make a roux in a microwave.
Gumbo is like meatloaf. Everybody prefers his mama's meatloaf unless Mama doesn't make it. My mom didn't make gumbo, so I had to figure it out for myself.
If you don't already have a family recipe for gumbo, I think you'll like this fairly simple one.
Just so you know…
I'm not Cajun nor do I claim to be an expert in the cuisine although I did honeymoon with my husband in New Orleans. Does that count? I don't remember much about the food on that trip, so I doubt it.
My brother-in-law introduced me to gumbo years ago. He was adamant about no tomatoes in his gumbo recipe. I ended up loving his gumbo and no-tomato policy, so I do the same.
Regarding okra in gumbo: We love it, but I don't think the Cajun police will arrest you if you leave it out.
---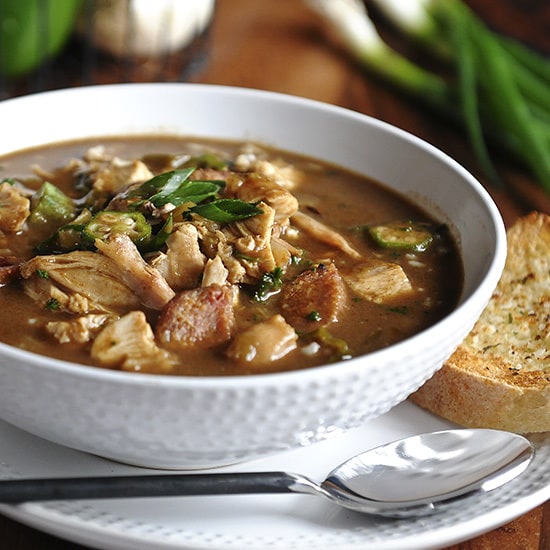 Ingredients and substitutions:
ONIONS: White or yellow, fresh or frozen

GREEN BELL PEPPERS: Fresh or frozen

CELERY: Fresh or frozen (I've never seen frozen celery in the grocery store, but I like to freeze chopped celery and keep it on hand for soups.)

GARLIC CLOVES: Fresh, jarred, or frozen

OIL: Use a vegetable oil with a high smoke point. Avocado oil is ideal.

FLOUR: All-purpose flour, bleached or unbleached

CHICKEN BROTH: Use bouillon, cubes, or canned broth. The best broth is what you make yourself, of course.

SEASONINGS: Make sure you are using relatively fresh seasonings, not old dusty seasonings that have lost their flavor.

HOT PEPPER SAUCE: I like Frank's Hot Sauce or Tabasco.

OKRA: Fresh or frozen sliced okra. Leave this out if preferred.

SMOKED SAUSAGE: Andouille sausage is really delicious but I rarely have it. Otherwise, I use smoked sausage links.

CHICKEN: I use rotisserie chicken because it's so convenient, both white and dark meat. Leftover turkey is a good substitute.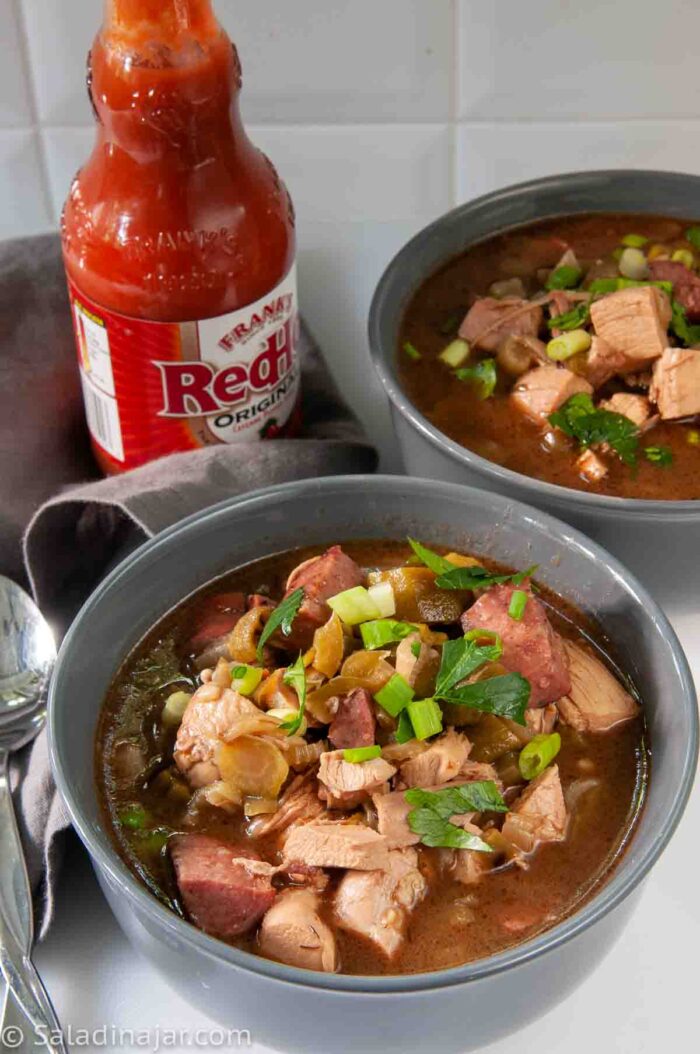 ---
Why make roux in the microwave?
#1
Microwaved roux requires less oil.
Making a roux (the characteristic dark brown flour and fat mixture) in the microwave is not the traditional way. Nonetheless, it works and requires much less oil than on top of the stove. I use a 2-quart Pyrex batter bowl because it can withstand the heat.
In this Chicken and Sausage Gumbo, I used 1 part fat to 3 parts flour. If you prefer, use 2 parts fat to 3 parts flour or you can do 1:1 proportions.
#2
Less time is needed to obtain a dark color.
Microwave ovens vary. But in my OLD microwave, the roux will go from blond to medium-dark chocolate in about 10 minutes. Your timing might be different, so pay attention. If necessary, record how long it took to get the color you want so you will know for the next time.
#3
When using less oil, you must mash the clumps of flour and oil against the side of the bowl.
Instead of just stirring like you can do when using 1:1 oil and flour, you must press the flour and oil against the side of the dish to evenly distribute the heat and make sure the roux browns evenly. You'll see what I mean when you try it.
WARNING:
Do not use untempered glass or a plastic container for this method. Fat and flour get extremely hot and could melt or break your dish.
---
How to make a roux in the microwave: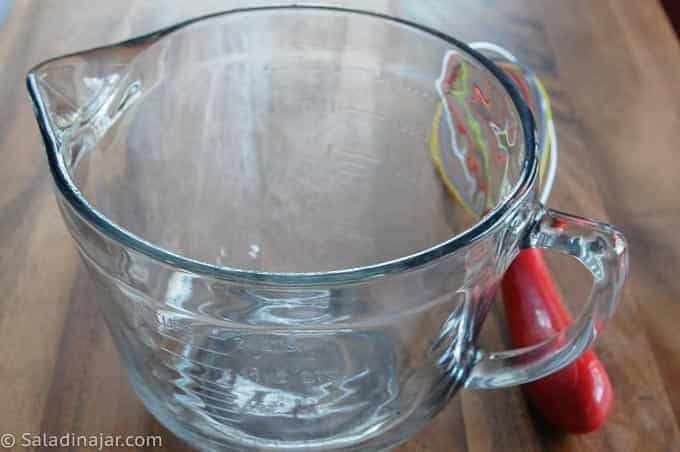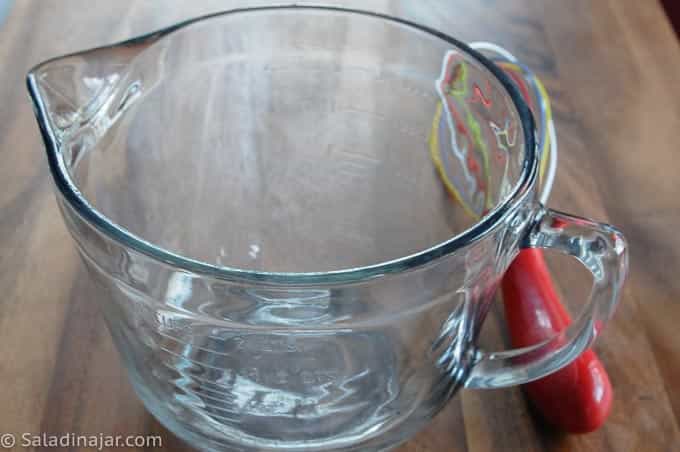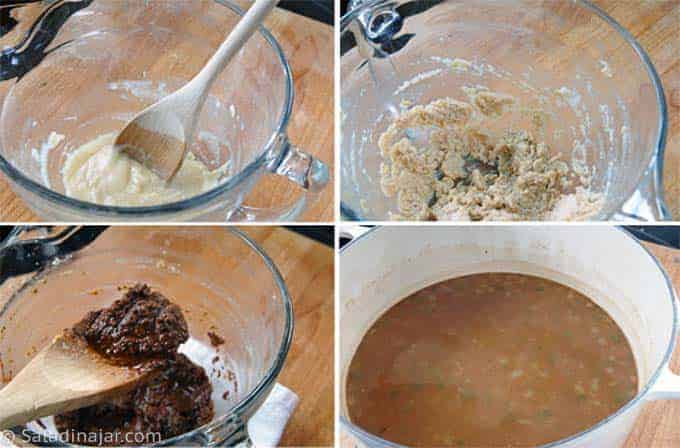 ---
What do I serve with gumbo without tomatoes?
Gumbo is traditionally served with rice at the bottom of the bowl. I've heard that some people put potato salad under their gumbo. I load my bowl with mashed cauliflower, then put gumbo over the top.
Serve with French bread, bread machine sourdough loaf, or a classic bread machine sourdough bread. You might be like my husband. He likes saltine crackers with his gumbo.
---
More recipes for Cajun-food lovers
If you enjoyed this recipe, it would help others and me if you gave it a five-star rating inside the recipe card below. 🤩 No comment required. Thank you.

Hope to see you again soon!
Paula
p.s. Questions or suggestions? Please email me: Paula at saladinajar.com.