Easy Cilantro Hominy Rice in a Rice Cooker with Video Tutorial
Sneak Preview: Try this easy Cilantro Hominy Rice made in a rice cooker as a side dish. Use Jasmine long-grain, or Basmati rice. Ingredients include chicken broth, golden hominy, fresh cilantro, and butter.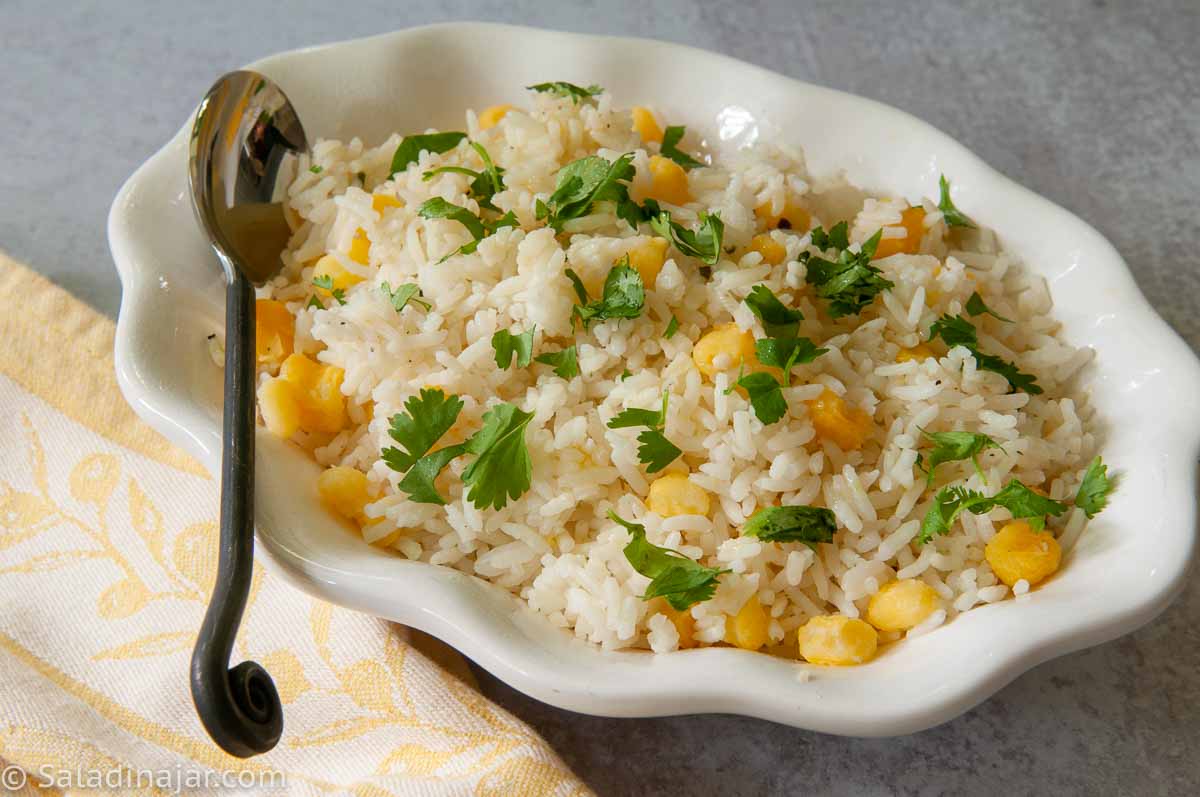 As an Amazon Associate, I earn from qualifying purchases.
This easy rice recipe with simple ingredients is prepared with a rice cooker. I can think of at least three occasions when it is the perfect side dish.
When you can smell the scent of meat on the barbecue outside–it's a delicious wingman that won't try to steal the show.
When cooking for children–it's mildly flavored and easy for them to pick out anything they don't want to eat.
After you've been sick and your appetite is not yet 100%, this dish is easy to digest and not spicy.
No rice cooker? No problem. You can make this recipe on the stove or use an Instant Pot.
In my cookbook, you will find this Hominy Rice recipe behind the comfort food tab along with this Cheesy Rice Pilaf. It's right up there with Rotisserie Chicken and Mushroom Chowder for a not-so-good day.
Thanks to my brother-in-law, who shared this simple recipe. He always serves it with grilled pork tenderloins.
---
Do I need a rice cooker for this hominy recipe?
Many of us are short on storage space, so any addition to our kitchen arsenal has to meet specific criteria. These are my requirements:
Saves time: I'm not referring specifically to actual cooking time, but hands-on watching-carefully kind of time.
Easy to clean: It must be wipe-downable or, even better, dishwasher-safe. Many pieces that must be disassembled, cleaned, and reassembled are a negative.
Multi-purpose: I must have several favorite recipes that use it.
A timer: It it's a cooking appliance, a warmer option at the end of cooking earns extra points.
A rice cooker ticks all those boxes for me. A good rice cooker can be expensive, but it cooks better and is more versatile than a cheap aluminum one with a glass lid.
Many people will say it's not that hard to cook rice on the stove. True. But it requires more attention than I seem to possess.
One of the best things is that the inner cooking pot is heavy enough to use on the stove. This saves time when I want to lightly brown the rice before cooking it, like in this recipe. Same with Mexican rice.
A couple of other things I like:
The set-it-and-forget-it feature automatically switches to a warm setting
The way it cooks brown rice, wild rice, quinoa, and steel-cut oats
While I love my Zojirushi, it's not the only game in town. If you are considering buying a rice cooker, check out this article from Huffpost about whether you need one.
---
Ingredients and Substitutions:
RICE: Jasmine or basmati is my rice of choice for this recipe. Long-grain rice would also work.

Are you wondering about the difference between jasmine and basmati rice? They both smell like popcorn as you cook it.
According to Cook's Illustrated, "The basmati grains remain distinct and maintain their long, slim shape. The jasmine rice has a plush, moist texture; its grains collect in delicate clumps, perfect for eating with chopsticks."

CHICKEN BROTH: Homemade chicken broth is the best, of course. But if you use a lot of cilantro and butter, you won't notice what kind of broth you use. I usually use bouillon and reconstitute it with hot water.
GOLDEN HOMINY: What is hominy? Not the same as grits. "Hominy is made from whole corn kernels that have been soaked in a lye or lime solution to soften the tough outer hulls. The kernels are then washed to remove the excess solution, the hull, and often the germ."

When you go to the store, you may notice white and yellow hominy. The color of the hominy depends on the color of the corn used. Some people think yellow is slightly sweeter. I always use yellow hominy because of the color. White would be boring in white rice.

BUTTER: Be as generous as your conscience will allow. There are no substitutes in my book.
CILANTRO: Fresh cilantro is the only way to go. Chop up the leaves and tender stems as well. If you're not a cilantro lover, substitute parsley. But then you have to change the name of the dish. 🙂
SALT: I always use Kosher salt. I hesitate to list a specific amount of salt because of the variations in the salt content of chicken broth. I would start with 1/2 teaspoon and add more if you use a low-sodium or homemade broth.

---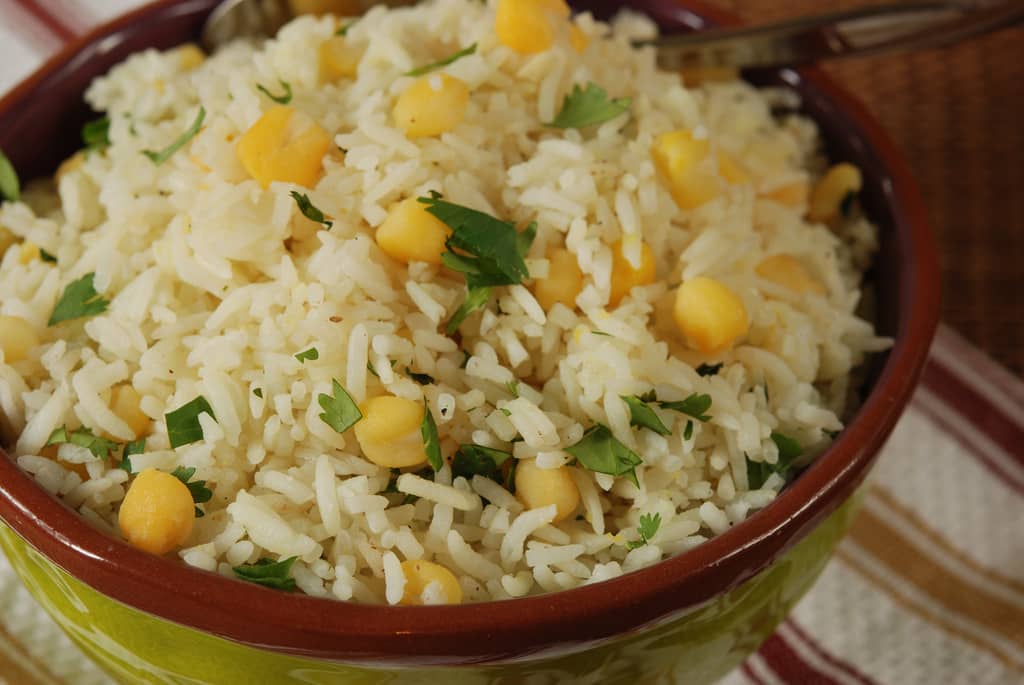 ---
How To Make Buttery Cilantro Rice with Hominy in a Rice Cooker:
A rice cooker is not essential for this recipe.
FAQ's for Hominy Rice with Cilantro
Is the flavor of golden hominy different from white hominy?
Yellow hominy usually tastes sweeter.
What can I use instead of a rice cooker?
No, you could also use an Instant Pot or cook the rice on the stove in a saucepan. After browning the rice in oil, follow the directions in your Instant Pot manual, or use the cooking directions on the package of rice, substituting chicken broth for the water.
Should I rinse commercially canned golden hominy?
You don't have to, but rinsing will remove any excess salt and brine that might interfere with seasoning this recipe the way you prefer.
Can I make this ahead?
Yes, but wait to add the cilantro until you are ready to serve. It will turn dark if added too early.
Can I freeze this recipe?
Yes. If you want to make a large batch so that you have leftovers to freeze, it's best to hold the cilantro until right before serving.
Parting thoughts: This is my very favorite rice recipe in the whole world. If you ever hear that I am sick, please fix this and deliver it to my house. Thank you.
---
Recipe Help at Your Fingertips: For questions or suggestions, email Paula at saladinajar.com. If you need help, I'm happy to troubleshoot via email (faster than leaving a comment). Attach pictures and as many details as possible for the best advice.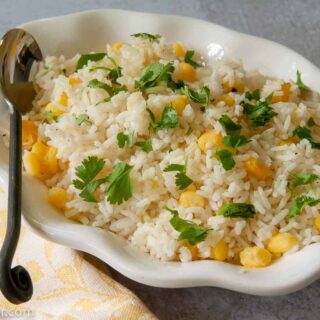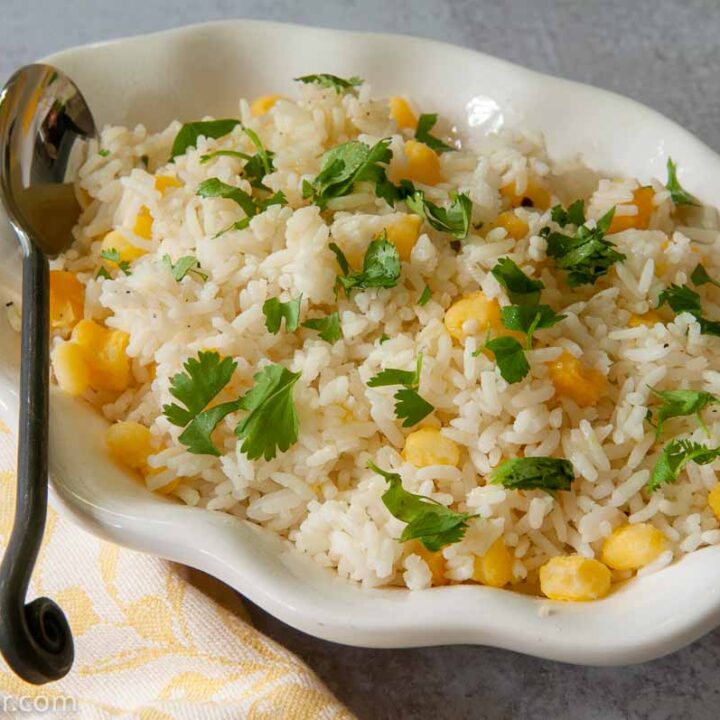 Cilantro Hominy Rice Recipe
Try this flavorful side dish of buttery cilantro rice with hominy alongside grilled meats–especially a steak or a pork tenderloin.
Share recipe love here. ⬇
Ingredients
2

cups

(

370

g

)

Jasmine rice

–

basmati, or long grain rice

2

tablespoons

(

28

g

)

olive or avocado oil

3

cups

(

705

g

)

chicken broth

14.5

ounces

(

411

g

)

golden hominy

–

drained

2

tablespoons

(

28

g

)

butter

–

add more if you like

½

teaspoon

salt

freshly ground black pepper

2

tablespoons

cilantro

–

chopped
Instructions
Pour

2 cups

(

370

g

) Jasmine rice into a sieve and run water over it until the water runs clear. Set aside to drain.

Heat

2 tablespoons

(

28

g

) olive or avocado oil in a rice cooker pan (or medium saucepan) over medium-high heat. Add rice to the pan. Stir until it begins to turn golden brown.

Add

3 cups

(

705

g

) chicken broth to the rice and set your rice machine for the normal white rice cycle. If you are cooking on a range, bring the broth to a boil. Turn the heat down to a simmer and cover.

If you are not using a rice cooker, go by the instructions on the package of rice to know how long to cook. When finished, remove from the heat and allow to sit for 15 minutes.

If using a rice cooker, listen for the beep indicating that the rice is done.

Stir in

14.5 ounces

(

411

g

) golden hominy,

2 tablespoons

(

28

g

) butter,

1/2 teaspoon

(

½

teaspoon

) salt, and

freshly ground black pepper

. Add

2 tablespoons

cilantro just before serving.
Nutrition
Serving:
1
|
Calories:
194
kcal
|
Carbohydrates:
36
g
|
Protein:
4
g
|
Fat:
4
g
|
Saturated Fat:
1
g
|
Polyunsaturated Fat:
1
g
|
Monounsaturated Fat:
2
g
|
Trans Fat:
1
g
|
Cholesterol:
1
mg
|
Sodium:
519
mg
|
Potassium:
103
mg
|
Fiber:
2
g
|
Sugar:
1
g
|
Vitamin A:
12
IU
|
Vitamin C:
5
mg
|
Calcium:
19
mg
|
Iron:
1
mg
HELP OTHERS find this recipe. Leave a 5 🌟🌟🌟🌟🌟 rating at the top of the recipe card if you enjoyed it. No comment is required.