Sneak Preview: Make this Cheesy Rice Pilaf Recipe with long-grain rice, yellow bell peppers, parsley, peas, and cheese the next time your meal needs some interest, color, and good taste.
Sharing a good recipe can possibly make a person immortal–especially if the name of the giver is added to the title of the recipe. Do you agree?
I have never understood people who resist sharing their recipes (unless they run a restaurant or otherwise make money with it). Not only the recipe but any added notes can stimulate fading memories.
Whenever I make this colorful cheesy rice recipe, I think of the friend who gave it to me.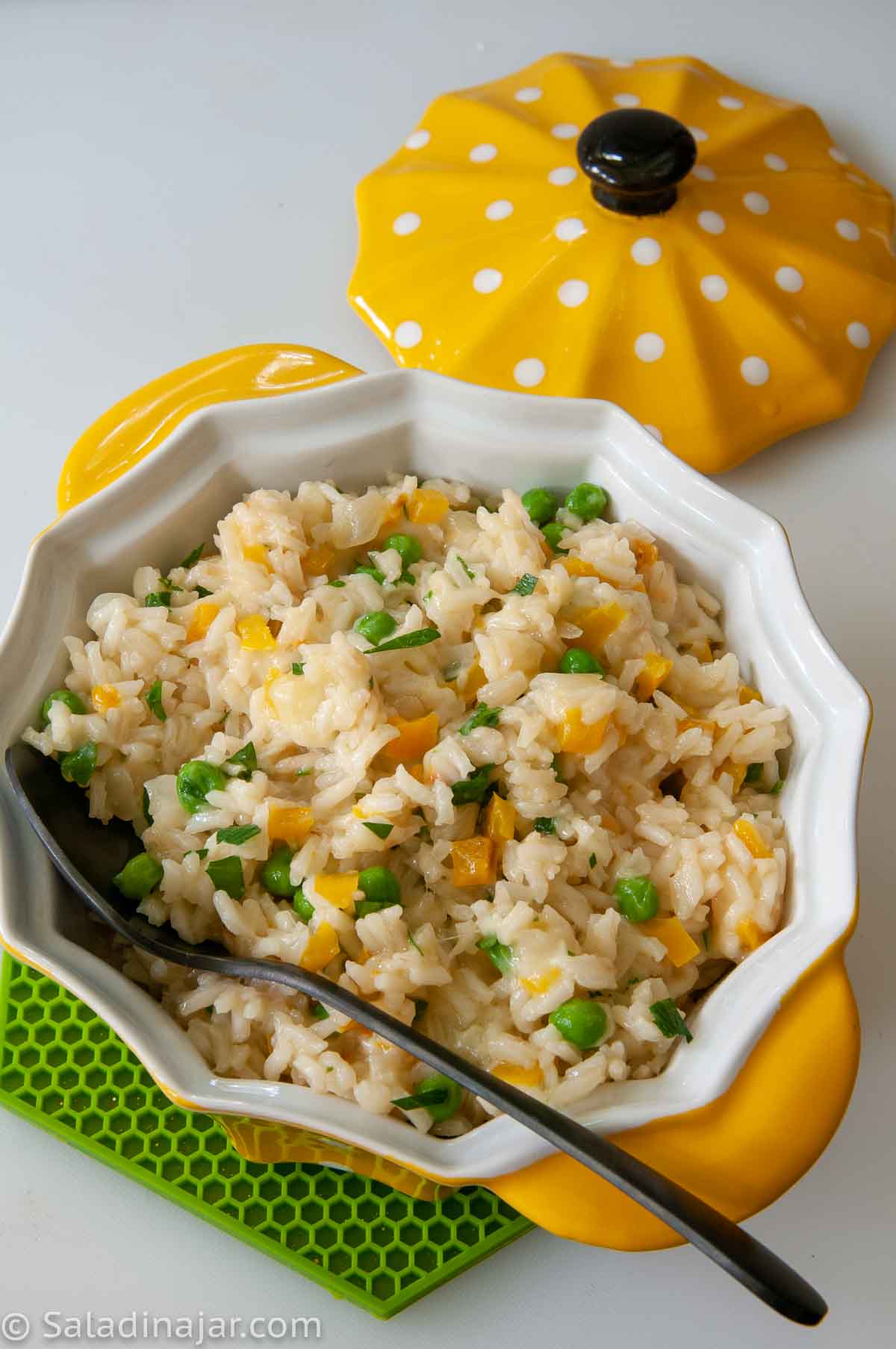 ---
Recipe Inspiration:
Some time ago, I staged a giveaway and asked my readers to tell me their favorite way to eat rice.
I got several good ideas, including this recipe, from a long-time friend named Beth. Every time I make it, I think of her even though I haven't seen her in ages.
Sharing a good recipe can possibly make a person immortal–especially if the name of the giver is added to the title of the recipe.
Turns out this cheese and rice recipe originated with Emeril Lagasse. I've made a few minor tweaks.
---
Ingredients and substitutions:
---
RICE: Extra-long rice by Mahatma is my first choice, but any long-grain rice is good. You could also substitute basmati or jasmine if you prefer. If you're not a rice lover, try it with quinoa.

ONIONS: Yellow onions work perfectly, but white onions are fine, too.

BELL PEPPERS: The recipe calls for yellow bell peppers. The color makes them blend in with the cheese. Red or orange peppers will change the look but not the flavor. Using green bell peppers will add a slightly bitter flavor profile.

CHICKEN BROTH: Homemade stock is the best but certainly not a necessity. Substitute canned chicken broth if it's more convenient, or use a bouillon cube or powder to make broth.

BAY LEAF: You might be tempted to leave this one out, but it adds lots of wonderful flavorful. According to the tastingtable.com, "the closest match to the herb is a mixture of dried thyme and oregano; a quarter teaspoon per leaf gets the job done."

PEAS: Unless you have fresh peas, frozen peas are my first, second, and third choice. Otherwise, leave them out.

CHEESE: My friend uses Fontina, but Gruyere and Mozzarella (a cheaper option) would make good substitutes. Although I doubt if you would have clicked on this recipe if you don't like cheese, you could leave it out.

PARSLEY: Fresh parsley is always going to be better than dried parsley unless it's the middle of the winter and you're snowed in. Fresh cilantro is another option.
---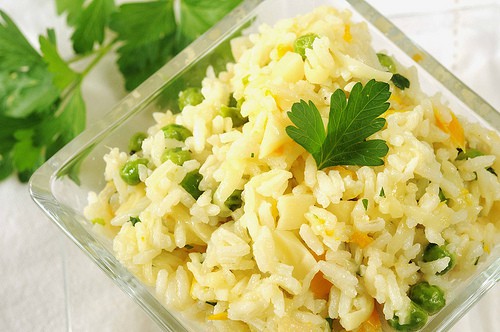 ---
How to make this colorful Cheese Rice Pilaf: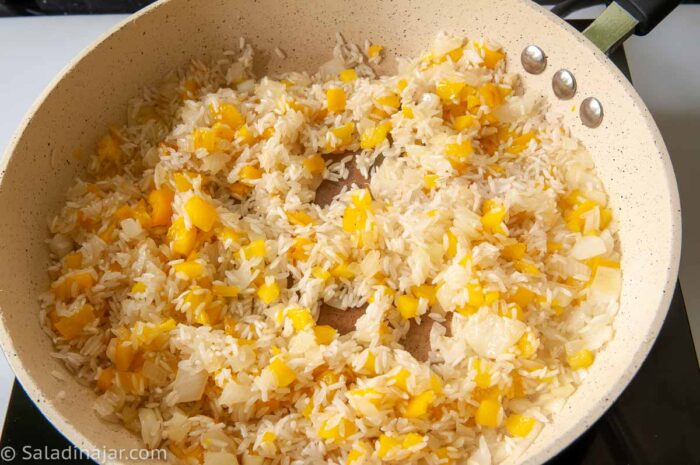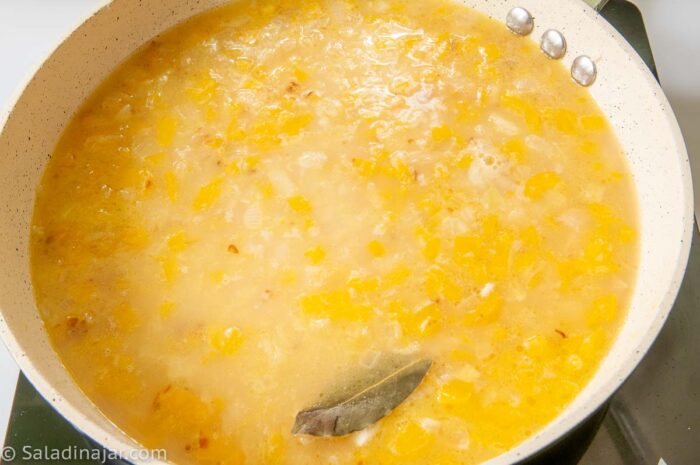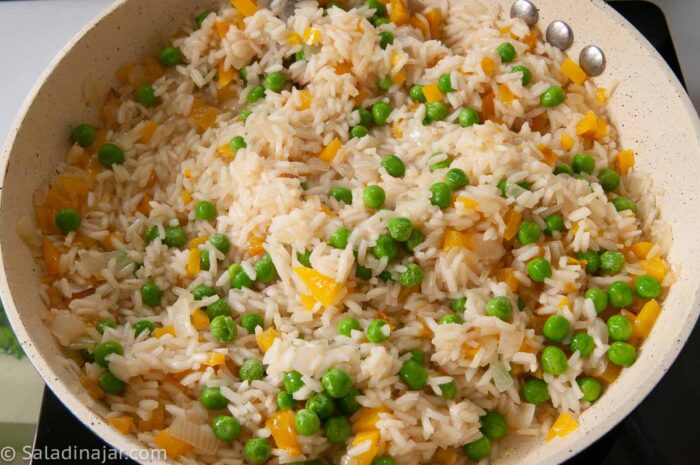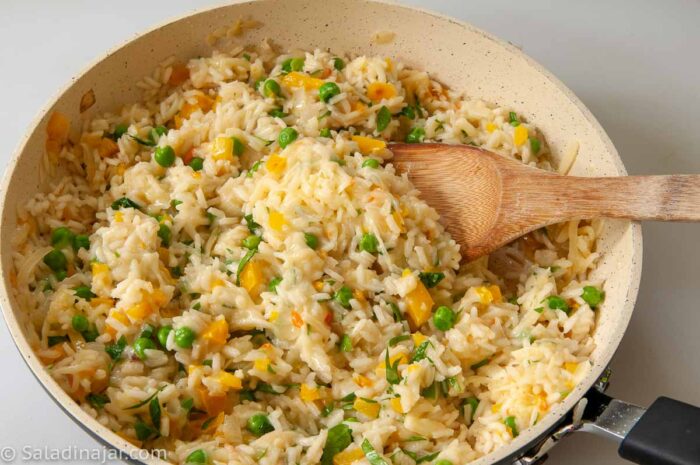 ---
FAQ about rice pilaf with cheese:
Can I make this recipe ahead of time?
Yes, you can make this earlier in the day. If you want to prepare this recipe the day before, leave out the cheese and parsley.
Just before serving, reheat the dish in the microwave. Fluff the rice, then stir in the cheese and parsley. Let it sit until the cheese melts.
Can I freeze this recipe?
Prepare the recipe through step 4. Remove the bay leaf. Wrap well and freeze for up to one month. Thaw before serving.
Reheat in the microwave until piping hot. Fluff the rice and mix in the cheese and parsley. Put the lid on until the cheese melts and serve immediately.
---
Would you like to see more rice recipes?
Did you enjoy this recipe? If so, you can help others and me by leaving a 5-star 🤩 rating in the recipe below. No comment is required.
Hope to see you again soon!
Paula
p.s. If you have any questions or suggestions, you can email me privately: paula at saladinajar.com.
---