Ridiculously Easy Cuban Bread You Can Mix with a Bread Machine
Sneak Peek: This ridiculously easy Cuban bread (Pan Cubano) is mixed with a bread machine. Its distinguishing characteristic is the lard that replaces butter or oil in other similarly shaped loaves. Use shortening instead if lard is not your thing.
What if you can't get to the store to buy the bread you crave? Or maybe that bread isn't sold at any store close to you. That is the situation for one of my readers who recently requested a Cuban Bread recipe (Pan Cubano) she could make with a bread machine.
A traditional Cuban sandwich starts with Pan Cubano or Cuban bread. But my reader has something else in mind for her Cuban bread. Her family likes it instead of French bread with some of their favorite recipes.
Use this bread as a sandwich bun, split and toasted with garlic butter, or served with a bowl of soup or gumbo. Fresh, homemade Cuban bread is a good idea to elevate any meal.
What makes Cuban Bread unique?
Lard: Lard is rendered pork fat and lends a characteristic flavor to this bread. Read this article for more details if you are concerned about the health aspects of lard. Substitute shortening, butter, or olive oil.
Flattened baguette shape: When you split the baguette in half horizontally and cut the length for the size of the sandwich you want, it makes a wonderful bun, especially for paninis.
Palmetto fronds: Don't worry. I don't have any palmetto fronds in my yard, either. They are the traditional way to get the slice down the middle of the baguette. A serrated knife or lame will do the trick.
The first recipes I tested were rather bland, in my opinion. No surprise, really. The recipe calls for basic ingredients.
Then I tried a preferment like I use when making Ciabatta. That bumped the flavor to a new and improved level. Skip the preferment if you don't have time, but I recommend it, especially if you want to eat the bread alone or toasted with butter. YUM!
This recipe is perfect for a bread machine. Make the pre-ferment the night before or early in the morning. After 4-8 hours, dump all the other ingredients into the pan, select the DOUGH cycle, and press START.
This recipe is not suitable for baking in a bread machine.
Ingredients and substitutions:
Water: Nothing special is needed here unless your water is highly mineralized. In that case, use spring water. The water does not need to be warmed, but it should not be icy either.

Flour: I like a combination of all-purpose flour and bread flour for this recipe. The bread flour lends a chewier texture and a good rise–but not too much. If you don't have bread flour, it's alright to go with 100% all-purpose flour.

Yeast: I use instant yeast with bread machines. It's easier and works best. See the recipe notes if you only have active dry yeast.

Sugar: Granulated white sugar will give you the most authentic Cuban bread.

Salt: The recipe was tested with table and sea salt. Add ¼ teaspoon extra if using Kosher salt.

Lard: This is the traditional fat used in Pan Cubano. Shortening is an appropriate substitute, although the flavor will be slightly different. If you don't care about authenticity, try vegetable oil or butter.

Egg White for glaze: Egg whites make the crust shinier and crispier–for a while. The crust will soften with age.
---
How to assemble Cuban Bread (Pan Cubano) in a bread machine:
Making the preferment: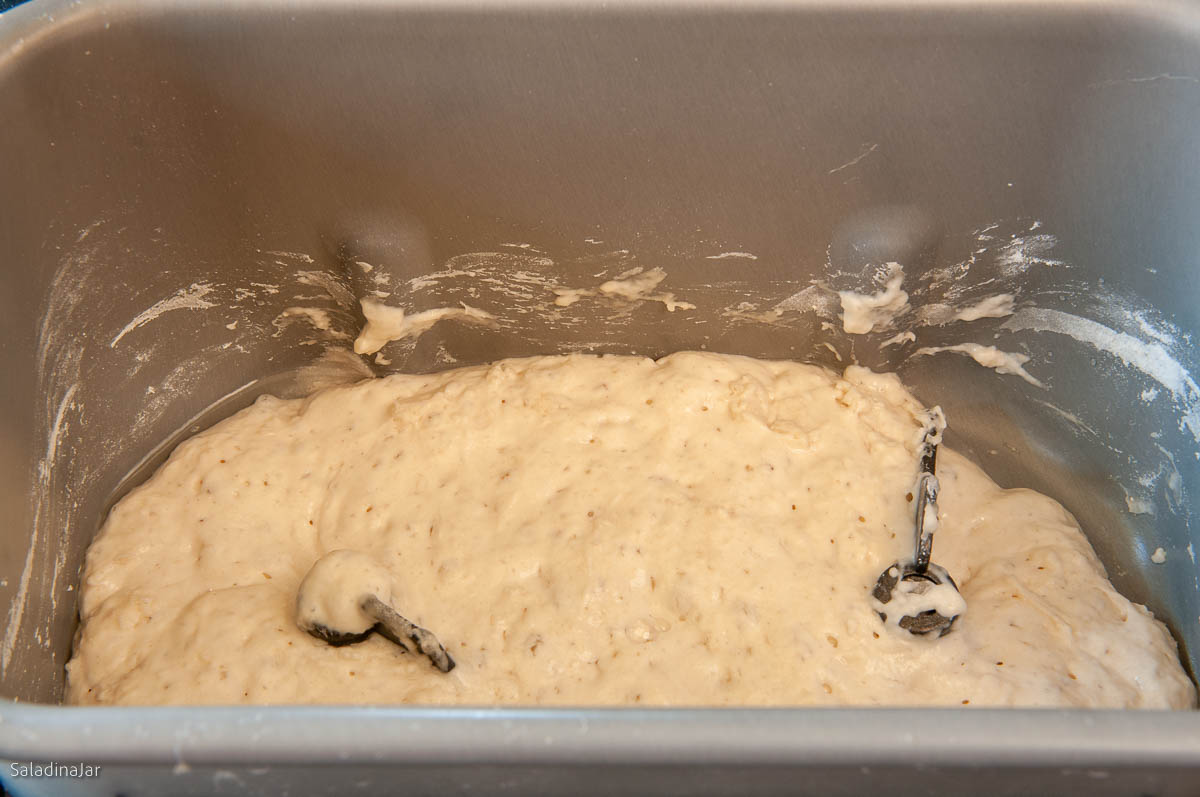 If you don't want to tie up your bread machine pan, mix the preferment in a separate bowl, cover it, and leave it on the counter at room temperature.
---
Making the dough for Pan Cubano in a bread machine:
If you skip the preferment, add those ingredients (⅛ t. instant yeast, ½ cup water-113 gr, and 1 cup-120 gr) of all-purpose flour along with the dough ingredients.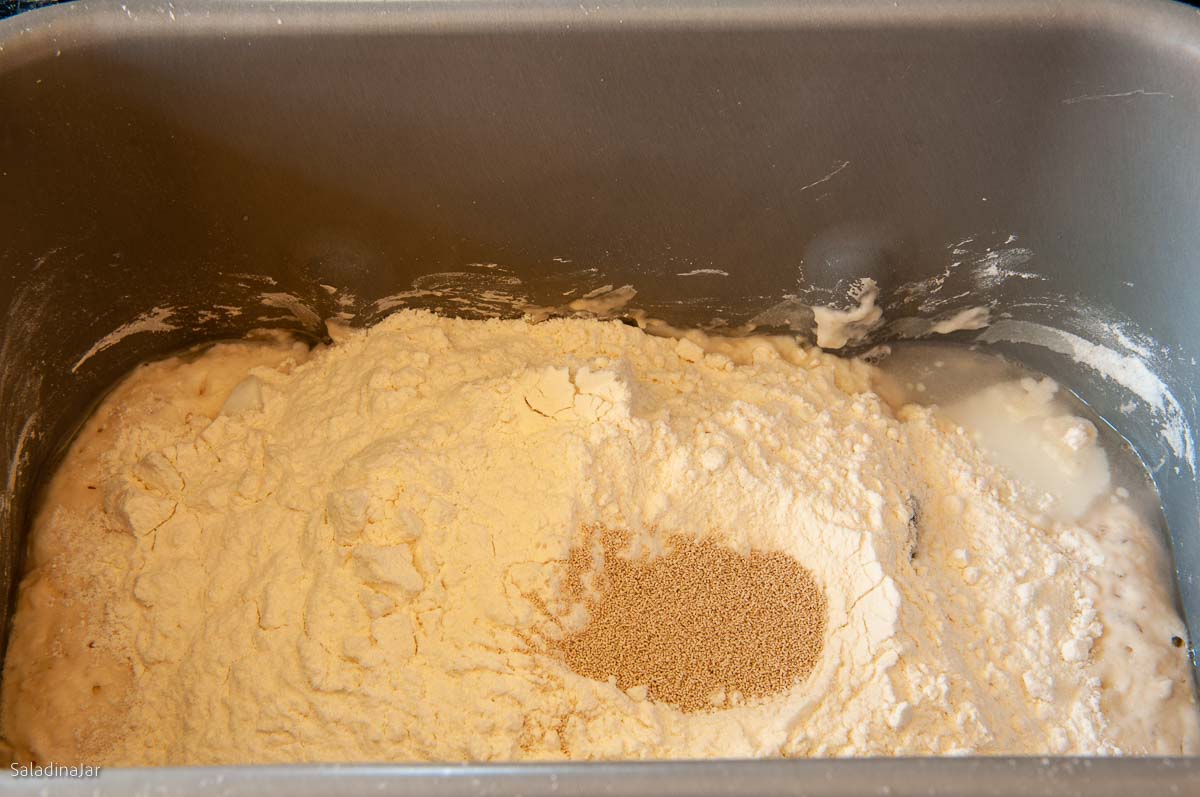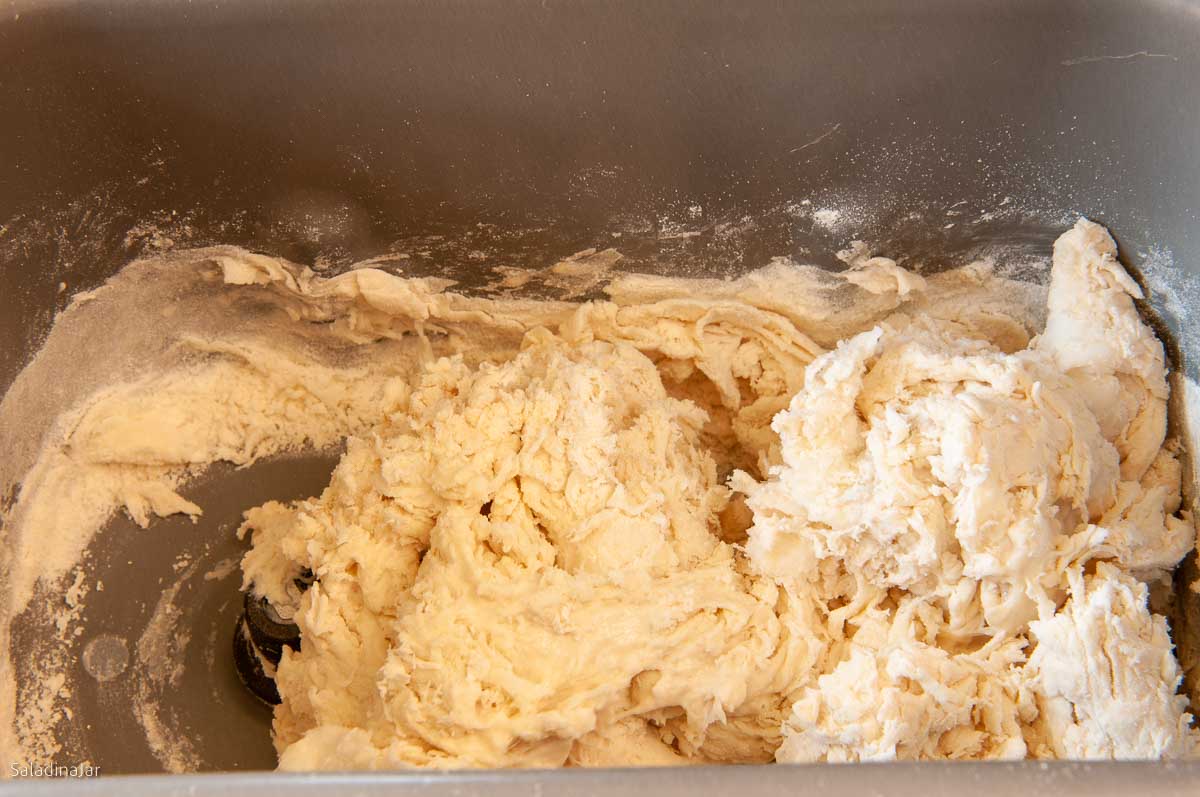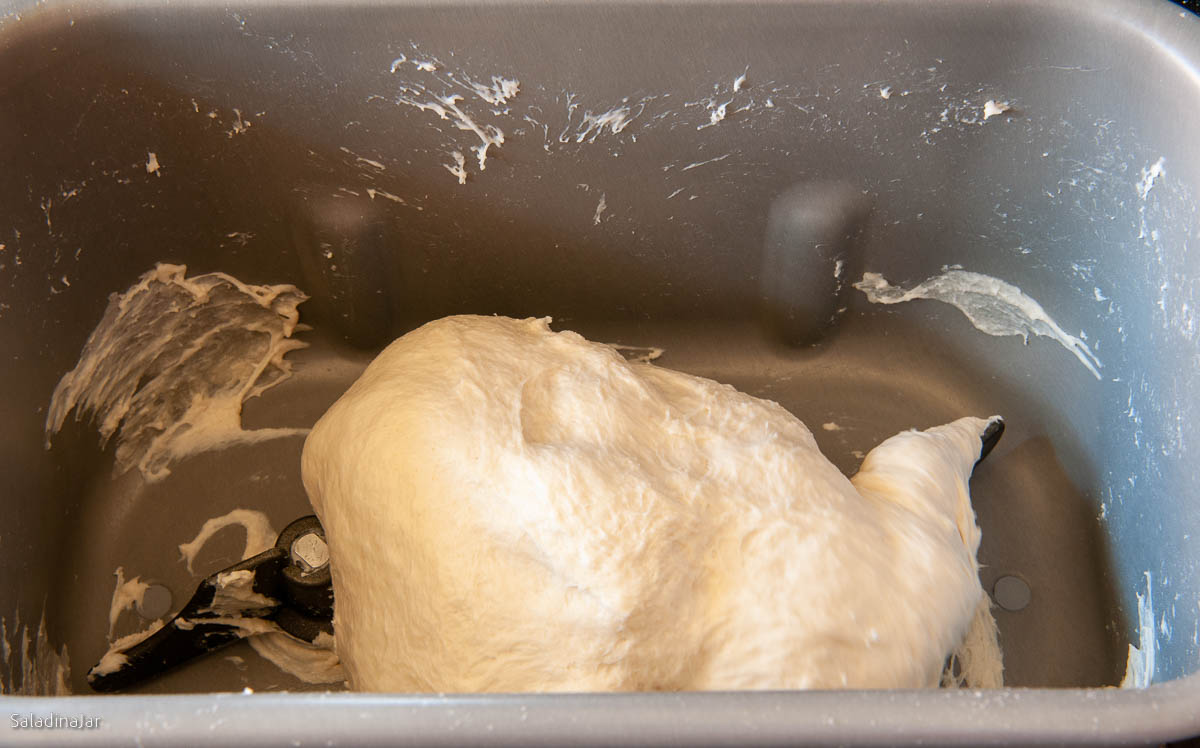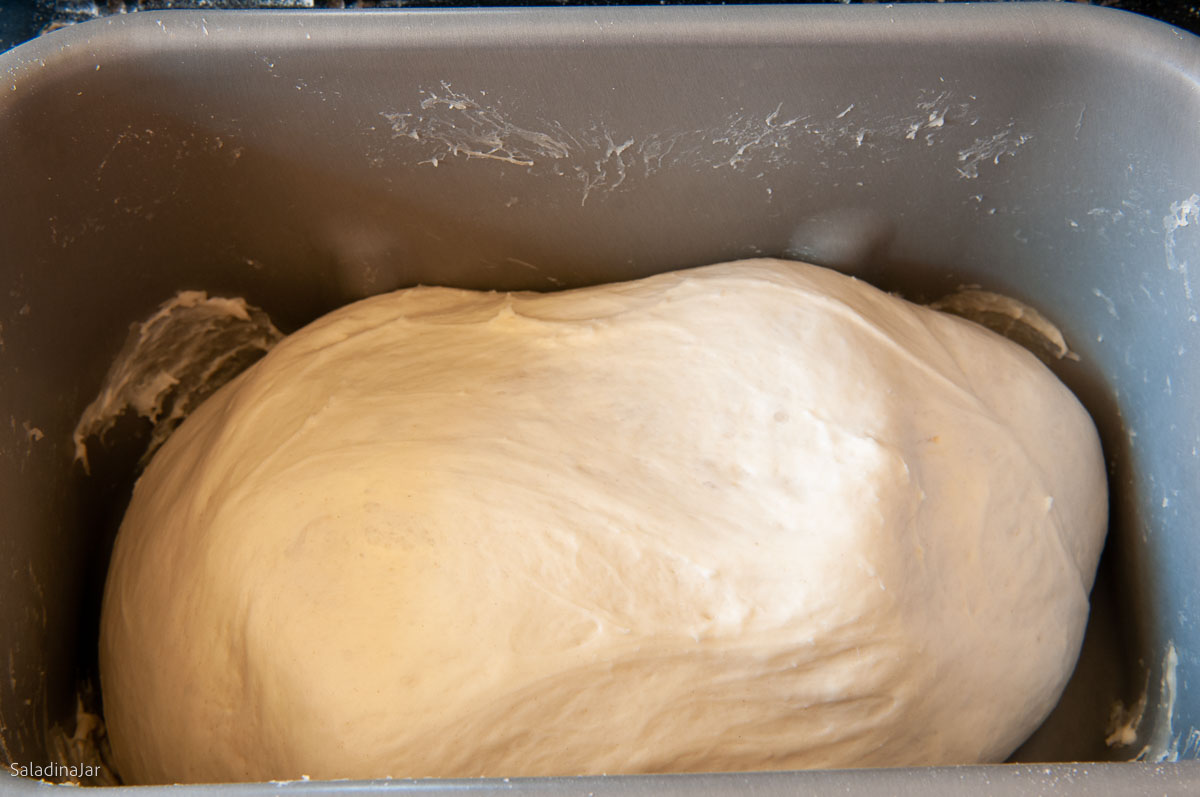 ---
How to shape Cuban Bread: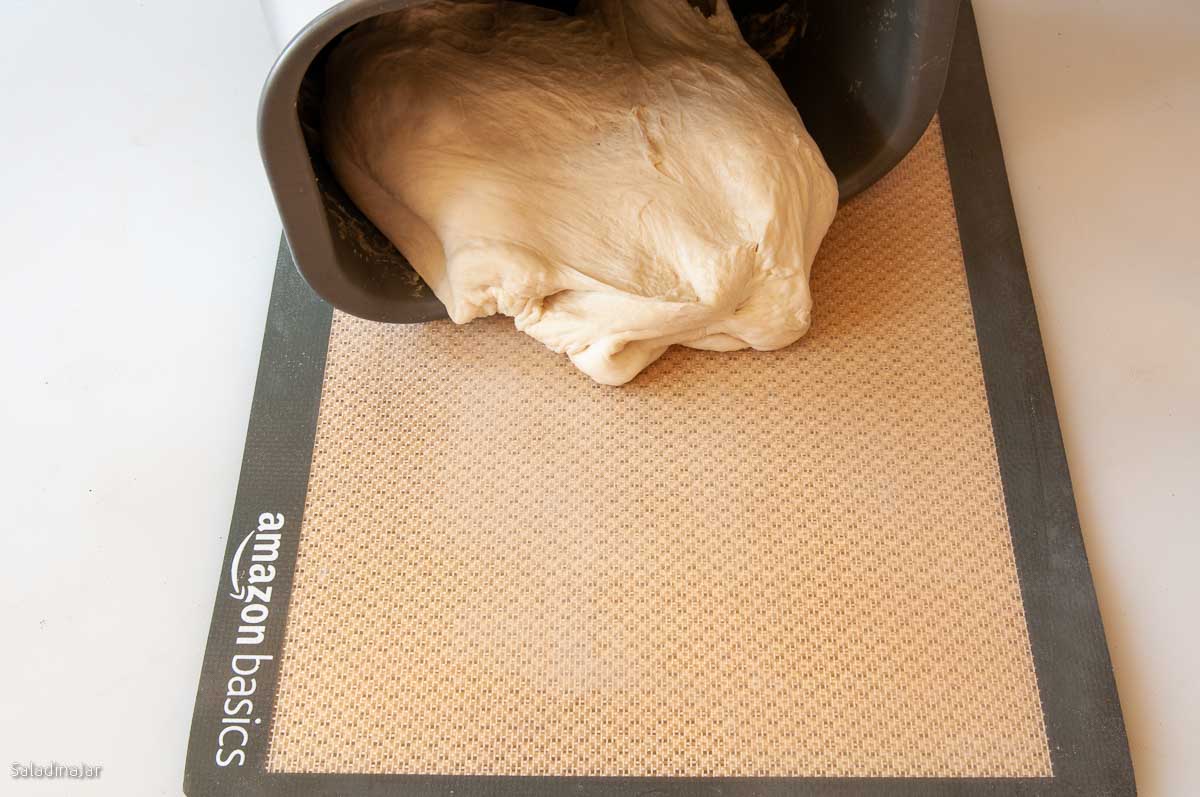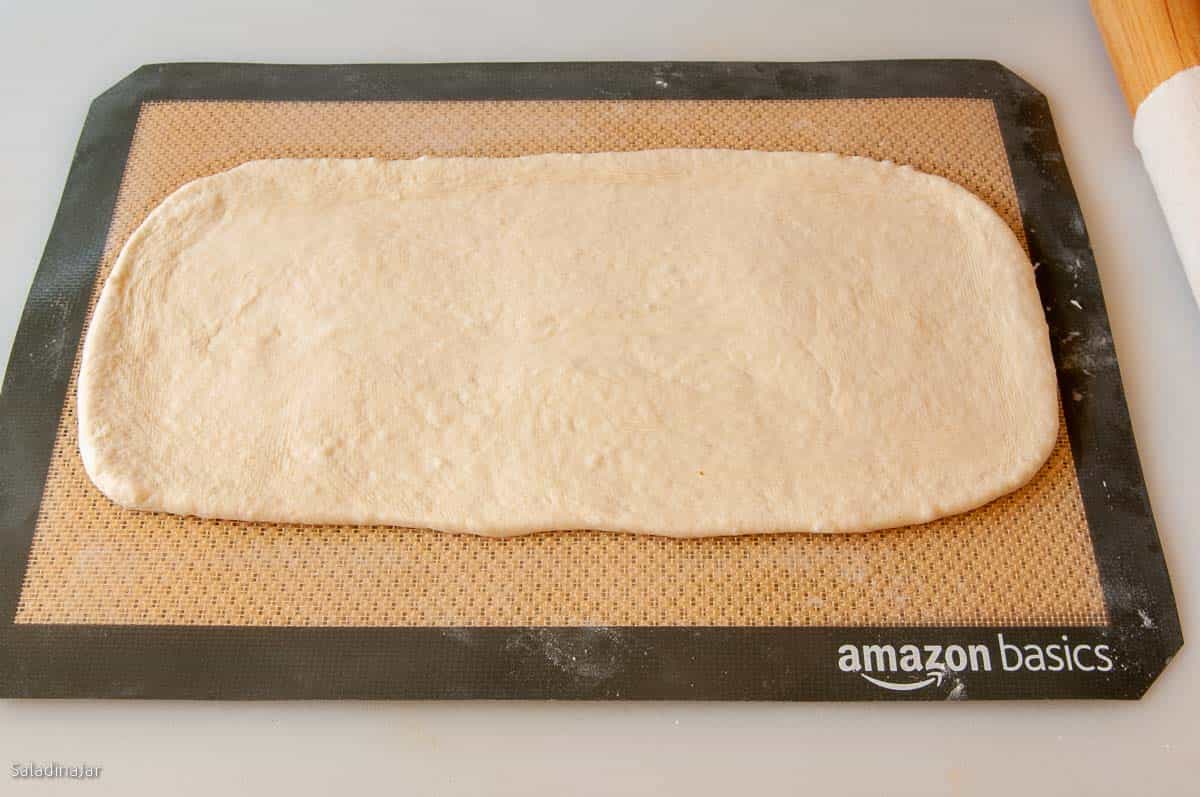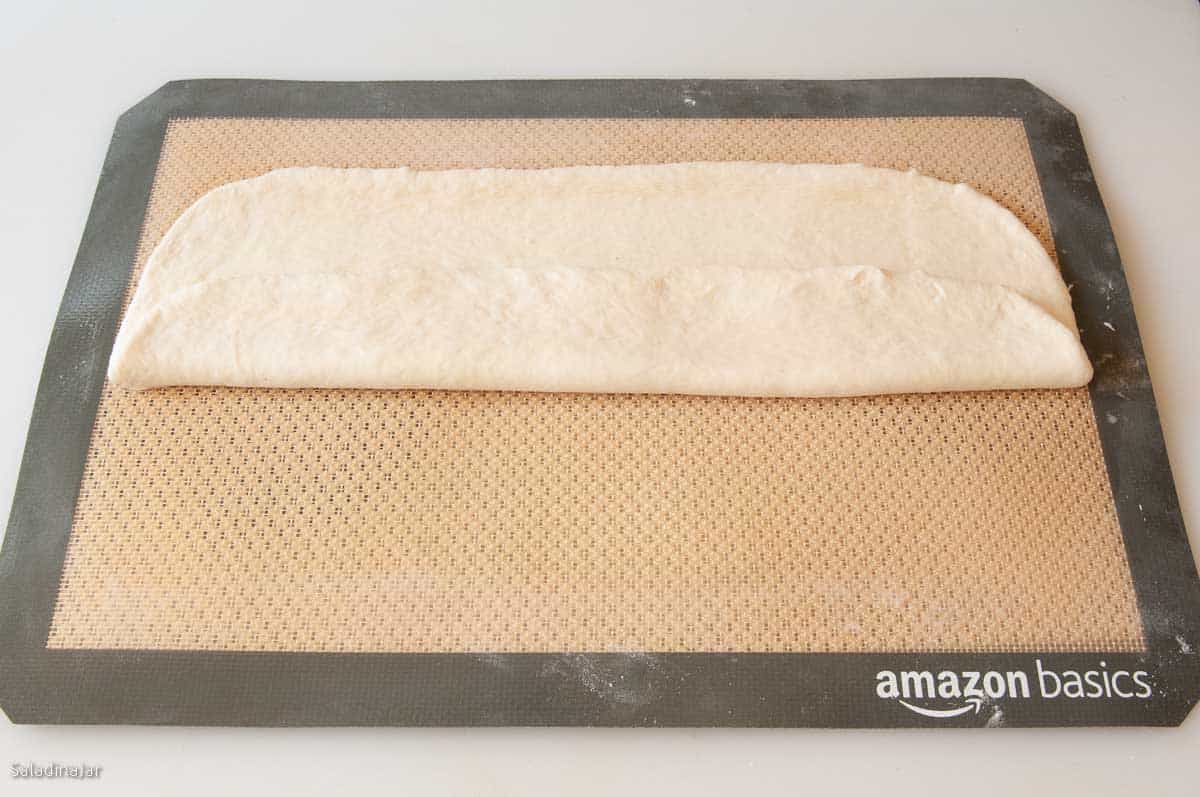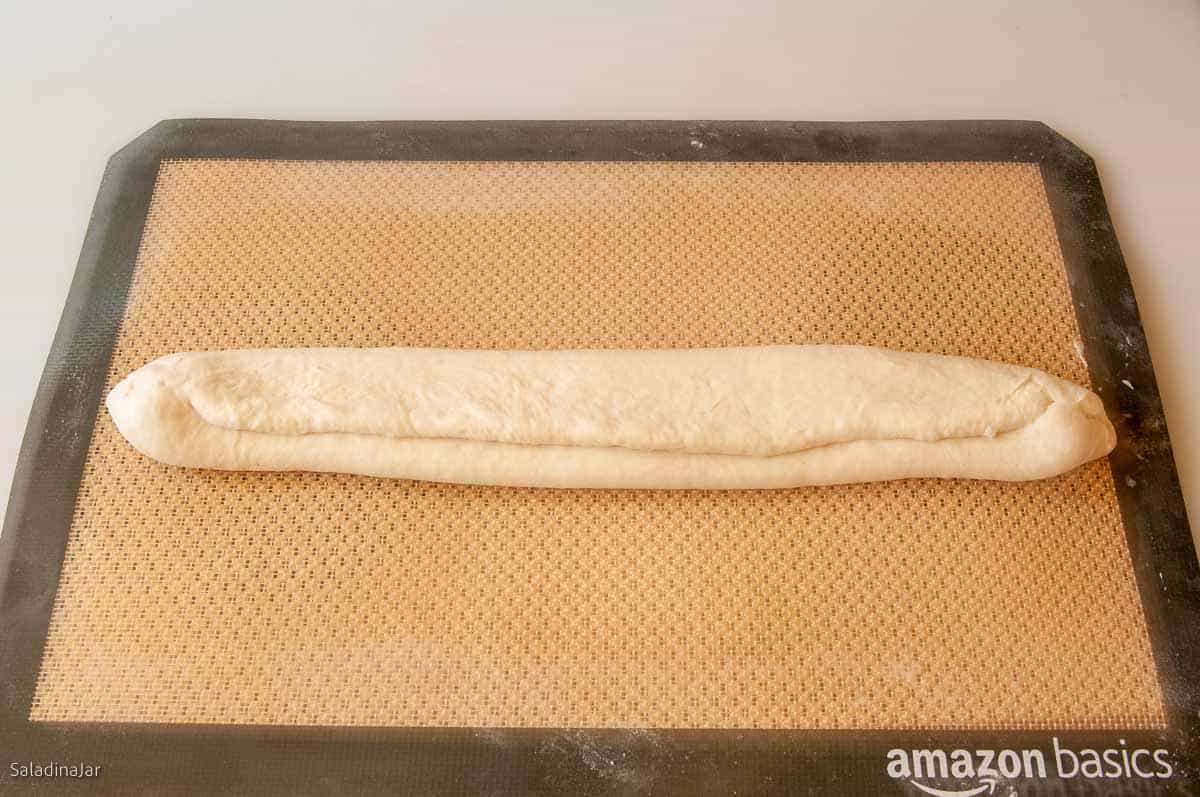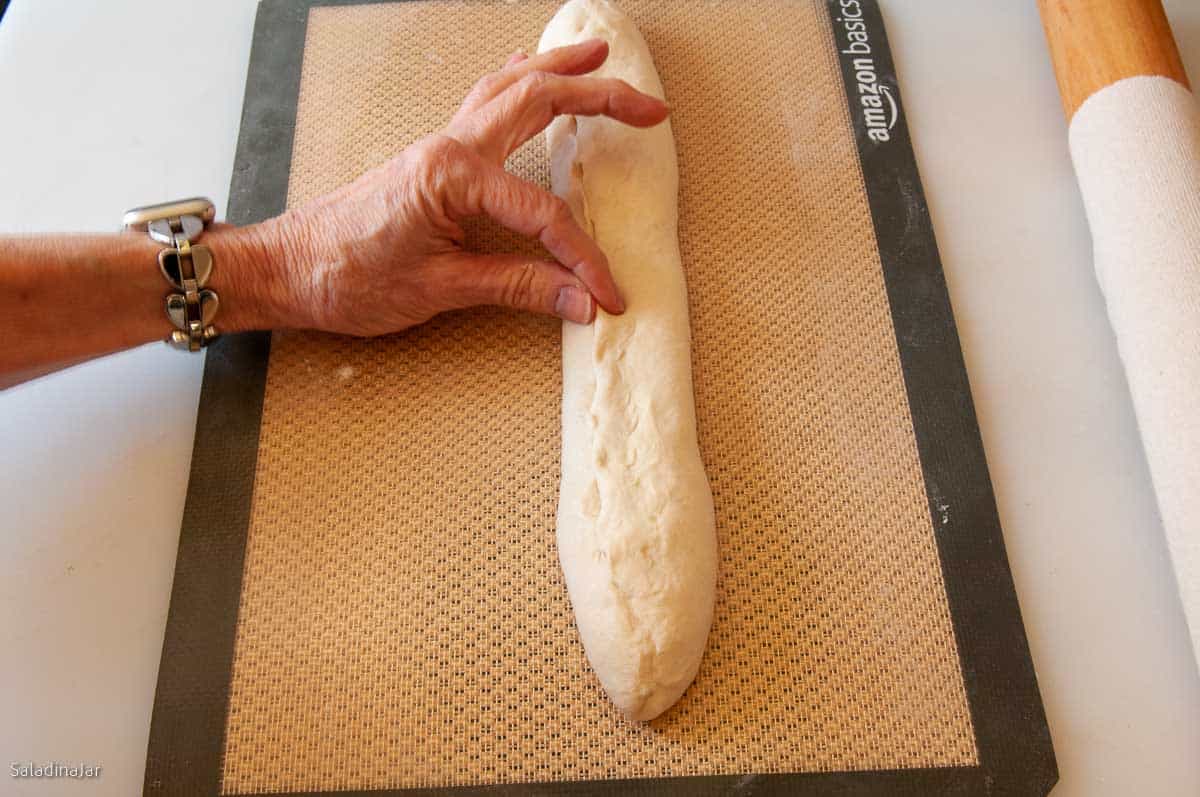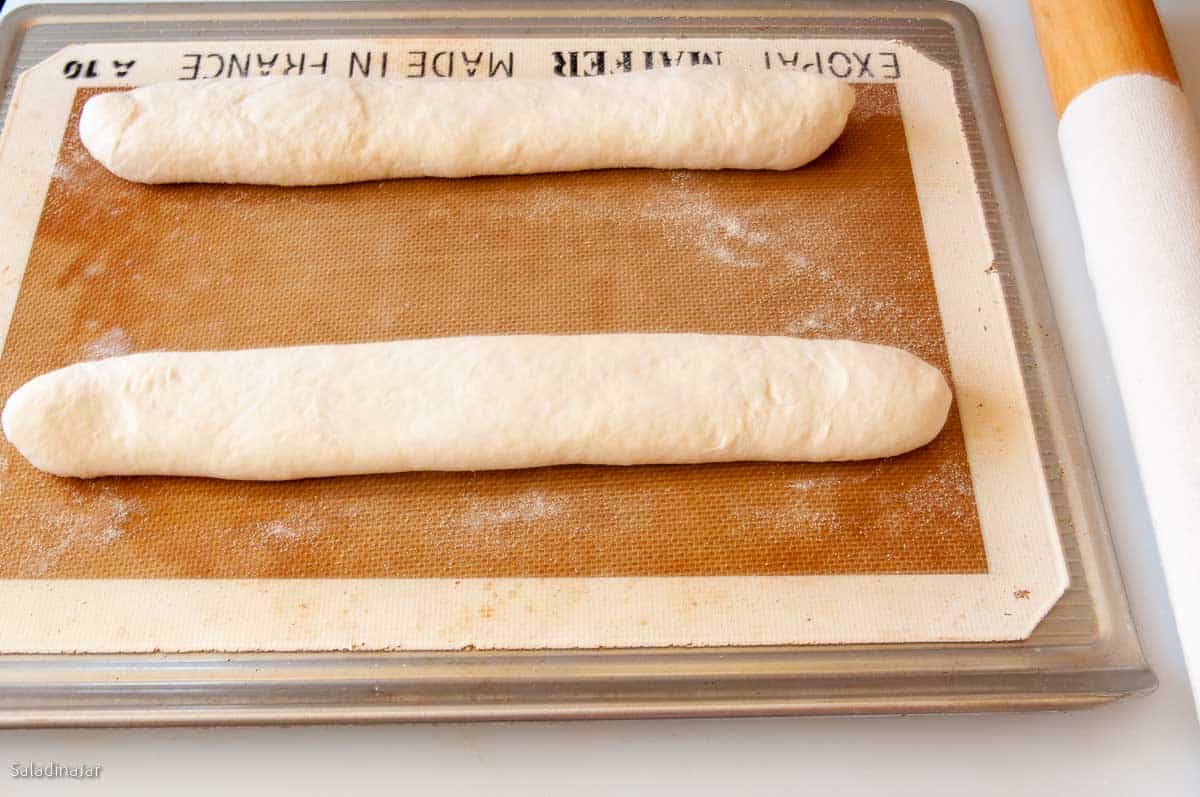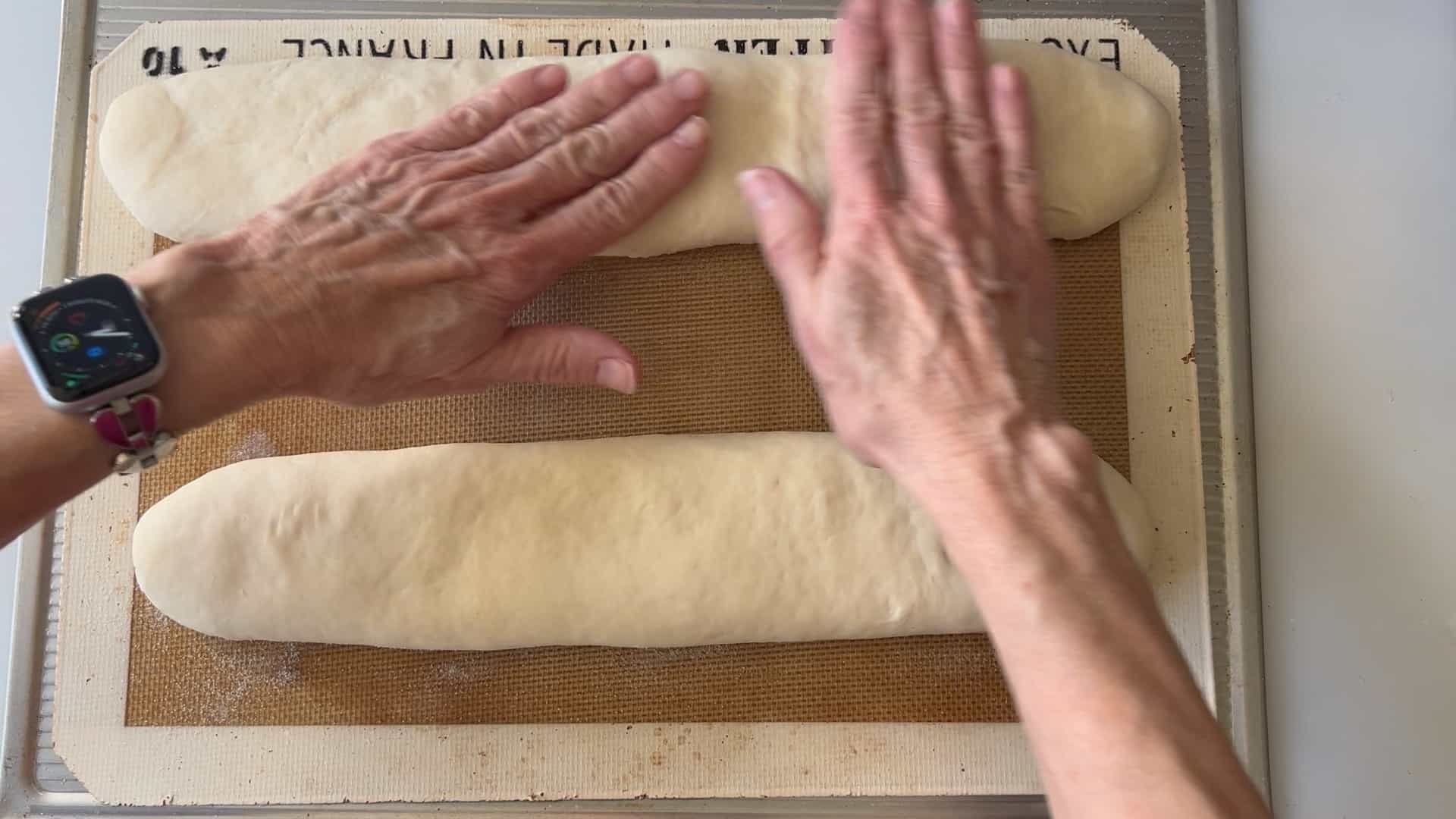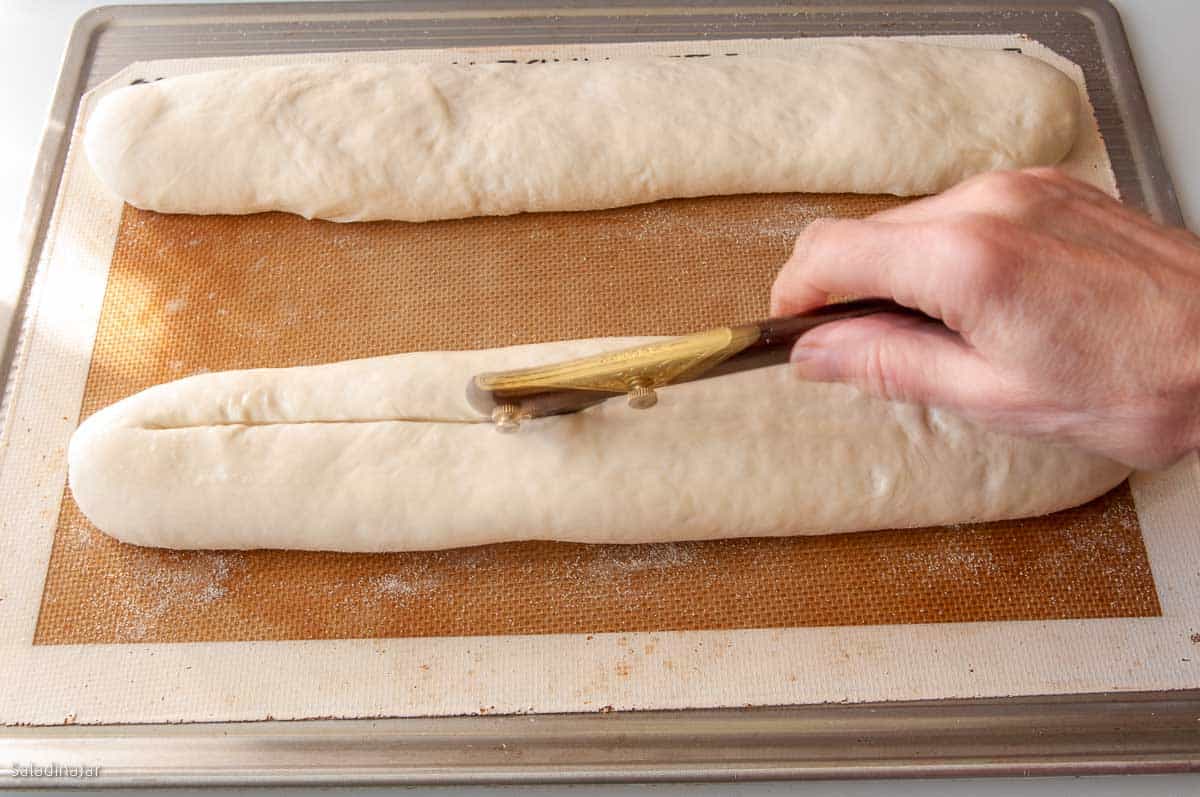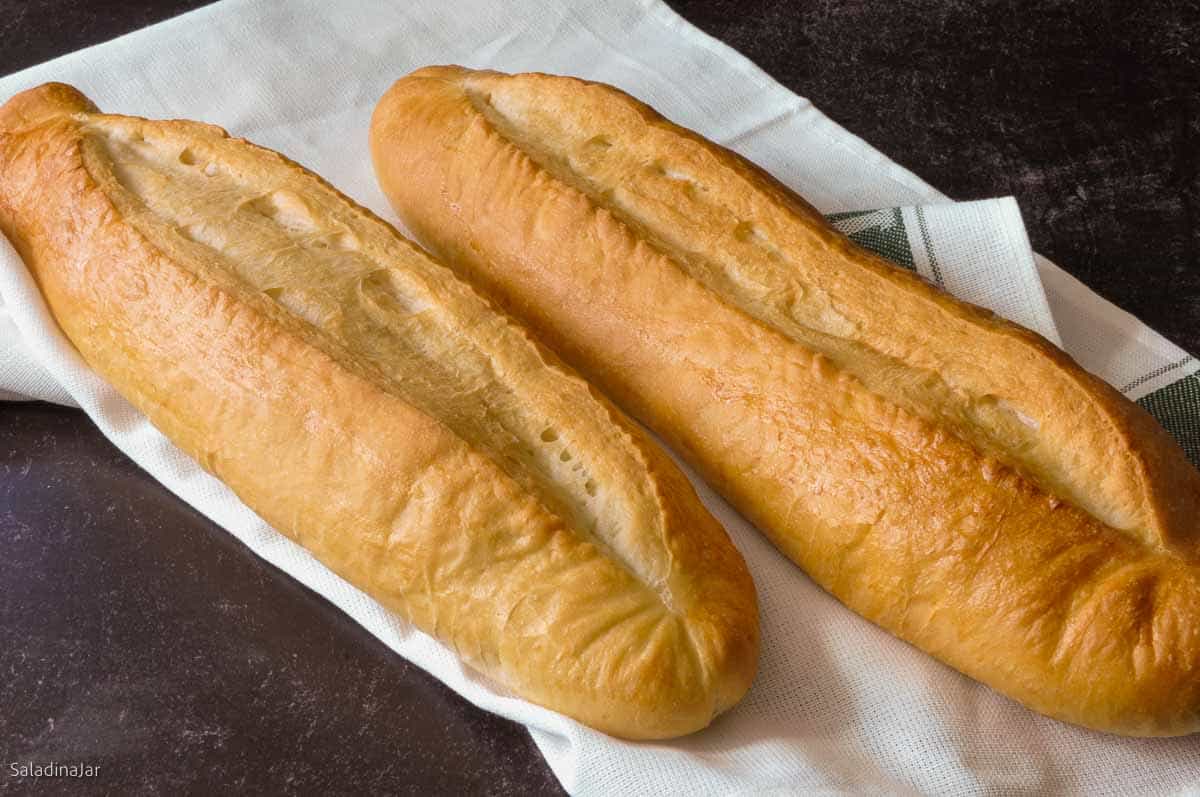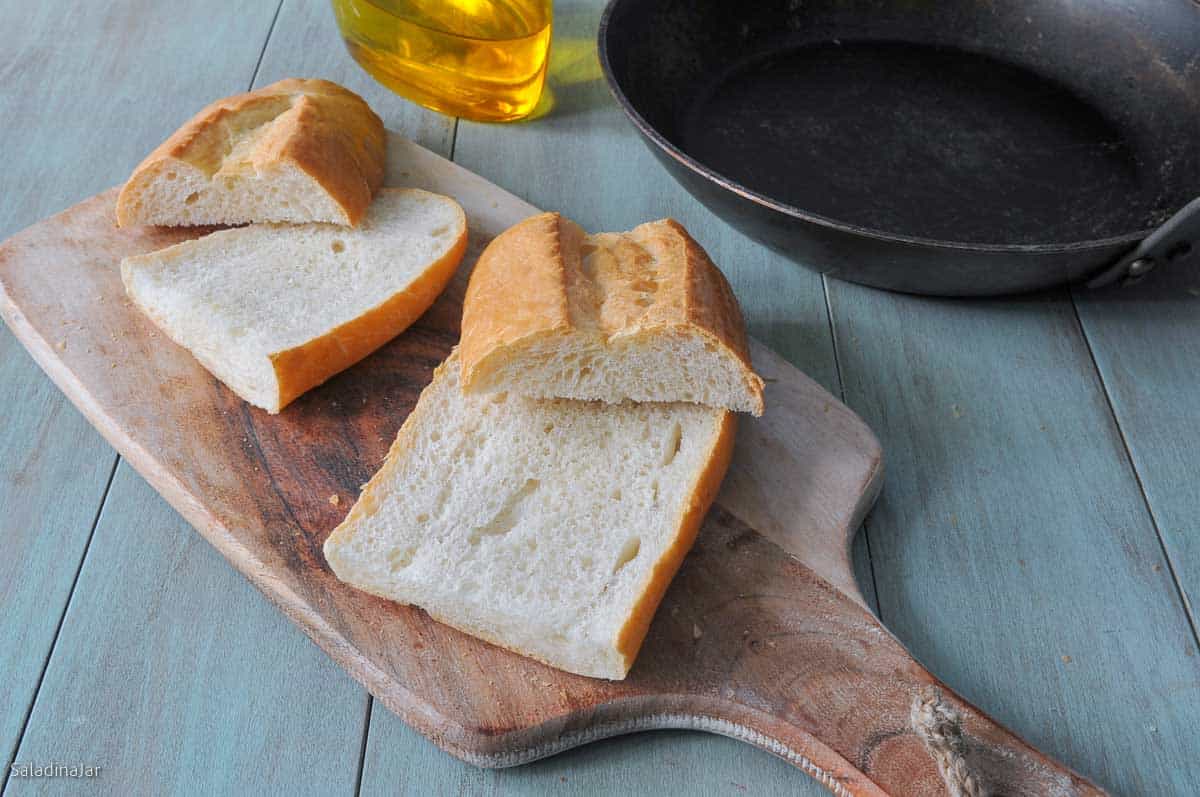 FAQs about Cuban Bread or Pan Cubano:
What makes Cuban bread different?
Cuban bread is similar to French bread. However, it is traditionally made with a little sugar and lard instead of butter or oil. Pan Cubano is soft inside with a crusty but not ultra-crispy crust.
I can't find lard. What can I substitute?
Shortening will work, and so will oil. It won't taste quite the same, but close.
How can I keep homemade Cuban bread fresh longer?
Because the bread is made with lard, it's best eaten the day it's made. The homemade version has no preservatives. Store it in a plastic bag. However, it's best to freeze whatever you can't eat in a day.
What's in a traditional Cuban sandwich?
A Cubano usually contains well-seasoned roast pork and ham, Swiss cheese, mustard, and pickles sandwiched between Cuban bread and grilled with a press.
Can I make the dough ahead of time?
Make it a day ahead of time using the DOUGH cycle of your bread machine. Place the dough into the refrigerator, covered. The next day, shape the dough and let it rise before baking at the recommended temperature.
Parting Thoughts: I learned everything I know about Cuban culture from "I Love Lucy." So my qualifications to write about Cuban bread aren't impressive. However, I've done my research, eaten more than one famous Cuban sandwich, and know my way around bread, especially when using a bread machine. If you're of Cuban descent, I hope you'll allow me a bit of grace if I didn't get it exactly right. Regardless, this bread recipe is quite tasty and worth the trouble.
If you have questions or suggestions, email me privately for a quick answer: Paula at saladinajar.com. Hope to see you again soon!
Bread Machine Cuban Bread (Pan Cubano)
This recipe is for a simple, crusty Cuban bread you can mix up in your bread machine and bake in the oven for the freshest bread ever. Heads up: For the best flavor, make the preferment the night before. Or skip it if you don't have time.
Ingredients
Preferment
½

cup

water

-

114 gr

1

cup

unbleached all-purpose flour

-

120 gr

⅛

teaspoon

instant yeast
Dough
½

cup + 1 tablespoon

water

-

128 gr

2

teaspoons

sugar

-

8 gr

1-¼

teaspoons

salt

-

9 gr

3

tablespoons

lard

-

39 gr

2

cups

unbleached bread flour

-

240 gr

1

teaspoon

instant or bread machine yeast

-

3 gr
Glaze:
1

egg white

-

35 gr

1

teaspoon

water

-

5 gr
Instructions
Note: Making the preferment is optional. If you don't make the preferment, add the same ingredients to the dough.
Making the preferment:
Combine the water (114 gr), flour (120 gr), and yeast (⅛ t.) in the bread machine pan. Choose the DOUGH cycle and press START. Unplug the machine after about three minutes. Use a small spatula in the corners to moisten all the flour. Cover and let sit for 6-10 hours.

Alternative Method: Mix the water, flour, and yeast in a small bowl and stir. Cover and let sit for 6-10 hours.
Making the dough:
Place the preferment and the remaining dough ingredients ½ c water (128 gr), 2 t. sugar (8 gr), 1¼ t. salt (9 gr), 3 T. lard (39 gr), 2 c unbleached bread flour (240 gr), and 1 t instant yeast (3 gr) into a bread machine pan in the order listed. Select the DOUGH cycle and press START.

Check the dough at least twice during the mixing and kneading phase by lifting the lid to take a peek. The first time, look immediately after the machine starts mixing to ensure the paddles are engaged correctly and the dough is clumping.

Look again 15 minutes into the DOUGH cycle to assess the consistency of the dough. The dough should stick to the side, then pull away cleanly.

If your dough is too wet, add flour one tablespoon at a time.

Conversely, if the dough is too dry, add one tablespoon of liquid at a time until the dough looks just right. Read more about this surprising secret to success with a bread machine here.

When the DOUGH cycle completes, if the dough has doubled in size, go to the next step. If the dough has not doubled in size, leave it in the machine until it doubles before proceeding.
Shaping the dough:
Remove the dough from the pan onto a lightly-floured surface. Push the dough down with your palms to remove the bubbles. Divide into two equally sized portions. Shape each portion into a loose ball. Cover and allow the dough to rest for 15 minutes.

Roll the dough into an oval shape slightly longer than you want your final loaf. (I like 9 x 13 inches.)

Starting from a long side, fold the dough like a business letter. Pull one long side over one-third of the dough. Press the dough down with your fingers to ensure there are no tunnels. Pull the long opposite side over the top, and tap down with your fingers. Pinch the ends with the seam, making a small rounded shape on each end. (This isn't easy to describe. See the picture above or watch the video if you are confused.)

Flip the loaf over and carefully place it onto a greased baking sheet or one covered with parchment paper or sprinkled with cornmeal.

Gently flatten the dough with your fingers. Cover with a tea towel and allow to rise in a warm place until almost double.

Preheat oven to 425˚F (220˚C) .

Flatten the dough again using your fingers to pat it lightly.

Whisk 1 egg white and 1 t water together for the glaze. Brush it over the risen loaf.

Use a sharp knife, a single-edge razor blade, or a lame to cut one long slash down the middle of the loaf.

Bake loaf for 20-25 minutes. Bread should reach 200-205˚F (93˚C) in the middle when cooked through. Place a metal pan of boiling water in the bottom of your oven while the bread bakes for a crispier crust.

Remove to a cooling rack.
Notes
Directions for making bread with a stand mixer or by hand:
To make this recipe in a heavy-duty stand mixer: Add ingredients to the bowl in the same order. Turn on LOW to mix until all ingredients are moistened. Then, using a dough hook, turn the speed to 2 or 3. Continue beating/kneading until the dough becomes smooth and elastic (about 5-10 minutes). Cover and allow to rise in a warm place. Deflate the dough gently and shape it as indicated in the recipe.
If making by hand: Combine all ingredients into a shaggy ball in a large bowl. Turn the dough out onto a floured surface. Knead with your hands until the dough becomes smooth and elastic. Kneading will likely take 10-20 minutes, depending on your experience. Place the dough ball into a greased bowl. Cover and allow to rise until double. Deflate the dough gently and shape it as indicated in the recipe.
Please note: If you only have active dry yeast, use 1/4 teaspoon more than is called for in the recipe.

It no longer needs to be dissolved first

, but you can if you prefer.
Nutrition
Serving:
1
slice
|
Calories:
152
kcal
|
Carbohydrates:
24
g
|
Protein:
4
g
|
Fat:
4
g
|
Saturated Fat:
1
g
|
Polyunsaturated Fat:
1
g
|
Monounsaturated Fat:
2
g
|
Cholesterol:
3
mg
|
Sodium:
253
mg
|
Potassium:
47
mg
|
Fiber:
1
g
|
Sugar:
1
g
|
Vitamin A:
1
IU
|
Vitamin C:
0.003
mg
|
Calcium:
6
mg
|
Iron:
1
mg