Do you ever have problems with your pecan pie sticking to the pie plate? Me, too. It's impossible to serve gracefully and can be downright embarrassing!
Along with this amazing recipe for Browned Butter Pecan Pie, I've included 5 tips to help keep your crust from sticking like cement to the pie plate.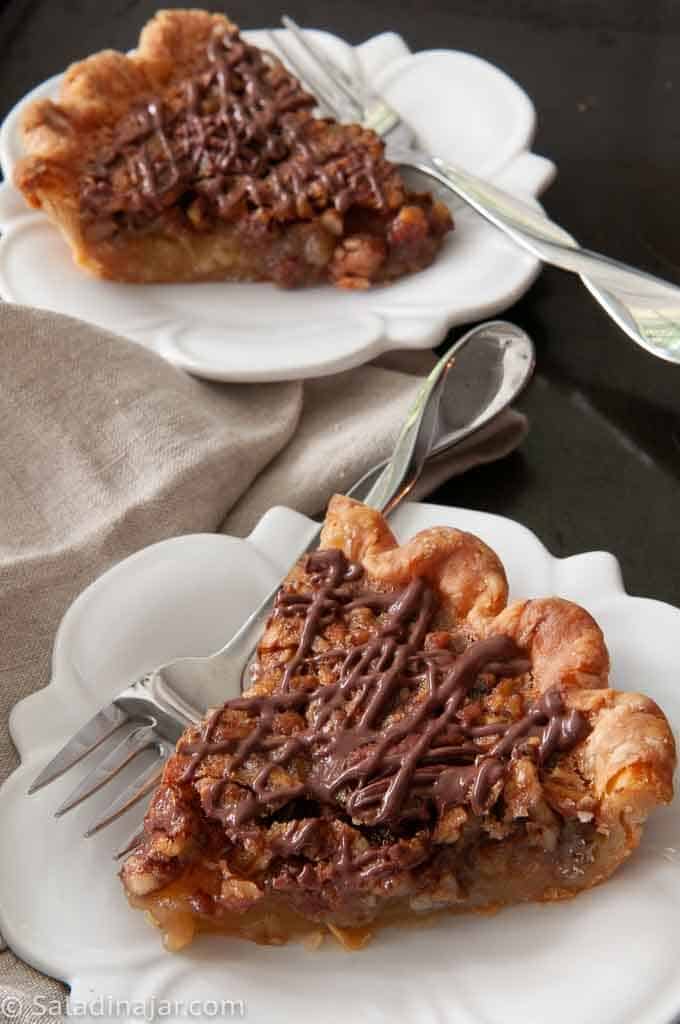 This recipe has converted many pecan-pie-haters.
I promise you. This is the lightest, most delicate pecan pie I have ever eaten in my entire life. If you have any leftovers, please call me and I'll come take them off of your hands.
What's even better is when the crust doesn't sabotage all your work. Don't miss my 5 suggestions to keep the crust from sticking at the end of this post.
Recipe inspiration:
Since this recipe was originally published in 2009, I went back to the drawing board. After borrowing some techniques from America's Test Kitchen Family Baking Book, I tested and retested. Think I've got it now!!
If you're like me, pecan pie is a once-a-year treat. So it better be fabulous. This recipe deserves the honors.
The secret is the brown butter.
It contributes a nutty, buttery, toffee-like flavor without taking over the show. It's the magic ingredient in this pie! Add chocolate drizzles on top to dress it up, but that's optional.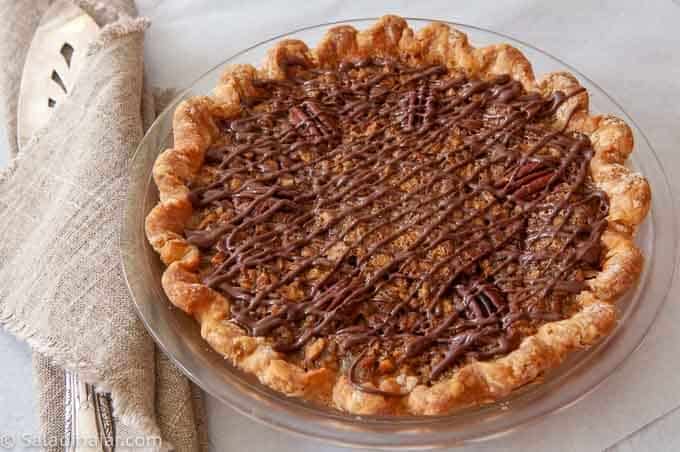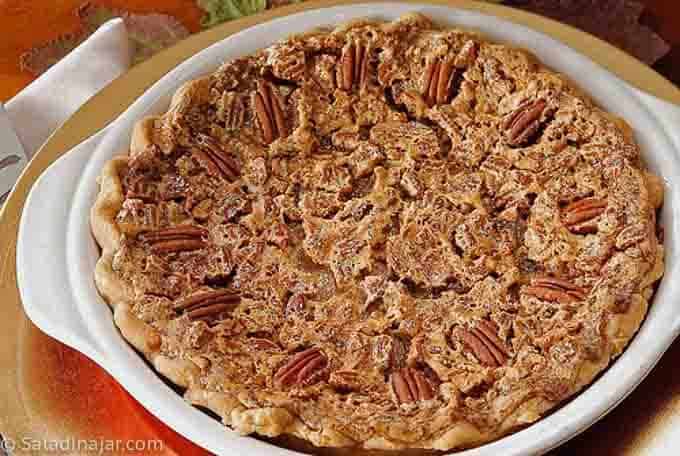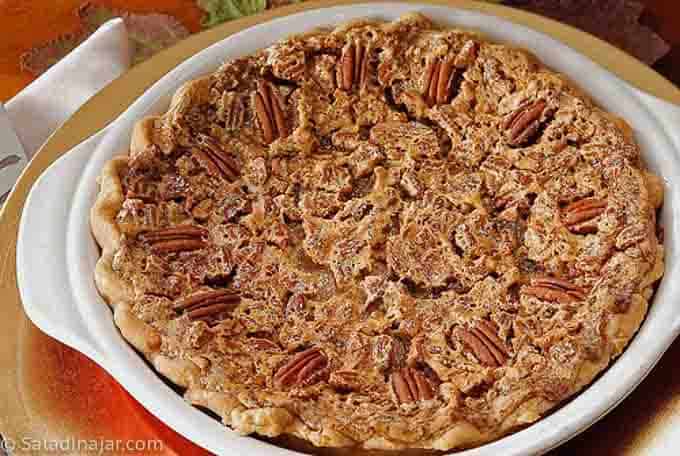 How to brown butter:
The process of browning butter is simple. Knowing when the butter is brown enough without burning it is the tricky part.
Don't be afraid. I'll hold your hand.
The amount of time this takes depends on three things:
How much butter you are browning
How high the heat is
The cooking vessel you use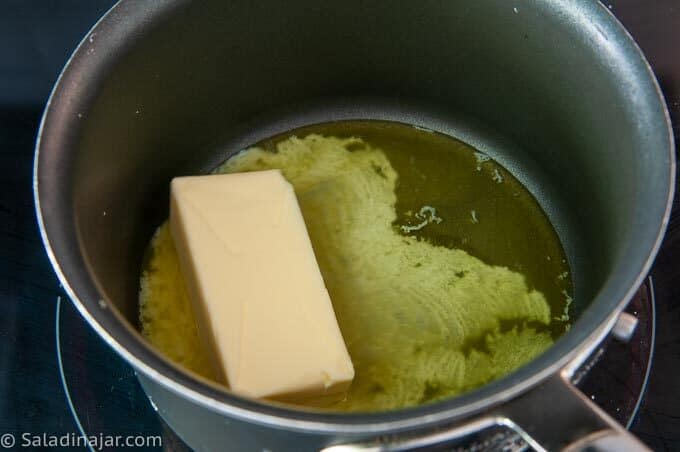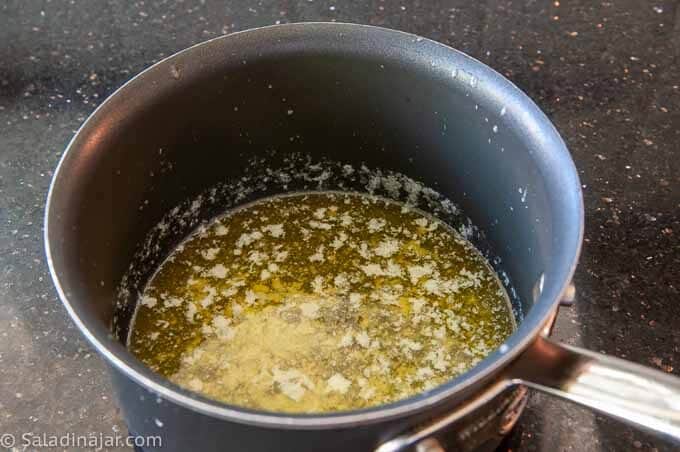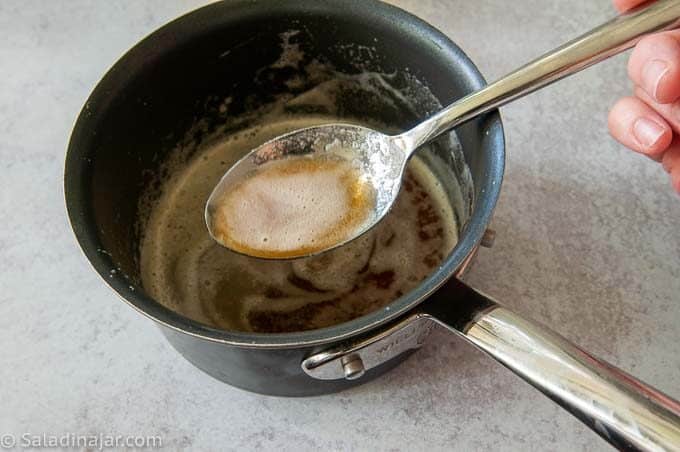 You can also brown butter in the microwave. It's incredibly easy.
5 tips to keep pecan pie from sticking to the pan:
#1
Spray your pie plate with an oil/flour mixture like Baker's Joy.
Do this before you place the pie crust dough into the pie dish.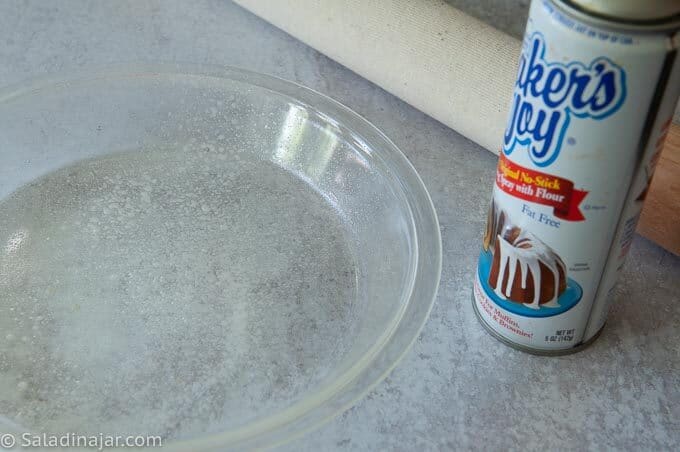 #2
Make sure your crust is not too thin and has no cracks.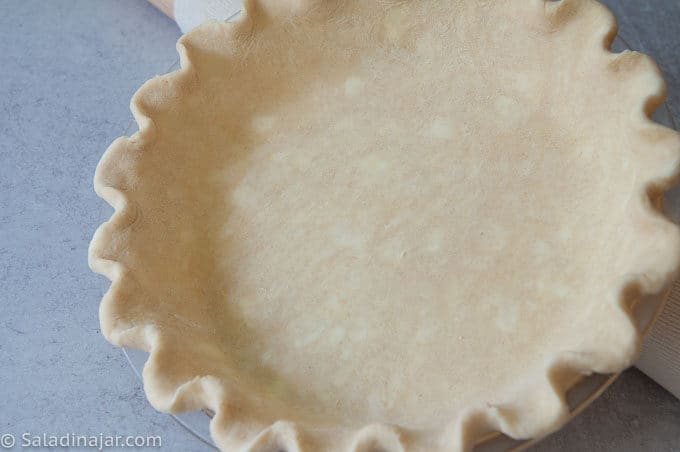 #3
Partially bake your pie crust before filling.
Cover well-chilled or frozen raw pie crust with two layers of aluminum foil. Press foil to fit the pie crust snugly, then fold edges over the crust to protect edges from over-browning.
Fill pie shell with pie weights, rice, pennies, or my personal favorite, a heavy chain (sold by the foot at hardware stores). Bake at 375 degrees F for 25-30 minutes. (The longer time is suggested for frozen crusts.)
Remove foil and let cool slightly. You want your crust to still be warm when you pour in the filling.
Kitchen Tip: To catch any buttery drips, place a cookie sheet topped with a silicone mat on the rack beneath your crust while baking. It's much easier to throw the mat into your dishwasher than to scrub your oven after the drips burn on the bottom of your oven.
#4
Heat pie filling before pouring it into your pie crust.
Before adding the vanilla, lemon juice, and pecans, I cook the custard mixture in the microwave on HIGH for 45 seconds. You want it to reach 130˚F when measured with a quick-read thermometer.
#5
Fill the pie crust with filling while the crust is still warm.
As you might have figured out, this "no-leak" process requires a bit of timing.
This is my time schedule for making Browned Butter Pecan Pe:
Prepare pie shell. Chill well or freeze.
While pie shell pre-bakes, prepare the filling.
Pour the hot pie filling into your warm pre-baked crust.
BAKE!
Frequently Asked Questions
Can I use a store-bought crust?
A store-bought crust is fine, or you can make your own.
I don't recommend baking your pie in an aluminum foil pan. The cooking process tends to be uneven. If possible, place the foil pan inside of a larger glass pan. At the very least, place it onto a cookie sheet.
Do I need to toast the pecans?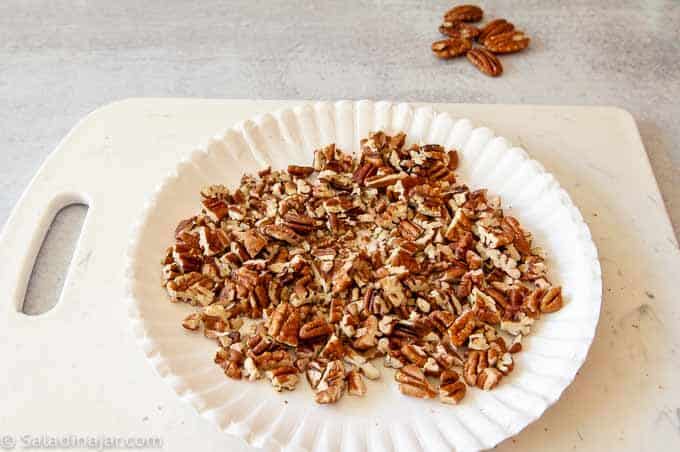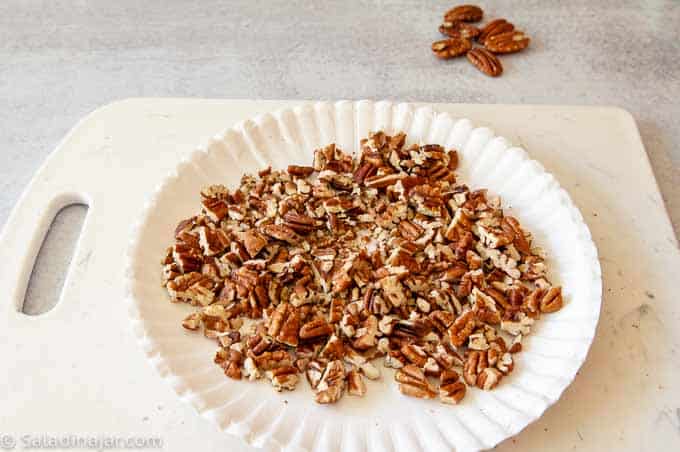 YES! Toasting adds additional flavor to your pie.
Throw chopped pecans onto a paper plate and microwave on HIGH for 1 minute. Stir and cook for an additional minute.
Should I chop the pecans?
Chopping most of the pecans for your pie may not be as pretty, but your tasty pie will be much prettier when you go to slice it. Otherwise, cutting into unsliced pecans can squash the custard filling into a ragged mess.
My compromise is to hold out a few pecans to decorate the top of the pie. (See the pie without chocolate above.) I don't toast them ahead of time. The oven will do that in the baking process.
Would you prefer a recipe half this size?
Try this recipe for Browned Butter Pecan Mini-Tarts. These are just as delicious but easier to serve and eat. Really nice for holidays and those people who "want one of everything."
OR
Use a 7-inch pie plate and cut this recipe in half.
Assembling the pie filling for Browned Butter Pecan Pie: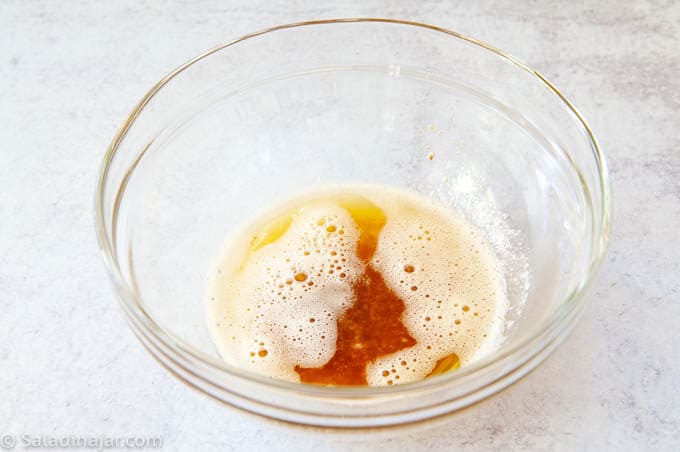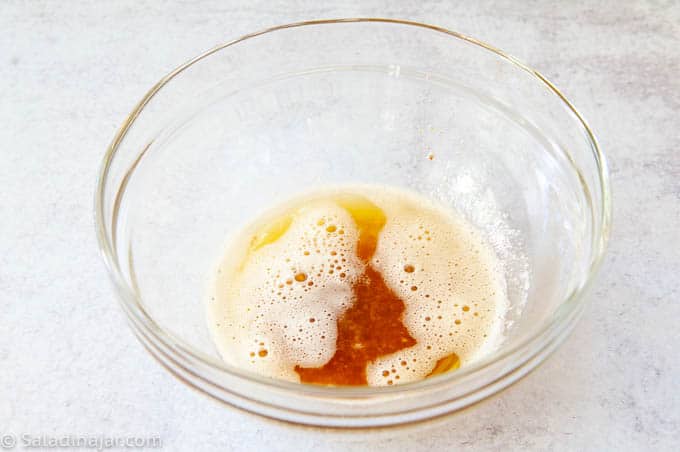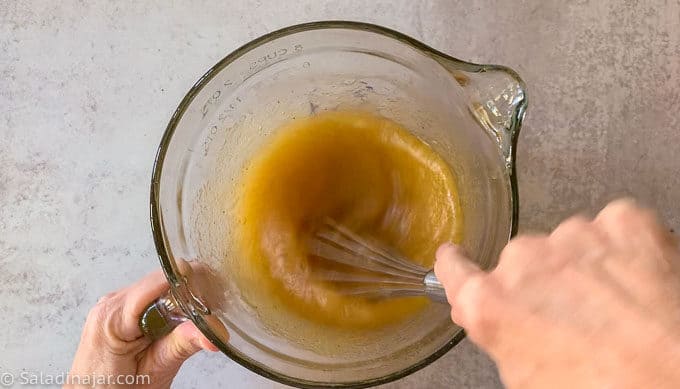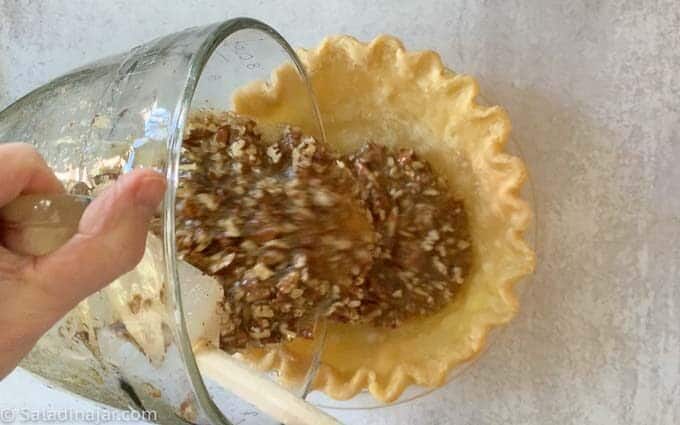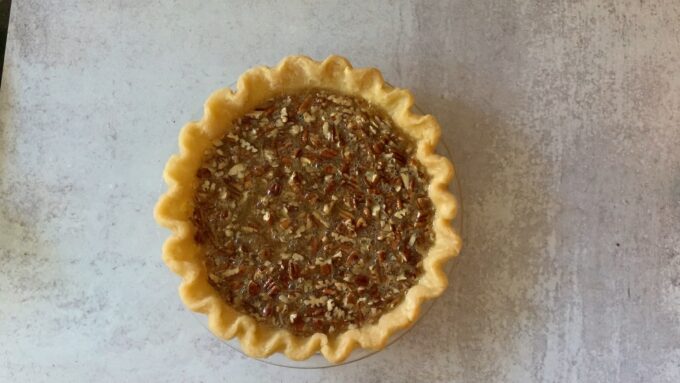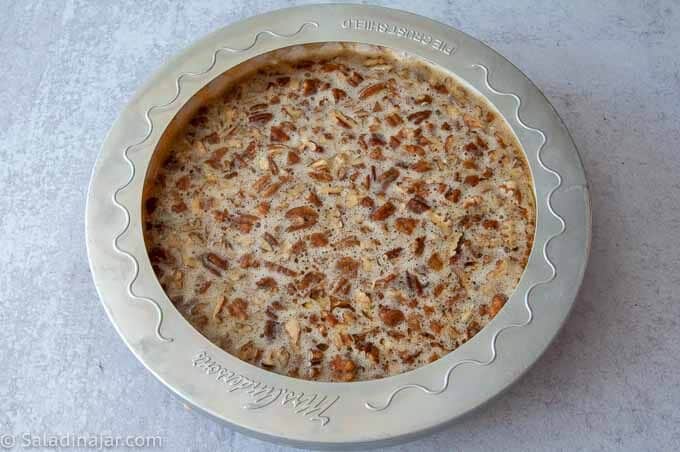 The Chocolate Drizzle:
Place chocolate into a small plastic zippered bag.
Microwave on HIGH for 1 minute, 15 seconds or until melted.
Mash to make sure there are no unmelted lumps that might clog the small hole in step 5.
Snip a small hole in one corner of the bag.
Squeeze chocolate out of the hole to decorate. Go back and forth one way. Then turn the pie 90 degrees and go back and forth again.
---
More posts you might find helpful:
---
---
If you enjoyed this recipe, it would help others and me if you gave it a five-star rating inside the recipe card below. 🤩 No comment required. Thank you.

Hope to see you again soon!
Paula
p.s. Questions or suggestions? Please email me: Paula at saladinajar.com.