Browned Butter Mini Pecan Pie Tarts are a pecan lover's dream with a pecan-studded, brown butter-based filling contained in a buttery cookie crust. Drizzle melted chocolate over the top for a candy-bar-like treat.
Since the tarts are small, and you don't have to cut slices with a knife, portion-control is judiciously accomplished for you. Tailor-made for a party or Thanksgiving.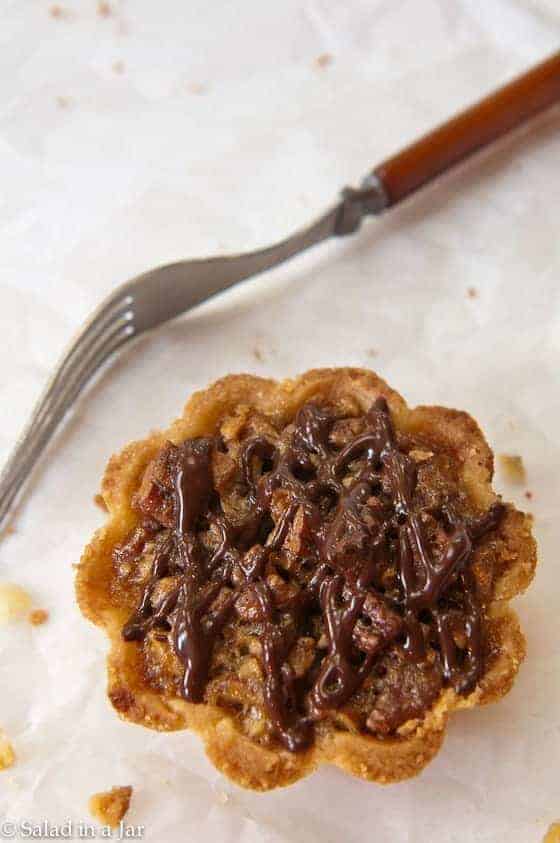 RECIPE NOTES

My dad used to say, "The higher they go, the farther they fall." He was typically referring to somebody super excited about something one minute and lower than a snake soon thereafter. That saying reminded me of the problem with these little pies.
While baking, a peek into the oven showed the filling reaching for the sky. I thought all was well.
Unfortunately, as my Mini Pecan Pie Tarts cooled and the filling deflated, they looked like an alien had nibbled out of the middle. Granted, the same thing happens to full-size pecan pies, too, but the effect is more pronounced in a small tart.
Just in time for Thanksgiving, I figured out a solution!!
RECIPE TIP
Increasing the number of pecans provided the additional infrastructure that kept the soft filling from collapsing in the middle as it cooled.
I learned this after observing the first tart shells I filled had more pecans. Consequently, they did not deflate as badly as the tarts filled last with fewer pecans and more of the sweet syrup mixture.
SILICONE MOLDS MAKE THE CRUSTS MUCH EASIER
If you have never made a tartlet crust before, they can be a little tricky for beginners.
I highly recommend you put your hands on some silicone tart molds that are individual, not connected like muffin pans. They are much easier to manipulate.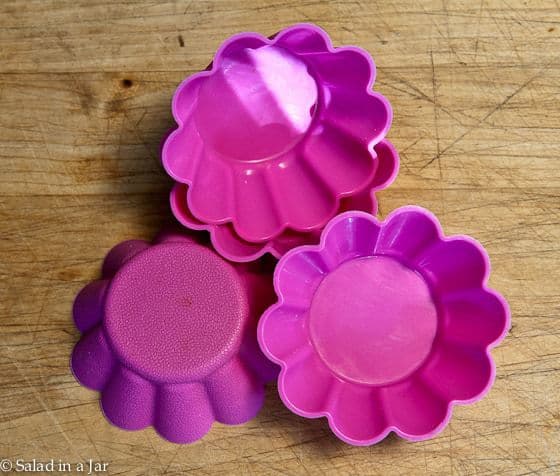 As I was saying, practice ahead of time. Tart shells are best made ahead anyway and should be stored in the freezer.
If you are a visual learner, check out the picture tutorial on this post for Pumpkin Pie Mini-Tarts. You can also use commercial tart crusts if you can find them. Commercial tart sizes vary widely.
ANOTHER USE FOR THE SILICONE MOLDS
If you have or buy these silicone molds, try putting that extra egg white(s) or egg yolk(s) in one of these molds. Cover with plastic wrap and freeze.
When frozen, pop the egg white into a plastic bag and store in the freezer until needed. Beats freezing them in an ice cube tray all day long (or saving them in the fridge where they don't stay fresh for long.)
HOW TO SHAPE SHORTBREAD CRUSTS
You may notice I'm wearing exam gloves. I always wear gloves when I make any kind of pie crust or flaky biscuits. They protect the dough by providing a barrier between my body heat and the tiny flakes of butter. Of course, you can make the crusts without them, but work fast so as not to warm the dough.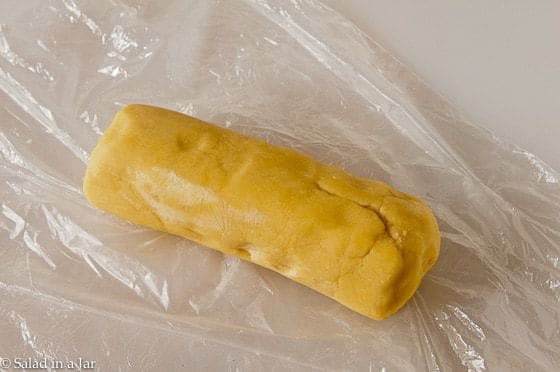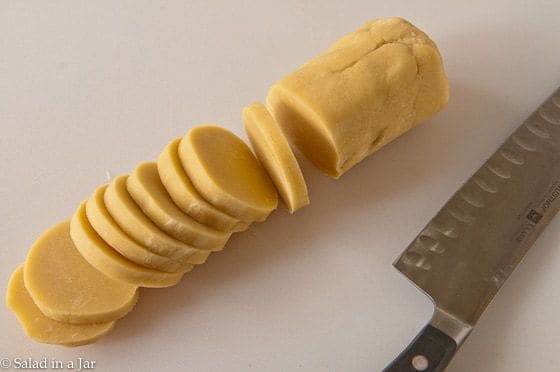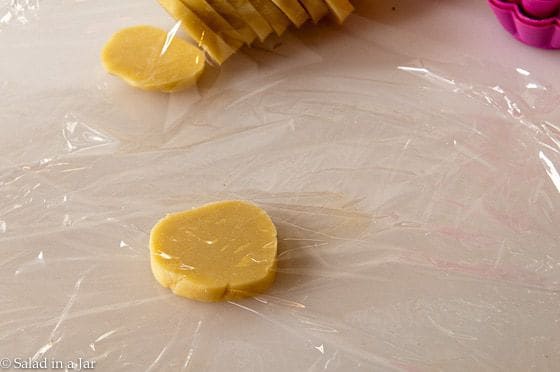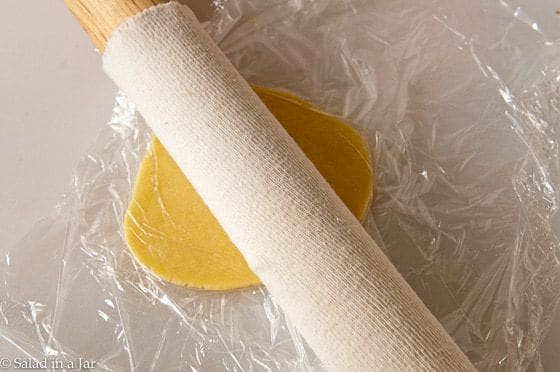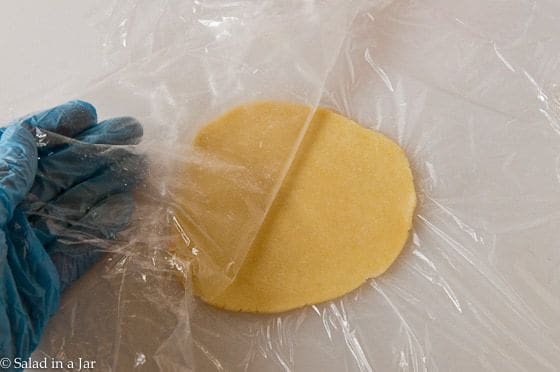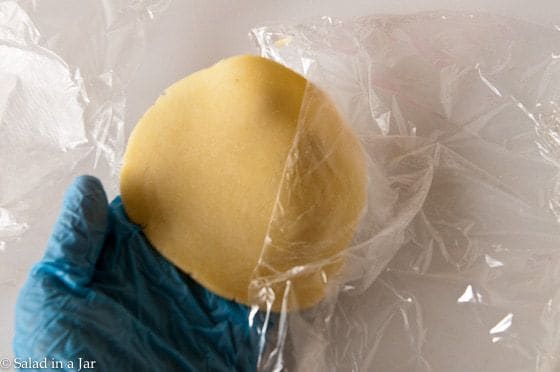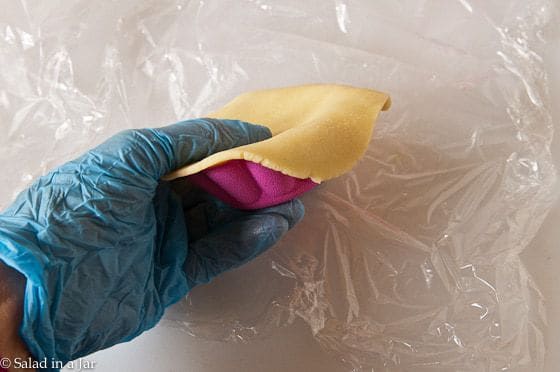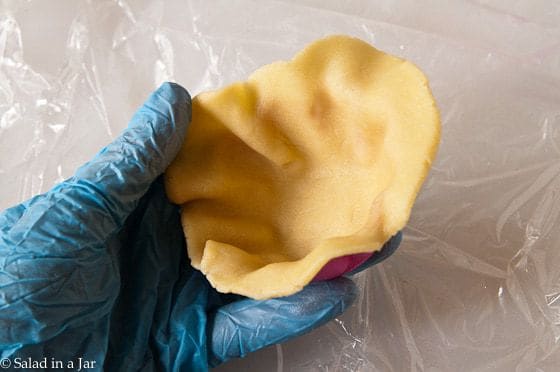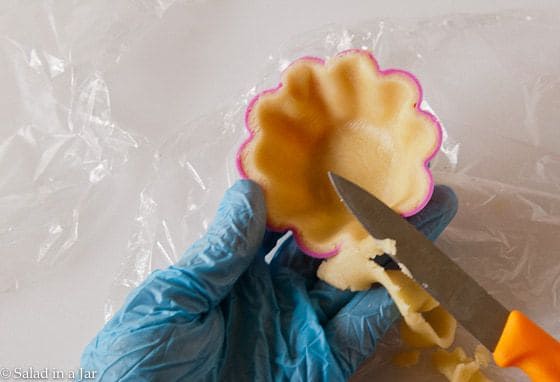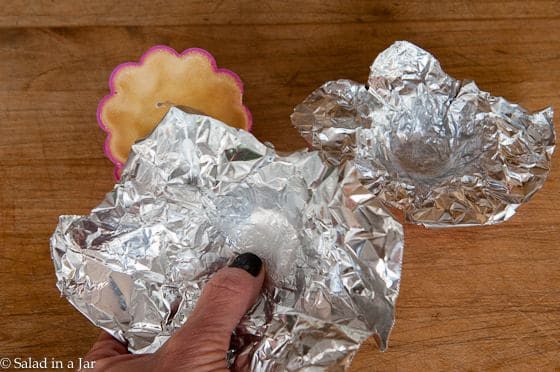 ---
---
MORE RECIPES FOR PIE LOVERS
---
If you enjoyed this recipe, it would help others and me if you gave it a five-star rating inside the recipe card below. 🤩 No comment required. Thank you.

Hope to see you again soon!
Paula
p.s. Questions or suggestions? Please email me: Paula at saladinajar.com.