Pecan Pie Tartlets Drizzled with Chocolate
Sneak Preview: These Pecan Pie Tartlets are a pecan lover's dream with a pecan-studded, brown butter-based filling in a buttery cookie crust. Drizzle melted chocolate over the top for a candy-bar-like treat.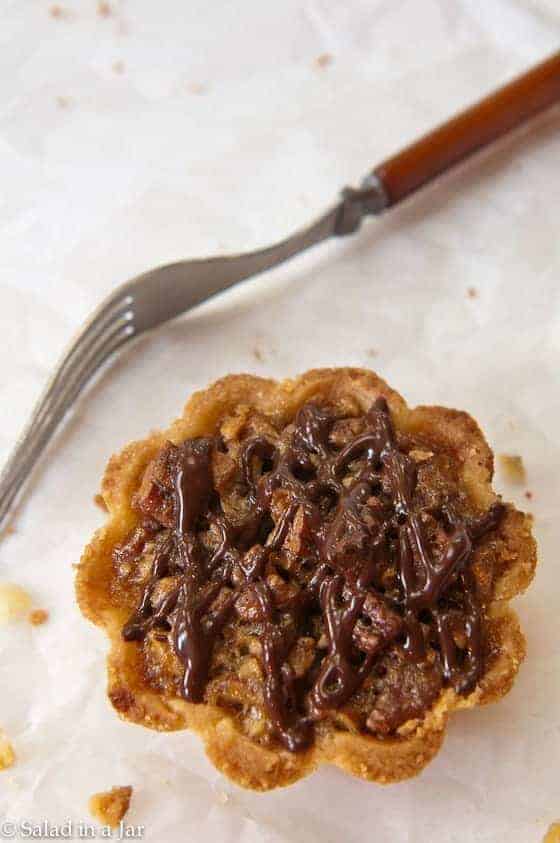 As an Amazon Associate, I earn from qualifying purchases.
Since these irresistible tartlets are small, you don't have to cut slices with a knife. Thankfully, portion control is painless. They are tailor-made for a party or Thanksgiving.
Leave the chocolate off if you don't want to mess with it. The chocolate drizzle transforms these mini-tarts into a memorable experience.
Problem solved!

My dad used to say, "The higher they go, the farther they fall." He typically was referring to somebody super excited about something one minute and lower than a snake soon after that. That saying reminded me of the problem I had with these little pies.
While baking, a peek into the oven showed the filling reaching for the sky. I thought all was well.
Unfortunately, as my Mini Pecan Pie Tarts cooled and the filling deflated, they looked like an alien had nibbled out of the middle. Of course, the same thing happens to full-size pecan pies, but the effect is more pronounced in a petite tart.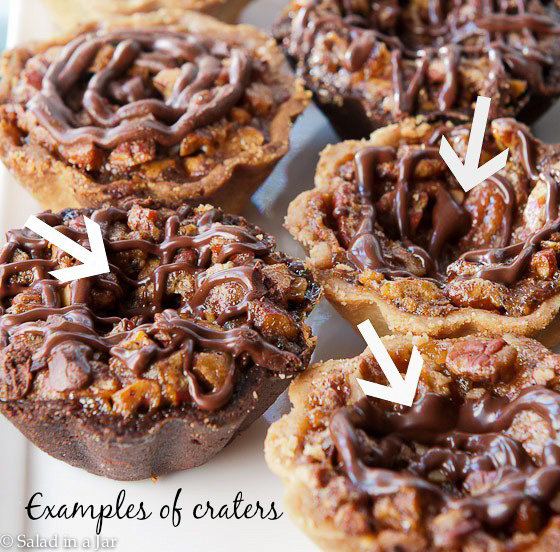 Just in time for Thanksgiving, I figured out a solution!!
How to avoid a crater in your pecan pie: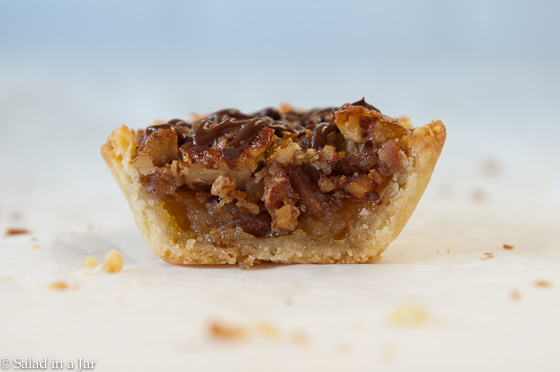 Increasing the number of pecans provided the additional infrastructure that kept the soft filling from collapsing in the middle as it cooled.
I learned this after observing the first tart shells I filled had more pecans. Consequently, they did not deflate as severely as the tarts filled later with fewer pecans and more sweet syrup mixture.
Why silicone molds make the crust much easier:
If you have never made a tartlet crust before, they can be a little tricky for beginners.
I highly recommend you put your hands on some silicone tart molds that are individual, not connected like muffin pans. They are much easier to manipulate.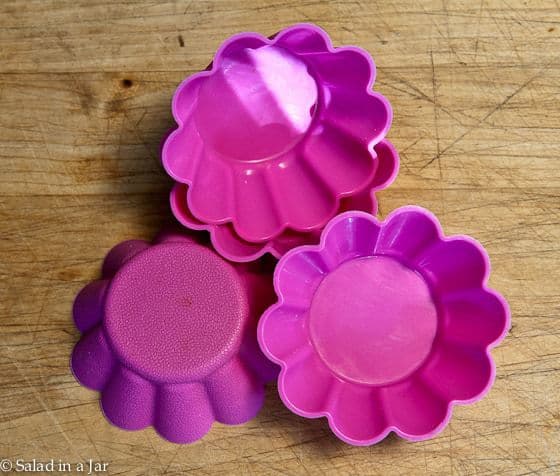 As I was saying, practice ahead of time. Tart shells should be made ahead of time and stored in the freezer.
If you are a visual learner, check out the picture tutorial on this post for Pumpkin Pie Mini-Tarts. You can also use commercial tart crusts if you can find them. Commercial tart sizes vary widely.
Another use for silicone molds:
If you have or buy these silicone molds, try putting that extra egg white(s) or egg yolk(s) in one of these molds. Then, cover with plastic wrap and freeze.
When frozen, pop the egg white into a plastic bag and store it in the freezer until needed. It beats freezing them in an ice cube tray all day long (or saving them in the fridge where they don't stay fresh for long.)
How to shape shortbread crusts:
You may notice I'm wearing exam gloves. I always wear gloves when I make pie crust or flaky biscuits. They protect the dough by providing a barrier between my body heat and the tiny flakes of butter. Of course, you can make the crusts without them, but work fast so your hands won't warm the dough.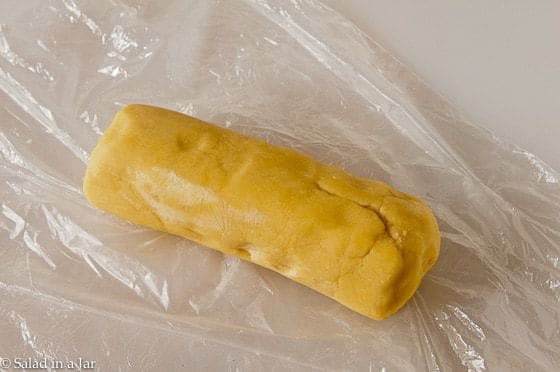 Form dough into a cylinder.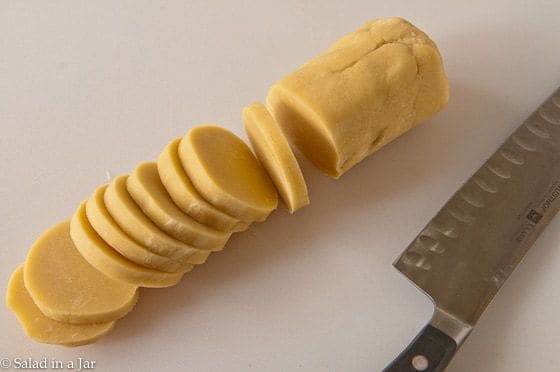 Slice roll into 15-16 equally-sized discs.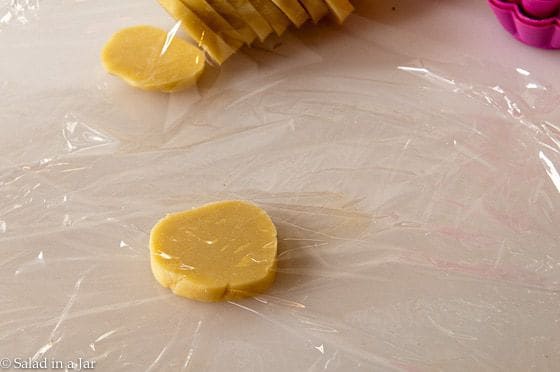 Lay one slice in the middle of a piece of plastic wrap. Cover with another piece of plastic wrap.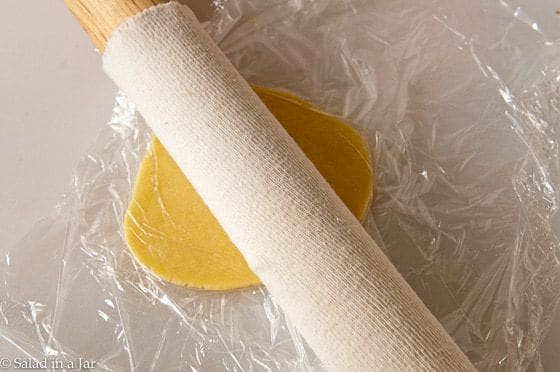 Use a rolling pin to flatten the dough until the circumference is about 1/2 to 3/4 inch greater than the circumference of your tart cup. Then, lay the tart cup upside down on top of it to check.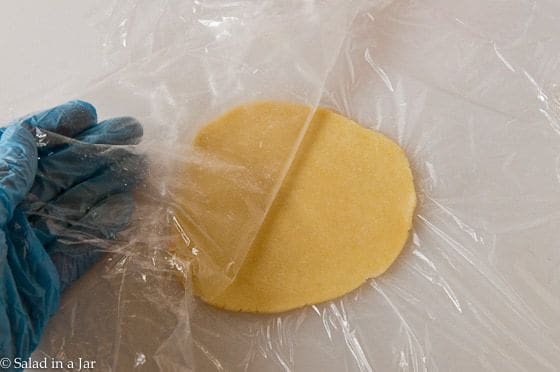 Peel plastic wrap off of the top.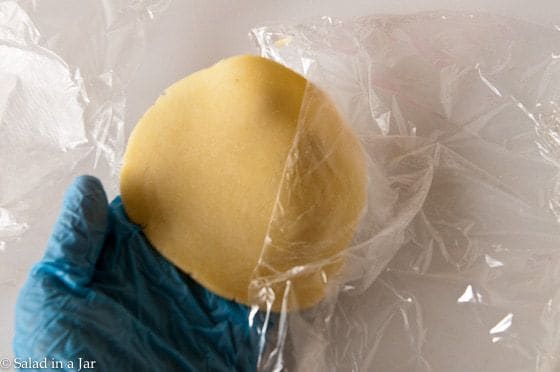 Flip the flattened disc of dough and remove the remaining layer of plastic wrap.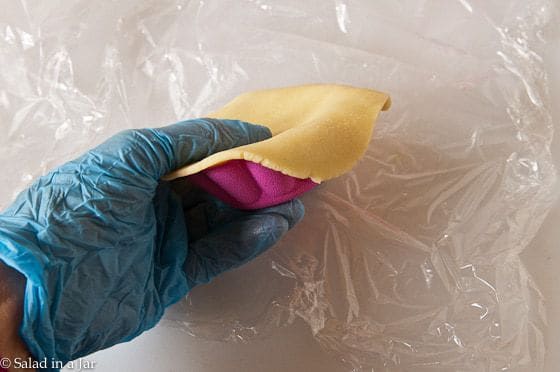 Press dough into the silicone mold with your fingers. If it tears, "squish" it back together. If it pleats, use your fingers to press the excess dough down smooth.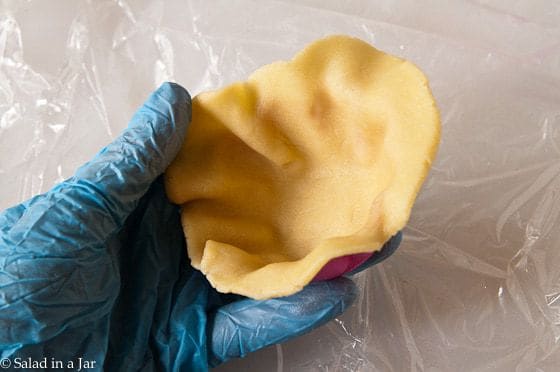 The goal is uniform thickness throughout so that it will bake evenly.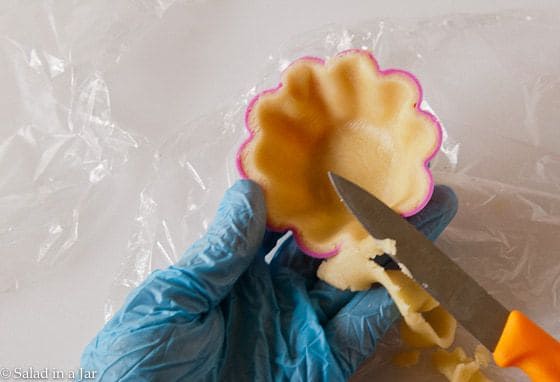 Trim crust with a sharp knife to make a smooth edge. Place the finished cup in the freezer until firm.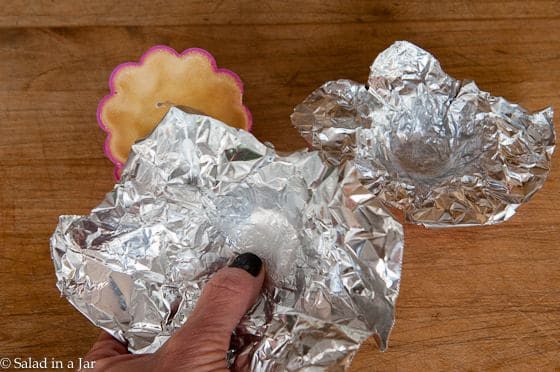 To keep the crust from bubbling up in the middle, cut aluminum foil (preferably non-stick) into small squares. Then, Mold the foil to the shape of the tart with your thumb. Make sure the top edges are covered to help to prevent over-browning.
---
MORE RECIPES FOR PIE LOVERS
---
If you have questions or suggestions, email me privately to Paula at saladinajar.com. Hope to see you again soon! Paula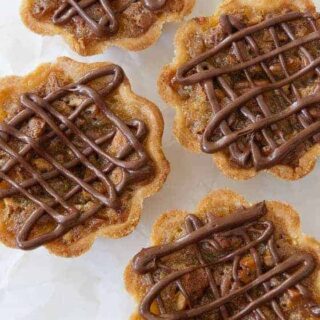 Browned Butter Pecan Mini-Tarts
Browned butter provides the base for this pecan-lover's dream dessert.
Ingredients
Tart Crust:
1-1/2

cups

unbleached all-purpose flour

⅓

cup

powdered sugar

¼

teaspoon

table or sea salt

½

cup

butter

-

1 stick, chilled

1

egg yolk

-

from a large egg

1

tablespoon

heavy cream or half and half
Pecan Filling
½

cup

butter

⅔

cup

sugar

¾

cup

corn syrup

-

such as Karo, not the same as high fructose corn syrup

¼

teaspoon

table or sea salt

1

teaspoon

vanilla extract

Lemon juice from half a small lemon

3

eggs

-

mixed with a fork

1-2/3

cup

toasted pecans

-

coarsely chopped

15

unbaked and frozen tart shells
Instructions
Mini-tart crusts:
Combine flour, sugar, and salt in a food processor. Cut butter into 8 slices and add to flour, pulsing several times until mixture resembles oatmeal. Add egg yolk mixed with cream. Pulse until all ingredients are moistened. Then allow the machine to run for a few seconds until the dough starts to stick together. (Add additional drops of cream if the dough seems too dry.) Press dough into a roll like refrigerated cookie dough. Wrap in plastic and chill for 30 minutes.

Spray molds generously with Baker's Secret or something like it. (Baker's Secret is an aerosol spray that mixes flour and oil.) If using silicone molds, no greasing is necessary.

Slice the roll of dough into 15-16 pieces. Using a rolling pin, flatten dough between two pieces of plastic wrap into a circle slightly larger than tart molds. Press into a mold with fingers, being careful to keep the thickness consistent. Use a knife to trim off any extra at the top. I usually have enough scraps to make another tart or two. Freeze for at least 30 minutes, overnight, or up to a month.
Pecan Filling:
Preheat oven to 375˚ F.

Brown butter in a medium saucepan over low heat. This will take a few minutes. You don't have to stir it constantly but you must keep an eye on it. Pull off the heat when the butter starts to turn brown and gives off an amazing aroma. You'll know it when you smell it.

Stir sugar into hot butter until it dissolves. Add corn syrup, salt, vanilla, and lemon juice and stir. Then add eggs and whisk gently into the butter mixture until combined and smooth. Add pecans.

Pour about 1/4 cup of filling into each unbaked, frozen tart shell.

Bake in oven at 375 degrees until browned and set. My tartlets take about 25 minutes, but time may vary depending on the size of your tarts.
Decorating with Chocolate (optional):
Place 1/4 cup semi-sweet or bittersweet chocolate chips in a small zippered plastic bag. Microwave on HIGH for 1 minute, 15 seconds, or until melted. Snip off the tiniest corner of the bag. Squeeze chocolate out of the hole over the pie in the design of your choice. If you want to squirt the leftover chocolate in your mouth, go ahead. It's our secret.
Nutrition
Nutrition Facts
Browned Butter Pecan Mini-Tarts
Amount per Serving
% Daily Value*
* Percent Daily Values are based on a 2000 calorie diet.
Like this recipe? Thanks for leaving a 5-star rating inside the recipe at the top! 🤩