Chocolate Cupcake Tops (aka Frosted Chocolate Cookies) will remind you of the top of a chocolate cupcake topped with a ganache-like frosting.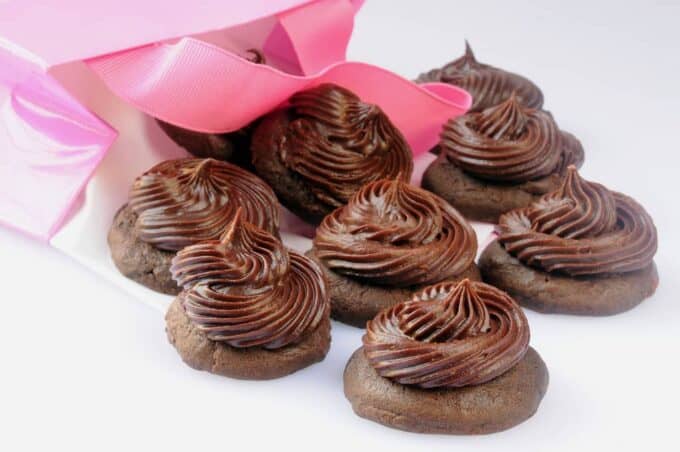 Like parents with more than one child, my affection for frosted cookies multiplies with each new recipe added to my collection.
This whole obsession with frosted cookies started with the ugly, irregularly shaped, frosted cinnamon cookies my Grandma baked for us and stored in her metal-lined bread drawer.
I loved her cookies almost as much as I loved her. She loved me, too, though she didn't speak it, even when I was ugly and rather irregular myself.
Now that I have a food blog and a grandson of my own, I'm on a quest to build the world's largest frosted cookie recipe collection. It's on my bucket list–if I had one–to try all varieties of frosted cookies before I die.
It may not be the noblest calling, but it's easier and more fun (and way more likely) than climbing Mount Everest or feeding all the hungry children of the world.
Perhaps I'm just hoping my grandson will someday have fond memories of his grandma like I do. That's a worthy goal, isn't it?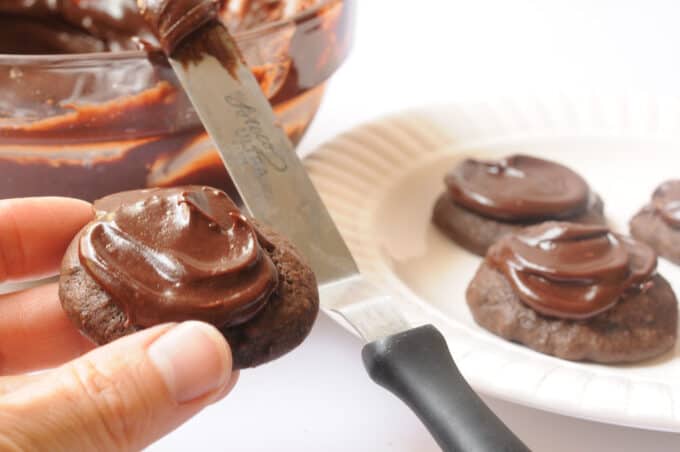 One early morning on my way to work recently, I dropped off some reject cookies at my friend's house. Joan later reported they tasted like the top of a frosted cupcake. Yes! She's absolutely right.
These cookies are just like little chocolate cakes with a rich chocolate frosting. Throwing a little instant espresso and Dutch-process cocoa into the dough makes these babies dark and flavorful.
The secret ingredient in Chocolate Cupcake Tops:
There is a magic ingredient in the frosting. I hesitate to say it but here goes. Sour cream. (Lite sour cream works just fine.) I promise you won't taste anything that reminds you of sour cream. If you aren't into frosting as much as I am, just swipe a little across the top. It's not necessary to get fancy.
Speaking of fancy, thanks to Annie of Annie's Eats for putting me on to the mechanical pastry bag available from Williams-Sonoma.  The large tip is what I used to decorate the cookies in the first picture.
---
Pin the picture below to save for later.
If you make this and enjoy the recipe, it would help me and others if you would return to this post and leave a rating (on the recipe card itself underneath the picture). Although always appreciated, no comment is required. Thank you for visiting! Paula

More cookies from my Frosted Cookie Collection…